Dacor DMW2420B Specification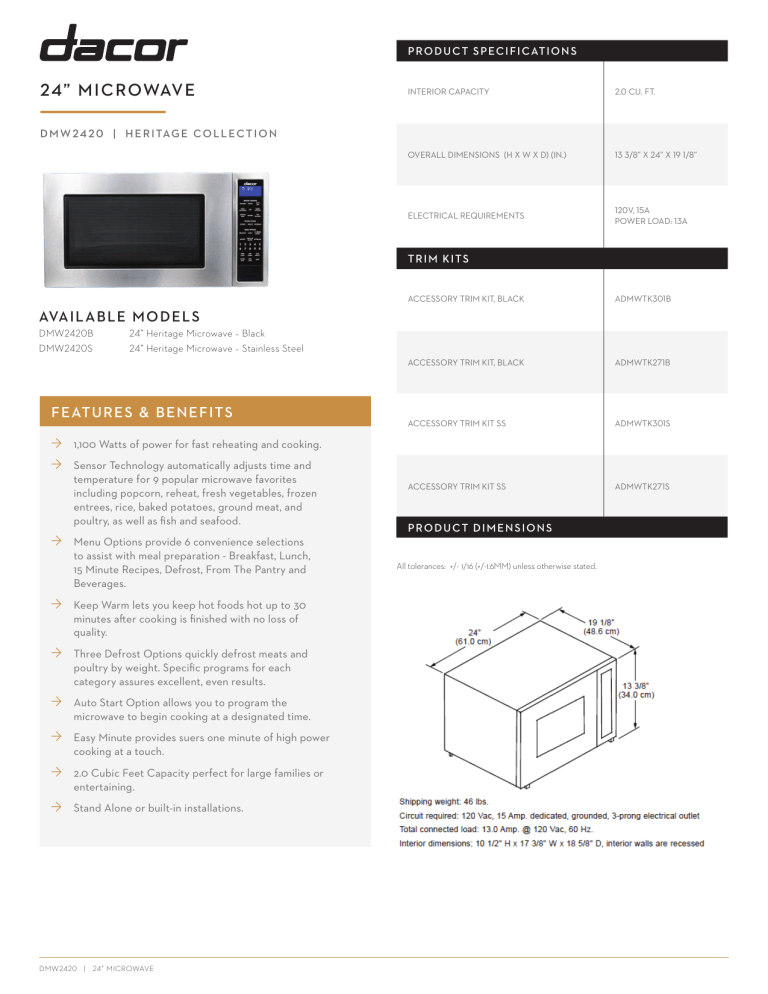 P R O D U C T S P EC I F I C AT I O N S
24" M IC ROWAV E
INTERIOR CAPACITY
2.0 CU. FT.
OVERALL DIMENSIONS (H X W X D) (IN.)
13 3/8" X 24" X 19 1/8"
ELECTRICAL REQUIREMENTS
120V, 15A
POWER LOAD: 13A
D M W 2 4 2 0 | H E R I TAG E C O L L E C T I O N
TRIM KITS
ACCESSORY TRIM KIT, BLACK
ADMWTK301B
ACCESSORY TRIM KIT, BLACK
ADMWTK271B
ACCESSORY TRIM KIT SS
ADMWTK301S
ACCESSORY TRIM KIT SS
ADMWTK271S
AVAI LA BLE M O DEL S
DMW2420B
DMW2420S
24" Heritage Microwave – Black
24" Heritage Microwave – Stainless Steel
F E AT U R E S & B ENEF ITS
◊◊
◊◊
◊◊
1,100 Watts of power for fast reheating and cooking.
Sensor Technology automatically adjusts time and
temperature for 9 popular microwave favorites
including popcorn, reheat, fresh vegetables, frozen
entrees, rice, baked potatoes, ground meat, and
poultry, as well as fish and seafood.
Menu Options provide 6 convenience selections
to assist with meal preparation - Breakfast, Lunch,
15 Minute Recipes, Defrost, From The Pantry and
Beverages.
◊◊
Keep Warm lets you keep hot foods hot up to 30
minutes after cooking is finished with no loss of
quality.
◊◊
Three Defrost Options quickly defrost meats and
poultry by weight. Specific programs for each
category assures excellent, even results.
◊◊
Auto Start Option allows you to program the
microwave to begin cooking at a designated time.
◊◊
Easy Minute provides suers one minute of high power
cooking at a touch.
◊◊
2.0 Cubic Feet Capacity perfect for large families or
entertaining.
◊◊
Stand Alone or built-in installations.
DMW2420 | 24" MICROWAVE
PRODUCT DIMENSIONS
All tolerances: ±+/- 1/16 (+/-1.6MM) unless otherwise stated.

* Your assessment is very important for improving the work of artificial intelligence, which forms the content of this project