Thermador VCI236DS Installation Instructions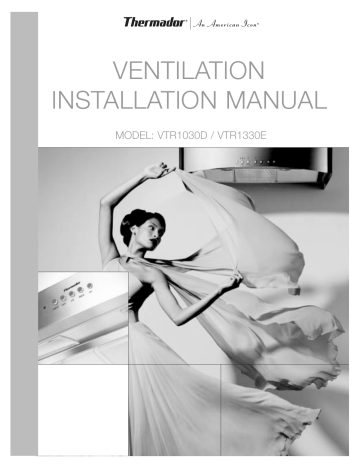 ATION
VENTIL
VENTILATION
INSTALLATION MANUAL
MANUAL
INSTALLATION
MODEL:MODELS:
VTR1030DCVS2
/ VTR1330E
PAGE 2
! IMPORTANT SAFETY INSTRUCTIONS
READ AND SAVE THESE INSTRUCTIONS.
This appliance conforms to the relevant safety
regulations.
Repairs should only be carried out by qualified
specialists.
Improperly executed repairs can give rise to significant
hazards for the user.
!
!
!
!
A.
Installation work and electrical wiring must be
done by qualified person(s) in accordance with all
applicable codes and standards, including firerelated construction.
B.
Sufficient air is needed for proper combustion
and exhausting of gases through the flue
(chimney) of fuel burning equipment to prevent
back drafting. Follow the heating equipment
manufacturers guideline and safety standards
such as those published by the National Fire
Protection Association (NFPA), and the American
Society for Heating, Refrigeration and Air
Conditioning Engineers (ASHRAE), and the local
code authorities.
C.
When cutting or drilling into wall or ceiling, do not
damage electrical wiring and other hidden utilities.
D.
To properly exhaust air, be sure to duct air out
side. Do not vent exhaust air into spaces within
walls, ceilings, attics, crawl spaces, or garages.
Your new appliance was protected on its way to
you by the packaging. None of the materials
cause
pollution to the environment and all can be recycled for use again. Please help to protect the
environment and dispose of the packaging in an
environment-friendly manner.
You can obtain information about the best
method
disposing of old appliances and packaging from
your dealer or local municipal council.
Check whether this fan may be combined with
the extractor hood.
SAFETY WARNING: Before servicing or cleaning
unit, switch power off at the service panel and
lock service disconnecting means to prevent
power from being switched on accidentally.
When the service disconnecting means cannot
be locked, attach a tag to the service panel to
indicate power has been switched off for
maintenance.
WARNING – TO REDUCE THE RISK OF FIRE,
ELECTRIC SHOCK, OR INJURY TO PERSONS, OBSERVE THE FOLLOWING:
!
!
!
!
WARNING: To reduce the risk of fire, use only
metal ductwork.
CAUTION – For General Ventilating Use Only.
Do Not Use To Exhaust Hazardous Or Explosive
Materials And Vapours.
This unit must be grounded.
WARNING: To reduce the risk of fire or electric
shock, do not use this fan with any solid-state
speed control device.
Equipment Needed
Equipment Included
❑ Drill and Bit
❑ Anchors (4)
❑ Screwdriver
❑ Screws (4)
❑ Rubber Mallet
❑ Installation Instructions
❑ Connector
PAGE 1
PRIOR TO INSTALLATION
PRIOR TO INSTALLATION
Step 1: EXHAUST-AIR MODE
Step 2: PREPARING THE WALL
D Exhaust air should neither be directed into a smoke or
exhaust flue that iscurrently used for other purposes, not
into a shaft that is used for ventilating rooms in which
stoves or fireplaces are also located.
❑ The wall must be flat and perpendicular.
❑ Ensure that the wall is capable of providing a firm hold
for mounting screws and plugs.
Weight in kg: 17,8
Exhaust air may be discharged in accordance with
official and statutory regulations only (e.g. national
building regulations).
Local authority regulations must be observed when
discharging air into smoke or exhaust flues that are not
otherwise in use.
We reserve the right to construction changes within the
context of technical development.
D When the extractor hood is operated in exhaust-air
mode simultaneously with a different burner which
also makes use of the same chimney (such as gas, oil
or coal-fired heaters, continuous-flow heaters, hot-water
boilers) care must be taken to ensure that there is an
adequate supply of fresh air which will be needed by
the burner for combustion.
Safe operation is possible provided that the underpressure
in the room where the burner is installed does not exceed
4 Pa (0.04 mbar).
This can be achieved if combustion air can flow through
non-lockable openings, e.g. in doors, windows and via the
air-intake/exhaust-air wall box or by other technical
measures, such as reciprocal interlocking, etc.
If the air intake is inadequate, there is a risk of
poisoning from combustion gases which are drawn
back into the room.
An air-intake/exhaust-air wall box by itself is no guarantee
that the limiting value will not be exceeded.
Note: When assessing the overall requirement, the
combined ventilation system for the entire household must
be taken into consideration. This rule does not apply to
the use of cooking appliances, such as hobs and ovens.
! The fan must be attached at least 78
extractor hood.
/4" from the
3
! When attaching the outer wall fan, ensure that it is
accessible for maintenance and repairs.
! The plug-and-socket connections of the electric
cables must be located inside the building, according to
local codes.
! Do not reduce the 10" diameter of the pipes
connected to the extractor hood.
PAGE 2
INSTALLATION
1. Hold the fan on the wall.
Note the direction of the air conduction.
2. Mark the 4 mounting boreholes.
! At least one screw must be installed through a stud.
! The wall plugs must be suitable for the brickwork.
! Air outlet downwards.
3. Wall break:
Mark and drill a guide hole and a seperate hole for
electrical conduit.
4. Drill the 4 x 1/4" l mounting boreholes.
Insert wall plugs and screw the fan to the wall.
5. Connect the pipe from the fan to the extractor hood and
feed to the outside.
PAGE 3
6. Connect the fan to the extractor hood with an extension
cable if required.
Use the added connector.
Use the wire diagramm for connecting.
The additional cover on the plug must always be
attached and closed for safety reasons.
Not needed wires must be isolated, capped with
wire nuts and stored in a safe position.
!
!
Note: The unit must be qualified sealed to the wall, e.g.
screws, pipe connection, wall break, etc.
Note: The unit can also be installed on roof in
combination with an additional accessory. Ask your retailer
or customer service. Tel. no: 800-735-4328
PAGE 4
WIRE DIAGRAMM
speed 1
(red)
speed 2
(blue)
speed 3
(orange)
speed 4
(brown)
N
(white)
PE
(green/yellow)
PAGE 5
PAGE 6
! INSTRUCTIONS DE SÉCURITÉ IMPORTANTES
LIRE ET CONSERVER CES INSTRUCTIONS.
Cet appareil est conforme aux règlements de sécurité
pertinents.
A.
Tout travail d'installation ou câblage électrique
doit être réalisé par une ou des personnes qualifiées, conformément à tous les codes et normes
applicables, y compris ceux relatifs à la construction résistante au feu.
B.
Une circulation d'air efficace est requise afin d'assurer la combustion et l'évacuation complète des
gaz par le tuyau d'évacuation (cheminée) des
équipements à combustible pour prévenir les
retours d'air. Suivez les normes et mesures de
sécurité des fabricants d'appareils de chauffage
publiées par la « National Fire Protection
Association » (NFPA), la « American Society for
Heating, Refrigeration and Air Conditioning
Engineers » (ASHRAE), et les autorités du code
local.
C.
Lorsque vous percez les murs et plafonds, évitez
d'endommager les fils électriques et les autres
canalisations de services publics non visibles.
D.
Pour obtenir une bonne évacuation de l'air, veillez
à ce que l'air soit acheminé vers l'extérieur. Ne
pas évacuer l'air dans des espaces enfermés par
des murs, ou dans un plafond, un grenier, un vide
sanitaire ou un garage.
Les réparations doivent uniquement être effectuées par
des spécialistes qualifiés.
Les réparations mal exécutées peuvent engendrer des
risques significatifs pour l'utilisateur.
!
!
!
!
Votre nouvel appareil a été protégé par un emballage destiné au transport. Aucun des matériaux
d'emballage n'est susceptible d'entraîner une
pollution de l'environnement et tous peuvent être
recyclés pour un usage ultérieur. Veuillez contribuer à protéger l'environnement et mettre les
matériaux d'emballage au rebut dans le respect
de l'environnement.
Vous pouvez obtenir des informations sur la meilleure façon de mettre au rebut les vieux appareils
électroménagers et matériaux d'emballage auprès
de votre revendeur ou du conseil municipal local.
Vérifiez si ce ventilateur peut être monté en association avec la hotte aspirante.
AVERTISSEMENT DE SÉCURITÉ : Avant de
procéder à la réparation ou au nettoyage de l'appareil, coupez l'alimentation électrique au niveau
du tableau de distribution et verrouiller le dispositif
de sectionnement pour empêcher un rétablissement accidentel de l'alimentation.
Lorsque le dispositif de sectionnement ne peut
pas être verrouillé, apposez une étiquette sur le
panneau de service pour indiquer que l'alimentation a été coupée pour raison d'entretien.
!
!
!
!
AVERTISSEMENT – POUR RÉDUIRE LE RISQUE D'INCENDIE, DE CHOC ÉLECTRIQUE OU
DE PRÉJUDICE PHYSIQUE, RESPECTEZ LES
CONSIGNES SUIVANTES :
AVERTISSEMENT : afin de réduire le risque d'incendie, n'utiliser que des conduits en métal.
ATTENTION – Pour la ventilation générale seulement. Ne pas utiliser l'appareil pour évacuer des
matières ou vapeurs dangereuses ou explosives.
Cet appareil doit être mis à la terre.
AVERTISSEMENT : Pour réduire le risque
d'incendie ou de choc électrique, ne pas utiliser
ce ventilateur avec un régulateur de vitesse
à semi-conducteurs.
Équipement requis
Équipement inclus
❑ Perceuse électrique et foret
❑ Boulons d'ancrage (4)
❑ Tournevis
❑ Vis (4)
❑ Maillet en caoutchouc
❑ Instruction d'installation
❑ Connecteur
PAGE 1
AVANT DE PROCÉDER À
L'INSTALLATION
AVANT DE PROCÉDER À
L'INSTALLATION
Étape 1 : MODE D'ÉVACUATION DE L'AIR
Étape 2 : PRÉPARATION DU MUR
D L'air vicié ne doit jamais être évacué vers un conduit
❑ Le mur doit être plat et perpendiculaire.
de cheminée ou d'évacuation en service pour d'autres raisons, ni vers un conduit servant à l'aération de pièces
dans lesquelles se trouvent également des fourneaux ou
des cheminées.
❑ Veillez à ce que le mur puisse supporter solidement les
vis et les prises nécessaires à l'installation.
L'air vicié doit être évacué conformément à la réglementation officielle et légale seulement (p. ex. la réglementation nationale du bâtiment).
Si l'air vicié doit être évacué par des conduits de cheminée ou d'évacuation qui ne sont pas en service, veuillez
respecter la réglementation des autorités locales.
Nous nous réservons le droit d'apporter des modifications
à l'assemblage à la lumière de développements technologiques.
Poids en kg : 17,8
D Lorsque la hotte aspirante est utilisée en mode
d'évacuation de l'air simultanément avec un brûleur
différent utilisant également la même cheminée, (tels
les appareils de chauffage au gaz, au fuel ou au charbon,
les chauffe-eau instantanés ou les chaudières à eau chaude), veillez impérativement à ce que l'apport d'air frais
soit suffisant pour assurer la combustion adéquate du
brûleur.
Un fonctionnement sans risque est possible si la souspression dans la pièce où le brûleur est installé ne dépasse pas 4 Pa (0,04 mbar).
On peut y parvient en acheminant l'air requis pour la combustion à travers des ouvertures non obturables aménagés
par exemple dans les portes ou les fenêtres, et en association avec des ventouses d'admission/d'évacuation de
l'air fixées au mur ou grâce à d'autres mesures techniques
telles qu'un verrouillage réciproque.
Si l'admission d'air est mauvaise, il existe un risque
d'intoxication par les gaz dégagés lors de la combustion qui sont réacheminés dans la pièce.
Une ventouse d'admission ou d'évacuation d'air fixée au
mur ne constitue pas à elle seule une garantie que la
valeur limite ne sera pas dépassée.
Remarque : lors de l'évaluation de l'exigence globale, toujours tenir compte de l'ensemble des moyens d'aération
du logement. Cette règle ne s'applique pas à l'utilisation
d'appareils de cuisson, comme les tables de cuisson et
les cuisinières.
! Le ventilateur doit être installé au moins à 78
de la hotte aspirante.
/4 po.
3
! Lorsque vous montez un ventilateur de paroi externe,
veillez à ce qu'il soit accessible pour l'entretien et les
réparations.
! Les connecteurs à contacts mâles et femelles des
câbles électriques doivent se trouver à l'intérieur du bâtiment conformément aux codes locaux.
! Ne pas diminuer le diamètre de 10 po. des conduites
reliées à la hotte aspirante.
PAGE 2
INSTALLATION
1. Maintenez le ventilateur en place sur le mur.
Notez le sens de la conduction de l'air.
2. Marquez les 4 trous de fixation à percer.
! Au moins une vis doit être installée dans un montant.
! La prise murale doit convenir à la maçonnerie.
! Sortie d'air vers le bas.
3. Ouverture dans le mur :
Marquez et percez un avant-trou et un trou séparé pour
le conduit électrique.
4. Percez les 4 trous de fixation de 1/4 po. de diamètre.
Introduisez les prises murales et vissez le ventilateur
dans le mur.
5. Connectez la conduite venant du ventilateur à la hotte
aspirante et branchez-la vers l'extérieur.
PAGE 3
6. Connectez le ventilateur à la hotte aspirante à l'aide
d'un câble de prolongement si nécessaire. Utilisez le
connecteur supplémentaire. Pour effectuer les branchements, se reporter au schéma de câblage.
Pour des raisons de sécurité, le couvercle de prise
supplémentaire doit toujours être fixé et fermé.
Les câbles non utilisés doivent être isolés, recouverts avec des capuchons de connexion et entreposés
dans une position non dangereuse.
!
!
Remarque : L'appareil doit posséder une barrière étanche
dans le mur, p. ex. les vis, les raccords de tuyauterie, l'ouverture murale, etc.
Remarque : L'appareil peut également être installé sur
le toit en association avec un accessoire supplémentaire.
Adressez-vous à votre détaillant ou au service client.
N° Tél. : 800-735-4328
PAGE 4
SCHÉMA DE CÂBLAGE
rouge
marron
marron
bleu
bleu
rouge
orange
vitesse 3
vitesse 2
vitesse 1
orange
vitesse 3
vitesse 2
vitesse 1
blanc
vitesse 4
blanc
vitesse 4
vert/jaune
vert/jaune
vitesse 1
(rouge)
vitesse 2
(bleu)
vitesse 3
(orange)
vitesse 4
(marron)
N
(blanc)
PE
(vert/jaune)
PAGE 5
PAGE 6
! INSTRUCCIONES DE SEGURIDAD IMPORTANTES
LEA Y CONSERVE ESTAS INSTRUCCIONES.
Este electrodoméstico cumple con las reglamentaciones de seguridad correspondientes.
A.
El trabajo de instalación y el cableado eléctrico
deben ser realizados por persona(s) calificada(s)
de conformidad con todos los códigos y normas
aplicables, incluidos los de construcción con relación a incendios.
B.
Se requiere aire suficiente para la correcta combustión y extracción de los gases a través del
tubo de humo (chimenea) del equipo quemador
de combustible para prevenir el contratiro. Siga
las pautas del fabricante del equipo de calefacción y las normas de seguridad, como las publicadas por la Asociación Nacional de Protección
contra Incendios (National Fire Protection
Association, NFPA), la Sociedad Americana de
Ingenieros en Calefacción, Refrigeración y Aire
Acondicionado (American Society for Heating,
Refrigeration and Air Conditioning Engineers,
ASHRAE) y las autoridades de códigos locales.
C.
Al cortar o perforar paredes o techos, tenga cuidado de no dañar el cableado eléctrico ni las instalaciones ocultas de los demás servicios.
D.
Para hacer que el aire salga al exterior correctamente, asegúrese de que haya un conducto que
lo dirija hasta afuera. No dirija el aire de salida
hacia espacios dentro de paredes, techos, áticos,
huecos sanitarios o garajes.
Las reparaciones deben ser realizadas por especialistas calificados únicamente.
Las reparaciones realizadas incorrectamente pueden
dar lugar a serios peligros para el usuario.
!
!
!
!
Su nuevo electrodoméstico fue protegido durante
el transporte a su domicilio con material de embalaje. Ninguno de los materiales contamina el
medioambiente y todos se pueden reciclar para
volverse a usar. Ayude a proteger el medioambiente y deseche el embalaje de manera ecológica.
Puede obtener información sobre el mejor método para desechar los electrodomésticos viejos y
el embalaje consultando a su distribuidor o al
concejo municipal local.
Verifique si este ventilador puede combinarse con
la campana extractora.
ADVERTENCIA DE SEGURIDAD: Antes de reparar o limpiar la unidad, apague el suministro eléctrico en el panel de servicio y trabe el medio de
desconexión del servicio para impedir que se
encienda el suministro eléctrico accidentalmente.
Cuando no se pueda trabar el medio de desconexión del servicio, coloque un letrero en el panel de
servicio que indique que se ha apagado el suministro eléctrico para realizar el mantenimiento.
ADVERTENCIA – PARA REDUCIR EL RIESGO
DE INCENDIO, DESCARGA ELÉCTRICA O
LESIONES A PERSONAS, SIGA ESTAS INDICACIONES:
!
!
!
!
ADVERTENCIA: Para reducir el riesgo de incendio, sólo utilice conductos de metal.
PRECAUCIÓN – Solamente para uso general de
ventilación. No use la campana para extraer
materiales ni vapores peligrosos o explosivos.
Esta unidad debe estar conectada a tierra.
ADVERTENCIA: Para reducir el riesgo de incendio o descarga eléctrica, no use el ventilador con
ningún dispositivo de control de velocidad de
estado sólido.
Equipo necesario
Equipo incluido
❑ Taladro y broca
❑ Anclajes (4)
❑ Destornillador
❑ Tornillos (4)
❑ Mazo de hule
❑ Instrucciones de instalación
❑ Conector
PÁGINA 1
ANTES DE LA INSTALACIÓN
ANTES DE LA INSTALACIÓN
Paso 1: MODO DE AIRE DE SALIDA
Paso 2: PREPARACIÓN DE LA PARED
D El aire de salida no debe ser dirigido a un conducto de
humo ni de salida que actualmente se utilice para otros
fines, ni a un hueco que se utilice para ventilar habitaciones en las cuales también se encuentran estufas o chimeneas.
❑ La pared debe ser plana y perpendicular.
El aire de salida puede liberarse sólo respetando las
reglamentaciones oficiales y legales (p. ej., reglamentaciones nacionales sobre construcción).
Se deben cumplir las reglamentaciones de autoridades
locales al liberar el aire en conductos de humo o de salida
que no se utilicen para otros fines.
Nos reservamos el derecho de hacer modificaciones en la
construcción dentro del contexto del desarrollo técnico.
❑ Verifique que la pared pueda sujetar firmemente los
tornillos y tacos de montaje.
Peso en kg: 17,8
D Cuando se utiliza la campana extractora en el modo
de aire de salida simultáneamente con una hornilla
diferente, que también utiliza la misma chimenea
(como calentadores a gas, aceite o carbón, calentadores
de flujo continuo, calentadores de agua), se debe asegurar que haya un suministro de aire fresco suficiente,
que será necesario para la combustión en la hornilla.
La operación segura es posible siempre que la subpresión
de la habitación donde está instalada la hornilla no supere
los 4 Pa (0,04 mbar).
Esto es posible si el aire de combustión puede circular a
través de aberturas que no puedan trabarse, como ser
puertas y ventanas, y a través de cajas de entrada/salida
de aire en la pared, o mediante otras medidas técnicas,
como enclavamiento recíproco, etc.
Si la entrada de aire es insuficiente, existe un riesgo de
intoxicación con los gases de la combustión que vuelven a ingresar a la habitación.
Una caja de entrada/salida de aire en la pared por sí sola
no garantiza que no se superará el valor límite.
Nota: Al evaluar el requisito total, se debe tener en cuenta
el sistema de ventilación combinado para todo el hogar.
Esta norma no se aplica al uso de electrodomésticos de
cocina, como parrillas y hornos.
! El ventilador debe estar conectado a una distancia
mínima de 78 3/4" de la campana extractora.
! Al colocar el ventilador para pared externa, asegúrese
de que esté en un lugar accesible para realizar el mantenimiento y las reparaciones.
! Las conexiones del enchufe y la toma de corriente de
los cables eléctricos deben estar ubicadas dentro del edificio, según los códigos locales.
! No reduzca el diámetro de 10" de las tuberías conectadas a la campana extractora.
PÁGINA 2
INSTALACIÓN
1. Sostenga el ventilador en la pared.
Observe la dirección de la conducción del aire.
2. Marque los 4 agujeros de montaje.
! Al menos un tornillo debe instalarse a través de un
pasador.
! Los tacos deben ser aptos para mampostería.
! La salida de aire debe ir hacia abajo.
3. Elementos para atravesar paredes:
Marque y perfore un agujero de guía y otro agujero para
el conducto eléctrico.
4. Perfore los 4 agujeros de montaje de l 1/4 ".
Introduzca los tacos y atornille el ventilador a la pared.
5. Conecte la tubería del ventilador a la campana extractora y pásela hacia el exterior.
PÁGINA 3
6. Conecte el ventilador a la campana extractora con un
cable de extensión, si fuera necesario.
Use el conector adicional.
Use el diagrama de cableado para realizar la conexión.
Por motivos de seguridad, la tapa adicional sobre el
enchufe siempre debe estar colocada y cerrada.
Los cables que no sean necesarios deben aislarse,
taparse con una tuerca para cable y almacenarse en
una posición segura.
!
!
Nota: La unidad debe estar sellada en la pared según
los requisitos, por ejemplo, con tornillos, conectores de
tuberías, elementos para atravesar paredes, etc.
Nota: La unidad también puede instalarse en el techo
junto con un accesorio adicional. Consulte a su vendedor
minorista o al centro de servicio al cliente.
N° de tel.: 800-735-4328
PÁGINA 4
DIAGRAMA DE CABLEADO
naranja
azul
rojo
marrón
azul
rojo
marrón
velocidad 3
velocidad 2
velocidad 1
naranja
velocidad 3
velocidad 2
velocidad 1
blanco
velocidad 4
blanco
velocidad 4
verde/amarillo
verde/amarillo
velocidad 1 (rojo)
velocidad 2 (azul)
velocidad 3 (naranja)
velocidad 4 (marrón)
N
(blanco)
PE
(verde/amarillo)
PÁGINA 5
5551 McFadden Avenue, Huntington Beach CA, 92649 • 800-735-4328 • www.thermador.com
9000188671 • 10013 RevB • 01/07 © BSH Home Appliances Corporation • Litho in U.S.A.

* Your assessment is very important for improving the workof artificial intelligence, which forms the content of this project