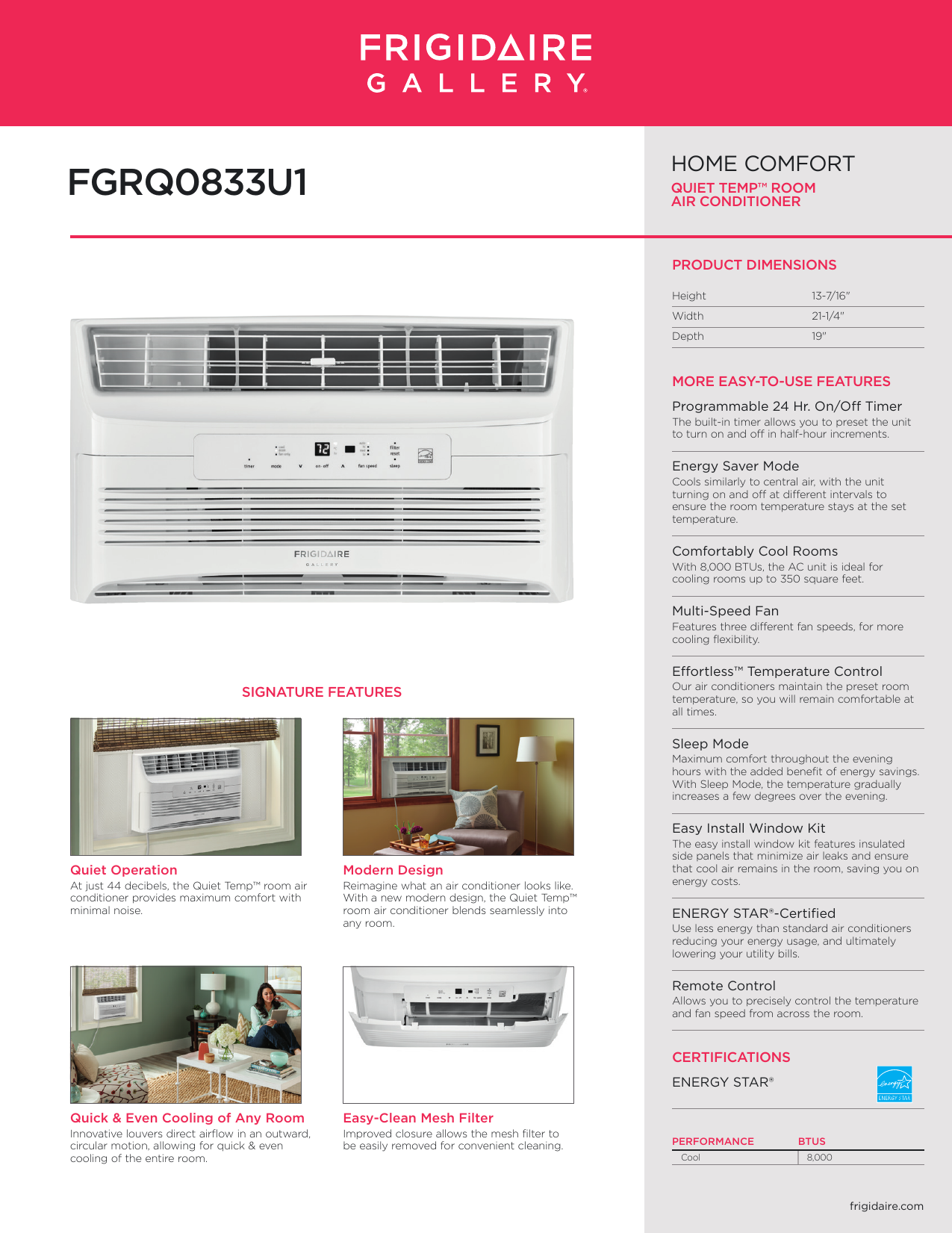 HOME COMFORT
FGRQ0833U1
QUIET TEMP™ ROOM
AIR CONDITIONER
PRODUCT DIMENSIONS
Height
13-7/16"
Width
21-1/4"
Depth
19"
MORE EASY-TO-USE FEATURES
Programmable 24 Hr. On/Off Timer
The built-in timer allows you to preset the unit
to turn on and off in half-hour increments.
Energy Saver Mode
Cools similarly to central air, with the unit
turning on and off at different intervals to
ensure the room temperature stays at the set
temperature.
Comfortably Cool Rooms
With 8,000 BTUs, the AC unit is ideal for
cooling rooms up to 350 square feet.
Multi-Speed Fan
Features three different fan speeds, for more
cooling flexibility.
Effortless™ Temperature Control
SIGNATURE FEATURES
Our air conditioners maintain the preset room
temperature, so you will remain comfortable at
all times.
Sleep Mode
Maximum comfort throughout the evening
hours with the added benefit of energy savings.
With Sleep Mode, the temperature gradually
increases a few degrees over the evening.
Easy Install Window Kit
Quiet Operation
Modern Design
At just 44 decibels, the Quiet Temp™ room air
conditioner provides maximum comfort with
minimal noise.
Reimagine what an air conditioner looks like.
With a new modern design, the Quiet Temp™
room air conditioner blends seamlessly into
any room.
The easy install window kit features insulated
side panels that minimize air leaks and ensure
that cool air remains in the room, saving you on
energy costs.
ENERGY STAR®-Certified
Use less energy than standard air conditioners
reducing your energy usage, and ultimately
lowering your utility bills.
Remote Control
Allows you to precisely control the temperature
and fan speed from across the room.
CERTIFICATIONS
ENERGY STAR®
Quick & Even Cooling of Any Room
Easy-Clean Mesh Filter
Innovative louvers direct airflow in an outward,
circular motion, allowing for quick & even
cooling of the entire room.
Improved closure allows the mesh filter to
be easily removed for convenient cleaning.
PERFORMANCE
Cool
BTUS
8,000
frigidaire.com
FGRQ0833U1
HOME COMFORT
QUIET TEMP™ ROOM AIR CONDITIONER
PERFORMANCE
BTU (Cool)
Dehumidification (Pints / Hour)
Cool Area (Up To Sq. Ft.)
Combined Energy Efficiency Ratio
Energy Efficiency Ratio
PRODUCT DIMENSIONS
RAC Compact Models_Window
Frigidaire Gallery
8,000
A - Height
13-7/16"
1.7
B - Width
21-1/4"
350
C - Depth
19"
12.0
12.0
ELECTRICAL
Volts
115
Amps (Cool)
5.8
Watts (Cool)
665
Length of Power Cord (Min. / Max.)
6' / 6.5'
Plug Type (NEMA)
LCDI (5-15P)
WINDOW DIMENSIONS
D - Height (Min.)
13-7/16"
E - Width (Min. / Max.)
25-13/16" / 38-13/16"
FEATURES
Quiet Temp™
44 dBA
Electronic Controls
Ready-Select® Controls
Fan Speeds (Cool / Fan)
3/3
Low Voltage Start-Up
Yes
Auto Cool Function
Yes
Energy Saver Mode
Yes
Sleep Mode
Yes
Filter Check
Yes
24-Hour On / Off Timer
Yes
Clean Air Ionizer
Remote Control
Full-Function
Air CFM (High / Med / Low)
220 / 200 / 126
Air Direction Control
4-Way
Fresh Air / Exhaust Vent / Closed
No / No / Yes
Filter Type
Antibacterial Mesh
Filter Access
Slide-Out
E
Slide-Out Chassis
Window Mounting Kit (Included)
Pleated Quick Mount
Warranty1
Yes
CERTIFICATIONS
D
ENERGY STAR®
Yes
Performance
AHAM
A
SPECIFICATIONS
Refrigerant
R410a
Shipping Weight (Approx.)
69 Lbs.
Warranty 5 year sealed system / 1 year full parts and labor.
1
C
B
Plug Type (NEMA)
5-15P
Note: For planning purposes only. Always consult local and national electric, gas and plumbing codes.
Refer to Product Installation Guide for detailed installation instructions on the web at frigidaire.com.
Specifications subject to change. Accessories information available on the web at frigidaire.com
USA • 10200 David Taylor Drive • Charlotte, NC 28262 • 1-800-FRIGIDAIRE • frigidaire.com
CANADA • 5855 Terry Fox Way • Mississauga, ON L5V 3E4 • 1-800-265-8352 • frigidaire.ca
FGRQ0833U1 01/18
© 2018 Electrolux Home Products, Inc.

* Your assessment is very important for improving the work of artificial intelligence, which forms the content of this project