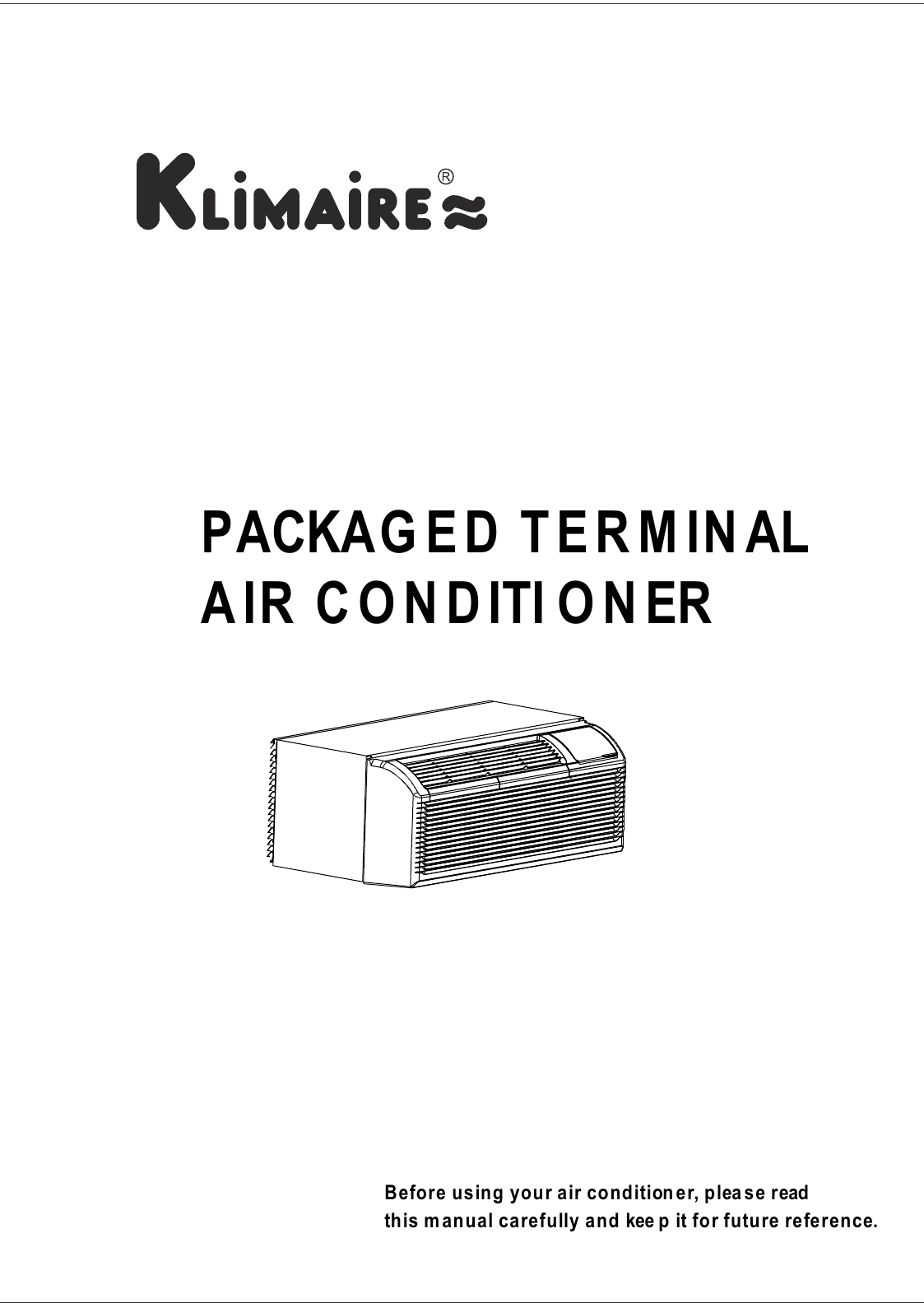 PACKAG E D T E R M IN AL
A IR C O N D ITI O N ER
Before using your air condition er, plea se read
this m anual carefully and kee p it for future reference.
CONTENTS
1. SAFETY PRECAUTIONS..................................................................2
2. IMPORTANT SAFETY INSTRUCTIONS ..........................................4
3. AIR CONDITIONER FEATURES.......................................................5
4. CONTROL PANEL OPERATION.......................................................6
5. INSTALLATION .................................................................................7
6. CARE AND CLEANING......................................................................9
7. TROUBLESHOOTING.......................................................................10
R ead This Manual
Inside you will find many helpful hints on how to use and maintain your air conditioner
properly. Just a little preventive care on your part can save you a great deal of time
and money over the life of your air conditioner. You'll find many answers to common
problems in the chart of troubleshooting tips. If you review our chart of Troubleshooting
Tips first, you may not need to call for service at all.
! CAUTION
Contact the authorised service technician for repair or maintenance of this unit.
Contact the installer for installation of this unit.
The air conditioner is not intended for use by young children or infirm persons
without supervision.
Young children should be supervised to ensure that they do not play with the air
conditioner.
If the power cord is to be replaced, replacement work shall be performed by
authorised personnel only.
Installation work must be performed in accordance with the national wiring
standards by authorised personnel only.
NOTE: All the illustrations in this manual are for explanation purpose only. Your air
conditioner may be slightly different. The actual shape shall prevail.
1
SAFETY PRECAUTIONS
To prevent injury to the user or other people and property damage, the following instructions
must be followed. Incorrect operation due to ignoring of instructions may cause harm or
damage. The seriousness is classified by the following indications.
!
WARNING
This symbol indicates the possibility of death or serious injury.
!
CAU TION
This symbol indicates the possibility of injury or damage to property.
Meanings of symbols used in this manual are as shown below.
Never do this.
!
Always do this.
! WARNING
Plug in power plug
properly.
Do not operate or stop the
unit by inserting or pulling
out the power plug.
Do not damage or use an
unspecified power cord.
Otherwise, it may cause electric
shock or fire due to excessheat
generation.
It may cause electric shock or fire
due to heat generation.
It may cause electric shock or fire.
If the power cord is damaged, it
must be replaced by the manufacturer or an authorised service
centre or a similarly qualified person in order to avoid a hazard.
Do not modify power cord
length or share the outlet
with other appliances.
Do not operate with wet
hands or in damp
environment.
It may cause electric shock or
fire due to heat generation.
It may cause electric shock.
Always ensure effective
earthing.
Do not allow water to run
into electric parts.
Incorrect earthing may cause
electric shock.
It may cause failure of machine
or electric shock.
Unplug the unit if strange
sounds, smell, or smoke
comes from it.
Do not use the socket if it is
loose or damaged.
It may cause fire and electric
shock.
It may cause fire and electric
shock.
Keep firearms away.
Do not use the power cord
close to heating appliances.
It may cause fire.
It may cause fire and electric
shock.
Ventilate room before operating air
conditioner if there is a gas leakage from
another appliance.
Do not direct airflow at
room occupants only.
This could damage your health.
Always install circuit
breaker and a dedicated
power circuit.
Incorrect installation may cause
fire and electric shock.
Do not open the unit
during operation.
It may cause electric shock.
D o n o t u s e th e p o w e r c o r d n e ar
fl a m m a b l e g a s o r c o m bu s ti b le s , s u ch
a s g a s o l in e , b e n z e n e , t h in n e r, e tc.
It may cause an explosion or fire.
Do not disassemble or modify unit.
It may cause explosion, fire and, burns.
It may cause failure and electric shock.
2
! CAUTION
When the air filter is to be
removed, do not touch the
metal parts of the unit.
It may cause an injury.
Do not clean the air
conditioner with water.
Water may enter the unit and
degrade the insulation. It may
cause an electric shock.
When the unit is to be
cleaned, switch off, and turn
off the circuit breaker.
Do not put a pet or house
plant where it will be
exposed to direct air flow.
Do not clean unit when
power is on as it may cause
fire and electric shock, it may
cause an injury.
This could injure the pet or
plant.
Stop operation and close
the window in storm or
hurricane.
Operation with windows
opened may cause wetting
of indoor and soaking of
household furniture.
Do not place obstacles
around air-inlets or inside
of air-outlet.
It may cause failure of
appliance or accident.
Do not use strong detergent such as wax or
thinner but use a soft cloth.
Appearance may be
deteriorated due to change
of product color or
scratching of its surface.
Hold the plug by the head
of the power plug when
taking it out.
It may cause electric shock
and damage.
Ventilate the room well when
used together with a stove,
etc.
An oxygen shortage may occur.
Do not use for special
purposes.
Do not use this air conditioner to
preserve precision devices, food,
pets, plants, and art objects.
It may cause deterioration of
quality, etc.
Turn off the main power
switch when notu sing the
unit for a long time.
It may cause failure of product
or fire.
insert the filters
E n s u r e th a t th e in s ta ll a tio n b r a c k e tAlways
of
securely. Clean filter once
th e o u td oo r ap p lia n c e is n o t d a m aged
every two weeks.
du e to p r o lon g e d e x p o s u r e.
If bracket is damaged, there
is concern of damage due to
falling of unit.
Operation without filters may
cause failure.
D o n o t p la c e hea v y ob je c t o n the Do not drink water drained
p o w e r c o rd a n d en su re th a t th e c o rdfrom air conditioner.
is n o t c o m p re ss e d.
There is danger of fire or
electric shock.
It contains contaminants and
could make you sick.
If water enters the unit, turn the unit off at the power
outlet and switch off the circuit breaker. Isolate
supply by taking the power-plug out and contact a
qualified service technician.
Use caution when unpacking and
installing. Sharp edges could cause injury.
3
IMPORTANT SAFETY INSTRUCTIONS
WARNING
NOTE The power supply cord with
this air conditioner contains a current
detection device designed to reduce
the risk of fire.
Please refer to the section Operation
of Current Device for details.
In the event that the power supply
cord is damaged, it cannot be
repaired-it must be replaced with a
cord from the Product Manufacturer.
Do not, und er a ny
circums tances, cut,
rem ove, or bypass
the groundi ng prong.
Power supply cord
with 3-pron g groun ding plug
and current detecti on devic e
For your safety
Do not store or use gasoline or other flammable vapors and liquids in
the vicinity of this or any other appliance.
Avoid fire hazard or electric shock. Do not use an extension cord or an
adaptor plug. Do not remove any prong from the power cord.
WARNING
El ectrical Infor mation
Be sure the electrical service is adequate for the model you have
chosen. This information can be found on the serial plate, which
is located on the side of the cabinet and behind the grille.
Be sure the air conditioner is properly grounded. To minimize
shock and fire hazards, proper grounding is important. The power
cord is equipped with a three-prong grounding plug for protection
against shock hazards.
Your air conditioner must be used in a properly grounded wall
receptacle. If the wall receptacle you intend to use is not adequately
grounded or protected by a time delay fuse or circuit breaker,
have a qualified electrician install the proper receptacle.
Ensure the receptacle is accessible after the unit installation.
Do not run air conditioner without side protective cover in place.
This could result in mechanical damage within the air conditioner.
Do not use an extension cord or an adapter plug.
Op eratio n of Cu rrent D evice
The power supply cord contains a current device that senses damage to the power cord. To test your power
supply cord do the following:
1. Plug in the Air Conditioner.
2. The power supply cord will have TWO buttons on the plug head.
Press the TEST button, you will notice a click as the RESET
button pops out.
3. Press the RESE T button, again you will notice a click as the button
engages.
4. The power supply cord is now supplying electricity to the unit.
(On some products this it also indicated by a light on the plug head.)
NOTES:
Do not use this device to turn the unit on or off.
Always make sure the RESET button is pushed in for correct operation.
The power supply must be replaced if it fails reset when either the TEST button is pushed, or it cannot be
reset. A new one can be obtained from the product manufacturer.
If power supply cord is damaged, it cannot be repaired. It MUST be replaced by one obtained from the
product manufacturer.
4
AIR CONDITIONER FEATURES
This unit has many featrues.The servicer must be
familiar with these features in order to properly
service the unit.
Compressor Restart Delay
This feature extends the overall life of compressor by preventing the short-cycling of the air
conditioner.When the compressor restarts,the
unit is designed to give a minimum of three
minutes to have a time of equalizing the refrigerant pressures for optimizing cycling.
High Temperature Protection In Heating
Operation
The compressor and(or) electric heater will be
switched off to prevent damage in high indoor
blow air temperature or error indoor temperature
sensor.
Unit Configuration
O
O
F or C
The unit can display in either OF or OC.
Memory
The unit has memory .If power is lost,all of the
control settings(mode,fan speed,on/off and
configuration) are remembered.So when power
is restored,the unit will start back up in the mode
(and configuration) it was in,when power was
lost.
Automatic Evaporator Freeze Protection
Automatically to keep the evaporator from
freezing,the compressor is tuuned off and the
indoor fan is turned on when the evaporator
temperature is too lower.If the evaporator
temperature is not too lower this function is off.
Automatic Defrost Protection (for heat pump
models only)
When the outdoor tube temperature gets too
cold the unit will automatically switch to electric
heating and the compressor will be off. The unit
will then heat with electric heat until the outside
temperature rises enough,so the compressor
can be used again.
Automatic Quick Warm-up (for heat pump
models only)
If the room temperature falls to 4.5 OC/8 OF
below the set point temperature,the reverse
cycle heat is shut off and the electric strip heat
is turned on for one cycle,until heating is
satisfied.
LED Indicators and Buttons
The touch pad has buttons for MODE,FAN,
POWER,SETPOINT UP and SETPOINT DOWN.
It also has LEDs that correspond to the mode,
fan speed,power, and setpoint operation,to
indicate the unit s status.LEDs for HIGH,MED
and LOW indicate the fan speed that is selected.
LEDs for FAN,COOL and HEAT indicate what
operating mode is active.LED for POWER is the
unit ON/OFF status LED.If the unit is in ON mode,
the LED will be green.If the unit is OFF,the LED
will be off.
NO TE: HEAT mode is for Cooling & Heating models only.
5
CONTROL PANEL OPERATION
The control pane l keypad will look like the following
Fig.1:
HIGH MED LOW
FAN COOL HEAT
POWER
Fig.1
POWER
- Press the POW ER button to turn the unit on or off.
W hen the unit is on,the power indicator light will be
green.When the unit is off,the light will go out.
MODE
- Push this button to cycle through the modes from
COOL-HEAT-FAN-COOL.The indicator light beside
the "M ODE" option will illuminate, identifying the
mode selected.
- COO L:The rang e of set temperature is 17 OC/62 OF
O
O
~30 C/86 F.Cooling beg ins au tom atically when the
room temperature is above the set point,and stops
when the room temperature is 2 OC(4 O F) below the
set point.But the comp ressor will run 5 m inutes at
least in COOL m ode before stoping. The fan runs
in continu ous mode.
- HEAT:The range of set temperature is 17 OC/62OF
O
O
~29 C/84 F.For hea t pump models,the unit can
alternate to run between in reverse cycle heat mode
and electric heater mode according to the difference
between the setting temperature and the room
tempe rature.The fan motor cycles on and off
with the compressor and electric hea ter.
NOTE: The reverse cycle and electric he ater can
not be run at the same time.
- FAN:Fan ope ration only without heating and cooling.
UP/DOWN BUTTONS (
/
)
- Push the UP (or DOWN) button to increase (or
decrease) the set temperature of the unit in cooling
or heating mode.The temperature can be set by
O
O
increments of 1 C (1 F).The setting temperature
appea rs in the display.
NOTE:Press and ho ld
and
buttons toge ther
for 3 seconds will alternate the tempe rature display
between OC & O F scale.
6
FAN (FAN SPEED)
- Every time you push this button,the fan speed
cycles through the settings as follows:HIGH-M EDLOW -HIGH.
DISPLAYS:
O
O
- Shows the set tem perature in C or F. While on
Fan only m ode ,it shows the room temperature.
Control code (on some models):
LC-Pads on the control panel is not available.The
unit can be setted by using wire cotroller only.
Error codes:
AS-Room temp erature sensor error;
ES-Evapo rator temperature sensor error;
CS-Condenser temperature sensor error;
OS-Outside tempe rature sensor error;
HS-Exhaust tempe rature sen sor error;
NOTE:Whe n error occurs,unplug the unit and plug
it back in.If error repe ats, call for service.
Other codes:
O
O
LO-Room tem perature is lower than 0 C/32 F;
O
O
HI-Room temperature is higher than 37 C/99 F.
INSTALLATION
Dim ension of air cond itioner
HOW TO INSTALL THE UNIT
! CAUTION
1067mm/ 42i nch
There are sharp edges that can cause serious cuts.
When lifting the air conditioner,it is HEAVY.Use 2
peo ple to lift.
408mm/16inc h
- For existing sleeve,you shou ld measure the wall
sleeve dimensions.
606mm/23.9inc h
- Install the new air cond itioner according to these
installation instructions to achieve the best performan ce.
All wall sleeves used to mount the ne w air conditioner
Dim ension of sleeve assembly (optiona l)
must be in goo d structural con dition and have a rear
grille that securely attaches to the sleeve or the flange
1067mm/42inch
of the sleeve to secure the new air conditioner.
- To avoid vibration and noise,m ake sure the unit is
installed securely and firmly.
408mm/16inch
- When installing the sleeve,make certain there is
nothing within 20 of the back that would interfere
with heat radiation and exhaust air flow. (See Fig.2)
376mm/14.8inch
COO LED
AIR
WALL
SLEEVE
HEAT
RADIATION
Shipping
tape
Over 20
INTAKE
AIR
WALL
Fig.3
Fig.2
PREPARATION OF SLEEVE ASSEMBLY(optional)
- Refer to the installation instruction of sleeve assem bly
for details.
PREPARATION OF REAR GRILLE ASSEMBLY(optional)
- Refer to the installation instruction of rear grille
assem bly for details.
- Pull out at the bottom to release it from the tabs
- Then lift up .
UNIT INSTALLATION
Fig.4
- Carefully remove shipping tape s from the front panel.
(See Fig.3)
Shipping
- Remove the fron t panel. (See Fig.4)
screw
- Remove the shipping screw from the vent doo r.(See
Fig.5)
7
Fig.5
.
INSTALLATION(CONTINUED
)
UNIT INSTALLATION (CONTINUED)
- Rotate the vent control lever to either open or close
the vent door.(See Fig.6)
Vent control lever
Vent closed
Vent open
Fig.6
NOTE:When vent control lever set at CLOSE,only
the air inside the room is circulated and filtered.
When set at OPE N,some outdoor air will be drawn
into room.This will reduce heat ing or cooling
efficiency.
- Lift unit level and slide unit into w all sleeve until
firmly against front of wall sleeve and secure w ith
4 screws and washers (supplied in the SLEEVE
ASSEMBLY ) through the unit flange holes.
(See Fig.7 and Fig.8)
Fig.7
Fig.8
- Reinstall front panel.(See Fig.9)
Place tabs over top rail . Push Inward at bottom
until pan el snap s into place
.
Fig.9
8
! CAUTION
Do not put obstacles around air-inlet or
inside of air-outlet of the unit, such as window
curtain etc.
Always insert the filter securely, clean filter once
every two weeks as required.
CARE AND CLEANING
FRONT PANEL AND CASE
- Turn unit off and disconnect power supply.To clean,
use water and a mild detergent.DO NOT use bleach
and abrasivers.Som e commercial cleane rs may
damag e the plastic parts.
OUTDOOR COIL
- Coil on outdo or side of unit shou ld be checked
regularly.Unit will ne ed to be remo ved to inspect
dirt bu ild-up that will occur on the inside of the coil.
If clogge d with dirt and soo t ,coil should be
professionally cleaned. Clean inside and outside of
outdoor coils regularly.
NOTE: Never use a high-pressure spray on coil.
! CAUTION
- Rem oving Air Filter
2 Air filters
Pull up
Fig.9
- Replacing Air Filter
Push do wn
UNIT DAMAGE HAZARD
Failure to follow this caution may result in
equipm ent damge or improper operation.
Airflow restriction may cause da mage to the unit.
AIR FILTERS
IMPORTANT:TURN UNIT OFF BEFORE
CLEANING.
! CAUTION
UNIT DAMAGE HAZARD
Failure to follow this caution may result in
equipm ent damge or improper operation.
Do not operate unit without filters in place.If a filter
becomes torn or dam age d,it should be rep laced
imm ediately.
Operating without filters in place or with damaged
filter will allow dirt and du st to reach ind oor coil and
redu ce cooling ,heating,airflow and efficiency of unit.
Airflow restriction may cause da mage to unit.
- The m ost important thing you can do to maintain
unit efficiency is to clean the filters once every
two weeks as requ ired.
Clogged filters reduce cooling,heating and airflow.
- Keeping filters clean will:
Decrease cost of op eration.
Save energy.
Prevent clogged indoor coil.
Reduce risk of prem ature com ponent failure.
- To Clean Air Filters:
Vacuum off heavy soil.
Run water throug h filter.
Dry thoroughly before replacing.
Fig.10
VENT DOOR FILTER
IMPORTANT:TURN UNIT OFF BEFORE
CLEANING.
- If the vent door is open,access requires the rem oval
of the unit from the wall sleeve.C lean the vent filter
twice a year or as required.
- Make sure to remove the shipping screw from the
vent door.(See.Fig.5)
- Rotate the vent control lever to open the vent door.
(See. Fig.6)
- Remove four screws from the ven t door filter.
(See.Fig.11)
- First pull out the ven t door steel w ire from the hole
of the vent do or, then take off the ven t door and filter.
(See.Fig.11)
- Clean the filter.Dry thoroughly before replacing.
- Replac the vent door and filter,reinstall the four
screws.
- Reinsert the vent do or steel wire into the hole of the
vent door.
Vent door
control lever
.
Screws
Vent door
steel wire
Fig.11
9
Vent door
filter
Vent door
TROUBLESHOOTING
POSSIBLE CAUSES
UNIT DOES NOT START
Unit ma y have become unp lugged
Fuse may have blown
Circuit breaker may have bee n tripped
Unit ma y be off
Unit ma y be in a protection mode.
UNIT NOT COOLING/HEATING ROOM
Unit air discharge section is blocked
Tem perature setting is not high or low
enough
Note:Setpoint limits may not allow the
unit to heat or cool the room to the
temperature desired.Check section on
dipswitch settings.
Unit air filters are dirty.
Roo m is excessively hot or cold when
unit is started.
Vent door left open.
Unit ma y be in a protection mode.
Compressor is in time delay.
SOLUTONS
Check that plug is plugged securely in wall receptacle.
Note:Plug has a test/reset button on it.M ake sure that the plug has
not tripped.
Replace the fuse.See N ote 1.
Reset circuit breaker.See Note 1.
Turn unit on (bottom right button on keypad).
Make sure that curtains,blinds or furniture are not restricting or
blocking unit airflow.
Reset to a lower or higher tem perature setting.
Remove and clean filters.
Allow sufficient amount of time for unit to heat or cool the room.Start
heating or cooling early before outdoor temperature,cooking heat or
gatherings of people make room uncomfortable.
Close vent door.
Check dipswitch settings for desired com fort.
Wait approximately 3 m inutes for com pressor to start.
DISPLAY HAS STRANGE NUMBERS/
CHARACTERS ON IT
UNIT MAKING NOISES
The unit may be in a protection mode.
The unit may be set for OC (instead of O F).
Clicking,gurging and whooshing noises are normal during operation
of unit.
WATER DRIPPING OUTSIDE
If a drain kit has not been installed,condensation runoff during very
hot and humid weather is normal.See Note 2.If a drain kit has been
installed and is connected to a drain system,check gaskets and
fittings around drain for leaks and plugs.
WATER DRIPPING INSIDE
Wall sleeve is not installed level
Wall sleeve must be installed level for proper drainag e of
condensation .Check that installation is level and m ake any
necessary adjustments.
ICE OR FROST FORMS ON INDOOR
COIL
Low outdoor temperature
D irty filters
When outdoor temperature is approximately 55OF or below,frost
may form on the indoor coil when unit is in Cooling mode.Switch unit
to FAN operation until ice or frost melts.
Remove and clean filters.
COMPRESSOR PROTECTION
Random Compressor restart-Whenever the unit is plugged in,or
Power m ay have cycled,so comp ressor power has been restarted,a random com pressor restart will occur.
is in a restart protection.
After a power outage,the compressor will restart after approximately
3 m inutes.
Compressor Protection-To prevent short cycling of the compressor,
there is a random startup delay of 3 m inutes and a minim um
compressor run time of 3 m inutes.
NOTES:
1.If circuit breaker is tripped or fuse is blown more than once,contact a qualified electrician.
2.If unit is installed where condensation drainag e could drip in an undesirable location,an accessory drain kit
shou ld be installed and connected to drain system.
10
The Klimaire logo is a registered Trademark of Klimaire Products inc.
Copyright 2010 Klimaire Products inc.
2190 NW 89 Place, Doral, FL 33172 - USA
Tel: (305)594-4972 Fax (305) 675-2212
www.klimaire.com
[email protected]
The design and specifications are subject to change without prior notice for product
improvement. Consult with the sales agency or manufacturer for details.