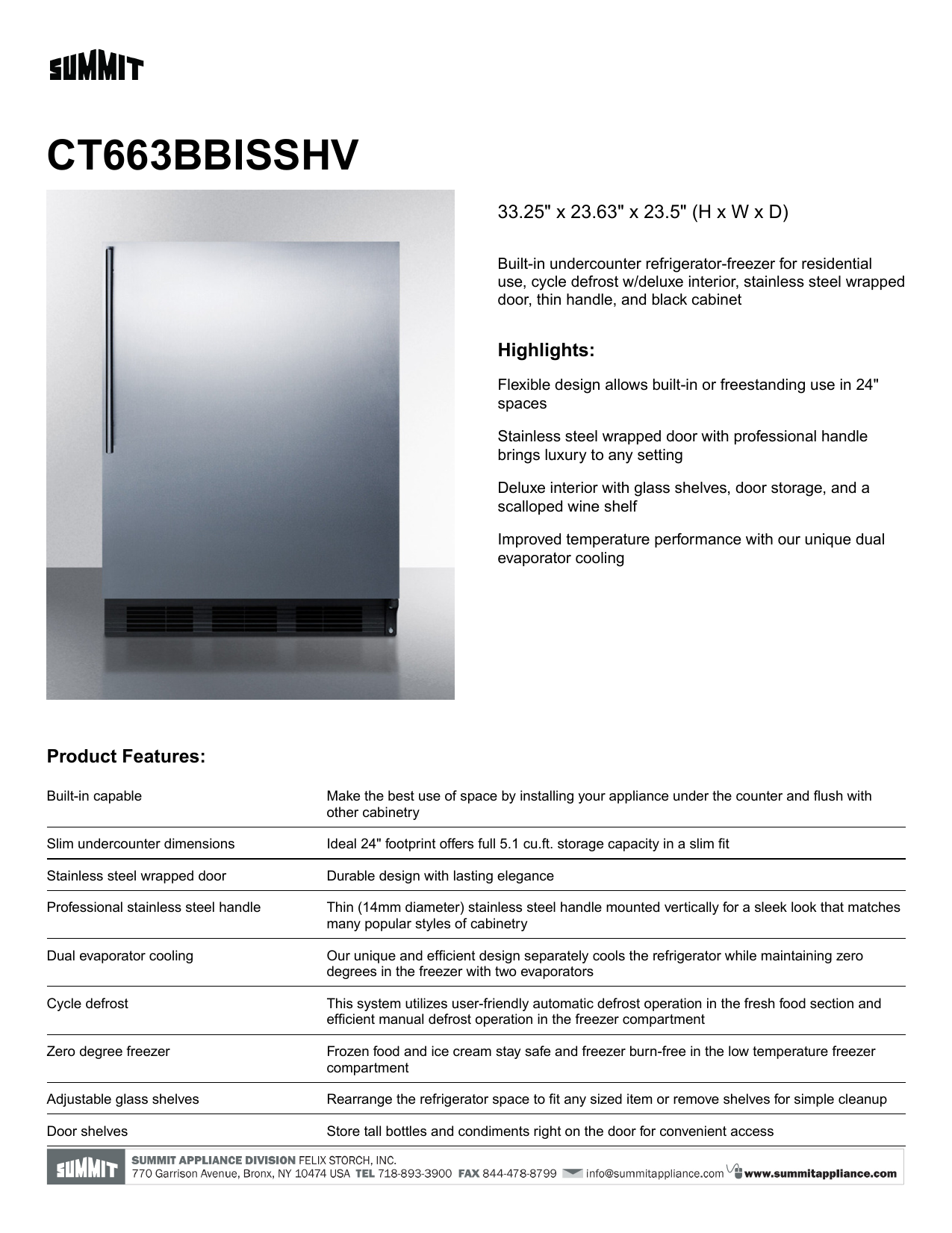 CT663BBISSHV
33.25" x 23.63" x 23.5" (H x W x D)
Built-in undercounter refrigerator-freezer for residential
use, cycle defrost w/deluxe interior, stainless steel wrapped
door, thin handle, and black cabinet
Highlights:
Flexible design allows built-in or freestanding use in 24"
spaces
Stainless steel wrapped door with professional handle
brings luxury to any setting
Deluxe interior with glass shelves, door storage, and a
scalloped wine shelf
Improved temperature performance with our unique dual
evaporator cooling
Product Features:
Built-in capable
Make the best use of space by installing your appliance under the counter and flush with
other cabinetry
Slim undercounter dimensions
Ideal 24" footprint offers full 5.1 cu.ft. storage capacity in a slim fit
Stainless steel wrapped door
Durable design with lasting elegance
Professional stainless steel handle
Thin (14mm diameter) stainless steel handle mounted vertically for a sleek look that matches
many popular styles of cabinetry
Dual evaporator cooling
Our unique and efficient design separately cools the refrigerator while maintaining zero
degrees in the freezer with two evaporators
Cycle defrost
This system utilizes user-friendly automatic defrost operation in the fresh food section and
efficient manual defrost operation in the freezer compartment
Zero degree freezer
Frozen food and ice cream stay safe and freezer burn-free in the low temperature freezer
compartment
Adjustable glass shelves
Rearrange the refrigerator space to fit any sized item or remove shelves for simple cleanup
Door shelves
Store tall bottles and condiments right on the door for convenient access
CT663BBISSHV Specifications:
Overview
Adjustable Shelves
Yes
Yes
Height
33.25"
Wine Bottle Shelving
Width
23.63"
Interior Light
Yes
Depth
23.5"
Thermostat Type
Dial
Depth with door at 90°
Capacity
Defrost Type
Door
Cabinet
45.38"
5.1 cu.ft.
2.33
Stainless Steel
High Side PSI
285.0
Black
Low Side PSI
70.0
Canadian Electrical
Safety
ULC
Energy Usage/Year
365.0kWh/year
1.3
115 V AC/60 Hz
Weight
100.0 lbs.
Shipping Weight
120.0 lbs.
Parts & Labor Warranty
Compressor Warranty
1 Year
5 Years
Refrigerator-Freezer
Door Swing
Reversible
Crisper Qty
RHD
Factory
Reversible
1
Crisper Finish
Transparent
Crisper Cover
Glass
Refrigerator - Interior
Height
18.0"
Refrigerator - Interior
Width
21.0"
Refrigerator - Interior
Depth
18.0"
Refrigerator - Capacity
Refrigerator - Shelf Type
4.5 cu.ft
Glass
Refrigerator - Shelf Qty
2
Refrigerator - Full Door
Shelves
3
Freezer - Interior Height
5.25"
Freezer - Interior Width
19.0"
Freezer - Interior Depth
11.5"
Freezer - Capacity
R134a
Freon Amount
UL
Voltage/Frequency
Freon
Exterior
Cycle
US Electrical Safety
Amps
Fan Type
0.6 cu.ft
Level Legs
4
Compressor Step Height
5.5"
Compressor Step Width
21.0"
Compressor Step Depth
6.0"

* Your assessment is very important for improving the work of artificial intelligence, which forms the content of this project