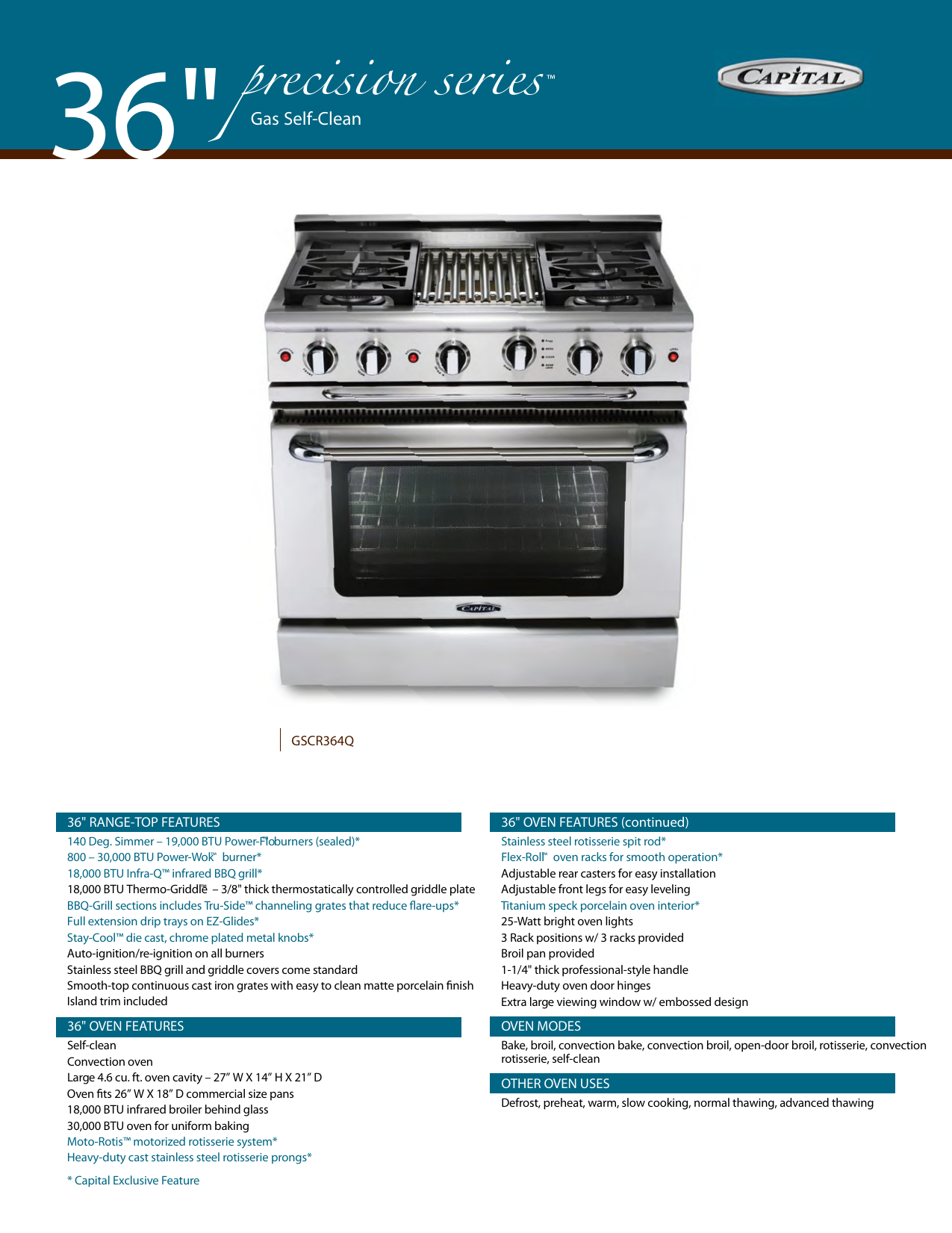 36"
precision series
™
Gas Self-Clean
GSCR364Q
36" RANGE-TOP FEATURES
36" OVEN FEATURES (continued)
™ burners (sealed)*
140 Deg. Simmer – 19,000 BTU Power-Flo
800 – 30,000 BTU Power-Wok™ burner*
18,000 BTU Infra-Q™ infrared BBQ grill*
™ – 3/8" thick thermostatically controlled griddle plate
18,000 BTU Thermo-Griddle
BBQ-Grill sections includes Tru-Side™ channeling grates that reduce flare-ups*
Full extension drip trays on EZ-Glides*
Stay-Cool™ die cast, chrome plated metal knobs*
Auto-ignition/re-ignition on all burners
Stainless steel BBQ grill and griddle covers come standard
Smooth-top continuous cast iron grates with easy to clean matte porcelain finish
Island trim included
Stainless steel rotisserie spit rod*
Flex-Roll™ oven racks for smooth operation*
Adjustable rear casters for easy installation
Adjustable front legs for easy leveling
Titanium speck porcelain oven interior*
25-Watt bright oven lights
3 Rack positions w/ 3 racks provided
Broil pan provided
1-1/4" thick professional-style handle
Heavy-duty oven door hinges
Extra large viewing window w/ embossed design
36" OVEN FEATURES
OVEN MODES
Self-clean
Convection oven
Large 4.6 cu. ft. oven cavity – 27" W X 14" H X 21" D
Oven fits 26" W X 18" D commercial size pans
18,000 BTU infrared broiler behind glass
30,000 BTU oven for uniform baking
Moto-Rotis™ motorized rotisserie system*
Heavy-duty cast stainless steel rotisserie prongs*
Bake, broil, convection bake, convection broil, open-door broil, rotisserie, convection
rotisserie, self-clean
* Capital Exclusive Feature
OTHER OVEN USES
Defrost, preheat, warm, slow cooking, normal thawing, advanced thawing
Capital exclusive feature:
Power-Flo™ burners.
19,000 BTU -140 deg. simmer
Capital exclusive feature:
Moto-Rotis™ motorized
rotisserie in oven
Capital exclusive feature:
Flex-Roll™ oven racks
Infrared gas broiler
GAS SELF-CLEAN CONVECTION MODELS AVAILABLE*
GSCR366 – 36" six
burner gas self-clean
range + convection
GSCR364W – 36" four burner
gas self-clean range w/ PowerWok™ + convection**
GSCR364G – 36" four
burner gas self-clean range
w/ 12" Thermo-Griddle™ +
convection
GSCR364Q – 36" four burner
gas self-clean range w/ 12"
Infra-Q™ + convection
Optional cabernet
red knobs
Infra-Q™ BBQ grill
sear pod
30,000 BTU Power-Wok™
Chopping block
AVAILABLE ACCESSORIES
Conversion kits
Birch wood chopping blocks
CRK36 – Chrome and red knobs
P36SHS – 19" stainless steel wall mount high shelf
P36SLB – 9" stainless steel wall mount low back
Wok ring
COMPLIMENTARY PRODUCTS
PSVH36L – 36" Performance Series vent hood w/ 1200 CFM blower + lights
PSVH36HL – 36" Performance Series vent hood w/ 1200 CFM blower + heat lamps + lights
Duct covers
GRT24WK – 24" 30,000 BTU built in Power-Wok™ range-top
GRT30Q – 30" 40,000 BTU Built in Infra-Q™ infrared BBQ grill
SHIPPING WEIGHT
* Available in Natural Gas and Liquid Propane
** Special order (longer lead times may apply); 15,000 BTU Power-Flo™ burners on
GSCR364W model only
300-450 LBS
ELECTRICAL RATINGS
VOLTAGE
CURRENT/POWER
FREQUENCY
120 VAC
20 AMP
60 HZ
NATURAL GAS
PROPANE
5.0" W.C.
10" W.C.
GAS RATINGS
Manifold pressure:
OTHER
"0" clearance base cabinet installation
Field convertible to LP or NG depending on gas type
ETL certified for USA and Canada
2 years full parts and labor covers entire product (conditions apply)
CABINET PREPARATION
Capital Cooking Equipment Inc.
13211 Florence Ave.
Santa Fe Springs, CA 90670
Phone: 562-903-1168
Toll Free: 866-402-4600
email: customerservice@capital-cooking.com
Made in the U.S.A.
Visit our web site: www.capital-cooking.com
© 2006 Capital Cooking Equipment, Inc.

* Your assessment is very important for improving the work of artificial intelligence, which forms the content of this project