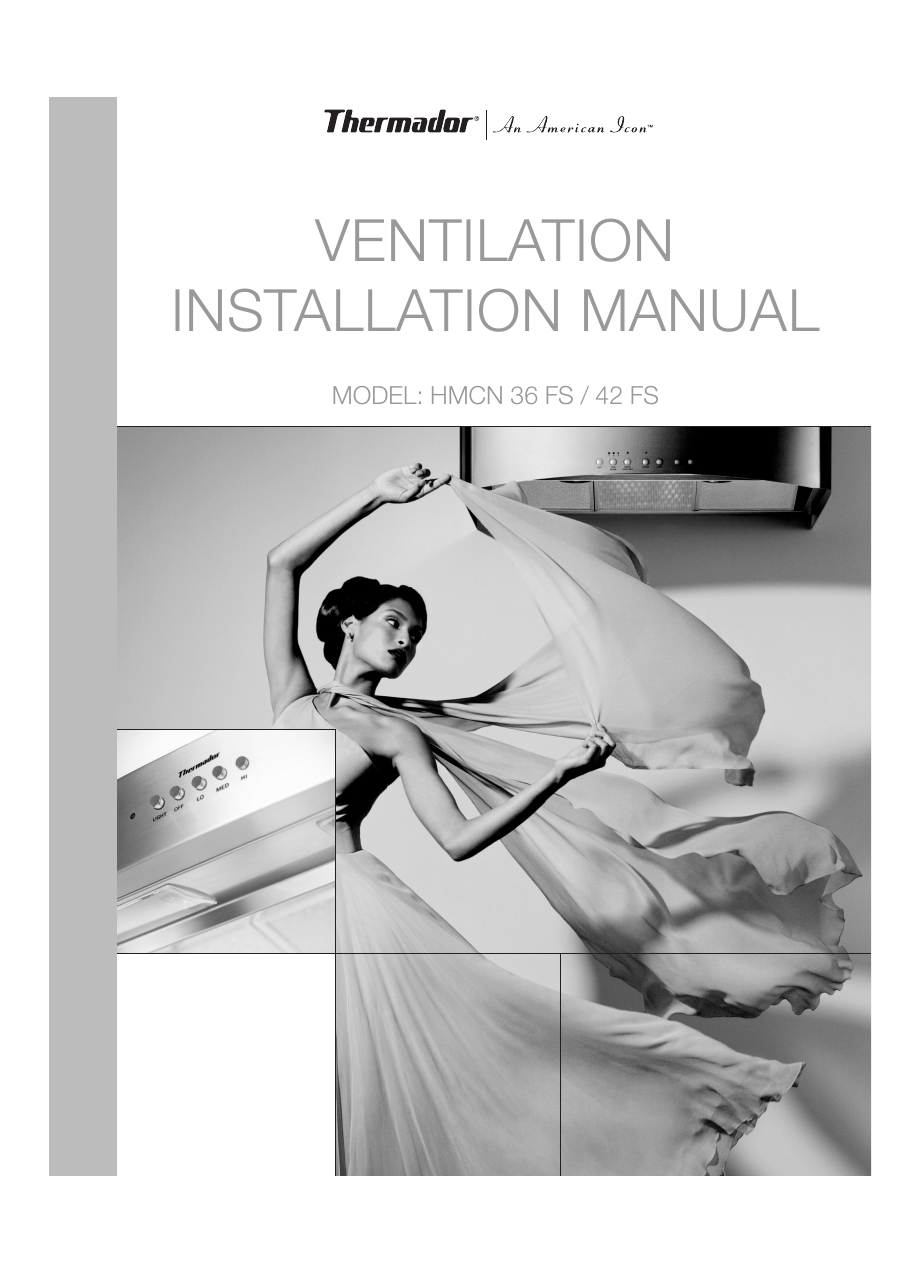 VENTILATION
DOWNDRAFT
DOWNDRAFT
INSTALLATION
USE
AND CARE
CAREMANUAL
MANUAL
USE
AND
MANUAL
MODEL:
HMCN CVS2
36
FS / 42 FS
MODELS:
MODELS:
UCV2
2
en
page
03 – 10
fr
page
11 – 19
es
página
20 – 28
SAFETY INSTRUCTIONS
Read All Instructions Before Using the Appliance.
READ AND SAVE THESE INSTRUCTIONS
WARNING
TO REDUCE THE RISK OF FIRE,
ELECTRIC SHOCK, OR INJURY TO
PERSONS, OBSERVE THE
FOLLOWING:
A. Installation work and electrical wiring
must be done by qualified person(s) in
accordance with all applicable codes
and standards, including fire-related
construction.
B. Sufficient air is needed for proper
combustion and exhausting of gases
through the flue (chimney) of fuel
burning equipment to prevent backdrafting. Follow the heating equipment manufacturer's guideline and
safety standards such as those
published by the National Fired
Protection Association (NFPA), and
the American Society for Heating,
Refrigeration and Air Conditioning
Engineers (ASHRAE), and the local
code authorities.
C. When cutting or drilling into wall or
ceiling, do not damage electrical
wiring and other hidden utilities.
D. Ducted fans must always be vented
to the outdoors.
E. Always unplug or disconnect the
appliance from the power supply
before servicing.
F. This unit is designed for indoor use
only. Use this unit only in the manner
intended by the manufacturer.
WARNING
For general ventilating use only. Do not
use to exhaust hazardous or explosive
materials and vapors.
To reduce risk of fire and to properly
exhaust air, be sure to duct air outside.
Do not vent exhaust air into spaces
within walls, ceilings, attics, crawl spaces
or garages.
TO REDUCE THE RISK OF FIRE, USE
ONLY METAL DUCT WORK.
To reduce the risk of fire or electric
shock, do not use the fan with any solidstate speed control device.
This appliance has been found to be in
compliance with UL 507 Standard for
Electric Fans and CAN/CSA-22.2 No.
113 Canadian Standard for Fans and
Ventilators. It is the responsibility of the
owner and the installer to determine if
additional requirements or standard
apply in specific installation.
Parts Needed
Parts Supplied
❑
❑
❑
❑
❑
❑
❑
❑
❑
❑
Tape Measure
Phillips Head Screwdriver
Duct Tape
Ductwork (configuration varies
depending on location; see "Prior to
installation").
❑ Additional Sheetmetal screws
(as necessary for ductwork installation)
Appliance assembly (1)
Sheetmetal Screws (6)
Wood Screws (4)
Counter Sink Screws (2)
Hardware for brackets on vent (2)
Plugs UX6 (6)
3
IMPORTANT INFORMATION
Old appliances are not worthless rubbish.
Valuable raw materials can be reclaimed by
recycling old appliances. Before disposing
of your old appliance, render it unusable.
You received your new appliance in a
protective shipping carton. All packaging
materials are environmentally friendly and
recyclable. Please contribute to a better
environment by disposing of packaging
materials in an environmentally-friendly
manner.
The hood can only be used in exhaust air
mode.
Always mount the hood over the center of
the cooking surface.
Minimum distance between electric
cooktop and bottom edge of hood: 30",
Fig. 1.
Additional information
concerning gas cookers:
When installing gas cooktops, comply with
the relevant national statutory regulations.
Always comply with the currently valid
regulations and installation instructions
supplied by the gas appliance
manufacturer.
Only one side of the hood may be
installed next to a high-sided unit or high
wall. Gap at least 2".
Minimum distance on gas cooktops
between the upper edge of the grate and
lower edge of the hood: 30", Fig. 1.
The hood must not be installed over a
wood or coal burning stove – a potential fire
hazard (e.g. flying sparks) – unless the stove
features a closed, non-removable cover
and all national regulations are observed.
The smaller the gap between the hood and
cooktops, the greater the likelihood that
droplets will form on the underside of the
hood.
Fig. 1
GAS
4
ELECTRIC
PRIOR TO INSTALLATION
Step 1: EXHAUST-AIR MODE
8"
8"
The exhaust air is discharged upwards
through a duct or directly through the
outside wall into the open.
D Exhaust air should neither be directed
into a smoke or exhaust flue that is currently
used for other purposes, nor into a duct
that is used for ventilating rooms in which
stoves or fireplaces are also located.
Exhaust air may be discharged in
accordance with official and statutory
regulations only (e.g. national building
regulations).
Local authority regulations must be
observed when discharging air into smoke
or exhaust flues that are not otherwise in
use.
D When the hood is operated in
exhaust-air mode simultaneously with a
different burner which also makes use of
the same chimney (such as gas, oil or
coal-fired heaters, continuous-flow heaters,
hot-water boilers) care must be taken to
ensure that there is an adequate supply
of fresh air which will be needed by the
burner for combustion.
Safe operation is possible provided that the
underpressure in the room where the burner
is installed does not exceed 4 Pa (0.04
mbar).
This can be achieved if combustion air can
flow through non-lockable openings, e.g. in
doors, windows and via the air-intake/
exhaust-air wall box.
If the air intake is inadequate, there is a
risk of poisoning from combustion gases
which are drawn back into the room.
WARNING – Avoid risk of poisoning – If
the air intake to the room is inadequate,
there is a risk of poisoning from combustion
gases which can be drawn back into the
room.
Note: When assessing the overall
requirement, the combined ventilation
system for the entire household must be
taken into consideration. This rule does not
apply to the use of cooking appliances,
such as hobs and ovens.
If the exhaust air is going to be
discharged into the open, a telescopic
wall box should be fitted into the
outside wall.
5
PRIOR TO INSTALLATION
For optimum hood efficiency:
Step 2: PREPARING THE WALL
❑ Short, smooth duct pipe.
❑ As few bends in the ducting as possible.
❑ Diameter of ducting to be as large as
possible and no tight bends in ducting.
If long, rough exhaust-air ducting,
many ducting bends or smaller pipe
diameters are used, the air extraction
rate will no longer be at an optimum
level and there will be an increase in
noise.
IMPORTANT: The manufacturer of the
hood accepts no liability for
complaints which can be attributed to
the design and layout of the ductwork.
❑ Round pipes:
We recommend
Internal diameter: 8".
❑ Flat ducts must have an internal crosssection that equates to that of round
pipes.
There should be no sharp bends.
l 8" approx. 50.3 inches2
❑ If pipes have different diameters:
Insert sealing strip.
❑ For exhaust-air mode, ensure that
there is an adequate supply of fresh air.
❑ The wall must be flat and perpendicular.
❑ Ensure that the wall is capable of
providing a firm hold for mounting
screws and plugs.
Weight in kg: 23.0
CONNECTING A l 8" EXHAUST-AIR
DUCT:
❑ Mount the duct directly onto the air outlet on the hood.
6
PRIOR TO INSTALLATION
Step 3: ELECTRICAL CONNECTION
WARNING: THIS APPLIANCE MUST
BE GROUNDED
The hood should only be connected to a
grounded socket that has been installed
according to relevant regulations.
If possible, site the earthed socket directly
behind the chimney paneling.
❑ The grounded socket should be
connected via its own circuit.
❑ If the grounded socket is no longer
accessible following installation of the
hood, ensure that there is a permanently
installed disconnector.
Step 4: INSTALL ELECTRICAL
SERVICE
Check your local building codes for proper
method of installation. In the U.S., if there
are no applicable local codes, this unit
should be installed in accordance with the
National Electric Code ANSI/NFPA No. 70,
Current Issue. (In Canada, installation must
be in accordance with the CAN 1- B149.1
and .2 - Installation Codes for Gas Burning
Appliances and/ or local codes).
The appliance must be grounded. In the
event of an electrical short circuit, grounding
reduces the risk of electric shock by
providing an escape wire for the electric
current. This appliance is equipped with a
cord having a grounding wire with a
grounding plug. The plug must be plugged
into an outlet that is properly installed and
grounded.
If it is necessary to wire the hood directly
into the mains:
WARNING – Avoid risk of electrical
shock – If the connecting cable for this
appliance is damaged, the cable must be
replaced by the manufacturer or his
customer service or a similarly qualified
person in order to prevent serious injury to
the user.
ELECTRICAL DATA:
Are to be found on the name plate inside
the appliance after removal of the filter
frame.
WARNING – Avoid risk of electrical
shock – Before undertaking any repairs,
always disconnect the hood from the
electricity supply.
Length of the connecting cable: 511/8".
This hood corresponds to EC regulations
concerning RF interference suppression.
WARNING – Improper grounding can
result in a risk of electric shock.
Consult a qualified electrician if the
grounding instructions are not completely
understood, or if doubt exists as to whether
the appliance is properly grounded.
Do not use an extension cord. If the power
supply cord is too short, have a qualified
electrician install an outlet near the
appliance.
7
8
INSTALLATION
Step 5: INSTALLATION
This hood is intended to be mounted onto
the kitchen wall.
1. Remove the grease filter (refer to Operating Instructions).
2. Draw a line on the wall from the ceiling to
the lower edge of the hood at the center
of the location where the hood is going
to be mounted.
3. Use the template to mark the points on
the wall where the screws will be mounted. In order to make it easier to hook
the hood onto the screws, draw the outline of the area where the hood will be
attached.
Note: Take into account any special
accessories that are going to be fitted.
5. Attach the 2 enclosed spacers to the
fixing bracket for the flue duct panelling.
Attach the fixing bracket for the
chimney panelling using two hexagon
head cap screws.
CAUTION – Ensure that the minimum
distance between the cooktop and the
hood is maintained – 30". The bottom edge
of the template equates to the lower edge
of the hood.
4. Drill 2x 1/4" ø holes for the upper fixing
bracket and
2x 1/4" ø holes for the lower fixing bracket
and press in wall plugs flush with the
wall.
Note: At least one screw for the mounting
must be installed through a stud.
6. Attach the hood.
Adjust the height and align horizontally
with the adjusting screws.
9
INSTALLATION
07. Screw in lower screws (hex screws).
08. Stick protective film over the holes of
the 2 lower mounting bolts in the
protective grid.
13. Insert the cover panels at an angle and
tilt them back.
14. Slide out the upper section and attach
it to the mounting brackets at the sides
with two screws.
2.
1.
09. Connect up the air outlet pipe.
10. Connect the hood to the electricity
supply.
11. Remove the protective film from the
two flue ducts.
Take care not to damage the
surfaces which are susceptible to
scratches etc.
Warning: The interior walls of the flue
panelling can have sharp edges – Risk of
injury –.
We recommend that you wear gloves when
installing.
12. Push both sections of the flue panelling
together (slots in the upper section
must be pointing downwards) and
insert into the opening in the hood.
Protect the cover panels from
scratches, for example by laying the
template used for marking the wall over
the top edge of the lower section.
3.
1.
2.
10
15. Insert the grease filter (refer to
Operating Instructions).
If the vent system does not operate
satisfactorily during any of the above
procedures, review all steps in these
Installation Instructions to ensure that
nothing has been omitted or overlooked.
Also, refer to the Care & Use Manual for
additional information or call Thermador
Customer Support 1-800-735-4328.
INSTRUCTIONS DE SÉCURITÉ
Lire toutes les instructions avant d'utiliser l'appareil.
LIRE ET CONSERVER CES INSTRUCTIONS
AVERTISSEMENT
POUR RÉDUIRE LE RISQUE
D'INCENDIE, DE CHOC ÉLECTRIQUE
OU DE BLESSURES, OBSERVER CE
QUI SUIT:
A. L'installation et le câblage électrrique
doivent être effectués par des
personnes qualifiées conformément à
toutes les normes et codes
applicables, incluant la construction
relative au feu.
B. Siffisamment d'air est nécessaire pour
une combustion appropriée et
l'echappement des gaz par tirage
(cheminée) d'équipement à
combustion pour évier le tirage
arrière. Suivre les directives du
fabricant d'équipement de chauffage
et les normes de sécurité telles celles
fournies par l'Association de
pretection des incendies nationale
(NFPA) et la Société américaine
d'ingénierie de chauffage,
réfrigération et climatisation (ASHRAE)
ainsi que les codes locaux.
C. Au moment de couper ou percer un
mur ou plafond, ne pas endommager
le câblage électriques et autres.
D. Les ventilateurs à conduit doivent
toujours être ventilés vers l'extérieur.
E. Avant toute intervention, pensez à
toujours débrancher l'appareil du
réseau d'alimentation électrique.
F. Cet appareil est conçu pour une
utilisation intérieure seulement. Utiliser
cet appareil de la façon à laquelle il
est destiné par le fabricant.
AVERTISSEMENT
Pour ventilation générale seulement. Ne
pas ventiler des vapeurs ou matériaux
explosifs ou hasardeux.
Pour réduire le risque d'incendie et pour
un échappement d'air approprié,
s'assurer d'acheminer l'air vers
l'extérieur. Ne pas ventiler l'air
d'échappement dans les murs, plafonds,
greniers, espaces fermés ou garages.
POUR RÉDUIRE LE RISQUE
D'INCENDIE, UTILISER DES CONDUITS
EN MÉTAL.
Pour réduire le risque d'incendie ou de
choc élecrique, ne pas utiliser le
ventilateur avec dispositif de contrôle de
vitesse à semi-conducteur.
Cet appareil est conforme avec la norme
UL 507 pour ventilateurs électriques et la
norme canadienne CAN/CSA-22-2
n° 113 pour ventilateurs. Il incombe au
propriétaire et à l'installateur de
déterminer si des normes ou exigences
additionnelles s'appliquent pour une
installation spécifique.
Pièces nécessaires
Pièces incluses
❑
❑
❑
❑
❑
❑
❑
❑
❑
❑
Mètre à ruban
Tournevis à tête Phillips
Ruban à conduit
Système de gaines (la configuration
variant selon l'emplacement ; voir
» Avant l'installation «).
❑ Vis à tôles suppl,émentaires (au besoin
pour l'installation de conduit)
Dispositif appareil (1)
Vis à métal (6)
Vis à bois (4)
Vis à tête conique (2)
Quincaillerie pour fixations sur évent (2)
Chevilles UX6 (6).
11
INFORMATION IMPORTANTE
Les appareils usagés ne sont pas de déchets
sans valeur. Leur élimination par recyclage
permet de récupérer de précieuses matières
premières. Avant de mettre au rebut un
appareil usagé, rendez-le inutilisable.
Votre nouvel appareil vous a été livré dans
une caisse d'expédition de protection. Tous
les matériaux d'emballage sont respectueux
de l'environnement et peuvent être recyclés.
Veuillez contribuer à un environnement plus
sain en mettant au rebut les matériaux d'emballage dans le respect de l'environnement.
La hotte aspirante ne peut être utilisée qu'en
mode d'évacuation d'air.
Installez la hotte aspirante impérativement audessus du centre de la plaque de cuisson.
Distance minimale entre la plaque
électrique et le bord inférieur de la hotte
aspirante : 30 po., Fig. 1.
Informations supplémentaires
concernant les cuisinières à gaz :
Lorsque vous installez des plaques
chauffantes à gaz, veillez à respecter la
réglementation légale nationale pertinente.
Veillez à toujours respecter la
réglementation en vigueur et la notice
d'installation fournie par le fabricant de
l'appareil à gaz.
Seul un côté de la hotte aspirante peut
être installé près d'une unité ou d'un mur
élevé. Prévoir un écart d'au moins 2 po.
Distance minimale par rapport aux
plaques chauffantes à gaz entre le bord de
la grille et le bord inférieur de la hotte
aspirante : 30 po., Fig. 1.
N'installez pas la hotte aspirante audessus d'un appareil de cuisson à
combustible solide – générateur d'un risque
d'incendie (par projection d'étincelles p. ex.)
– à moins que l'appareil ne soit muni d'un
couvercle fermé et inamovible, et que le
montage soit effectué dans le respect de la
réglementation nationale.
Plus l'écart entre la hotte aspirante et les plaques chauffantes est faible, plus des gouttelettes de condensation sont susceptibles de
s'accumuler sur la face intérieure de la hotte.
Fig. 1
GAZ
ÉLECTRIQUE
AVANT L'INSTALLATION
Étape 1: MODE D'ÉVACUATION D'AIR
8"
8"
L'air vicié est évacué vers le haut par un
conduit d'aération ou directement à l'air
libre en traversant le mur extérieur.
D L'air vicié ne doit jamais être évacué vers
un conduit de cheminée ou d'évacuation en
service pour d'autres raisons, ni vers un
conduit servant à l'aération de pièces dans
lesquelles se trouvent également des
fourneaux ou des cheminées.
L'air vicié doit être évacué
conformément à la réglementation
officielle et légale seulement (p. ex. la
réglementation nationale du bâtiment).
Si l'air vicié doit être évacué par des
conduits de cheminée ou d'évacuation qui
ne sont pas en service, veuillez respecter la
réglementation des autorités locales.
D Lorsque la hotte aspirante est utilisée
en mode d'évacuation d'air simultanément avec un brûleur différent utilisant
également la même cheminée, (tels des
appareils de chauffage au gaz, au fuel ou
au charbon, des chauffe-eau instantanés
ou des
chaudières à eau chaude), veillez
impérativement à ce que l'apport d'air
frais soit suffisant pour assurer la
combustion adéquate du brûleur.
Un fonctionnement sans risque est possible
si la sous-pression dans la pièce où le
brûleur est installé ne dépasse pas 4 Pa
(0,04 mbar).
On peut y parvenir en acheminant l'air
requis pour la combustion à travers des
ouvertures non verrouillables aménagées
par exemple dans les portes ou les
fenêtres, et par le biais d'une ventouse
d'admission/d'évacuation d'air.
Si l'admission d'air est mauvaise, il
existe un risque d'intoxication par les
gaz dégagés lors de la combustion qui
sont réacheminés dans la pièce.
AVERTISSEMENT – Évitez le risque
d'intoxication – Si l'admission d'air dans la
pièce est mauvaise, il existe un risque
d'intoxication par les gaz dégagés lors de la
combustion qui sont réacheminés dans la
pièce.
Remarque : lors de l'évaluation de
l'exigence globale, toujours tenir compte de
l'ensemble des moyens d'aération du
logement. Cette règle ne s'applique pas à
l'utilisation d'appareils de cuisson, comme
les tables de cuisson et les cuisinières.
Si l'air vicié doit être évacué à l'extérieur,
une ventouse télescopique doit être
installée dans le mur extérieur.
13
AVANT L'INSTALLATION
Pour un rendement optimal de la
hotte aspirante, veillez à ce que :
❑ Le conduit d'évacuation soit court et
lisse.
❑ Il ait le moins possible de coudes.
❑ Il ait le plus fort diamètre et que les
coudes soient les plus arrondis
possibles.
Si l'on utilise des conduits
d'évacuation d'air longs et rugueux,
de nombreux coudes ou des
diamètres de tuyaux plus petits, le
taux d'évacuation d'air sera inférieur
à son niveau optimal, ceci se
traduisant par une augmentation du
bruit.
IMPORTANT : Le fabricant de la hotte
aspirante décline toute responsabilité
pour toute plainte pouvant être
attribuée au design et à l'agencement
du système de conduits.
❑ Conduits ronds :
nous recommandons des conduits au
diamètre intérieur de : 8 po.
❑ Les conduits plats doivent avoir une
section intérieure équivalente à celle des
conduits ronds.
Il ne doit pas y avoir de coudes en
équerre.
l 8 po. env. 50,3 po.2
❑ Si les conduits ont des diamètres
différents :
Utiliser du ruban de scellement.
❑ Dans le cas d'une utilisation en mode
d'évacuation d'air veillez à ce que
l'apport d'air frais soit suffisant.
RACCORDEMENT D'UN CONDUIT
D'ÉVACUATION D'AIR DE 8 PO. l :
❑ Montez le conduit directement sur la
sortie d'air de la hotte.
14
Étape 2 : PRÉPARATION DU MUR
❑ Le mur doit être plat et perpendiculaire.
❑ Veillez à ce que le mur puisse supporter
solidement les vis et les pièces
d'ancrage nécessaires à l'installation.
Poids en kg : 23.0
AVANT L'INSTALLATION
Étape 3 : BRANCHEMENT
ÉLECTRIQUE
AVERTISSEMENT : CET APPAREIL
DOIT ÊTRE MIS À LA TERRE
La hotte aspirante doit être raccordée
uniquement à une prise électrique avec
mise à la terre montée conformément à la
réglementation pertinente.
Si possible, installez la prise de terre
directement derrière le panneau de
cheminée.
❑ La prise de terre doit être raccordée à
son propre circuit.
❑ Si la prise de terre n'est plus accessible
après avoir monté la hotte aspirante,
veillez à ce qu'il y ait un sectionneur
permanent installé.
Étape 4 : INSTALLATION DE LA
SERVITUDE ÉLECTRIQUE
Consultez les codes du bâtiment locaux
pour choisir la méthode d'installation qui
convient le mieux. Aux États-Unis, s'il
n'existe aucun code local applicable, cet
appareil doit être installé conformément à
l'édition en cours du Code national de
l'électricité ANSI/NFPA N° 70. (Au Canada,
l'installation doit être conforme aux codes
d'installation CAN 1- B149.1 et .2 – codes
d'installation pour appareils à gaz et/ou
codes locaux).
L'appareil doit être mis à la terre. Dans
l'éventualité d'un court circuit électrique, la
mise à la terre peut réduire le risque de
choc électrique en permettant au courant
de s'échapper. Cet appareil électroménager
est muni d'un cordon possédant un fil avec
une fiche de mise à la terre. La fiche doit
être branchée dans une prise correctement
installée et mise à la terre.
S'il est nécessaire de raccorder la hotte
aspirante directement sur le secteur :
AVERTISSEMENT – Évitez le risque de
choc électrique – Si le câble de branchement de cet appareil a été endommagé, il
devra être remplacé par le fabricant ou son
service après-vente ou encore par une
ersonne possédant des qualifications
identiques afin d'éviter que l'utilisateur ne
subisse des blessures graves.
DONNÉES ÉLECTRIQUES :
visibles à l'intérieur de l'appareil sur la
plaque d'identification après retrait du cadre
porte-filtre.
AVERTISSEMENT – Évitez le risque de
choc électrique – Avant toute intervention
sur l'appareil, veillez à toujours débrancher
la hotte aspirante de l'alimentation
électrique.
Longueur du câble de raccordement :
511/8 po.
Cette hotte aspirante satisfait la
réglementation de l'UE en matière de
suppression des interférences sur les
fréquences radioélectriques.
AVERTISSEMENT – Une mise à la terre
défectueuse peut entraîner un risque de
choc électrique.
Si les consignes de mise à la terre ne sont
pas parfaitement comprises, ou en cas de
doute sur la mise à la terre correcte de
l'appareil, consulter un électricien qualifié.
Ne pas utiliser de rallonge. Si le cordon
d'alimentation est trop court, demander à
un électricien qualifié d'installer une prise à
proximité de l'appareil.
15
16
INSTALLATION
Étape 5: INSTALLATION
Cette hotte aspirante est destinée à être
montée sur un mur de cuisine.
1. Enlevez le filtre à graisse (reportez-vous
à la Notice technique d'utilisation).
2. Tirez un trait sur le mur depuis le plafond
jusqu'au bord inférieur de la hotte au
centre de l'emplacement où cette
dernière doit être montée.
3. Utilisez le gabarit pour tracer les repères
de trou sur le mur où les vis doivent être
fixées. Pour suspendre facilement la
hotte sur les vis, dessinez le contour de
l'emplacement où elle doit être installée.
Remarque: rappellez-vous que vous aurez
peut-être des accessoires spéciaux à
monter.
5. Faites encranter les 2 écarteurs ci-joints
dans la cornière retenant le capotage de
cheminée.
Au moyen de 2 vis hexagonales, visser
les cornières servant à retenir le
capotage de cheminée.
MISE EN GARDE – Veillez à ce que la
distance minimale entre la plaque de
cuisson et la hotte aspirante soit conservée
– 30 po. Le bord inférieur du gabarit doit
correspondre au bord inférieur de la hotte
aspirante.
4. Percer 2 trous de 1/4 po. ø pour la
cornière de fixation supérieure et 2 trous
de 1/4 de po. ø pour la cornière de
fixation inférieure et enfoncez les
chevilles jusqu'à ce qu'elles soient de
niveau avec le mur.
Remarque : posez au moins une vis de
montage dans une solive.
6. Accrochez la hotte. A l'aide des vis de
réglage, ajustez sa hauteur et sa
verticalité.
17
INSTALLATION
07. Vissez la vis inférieures
(boulon hexagonales).
08. Collez une par une les pellicules
plastique de protection sur les trous
des 2 vis de fixation inférieures situés
sur la grille protectrice.
12. Insérer l'un dans l'autre les deux
éléments du capotage-cheminée (les
fentes de l'élément télescopique
supérieur doivent être tournées vers le
bas) puis les introduire dans la découpe
ménagée à cet effet dans la hotte
aspirante.
Evitez de rayer les éléments du
capotage-cheminée au moment de les
introduire l'un dans l'autre. Dans ce
but, placez par exemple le gabarit sur
les arêtes de l'élément inférieur.
3.
2.
1.
1.
2.
09. Raccorder la hotte aux tuyaux.
10. Effectuer le branchement électrique de
la hotte.
11. Retirez la pellicule de plastique
protégeant les deux capots en inox.
Evitez d'endommager les surfaces
lisses en acier inox.
Prudence : les côtés intérieurs des capots
de hotte peuvent présenter des arêtes
vives. Risques de blessures.
Nous recommandons de porter des gants
de protection pendant le montage.
18
13. Introduisez en biais l'ensemble du
capot de cheminée et faites-le basculer
en arrière.
INSTALLATION
14. Soulever l'élément supérieur puis le
visser au moyen de deux vis contre la
cornière de retenue.
15. Remettre le filtre à graisse en place (voir
la notice d'utilisation).
Si après avoir terminé les procédures
ci-dessus, le système de ventilation ne
fonctionne pas convenablement, passez en
revue les étapes de cette Notice
d'installation pour vérifier que rien n'a été
omis. Reportez-vous également au Manuel
d'utilisation et d'entretien pour obtenir des
informations supplémentaires ou appelez le
Service à la clientèle de Thermador au
+1-800-735-4328.4328.
19
INSTRUCCIONES DE SEGURIDAD
Lea todas las instrucciones antes de usar el aparato.
LEA Y GUARDE ESTAS INSTRUCCIONES
ADVERTENCIA
PARA REDUCIR EL RIESGO DE FUEGO,
DESCARGAS ELÉCTRICAS O SUFRIR
LESIONES, OBSERVE LO SIGUIENTE:
A. El trabajo de instalación y la instalación
eléctrica deben ser realizados por una
persona calificada de acuerdo con
todos los códigos y normas aplicables,
incluyendo los códigos de construcción
con respecto a incendios.
B. Se necesita suficiente aire para lograr
una combustión apropiada y para sacar
los gases a través de la chimenea del
quemador de gas combustible para
evitar el reflujo. Siga las pautas del
fabricante del calentador y las normas
de seguridad, tal como las que fueron
publicadas por la Asociación Nacional
de Protección contra Fuegos (NFPA) y
la Sociedad Americana para Ingeniería
de Calefacción, Refrigeración y Aire
Acondicionado (ASHRAE) y de las
autoridades locales.
C. No dañe el cableado eléctrico y otras
instalaciones ocultas cuando corte o
perfore la pared o el techo.
D. Ventiladores entubados deben ser
ventilados hacia el exterior.
E. Siempre desenchufe o desconecte el
electrodoméstico de la fuente de
alimentación eléctrica antes de realizar
el servicio técnico.
F. Esta unidad fue diseñada para uso
exclusivo en interiores. Use esta unidad
solamente para el uso intencionado por
el fabricante.
ADVERTENCIA
Solamente para uso de ventilación
general. No se debe usar para extraer
materiales y vapores peligrosos o
explosivos.
Para reducir el riesgo de fuego y para
exraer el aire correctamente, asegúrese de
conducir el aire hacia el exterior. No
extraiga el aire de escape a espacios
dentro de paredes, techos, áticos,
espacios para arrastrarse o garajes.
PARA REDUCIR EL RIESGO DE FUEGO,
UTILICE SOLAMENTE DUCTOS DE
METAL.
Para reducir el riesgo de un fuego o de
una descarga eléctrica, no use el
ventilador con un regulador de velocidad
de esado sólido.
Este aparato cumple con la norma UL 507
para ventiladores eléctricos y la norma
canadiense CAN/CSA-22.2 No. 113 para
ventiladores. Es la responsabilidad del
propietario y del instalador determinar si
aplican requerimientos o normas adicionales en instalaciones específicas.
Piezas necesarias
Piezas incluidas
❑
❑
❑
❑
❑
❑
❑
❑
❑
Cinta métrica
Destornillador con cabeza Phillips
Cinta para ductos
Conducto (la configuración varía según
el luga; para "Antes de la instalación").
❑ Tornillos autorroscantes adicionales (la
cantidad necesaria para la instalación
del conducto)
20
Conjunto del electrodoméstico (1)
Tornillos autorroscantes (6)
Tornillos para madera (4)
Tornillos avellanados (2)
Elementos de sujeción para soportes en la
ventilación (2)
❑ Tacos UX6 (6)
INFORMACIÓN IMPORTANTE
Los electrodomésticos viejos no son basura
sin valor. Las valiosas materias primas
pueden recuperarse mediante el reciclado de
electrodomésticos viejos. Antes de desechar
su electrodoméstico viejo, haga que sea
inutilizable.
Usted recibió su electrodoméstico nuevo en
una caja de envío protectora. Todos los
materiales de embalaje son ecológicos y
reciclables. Ayude a lograr un mejor
medioambiente desechando los materiales
de embalaje de manera ecológica.
La campana extractora sólo puede utilizarse
en el modo de aire de salida.
Siempre instale la campana extractora sobre
el centro de la parrilla.
Distancia mínima entre la parrilla eléctrica
y el borde inferior de la campana extractora:
30", Fig. 1.
La campana extractora no debe instarse
sobre una estufa a combustible sólido – se
puede producir un riesgo de incendio (p. ej.,
que se desprendan chispas), a menos que la
estufa tenga una tapa cerrada que no se
pueda retirar y que se cumplan todas las
reglamentaciones nacionales.
Cuanto más pequeño es el espacio entre la
campana extractora y las placas calentadoras, mayor es la probabilidad de que se
formen gotas en la parte inferior de la campana extractora.
Fig. 1
GAS
Información adicional sobre estufas
a gas:
Al instalar placas calentadoras a gas,
cumpla con las reglamentaciones legales
nacionales pertinentes.
Siempre cumpla con las reglamentaciones
válidas vigentes y las instrucciones de
instalación provistas por el fabricante del
electrodoméstico de gas.
Sólo un lado de la campana extractora
puede instalarse junto a una unidad de
costado alto o a una pared alta.
La distancia debe ser de 2" como mínimo.
Distancia mínima en placas
calentadoras a gas entre el borde superior
de la rejilla y el borde inferior de la campana
extractora: 30", Fig. 1.
ELÉCTRICO
21
ANTES DE LA INSTALACIÓN
Paso 1: MODO DE AIRE DE SALIDA
8"
8"
El aire de salida debe ser liberado hacia
arriba a través de un conducto o directamente a través de la pared externa a la
intemperie.
D El aire de salida no debe ser dirigido a
un conducto de humo ni de salida que
actualmente se utilice para otros fines, ni a
un conducto que se utilice para ventilar
habitaciones en las cuales también se
encuentran estufas o chimeneas.
El aire de salida puede liberarse sólo
respetando las reglamentaciones
oficiales y legales (p. ej., reglamentaciones nacionales sobre construcción).
Se deben cumplir las reglamentaciones de
autoridades locales al liberar el aire en conductos de humo o de salida que no se utilicen para otros fines.
D Cuando se utiliza la campana
extractora en el modo de aire de salida
simultáneamente con una hornilla
diferente, que también utiliza la misma
chimenea (como calentadores a gas,
aceite o carbón, calentadores de flujo
continuo, calentadores de agua), se debe
asegurar que haya un suministro de aire
fresco suficiente, que será necesario para
la combustión en la hornilla.
La operación segura es posible siempre
que la subpresión de la habitación donde
está instalada la hornilla no supere los 4 Pa
(0,04 mbar).
22
Esto es posible si el aire de combustión
puede circular a través de aberturas que no
puedan trabarse, como ser puertas y ventanas, y a través de cajas de entrada/salida
de aire en la pared.
Si la entrada de aire es insuficiente,
existe un riesgo de intoxicación con los
gases de la combustión que vuelven a
ingresar a la habitación.
ADVERTENCIA – Evite el riesgo de
intoxicación. Si la entrada de aire a la
habitación es insuficiente, existe un riesgo
de intoxicación con los gases de la
combustión que vuelven a ingresar a la
habitación.
Nota: Al evaluar el requisito total, se debe
tener en cuenta el sistema de ventilación
combinado para todo el hogar. Esta norma
no se aplica al uso de electrodomésticos de
cocina, como parrillas y hornos.
Si el aire de salida será liberado a la
intemperie, se debe colocar una caja de
pared telescópica en la pared externa.
ANTES DE LA INSTALACIÓN
Para obtener la máxima eficiencia
de la campana extractora:
Paso 2: PREPARACIÓN DE LA
PARED
❑ Tubería corta, lisa.
❑ La menor cantidad posible de codos en
el conducto.
❑ El diámetro del conducto debe ser lo
más grande posible y no debe tener
codos cerrados.
Si se utiliza un conducto de aire de
salida largo e irregular, hay muchos
codos en el conducto o el diámetro
de la tubería es más pequeño, el caudal de extracción de aire ya no será el
máximo, y el ruido aumentará.
❑ La pared debe ser plana y perpendicular.
❑ Verifique que la pared pueda sujetar
firmemente los tornillos y tacos de
montaje.
Peso en kg: 23.0
❑
❑
❑
❑
IMPORTANTE: q El fabricante de la
campana extractora no asume responsabilidad alguna por las reclamaciones que puedan atribuirse al diseño y a la distribución del conducto.
Tuberías circulares:
Recomendamos que el
diámetro interno sea de 8".
Los conductos planos deben tener una
sección transversal interna que sea igual
a la de las tuberías circulares.
No debe haber codos cerrados.
l 8" aprox. 508,3 pulgadas2
Si las tuberías tienen diámetros diferentes:
Coloque la tira selladora.
Para el modo de aire de salida, asegúrese de que haya un suministro de aire
fresco suficiente.
PARA CONECTAR UN CONDUCTO
DE AIRE DE SALIDA DE l 8":
❑ Instale el conducto directamente en la
salida de aire de la campana.
23
ANTES DE LA INSTALACIÓN
Paso 3: CONEXIÓN ELÉCTRICA
ADVERTENCIA: ESTE ELECTRODOMÉSTICO DEBE ESTAR CONECTADO
A TIERRA.
La campana extractora sólo debe
conectarse a una toma de corriente con
conexión a tierra que haya sido instalada
conforme a las reglamentaciones
pertinentes.
Si es posible, ubique la toma de corriente
con conexión a tierra directamente detrás
de los paneles de la chimenea.
❑ La toma de corriente con conexión a
tierra debe conectarse por medio de su
propio circuito.
❑ Si la toma de corriente con conexión a
tierra no se encuentra accesible después
de la instalación de la campana
extractora, asegúrese de que haya un
desconectador instalado en forma
permanente.
Paso 4: INSTALE EL SERVICIO
ELÉCTRICO
Consulte el método de instalación adecuado en sus códigos de construcción locales.
En los EE. UU., si no hubiera códigos locales aplicables, esta unidad debe instalarse
conforme al Código Eléctrico Nacional
ANSI/NFPA N.° 70, edición actual. (En
Canadá, la instalación debe realizarse de
conformidad con los CAN 1- B149.1 y .2 Códigos de Instalación para Electrodomésticos de Combustión a Gas y/o los códigos locales).
El electrodoméstico debe estar conectado
a tierra. En caso de un cortocircuito eléctrico, la conexión a tierra reduce el riesgo de
descarga eléctrica proporcionando un
cable de escape para la corriente eléctrica.
Este electrodoméstico viene equipado con
un cable con un hilo de conexión a tierra y
un enchufe para conexión a tierra.
El enchufe debe colocarse en una toma de
corriente que esté correctamente instalada
y conectada a tierra.
ADVERTENCIA – La incorrecta
conexión a tierra puede causar una
descarga eléctrica.
24
Consulte a un electricista calificado si no
comprende la totalidad de las instrucciones
de conexión a tierra o si tiene alguna duda
respecto de si el electrodoméstico está
correctamente conectado a tierra.
No use un cable de extensión. Si el cable
de alimentación eléctrica es demasiado
corto, solicite a un electricista calificado que
instale una toma de corriente cerca del
electrodoméstico.
If it is necessary to wire the extractor
hood directly into the mains:
ADVERTENCIA – Evite el riesgo de
descarga eléctrica. Si el cable de conexión
de este electrodoméstico está dañado,
debe ser reemplazado por el fabricante o su
centro de servicio al cliente, o una persona
que esté igualmente calificada, para
prevenir lesiones graves al usuario.
DATOS ELÉCTRICOS:
en la placa de nombre dentro del
electrodoméstico después de retirar el
marco del filtro.
ADVERTENCIA – Evite el riesgo de
descarga eléctrica. Antes de realizar una
reparación, siempre desconecte la
campana extractora del suministro de
electricidad.
Longitud del cable de conexión: 51 1/8".
Esta campana extractora cumple con las
reglamentaciones de la CE con respecto a
la supresión de interferencia de RF.
25
INSTALACIÓN
Step 5: INSTALACIÓN
Esta campana extractora ha sido
diseñada para ser montada en la pared de
la cocina.
1. Retire el filtro de grasa (consulte la
sección Instrucciones de operación).
2. Dibuje una línea en la pared desde el
techo hasta el borde inferior de la
campana en el centro de la ubicación
donde se montará la campana.
3. Use la plantilla para marcar los puntos
en la pared donde se montarán los
tornillos. Para poder enganchar más
fácilmente la campana a los tornillos,
dibuje el contorno del área donde se
colocará la campana.
Atención: ¡Ténganse en cuenta los
posibles accesorios opcionales que se
vayan a montar con la campana extractora!
5. Encajar los 2 distanciadores adjuntos en
la escuadra de soporte para el
revestimiento de la chimenea.
Montar y fijar la escuadra de soporte
del revestimiento con dos tornillos
hexagonales.
PRECAUCIÓN – Asegúrese de que la
distancia mínima entre la parrilla y la
campana extractora se mantenga en 30". El
borde inferior de la plantilla es igual al borde
inferior de la campana extractora.
4. Perfore 2 agujeros de ø 1/4" para el
soporte de sujeción superior y 2
agujeros de ø 1/4" para el soporte de
sujeción inferior, y presione los tacos en
la pared de manera que queden a ras.
Nota: Al menos un tornillo debe instalarse a
través de un pasador.
06. Enganchar la campana extractora.
Ajustar la altura y la posición horizontal
de la misma con ayuda de los tornillos
de ajuste.
26
INSTALACIÓN
07. Enroscar el tornillos inferior
(tornillos hexagonal).
08. Pegar una lámina protectora sobre los
agujeros de la rejilla protectora
correspondientes a los tornillos de
sujeción inferiores.
12. Enganchar los dos elementos del
revestimiento de la chimenea
desplazándolos uno respecto al otro las ranuras de la parte telescópica
superior deberá estar hacia abajo.
Colocar el revestimiento en forma de
chimenea en la ranura de soporte de la
campana extractora.
¡Evite los rasguños al montar los
elementos de revestimiento en forma
de chimenea, protegiendo con la
plantilla de montaje el borde del
elemento inferior del revestimiento.
3.
2.
1.
1.
2.
09. Empalmar el tubo de evacuación del
aire en la campana extractora.
10. Conectar el aparato a la red eléctrica.
11. Retirar la lámina protectora de los
revestimientos laterales de la chimenea.
¡Prestar atención a no dañar la
superficie sensible de acero inoxidable
de los revestimientos!
Atención: La cara interior de los elementos
de revestimiento pueden tener aristas vivas
– ¡peligro de lesiones!
Por esta razón aconsejamos usar guantes
protectores durante el montaje.
13. Montar el revestimiento de chimenea
completo en posición inclinada y desplazaro hacia atrás.
27
INSTALACIÓN
14. Levantar ligeramente el elemento
superior del revestimiento de la
chimenea y fijarlo lateralmente, con
ayuda de dos tornillos, a la escuadra
de soporte.
28
15. Montar el filtro antigrasa (véanse al
respecto las instrucciones de uso de la
campana extractora).
Si el sistema de ventilación no funciona
correctamente durante cualquiera de los
procedimientos mencionados, revise todos
los pasos de la sección Instrucciones de
instalación para asegurarse de no haber
omitido ni pasado por alto ningún paso.
Además, consulte información adicional en
el Manual de Uso y Cuidado o llame a
Atención al Cliente de Thermador al
1-800-735-4328.
Notes
29
Notes
30
Noticias
31
5551 McFadden Avenue, Huntington Beach, CA 92649 • 1-800-735-4328 • www.thermador.com
9000333896 • 10013 Rev B • 02/08 © BSH Home Appliances Corporation • Litho U.S.A.
9000 333 896
Printed in Germany 0208 Es.