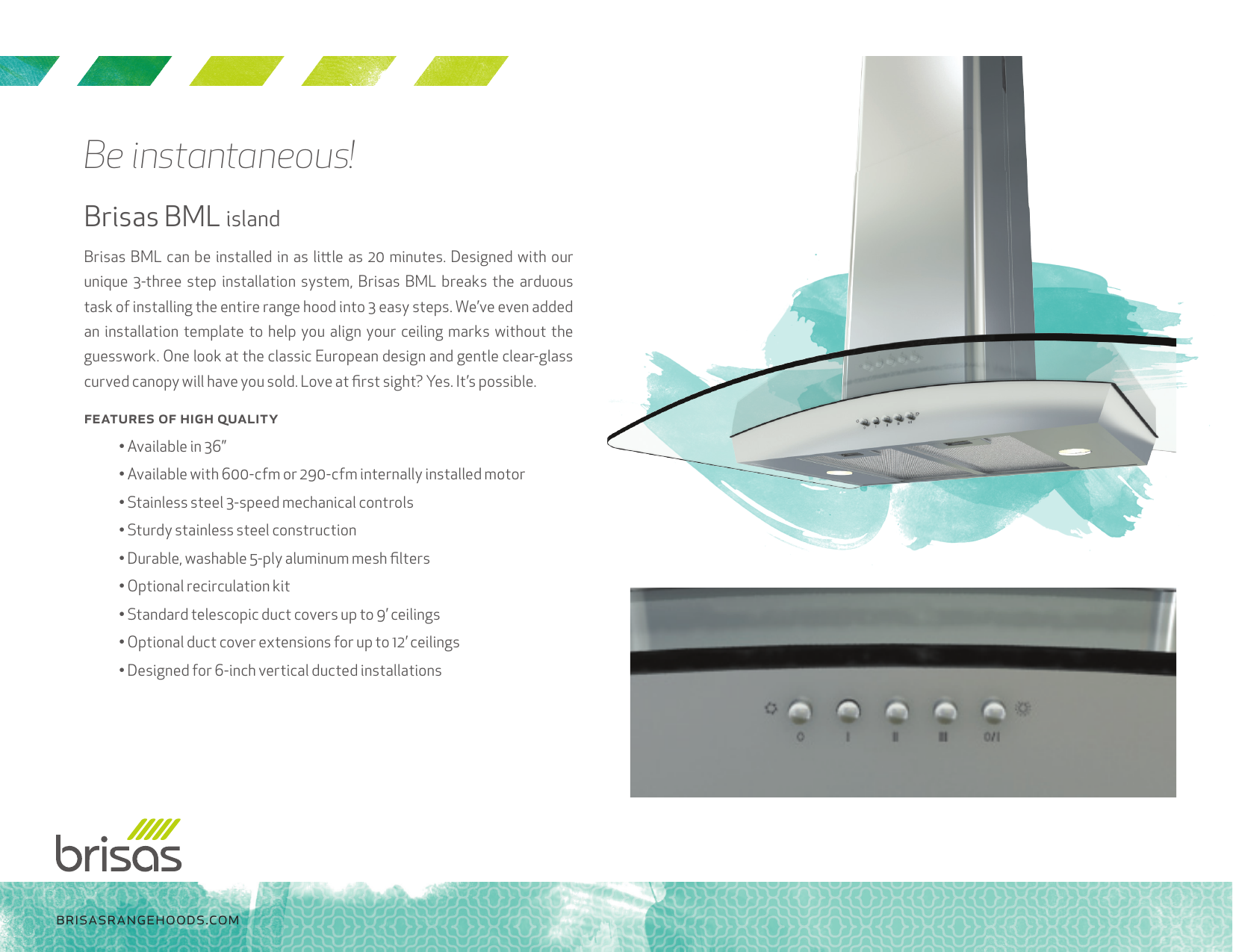 Be instantaneous!
Brisas BML island
Brisas BML can be installed in as little as 20 minutes. Designed with our
unique 3-three step installation system, Brisas BML breaks the arduous
task of installing the entire range hood into 3 easy steps. We've even added
an installation template to help you align your ceiling marks without the
guesswork. One look at the classic European design and gentle clear-glass
curved canopy will have you sold. Love at first sight? Yes. It's possible.
features of high quality
• Available in 36"
• Available with 600-cfm or 290-cfm internally installed motor
• Stainless steel 3-speed mechanical controls
• Sturdy stainless steel construction
• Durable, washable 5-ply aluminum mesh filters
• Optional recirculation kit
• Standard telescopic duct covers up to 9' ceilings
• Optional duct cover extensions for up to 12' ceilings
• Designed for 6-inch vertical ducted installations
brisasrangehoods.com
BML-E36AG / BML-E36AG290
Brisas BML island
SIZE
36"
NET WIDTH
35-3/16"
PERFORMANCE
Blower CFM, Max.
600 / 290
Sones, Max.
6 / 2.8
COLOR
Stainless Steel
SS + Glass
FEATURES
Controls
Mechanical Push Button
Speed Levels
3
Delay Off
No
Lighting
Halogen, 50W x2
Dual Level Lighting
No
Filters
Aluminum Mesh
Recirculating Option
Extension Duct Cover Option
Yes
Yes, Up to 12' Ceiling
DUCT SPECIFICATIONS
Internal Blower - Vertical
6" round
Internal Blower - Horizontal
NA
AC INPUT
120V - 60Hz
AC POWER
400W, 3.5A / 170W, 1.5A
OPTIONAL ACCESSORIES
CEILING HEIGHT
Recirculating Kit
BRC-0004
Extension Duct Cover
B1C-00ML
MOUNTING HEIGHT*
26" - 34"
8'
8.5'
9'
9.5'
10'
10.5'
11'
12'
STANDARD
DUCT COVER
Ducted Mounting Height*
26"-32"
28"-34"
34"-34"
N/A
N/A
N/A
N/A
N/A
Recirc. Mounting Height*
26"-32"
28"-34"
34"-34"
N/A
N/A
N/A
N/A
N/A
EXTENSION
DUCT COVER
Ducted Mounting Height*
N/A
N/A
N/A
26"-30"
26"-34"
26"-34"
26"-34"
30"-34"
Recirc. Mounting Height*
N/A
N/A
N/A
26"-30"
26"-34"
26"-34"
26"-34"
30"-34"
*Mounting height refers to distance between top of a 36" tall cooking surface and bottom of hood.

* Your assessment is very important for improving the work of artificial intelligence, which forms the content of this project