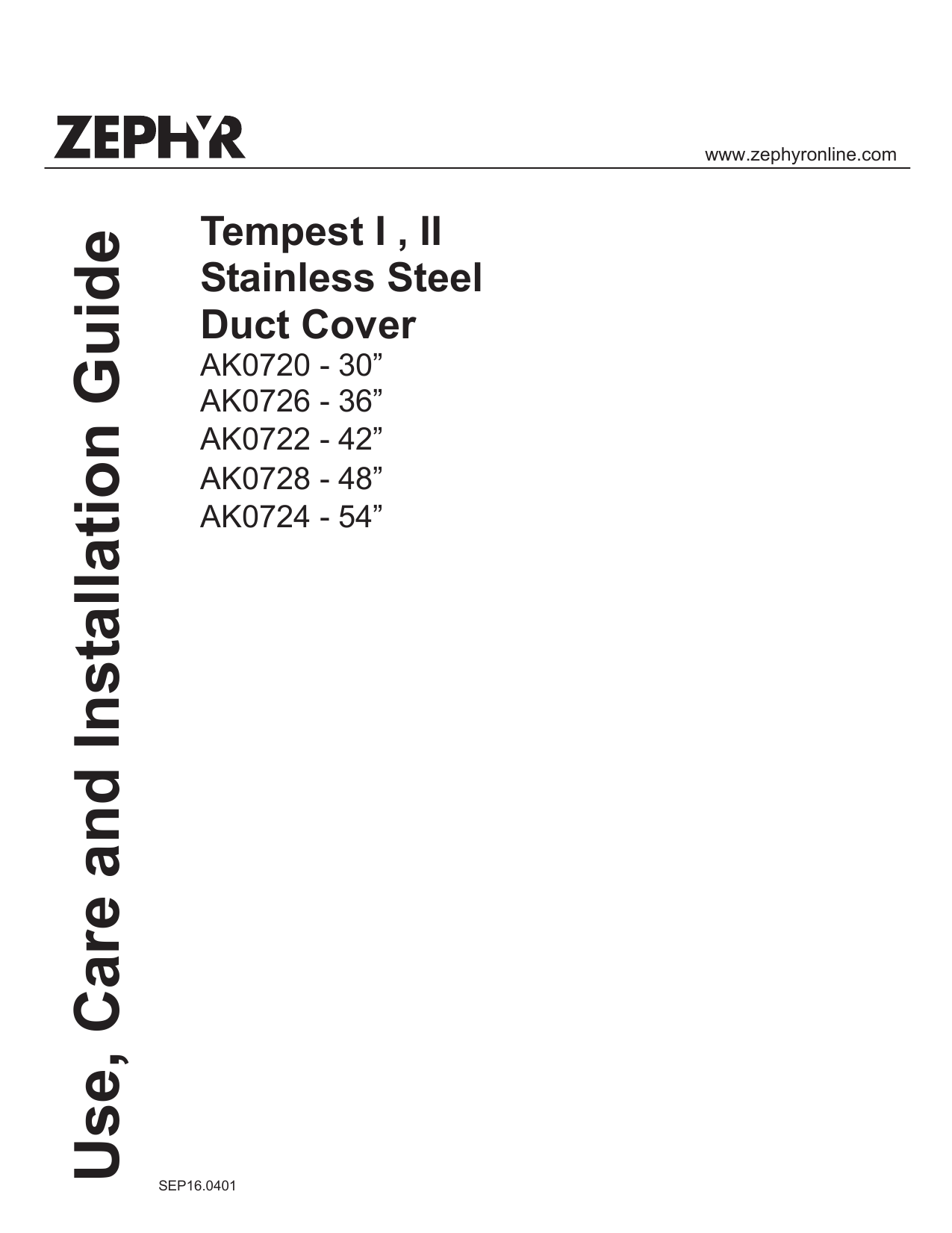 Use, Care and Installation Guide
www.zephyronline.com
Tempest I , II
Stainless Steel
Duct Cover
AK0720 - 30"
AK0726 - 36"
AK0722 - 42"
AK0728 - 48"
AK0724 - 54"
SEP16.0401
SPECIFICATIONS —–—————————— 3
INSTALLATION ————————————— 4
CLEANING AND
CONTACT INFORMATION ———————–- 5
1
Table of Contents
LIST OF MATERIALS ————————–— 2
Note: If any parts are missing, please call
1-888-880-8368 for replacements.
2
List of Materials
1 - Center Panel
2 - Side Panels
12 - Philips Head Metal Screws
For use with Tempest II
AK7500
AK7536
AK7542
AK7548
AK7554
30", 36", 42", 48", 54"
3
Specifications
For use with Tempest I
AK7000
AK7036
AK7042
Installation
1. Line up screw holes and attach the left and right side panels to the center
panel with screws provided.
2. Place assembled duct cover on top of hood. Make sure the screw holes of
the center panel are facing down and line up with the holes on top of hood.
3. Attach the duct cover to the top of hood by securing the rest of the screws
to it from within the inside of the hood.
4
When cleaning, use a non abrasive cleaner, do not use "orange"
cleaner. Abrasive cleaners may scratch the surface and discolor the
stainless steel.
You may also polish the stainless steel by using stainless steel polish.
Make sure when polishing to go along with the grain of the duct cover.
Zephyr Ventilation
2277 Harbor Bay Parkway
Alameda, CA 94502
888-880-8368
5
Cleaning and Contact Information
Cleaning of the duct cover should be done frequently to preserve the
life of the stainless steel. Cleaning should typically be done once a
month depending on your cooking habits.

* Your assessment is very important for improving the work of artificial intelligence, which forms the content of this project