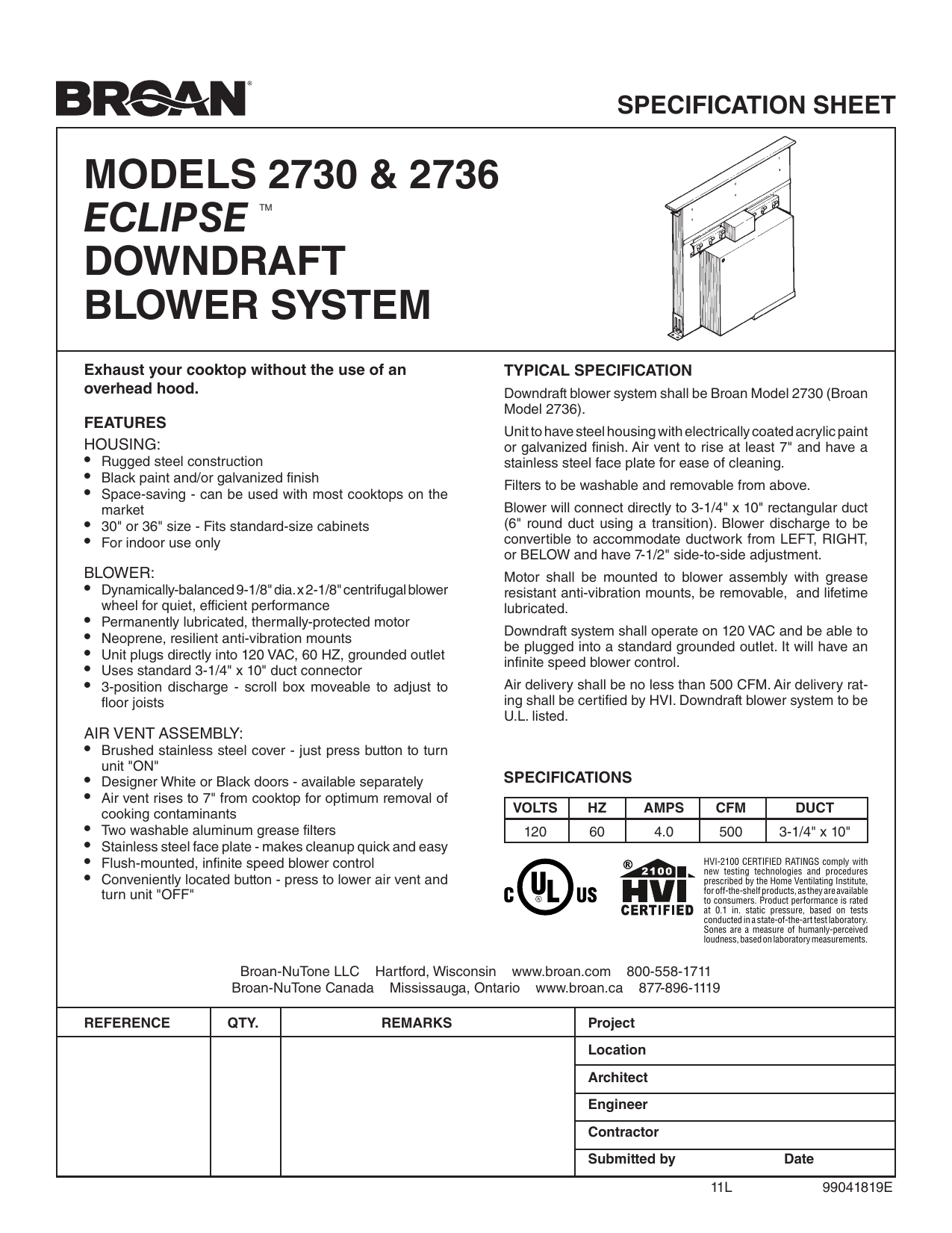 SPECIFICATION SHEET
MODELS 2730 & 2736
ECLIPSE
DOWNDRAFT
BLOWER SYSTEM
TM
Exhaust your cooktop without the use of an
overhead hood.
FEATURES
HOUSING:
•
•
•
•
•
Rugged steel construction
Black paint and/or galvanized finish
Space-saving - can be used with most cooktops on the
market
30" or 36" size - Fits standard-size cabinets
For indoor use only
BLOWER:
•
•
•
•
•
•
Dynamically-balanced 9-1/8" dia. x 2-1/8" centrifugal blower
wheel for quiet, efficient performance
Permanently lubricated, thermally-protected motor
Neoprene, resilient anti-vibration mounts
Unit plugs directly into 120 VAC, 60 HZ, grounded outlet
Uses standard 3-1/4" x 10" duct connector 3-position discharge - scroll box moveable to adjust to
floor joists
TYPICAL SPECIFICATION
Downdraft blower system shall be Broan Model 2730 (Broan
Model 2736).
Unit to have steel housing with electrically coated acrylic paint
or galvanized finish. Air vent to rise at least 7" and have a
stainless steel face plate for ease of cleaning.
Filters to be washable and removable from above.
Blower will connect directly to 3-1/4" x 10" rectangular duct
(6" round duct using a transition). Blower discharge to be
convertible to accommodate ductwork from LEFT, RIGHT,
or BELOW and have 7-1/2" side-to-side adjustment.
Motor shall be mounted to blower assembly with grease
resistant anti-vibration mounts, be removable, and lifetime
lubricated.
Downdraft system shall operate on 120 VAC and be able to
be plugged into a standard grounded outlet. It will have an
infinite speed blower control.
Air delivery shall be no less than 500 CFM. Air delivery rating shall be certified by HVI. Downdraft blower system to be
U.L. listed.
AIR VENT ASSEMBLY:
•
•
•
•
•
•
•
Brushed stainless steel cover - just press button to turn
unit "ON"
Designer White or Black doors - available separately
Air vent rises to 7" from cooktop for optimum removal of
cooking contaminants
Two washable aluminum grease filters
Stainless steel face plate - makes cleanup quick and easy
Flush-mounted, infinite speed blower control
Conveniently located button - press to lower air vent and
turn unit "OFF"
SPECIFICATIONS
VOLTS
HZ
AMPS
CFM
DUCT
120
60
4.0
500
3-1/4" x 10"
HVI-2100 CERTIFIED RATINGS comply with
new testing technologies and procedures
prescribed by the Home Ventilating Institute,
for off-the-shelf products, as they are available
to consumers. Product performance is rated
at 0.1 in. static pressure, based on tests
conducted in a state-of-the-art test laboratory.
Sones are a measure of humanly-perceived
loudness, based on laboratory measurements.
Broan-NuTone LLC Hartford, Wisconsin www.broan.com 800-558-1711
Broan-NuTone Canada Mississauga, Ontario www.broan.ca 877-896-1119
REFERENCE
QTY.
REMARKS
Project
Location
Architect
Engineer
Contractor
Submitted by
11L
Date
99041819E
INSTALLATION PLANNING - MODELS 2730 & 2736
DIMENSIONS
DOWNDRAFT
A
NOTE: Dimensions shown are for reference only. Before cutting out
countertop, refer to instructions packed with downdraft and cooktop.
1 3/4 "
2"
COUNTER TOP
COOKTOP
B
DOWNDRAFT
FRONT TO BACK
INSIDE CABINET DEPTH
Refer to the cooktop installation instructions for dimensions of
cooktop, countertop cut-out, and cabinet requirements. The
2730 and 2736 can be installed in most standard 30" and 36"
wide cabinets.
Cooktop depth can vary greatly from one to another. This may
cause the fit of these two appliances to be rather tight.
Pay special attention to the 4 areas of potential interference highlighted above. The back of the downdraft cut-out will be 1-3/4" from
the cooktop and 2" of FLAT countertop is needed behind cooktop.
DUCTWORK
TYPICAL INSTALLATION
COUNTER
TOP
COOK TOP
CHIMNEY TOP
GEAR
MOTOR
COVER
CABINET
FRONT
This downdraft blower system is designed for use with 3-1/4" x
10" rectangular, or 6" round duct. The blower discharge can be
positioned in one of 3 directions with 7-1/2" movement side to side.
AIR
VENT
BLOWER
BOX
RIGHT
DISCHARGE
LEFT
DISCHARGE
DOWN
DISCHARGE
(as shipped)
120 VAC
GOUNDED
OUTLET
6" RD.
ELBOW
3-1/4" X 10"
90o ELBOW
3-1/4" x 10" TO
6" RD.
TRANSITION
3-1/4" X 10"
DUCT CONNECTOR
ELECTRICAL
The unit has a 2 ft. power cord with a 3-pronged plug. Plan to
provide a grounded outlet within reach of this cord. Outlet may
also be wall-mounted, with access hole in cabinet. If local codes
call for hard-wiring, see installation instructions.
2 FT.
8 FT.
6 FT.
The system will operate most efficiently when the ductwork does
not exceed 40 feet of equivalent duct. The chart above, shows
equivalent feet of elbows and transitions. The number of feet of
straight 3-1/4" x 10" or 6" duct plus the equivalent feet of elbows
or transitions to be used should equal 40 feet or less.
The equivalent feet of various roof and wall caps has been taken
into consideration. Do not include them in this calculation.

* Your assessment is very important for improving the work of artificial intelligence, which forms the content of this project