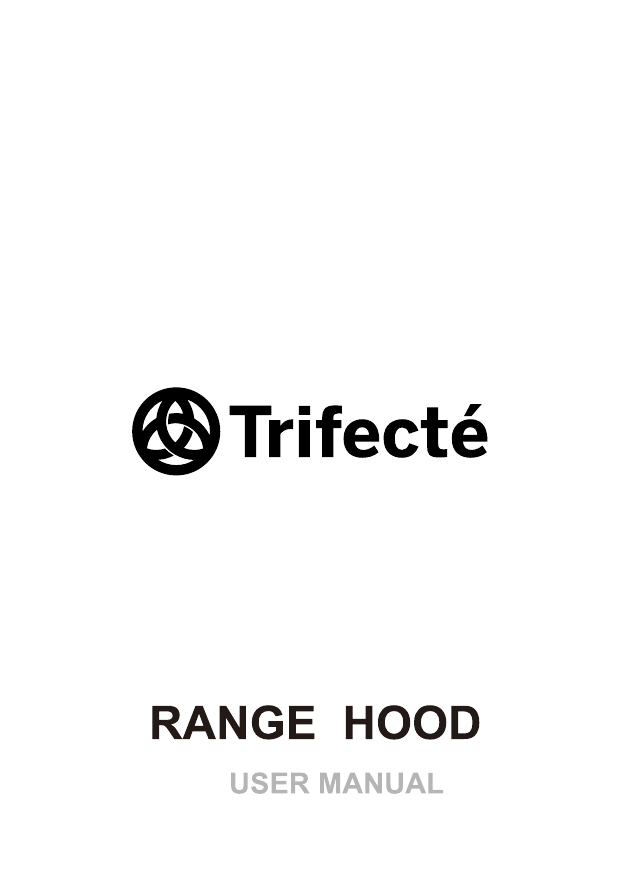 Dear Consumer,
Thank you for your purchase of our range hood.
Please make sure to read all the instructions carefully
before proceeding with the installation of the range hood.
TECHNICAL SPECIFICATIONS
Model No.:
TRI-RS-7475E1
TRI-RS-7475F1
Total power: 69W
Motor power: 65W
Led light:
2x2W
Voltage:
120V
Frequency:
60Hz
Filter:
Aluminum filter
Steel baffle filter
Control:
Touch control
Model No.:
TRI-RS-7275E1
TRI-RS-7275F1
Total power: 204W
Motor power: 200W
Led light:
2x2W
Voltage:
120V
Frequency:
60Hz
Filter:
Aluminum filter
Steel baffle filter
Control:
Touch control
12.9"
29.7"
range hood
Timer Speeds
Light
On/off
Time setting: Press approximately 3 seconds to set time.
Touch
(Light) to set minute.
Touch
(Speed) to set hour.
Press once to get high speed, 2nd to get middle speed and 3rd to get low speed,
and recycle.
Touch to turn on/off the light.
In standby mode, press to get the hood on.
In working mode, press once to get one minute delay to turn off the hood, press
again to turn off immediately.
WARNING – TO REDUCE THE RISK OF A RANGE TOP GREASE FIRE:
a) Never leave surface units unattended at high settings. Boilovers cause smoking and greasy
spillovers that may ignite. Heat oils slowly on low or medium settings.
b) Always turn hood ON when cooking at high heat or when flambeing food (i.e.Crepes Suzette,
Cherries Jubilee, Peppercorn Beef Flambe').
c) Clean ventilating fans frequently. Grease should not be allowed to accumulate on fan or filter.
d) Use proper pan size. Always use cookware appropriate for the size of the surface element.
WARNING – TO REDUCE THE RISK OF INJURY TO PERSONS IN THE EVENT OF A RANGE
TOP GREASE FIRE, OBSERVE THE FOLLOWING: SMOTHER FLAMES with a close-fitting lid,
cookie sheet, or metal tray, then turn off the burner. BE CAREFUL TO PREVENT BURNS.
If the flames do not go out immediately, EVACUATE AND CALL THE FIRE DEPARTMENT.
b) NEVER PICK UP A FLAMING PAN – You may be burned.
c) DO NOT USE WATER, including wet dishcloths or towels – a violent steam explosion will result.
d) Use an extinguisher ONLY if:
1) You know you have a Class ABC extinguisher, and you already know how to operate it.
2) The fire is small and contained in the area where it started.
3) The fire department is being called.
4) You can fight the fire with your back to an exit.
WARNING: TO PROVIDE PROTECTION AGAINST ELECTRIC SHOCK, CONNECT TO
PROPERLY GROUNDED OUTLETS ONLY.
A UTILISER SEULEMENT AVEC UNE TROUSSE DE RACCORDEMENT DE CORDON DE
HOTTE VÉRIFIÉE ET APPROUVÉE POUR EMPLOI AVEC CE MODÈLE DE HOTTE.
WARNING - To Reduce The Risk Of Fire Or Electric Shock, Do Not Use This Fan With Any
Solid-State Speed Control Device. AVERTISSEMENT : NE CONVIENT PAS A DES
REGULATEURS DE VITESSE A SEMI-CONDUCTEURS.
GROUNDING INSTRUCTIONS
This appliance must be grounded. In the event of an electrical short circuit, grounding
reduces the risk of electric shock by providing an escape wire for the electric current. This
appliance is equipped with a cord having a grounding wire with a grounding plug. The plug
must be plugged into an outlet that is properly installed and grounded.
WARNING – Improper grounding can result in a risk of electric shock.
Consult a qualified electrician if the grounding instructions are not completely understood,
or if doubt exists as to whether the appliance is properly grounded.
Do not use an extension cord. If the power supply cord is too short, have a qualified electrician
install an outlet near the appliance
CONSIGNES DE MISE A LA TERRE
Cet appareil doit être mis à la terre. En cas de court-circuit, le fil de mise à la terre limite le
risqué de choc électrique parce qu'il assure le retour du courant à la terre. L'appareil est
livré avec un cordon muni d'un fil de terre et d'une fiche de mise à la terre, qui doit être
branchée sur une prise mise à la terre correctement installée.
AVERTISSEMENT — Une mise à la terre incorrecte peut entraîner des risques de choc
électrique. Consulter un électricien compétent en cas de doute sur ces consignes de mise
à la terre ou en cas d'incertitude concernant la mise à la terre correcte du circuit sur lequel
l'appareil est branché.
Ne pas utiliser de cordon de rallonge. Si le cordon d'alimentation est trop court, faire installer
une prise par un électricien compétent à proximité de l'appareil.
WARNING - TO REDUCE THE RISK OF FIRE, USE ONLY METAL DUCT WORK.

* Your assessment is very important for improving the work of artificial intelligence, which forms the content of this project