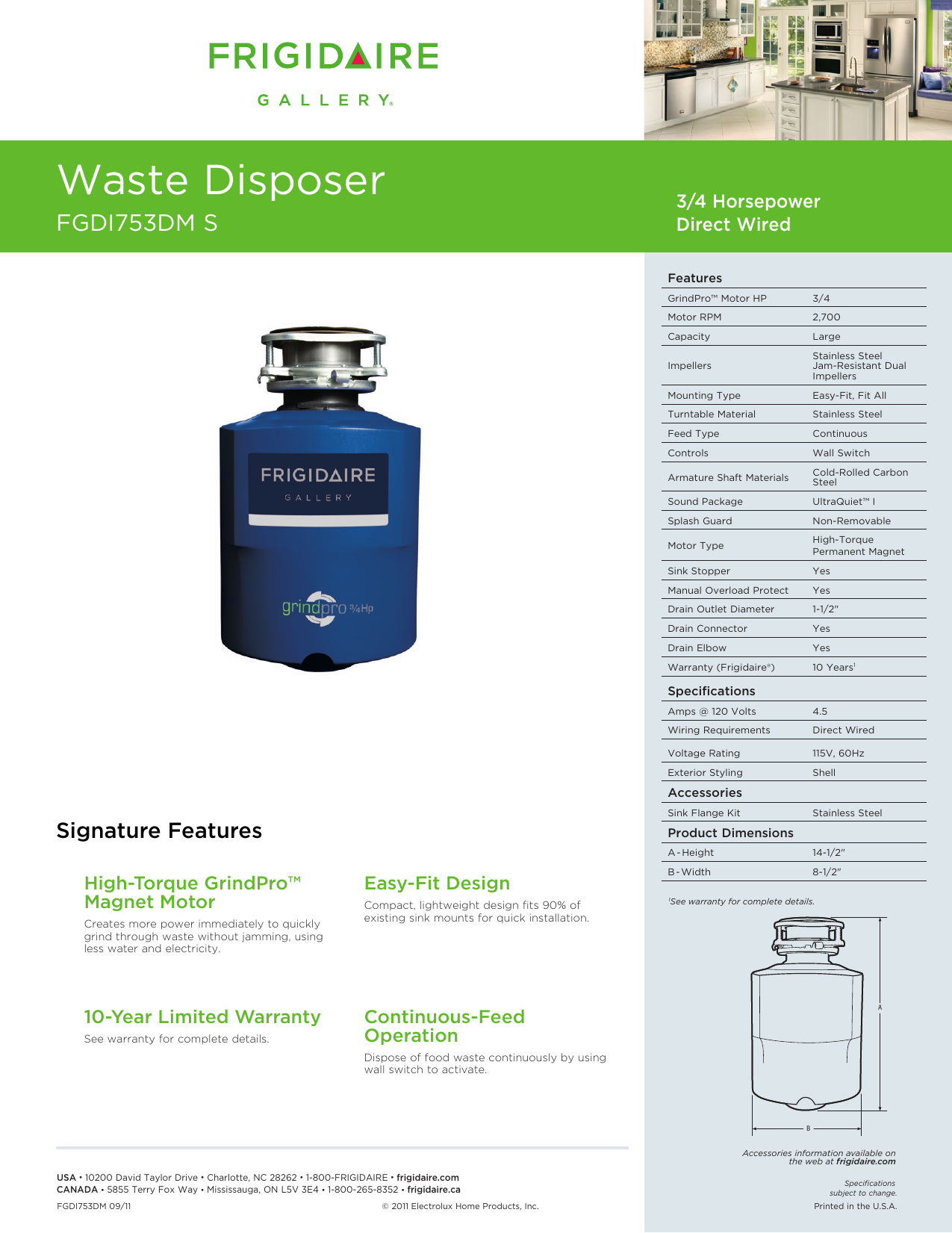 Waste Disposer
3/4 Horsepower
Direct Wired
FGDI753DM S
Features
GrindPro™ Motor HP
3/4
Motor RPM
2,700
Capacity
Large
Impellers
Stainless Steel
Jam-Resistant Dual
Impellers
Mounting Type
Easy-Fit, Fit All
Turntable Material
Stainless Steel
Feed Type
Continuous
Controls
Wall Switch
Armature Shaft Materials
Cold-Rolled Carbon
Steel
Sound Package
UltraQuiet™ I
Splash Guard
Non-Removable
Motor Type
High-Torque
Permanent Magnet
Sink Stopper
Yes
Manual Overload Protect
Yes
Drain Outlet Diameter
1-1/2"
Drain Connector
Yes
Drain Elbow
Yes
Warranty (Frigidaire®)
10 Years1
Specifications
Waste Disposer
Models_3/4 HP
Amps @ 120 Volts
4.5
Frigidaire Gallery
Wiring Requirements
Direct Wired
Voltage Rating
115V, 60Hz
Exterior Styling
Shell
Accessories
Sink Flange Kit
Signature Features
High-Torque GrindPro™
Magnet Motor
Creates more power immediately to quickly
grind through waste without jamming, using
less water and electricity.
10-Year Limited Warranty
See warranty for complete details.
Stainless Steel
Product Dimensions
Easy-Fit Design
Compact, lightweight design fits 90% of
existing sink mounts for quick installation.
A - Height
14-1/2"
B - Width
8-1/2"
See warranty for complete details.
1
A
Continuous-Feed
Operation
Dispose of food waste continuously by using
wall switch to activate.
B
Accessories information available on
the web at frigidaire.com
USA • 10200 David Taylor Drive • Charlotte, NC 28262 • 1-800-FRIGIDAIRE • frigidaire.com
CANADA • 5855 Terry Fox Way • Mississauga, ON L5V 3E4 • 1-800-265-8352 • frigidaire.ca
FGDI753DM 09/11
© 2011 Electrolux Home Products, Inc.
Specifications
subject to change.
Printed in the U.S.A.

* Your assessment is very important for improving the work of artificial intelligence, which forms the content of this project