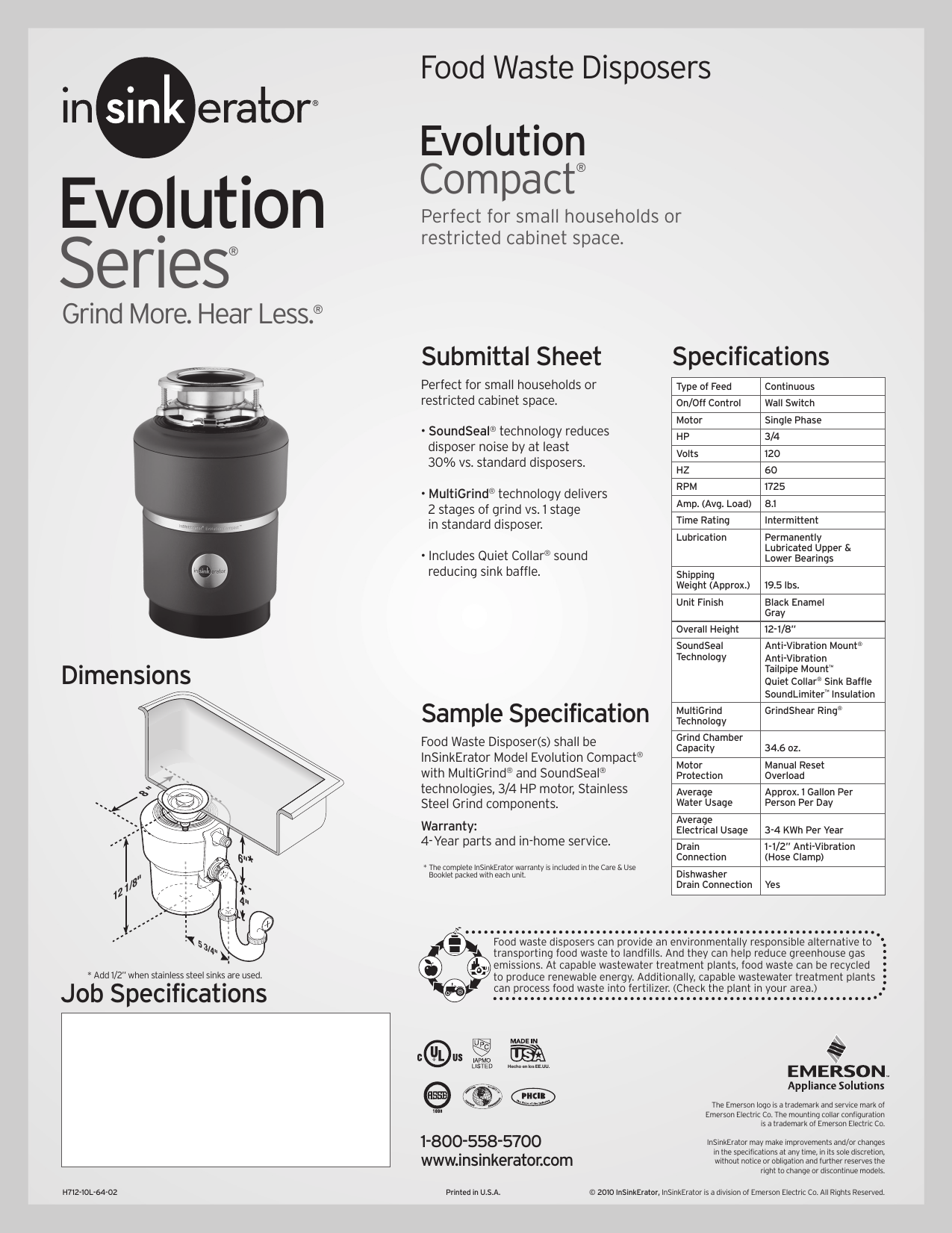 Food Waste Disposers
Evolution
Series
®
Evolution
Compact
®
Perfect for small households or
restricted cabinet space.
Grind More. Hear Less.®
Submittal Sheet
Perfect for small households or
restricted cabinet space.
• SoundSeal® technology reduces
disposer noise by at least
30% vs. standard disposers.
• MultiGrind technology delivers
2 stages of grind vs. 1 stage
in standard disposer.
®
• Includes Quiet Collar® sound
reducing sink baffle.
Specifications
Type of Feed
Continuous
On/Off Control
Wall Switch
Motor
Single Phase
HP
3/4
Volts
120
HZ
60
RPM
1725
Amp. (Avg. Load)
8.1
Time Rating
Intermittent
Lubrication
Permanently
Lubricated Upper &
Lower Bearings
Shipping
Weight (Approx.)
Unit Finish
Dimensions
Sample Specification
8"
6"*
12
"
1/8
19.5 lbs.
Black Enamel
Gray
Overall Height
12-1/8"
SoundSeal
Technology
Anti-Vibration Mount®
Anti-Vibration
Tailpipe Mount™
Quiet Collar® Sink Baffle
SoundLimiter™ Insulation
MultiGrind
Technology
GrindShear Ring®
Food Waste Disposer(s) shall be
InSinkErator Model Evolution Compact®
with MultiGrind® and SoundSeal®
technologies, 3/4 HP motor, Stainless
Steel Grind components.
Grind Chamber
Capacity
34.6 oz.
Motor
Protection
Manual Reset
Overload
Average
Water Usage
Approx. 1 Gallon Per
Person Per Day
Warranty:
4- Year parts and in-home service.
Average
Electrical Usage
3-4 KWh Per Year
Drain
Connection
1-1/2" Anti-Vibration
(Hose Clamp)
Dishwasher
Drain Connection
Yes
* The complete InSinkErator warranty is included in the Care & Use
Booklet packed with each unit.
4"
53
/4"
* Add 1/2" when stainless steel sinks are used.
Job Specifications
Food waste disposers can provide an environmentally responsible alternative to
transporting food waste to landfills. And they can help reduce greenhouse gas
emissions. At capable wastewater treatment plants, food waste can be recycled
to produce renewable energy. Additionally, capable wastewater treatment plants
can process food waste into fertilizer. (Check the plant in your area.)
Hecho en los EE.UU.
The Emerson logo is a trademark and service mark of
Emerson Electric Co. The mounting collar configuration
is a trademark of Emerson Electric Co.
1-800-558-5700
www.insinkerator.com
H712-10L-64-02
Printed in U.S.A.
InSinkErator may make improvements and/or changes
in the specifications at any time, in its sole discretion,
without notice or obligation and further reserves the
right to change or discontinue models.
© 2010 InSinkErator, InSinkErator is a division of Emerson Electric Co. All Rights Reserved.

* Your assessment is very important for improving the work of artificial intelligence, which forms the content of this project