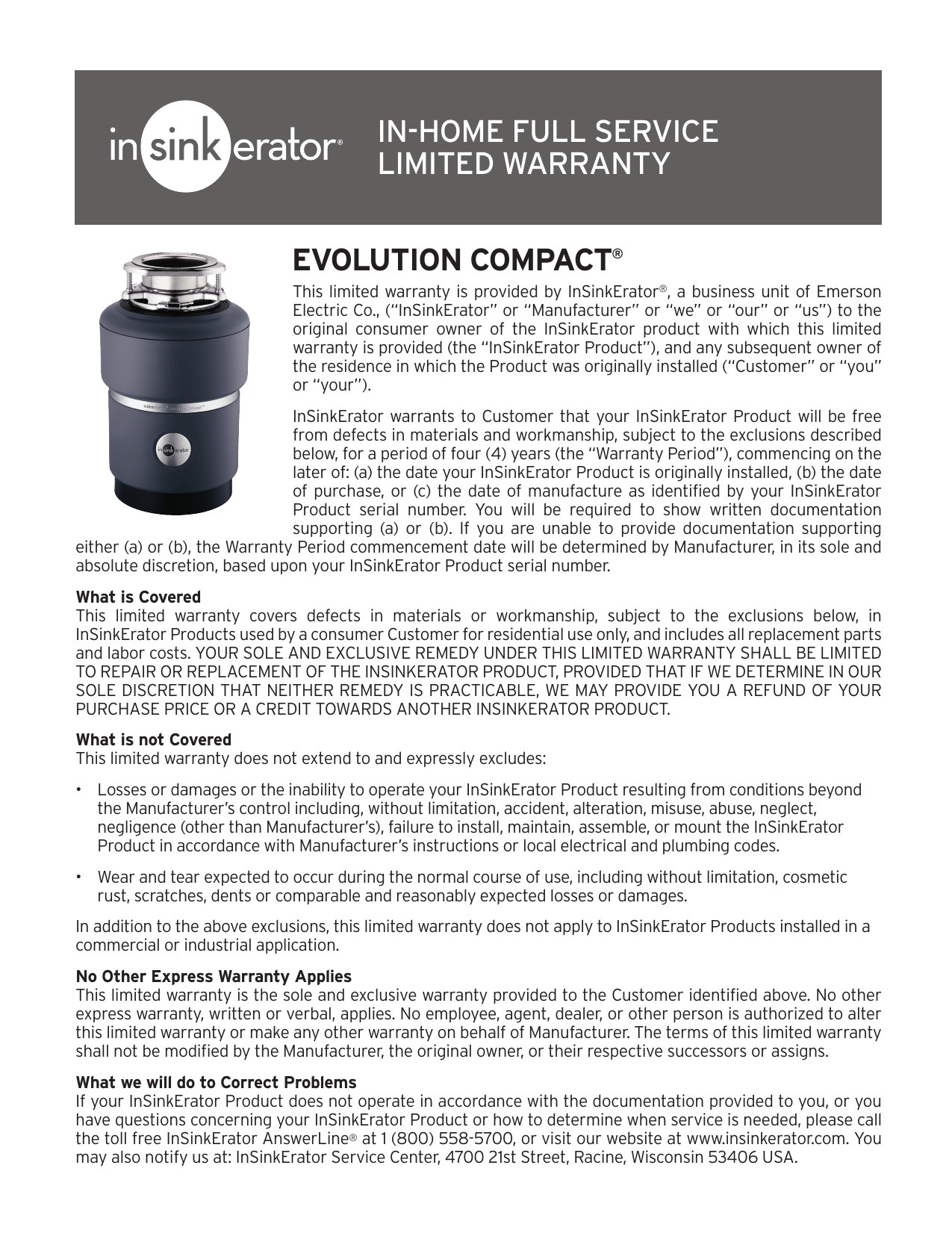 IN-HOME FULL SERVICE
LIMITED WARRANTY
EVOLUTION COMPACT®
This limited warranty is provided by InSinkErator®, a business unit of Emerson
Electric Co., ("InSinkErator" or "Manufacturer" or "we" or "our" or "us") to the
original consumer owner of the InSinkErator product with which this limited
warranty is provided (the "InSinkErator Product"), and any subsequent owner of
the residence in which the Product was originally installed ("Customer" or "you"
or "your").
InSinkErator warrants to Customer that your InSinkErator Product will be free
from defects in materials and workmanship, subject to the exclusions described
below, for a period of four (4) years (the "Warranty Period"), commencing on the
later of: (a) the date your InSinkErator Product is originally installed, (b) the date
of purchase, or (c) the date of manufacture as identified by your InSinkErator
Product serial number. You will be required to show written documentation
supporting (a) or (b). If you are unable to provide documentation supporting
either (a) or (b), the Warranty Period commencement date will be determined by Manufacturer, in its sole and
absolute discretion, based upon your InSinkErator Product serial number.
What is Covered
This limited warranty covers defects in materials or workmanship, subject to the exclusions below, in
InSinkErator Products used by a consumer Customer for residential use only, and includes all replacement parts
and labor costs. YOUR SOLE AND EXCLUSIVE REMEDY UNDER THIS LIMITED WARRANTY SHALL BE LIMITED
TO REPAIR OR REPLACEMENT OF THE INSINKERATOR PRODUCT, PROVIDED THAT IF WE DETERMINE IN OUR
SOLE DISCRETION THAT NEITHER REMEDY IS PRACTICABLE, WE MAY PROVIDE YOU A REFUND OF YOUR
PURCHASE PRICE OR A CREDIT TOWARDS ANOTHER INSINKERATOR PRODUCT.
What is not Covered
This limited warranty does not extend to and expressly excludes:
• Losses or damages or the inability to operate your InSinkErator Product resulting from conditions beyond
the Manufacturer's control including, without limitation, accident, alteration, misuse, abuse, neglect,
negligence (other than Manufacturer's), failure to install, maintain, assemble, or mount the InSinkErator
Product in accordance with Manufacturer's instructions or local electrical and plumbing codes.
• Wear and tear expected to occur during the normal course of use, including without limitation, cosmetic
rust, scratches, dents or comparable and reasonably expected losses or damages.
In addition to the above exclusions, this limited warranty does not apply to InSinkErator Products installed in a
commercial or industrial application.
No Other Express Warranty Applies
This limited warranty is the sole and exclusive warranty provided to the Customer identified above. No other
express warranty, written or verbal, applies. No employee, agent, dealer, or other person is authorized to alter
this limited warranty or make any other warranty on behalf of Manufacturer. The terms of this limited warranty
shall not be modified by the Manufacturer, the original owner, or their respective successors or assigns.
What we will do to Correct Problems
If your InSinkErator Product does not operate in accordance with the documentation provided to you, or you
have questions concerning your InSinkErator Product or how to determine when service is needed, please call
the toll free InSinkErator AnswerLine® at 1 (800) 558-5700, or visit our website at www.insinkerator.com. You
may also notify us at: InSinkErator Service Center, 4700 21st Street, Racine, Wisconsin 53406 USA.
The following information must be provided as part of your warranty claim: your name, address, phone number,
your InSinkErator Product model and serial number, and if necessary, upon request, written confirmation of
either: (a) the date shown on your installation receipt, or (b) the date shown on your purchase receipt.
Manufacturer or its authorized service representative will determine, in its sole and absolute discretion, if your
InSinkErator Product is covered under this limited warranty. You will be given the contact information for your
closest authorized InSinkErator Service Center. Please contact your InSinkErator Service Center directly to
receive in-home warranty repair or replacement service. Only an authorized InSinkErator service representative
may provide warranty service. InSinkErator is not responsible for warranty claims arising from work performed on
your InSinkErator Product by anyone other than an authorized InSinkErator service representative.
If a covered claim is made during the Warranty Period, Manufacturer will, through its authorized service
representative, either repair or replace your InSinkErator Product. Cost of replacement parts or a new
InSinkErator Product, and cost of labor for repair or installation of the replacement InSinkErator Product are
provided at no cost to you. Repair or replacement shall be determined by Manufacturer or its authorized service
representative in their sole discretion. All repair and replacement services will be provided to you at your home.
If Manufacturer determines that your InSinkErator Product must be replaced rather than repaired, the limited
warranty on the replacement InSinkErator Product will be limited to the unexpired term remaining in the
original Warranty Period.
This disposer is covered by Manufacturer's limited warranty. This limited warranty is void if you attempt
to repair the InSinkErator Product. For service information, please visit www.insinkerator.com or call, toll
free, 1-800-558-5700.
Limitation of Liability
TO THE EXTENT PERMITTED BY LAW, IN NO EVENT SHALL MANUFACTURER OR ITS AUTHORIZED
SERVICE REPRESENTATIVES BE LIABLE FOR ANY INCIDENTAL, SPECIAL, INDIRECT, OR
CONSEQUENTIAL DAMAGES, INCLUDING ANY ECONOMIC LOSS, WHETHER RESULTING FROM
NONPERFORMANCE, USE, MISUSE OR INABILITY TO USE THE INSINKERATOR PRODUCT OR THE
MANUFACTURER'S OR ITS AUTHORIZED SERVICE REPRESENTATIVE'S NEGLIGENCE.
MANUFACTURER SHALL NOT BE LIABLE FOR DAMAGES CAUSED BY DELAY IN PERFORMANCE AND
IN NO EVENT, REGARDLESS OF THE FORM OF THE CLAIM OR CAUSE OF ACTION (WHETHER BASED
IN CONTRACT, INFRINGEMENT, NEGLIGENCE, STRICT LIABILITY, OTHER TORT OR OTHERWISE),
SHALL MANUFACTURER'S LIABILITY TO YOU EXCEED THE PRICE PAID BY THE ORIGINAL OWNER
FOR THE INSINKERATOR PRODUCT.
The term "consequential" damages shall include, but not be limited to, loss of anticipated profits, business
interruption, loss of use or revenue, cost of capital or loss or damage to property or equipment.
Some states do not allow the exclusion or limitation of incidental or consequential damages, so the above
limitation may not apply to you. This limited warranty gives you specific legal rights and you may also have
other rights which vary from state to state.