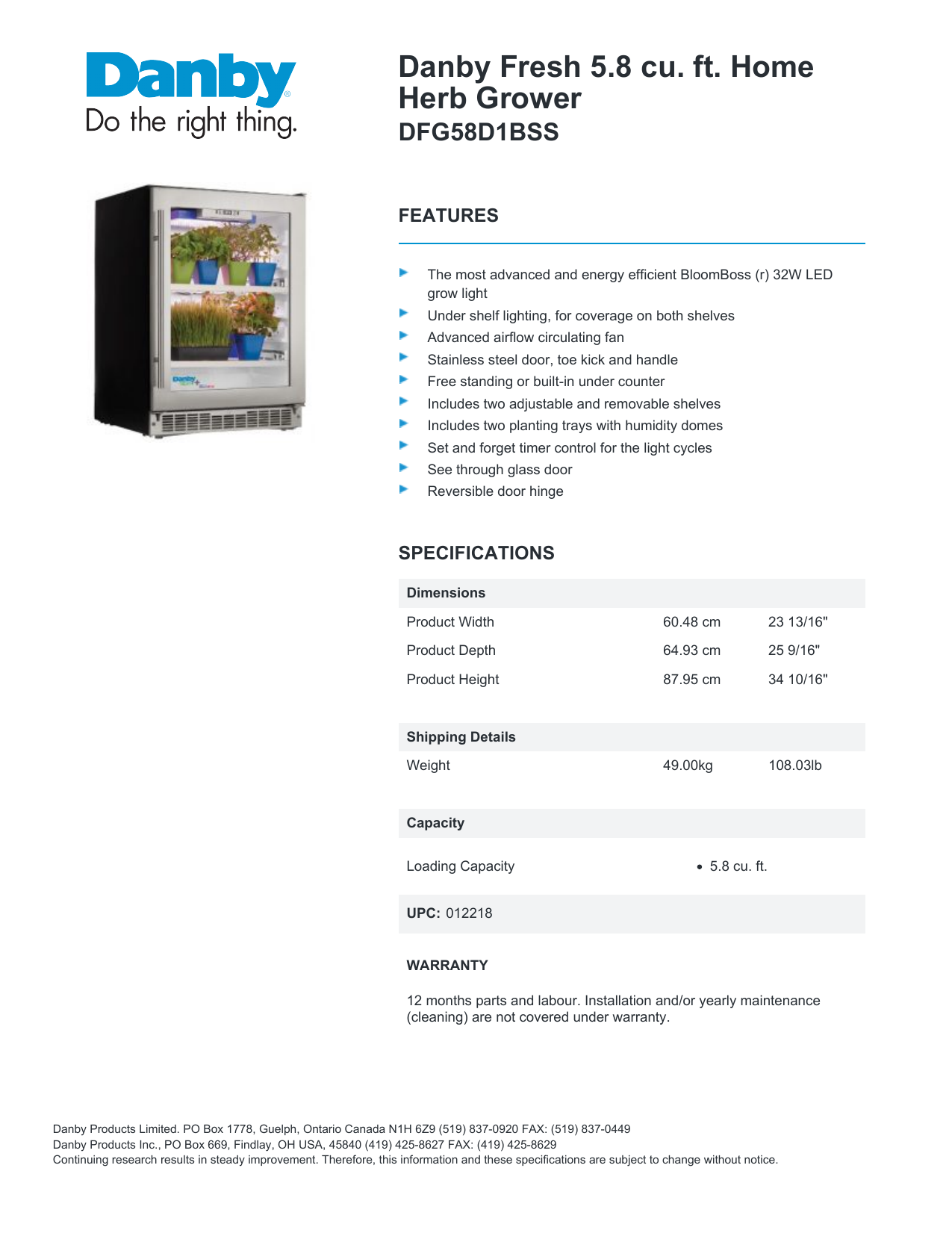 Danby Fresh 5.8 cu. ft. Home
Herb Grower
DFG58D1BSS
FEATURES
The most advanced and energy efficient BloomBoss (r) 32W LED
grow light
Under shelf lighting, for coverage on both shelves
Advanced airflow circulating fan
Stainless steel door, toe kick and handle
Free standing or built-in under counter
Includes two adjustable and removable shelves
Includes two planting trays with humidity domes
Set and forget timer control for the light cycles
See through glass door
Reversible door hinge
SPECIFICATIONS
Dimensions
Product Width
60.48 cm
23 13/16"
Product Depth
64.93 cm
25 9/16"
Product Height
87.95 cm
34 10/16"
49.00kg
108.03lb
Shipping Details
Weight
Capacity
Loading Capacity
5.8 cu. ft.
UPC: 012218
WARRANTY
12 months parts and labour. Installation and/or yearly maintenance
(cleaning) are not covered under warranty.
Danby Products Limited. PO Box 1778, Guelph, Ontario Canada N1H 6Z9 (519) 837-0920 FAX: (519) 837-0449
Danby Products Inc., PO Box 669, Findlay, OH USA, 45840 (419) 425-8627 FAX: (419) 425-8629
Continuing research results in steady improvement. Therefore, this information and these specifications are subject to change without notice.

* Your assessment is very important for improving the work of artificial intelligence, which forms the content of this project