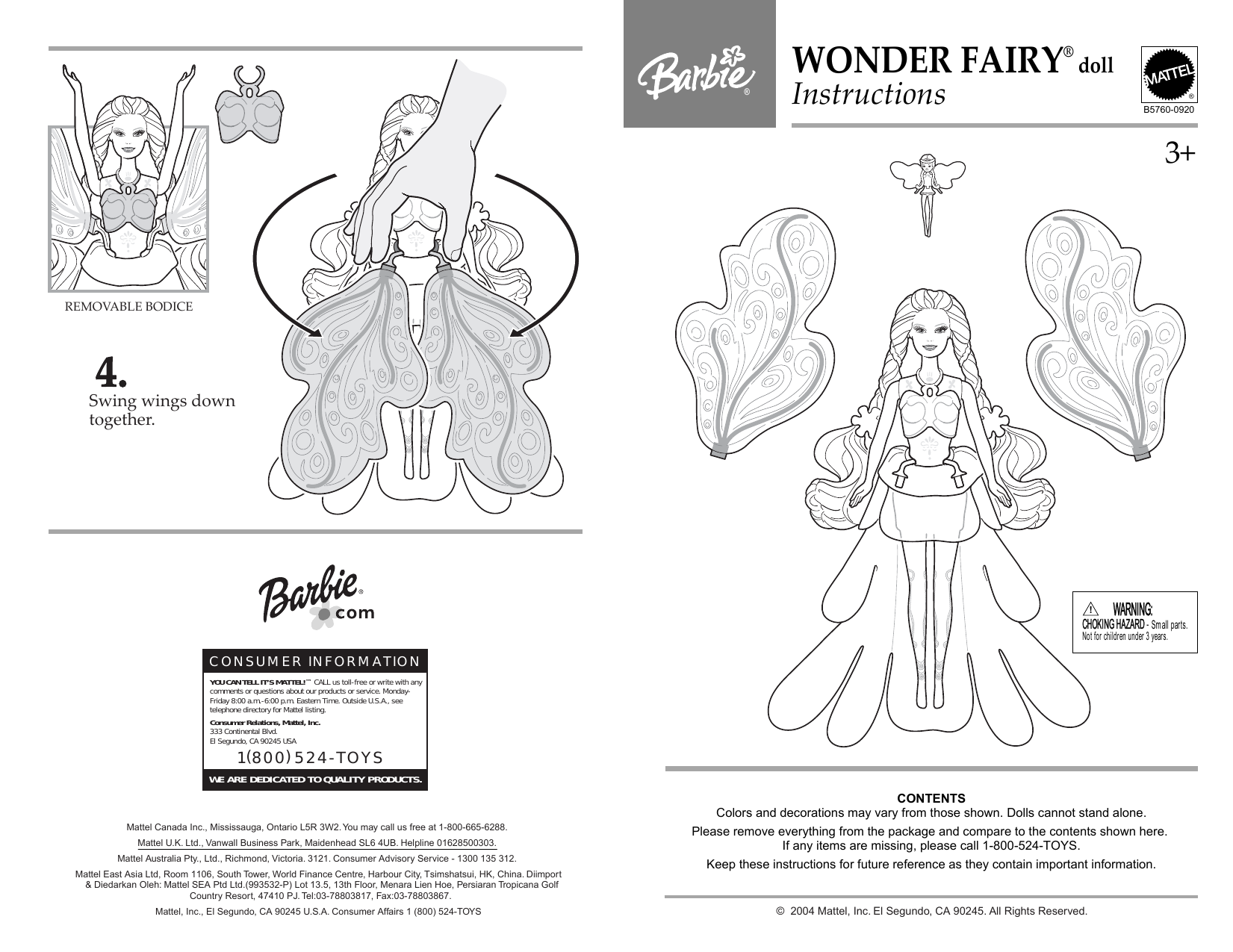 WONDER FAIRY® doll
®
Instructions
®
B5760-0920
3+
REMOVABLE BODICE
4.
Swing wings down
together.
!
WARNING:
CHOKING HAZARD – Small parts.
Not for children under 3 years.
CONSUMER INFORMATION
YOU CAN TELL IT'S MATTEL!™ CALL us toll-free or write with any
comments or questions about our products or service. MondayFriday 8:00 a.m.-6:00 p.m. Eastern Time. Outside U.S.A., see
telephone directory for Mattel listing.
Consumer Relations, Mattel, Inc.
333 Continental Blvd.
El Segundo, CA 90245 USA
1 (800) 524-TOYS
WE ARE DEDICATED TO QUALITY PRODUCTS.
Mattel Canada Inc., Mississauga, Ontario L5R 3W2. You may call us free at 1-800-665-6288.
Mattel U.K. Ltd., Vanwall Business Park, Maidenhead SL6 4UB. Helpline 01628500303.
Mattel Australia Pty., Ltd., Richmond, Victoria. 3121. Consumer Advisory Service - 1300 135 312.
Mattel East Asia Ltd, Room 1106, South Tower, World Finance Centre, Harbour City, Tsimshatsui, HK, China. Diimport
& Diedarkan Oleh: Mattel SEA Ptd Ltd.(993532-P) Lot 13.5, 13th Floor, Menara Lien Hoe, Persiaran Tropicana Golf
Country Resort, 47410 PJ. Tel:03-78803817, Fax:03-78803867.
Mattel, Inc., El Segundo, CA 90245 U.S.A. Consumer Affairs 1 (800) 524-TOYS
CONTENTS
Colors and decorations may vary from those shown. Dolls cannot stand alone.
Please remove everything from the package and compare to the contents shown here.
If any items are missing, please call 1-800-524-TOYS.
Keep these instructions for future reference as they contain important information.
© 2004 Mattel, Inc. El Segundo, CA 90245. All Rights Reserved.
!
CLICK
Assemble Wonder Fairy®!
1.
Attach each wing to wing support. Plastic frame must
face toward the doll.
2.
WING SUPPORT
MUST LINE UP
Push wings
back together
until they
"click"
all the way UP.
PLASTIC
FRAME
3.
Hold doll by the waist.
Press and release button
repeatedly to make wings
flutter.
Dolls cannot stand or "fly" alone.

* Your assessment is very important for improving the work of artificial intelligence, which forms the content of this project