Philips Microphone SHM1000 User manual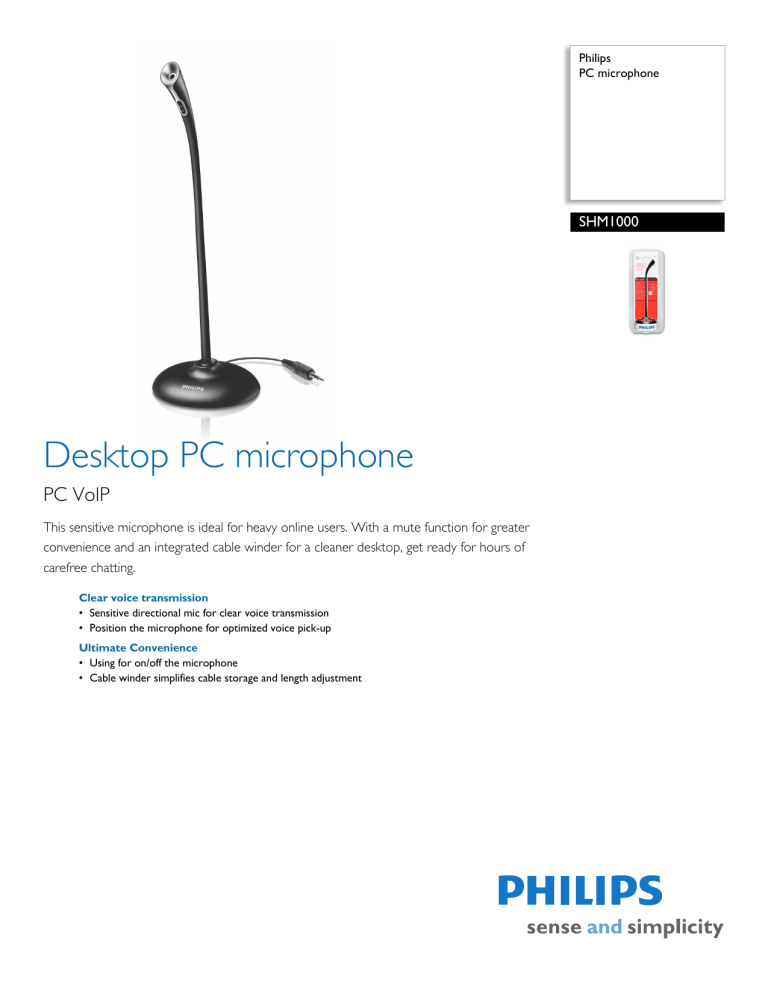 Philips
PC microphone
SHM1000
Desktop PC microphone
PC VoIP
This sensitive microphone is ideal for heavy online users. With a mute function for greater
convenience and an integrated cable winder for a cleaner desktop, get ready for hours of
carefree chatting.
Clear voice transmission
• Sensitive directional mic for clear voice transmission
• Position the microphone for optimized voice pick-up
Ultimate Convenience
• Using for on/off the microphone
• Cable winder simplifies cable storage and length adjustment
SHM1000/27
PC microphone
Specifications
Product highlights
Sound
• Micophone cartridge: 6 mm
• Sensitivity microphone: 100-10000 Hz, -40+/- 3dB
Connectivity
• Nett weight: .139 lb
• Tare weight: .13 lb
Inner Carton
•
•
•
•
• Cable length: 2 m
• Connector: 3.5 mm
Convenience
Inner carton (L x W x H): 12.2 x 12.2 x 4.9 inch
Gross weight: 2.209 lb
Nett weight: .833 lb
Tare weight: 1.376 lb
Outer Carton
• Mute switch
Packaging dimensions
• Packaging dimensions (W x H x D):
4.3 x 11.7 x 3.3 inch
• Gross weight: .269 lb
•
•
•
•
Outer carton (L x W x H): 25 x 12.8 x 10.6 inch
Gross weight: 10.71 lb
Nett weight: 3.333 lb
Tare weight: 7.377 lb
•
Issue date 2008-08-19
© 2008 Koninklijke Philips Electronics N.V.
All Rights reserved.
Version: 1.0.4
Specifications are subject to change without notice.
Trademarks are the property of Koninklijke Philips
Electronics N.V. or their respective owners.
12 NC: 8670 000 35079
UPC: 6 09585 14672 3
www.philips.com
Sensitive directional mic
To ensure the microphone is always optimally positioned to
pick-up your voice.
Adjustable microphone
This easily adjusted boom will make sure the microphone
is always optimally positioned to pick-up your voice.
On/off button
Very easy way to "on" or "off" the microphone. You can
also mute your voice when you don't want your interactive
partner to hear.
Integrated cable winder
A neat solution for storing the cable and adjusting its length
for maximum convenience.

* Your assessment is very important for improving the work of artificial intelligence, which forms the content of this project