Philips Digital Camera key010 User manual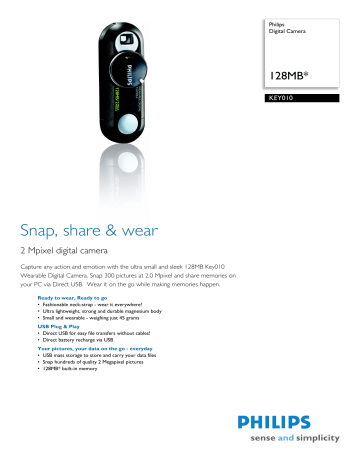 Philips
Digital Camera
128MB*
KEY010
Snap, share & wear
2 Mpixel digital camera
Capture any action and emotion with the ultra small and sleek 128MB Key010
Wearable Digital Camera. Snap 300 pictures at 2.0 Mpixel and share memories on
your PC via Direct USB. Wear it on the go while making memories happen.
Ready to wear, Ready to go
• Fashionable neck-strap - wear it everywhere!
• Ultra lightweight, strong and durable magnesium body
• Small and wearable - weighing just 45 grams
USB Plug & Play
• Direct USB for easy file transfers without cables!
• Direct battery recharge via USB
Your pictures, your data on the go - everyday
• USB mass storage to store and carry your data files
• Snap hundreds of quality 2 Megapixel pictures
• 128MB* built-in memory
KEY010/00
Digital Camera
128MB*
Specifications
Product highlights
Still Picture Capturing
•
•
•
•
•
•
•
•
•
•
•
Lens: fixed focus length
Aperture: F3.0
Focus distance: 1.3 m to infinite
Exposure range: EV 7-14
Image sensor type: CMOS
Image sensor size: 1/2 " inch
Picture resolution: 2M
Picture file format: JPEG
White balance: Automatic
Viewfinder: 2 element optical viewfinder
Sensitivity: ISO 50-200 auto adjustment
Storage Media
•
•
•
•
Built-in memory capacity: 128
Built-in memory type: NAND Flash
Picture memory capacity: up to 300 pictures
Mass storage class compliant
Power
• Battery capacity: 180
• Battery Type: LI-Polymer
• Charging time: approximately 3 hr
Connectivity
• USB: USB 1.1
Dimensions
• casing material: Magnesium
• Packaging type: D-box
• Packaging dimensions (W x H x D):
150 x 150 x 46 mm
• Master carton dimensions: 164 x 183 x 172 mm
• Master carton quantity: 3
• Product weight: 0.045 kg
• Product dimensions (W x H x D):
30 x 90 x 20 mm
Accessories
•
•
•
•
•
CD-ROM: AY4490
Neck strap: AY3296
Quick start guide
Printed User Guide
Cables: USB extention cable
Software
• Photo software: Photo impression, Collage
creator
System Requirements
•
•
•
•
•
•
•
CD-ROM drive
Video card
Hard disk space: 50 MB
Mac OS: 9-X and higher
PC OS: Win 98 SE, 2000, ME, XP
Processor: Pentium MMX 166 MHz or higher
RAM memory: 128 MB RAM
Green Specifications
• Lead-free soldered product
•
Fashionable neck-strap
Magnesium body
Small and wearable
Direct USB
Devices with direct USB can be plugged directly into the
USB port of your PC without the need for any cable.
Your computer will automatically recognize the device
as a removable USB mass storage device (Windows 98
requires additional drivers) allowing you to easily drag
and drop files via Windows Explorer (or Apple Folders)
between your computer and device. Simply pack your
device with music and data on the go - everyday.
USB direct battery recharge
Direct battery recharge via USB offers ultra convenience
when recharging your device. No need to bother with
separate chargers or cables, simply plug n' recharge
your device directly on your PC.
USB mass storage device
USB mass storage devices offer a convenient way to
save, backup and move your files around. The devices
connect to your computer using a USB connection and
do not require any special software to be installed (only
Windows 98 and Me need drivers). The device
automatically shows up as a removable drive in
Windows Explorer allowing you to simply drag and drop
files to and from the device.
Snap hundreds of pictures
128MB* built-in memory
Date of issue 2007-01-15
© 2007 Koninklijke Philips Electronics N.V.
All Rights reserved.
Version: 9.0
Specifications are subject to change without notice.
Trademarks are the property of Koninklijke Philips
Electronics N.V. or their respective owners.
12 NC: 9073 101 01181
EAN: 87 10895 80909 2
www.philips.com
* 1MB = 1 million bytes; available storage capacity will be less.
* Rechargeable batteries have a limited number of charge cycles and
may eventually need to be replaced. Battery life and number of
charge cycles vary by use and settings.
* Storage capacity based on 4 minutes per song and 64 kbps WMA
or 128 kbps MP3 encoding.
* Storage capacity based on 5 Mpixel pictures.
* Actual transfer speed may vary based on your operating system
and software configuration.

* Your assessment is very important for improving the work of artificial intelligence, which forms the content of this project