Philips Satellite TV System US2-MANT110 User manual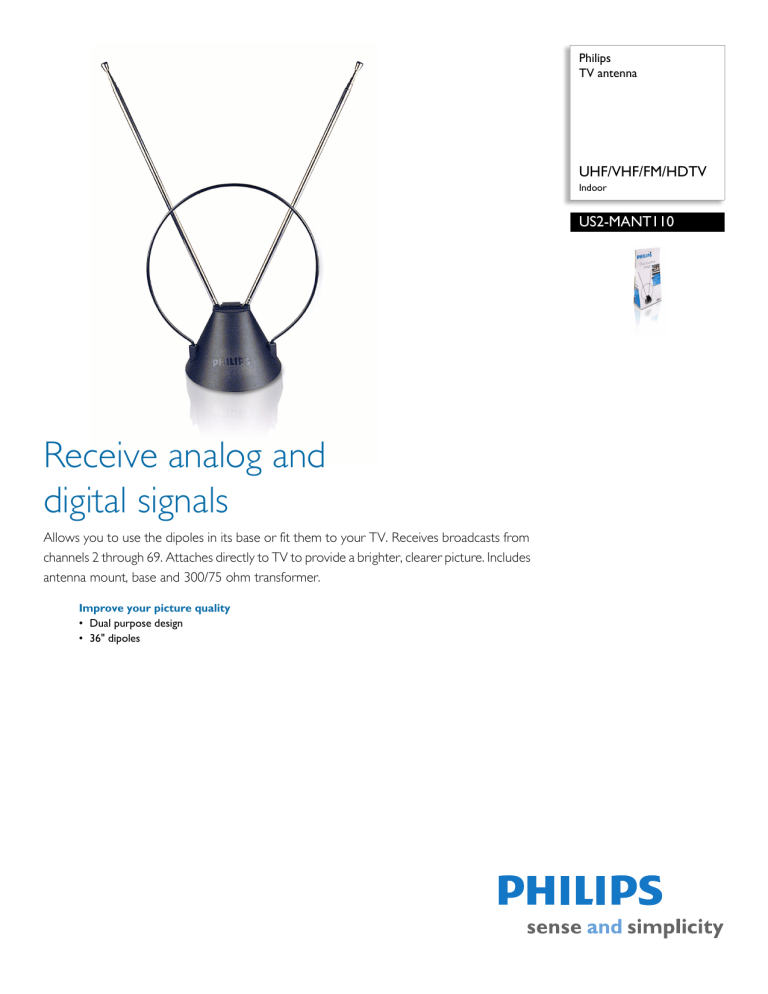 Philips
TV antenna
UHF/VHF/FM/HDTV
Indoor
US2-MANT110
Receive analog and
digital signals
Allows you to use the dipoles in its base or fit them to your TV. Receives broadcasts from
channels 2 through 69. Attaches directly to TV to provide a brighter, clearer picture. Includes
antenna mount, base and 300/75 ohm transformer.
Improve your picture quality
• Dual purpose design
• 36" dipoles
US2-MANT110
TV antenna
UHF/VHF/FM/HDTV Indoor
Specifications
Product highlights
Packaging dimensions
• Packaging dimensions (W x H x D):
7.1 x 13.7 x 3 inch
• Nett weight: .67551 lb
• Gross weight: .80899 lb
• Tare weight: .13348 lb
Outer Carton
•
•
•
•
Outer carton (L x W x H): 14.7 x 7.4 x 7.3 inch
Nett weight: 2.70204 lb
Gross weight: 3.3 lb
Tare weight: .59796 lb
•
Issue date 2008-08-19
© 2008 Koninklijke Philips Electronics N.V.
All Rights reserved.
Version: 1.0.6
Specifications are subject to change without notice.
Trademarks are the property of Koninklijke Philips
Electronics N.V. or their respective owners.
12 NC: 8670 000 44933
UPC: 0 26616 00140 8
www.philips.com
Dual purpose design
Use the dipole as fitted on base or connect directly to TV
for optimum picture clarity.
36" dipoles
36" dipoles adjust 360° with a 180° tilt to deliver the best
possible reception.

* Your assessment is very important for improving the work of artificial intelligence, which forms the content of this project