Philips TV Mount 181AS User manual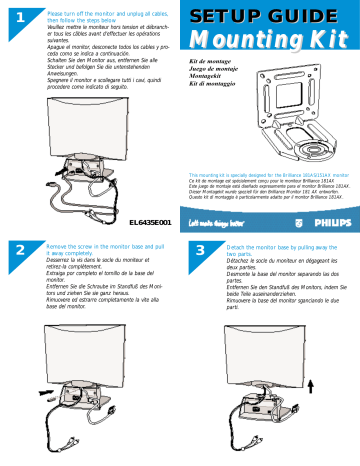 1
Please turn off the monitor and unplug all cables,
then follow the steps below
Veuillez mettre le moniteur hors tension et débrancher tous les câbles avant d'effectuer les opérations
suivantes.
Apague el monitor, desconecte todos los cables y proceda como se indica a continuación.
Schalten Sie den Monitor aus, entfernen Sie alle
Stecker und befolgen Sie die untenstehenden
Anweisungen.
Spegnere il monitor e scollegare tutti i cavi, quindi
procedere come indicato di seguito.
SETUP GUIDE
M ounting Kit
Kit de montage
Juego de montaje
Montagekit
Kit di montaggio
This mounting kit is specially designed for the Brilliance 181AS/151AX monitor
Ce kit de montage est spécialement conçu pour le moniteur Brilliance 181AX
Este juego de montaje está diseñado expresamente para el monitor Brilliance 181AX.
Dieser Montagekit wurde speziell für den Brilliance Monitor 181 AX entworfen.
Questo kit di montaggio è particolarmente adatto per il monitor Brilliance 181AX.
EL6435E001
2
Remove the screw in the monitor base and pull
it away completely.
Desserrez la vis dans le socle du moniteur et
retirez-la complètement.
Extraiga por completo el tornillo de la base del
monitor.
Entfernen Sie die Schraube im Standfuß des Monitors und ziehen Sie sie ganz heraus.
Rimuovere ed estrarre completamente la vite alla
base del monitor.
3
Detach the monitor base by pulling away the
two parts.
Détachez le socle du moniteur en dégageant les
deux parties.
Desmonte la base del monitor separando las dos
partes.
Entfernen Sie den Standfuß des Monitors, indem Sie
beide Teile auseinanderziehen.
Rimuovere la base del monitor sganciando le due
parti.
4
Fix the mount bracket to the desired location.
Fixez la lyre de montage à l'endroit désiré.
Fije el soporte de montaje en la posición deseada.
Befestigen Sie den Träger an der gewünschten Stelle.
Fissare il supporto nella posizione desiderata.
6
Slide the support pin at the bottom of the
monitor into the matching hole on the bracket,
making sure that the pin is aligned. Then use
the original base screw to securely fix the monitor to the bracket.
Faites glisser la broche de fixation sur le fond du
moniteur dans l'orifice correspondant dans la lyre
en veillant au bon alignement de la broche. Servezvous ensuite de la vis pour fixer solidement le moniteur à la lyre.
Introduzca el pasador de la parte inferior del monitor en el orificio correspondiente del soporte, comprobando que queda perfectamente alineado. A
continuación, utilice el tornillo original de la base
para asegurar el monitor al soporte.
Schieben Sie den Stützzapfen an
der Unterseite des Monitors in
die entsprechende Öffnung des
Trägers und vergewissern Sie
sich, daß der Zapfen ausgerichtet ist. Benutzen Sie
anschließend die Originalschraube des Standfußes, um
den Monitor fest auf den Träger
zu montieren
Fare scivolare il perno di supporto sulla parte inferiore del monitor nel foro corrispondente sul
supporto, e assicurarsi che sia
allineato. Quindi utilizzare la vite
della base originale e fissare saldamente il monitor al supporto.
5
7
Thread all cables through the hole at the bottom of the bracket and use the clip provided to
hold them in place.
Passez tous les câbles par l'orifice à la face
inférieure de la lyre de montage et utilisez l'attache
fournie pour les maintenir en place.
Inserte todos los cables por el orificio de la parte
inferior del soporte, y utilice la sujeción provista el
efecto para asegurarlos.
Führen Sie alle Kabel durch die Öffnung an der
Unterseite des Trägers hindurch und benutzen Sie
den mitgelieferten Clip, um sie an ihrem Platz zu
halten.
Fare passare tutti i cavi attraverso il foro nella parte
inferiore del supporto e utilizzare il gancio in
dotazione per fissarli in posizione.
Connect the AC power adaptor provided to the
DC IN cable, and connect all other cables to the
computer.
Connectez l'adaptateur CA fourni au câble CC IN et
connectez tous les autres câbles à l'ordinateur.
Conecte el adaptador de corriente (facilitado) al
cable DC IN, y el resto de cables al ordenador.
Schließen Sie das Gleichstromkabel (DC IN) an den
mitgelieferten Netzadapter an und verbinden Sie
sämtliche übrigen Kabel mit dem Computer.
Collegare l'adattatore dell'alimentazione in c.a. in
dotazione al cavo in c.c. IN, e tutti gli altri cavi al
computer.

* Your assessment is very important for improving the work of artificial intelligence, which forms the content of this project