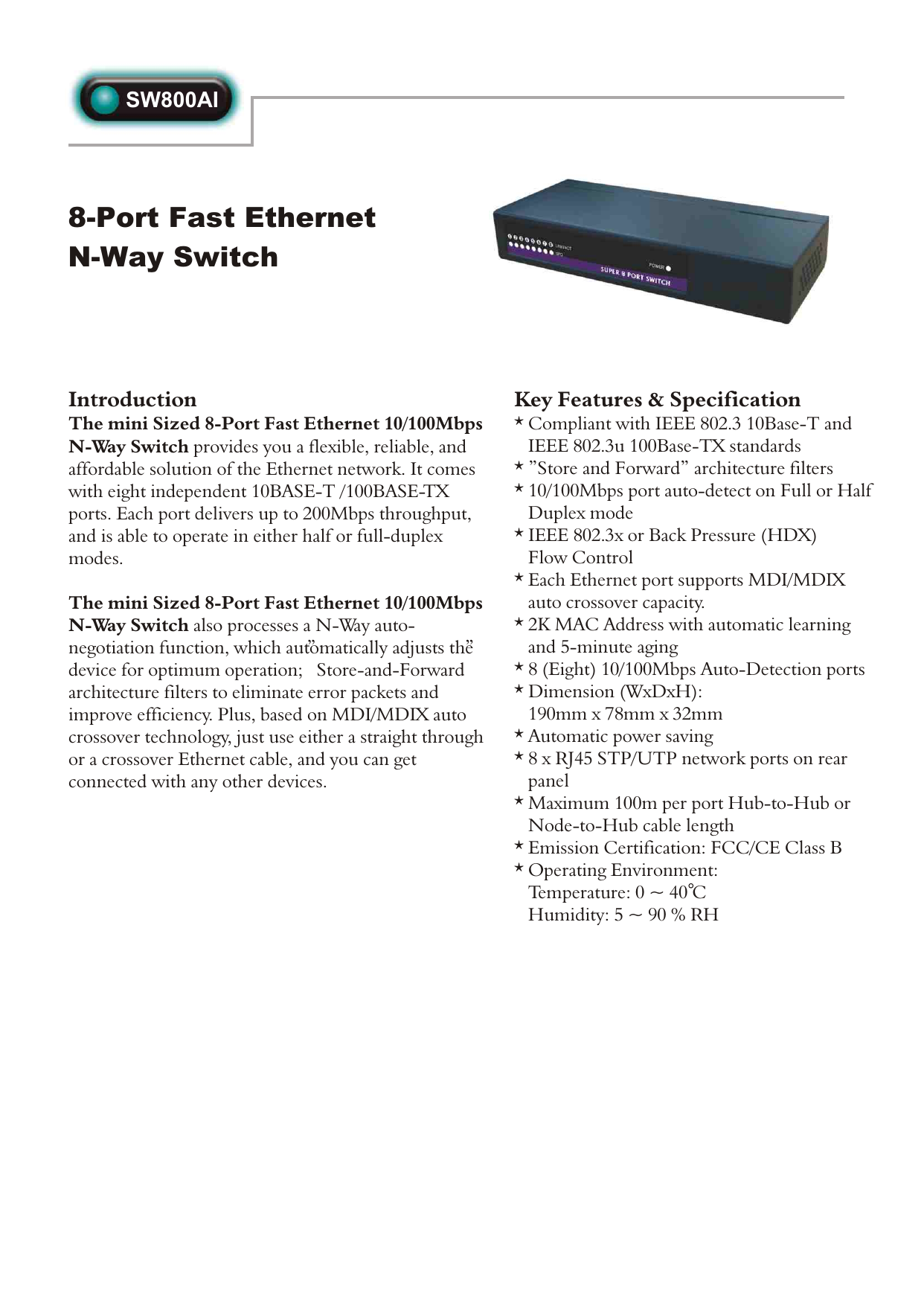 SW800AI
8-Port Fast Ethernet
N-Way Switch
Introduction
Key Features & Specification
The mini Sized 8-Port Fast Ethernet 10/100Mbps
N-Way Switch provides you a flexible, reliable, and
affordable solution of the Ethernet network. It comes
with eight independent 10BASE-T /100BASE-TX
ports. Each port delivers up to 200Mbps throughput,
and is able to operate in either half or full-duplex
modes.
* Compliant with IEEE 802.3 10Base-T and
IEEE 802.3u 100Base-TX standards
,,
,,
* Store and Forward architecture filters
* 10/100Mbps port auto-detect on Full or Half
Duplex mode
* IEEE 802.3x or Back Pressure (HDX)
Flow Control
* Each Ethernet port supports MDI/MDIX
auto crossover capacity.
* 2K MAC Address with automatic learning
and 5-minute aging
* 8 (Eight) 10/100Mbps Auto-Detection ports
* Dimension (WxDxH):
190mm x 78mm x 32mm
* Automatic power saving
* 8 x RJ45 STP/UTP network ports on rear
panel
* Maximum 100m per port Hub-to-Hub or
Node-to-Hub cable length
* Emission Certification: FCC/CE Class B
* Operating Environment:
Temperature: 0 ~ 40 C
Humidity: 5 ~ 90 % RH
The mini Sized 8-Port Fast Ethernet 10/100Mbps
N-Way Switch also processes a N-Way auto,,
,,
negotiation function, which automatically adjusts the
device for optimum operation; Store-and-Forward
architecture filters to eliminate error packets and
improve efficiency. Plus, based on MDI/MDIX auto
crossover technology, just use either a straight through
or a crossover Ethernet cable, and you can get
connected with any other devices.

* Your assessment is very important for improving the work of artificial intelligence, which forms the content of this project