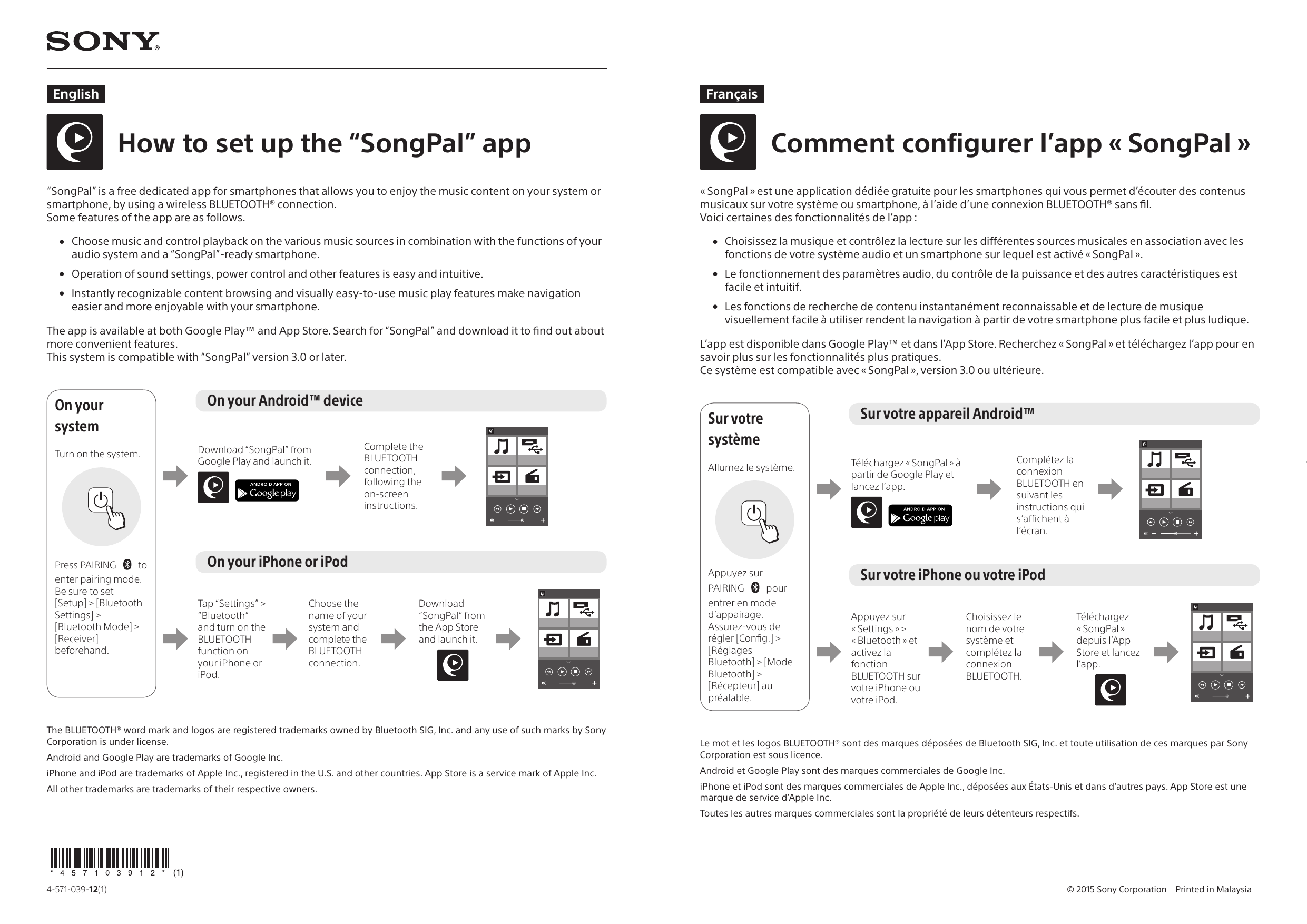 English
Français
How to set up the "SongPal" app
Comment configurer l'app « SongPal »
"SongPal" is a free dedicated app for smartphones that allows you to enjoy the music content on your system or
smartphone, by using a wireless BLUETOOTH® connection.
Some features of the app are as follows.
« SongPal » est une application dédiée gratuite pour les smartphones qui vous permet d'écouter des contenus
musicaux sur votre système ou smartphone, à l'aide d'une connexion BLUETOOTH® sans fil.
Voici certaines des fonctionnalités de l'app :
 Choose music and control playback on the various music sources in combination with the functions of your
 Choisissez la musique et contrôlez la lecture sur les différentes sources musicales en association avec les
 Operation of sound settings, power control and other features is easy and intuitive.
 Le fonctionnement des paramètres audio, du contrôle de la puissance et des autres caractéristiques est
audio system and a "SongPal"-ready smartphone.
 Instantly recognizable content browsing and visually easy-to-use music play features make navigation
easier and more enjoyable with your smartphone.
The app is available at both Google Play™ and App Store. Search for "SongPal" and download it to find out about
more convenient features.
This system is compatible with "SongPal" version 3.0 or later.
On your
system
Turn on the system.
Press PAIRING
to
enter pairing mode.
Be sure to set
[Setup] > [Bluetooth
Settings] >
[Bluetooth Mode] >
[Receiver]
beforehand.
fonctions de votre système audio et un smartphone sur lequel est activé « SongPal ».
facile et intuitif.
 Les fonctions de recherche de contenu instantanément reconnaissable et de lecture de musique
visuellement facile à utiliser rendent la navigation à partir de votre smartphone plus facile et plus ludique.
L'app est disponible dans Google Play™ et dans l'App Store. Recherchez « SongPal » et téléchargez l'app pour en
savoir plus sur les fonctionnalités plus pratiques.
Ce système est compatible avec « SongPal », version 3.0 ou ultérieure.
On your Android™ device
Download "SongPal" from
Google Play and launch it.
Complete the
BLUETOOTH
connection,
following the
on-screen
instructions.
On your iPhone or iPod
Tap "Settings" >
"Bluetooth"
and turn on the
BLUETOOTH
function on
your iPhone or
iPod.
Choose the
name of your
system and
complete the
BLUETOOTH
connection.
Sur votre
système
Allumez le système.
Appuyez sur
Download
"SongPal" from
the App Store
and launch it.
The BLUETOOTH® word mark and logos are registered trademarks owned by Bluetooth SIG, Inc. and any use of such marks by Sony
Corporation is under license.
pour
PAIRING
entrer en mode
d'appairage.
Assurez-vous de
régler [Config.] >
[Réglages
Bluetooth] > [Mode
Bluetooth] >
[Récepteur] au
préalable.
Sur votre appareil Android™
Complétez la
connexion
BLUETOOTH en
suivant les
instructions qui
s'affichent à
l'écran.
Téléchargez « SongPal » à
partir de Google Play et
lancez l'app.
Sur votre iPhone ou votre iPod
Appuyez sur
« Settings » >
« Bluetooth » et
activez la
fonction
BLUETOOTH sur
votre iPhone ou
votre iPod.
Choisissez le
nom de votre
système et
complétez la
connexion
BLUETOOTH.
Téléchargez
« SongPal »
depuis l'App
Store et lancez
l'app.
Android and Google Play are trademarks of Google Inc.
Le mot et les logos BLUETOOTH® sont des marques déposées de Bluetooth SIG, Inc. et toute utilisation de ces marques par Sony
Corporation est sous licence.
iPhone and iPod are trademarks of Apple Inc., registered in the U.S. and other countries. App Store is a service mark of Apple Inc.
Android et Google Play sont des marques commerciales de Google Inc.
All other trademarks are trademarks of their respective owners.
iPhone et iPod sont des marques commerciales de Apple Inc., déposées aux États-Unis et dans d'autres pays. App Store est une
marque de service d'Apple Inc.
Toutes les autres marques commerciales sont la propriété de leurs détenteurs respectifs.
4-571-039-12(1)
© 2015 Sony Corporation Printed in Malaysia
Español
Português
Modo de configurar la aplicación
"SongPal"
"SongPal" es una aplicación gratuita dedicada para smartphones que permite disfrutar de contenido de música
en su sistema o smartphone, utilizando una conexión inalámbrica BLUETOOTH®.
Las siguientes son algunas de las características de la aplicación.
Como configurar o app "SongPal"
O "SongPal" é um aplicativo dedicado gratuito para smartphones que permite que você aprecie o conteúdo de
música no seu sistema ou smartphone usando uma conexão sem fio BLUETOOTH®.
Alguns recursos do app:
 Elegir música y controlar la reproducción de varias fuentes de música en combinación con las funciones de
 Escolher a música e controlar a reprodução em várias fontes de música em combinação com as funções de
 Operación de los ajustes de sonido, control de la alimentación y otras características de forma fácil e
 A operação de configuração de som, controle de energia e outros recursos é fácil e intuitiva.
su sistema de audio y un smartphone que disponga de "SongPal".
intuitiva.
 La búsqueda de contenido reconocible instantáneamente y funciones de reproducción de música fáciles
de utilizar visualmente hacen que la navegación resulte más fácil y más disfrutable con su smartphone.
La aplicación está disponible tanto en Google Play™ como en App Store. Busque "SongPal" y descárguela para
descubrir más funciones útiles.
Este sistema es compatible con la versión "SongPal" 3.0 o posterior.
En su sistema
seu sistema de áudio e um smartphone com "SongPal".
 Acesso de conteúdo reconhecível instantaneamente e recursos de reprodução de música fáceis de usar
tornam a navegação mais fácil e mais agradável usando seu smartphone.
O app está disponível na Google Play™ e na App Store. Procure por "SongPal" e faça o download para descobrir
mais recursos convenientes.
Este sistema é compatível com "SongPal" versão 3.0 ou posterior.
No seu sistema
En su dispositivo Android™
No seu dispositivo Android™
Ligue o sistema.
Encienda el sistema.
Descargue "SongPal" de
Google Play e iníciela.
Presione PAIRING
para entrar en el
modo de
emparejamiento.
Asegúrese de ajustar
[Configurar] >
[Ajustes de
Bluetooth] > [Modo
Bluetooth] >
[Receptor] por
adelantado.
En su iPhone o iPod
Toque
"Settings" >
"Bluetooth" y
active la función
BLUETOOTH en
su iPhone o
iPod.
Faça o download do
"SongPal" na Google Play e
inicie-o.
Complete la
conexión
BLUETOOTH,
siguiendo las
instrucciones en
pantalla.
Elija el nombre
de su sistema y
complete la
conexión
BLUETOOTH.
Descargue
"SongPal" de
App Store e
iníciela.
La marca mundial y los logos de BLUETOOTH® son marcas comerciales registradas propiedad de Bluetooth SIG, Inc. y cualquier uso
de dichas marcas por parte de Sony Corporation es bajo licencia.
Android y Google Play son marcas registradas de Google Inc.
iPhone y iPod son marcas registradas de Apple Inc., registradas en Estados Unidos y otros países. App Store es una marca de
servicio de Apple Inc.
Todas las demás marcas registradas son marcas registradas de sus respectivos propietarios.
Pressione
PAIRING
para
entrar no modo de
emparelhamento.
Ajuste [Configurar] >
[Ajustes de
Bluetooth] > [Modo
Bluetooth] >
[Receptor]
antecipadamente.
Conclua a
conexão
BLUETOOTH
seguindo as
instruções da
tela.
No seu iPhone ou iPod
Toque em
"Settings" >
"Bluetooth" e
ative a função
BLUETOOTH no
seu iPhone ou
iPod.
Escolha o
nome do seu
sistema e
conclua a
conexão
BLUETOOTH.
Faça o download
do "SongPal" na
App Store e
inicie-o.
A marca nominativa e os logotipos BLUETOOTH® são marcas comerciais registradas que pertencem à Bluetooth SIG, Inc., e a
utilização de tais marcas pela Sony Corporation está sob licença.
Android e Google Play são marcas comerciais da Google Inc.
iPhone e iPod são marcas comerciais da Apple Inc., registradas nos EUA e em outros países. App Store é uma marca de serviço da
Apple Inc.
Todas as outras marcas comerciais são marcas comerciais de seus respectivos proprietários.

* Your assessment is very important for improving the work of artificial intelligence, which forms the content of this project