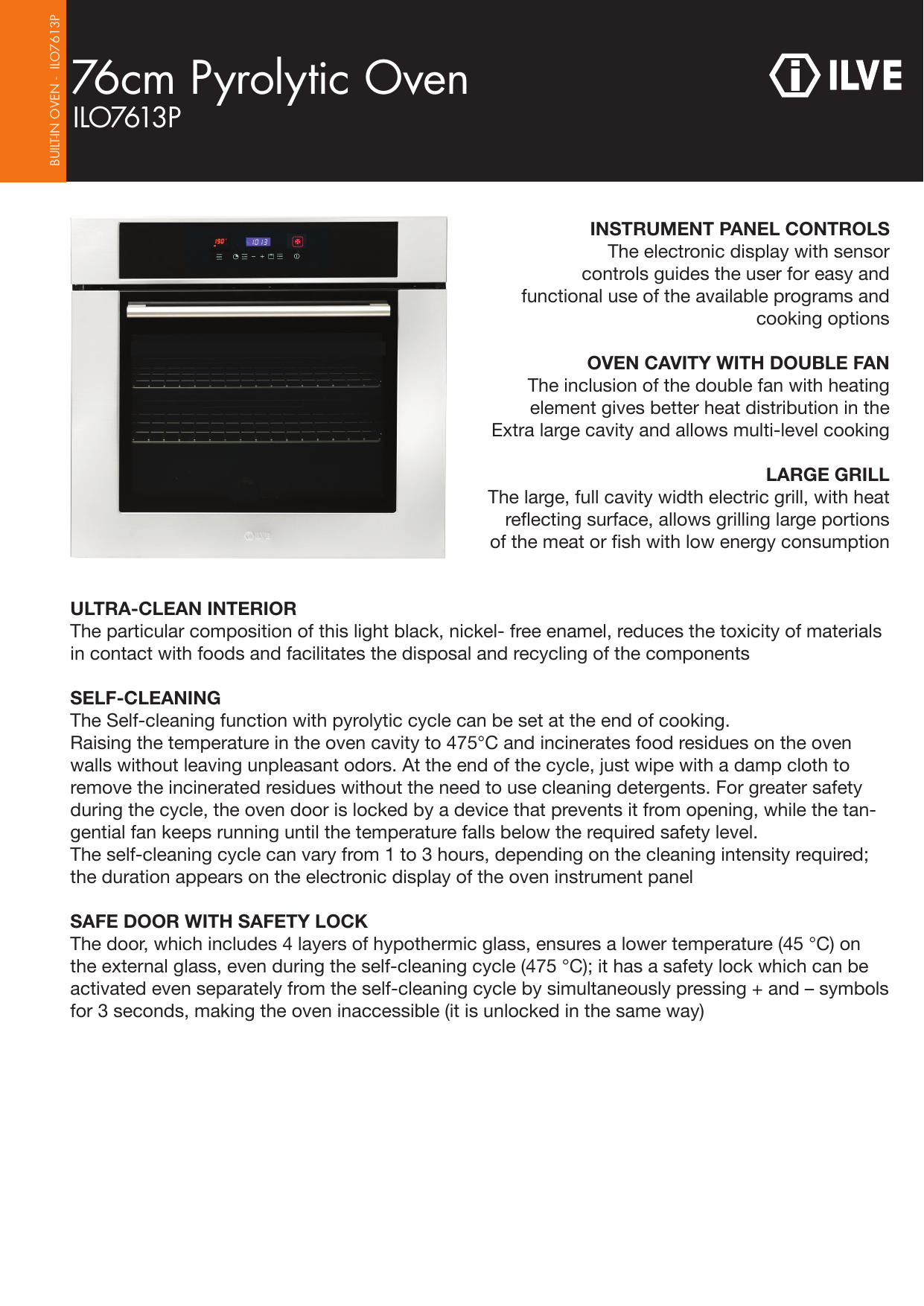 BUILT-IN OVEN - ILO7613P
76cm Pyrolytic Oven
ILO7613P
INSTRUMENT PANEL CONTROLS
The electronic display with sensor
controls guides the user for easy and
functional use of the available programs and
cooking options
OVEN CAVITY WITH DOUBLE FAN
The inclusion of the double fan with heating
element gives better heat distribution in the
Extra large cavity and allows multi-level cooking
LARGE GRILL
The large, full cavity width electric grill, with heat
reflecting surface, allows grilling large portions
of the meat or fish with low energy consumption
ULTRA-CLEAN INTERIOR
The particular composition of this light black, nickel- free enamel, reduces the toxicity of materials
in contact with foods and facilitates the disposal and recycling of the components
SELF-CLEANING
The Self-cleaning function with pyrolytic cycle can be set at the end of cooking.
Raising the temperature in the oven cavity to 475°C and incinerates food residues on the oven
walls without leaving unpleasant odors. At the end of the cycle, just wipe with a damp cloth to
remove the incinerated residues without the need to use cleaning detergents. For greater safety
during the cycle, the oven door is locked by a device that prevents it from opening, while the tangential fan keeps running until the temperature falls below the required safety level.
The self-cleaning cycle can vary from 1 to 3 hours, depending on the cleaning intensity required;
the duration appears on the electronic display of the oven instrument panel
SAFE DOOR WITH SAFETY LOCK
The door, which includes 4 layers of hypothermic glass, ensures a lower temperature (45 °C) on
the external glass, even during the self-cleaning cycle (475 °C); it has a safety lock which can be
activated even separately from the self-cleaning cycle by simultaneously pressing + and – symbols
for 3 seconds, making the oven inaccessible (it is unlocked in the same way)
BUILT-IN OVEN - ILO7613P
76cm Pyrolytic Oven
ILO7613P
Model ILO7613XP
76cm Pyrolytic Electric Oven
Multifunction oven 76cm
• Self-cleaning
• Safe door (<45 °C) with 4 layers of glass
• Oven cavity: 123L
• Double fan providing a more even spread of heat within
the oven cavity
• Halogen lighting in the oven cavity
• 6 possible positions for the grills, with quick unlocking
722
610
707
692
Features
• Made in Italy
• Large display with touch sensor controls
• 13 Multi-functions including "PIZZA" and "BREAD"
• 2 self-cleaning functions (ECO and Normal)
• Electronic temperature regulation from 50 °C to 250 °C
• Quickstart pre-heat mode
• Preheat progress display from 25% to 100%
• Preset temperature for each cooking mode
• Self-cleaning with pyrolytic cycle at 475 °C
• Oven cavity, baking dish, and rack shelves coated with
ULTRA-Clean enamel
• Keypad safety-lock function
59
0
754
Standard accessories
• 1 enamelled tray
• 2 totally removable full extension metal racks
• 1 flat grill
• 1 anti splash insert
Australia National Telephone Number 1300 MYILVE (694 583) New Zealand Telephone Number 0508 458 369
ILVE showrooms are open daily from 9am-5pm and Saturdays 10am-4pm
NSW & ACT (Head Office)
48-50 Moore Street
Leichhardt
F 02 8569 4699
VIC & SA
1211 Toorak Road
Camberwell
F 03 9809 2155
QLD
1/42 Cavendish Road
Coorparoo
F 07 3397 0850
WA & NT
Unit 10/55 Howe Street
Osborne Park
F 08 9201 9188
TAS (Crisp Ikin)
3 Pear Avenue
Derwent Park, 7009
P 03 6272 7386
ilve.com.au
New Zealand
PO Box 11.160
Sockburn Christchurch
F 03 344 5906
DISCLAIMER
Eurolinx PTY LTD, trading as ILVE Appliances, is continually seeking ways to improve the design specifications, aesthetics and production techniques of its products. As a result
alterations to our products and designs take place continually. Whilst every effort is made to produce information and literature that is up to date, this brochure should not be
regarded as an infallible guide to the current specifications, nor does it constitute an offer for the sale of any particular product. Product dimensions indicated in our literature is
indicative only. Actual product only should be used to define dimension cutouts. Distributors, and retailers are not agents of ILVE Appliances and are not authorized to bind ILVE
Appliances by any express or implied undertaking or representation.

* Your assessment is very important for improving the work of artificial intelligence, which forms the content of this project