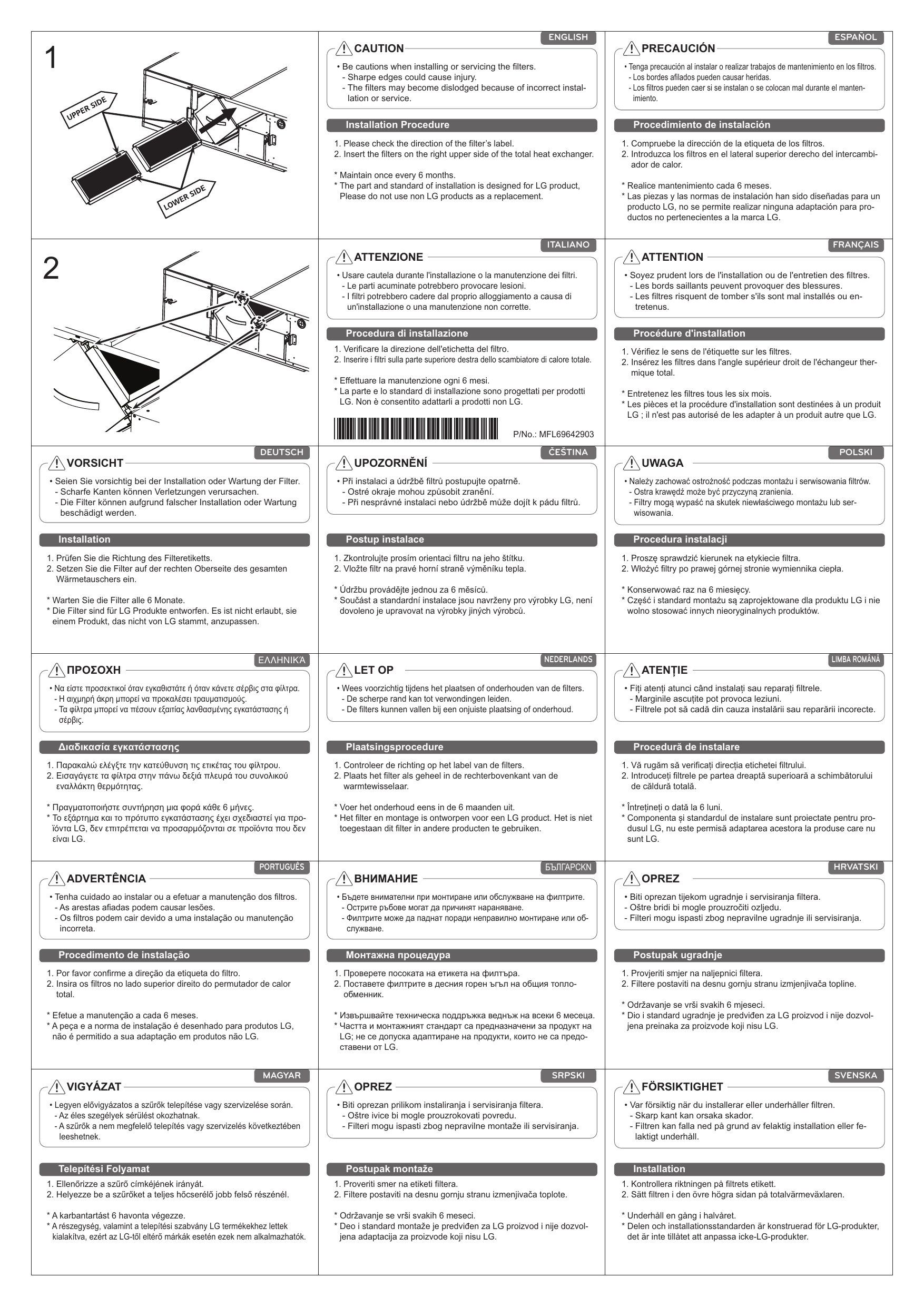 ENGLISH
! CAUTION
1
• Be cautions when installing or servicing the filters.
- Sharpe edges could cause injury.
- The filters may become dislodged because of incorrect installation or service.
Installation Procedure
ESPAÑOL
• Tenga precaución al instalar o realizar trabajos de mantenimiento en los filtros.
- Los bordes afilados pueden causar heridas.
- Los filtros pueden caer si se instalan o se colocan mal durante el mantenimiento.
Procedimiento de instalación
1. Please check the direction of the filter's label.
2. Insert the filters on the right upper side of the total heat exchanger.
* Maintain once every 6 months.
* The part and standard of installation is designed for LG product,
Please do not use non LG products as a replacement.
ITALIANO
! ATTENZIONE
2
! PRECAUCIÓN
• Usare cautela durante l'installazione o la manutenzione dei filtri.
- Le parti acuminate potrebbero provocare lesioni.
- I filtri potrebbero cadere dal proprio alloggiamento a causa di
un'installazione o una manutenzione non corrette.
Procedura di installazione
1. Compruebe la dirección de la etiqueta de los filtros.
2. Introduzca los filtros en el lateral superior derecho del intercambiador de calor.
* Realice mantenimiento cada 6 meses.
* Las piezas y las normas de instalación han sido diseñadas para un
producto LG, no se permite realizar ninguna adaptación para productos no pertenecientes a la marca LG.
! ATTENTION
FRANÇAIS
• Soyez prudent lors de l'installation ou de l'entretien des filtres.
- Les bords saillants peuvent provoquer des blessures.
- Les filtres risquent de tomber s'ils sont mal installés ou entretenus.
Procédure d'installation
1. Verificare la direzione dell'etichetta del filtro.
2. Inserire i filtri sulla parte superiore destra dello scambiatore di calore totale.
* Effettuare la manutenzione ogni 6 mesi.
* La parte e lo standard di installazione sono progettati per prodotti
LG. Non è consentito adattarli a prodotti non LG.
1. Vérifiez le sens de l'étiquette sur les filtres.
2. Insérez les filtres dans l'angle supérieur droit de l'échangeur thermique total.
* Entretenez les filtres tous les six mois.
* Les pièces et la procédure d'installation sont destinées à un produit
LG ; il n'est pas autorisé de les adapter à un produit autre que LG.
P/No.: MFL69642903
! VORSICHT
DEUTSCH
• Seien Sie vorsichtig bei der Installation oder Wartung der Filter.
- Scharfe Kanten können Verletzungen verursachen.
- Die Filter können aufgrund falscher Installation oder Wartung
beschädigt werden.
Installation
ČEŠTINA
• Při instalaci a údržbě filtrů postupujte opatrně.
- Ostré okraje mohou způsobit zranění.
- Při nesprávné instalaci nebo údržbě může dojít k pádu filtrů.
Postup instalace
1. Prüfen Sie die Richtung des Filteretiketts.
2. Setzen Sie die Filter auf der rechten Oberseite des gesamten
Wärmetauschers ein.
* Warten Sie die Filter alle 6 Monate.
* Die Filter sind für LG Produkte entworfen. Es ist nicht erlaubt, sie
einem Produkt, das nicht von LG stammt, anzupassen.
! ΠΡΟΣΟΧΗ
! UPOZORNĚNÍ
ΕΛΛΗΝΙΚΆ
• Να είστε προσεκτικοί όταν εγκαθιστάτε ή όταν κάνετε σέρβις στα φίλτρα.
- Η αιχμηρή άκρη μπορεί να προκαλέσει τραυματισμούς.
- Τα φίλτρα μπορεί να πέσουν εξαιτίας λανθασμένης εγκατάστασης ή
σέρβις.
Διαδικασία εγκατάστασης
! UWAGA
POLSKI
• Należy zachować ostrożność podczas montażu i serwisowania filtrów.
- Ostra krawędź może być przyczyną zranienia.
- Filtry mogą wypaść na skutek niewłaściwego montażu lub serwisowania.
Procedura instalacji
1. Zkontrolujte prosím orientaci filtru na jeho štítku.
2. Vložte filtr na pravé horní straně výměníku tepla.
1. Proszę sprawdzić kierunek na etykiecie filtra.
2. Włożyć filtry po prawej górnej stronie wymiennika ciepła.
* Údržbu provádějte jednou za 6 měsíců.
* Součást a standardní instalace jsou navrženy pro výrobky LG, není
dovoleno je upravovat na výrobky jiných výrobců.
* Konserwować raz na 6 miesięcy.
* Część i standard montażu są zaprojektowane dla produktu LG i nie
wolno stosować innych nieoryginalnych produktów.
! LET OP
NEDERLANDS
• Wees voorzichtig tijdens het plaatsen of onderhouden van de filters.
- De scherpe rand kan tot verwondingen leiden.
- De filters kunnen vallen bij een onjuiste plaatsing of onderhoud.
Plaatsingsprocedure
! ATENȚIE
LIMBA ROMÂNĂ
• Fiți atenți atunci când instalați sau reparați filtrele.
- Marginile ascuțite pot provoca leziuni.
- Filtrele pot să cadă din cauza instalării sau reparării incorecte.
Procedură de instalare
1. Παρακαλώ ελέγξτε την κατεύθυνση τις ετικέτας του φίλτρου.
2. Εισαγάγετε τα φίλτρα στην πάνω δεξιά πλευρά του συνολικού
εναλλάκτη θερμότητας.
1. Controleer de richting op het label van de filters.
2. Plaats het filter als geheel in de rechterbovenkant van de
warmtewisselaar.
1. Vă rugăm să verificați direcția etichetei filtrului.
2. Introduceți filtrele pe partea dreaptă superioară a schimbătorului
de căldură totală.
* Πραγματοποιήστε συντήρηση μια φορά κάθε 6 μήνες.
* Το εξάρτημα και το πρότυπο εγκατάστασης έχει σχεδιαστεί για προϊόντα LG, δεν επιτρέπεται να προσαρμόζονται σε προϊόντα που δεν
είναι LG.
* Voer het onderhoud eens in de 6 maanden uit.
* Het filter en montage is ontworpen voor een LG product. Het is niet
toegestaan dit filter in andere producten te gebruiken.
* Întrețineți o dată la 6 luni.
* Componenta și standardul de instalare sunt proiectate pentru produsul LG, nu este permisă adaptarea acestora la produse care nu
sunt LG.
! ADVERTÊNCIA
PORTUGUÊS
• Tenha cuidado ao instalar ou a efetuar a manutenção dos filtros.
- As arestas afiadas podem causar lesões.
- Os filtros podem cair devido a uma instalação ou manutenção
incorreta.
Procedimento de instalação
! ВНИМАНИЕ
БЪЛГАРСKN
• Бъдете внимателни при монтиране или обслужване на филтрите.
- Острите ръбове могат да причинят нараняване.
- Филтрите може да паднат поради неправилно монтиране или обслужване.
Монтажна процедура
1. Проверете посоката на етикета на филтъра.
2. Поставете филтрите в десния горен ъгъл на общия топлообменник.
* Efetue a manutenção a cada 6 meses.
* A peça e a norma de instalação é desenhado para produtos LG,
não é permitido a sua adaptação em produtos não LG.
* Извършвайте техническа поддръжка веднъж на всеки 6 месеца.
* Частта и монтажният стандарт са предназначени за продукт на
LG; не се допуска адаптиране на продукти, които не са предоставени от LG.
MAGYAR
• Legyen elővigyázatos a szűrők telepítése vagy szervizelése során.
- Az éles szegélyek sérülést okozhatnak.
- A szűrők a nem megfelelő telepítés vagy szervizelés következtében
leeshetnek.
Telepítési Folyamat
! OPREZ
HRVATSKI
• Biti oprezan tijekom ugradnje i servisiranja filtera.
- Oštre bridi bi mogle prouzročiti ozljedu.
- Filteri mogu ispasti zbog nepravilne ugradnje ili servisiranja.
Postupak ugradnje
1. Por favor confirme a direção da etiqueta do filtro.
2. Insira os filtros no lado superior direito do permutador de calor
total.
! VIGYÁZAT
! OPREZ
SRPSKI
• Biti oprezan prilikom instaliranja i servisiranja filtera.
- Oštre ivice bi mogle prouzrokovati povredu.
- Filteri mogu ispasti zbog nepravilne montaže ili servisiranja.
Postupak montaže
1. Provjeriti smjer na naljepnici filtera.
2. Filtere postaviti na desnu gornju stranu izmjenjivača topline.
* Održavanje se vrši svakih 6 mjeseci.
* Dio i standard ugradnje je predviđen za LG proizvod i nije dozvoljena preinaka za proizvode koji nisu LG.
! FÖRSIKTIGHET
SVENSKA
• Var försiktig när du installerar eller underhåller filtren.
- Skarp kant kan orsaka skador.
- Filtren kan falla ned på grund av felaktig installation eller felaktigt underhåll.
Installation
1. Ellenőrizze a szűrő címkéjének irányát.
2. Helyezze be a szűrőket a teljes hőcserélő jobb felső részénél.
1. Proveriti smer na etiketi filtera.
2. Filtere postaviti na desnu gornju stranu izmenjivača toplote.
1. Kontrollera riktningen på filtrets etikett.
2. Sätt filtren i den övre högra sidan på totalvärmeväxlaren.
* A karbantartást 6 havonta végezze.
* A részegység, valamint a telepítési szabvány LG termékekhez lettek
kialakítva, ezért az LG-től eltérő márkák esetén ezek nem alkalmazhatók.
* Održavanje se vrši svakih 6 meseci.
* Deo i standard montaže je predviđen za LG proizvod i nije dozvoljena adaptacija za proizvode koji nisu LG.
* Underhåll en gång i halvåret.
* Delen och installationsstandarden är konstruerad för LG-produkter,
det är inte tillåtet att anpassa icke-LG-produkter.
! FORSIKTIGHET
NORSK
• Vær forsiktig ved installasjon eller vedlikehold av filtrene.
- Skarpe kanter kan forårsake skader.
- Filtrene kan falle på grunn av feil montering eller vedlikehold.
Installasjonsprosedyre
! FORSIGTIGHED
DANSK
• Vær forsigtig når du installerer eller servicerer filtrene.
- Sharp kant kan forårsage personskade.
- Filtrene kan falde på grund af forkert installation eller service.
Installationsprocedure
1. Venligst kontroller retningen på filterets etiket.
2. Indsæt filtrene på øvre højre side på den samlede varmeveksler.
* Vedlikehold 1 gang hver 6. måned.
* Delene og standarden til installasjonen er egnet for LG-produkter og
det er ikke tillatt å tilpasse ikke-LG-produkter.
* Vedligehold hver 6 måned.
* Da delen og installationsstandarden er designet til LG produkter, er
det ikke tilladt for dem at blive tilpasset et ikke - LG produkt.
SUOMI
• Ole varovainen suodattimien asennuksen tai huollon yhteydessä.
- Terävät reunat voivat aiheuttaa vammoja.
- Suodattimet voivat pudota väärästä asennuksesta tai huollosta
johtuen.
Asennusvaiheet
! TÄHELEPANU!
MALTI
• Oqgħod attent meta tinstalla jew tagħti servizz lill-filtri.
- It-truf li huma għall-ponta jistgħu jikkawżaw korriment.
- Il-filtri jistgħu jaqgħu jekk ma jkunx hemm installazzjoni jew
servizz tajjeb.
Proċedura tal-Installazzjoni
1. Vennligst sjekk retningen av filterets etikett.
2. Legg inn filtrene på høyre øvre side av den totale varmeveksleren.
! HUOMIO
! ATTENZJONI
EESTI KEEL
• Olge filtrite paigaldamise ja hooldamise ajal ettevaatlik.
- Teravad servad võivad põhjustada vigastusi.
- Filtrid võivad vale paigalduse või hoolduse korral maha kukkuda.
Paigaldamine
1. Jekk jogħġbok iċċekkja d-direzzjoni li hemm fuq it-tabella tal-filtru.
2. Daħħal il-filtri fuq in-naħa tal-lemin ta' fuq tal-iskambjatur totali tassħana.
* Agħti servizz ta' manutenzjoni darba kull 6 xhur.
* Il-parti u l-istandard tal-installazzjoni huma magħmulin għall-prodotti
LG, għalhekk m'għandhomx jintużaw għall-prodotti li mhumiex LG.
! UPOZORNENIE
SLOVENČINA
• Pri inštalácii a údržbe filtrov postupujte opatrne.
- Ostré okraje môžu spôsobiť zranenie.
- Pri nesprávnej inštalácii alebo údržbe môže dôjsť k pádu filtrov.
Postup inštalácie
1. Tarkasta suodattimen tarran suunta.
2. Asenna suodattimet lämmönvaihtimen oikealle puolelle ylös.
1. Kontrollige filtrietiketi suunda.
2. Sisestage filtrid soojusvaheti paremal ülemises osas.
1. Skontrolujte prosím orientáciu filtra na jeho štítku.
2. Vložte filter na pravej hornej strane výmenníka tepla.
* Huolla kerran 6. kuukaudessa.
* Asennuksen standardi ja osa koskee LG-tuotteita, niitä ei tulee
soveltaa muille kuin LG-tuotteille.
* Hooldada iga 6 kuu järel.
* See osa ja standardne paigaldus on mõeldud LG toote jaoks, neid
on keelatud kohandada mitte-LG tootele.
* Údržbu vykonávajte raz za 6 mesiacov.
* Súčasť a štandardné inštalácie sú navrhnuté pre výrobky LG, nie je
dovolené ich upravovať na výrobky iných výrobcov.
! PREVIDNO
SLOVENŠČINA
• Pri montaži in servisiranju filtra morate biti previdni.
- Ostri robovi lahko povzročijo poškodbe.
- Zaradi nepravilne montaže ali servisiranja se filtri lahko
snamejo.
Postopek montaže
* Vzdrževanje se izvaja vsakih 6 mesecev
* Del in standard montaže sta predvidena za izdelke LG in ni dovoljeno prilagajanje za izdelke, ki niso LG.
LATVIEŠU VALODA
• Esiet uzmanīgs, uzstādot filtrus un veicot to apkopi.
- Asa mala var radīt traumas.
- Nepareizas uzstādīšanas vai apkopes dēļ filtri var nokrist.
Uzstādīšanas kārtība
* Veiciet apkopi reizi 6 mēnešos.
* Daļa un uzstādīšanas standarts ir izstrādāti LG produktam, un to izmantošana nav pieļaujama produktiem, kas nav LG produkti.
ÍSLENSKA
• Verið varkár þegar síum er komið fyrir eða þær þjónustaðar.
- Skarpar brúnir gætu valdið meiðslum.
- Síurnar gætu fallið ef röng uppsetning eða þjónusta hefur átt sér
stað.
Uppsetningaraðferð
1. Vinsamlegast athugaðu leiðbeiningar á merkimiða síunnar.
2. Setjið síurnar á efri hlið hægra megin á aðalvarmaskipti.
* Viðhaldið einu sinni á 6 mánaða fresti.
* Hlutir og viðmiðun uppsetningar er hannað fyrir LG vörur, það má
ekki aðlaga þær - LG vara.
! OPREZ
• Būkite atsargūs filtrų įrengimo ar aptarnavimo metu.
- Aštrus kraštas užtraukia galimybė susižaloti.
- Filtrai gali nukristi dėl netinkamo įrengimo ar aptarnavimo.
1. Prašome patikrinti kryptį pagal lipduką ant filtro.
2. Įstatykite filtrus bendro šilumokaičio dešinėje viršutinėje pusėje.
* Aptarnavimas kas 6 mėn.
* Įrengimo dalis ir standartas sukurti tik LG gaminiams, juos pritaikyti
kitiems negu LG gaminiams draudžiama.
! AIRE
BOSANSKI
• Biti oprezan prilikom instaliranja i servisiranja filtera.
- Oštre ivice bi mogle prouzrokovati ozljedu.
- Filteri mogu ispasti zbog nepravilne montaže ili servisiranja.
Postupak montaže
1. Provjeriti smjer na etiketi filtera.
2. Filtere postaviti na desnu gornju stranu izmjenjivača topline.
* Održavanje se vrši svakih 6 mjeseci.
* Dio i standard montaže je predviđen za LG proizvod i nije dopuštena adaptacija za proizvode koji nisu LG.
! ВНИМАНИЕ
МАКЕДОНСКИ
• Бидете внимателни кога ги монтирате или сервисирате филтрите.
- Остриот раб може да предизвика повреда.
- Филтрите може да паднат поради неправилно монтирање или
неправилен сервис.
Монтажна постапка
GAEILGE
• Tabhair aire agus tú ag suiteáil nó ag seirbhísiú an scagaire.
- Tá baol gortaithe ón deireadh géar.
- Tá baol go dtitfí na scagairí de dheasca suiteála nó seirbhísithe
míchirt.
Modh Suiteála
1. Lūdzu, pārbaudiet virzienu, kas norādīts uz filtra etiķetes.
2. Ievietojiet filtrus siltummaiņa augšējā labajā pusē.
! VARÚÐ
LIETUVIŲ KALBA
Įrengimo procedūra
1. Preveriti smer na nalepki filtra
2. Filtre je treba montirati na desno zgornjo stran toplotnega izmenjevalca.
! UZMANĪBU
! DĖMESIO
1. Проверете го правецот на налепницата на филтерот.
2. Вметнете ги филтрите на десната горна страна од разменувачот на вкупна топлина.
* Одржувајте еднаш на секои 6 месеци.
* Делот и стандардот на монтирање се наменети за LG производ,
не е дозволено нивно адаптирање на не - LG производ.
! KUJDES
SHQIP
• Kini kujdes gjatë instalimit dhe servisimit të filtrave.
- Cepi i mprehtë mund të shkaktojë lëndim.
- Filtrat mund të bien për shkak të instalimit ose servisimit të
pasaktë.
Procedurë instalimi
1. Seiceáil treo lipéid an scagaire le do thoil.
2. Ionsáigh na scagairí ar uastaobh na lámha deise den teasmhalatóir iomlán.
1. Ju lutem kontrolloni drejtimin e pullës së filtrit.
2. Vendosni filtrat djathtas në anën e sipërme të të gjithë shkëmbyesit
të ngrohtësisë.
* Cothaigh gach sé mhí.
* Is fachoinne LG ar dearadh an pháirt agus an caighdeán suiteála,
níl cead tairgí eile nach LG iad a oiriúnú.
* Mirëmbajtja një herë në 6 muaj.
* Pjesa dhe standardi i instalimit janë dizajnuar për produktet LG, përshtatja e produkteve jo LG nuk lejohet.

* Your assessment is very important for improving the work of artificial intelligence, which forms the content of this project