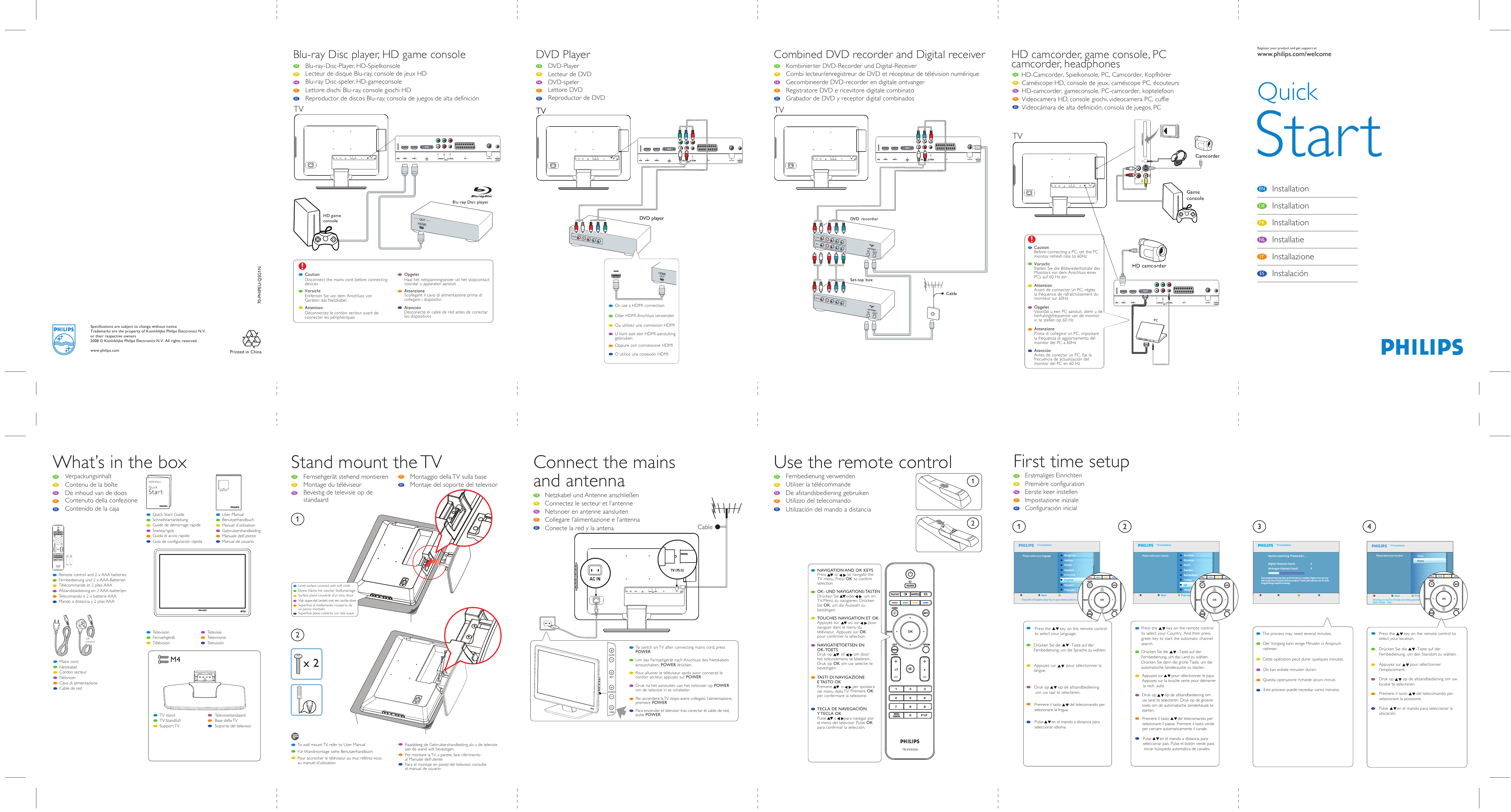 Blu-ray Disc player, HD game console
Blu-ray-Disc-Player, HD-Spielkonsole
Lecteur de disque Blu-ray, console de jeux HD
Blu-ray Disc-speler, HD-gameconsole
Lettore dischi Blu-ray, console giochi HD
Reproductor de discos Blu-ray, consola de juegos de alta definición
DE
FR
NL
IT
ES
DVD Player
DE
FR
NL
IT
ES
Combined DVD recorder and Digital receiver
DVD-Player
Lecteur de DVD
DVD-speler
Lettore DVD
Reproductor de DVD
DE
FR
NL
IT
ES
Kombinierter DVD-Recorder und Digital-Receiver
Combi lecteur/enregistreur de DVD et récepteur de télévision numérique
Gecombineerde DVD-recorder en digitale ontvanger
Registratore DVD e ricevitore digitale combinato
Grabador de DVD y receptor digital combinados
HD camcorder, game console, PC
camcorder, headphones
DE
FR
NL
IT
ES
HD-Camcorder, Spielkonsole, PC, Camcorder, Kopfhörer
Caméscope HD, console de jeux, caméscope PC, écouteurs
HD-camcorder, gameconsole, PC-camcorder, koptelefoon
Videocamera HD, console giochi, videocamera PC, cuffie
Videocámara de alta definición, consola de juegos, PC
70-PHIPEU-QSG1N
Caution
Before connecting a PC, set the PC
monitor refresh rate to 60Hz
Caution
Disconnect the mains cord before connecting
devices
Opgelet
Haal het netspanningssnoer uit het stopcontact
voordat u apparaten aansluit
Vorsicht
Entfernen Sie vor dem Anschluss von
Geräten das Netzkabel.
Attenzione
Scollegare il cavo di alimentazione prima di
collegare i dispositivi
Attention
Déconnectez le cordon secteur avant de
connecter les périphériques
Atención
Desconecte el cable de red antes de conectar
los dispositivos
Vorsicht
Stellen Sie die Bildwiederholrate des
Monitors vor dem Anschluss eines
PCs auf 60 Hz ein
Or use a HDMI connection
Oder HDMI-Anschluss verwenden
DE
FR
NL
IT
ES
Verpackungsinhalt
Contenu de la boîte
De inhoud van de doos
Contenuto della confezione
Contenido de la caja
Oppure con connessione HDMI
Printed in China
Fernsehgerät stehend montieren
Montage du téléviseur
Bevestig de televisie op de
standaard
FR
NL
Quick Start Guide
Schnellstartanleitung
Guide de démarrage rapide
Snelstartgids
Guida di avvio rapido
Guía de configuración rápida
User Manual
Benutzerhandbuch
Manuel d'utilisation
Gebruikershandleiding
Manuale dell'utente
Manual de usuario
IT
ES
Montaggio della TV sulla base
Montaje del soporte del televisor
Connect the mains
and antenna
DE
FR
NL
1
EN
Installation
DE
Installation
FR
Installation
NL
Installatie
IT
Installazione
ES
Instalación
Atención
Antes de conectar un PC, fije la
frecuencia de actualización del
monitor del PC en 60 Hz
O utilice una conexión HDMI
DE
Start
Attenzione
Prima di collegare un PC, impostare
la frequenza di aggiornamento del
monitor del PC a 60Hz
U kunt ook een HDMI-aansluiting
gebruiken
Stand mount the TV
Quick
Opgelet
Voordat u een PC aansluit, dient u de
herhalingsfrequentie van de monitor
in te stellen op 60 Hz
Ou utilisez une connexion HDMI
What's in the box
www.philips.com/welcome
Attention
Avant de connecter un PC, réglez
la fréquence de rafraîchissement du
moniteur sur 60Hz
Specifications are subject to change without notice
Trademarks are the property of Koninklijke Philips Electronics N.V.
or their respective owners
2008 © Koninklijke Philips Electronics N.V. All rights reserved.
www.philips.com
Register your product and get support at
IT
ES
Netzkabel und Antenne anschließen
Connectez le secteur et l'antenne
Netsnoer en antenne aansluiten
Collegare l'alimentazione e l'antenna
Conecte la red y la antena
First time setup
Use the remote control
DE
FR
NL
IT
ES
Fernbedienung verwenden
Utiliser la télécommande
De afstandsbediening gebruiken
Utilizzo del telecomando
Utilización del mando a distancia
1
DE
FR
NL
IT
ES
Erstmaliges Einrichten
Première configuration
Eerste keer instellen
Impostazione iniziale
Configuración inicial
2
TV installation
Please select your language
Please select your location
Please select your c ountry
Shop
Home
Remote control and 2 x AAA batteries
Fernbedienung und 2 x AAA-Batterien
Télécommande et 2 piles AAA
Afstandsbediening en 2 AAA-batterijen
Telecomando e 2 x batterie AAA
Mando a distancia y 2 pilas AAA
UK
Ireland
Mains cord
Netzkabel
Cordon secteur
Netsnoer
Cavo di alimentazione
Cable de red
NAVIGATION AND OK KEYS
Press
or
to navigate the
TV menu. Press OK to confirm
selection.
Level surface covered with soft cloth
Ebene Fläche mit weicher Stoffunterlage
Surface plane couverte d'un tissu doux
Vlak oppervlak bedekt met een zachte doek
Superficie di livellamento ricoperta da
un panno morbido
Superficie plana cubierta con tela suave
Television
Fernsehgerät
Télévision
Televisie
Televisione
Televisión
M4
OK- UND NAVIGATIONS-TASTEN
Drücken Sie
oder
, um im
TV-Menü zu navigieren. Drücken
Sie OK, um die Auswahl zu
bestätigen.
TOUCHES NAVIGATION ET OK
Appuyez sur
ou sur
pour
naviguer dans le menu du
téléviseur. Appuyez sur OK
pour confirmer la sélection.
2
To switch on TV after connecting mains cord, press
POWER
x2
Um das Fernsehgerät nach Anschluss des Netzkabels
einzuschalten, POWER drücken.
Pour allumer le téléviseur après avoir connecté le
cordon secteur, appuyez sur POWER
Druk na het aansluiten van het netsnoer op POWER
om de televisie in te schakelen
Per accendere la TV dopo avere collegato l'alimentazione,
premere POWER
TV stand
TV-Standfuß
Support TV
Para encender el televisor tras conectar el cable de red,
pulse POWER
Televisiestandaard
Base della TV
Soporte del televisor
To wall mount TV, refer to User Manual
Für Wandmontage siehe Benutzerhandbuch
Pour accrocher le téléviseur au mur, référez-vous
au manuel d'utilisation
Raadpleeg de Gebruikershandleiding als u de televisie
aan de wand wilt bevestigen
Per montare la TV a parete, fare riferimento
al Manuale dell'utente
Para el montaje en pared del televisor, consulte
el manual de usuario
NAVIGATIETOETSEN EN
OK-TOETS
Druk op
of
om door
het televisiemenu te bladeren.
Druk op OK om uw selectie te
bevestigen.
TASTI DI NAVIGAZIONE
E TASTO OK
Premere
o
per spostarsi
nel menu della TV. Premere OK
per confermare la selezione.
TECLA DE NAVEGACIÓN
Y TECLA OK
Pulse
o
para navegar por
el menú del televisor. Pulse OK
para confirmar la selección.
Next
Press OK or the green colour key on your remote control to c
Press the
key on the remote control
to select your language.
Drücken Sie die
-Taste auf der
Fernbedienung, um die Sprache zu wählen.,
Appuyez sur
langue.
pour sélectionner la
Druk op
op de afstandbediening
om uw taal te selecteren.
Previous
Selecting your location will make your setting adjustable if chosen'home' or keep them
fixed if chosen' shop'.
Press the
key on the remote control
to select your Country. And then press
green key to start the automatic channel
search.
The process may need several minutes.
Der Vorgang kann einige Minuten in Anspruch
nehmen.
Drücken Sie die
-Taste auf der
Fernbedienung, um das Land zu wählen.
Drücken Sie dann die grüne Taste, um die
automatische Sendersuche zu starten.
Cette opération peut durer quelques minutes.
Appuyez sur
pour sélectionner le pays.
Appuyez sur la touche verte pour démarrer
la rech. auto.
Questa operazione richiede alcuni minuti.
Premere il tasto
del telecomando per
selezionare la lingua.
Druk op
op de afstandbediening om
uw land te selecteren. Druk op de groene
toets om de automatische zenderkeuze te
starten.
Pulse
en el mando a distancia para
seleccionar idioma.
Premere il tasto
del telecomando per
selezionare il paese. Premere il tasto verde
per cercare automaticamente il canale.
Pulse
en el mando a distancia para
seleccionar país. Pulse el botón verde para
iniciar búsqueda automática de canales.
Dit kan enkele minuten duren.
Este proceso puede necesitar varios minutos.
Press the
key on the remote control to
select your location.
Drücken Sie die
-Taste auf der
Fernbedienung, um den Standort zu wählen.
Appuyez sur
l'emplacement.
pour sélectionner
Druk op
op de afstandbediening om uw
locatie te selecteren.
Premere il tasto
del telecomando per
selezionare la posizione.
Pulse
en el mando para seleccionar la
ubicación.