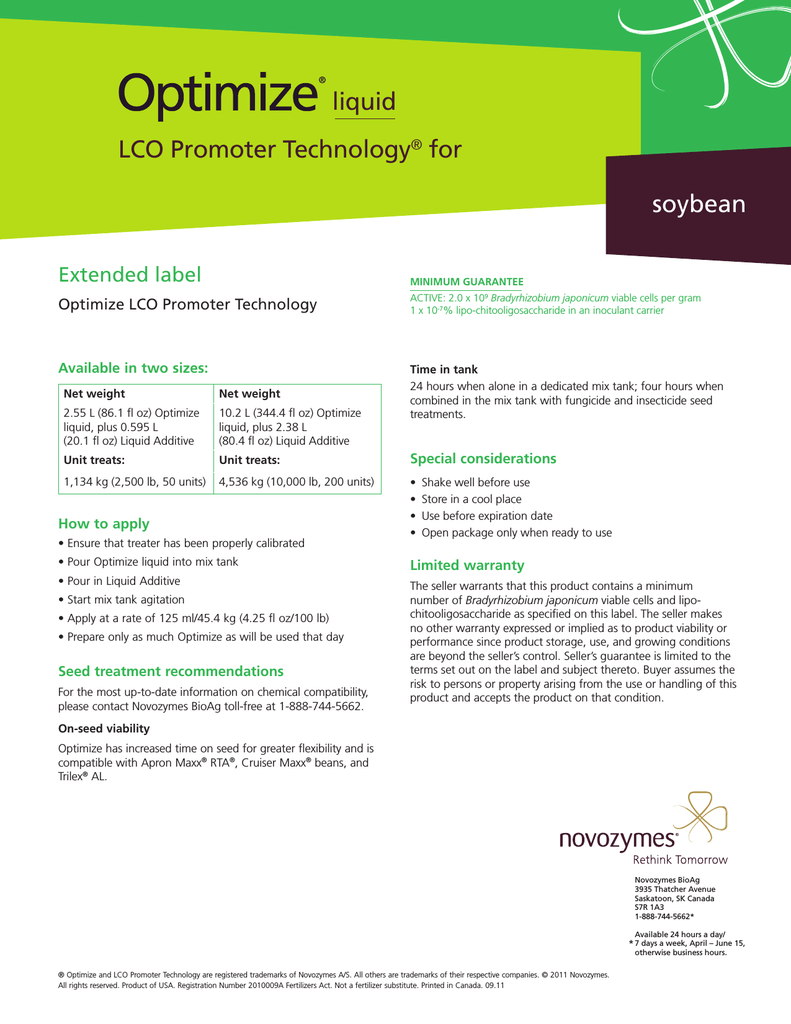 liquid
LCO Promoter Technology® for
soybean
Extended label
MINIMUM GUARANTEE
Optimize LCO Promoter Technology
ACTIVE: 2.0 x 109 Bradyrhizobium japonicum viable cells per gram
1 x 10-7% lipo-chitooligosaccharide in an inoculant carrier
Available in two sizes:
Time in tank
24 hours when alone in a dedicated mix tank; four hours when
combined in the mix tank with fungicide and insecticide seed
treatments.
Net weight
Net weight
2.55 L (86.1 fl oz) Optimize
liquid, plus 0.595 L
(20.1 fl oz) Liquid Additive
10.2 L (344.4 fl oz) Optimize
liquid, plus 2.38 L
(80.4 fl oz) Liquid Additive
Unit treats:
Unit treats:
Special considerations
1,134 kg (2,500 lb, 50 units)
4,536 kg (10,000 lb, 200 units)
• Shake well before use
• Store in a cool place
• Use before expiration date
• Open package only when ready to use
How to apply
• Ensure that treater has been properly calibrated
• Pour Optimize liquid into mix tank
Limited warranty
• Pour in Liquid Additive
The seller warrants that this product contains a minimum
number of Bradyrhizobium japonicum viable cells and lipochitooligosaccharide as specified on this label. The seller makes
no other warranty expressed or implied as to product viability or
performance since product storage, use, and growing conditions
are beyond the seller's control. Seller's guarantee is limited to the
terms set out on the label and subject thereto. Buyer assumes the
risk to persons or property arising from the use or handling of this
product and accepts the product on that condition.
• Start mix tank agitation
• Apply at a rate of 125 ml/45.4 kg (4.25 fl oz/100 lb)
• Prepare only as much Optimize as will be used that day
Seed treatment recommendations
For the most up-to-date information on chemical compatibility,
please contact Novozymes BioAg toll-free at 1-888-744-5662.
On-seed viability
Optimize has increased time on seed for greater flexibility and is
compatible with Apron Maxx® RTA®, Cruiser Maxx® beans, and
Trilex® AL.
Novozymes BioAg
3935 Thatcher Avenue
Saskatoon, SK Canada
S7R 1A3
1-888-744-5662*
Available 24 hours a day/
* 7 days a week, April – June 15,
otherwise business hours.
® Optimize and LCO Promoter Technology are registered trademarks of Novozymes A/S. All others are trademarks of their respective companies. © 2011 Novozymes.
All rights reserved. Product of USA. Registration Number 2010009A Fertilizers Act. Not a fertilizer substitute. Printed in Canada. 09.11
MD
liquide
LCO Promoter Technology® pour le
MD
soya
Étiquette supplémentaire
Optimize LCO Promoter Technology
GARANTIE MINIMALE
Actif: 2.0 x 109 de Bradyrhizobiums japonicum cellules viables par gramme
1 x 10-7% lipo-chitooligosaccharide sur un excipient d'inoculant liquide
Disponible en deux formats:
Quantité nette
Quantité nette
2,55 L (86,1 oz) liquide
Optimize et 0,595 L (20,1 oz)
d'additif liquide
10,2 L (344,4 oz) liquide
Optimize et 2,38 L (80,4 oz)
d'additif liquide
Unité traitée:
Unité traitée:
1134 kg (2500 lb, 50 unités)
4536 kg (10000 lb, 200 unités)
Mode d'emploi
• S'assurer que l'appareil de traitement a été correctement calibré
• Verser le liquide Optimize dans le réservoir du pulvérisateur
Temps dans le réservoir?
24 heures lorsqu'utilisé seul dans un réservoir dédié à Optimize;
quatre heures, lorsque combiné avec des traitements fongicides ou
insecticides pour les semences.
Considérations spéciales
• Bien agiter avant l'usage
• Entreposer dans un endroit frais
• Utiliser avant la date d'expiration
• Ouvrir le sachet seulement lorsque prêt à utiliser
• Verser l'Additif liquide
Garantie limitée
• Débuter l'agitation du pulvérisateur
Le vendeur garantit que ce produit contient une quantité minimale
de cellules viables de Bradyrhizobiums japonicum et de lipochitooligosaccaharide comme spécifié sur l'étiquette du produit. Le
vendeur ne fait aucune autre garantie, expresse ou implicite, quant
à la viabilité ou à la performance du produit car l'entreposage,
l'utilisation, et les conditions de croissance sont hors de contrôle du
vendeur. La garantie du vendeur se limite aux dispositions énoncées
sur l'étiquette et y est assujettie. L'acheteur assume à lui seul tous les
risques relatifs aux personnes et aux biens découlant de l'utilisation
ou de la manutention de ce produit et accepte expressément le
produit à ces conditions.
• Appliquer à une dose de 125 mL / 45,4 kg (4,25 oz liquides/
100 lb)
• Préparer seulement la quantité d'Optimize qui sera nécessaire
pour cette journée
Recommandations pour le traitement de semences
Pour connaître les informations les plus récentes sur la compatibilité
chimique, communiquer avec Novozymes BioAg, sans frais, au
1-888-744-5662.
Viabilité sur la semence
Optimize offre une adhérence prolongée sur la semence pour une
plus grande flexibilité. Il est compatible avec Apron MaxxMD RTAMD,
Cruiser MaxxMD Soya, et TrilexMD AL.
Novozymes BioAg
3935 Thatcher Avenue
Saskatoon, SK Canada
S7R 1A3
1-888-744-5662*
Optimize et LCO Promoter Technology sont des marques déposées de Novozymes A/S. © 2011 Novozymes. Tous droits réservés. Produit des États-Unis.
Numéro d'homologation de la Loi sur les Engrais 2010009A. Ce produit n'est pas un substitut d'engrais. Imprimé aux Canada. 09.11
MD
Disponible 24 heures sur 24/ 7
jours par semaine, d'avril
jusqu'au 15 juin, hors de cette
période, disponible pendant les
heures ouvrables.