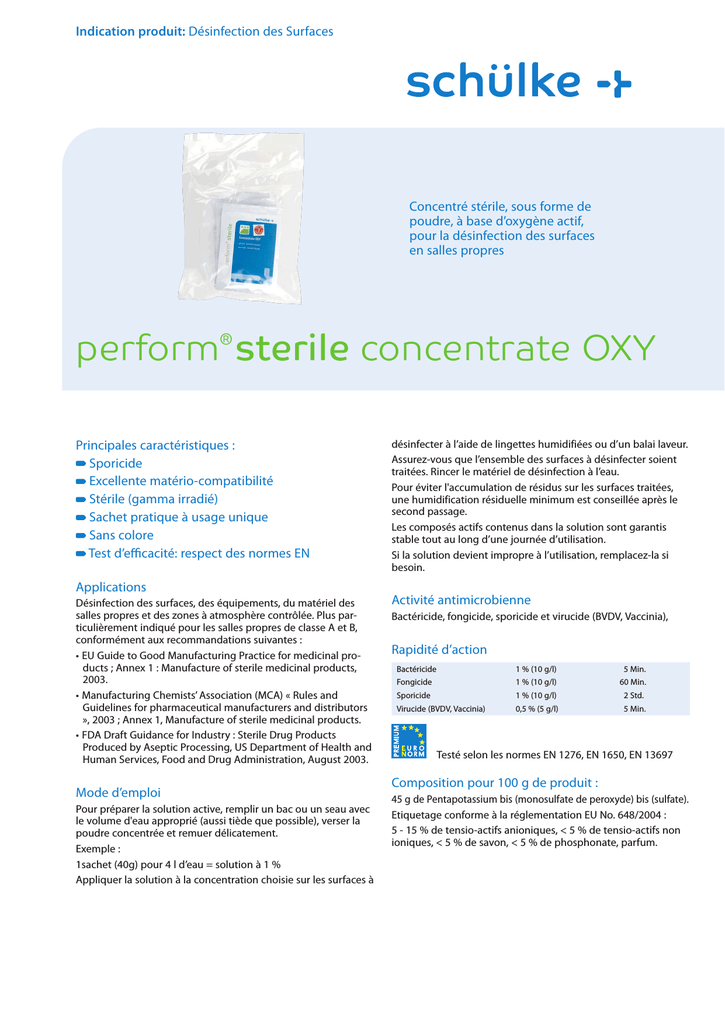 Indication produit: Désinfection des Surfaces
Concentré stérile, sous forme de
poudre, à base d'oxygène actif,
pour la désinfection des surfaces
en salles propres
perform sterile concentrate OXY
®
Principales caractéristiques :
 Sporicide
 Excellente matério-compatibilité
 Stérile (gamma irradié)
 Sachet pratique à usage unique
 Sans colore
 Test d'efficacité: respect des normes EN
Applications
Désinfection des surfaces, des équipements, du matériel des
salles propres et des zones à atmosphère contrôlée. Plus particulièrement indiqué pour les salles propres de classe A et B,
conformément aux recommandations suivantes :
•EU Guide to Good Manufacturing Practice for medicinal products ; Annex 1 : Manufacture of sterile medicinal products,
2003.
•Manufacturing Chemists' Association (MCA) « Rules and
Guidelines for pharmaceutical manufacturers and distributors
», 2003 ; Annex 1, Manufacture of sterile medicinal products.
•FDA Draft Guidance for Industry : Sterile Drug Products
Produced by Aseptic Processing, US Department of Health and
Human Services, Food and Drug Administration, August 2003.
Mode d'emploi
Pour préparer la solution active, remplir un bac ou un seau avec
le volume d'eau approprié (aussi tiède que possible), verser la
poudre concentrée et remuer délicatement.
Exemple :
1sachet (40g) pour 4 l d'eau = solution à 1 %
Appliquer la solution à la concentration choisie sur les surfaces à
désinfecter à l'aide de lingettes humidifiées ou d'un balai laveur.
Assurez-vous que l'ensemble des surfaces à désinfecter soient
traitées. Rincer le matériel de désinfection à l'eau.
Pour éviter l'accumulation de résidus sur les surfaces traitées,
une humidification résiduelle minimum est conseillée après le
second passage.
Les composés actifs contenus dans la solution sont garantis
stable tout au long d'une journée d'utilisation.
Si la solution devient impropre à l'utilisation, remplacez-la si
besoin.
Activité antimicrobienne
Bactéricide, fongicide, sporicide et virucide (BVDV, Vaccinia),
Rapidité d'action
Bactéricide
1 % (10 g/l)
5 Min.
Fongicide
1 % (10 g/l)
60 Min.
Sporicide
1 % (10 g/l)
2 Std.
Virucide (BVDV, Vaccinia)
0,5 % (5 g/l)
5 Min.
Testé selon les normes EN 1276, EN 1650, EN 13697
Composition pour 100 g de produit :
45 g de Pentapotassium bis (monosulfate de peroxyde) bis (sulfate).
Etiquetage conforme à la réglementation EU No. 648/2004 :
5 - 15 % de tensio-actifs anioniques, < 5 % de tensio-actifs non
ioniques, < 5 % de savon, < 5 % de phosphonate, parfum.
perform® sterile concentrate OXY
Propriétés physico-chimiques:
Concentré:
Apparence:
Masse volumique:
Odeur:
Stabilité:
poudre blanche
environ 775g/l
agréable
5°C < à la température ambiante
Solution dilué:
Apparence:
pH:
Odeur:
incolore
environ 4
agréable
Structure Chimique:
Le concentré sous forme de poudre contient un dépôt d'oxygène actif (peroxymonosulfate de potassium) qui libère la substance active après dissolution dans l'eau.
Etiquetage selon les directives CE
Xi : irritant
R 36/38 : Irritant pour les yeux et la peau
S26 : En cas de contact avec les yeux, laver immédiatement et abondamment avec de l'eau et consulter un spécialiste
S 28 : Après contact avec la peau, se laver immédiatement et abondamment avec de l'eau
Autres Informations:
Utilisez les biocides avec précaution. Avant toute utilisation,
lisez l'étiquette et les informations concernant le produit. (this
sentence replaces: Utiliser ce désinfectant avec précaution. Se
reporter à l'étiquetage et aux informations produit avant toute
utilisation).
Entreposer dans le conditionnement d'origine à température
ambiante.
Emballage stérile avec indicateur d'irradiation. Conditionnement
de 5 sachets à emballage double.
Lors de l'utilisation, le port de gants en caoutchouc butyl est
recommandé.
Format de livraison/ Unité de vente
Taille
Unité de vente
Art. N°
Sachet de 40 g
50 sachets de 40 g
122351
(jeweils 5 Beutel doppelt umverpackt)
Informations relatives à l'environnement
Schülke innove avec des produits sûrs, économiques et respectueux de l'environnement tout en gardant des standards de
qualité élevés.
Avis d'experts et informations
Schülke & Mayr GmbH est certifié selon
DIN EN ISO 9001 et DIN EN ISO 13485
(Reg.-Nr. 004567 MP23) et dispose
d'un système de gestion environnementale validé selon la directive Öko-Audit
(Reg.-Nr. DE-S-150 00003).
Schülke & Mayr GmbH
22840 Norderstedt
Telefon 040 / 521 00-0
Telefax 040 / 521 00-247
www.schuelke.com
mail@schuelke.com
S&M France
10, rue Cognacq-Jay
75341 Paris Cedex 07
Phone +33-1-44-11 00-81
Fax +33-1-44-11 02-41
smfrance.info@airliquide.com
Schülke & Mayr AG
Sihlfeldstrasse 58
CH-8003 Zürich
Phone +41-44-466 55 44
+41-44-466 55 33
Fax
mail.ch@schuelke.com
2167/I/17.02/A/Rako
Une revue de la littérature et des avis d'expert au sujet de
perform® sterile concentrate OXY sont disponibles sur le site
internet www.schuelke.com.
Pour plus d'informations, veuillez contacter Schülke France au :
+33 1 44 11 00 81.

* Your assessment is very important for improving the work of artificial intelligence, which forms the content of this project