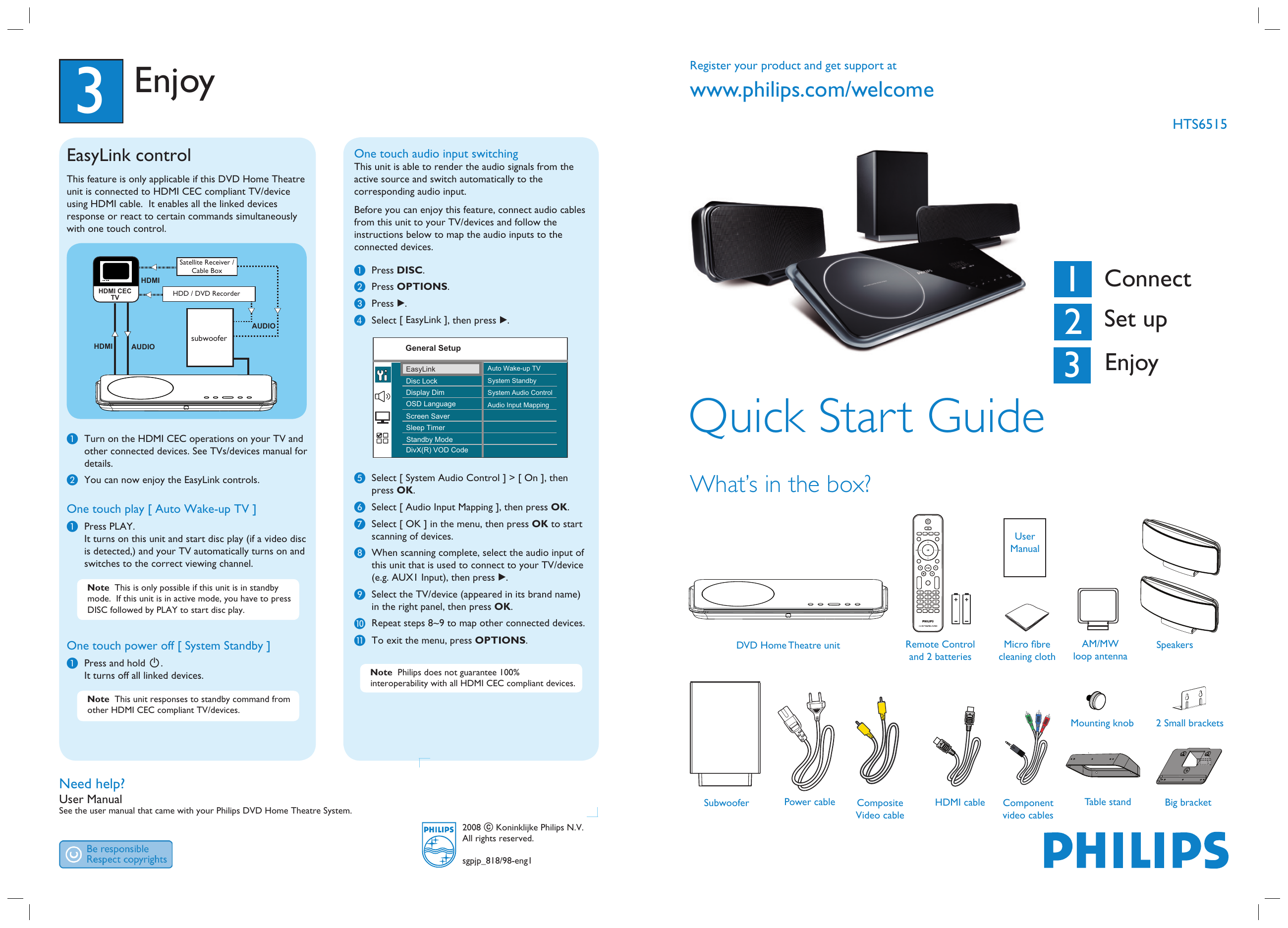 Register your product and get support at
Enjoy
3
www.philips.com/welcome
HTS6515
EasyLink control
One touch audio input switching
This feature is only applicable if this DVD Home Theatre
unit is connected to HDMI CEC compliant TV/device
using HDMI cable. It enables all the linked devices
response or react to certain commands simultaneously
with one touch control.
Satellite Receiver /
Cable Box
HDMI
HDMI CEC
TV
HDD / DVD Recorder
AUDIO
HDMI
AUDIO
This unit is able to render the audio signals from the
active source and switch automatically to the
corresponding audio input.
Before you can enjoy this feature, connect audio cables
from this unit to your TV/devices and follow the
instructions below to map the audio inputs to the
connected devices.
A
B
C
D
1
2
3
Press DISC.
Press OPTIONS.
Press B.
Select [ EasyLink ], then press B.
subwoofer
General Setup
EasyLink
Auto Wake-up TV
Disc Lock
System Standby
Display Dim
System Audio Control
OSD Language
Audio Input Mapping
Screen Saver
Sleep Timer
A Turn on the HDMI CEC operations on your TV and
other connected devices. See TVs/devices manual for
details.
B You can now enjoy the EasyLink controls.
Standby Mode
DivX(R) VOD Code
E Select [ System Audio Control ] > [ On ], then
press OK.
One touch play [ Auto Wake-up TV ]
A Press PLAY.
It turns on this unit and start disc play (if a video disc
is detected,) and your TV automatically turns on and
switches to the correct viewing channel.
Note This is only possible if this unit is in standby
mode. If this unit is in active mode, you have to press
DISC followed by PLAY to start disc play.
One touch power off [ System Standby ]
Set up
Enjoy
Quick Start Guide
What's in the box?
F Select [ Audio Input Mapping ], then press OK.
G Select [ OK ] in the menu, then press OK to start
scanning of devices.
User
Manual
H When scanning complete, select the audio input of
this unit that is used to connect to your TV/device
(e.g. AUX1 Input), then press B.
I Select the TV/device (appeared in its brand name)
in the right panel, then press OK.
J Repeat steps 8~9 to map other connected devices.
K To exit the menu, press OPTIONS.
Remote Control
and 2 batteries
DVD Home Theatre unit
A Press and hold 2.
It turns off all linked devices.
Connect
Micro fibre
cleaning cloth
AM/MW
loop antenna
Speakers
Mounting knob
2 Small brackets
Note Philips does not guarantee 100%
interoperability with all HDMI CEC compliant devices.
Note This unit responses to standby command from
other HDMI CEC compliant TV/devices.
Need help?
User Manual
Subwoofer
See the user manual that came with your Philips DVD Home Theatre System.
2008 C Koninklijke Philips N.V.
All rights reserved.
sgpjp_818/98-eng1
Power cable
Composite
Video cable
HDMI cable
Component
video cables
Table stand
Big bracket
1
A
Connect
Placement
2
D
F
Connect to TV
Proper speakers system placement is important to
ensure optimum sound performance.
Connect subwoofer and power
cable
DVD Home Theatre unit (rear)
FM antenna
Subwoofer (rear)
A Press 2 to turn on this DVD Home Theatre unit.
B Turn on the TV. Use the TVs remote control to
Note To search for the correct viewing channel,
press the Channel Down button on the TVs remote
control repeatedly (or AV, SELECT, ° button) until
you see the Video In channel.
A
HDMI OUT
RIGHT
Find the viewing channel
select the correct viewing channel.
B
VIDEO
OUT
LEFT
A
Set up
TO SUBWOOFER
Or
B
C
VIDEO IN
B
z If your TV supports HDMI, connect the HDMI cable
Subwoofer (rear)
LEFT
from the HDMI OUT socket to the HDMI IN socket
on your TV. Or;
z Connect the composite video cable from the VIDEO
OUT socket to the VIDEO IN socket on your TV
(or connect the component video cables to the
corresponding COMPONENT VIDEO sockets).
RIGHT
Note HDMI connection does not support audio
output from your TV to this unit, a separate audio
connection is required.
A Unwind the cables from TO MAIN UNIT on the
subwoofer and connect it to TO SUBWOOFER
socket on this DVD Home Theatre unit.
B Connect the FM antenna to the inner pin of the FM
75 socket (for some models, it has been
connected in the factory). Extend the wire for
optimum reception.
C Connect the power cable from subwoofer to the AC
power outlet.
G
A Connect the left and right Ambisound speakers to
the matching sockets on the subwoofer.
C
Prepare for rear connections
E
When you turn on this DVD Home Theatre unit for the
first time, change the Ambisound setup according to
your room environment and setup.
HDMI IN
Connect speakers
Connect audio output from TV (for
EasyLink control)
Attach table stand to DVD Home
Theatre unit
Align Arrow
With Table Stand
Align Arrow
With table Stand
A table stand bracket
A Close the rear cover.
B Place the table stand bracket with the arrow
sections for details) and direct all the cables to the
open hole on top.
indicators aligned. Then use the protrude panels to
hold the table stand bracket.
Note To listen to the audio output from this
connection, press AUX/DI /MP3 LINK repeatedly
until 'AUX1 INPUT' is displayed on the display panel.
then press B.
C Select [ Ambisound Setup ] in the menu, then press
B.
D Select a setup you want to change, then press B.
[ Room Acoustics ]
Select the type of walls that surround your room.
The default setting is [ Hard (concrete, wood) ].
[ Room Placement ]
Select the speakers placement position in your room.
The default setting is [ Middle of room ].
[ Listening Position ]
Select the distance between the listening position and
the speakers. The default setting is between 2~3
meters.
A
A Push up the catch and remove the rear cover.
B Connect the required cables (see the following
A In disc mode, press OPTIONS.
B Press V to select [ Audio Setup ] in the menu,
[ Speaker Distance ]
Select the distance between two speakers. The
default setting is between 2~3 meters.
To hear the TV audio through this DVD Home Theatre
unit, connect an audio cable (not supplied) from the
AUDIO IN-AUX1 sockets to the AUDIO OUT sockets
on your TV.
Start Ambisound setup
Note All the cables must be placed properly inside
the rear panel in order for the rear cover to close.
E Press vV to select a setting, then press OK.
F To exit the menu, press OPTIONS.
Note Refer to the accompanying user manual
for other setup options.

* Your assessment is very important for improving the work of artificial intelligence, which forms the content of this project