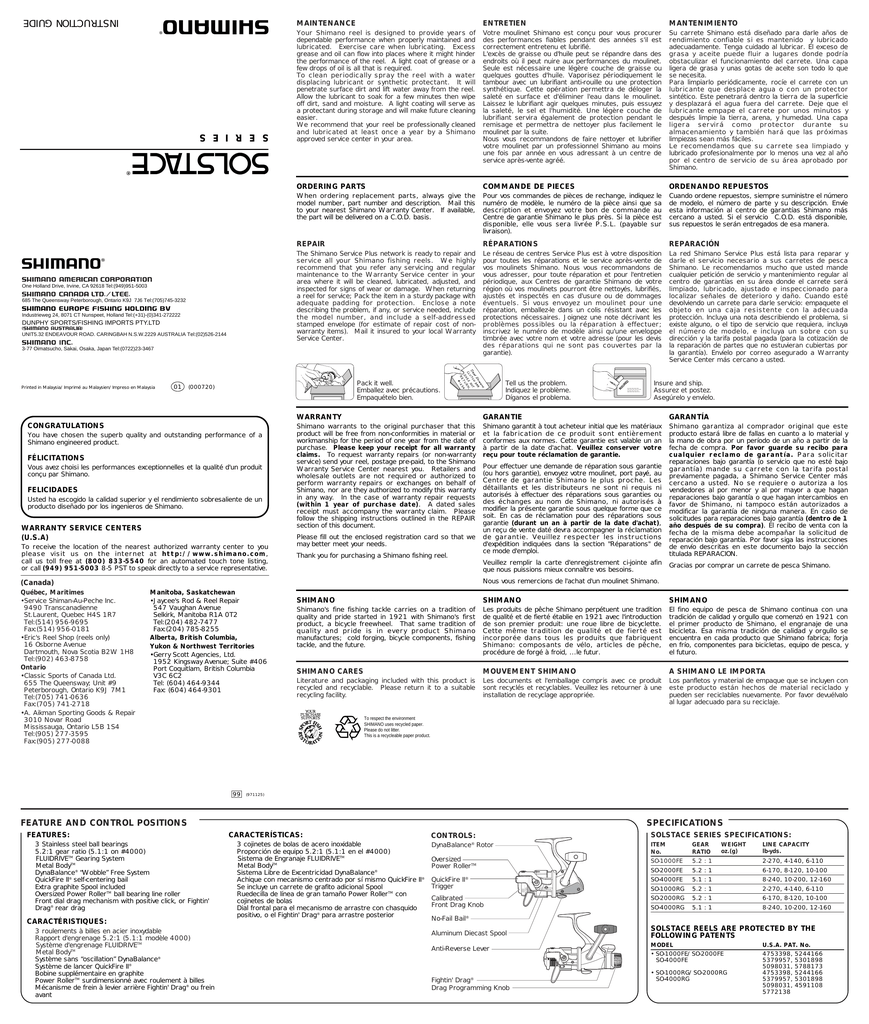 MAINTENANCE
ENTRETIEN
MANTENIMIENTO
Your Shimano reel is designed to provide years of
dependable performance when properly maintained and
lubricated. Exercise care when lubricating. Excess
grease and oil can flow into places where it might hinder
the performance of the reel. A light coat of grease or a
few drops of oil is all that is required.
To clean periodically spray the reel with a water
displacing lubricant or synthetic protectant. It will
penetrate surface dirt and lift water away from the reel.
Allow the lubricant to soak for a few minutes then wipe
off dirt, sand and moisture. A light coating will serve as
a protectant during storage and will make future cleaning
easier.
We recommend that your reel be professionally cleaned
and lubricated at least once a year by a Shimano
approved service center in your area.
Votre moulinet Shimano est conçu pour vous procurer
des performances fiables pendant des années s'il est
correctement entretenu et lubrifié.
L'excès de graisse ou d'huile peut se répandre dans des
endroits où il peut nuire aux performances du moulinet.
Seule est nécessaire une légère couche de graisse ou
quelques gouttes d'huile. Vaporisez périodiquement le
tambour avec un lubrifiant anti-rouille ou une protection
synthétique. Cette opération permettra de déloger la
saleté en surface et d'éliminer l'eau dans le moulinet.
Laissez le lubrifiant agir quelques minutes, puis essuyez
la saleté, le sel et l'humidité. Une légère couche de
lubrifiant servira également de protection pendant le
remisage et permettra de nettoyer plus facilement le
moulinet par la suite.
Nous vous recommandons de faire nettoyer et lubrifier
votre moulinet par un professionnel Shimano au moins
une fois par année en vous adressant à un centre de
service après-vente agréé.
Su carrete Shimano está diseñado para darle años de
rendimiento confiable si es mantenido y lubricado
adecuadamente. Tenga cuidado al lubricar. El exceso de
grasa y aceite puede fluir a lugares donde podría
obstaculizar el funcionamiento del carrete. Una capa
ligera de grasa y unas gotas de aceite son todo lo que
se necesita.
Para limpiarlo periódicamente, rocíe el carrete con un
lubricante que desplace agua o con un protector
sintético. Este penetrará dentro la tierra de la superficie
y desplazará el agua fuera del carrete. Deje que el
lubricante empape el carrete por unos minutos y
después limpie la tierra, arena, y humedad. Una capa
ligera servirá como protector durante su
almacenamiento y también hará que las próximas
limpiezas sean más fáciles.
Le recomendamos que su carrete sea limpiado y
lubricado profesionalmente por lo menos una vez al año
por el centro de servicio de su área aprobado por
Shimano.
ORDERING PARTS
COMMANDE DE PIECES
ORDENANDO REPUESTOS
When ordering replacement parts, always give the
model number, part number and description. Mail this
to your nearest Shimano Warranty Center. If available,
the part will be delivered on a C.O.D. basis.
Pour vos commandes de pièces de rechange, indiquez le
numéro de modèle, le numéro de la pièce ainsi que sa
description et envoyez votre bon de commande au
Centre de garantie Shimano le plus près. Si la pièce est
disponible, elle vous sera livrée P.S.L. (payable sur
livraison).
Cuando ordene repuestos, siempre suministre el número
de modelo, el número de parte y su descripción. Envíe
esta información al centro de garantías Shimano más
cercano a usted. Si el servicio C.O.D. está disponible,
sus repuestos le serán entregados de esa manera.
REPAIR
RÉPARATIONS
REPARACIÓN
The Shimano Service Plus network is ready to repair and
service all your Shimano fishing reels. We highly
recommend that you refer any servicing and regular
maintenance to the Warranty Service center in your
area where it will be cleaned, lubricated, adjusted, and
inspected for signs of wear or damage. When returning
a reel for service; Pack the item in a sturdy package with
adequate padding for protection. Enclose a note
describing the problem, if any, or service needed, include
the model number, and include a self-addressed
stamped envelope (for estimate of repair cost of nonwarranty items). Mail it insured to your local Warranty
Service Center.
Le réseau de centres Service Plus est à votre disposition
pour toutes les réparations et le service après-vente de
vos moulinets Shimano. Nous vous recommandons de
vous adresser, pour toute réparation et pour l'entretien
périodique, aux Centres de garantie Shimano de votre
région où vos moulinets pourront être nettoyés, lubrifiés,
ajustés et inspectés en cas d'usure ou de dommages
éventuels. Si vous envoyez un moulinet pour une
réparation, emballez-le dans un colis résistant avec les
protections nécessaires. Joignez une note décrivant les
problèmes possibles ou la réparation à effectuer;
inscrivez le numéro de modèle ainsi qu'une enveloppe
timbrée avec votre nom et votre adresse (pour les devis
des réparations qui ne sont pas couvertes par la
garantie).
La red Shimano Service Plus está lista para reparar y
darle el servicio necesario a sus carretes de pesca
Shimano. Le recomendamos mucho que usted mande
cualquier petición de servicio y mantenimiento regular al
centro de garantías en su área donde el carrete será
limpiado, lubricado, ajustado e inspeccionado para
localizar señales de deterioro y daño. Cuando esté
devolviendo un carrete para darle servicio: empaquete el
objeto en una caja resistente con la adecuada
protección. Incluya una nota describiendo el problema, si
existe alguno, o el tipo de servicio que requiera, incluya
el número de modelo, e incluya un sobre con su
dirección y la tarifa postal pagada (para la cotización de
la reparación de partes que no estuvieran cubiertas por
la garantía). Envíelo por correo asegurado a Warranty
Service Center más cercano a usted.
INSTRUCTION GUIDE
S E R I E S
UNIT5.32 ENDEAVOUR ROAD. CARINGBAH N.S.W.2229 AUSTRALIA Tel:(02)526-2144
3-77 Oimatsucho, Sakai, Osaka, Japan Tel:(0722)23-3467
Printed in Malaysia/Imprimé au Malaysien/Impreso en Malaysia
01
Tell us the problem.
Indiquez le problème.
Díganos el problema.
Pack it well.
Emballez avec précautions.
Empaquételo bien.
(000720)
CONGRATULATIONS
You have chosen the superb quality and outstanding performance of a
Shimano engineered product.
FÉLICITATIONS
Vous avez choisi les performances exceptionnelles et la qualité d'un produit
conçu par Shimano.
FELICIDADES
Usted ha escogido la calidad superior y el rendimiento sobresaliente de un
producto diseñado por los ingenieros de Shimano.
WARRANTY SERVICE CENTERS
(U.S.A)
To receive the location of the nearest authorized warranty center to you
please visit us on the internet at http://www.shimano.com,
call us toll free at (800) 833-5540 for an automated touch tone listing,
or call (949) 951-5003 8-5 PST to speak directly to a service representative.
(Canada)
Québec, Maritimes
•Service Shiman-Au-Peche Inc.
9490 Transcanadienne
St.Laurent, Quebec H4S 1R7
Tel:(514) 956-9695
Fax:(514) 956-0181
•Eric's Reel Shop (reels only)
16 Osborne Avenue
Dartmouth, Nova Scotia B2W 1H8
Tel:(902) 463-8758
Ontario
•Classic Sports of Canada Ltd.
655 The Queensway; Unit #9
Peterborough, Ontario K9J 7M1
Tel:(705) 741-0636
Fax:(705) 741-2718
•A. Aikman Sporting Goods & Repair
3010 Novar Road
Mississauga, Ontario L5B 1S4
Tel:(905) 277-3595
Fax:(905) 277-0088
Manitoba, Saskatchewan
•Jaycee's Rod & Reel Repair
547 Vaughan Avenue
Selkirk, Manitoba R1A 0T2
Tel:(204) 482-7477
Fax:(204) 785-8255
Alberta, British Columbia,
Yukon & Northwest Territories
•Gerry Scott Agencies, Ltd.
1952 Kingsway Avenue; Suite #406
Port Coquitlam, British Columbia
V3C 6C2
Tel: (604) 464-9344
Fax: (604) 464-9301
WARRANTY
GARANTIE
GARANTÍA
Shimano warrants to the original purchaser that this
product will be free from non-conformities in material or
workmanship for the period of one year from the date of
purchase. Please keep your receipt for all warranty
claims. To request warranty repairs (or non-warranty
service) send your reel, postage pre-paid, to the Shimano
Warranty Service Center nearest you. Retailers and
wholesale outlets are not required or authorized to
perform warranty repairs or exchanges on behalf of
Shimano, nor are they authorized to modify this warranty
in any way. In the case of warranty repair requests
(within 1 year of purchase date). A dated sales
receipt must accompany the warranty claim. Please
follow the shipping instructions outlined in the REPAIR
section of this document.
Shimano garantit à tout acheteur initial que les matériaux
et la fabrication de ce produit sont entièrement
conformes aux normes. Cette garantie est valable un an
à partir de la date d'achat. Veuillez conserver votre
reçu pour toute réclamation de garantie.
Shimano garantiza al comprador original que este
producto estará libre de fallas en cuanto a lo material y
la mano de obra por un período de un año a partir de la
fecha de compra. Por favor guarde su recibo para
cualquier reclamo de garantía. Para solicitar
reparaciones bajo garantía (o servicio que no esté bajo
garantía) mande su carrete con la tarifa postal
previamente pagada, a Shimano Service Center más
cercano a usted. No se requiere o autoriza a los
vendedores al por menor y al por mayor a que hagan
reparaciones bajo garantía o que hagan intercambios en
favor de Shimano, ni tampoco están autorizados a
modificar la garantía de ninguna manera. En caso de
solicitudes para reparaciones bajo garantía (dentro de 1
año después de su compra). El recibo de venta con la
fecha de la misma debe acompañar la solicitud de
reparación bajo garantía. Por favor siga las instrucciones
de envío descritas en este documento bajo la sección
titulada REPARACION.
Please fill out the enclosed registration card so that we
may better meet your needs.
Thank you for purchasing a Shimano fishing reel.
Pour effectuer une demande de réparation sous garantie
(ou hors garantie), envoyez votre moulinet, port payé, au
Centre de garantie Shimano le plus proche. Les
détaillants et les distributeurs ne sont ni requis ni
autorisés à effectuer des réparations sous garanties ou
des échanges au nom de Shimano, ni autorisés à
modifier la présente garantie sous quelque forme que ce
soit. En cas de réclamation pour des réparations sous
garantie (durant un an à partir de la date d'achat),
un reçu de vente daté devra accompagner la réclamation
de garantie. Veuillez respecter les instructions
d'expédition indiquées dans la section "Réparations" de
ce mode d'emploi.
Veuillez remplir la carte d'enregistrement ci-jointe afin
que nous puissions mieux connaître vos besoins.
SHIMANO
SHIMANO
SHIMANO
Shimano's fine fishing tackle carries on a tradition of
quality and pride started in 1921 with Shimano's first
product, a bicycle freewheel. That same tradition of
quality and pride is in every product Shimano
manufactures; cold forging, bicycle components, fishing
tackle, and the future.
Les produits de pêche Shimano perpétuent une tradition
de qualité et de fierté établie en 1921 avec l'introduction
de son premier produit: une roue libre de bicyclette.
Cette même tradition de qualité et de fierté est
incorporée dans tous les produits que fabriquent
Shimano: composants de vélo, articles de pêche,
procédure de forgé à froid, ...le futur.
El fino equipo de pesca de Shimano continua con una
tradición de calidad y orgullo que comenzó en 1921 con
el primer producto de Shimano, el engranaje de una
bicicleta. Esa misma tradición de calidad y orgullo se
encuentra en cada producto que Shimano fabrica; forja
en frío, componentes para bicicletas, equipo de pesca, y
el futuro.
SHIMANO CARES
MOUVEMENT SHIMANO
A SHIMANO LE IMPORTA
Literature and packaging included with this product is
recycled and recyclable. Please return it to a suitable
recycling facility.
Les documents et l'emballage compris avec ce produit
sont recyclés et recyclables. Veuillez les retourner à une
installation de recyclage appropriée.
Los panfletos y material de empaque que se incluyen con
este producto están hechos de material reciclado y
pueden ser reciclables nuevamente. Por favor devuélvalo
al lugar adecuado para su reciclaje.
(971125)
FEATURE AND CONTROL POSITIONS
CARACTÉRISTIQUES:
3 roulements à billes en acier inoxydable
Rapport d'engrenage 5.2:1 (5.1:1 modèle 4000)
Système d'engrenage FLUIDRIVETM
Metal BodyTM (sauf le modèle RG)
Système sans "oscillation" DynaBalance®
Système de lancer QuickFire II®
Bobine supplémentaire en graphite
Power RollerTM surdimensionné avec roulement à billes
Mécanisme de frein à levier arrière Fightin' Drag® ou frein
avant
Gracias por comprar un carrete de pesca Shimano.
To respect the environment
SHIMANO uses recycled paper.
Please do not litter.
This is a recycleable paper product.
99
3 Stainless steel ball bearings
5.2:1 gear ratio (5.1:1 on #4000)
FLUIDRIVETM Gearing System
Metal BodyTM (except model RG)
DynaBalance® "Wobble" Free System
QuickFire II® self-centering bail
Extra graphite Spool included
Oversized Power RollerTM ball bearing line roller
Front dial drag mechanism with positive click, or Fightin'
Drag® rear drag
Insure and ship.
Assurez et postez.
Asegúrelo y envíelo.
Nous vous remercions de l'achat d'un moulinet Shimano.
(Canada)
FEATURES:
RE
DUNPHY SPORTS/FISHING IMPORTS PTY.LTD
SU
Industrieweg 24, 8071 CT Nunspeet, Holland Tel:(+31)-(0)341-272222
IN
685 The Queensway Peterborough, Ontario K9J 7J6 Tel:(705)745-3232
D
®
One Holland Drive, Irvine, CA 92618 Tel:(949)951-5003
SPECIFICATIONS
CARACTERÍSTICAS:
3 cojinetes de bolas de acero inoxidable
Proporción de equipo 5.2:1 (5.1:1 en el #4000)
Sistema de Engranaje FLUIDRIVETM
Metal BodyTM (excepto el modelo RG)
Sistema Libre de Excentricidad DynaBalance®
Achique con mecanismo centrado por sí mismo QuickFire II®
Se incluye un carrete de grafito adicional Spool
Ruedecilla de línea de gran tamaño Power RollerTM con
cojinetes de bolas
Dial frontal para el mecanismo de arrastre con chasquido
positivo, o el Fightin' Drag® para arrastre posterior
CONTROLS:
SOLSTACE SERIES SPECIFICATIONS:
DynaBalance Rotor
ITEM
No.
GEAR
RATIO
WEIGHT
oz.(g)
LINE CAPACITY
lb-yds.
Oversized
Power RollerTM
SO-1000FE
5.2 : 1
8.8 (250)
2-270, 4-140, 6-110
SO-2000FE
5.2 : 1
9.2 (260)
6-170, 8-120, 10-100
QuickFire II
Trigger
SO-4000FE
5.1 : 1
12.3 (350)
8-240, 10-200, 12-160
SO-1000RG
5.2 : 1
9.3 (265)
2-270, 4-140, 6-110
Calibrated
Front Drag Knob
SO-2000RG
5.2 : 1
9.5 (270)
6-170, 8-120, 10-100
SO-4000RG
5.1 : 1
12.9 (365)
8-240, 10-200, 12-160
®
®
No-Fail Bail
®
Aluminum Diecast Spool
Anti-Reverse Lever
Fightin' Drag®
Drag Programming Knob
SOLSTACE REELS ARE PROTECTED BY THE
FOLLOWING PATENTS
MODEL
• SO-1000FE/SO-2000FE
SO-4000FE
• SO-1000RG/SO-2000RG
SO-4000RG
U.S.A. PAT. No.
4753398, 5244166
5379957, 5301898
5098031, 5788173
4753398, 5244166
5379957, 5301898
5098031, 4591108
5772138
®
FLUIDRIVE TM
FLUIDRIVE
QUICKFIRE II ®
QUICKFIRE II
Fluidrive features a large-bore master gear developed after through
research into the optimal shape of the gear teeth. The specially shaped
gear tooth surface, polished via a wrapping process, makes winding
smooth and effortless.
FLUIDRIVE
FLUIDRIVE
Fluidrive incorpora un engranaje maestro de gran diámetro desarrollado
luego de una investigación concienzuda en cuanto a la forma óptima de los
dientes del engranaje. La superficie de los dientes del engranaje, pulida
por medio de un proceso de enrrollado, hace al rebobinado suave y fluido.
Fluidrive présente un engrenage principal à grand diamètre intérieur
développé à la suite de recherches sur la forme idéale de la dent
d'engrenage. La forme spéciale de la surface de la dent d'engrenage,
polie par un processus d'enveloppement, rend le moulinage régulier et
sans effort.
METAL BODY TM
METAL BODY TM
The Metal BodyTM inherits the main features of the Fluidrive Body featured
on earlier models. In addition, the parts accommodating the large-bore
gear ñ Fluidrive's most important design feature ñ are integrated with the
foot of the reel in a single unit made of Technium. Flexing is minimal even
under high loads, ensuring regular gear rotation and smooth and steady
reeling.
METAL BODY TM
METAL BODY TM
El Metal Body hereda las características principales del Fluidrive Body
incluidas en modelos más antiguos. Además, las partes que acomodan el
engranaje de gran diámetro - la característica de diseño más importante
del Fluidrive - están integradas con el pie del carretel en una sola unidad
hecha de Tecnium. La flexión es mínima aún bajo cargas pesadas,
asegurando una rotación regular y un bobinado suave y seguro.
Le Metal BodyTM hérite des principales caractéristiques du Fluidrive Body
équipant les modèles précédents. De plus les pièces composant
l'engrenage à grand diamètre intérieur, la caractéristique la plus
importante du Fluidrive, sont intégrées au pied du moulinet en une unité
unique en Technium. La flexion est minimale même sous de lourdes
charges, assurant une rotation normale et un moulinage souple et
régulier.
TM
When you turn the handle backwards the anti-reverse automatically stops
the rotor in just the right position for your finger to grab the QuckFire II
trigger. With the same finger and the same motion, pull the trigger
(which flips the bail), and grab the line. You're ready to cast! It's so easy,
you don't even have to think about it.
1
2
3
®
DYNABALANCE
Why does your reel feel so smooth?.....DynaBalance!
The traditional spinning reel is inherently off-balance; the rotor has a heavy
bail mechanism on one side, and the bail wire itself flips to one side.
Through computer analysis Shimano has redesigned the "spinning" parts
to give them perfect dynamic balance. The result; a spinning reel that
doesn't wobble.
All the benefits of DynaBalance may not be apparent but with use you'll
discover a lighter, smoother feel; smoother, more even retrieves; less
vibration getting in the way of your ability to sense the lightest bites.
Just give the handle a spin.
DYNABALANCE
ÉQUILIBRE DYNABALANCE
¿Por qué el nombre del carrete se siente tan suave? .....¡DynaBalance!
El carrete giratorio tradicional es de por sí desequilibrado; el rotor tiene
un pesado mecanismo de achique a un lado, y el mismo cable de achique
se voltea a un lado. A través de un análisis hecho por computadoras,
Shimano ha rediseñado las partes "giratorias" para darles el equilibrio
dinámico perfecto. El resultado: un carrete giratorio que no bambolea.
Pourquoi le votre moulinet semble-t-il si agréable à manier?... Une seule
réponse: DynaBalance!
Todos los beneficios de DynaBalance pueda que no le sean aparentes
inmediatamente, pero con el uso usted descubrirá una percepción más
ligera y suave; cobrará con más suavidad e igualdad; sentirá una menor
vibración que pueda estorbar con su habilidad de sentir las mordidas más
suaves.
QUICKFIRE II
Cuando usted voltea el mango hacia atrás, el mecanismo contra marcha
atrás automáticamente detiene el rotor justo en la posición para que su
dedo active el gatillo del QuickFire II. Con el mismo dedo y durante el
mismo movimiento, jale el gatillo (el cual voltea el achique), y tome la línea.
¡Usted ya está listo para efectuar el lanzamiento! Es tan fácil que se lo
hace sin pensar.
Lorsque vous tournez la poignée vers l'arrière, le cliquet anti-retour arrête
le rotor à la position adéquate pour que votre doigt puisse saisir la détente
QuickFire II. Avec le même doigt et dans le même mouvement, tirez la
détente (qui fait osciller l'anse) et saisir la ligne. Vous êtes maintenant prêt
à lancer! C'est tellement facile que vous n'avez qu'à lancer.
1.
2.
3.
4.
Retroceda el mango hasta el punto de detención.
Tome el gatillo y la línea con su dedo índice.
Jale el gatillo del QuickFire II.
Efectúe su lanzamiento.
FIGHTIN' DRAG ®/ FRONT DRAG
MIN.
Solo haga girar el mago.
REVERSIBLE HANDLE
REVERSIBLE HANDLE
To accommodate both left and right handed anglers, the handles of all
Shimano spinning reels work on either side of the reel. To change from
left to right hand drive:
1. Remove the handle screw cap.
2. Place handle on the opposite side.
3. Replace handle screw cap.
MANGO REVERSIBLE
POIGNÉE RÉVERSIBLE
Para servir a pescadores diestros y zurdos, los mangos de todos los
carretes giratorios de Shimano funcionan en cualquier lado del carrete.
Para cambiar el uso de la mano izquierda a la mano derecha:
Pour accommoder les pêcheurs de lancer gaucher ou droitier, les
poignées des moulinets à lancer léger Shimano fonctionnent très bien d'un
côté ou l'autre. Pour changer la poignée du côté gauche au côté droit, il
suffit tout simplement de suivre ces instructions:
1. Quite la tapa del tornillo del mango.
2. Coloque el mango en el lado opuesto.
3. Vuelve a colocar la tapa del tornillo del mango.
POWER ROLLERTM
®
Inverser la poignée vers l'arrêt
Enrouler votre index autour de la détente et de la ligne
Tirer la détente QuickFire II
Lancer votre ligne.
With Fightin' Drag making drag adjustments while fishing couldn't be
easier. Fightin' Drag consists of two drag adjustments; a pre-set knob,
and the Fightin' Drag lever. First, with the Fightin' Drag lever in the center
of it's range, rotate the preset knob until you obtain a drag setting that is
in the middle of the drag range that you will be fishing. Second, to make
adjustments while fishing, move the Fightin' Drag lever to the right to
increase drag strength, left to decrease it. Fightin' Drag gives you quicker
and more accurate drag adjustments at the height of the fight.
FIGHTIN' DRAG
FIGHTIN' DRAG
Con el Fightin' Drag los ajustes de arrastre mientras se pesca no podían
ser más fáciles. El Fightin' Drag consiste de dos ajustes de arrastre: una
perilla previamente ajustada, y la palanca del Fightin' Drag. Primero, con
la palanca del Fightin' Drag en el centro de su campo de acción, haga
girar la perilla previamente ajustada hasta obtener un ajuste de arrastre
que se encuentre en la mitad del radio de acción de arrastre que estará
utilizando mientras pesca. Segundo, para hacer ajustes mientras esté
pescando, mueva la palanca del Fightin' Drag hacia la derecha para
aumentar la fuerza del arrastre, y hacia la izquierda para disminuirla. El
Fightin' Drag le proporciona ajustes de arrastre más rápidos y precisos
cuando usted se encuentre en lo mejor de la pelea.
Avec le Fightin' Drag, rien de plus simple que le réglage de la drague.
Basculez le levier de drague à fond vers la gauche, à la position minimum.
En tournant le bouton de réglage de la drague, effectuez un réglage doux
avec lequel vous vous assurez de ne pas briser la ligne. Si vous poussez le
levier de drague à fond à droite, la résistance de la drague sera au
maximum pour une prise difficile et vous disposerez de toutes les positions
intermédiaires pour mener le combat à votre guise. En effet, vous pourrez
changer très facilement la position du levier de drague même en pleine
bataille.
FRONT DRAG
To increase drag strength turn the drag knob clockwise, counterclockwise
to decrease it. Once completely loose, continue to turn the drag knob
counterclockwise to remove the knob and slide off the spool for spool
change. When completely tightened by hand the drag is at maximum
strength. Forcing the knob to turn further or using tools to turn it may
result in damage to the reel.
To change spool, loosen the drag completely, unscrewing the drag
adjustment knob completely. Slide the spool off the shaft. When
removing and replacing spools ensure that the drag parts are properly
fitted on the spool shaft, and that the spool is firmly seated.
ARRASTRE FRONTAL
FREIN AVANT
Para aumentar la fuerza de arrastre, haga girar la perilla de arrastre en
el sentido de las agujas del reloj, en sentido contrario para reducir la
fuerza de arrastre. Una vez que esté completamente suelto, continúe
haciendo girar la perilla en el sentido contrario al de las agujas del reloj
para quitarlo y deslice el carrete hacia afuera para cambiarlo. Cuando lo
ajuste completamente a mano, el arrastre estará con su fuerza máxima.
El carrete podría ser dañado si se trata de forzar a que la perilla gire más
o si se trata de utilizar herramientas para hacerla girar.
Le frein avant se règle comme tous les moulinets à frein avant, en
tournant le bouton de frein dans le sens des aiguilles d'une montre pour
augmenter la tension ou dans le sens inverse pour la diminuer. Lorsqu'il
est complètement relâché, continuez à tourner le bouton de frein dans le
sens inverse des aiguilles d'une montre pour le retirer et faites glisser le
tambour pour remplacer celui-ci. Pour augmenter la tension, tournez le
bouton dans le sens des aiguilles d'une montre. Lorsqu'il est serré à fond,
la tension est au maximum. Ne pas forcer le bouton plus loin, ni utiliser
d'outils pour le tourner car ceci pourrait l'endommager.
Para cambiar el carrete, afloje el arrastre completamente,
desentornillando la perilla de ajuste de arrastre completamente. Deslice el
carrete fuera de su eje. Cuando quite y cambie los carretes asegúrese de
que los componentes del arrastre encajen adecuadamente en el eje del
carrete y que el carrete esté firmemente asentado.
LINE KEEPER CLIP
Pour changer le tambour, dévissez complètement le bouton de réglage du
frein. Faites glisser le tambour et sortez-le de l'arbre. Veuillez à ce que
les pièces du frein soient bien remises en place lors du changement du
tambour.
LINE KEEPER CLIP
The line keeper clip on the side of your spool is a handy spot to hold your
line so it does not unravel in storage. With the line completely wound on
to the spool, simply make a small loop in the end of the line and slide it
under the clip. Pull on the free end of the line to take up any slack.
POWER ROLLER
SUJETADOR DE LÍNEA
AGRAFE DE MAINTIEN DE LA LIGNE
Your new Shimano reel has PowerRoller - a special line roller that reduces
spinning reel line twist. PowerRoller reduces the line twist arising from
repeated casting and retrieving - up to 50%*.
El sujetador de línea situado a un lado del carrete es un lugar conveniente
para sujetar la línea y evitar que se desenvuelva mientras no esté en uso.
Con la línea completamente envuelta en el carrete, simplemente haga un
pequeño círculo en el cabo de la línea y deslícelo por debajo del sujetador.
Jale el cabo libre de la línea para evitar que quede floja.
L'agrafe de maintien de la ligne située sur le côté du tambour est un
endroit pratique pour tenir votre ligne de façon à ce qu'elle ne s'emmêle
pas pendant l'entreposage. Lorsque la ligne est entièrement enroulée sur
le tambour, faites simplement une petite boucle à l'extrémité de la ligne et
glissez-la sous l'agrafe. Tirez sur l'extrémité libre de la ligne pour bien la
tendre.
*Line twist measured by counting the twists generated by holding the
ends of 5 feet of line together along 55 yards of line after 30-90 casts.
PowerRoller has no effect on line twist due to the drag releasing, winding
against the drag or twirling lures/ bait, etc.
REEL SIDE COVER REMOVAL
REEL SIDE COVER REMOVAL
Special Guidelines for winding line onto PowerRoller
equipped spinning reels.
For those of your who prefer to maintain your own reel, the side cover
may be removed in the following manner:
PowerRoller spinning reels work best when the line is loaded in the
following manner. Place a screwdriver shaft (or something a lot like that)
through the center of the spool of line that you're going to load onto your
reel. After tying the line to your reel, wind the line on, allowing the spool
to turn around the screwdriver shaft (or whatever it is you're using!) - as in
the picture.
1.
2.
3.
4.
POWER ROLLER
POWER ROLLER
Su flamante carrete de Shimano viene equipado con PowerRoller - una
ruedecilla especial para la línea que reduce la torsión de la línea en
carretes giratorios. PowerRoller reduce la torsión de línea que es causada
por repetidos lanzamientos y recuperaciones - hasta en un 50%*.
Votre nouveau moulinet Shimano possède le PowerRoller - un rouleau de
fil spécial qui réduit le vrillage du fil sur un moulinet à lancer léger. Le
PowerRoller réduit donc le vrillage du fil qui se produit lors des lancers et
des récupérations - jusqu'à 50%*.
El diseño especial con surcos del PowerRoller garantiza que la línea será
envuelta en el carrete para reducir al mínimo la torsión de la línea.
Le design spécial du PowerRoller s'assure que le fil ira s'envelopper sur la
bobine pour minimiser le vrillage de celui ci.
*La torsión de la línea fue medida contando las torsiones generadas al
juntar los cabos de un pedazo de 5 pies de línea a lo largo de 55 yardas
de línea y después de 30-80 lanzamientos. El PowerRoller no tiene ningún
efecto sobre la torsión de la línea causada por la liberación del arrastre,
cuando se envuelve en contra del arrastre o por anzuelos/carnadas que
giran, etc.
*Le vrillage du fil est mesuré en comptant le nombre de torsades généré
en tenant les bouts d'un fil de 5 pieds ensemble longeant un fil de 55
verges après 30-90 lancers. Le PowerRoller a aucun effet sur le vrillage
du fil dû au relâchement du frein, à la récupération contre le frein ou aux
leurres/appâts qui tournoient.
Los carretes giratorios equipados con PowerRoller funcionan mejor
cuando la línea se envuelve de la siguiente manera. Coloque un
destornillador (o algo parecido) a través del centro de la bobina de la línea
que va a ser envuelta en su carrete. Después de amarrar la línea a su
carrete, envuelva la línea, dejando que la bobina gire alrededor del
destornillador (o lo que esté usando) - como se ve en la foto.
MORE
1. Enlever la vis de la poignée
2. Placer la poignée sur le côté opposé
3. Replacer la vis de la poignée.
PowerRoller's special grooved design assures the line will be wrapped on
the spool to minimize forward line twist.
Instrucciones especiales para envolver la línea en
carretes giratorios equipados con PowerRoller.
MAX.
Résultat: un moulinet qui n'oscille plus!
Vous n'avez plus qu'à faire tourner la poignée!
1.
2.
3.
4.
FIGHTIN' DRAG
Les moulinets traditionnels sont généralement déséquilibrés: le rotor
ayant un mécanisme pesant d'un côté, et l'anse elle-même basculant de
l'autre côté. Grâce à l'analyse par ordinateur, Shimano a reconçu les
pièces du moulinet pour leurs apporter un équilibre dynamique parfait.
Tous les avantages du DynaBalance ne sont pas apparents mais à l'usage,
vous découvrirez une sensation plus agréable, un retour plus facile et plus
uniforme, et moins de vibrations faisant obstacle à vos actions lorsque
vous sentez la prise mordre à l'hameçon.
Reverse the handle to the stop.
Wrap your index finger around the trigger and the line.
Pull the QuickFire II trigger.
Make your cast.
QUICKFIRE II
LESS
DYNABALANCE ®
1.
2.
3.
4.
4
Directives spéciales pour l'embobinage du fil sur les
moulinets à lancer léger équipés du PowerRoller.
Les moulinets à lancer léger PowerRoller fonctionnent à leur meilleur
lorsque le fil est embobiné de la façon suivante. Placez le manche d'un
tournevis (ou quelque chose de similaire) à travers le centre de la bobine
de fil. Après avoir attaché le fil à votre moulinet, embobinez celui-ci de
façon à ce que la bobine puisse tourné autour du manche du tournevis (ou
autre objet similaire) - comme illustré dans le tableau.
CÓMO QUITAR LA CUBIERTA LATERAL DEL
CARRETE
Para aquellos que prefieren mantener su propio carrete, la cubierta
lateral del carrete puede ser quitada de la siguiente manera:
1. Quite la montura del carrete.
2. Quite el tornillo con tuerca del rotor y afloje totalmente la tuerca del
rotor.
3. Quite los tornillos de la cubierta lateral y el montaje de la manivela.
4. Levante el rotor del cuerpo principal y quite la cubierta lateral.
Remove the spool assembly.
Remove the rotor nut lock screw and completely loosen the rotor nut.
Remove the side cover screws and handle assembly.
Lift the rotor from the body and remove the side cover.
RETRAIT DU COUVERCLE LATÉRAL DU MOULINET
Pour ceux qui préfèrent tenir directement le moulinet, le couvercle latéral
peut être retiré de la manière suivante:
1. Retirer l'ensemble du tambour
2. Retirer la vis de blocage de l'écrou du rotor et desserrer complètement
celui-ci
3. Retirer les vis du couvercle latéral et l'ensemble de la poignée
4. Soulever le rotor du corps de l'appareil et retirer le couvercle latéral.