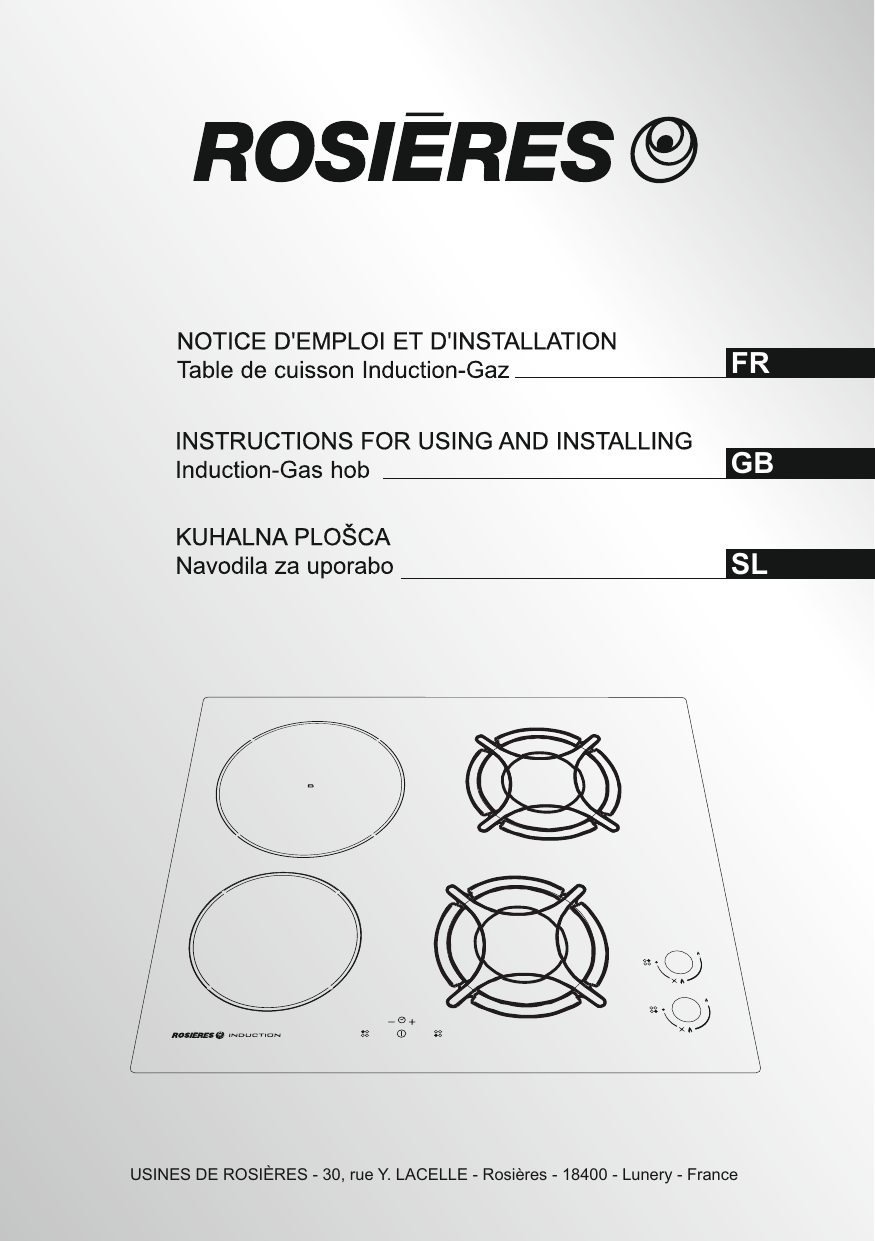 FR
GB
SL
USINES DE ROSIÈRES - 30, rue Y. LACELLE - Rosières - 18400 - Lunery - France
Le présent appareil est marqué conformément à la directive 2012/19/UE relative aux
déchets d'équipements électriques et électroniques (DEEE). Les DEEE contiennent à la
fois des substances polluantes (qui peuvent avoir des conséquences négatives sur
l'environnement) et des éléments de base (réutilisables). Il est important de soumettre les
DEEE à des traitements spécifiques, en vue d'extraire et d'éliminer de façon appropriée
toutes les substances polluantes, puis de récupérer et recycler tous les matériaux.
Chacun peut jouer un rôle important quant à la protection de l'environnement contre les
DEEE. Pour atteindre cet objectif, il est impératif de suivre quelques règles élémentaires :
• Les DEEE ne doivent pas être traités comme des déchets ménagers.
• Ils doivent être remis aux points de collecte appropriés gérés par la municipalité ou par
des sociétés immatriculées. Dans plusieurs pays, il est possible de collecter à domicile
les DEEE volumineux.
• Lorsque vous achetez un nouvel appareil, vous devez retourner l'ancien au vendeur qui
le récupère gratuitement, au cas par cas, à condition que l'équipement soit de type
équivalent et possède les mêmes fonctions que celui fourni.
2
3
5-12
13
14-15
16-22
23-24
25-26
02 FR
• AVERTISSEMENT: L'appareil et les parties accessibles deviennent
chauds pendant l'utilisation. Des précautions doivent être prises pour
éviter de toucher les éléments chauffants.
• Les enfants de moins de 8 ans doivent être tenus à l'écart à moins
d'être surveillés continuellement.
• Cet appareil n'est pas destiné à être utilisé par des personnes (y
compris les enfants) dont les capacités physiques, sensorielles ou
mentales sont réduites, ou ayant un manque d'expérience et de
connaissances, à moins qu'elles n'aient été formées à l'utilisation de
l'appareil, par une personne responsable de leur sécurité.
• Les enfants ne doivent jouer avec l'appareil.
• Le nettoyage et l'entretien par l'utilisateur ne doit pas être fait par des
enfants sans surveillance.
• ATTENTION: La cuisson sans surveillance sur une plaque de cuisson
avec de la graisse ou d'huile peut être dangereuse et peut entraîner un
incendie.
• Ne jamais tenter d'éteindre un incendie avec de l'eau, mais éteindre
l'appareil, puis couvrir la flamme par exemple avec un couvercle ou
une couverture anti-feu.
• AVERTISSEMENT: Danger d'incendie: ne pas stocker des éléments
sur les surfaces de cuisson.
• ATTENTION: Si la surface est fêlée, éteindre l'appareil pour éviter les
risques de choc électrique.
• Ne pas utiliser de nettoyants vapeur pour le nettoyage.
• Les objets métalliques tels que les couteaux, les fourchettes, les
cuillères et les couvercles ne doivent pas être mis sur la table de
cuisson car ils peuvent devenir chaudes.
• Tout liquide doivent être enlevé du couvercle avant ouverture.
• Il est recommandé de laisser refroidir la table de cuisson avant de
refermer le couvercle.
• Après utilisation, éteignez le foyer via le control de la table and ne
posez rien sur le détecteur de casseroles.
• l'appareil n'est pas destiné à être utiliser avec une minuterie externe
ou un système de contrôle à distance.
• Un système de déconnexion doit être incorporé dans le compteur
conformément aux règles de câblage.
• Les instructions ndiquent le type de cordon à utiliser, en tenant
compte de la température de la surface arrière de l'appareil.
• Si le cordon d'alimentation est endommagé, il doit être remplacé par
03 FR
le fabricant, une station de dépannage agrées ou une personne
qualifiée afin d'éviter un danger.
• ATTENTION: Pour éviter tout danger dû à une réinitialisation
accidentelle, cet appareil ne doit pas être alimenté par un dispositif de
commutation externe, comme une minuterie, ou connecté à un circuit
qui est régulièrement allumé et éteint par l'utilitaire.
• Cet appareil doit être installé en conformité avec la réglementation en
vigueur et utilisé uniquement dans un espace ventilé. Lisez les
instructions avant d'installer ou utiliser cet appareil.
• Ces instructions ne sont valables que si le symbole du pays apparaît
sur l'appareil. Si le symbole n'apparaît pas sur l'appareil, il est
nécessaire de se référer à la notice technique qui fournira les
instructions nécessaires concernant la modification de l'appareil selon
les conditions d'utilisation du pays.
• Avant l'installation, s'assurer que les conditions de distribution locale
(la nature du gaz et la pression) et le réglage de l'appareil sont
compatibles.
• Les conditions de réglage de cet appareil sont indiqués sur l'étiquette
(ou données de la plaque) ;
• Cet appareil n'est pas relié à un dispositif d'évacuation des produits
de combustion. Il doit être installé et raccordé conformément aux
règles d'installation en cours. Une attention particulière doit être
accordée aux exigences concernant la ventilation.
• Les résultats de la table gaz dans la production de chaleur depend de
l'humidité dans la pièce dans laquelle elle est installé Veiller à ce que la
cuisine soit bien ventilée. Laissez les ouvertures de ventilation
naturelle ouvertes ou installez un dispositif de ventilation mécanique
(hotte aspirante mécanique). Une utilisation intensive prolongée de
l'appareil peut faire appel à l'utilsation d'une ventilation
supplémentaire, par exemple d'ouverture d'une fenêtre, ou plus
efficace de ventilation mécanique, par exemple en augmentant le
niveau de la ventilation mécanique présent.
Code produit:
Numéro de série :
04 FR
05 FR
06 FR
*D]%XWDQH*D]3URSDQH
**
-PEDU
07 FR
08 FR
09 FR
10 FR
11 FR
12 FR
6
4 3
7
2 1 5
1. Touche marche/ arrêt
2. Foyer avant gauche
3. Touche "+"
3. Touche "-"
5. Foyer arrière gauche
6.
7.
13 FR
14 FR
15 FR
16 FR
17 FR
18 FR
1
2
3
4
5
6
7
8
9
BOOSTER Ø 200
8
3
5
8
12
18
28
42
64
100
3000 W
7
9
5
9
19 FR
20
• SÉLECTIONNEZ UNE ZONE DE CUISSON
. Sélectionnez une zone de cuisson
9
1
9
3000 W (foyer Ø 200),
5
9
5
9
9
20 FR
• VOYANT DE CHALEUR RÉSIDUELLE
• SÉCURITÉ ENFANTS (BLOCAGE DES COMMANDES)
Sécurité enfants (Blocage des commandes)
Sécurité enfants contre les usages dangereux.
Peut être activée seulement quand aucune zone de cuisson n'est sélectionnée.
Fermeture :
Après avoir allumé les commandes avec l'interrupteur principal, la sécurité enfants peut être
activée. Cependant, la commande de la zone de cuisson AG (avant gauche) et la touche «
Moins » doivent être pressées au même moment et après avoir relâché le bouton avant
gauche de nouveau. Un voyant «
» apparait pour indiquer le blocage de la table. Si une
zone de cuisson est chaude, elle a le statut « » et « » de façon alternative. L'activation doit
avoir lieu dans les 10 secondes après avoir allumé les commandes et qu'aucune autre touche
n'ai été pressée. Autrement l'activation du système peut être bloquée.
Les commandes garderont ce statut jusqu'à sa désactivation. Peu importe que vous allumiez,
éteigniez ou réinitialisiez (coupure de l'alimentation principale) la plaque de cuisson.
Désactivation temporaire du mode cuisson :
Vous devez presser la touche AG (avant gauche) de sélection de la zone de cuisson et la
touche Moins ensemble. Le «
» disparait et un « 0 » apparaît sur toutes les zones de
cuisson. Si une zone est chaude, elle affiche la lettre «
» et « 0 » de façon alternative.
Désactivation permanente :
Après avoir allumé les commandes avec l'interrupteur principal, la sécurité enfants peut être
désactivée. Cependant, la touche avant gauche de sélection de la zone de cuisson et la touche
« Moins » doivent être pressées au même moment et après avoir relâché la touche « Moins »
de nouveau.
En suivant toutes ces étapes dans les 10 secondes, les commandes se placeront sur le
mode STAND-BY. Si aucune opération n'est effectuée, les commandes s'éteindront après
20 secondes.
21 FR
• LA FONCTION MINUTEUR :
Le minuteur est présenté sur la zone arrière de cuisson (Arrière gauche). L'affichage sur le
devant des zones de cuisson est éteint.
Il existe deux types de minuteur :
-Le minuteur cuisson : Le minuteur est relié à une zone de cuisson unique. Après activation du
minuteur, une sonnerie avertit que la zone de cuisson va s'éteindre.
-Le minuteur autonome : Ce minuteur est indépendant des opérations effectuées. Après
activation du minuteur, une sonnerie retentit sans entraîner de changement.
Sélectionner un minuteur :
La fonction minuteur s'active en appuyant simultanément sur les touches « Plus » et « Moins ».
Si une zone de cuisson a déjà été sélectionnée, le minuteur sera relié à cette zone de cuisson
et un point clignotera. Si aucune zone de cuisson n'a été sélectionnée avant l'activation du
mode minuteur, c'est le minuteur autonome s'activera.
En ayant plus de minuteurs activés au même moment, vous pouvez basculer entre la touche «
Plus » et « Moins ». Tous les minuteurs seront orientés dans le sens des aiguilles d'une montre.
La programmation du minuteur est limitée à un temps de sélection de 10 secondes. Ce temps
dépassé, le minuteur retourne à l'affichage d'une zone de cuisson active.
Programmation du minuteur :
Après activation du minuteur, vous pouvez changer la durée du minuteur en utilisant les
touches « Plus » et « Moins ». Si la valeur du minuteur est sélectionnée vous pouvez
commencer à 30 minutes en appuyant sur la touche « Moins ».
En appuyant longuement sur « Plus » ou « Moins », le temps change plus rapidement. La
répétition automatique est arrêtée en programmant 99 ou 01.
Un minuteur dédié apparaîtra à côté du point dans la zone de cuisson correspondante.
Un minuteur pour œufs apparaîtra à travers les deux points clignotants dans l'espace
d'affichage du minuteur.
Annulation de la fonction minuteur:
Le minuteur peut être éteint en programmant sa valeur à 00. Pour le minuteur de cuisson, la
zone de cuisson reste active.
Expiration du minuteur :
Après avoir programmé une durée, le décompte commence automatiquement. En changeant
la durée du minuteur par la touche « Plus » ou « Moins », le minuteur commence du début.
Signalement du minuteur :
Lorsque le minuteur est positionné sur la valeur 00, un signal visuel et audio apparaît. Quand
le minuteur de la zone de cuisson expire, la zone de cuisson s'éteint. Plusieurs minuteurs
additionnels s'afficheront ensemble avec le point correspondant de la zone de cuisson. Le
signal est limité à deux minutes, si aucune autre touche n'est allumée entre temps.
22 FR
23 FR
24 FR
25 FR
26 FR
This appliance is marked according to the European directive 2012/19/EU on Waste
Electrical and Electronic Equipment (WEEE). WEEE contains both polluting substances
(which can cause negative consequences for the environment) and basic components
(which can be re-used). It is important to have WEEE subjected to specific treatments,
in order to remove and dispose properly all pollutants, and recover and recycle all
materials.
Individuals can play an important role in ensuring that WEEE does not become an
environmental issue; it is essential to follow some basic rules:
• WEEE shall not be treated as household waste.
• WEEE shall be handed over to the relevant collection points managed by the
municipality or by registered companies. In many countries, for large WEEE, home
collection could be present.
• When you buy a new appliance, the old one may be returned to the retailer who has to
collect it free of charge on a one-to-one basis, as long as the equipment is of equivalent
type and has the same functions as the supplied equipment.
27
30-37
39-40
41-47
50-51
27 GB
• WARNING: The appliance and its accessible parts become hot during
use. Care should be taken to avoid touching heating elements.
• Children under 8 Year of age must be kept away from the appliance
unless they are continuously supervised.
• This appliance can be used by children aged from 8 years and above
and persons with reduced physical, sensory or mental capabilities or
lack of experience and knowledge if they have been given supervision
or instruction concerning use of the appliance in a safe way and
understand the hazards involved.
• Children must not play with the appliance.
• Cleaning and user maintenance shall not be made by children without
supervision.
• WARNING: Unattended cooking on a hob with fat or oil can be
dangerous and may result in fire.
• NEVER try to extinguish a fire with water, but switch off the appliance
and then cover flame e.g. with a lid or a fire blanket.
• WARNING: Danger of fire: do not store items on the cooking surfaces.
• WARNING: If the surface is cracked, switch off the appliance to avoid
the possibility of electric shock.
• Do not use a steam cleaner for cleaning operations.
• Metallic objects such as knives, forks, spoons and sauce pan lids
must not be placed on the hob surface as they can get hot.
• Any spillage should be removed from the lid before opening.
• The hob surface must be allowed to cool down before closing the lid.
• After use, switch off the hob element by its control. Do not rely on the
pan detector.
• This appliance is not intended to be operated by means of an external
timer or separate remote-control system.
• The means for disconnection must be incorporated in the fixed wiring
in accordance with the wiring rules.
• The instructions state the type of cord to be used, taking into account
the temperature of the rear surface of the appliance.
• If the supply cord is damaged, it must be replaced by the
manufacturer, its service agent or similarly qualified persons in order to
avoid a hazard.
• CAUTION: In order to avoid a hazard due to inadvertent resetting of
28 GB
the thermal cutout, this appliance must not be supplied through an
external switching device, such as a timer, or connected to a circuit that
is regularly switched on and off by the utility.
• This appliance must be installed in accordance with the regulations in
force and only used in a well ventilated space. Read the instructions
before installing or using this appliance.
• "These instructions are only valid if the country symbol appears on
the appliance. If the symbol does not appear on the appliance, it is
necessary to refer to the technical instructions which will provide the
necessary instructions concerning modification of the appliance to the
conditions of use of the country".
• "Prior to installation, ensure that the local distribution conditions
(nature of the gas and gas pressure) and the adjustment of the
appliance are compatible";
• "the adjustment conditions for this appliance are stated on the label
(or data plate)";
• "This appliance is not connected to a combustion products
evacuation device. It shall be installed and connected in accordance
with current installation regulations. Particular attention shall be given
to the relevant requirements regarding ventilation".
• The use of a gas cooking appliance results in the production of heat
and moisture in the room in which it is installed. Ensure that the kitchen
is well ventilated: keep natural ventilation holes open or install a
mechanical ventilation device (mechanical extractor hood).
Prolonged intensive use of the appliance may call for additional
ventilation, for example opening of a window, or more effective
ventilation, for example increasing the level of mechanical ventilation
where present.
Code produit:
Numéro de série :
29 GB
30 GB
31 GB
ƵƚĂŶĞW
ͬ ƌŽƉĂŶĞ
'ϯϬ'ͬ ϯϭϮϴ
-ϯϬϯͬ ϳŵďĂƌ
32 GB
33 GB
34 GB
35 GB
35 GB
37 GB
6
4 3
7
2 1 5
1. Hob on/off button
2. Rear left zone
3. "+" button
4. "-" button
5. Front left zone
6.
7.
38 GB
39 GB
40 GB
41 GB
42 GB
43 GB
% power
1
2
3
4
5
6
7
8
9
BOOSTER Ø 200
8
3
5
8
12
18
28
42
64
100
3000 W
7
9
5
9
44 GB
20
• SELECT A COOKING ZONE
. Select a cooking zone.
9
1
9
power 3000W (Ø 200mm zone ) for 5 minutes period.
9
5
9
9
45 GB
• KEY PROTECTION (CHILD-LOCK)
Child-lock against unattended usage.
Can only be activated when no cooking zone is selected.
Locking:
After switching on the control by the main switch the child lock can be activated. Therefore
cooking zone selection key FL (front left) and Minus key has to be pressed together and after
releasing then FL key again. All displays show " " for locked. If a cooking zone has an hot
status "
" and " " will be shown alternating. The activation has to take place within 10 sec
after switching on the control and no other key has been pressed. Otherwise the activation is
blocked.
The control will keep this status until deactivation. No matter of switching on and off or resetting
(separation to main supply) the complete cooktop.
Temporary deactivation for cooking:
Deactivation the control you have to press cooking zone selection key FL( front left) and Minus
key together. "
" will be erased in the displays and "0" is displayed on all cooking zones. If a
cooking zone has an hot status "
" and "0" will be shown alternating.
After switching of the control with the main switch Child Lock is activated again.
Permanent deactivation:
After switching on the control by the main switch the child lock can be activated. Therefore
cooking zone selection key FL (front left) and Minus key has to be pressed together and after
releasing then Minus key again.
Following the steps within 10 sec. the control will be in STAND-BY–condition. If not operation is
not accepted and control is being switched of after 20 sec.
46 GB
• TIMER-FUNCTION
Timer is being displayed on the rear cooking zone display (RL). The displays of the front
cooking zones (FL) are switched off.
There are 2 different Timer realised:
- Cooking Timer:
Timer is related to a certain cooking zone. After exploration of the Timer an audible sound is
generated and the cooking zone will be switched off.
- Stand alone Timer: independent Timer operation. After exploration of the Timer an audible
sound will be generated but no further activities.
- Selecting a Timer.
By pressing Plus- and Minus Key simultaneously the Timer function is selected. If a cooking
zone has been selected before, the Timer is related to this particular cooking zone and the
decimal dot of the cooking zone is blinking. If no cooking zone was selected before activation of
the Timer function, the Stand alone Timer is activated.
Having more Timer activated at the same time you can toggle with Plus- and Minus key among
each other. All active Timers will be toggled clockwise.
Timer setting is limited to 10 sec. selection time. After this the Timer display switches back to
active cooking zone display.
Timer setting:
After Timer has been activates you can change the Timer value by using Pus- and Minus key. If
no Timer value is selected you can start at 30 min. by pressing the Minus key.
Pressing Plus- or Minus key permanent Timer value is changed faster. The automatic repeat ist
stoped with setting 99 or 01.
A dedicated Timer will be displayed by the decimal dot in the corresponding cooking zone
display.
A dedicated egg-timer will be displayed by a blinking of both decimal dots in the timer displays.
Timer deleting:
Timer can be switched off by setting his value to 00. For cooking Timer the dedicated cooking
zone remains active.
Expiration of Timer:
After setting a Timer value the countdown starts automatically. Changing the Timer value by
Plus-or Minus Key the Timer starts with the complete minute.
Timer signal:
Reaching the value 00 an acoustic and optical signal is given. An expired cooking Timer
switches off the cooking zone. Additional selected Timers will be displayed together with the
corresponding decimal dot of the cooking zone display.
The signal is limited to 2 min. if no other key has been pressed meanwhile.
47 GB
48 GB
49 GB
50 GB
51 GB
Ta naprava je označena v skladu z določili Evropske direktive 2012/17/EU o odpadni
električni in elektronski opremi (OEEO). OEEO so tako snovi, ki onesnažujejo okolje
(lahko negativno učinkujejo na okolje) kot osnovni sestavni deli (ki jih je možno ponovno
uporabiti). Pomembno je pravilno ravnati z OEEO, da pravilno odstranimo in zavržemo
vse snovi, ki onesnažujejo, okolje, ter obnovimo in recikliramo vse materiale.
Kot posamezniki lahko pomembno vplivamo na to, da OEEO ne postane okoljska
težava; upoštevati moramo le nekaj osnovnih pravil:
• Z OEEO ne smemo ravnati kot z ostalimi hišnimi odpadki.
• OEEO moramo odnesti v ustrezne centre za zbiranje odpadkov, ki jih upravlja občina
ali pooblaščeno podjetje. V več državah imajo urejen prevzem večjih kosov OEEO na
domu.
• Ob nakupu nove lahko staro napravo vrnemo prodajalcu, ki jo je dolžen brezplačno
prevzeti na osnovi ena za eno, če je oprema enake vrste in ima enake funkcije kot
dobavljena.
52
53-54
55-62
63
64-65
66-72
73-74
75
52 SL
• OPOZORILO: Aparat in njegovi dostopni deli se med uporabo
segrejejo. Pazite, da se ne dotaknete grelcev!
• Otroci, mlajši od 8 let, naj se aparatu ne približujejo nenadzorovani.
• Otroci, starejši od 8 let, ter osebe z zmanjšanimi fizičnimi, zaznavnimi
ali umskimi sposobnostmi ali pomanjkljivimi izkušnjami ter znanjem
lahko uporabljajo aparat le pod nadzorom oseb, ki so odgovorne za
njihovo varnost, in ki so jih seznanili z varno uporabo aparata ter le v
primeru, da razumejo tveganje, ki je s tem povezano.
• Otroci se ne smejo igrati z aparatom.
• Otroci lahko sodelujejo pri čiščenju in vzdrževalnih delih le pod
nadzorom odraslih.
• OPOZORILO: Pri segrevanju maščobe ali olja se ne oddaljujte od
aparata, saj se te snovi zlahka vnamejo in povzročijo požar.
• NIKOLI ne gasite ognja z vodo, ampak izklopite aparat in nato pokrijte
plamen - npr. s pokrovko ali primerno nevnetljivo krpo ali odejo.
• OPOZORILO: Nevarnost vžiga! Na kuhalno površino ne odlagajte
nikakršnih predmetov.
• OPOZORILO: Če je površina razpokana, takoj izklopite aparat, da se
izognete tveganju za električni udar!
• Pri čiščenju ne uporabljajte aparatov za čiščenje s paro.
• Na kuhalno ploščo ne polagajte kovinskih predmetov, kot so to noži,
vilice, žlice ali pokrovke, saj bi se ti lahko segreli.
• Če se vam po pokrovu razlije tekočina, jo pred dviganjem pokrova
obrišite.
• Pred zapiranjem pokrova počakajte, da se kuhalna plošča ohladi.
• Po uporabi izklopite kuhalno mesto; ne zanašajte se na detektor
posode!
• Aparat ni namenjen priključitvi na zunanjo programsko uro ali
poseben sistem za daljinsko upravljanje.
• Pri fiksni priključitvi mora biti zagotovljena možnost izklopa iz
električnega omrežja skladno z veljavnimi predpisi.
• V navodilih je navedena ustrezna vrsta priključnega kabla, saj je
potrebno upoštevati temperaturo na hrbtni strani aparata.
• Če je priključni električni kabel poškodovan, ga je mora zamenjati
ustrezno usposobljen strokovnjak pooblaščenega servisa ali druga
strokovna oseba, da se izognete tveganju.
53 SL
• POZOR: Da bi se izognili slučajnemu resetiranju termičnega
prekinjala, aparat ne sme biti napajan preko zunanje naprave, npr.
programske ure, ter ne sme biti priključen na tokokrog, ki ga redno
vklaplja oz. izklaplja dobavitelj energije.
• Aparat mora biti inštaliran skladno z vsemi veljavnimi predpisi in
uporabljan samo v ustrezno zračnih prostorih. Pred inštalacijo in
uporabo preberite navodila za uporabo.
• Ta navodila veljajo samo v državi, s katere simbolom je aparat
označen. Če simbola ni na aparatu, upoštevajte tehnična navodila, v
katerih so podana potrebna navodila za prilagoditev aparata pogojem
uporabe v vaši državi.
• Pred inštalacijo se prepričajte o ustreznosti lokalnih pogojev (vrsta in
tlak plina) ature of the gas and gas pressure) in možnostjo prilagoditve
aparata na te pogoje;
• POgoji za prilagoditev aparata so navedeni na nalepki (ali tablici s
podatki);
• Ta aparat se ne priključi na napravo za odvajanje plinov, ki nastajajo
pri izgorevanju. Inštaliran in priključen mora biti skladno z vsemi
veljavnimi predpisi. Posebno pozornost posvetite ustreznim
predpisom o zračenju.
• Uporaba plinskih štedilnikov in kuhalnih plošč povzroča toploto in
vlago v prostoru, kjer se uporabljajo. Poskrbite za dobro prezračevanje
kuhinje; naravne odprtine za prezračevanje morajo biti odprte, ali pa
vgradite mehansko napravo za prezračevanje (mehansko kuhinjsko
napo). Dolgotrajna intenzivna uporaba aparata bo morda pogojevala
dodatno prezračevanje, npr. odpiranje okna, ali bolj učinkovito
prezračevanje, npr. vklop višje stopnje pri obstoječi napravi za
prezračevanje.
Code produit:
Numéro de série :
54 SL
55 SL
56 SL
G20-20 mbar
57 SL
Butan / Propan
G30/31
30/30 mbar
58 SL
59 SL
60 SL
61 SL
62 SL
4 3
2 1 5
1.
2.
3.
4.
5.
6.
7.
63 SL
6
Zadnji
desni
gorilnik
7
Sprednji
desni
gorilnik
64 SL
65 SL
66 SL
• ZAZNAVANJE POSODE
67 SL
68 SL
1
2
3
4
5
6
7
8
9
BOOSTER Ø 200
3
5
8
12
18
28
42
64
100
3000 W
8
7
5
9
69 SL
9
20
• IZBERITE KUHALNO POLJE
. Izberite kuhalno polje
9
1
9
• BOOSTER (DELOVANJE Z OJAČANO MOČJO)
Booster funkcija vam s preprostim pritiskom omogoča da lahko posamezno kuhališče deluje z
močjo 300 W (Ø 200mm kuhališče) v trajanju 5 minut. Idealno za zavretje večjih količin...
9
5
9
5
9
70 SL
• ZAKLEPANJE TIPK (ZA VARNOST OTROK)
Zaklepanje tipk za varnost otrok – onemogoča slučajno spreminjanje nastavitev
Aktivirate ga lahko le v primeru, da ni izbrano nobeno kuhališče.
Zaklepanje:
Po vklopu kuhalne plošče s pritiskom na glavno stikalo lahko aktivirate varovalo za otroke.
Hkrati pritiskajte tipko za izbiranje kuhališča spredaj levo in tipko minus; sprostite pritisk,
nato pa znova pritisnite na tipko za kuhališče spredaj levo. Na vseh prikazovalnikih se
prikaže črka "
" (zaklenjeno). Če je kuhališče še vroče, se izmenično kažeta črki "
"
in "
". Funkcijo morate aktivirati v roku 10 sekund po vklopu, ne da bi vmes pritiskali na
katero drugo tipko; v nasprotnem primeru aktiviranje ni mogoče.
Tipke ostanejo zaklenjene, dokler funkcije ne deaktivirate, ne glede na to, če kuhalno
ploščo vklopite, izklopite ali resetirate (izklopite iz električnega omrežja).
Začasno deaktiviranje, ki omogoči kuhanje:
Če želite deaktivirati funkcijo zaklepanja, hkrati pritiskajte na tipko za izbiranje kuhališča
spredaj levo in tipko minus. Črka "
" izgine s prikazovalnikov in prikaže se vrednost "0"
za vsa kuhališča. Če je kuhališče še vroče, se izmenično kažeta črka "
" in vrednost "0".
Po izklopu kuhalne plošče s pritiskom na glavno stikalo se varovalo za otroke znova
aktivira.
Stalno deaktiviranje:
Po vklopu kuhalne plošče s pritiskom na glavnos stikalo lahko aktivirate varovalo za otroke.
Nato hkrati pritiskajte na tipko za kuhališče spredaj levo in tipko minus, nato pa sprostite
pritisk na tipki in potem spet pritisnite na tipko minus.
To morate storiti v roku 10 sekund; kuhalna plošča se preklopi v stanje mirovanja (STANDBY). V nasprotnem primeru ukaz ne bo sprejet, in se bo kuhalna plošča po 20 sekundah
izklopila.
71 SL
• FUNKCIJE PROGRAMSKE URE
Programska ura je prikazana na prikazovalnikih za kuhališči zadaj (zadaj levo).
Prikazovalnika za kuhališči spredaj (spredaj levo) sta izklopljeni.
Na voljo sta dva načina delovanja programske ure:
- Programska ura za kuhališča: Programska ura je povezana z določenim kuhališčem. Ko
preteče nastavljeni čas, se oglasi zvočni signal in kuhališče se izklopi.
- Samostojna ura: programska ura deluje neodvisno od kuhališč. Ko preteče nastavljeni
čas, se oglasi zvočni signal, drugih učinkov ni.
Izbiranje način delovanja programske ure.
Hkrati pritiskajte na tipki plus in minus, da izberete funkcijo programske ure. Če step red
tem izbrali katero od kuhališč, bo programska ura povezana iz izbranim kuhališčem; v tem
primeru decimalna pika za izbrano kuhališče utripa. Če pa pred aktiviranjem programske
ure ni bilo izbrano nobeno od kuhališč, bo programska ura delovala neodvisno od kuhališč.
Če ste aktivirali programsko uro za več kuhališč, lahko preklapljate med njimi s pomočjo
tipk plus in minus; med njimi se premikate v smeri vrtenja urinega kazalca.
Nastavitev programske ure je omejena na 10 sekund. Po tem času se prikazovalnik
programske ure preklopi nazaj na prikaz aktivnega kuhališča.
Nastavljanje programske ure:
Po aktiviranju programske ure lahko spreminjate nastavljen čas s pomočjo tipko plus in
minus. Če vrednost še ni nastavljena, lahko začnete s pritiskom na tipko minus, s čimer
nastavite čas 30 minut.
Če ohranite pritisk na tipko plus ali minus, se vrednost spreminja hitreje; ko dosežete
vrednost 99 ali 01, se nastavljanje ustavi.
Decimalna pika na prikazovalniku za ustrezno kuhališče opozarja, da je aktivirana
programska ura.
Če izberete samostojno delovanje programske ure (v tem primeru deluje kot običajen
števec minut), utripata obe decimalni piki na prikazovalniku za programsko uro.
Brisanje nastavljene vrednosti za programsko uro:
Programsko uro lahko izklopite tako, da nastavite vrednost 00. Če je bil izbran način
samostojnega delovanja, ostane kuhališče aktivno.
Ko preteče nastavljeni čas:
Ko nastavite programsko uro na želeno vrednost, se odštevanje začne samodejno. Če s
pomočjo tipk plus ali minus spremenite nastavljeni čas, se novi čas začne upoštevati
naslednjo minuto.
Zvočni signal:
Ko preteče nastavljeni čas, vas na to opozori zvočni in optični signal. Ob tem se izklopi
kuhališče, za katero je bila nastavljena programska ura. Na programske ure, nastavljene za
druga kuhališča, vas opozarjajo decimalne pike na prikazovalnikih posameznih kuhališč.
Zvočni signal se oglaša 2 minuti, če med tem časom ne pritisnete na nobeno drugo tipko.
72 SL
73 SL
74 SL
75 SL
44006646 • Rev_0 • 04.2015
FR
Le constructeur décline toute responsabilité concernant d'éventuelles inexacitudes imputables à des erreurs
d'impression ou de transcription contenue dans cette notice. Le constructeur se réserve le droit de modifier les
produits en cas de nécessité, même dans l'intérêt de l'utilisation, sans causer de préjudices aux caractéristiques
de fonctionnement de sécurité des appareils.
GB
The manufacturer will not be responsible for any inaccuracy resulting from printing or transcript errors contained
in this brochure. We reserve the right to carry out modifications to products as required, including the interests of
consumption, without prejudice to the characteristics relating to safety or function.
SL
Proizvajalec ne prevzema odgovornosti za morebitne tiskarske napake v tej knjižici. Pridržuje si pravico
do sprememb na aparatu brez predhodnega obvestila vključno s porabo, ki ne vplivajo na varnost ali
delovanje pečice.