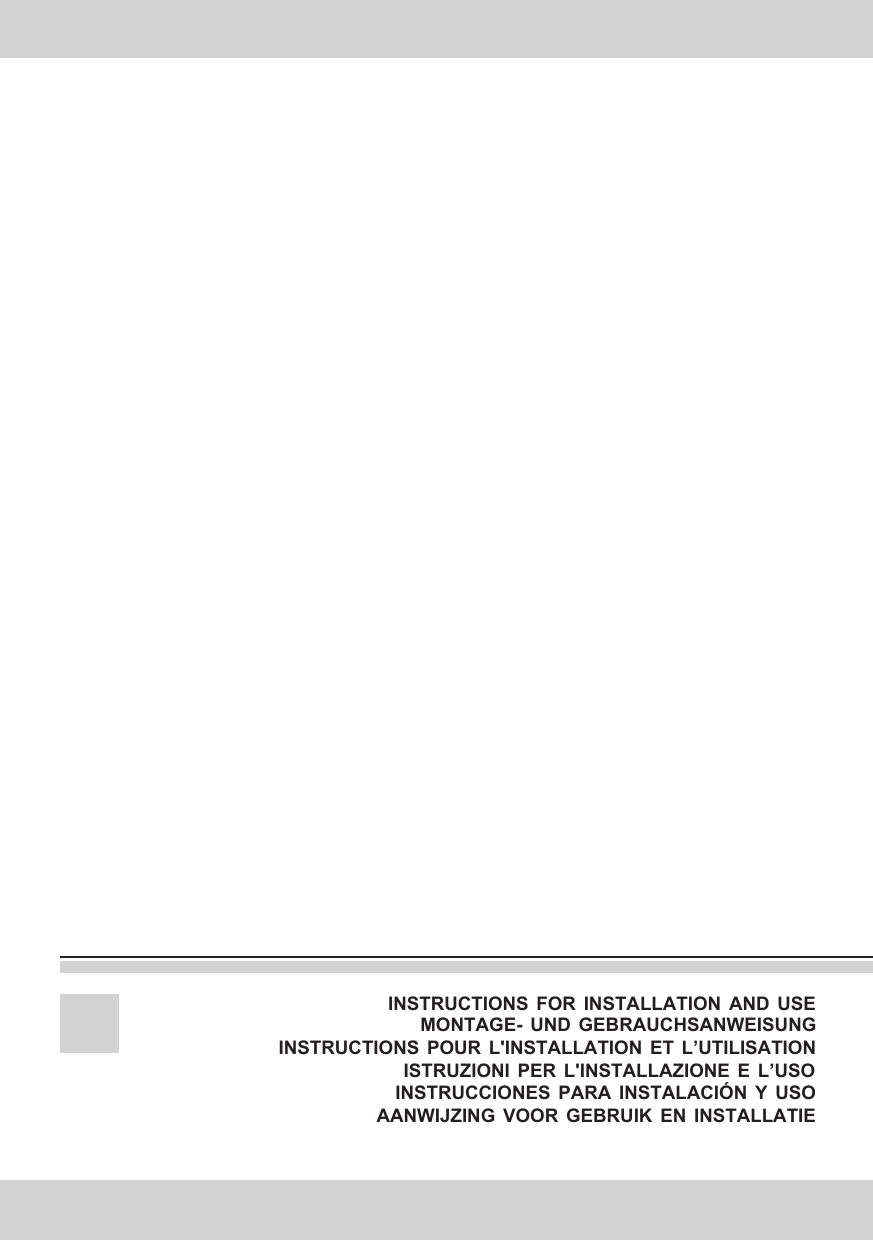 INSTRUCTIONS FOR INSTALLATION AND USE
MONTAGE- UND GEBRAUCHSANWEISUNG
INSTRUCTIONS POUR L'INSTALLATION ET L'UTILISATION
ISTRUZIONI PER L'INSTALLAZIONE E L'USO
INSTRUCCIONES PARA INSTALACIÓN Y USO
AANWIJZING VOOR GEBRUIK EN INSTALLATIE
ENGLISH
INSTALLATION
The equipment can be used for external eva-cuation, ducting, or for internal recycling of air, filtering. When the filtering
version is in use the air and fumes cleaned by the charcoal filter are recirculated in the room. When the ducting version
is in use the fumes are conveyed upwards through a flue pipe and evacuated directly towards the outside. The charcoal
filter is no more necessary.
For a ducted installation of the appliance, connect one of the two discharge outlet to the external ducting. Seal the other
opening with the snap release plug (Fig. 3).
Wall fitting: making use of the appropriate drilling jig, apply the blocks to the wall and two of the screws provided. Hook
the hood into place by means of the bayonet holes (Fig. 1A). To obtain the most stable and safe conditions the remaining
screws should be insered in the holes provided on the appliance (Fig. 1B). To avoid damaging the appliance, we recommend making exclusive use of the holes already foreseen on the hood.
Fix the hood to the wall unit cupboard: making use of the four screws provided; use the drilling in supply to make
the holes (Fig. 2).
OPERATION
The hoods are provided whit the following type of controls:
(Fig. 4A) - Light switch and motor switch operate independently. Motor switch controls blower speed from 0 to 3 position.
(Fig. 4B e Fig. 8) - Light knob and motor knob operate independently. Motor knob selects blower speed from 0 to 3 position.
(Fig. 5) - The first switch turns on and off blower operation. Working speeds of blower are se-lected by a separated switch.
When the blower is switched on it automatically works at the preselected speed. Light working is operated by a third,
independent switch.
(Fig. 6) - Same operation principle as described for control Nr. 5. Working speeds of blower are selected by an infinite speed
slide.
(Fig. 7) - Double blower equipment give the possibility to operate separately the motors by means of double controls with
the same operating principles as described for Nr. 4.
Filtering/ducting conversion: the conversion can be done in the inside of the appliance. Access is possible by
opening the grille, moving the two fastening pins towards the inside, lifting it slowly and rotating downwards (Fig. 9). The
conversion lever inside the hood allows easy regulation of Filtering or Ducting version (Fig. 10). Do not use undue force
on the lever. For double motor version both conversion levers must be regulated on type of operation chosen.
The anti-grese filter is easily removed from the grille by lifting the metal wire fasteners (Fig. 11). Particular care must
be paid to the grease filter which must be periodically cleaned in relation to use (at least once every two months). Remove
the grease filter and wash them either by hand or in the dishwasher using neutral detergent.
When using thefiltering version of the appliance, the charcoal filters must be changed according to use, usually every
six months. Remove the filters rotating them and replace them rotating into the opposite direction.
According to the version, of the appliance, to again access to thelight bulb, remove the bowl after removing the screw
(Fig. 12) and unscrew the bulb/s, or open the grille, as described above, and pull aut the lamp cover pushing it from there
inside (Fig. 13). Replace whit lamps of the same type.
DEUTSCH
WANDBEFESTIGUNG
Soweit das Gerät bei Abluftbetrieb eingesetzt wird, ist die nicht benötigte Abluftöffnung mit dem entsprechenden
Verschlußdeckel zu schließen (Abb. 3).
Unter Verwendung der beiliegenden Bohrschablone werden an der Wand mit den hierfür vorgesehenen Dübeln zwei
Schrauben angebracht. Das Gerät wird mit den Schlüssellochlochungen (Abb. 1A) in diese Schrauben eingehakt. Dann
wird das Gerät mit zwei zusätzlichen Schrauben durch die in Abbildung 1B angegebenen Löcher mit der Wand
verschraubt. Es dürfen nur die für die Befestigung vorgesehenen Löcher verwendet werden.
Befestigung am Oberschrank: Hierzu werden unter Verwendung der Bohrschablone in die Unterseite des
Hängeschrankes 4 Löcher gebohrt und das Gerät wird an diesen Punkten mit dem Oberschrank verschraubt (Abb. 2).
GEBRAUCH
Das Gerät kann imUmluftbetrieb oder imAbluftbetrieb eingesetzt werden. Im Umluftbetrieb wird die Luft zusätzlich
durch den/die Kohlefilter geleitet und in den Raum zurückgeführt, im Abluftbetrieb wird der Kochdunst durch Abluftrohre
ins Freie geleitet. Ein Kohlefilter ist im Abluftbetrieb nicht erforderlich.
Umstellung Abluft/Umluft: Die Umstellung erfolgt im Inneren des Geräts. Hierzu ist das Fettfiltergitter zu öffnen,
indem die beiden Verriegelungen links und rechts am Filtergitter gleichzeitig zur Mitte des Gitters gedrückt werden (Abb.9).
Das Filtergitter kann dann nach unten geklappt werden. Im Inneren des Geräts ist auf dem Motorgehäuse ein
Umstellhebel, der wahlweise auf die Positionen Abluft bzw. Umluft eingestellt werden kann. Zum Umstellen muß der Hebel
leicht angehoben werden. Auf der jeweils gewählten Position rastet der Hebel beim Loslassen ein (Abb. 10). Beim
zweimotorigen Gerät müssen beide Motore im gleichen Sinn eingestellt sein.
WARTUNG
Schaltung des Geräts:
Je nach Typ ist das Gerät mit folgenden Schaltern ausgerüstet:
(Abb. 4A) - Licht und Motor werden unabhängig voneinander geschaltet. Der Motorschalter hat eine Nullposition und 3
Stufen.
(Abb. 4B, Abb. 8) - Wie 4A, nur mit Drehschaltern.
(Abb. 5) - Der Motor hat einen eigenen Schalter für ein/aus. Ein separater Schalter regelt nur die 3 Geschwindigkeiten. Wird
der Motor einge-schaltet, läuft automatisch die Motorgeschwin-digkeit, die auf dem Geschwindigkeitsschalter eingestellt
ist. Das Licht wird separat geschaltet.
(Abb. 6) - Die Geschwindigkeit des Motors wird stufenlos geregelt. Sonst ist der Aufbau wie zu Abb. 5 beschrieben.
(Abb. 7) - Bei zweimotorigen Geräten ist es möglich, daß beide Motore getrennt zu regeln sind. Hier sind im Schalter
praktisch zwei Schalter, wie unter Abb.4 beschrieben, integriert.
Wechsel der Fettfiltermatte (Abb. 11): Hierzu wird das Fettfiltergitter, wie beschrieben, ausgehängt. Die Haltebügel
aus Draht werden gelöst und die neue bzw. gereinigte Filtermatte kann eingesetzt werden.
Besonders wichtig ist beim Einsatz von Fettfiltern deren Reinigung bzw. beim Einsatz von Papier-oder Textilfettfiltern
deren Austausch. Die Reinigung von Fettfiltern wird von Hand, mit biologisch abbaubarem Reinigungsmittel, oder in der
Spülmaschine empfohlen. Die Austausch-bzw. Reinigungshäufigkeit hängt ab von der Benutzungsdauer und der Art der
abzu-saugenden Wrasen. Um den Fettfilter entnehmen zu können, ist das Fettfiltergitter, wie unten beschrieben,
abzunehmen. Nun können die Haltebügel aus Draht gelöst werden und der Fettfilter kann entnommen werden (Abb. 11).
Das Einsetzen des neuen, bzw. gereinigten Fettfilters, erfolgt analog.
Soweit das Gerät im Umluftbetrieb betrieben wird, ist/sind der/die Kohlefilter durchschnittlich alle 6 Monate
auszutauschen. Der Kohlefilter kann durch Drehung gelöst und im umgekehrten Drehsinn befestigt werden.
Um an die Lampen zu gelangen, ist das Filtergitter, wie oben beschrieben, abzunehmen und es ist, je nach
Geräteversion, die Lichtabdeckung zu entfernen, indem auf diese von innen her Druck ausgeübt wird (Abb. 13) oder die
Befestigungsschraube der Lichtabdeckung gelöst wird (Abb. 12). Im Austauschfall sind nur Lampen des gleichen Typs
zu verwenden.
FRANCAIS
INSTALLATION
L'appareil peut être utilisé soit en version à évacuation extérieure, soit en version à recyclage. En version recyclage
l'air et les vapeurs entrainés par l'appareil sont dépurés par le filtre au charbon et ensuite remis en circulation dans le volume
de la pièce. En version à évacuation extérieure les vapeurs et les odeurs de cuisine son conduites directement vers
l'extérieur moyennant un tuyau de décharge, par conséquent l'emploi de filtres au charbon n'est plus nécessaire.
Lors de l'installation de l'appareil en version aspirante, brancher une des deux sorties d'air au tube d'evacuation et refermer
l'autre sortie d'air au moyen du bouchon à déclic en dotation (Fig. 3).
Fixation au mur: en utilisant le gabarit de perçage correspondant appliquer au mur les chevilles et deux vis; accrocher donc l'appareil aux vis moyennant les trous à baillonnette (Fig. 1A). Pour obtenir le maximum de stabilité et de sûreté fixer l'appareil au mur en introduisant deux vis supplémentaires par les trous prévus expressément pour cet emploi
(Fig.1B). Pour éviter d'abîmer l'appareil on conseille d'utiliser exclusivement les trous déjà prévus par le constructeur.
Fixation au meuble suspendu: a l'aide du gabarit de perçage percer l'élèment et accrocher la hotte en utilisant les
quatre vis fournies (Fig. 2).
FONCTIONNEMENT
Selon les modéles, l'appareil est muni des types suivants de commandes:
(Fig. 4A) - La lumière et le moteur ont un fonctionnement indépendant l'une de l'autre.
L'interrupteur du moteur sélectionne les différentes vitesses d'exercice de 0 a 3.
(Fig. 4B e Fig. 8) - La lumière et le moteur ont un fonctionnement indépendant l'une de l'autre. La manette du moteur
sélectionne les différentes vitesses d'exercice de 0 a 3.
(Fig. 5) - Le premier interrupteur actionne le fonctionnement du moteur. Les trois vitesses d'exercise du moteur sont
sélectionnées par un deuxiéme interrupteur qui agit séparément. Lorsque le moteur est actionné, il fonctionne
automatiquement à la vitesse choise avec cet interrupteur. Le fonctionement de la lumière est règlé par un troisième
interrupteur indépendant.
(Fig. 6) - Fonctionnement comme decrit pour la Fig. 5. Les vitesses d'exsrcice du moteur sont sélectionnées par un
variateur électronique.
(Fig. 7) - Dans les appareils avec deux moteurs on peut actionner séparément les deux moteurs. Les appareils dans cette
version sont fournis de doubles commandes qui fonctionnent selon la Fig. 4.
Conversion evacuation/recyclage: cette conversion a lieu dans la partie intérieure de l'appareil à laquelle on
accède en ouvrant la grille. Dans ce but dèplacer les boutons d'arrét de la grille vers l'intèrieur en la soutemant (Fig. 9).
A l'intérieur de l'appareil au moyen du levier de conversion correspondant on pourra facilment régler la position souhaitée
évacuation ou recyclage (Fig. 10). On conseille d'agir sur le levier délicatement. Dans la version à double moteur les deux
leviers de conversion doivent être règlés suivant le type de fonctionnement choisi.
Le filtre à graisse peut être facilment enleve de la grille en ouvrant la grille comme décrit et en soulevant les 2 arrêts
en fil métallique (Fig. 11). Faites très attention surtout aux filtres à graisse et nettoyez-les périodiquement (au moins tous
les deux mois). Retirez les filtres à graisse et lavez-les avec un détersif neutre à la main ou dans le lave-vaisselle.
Si vous utilisez l'appareil en version filtrante, il est nécessaire de remplacer les filtres à charbons; la fréquence de
cette opération dépend de l'utilisation que vous en faites, mais vous devez le faire environ tous les six mois. Pour enlever
les filtres, faites-leur suivre un mouvement rotatif, et raccrochez-les toujours en les faisant tourner, mais en sens contraire.
Suivant la version de l'appareil, pour accéder à (aux) lampe/s d'éclairage, ouvrir la grille, comme indiqué cì-dessus
et enlever la plafonière en faissant pression de l'intérieur (Fig. 13) ou en enlevant la vis de fixage (Fig. 12). Remplacer par
des lampes du même type.
ITALIANO
INSTALLAZIONE
L'apparecchio può essere utilizzato sia in versione filtrante che aspirante. Nella versione Filtrante l'aria ed i vapori
convogliati dall'apparecchio vengono depurati dai filtri al carbone e poi rimessi in circolazione nell'ambiente. Nella
versione Aspirante i vapori e gli odori di cucina vengono convogliati direttamente verso l'esterno tramite un tubo di scarico,
pertanto non è più necessario l'uso di filtri al Carbone Attivo.
In caso di installazione dell'apparecchio in versione aspirante, collegare una delle due uscite-aria al tubo di
evacuazione e chiudere l'altra uscita con il tappo a scatto in dotazione (Fig. 3).
Fissaggio a parete:usando l'apposita maschera di foratura applicare alla parete i tasselli e due delle viti in dotazione;
agganciare quindi l'apparecchio alle viti tramite gli appositi fori a baionetta (Fig. 1A). Per ottenere condizioni di massima
stabilità e sicurezza ancorare l'apparecchio alla parete inserendo due viti supplementari tramite i fori previsti appositamente a tale uso (Fig. 1B). Per evitare di danneggiare l'apparecchio si raccomanda di utilizzare esclusivamente i fori già previsti
dal costruttore.
Fissaggio al pensile superiore: con l'ausilio della maschera di foratura forare il pensile ed agganciare la cappa
utilizzando le quattro viti fornite a corredo (Fig. 2).
FUNZIONAMENTO
A seconda delle versioni l'apparecchio è dotato dei seguenti tipi di comandi:
(Fig. 4A) - La luce ed il motore hanno un funzionamento indipendente l'uno dall'altro. L'interruttore del motore seleziona
le varie velocità di esercizio da 0 a 3.
(Fig. 4B e Fig. 8) - La luce ed il motore hanno un funzionamento indipendente l'uno dall'altro. La manopola del motore
seleziona le varie velocità di esercizio da 0 a 3.
(Fig. 5) - Il primo interruttore aziona il funzionamento del motore. Le tre velocità di esercizio del motore sono selezionate
da un secondo interruttore che opera separatamente. Quando il motore viene azionato, funziona automaticamente alla
velocità preselezionata tramite tale apposito interruttore. Il funzionamento della luce è regolato da un terzo interruttore
indipendente.
(Fig. 6) - Stesso funzionamento descritto per la Fig. 5. Le velocità di esercizio del motore sono selezionate da un variatore
elettronico.
(Fig. 7) - Negli apparecchi con doppio motore è possibile azionare separatamente i due motori. Gli apparecchi in tale
versione sono forniti di doppi comandi che funzionano come in Fig. 4.
Conversione Aspirante/Filtrante: tale conversione avviene nella parte interna dell'apparecchio a cui si accede
aprendo la griglia. A tale scopo spostare i tastini di fermo della griglia verso l'interno tirandola verso il basso (Fig. 9).
All'interno dell'apparecchio tramite l'apposita leva di conversione si potrà facilmente regolare la posizione aspirante o
filtrante desiderata (Fig. 10). Si raccomanda di operare sulla leva delicatamente. Nella versione a doppio motore entrambe
le leve di conversione devono essere regolate secondo il tipo di funzionamento prescelto.
Il filtro antigrasso può essere facilmente rimosso dalla griglia aprendola come descritto e sollevando i due fermi in
filo metallico (Fig. 11). Una cura particolare va rivolta ai filtri antigrasso, che devono essere puliti periodicamente in rapporto
all'uso (almeno ogni due mesi). Disinserite i filtri anti-grasso e lavateli con detersivo neutro a mano o in lavastoviglie.
Nel caso d'uso dell' apparecchio in versione filtrante, sarà necessario sostituire i filtri al carbone in rapporto all'uso,
mediamente ogni sei mesi. I filtri si rimuovono tramite rotazione e si agganciano sempre tramite rotazione nel senso
opposto.
A seconda della versione dell'apparecchio, per accedere alla lampada/e di illuminazione aprire la griglia, come
descritto sopra, e disinserire la plafoniera facendo pressione dall'interno (Fig. 13) oppure togliendo la vite di fissaggio
(Fig.12). Sostituire con lampade dello stesso tipo.
ESPAÑOL
INSTALACIÓN
El aparato puede ser utilizado sea en versión filtrante que aspirante. En la versión filtrante el aire y los vapores
conducidos por el aparato son depurados por filtros al carbon y luego vueltos a poner en circulatión en el ambiente. En
la versión aspirante los vapores y los olores de cocina son conducidos directamente hacia el exterior mediante un tubo
de descarga, por lo tanto no es necessario el empleo de los filtros al carbon.
Para installar el aparato en el modelo aspirante, unir una de las dos solidas-aire al tubo de evacuación y cerrar la otra
salida con la tapa a impulso de que está dotado (Fig. 3).
Fijación a la pared: usando el corrispondiente patrón de perforación aplicar a la pared los tacos y dos de los tornillos
en dotación; enganchar por lo tanto el aparato a los tornillos mediante los apositos agujeros de bayoneta (Fig. 1A). Para
obtener condiciones de máxima estabilitad y seguridad anclar el aparato a la pared introduciendo dos tornillos
suplementarios mediante los agujeros previstos apositamente para dicho empleo (Fig. 1B). Para evitar de estropear el
aparato se recimienda utilizar exclusivamente los agujeros ya previstos por el constructor.
Fijación a la encimera superior:con la ayuda del patrón de perforación taladrar la encimera y enganchar la campana
utilizando los cuatro tornillos suministrados en dotación (Fig. 2).
FUNCIONAMIENTO
Las campanas possen el siguiente tipo de controles:
(Fig. 4A) - Los interruptores de luz y de motor operan indipendientemente. El interruptor del motor controla la velocidad
del ventilador entre las posiciones 0 y 3.
(Fig. 4B e Fig. 8) - Las perillas de luz y motor operan en forma indipendiente. La perilla del motor selecciona la velocidad
del ventilador entre 0 y 3.
(Fig. 5) - El primer interruptor enciede y apaga la operación del ventilador se seleccionan mediante otro interruptor.Cuando
el ventilador se enciende, funciona a la velocidad preseleccionada. La luz se opera mediante un tercer interruptor,
independiente.
(Fig. 6) - Los mismos principios operativos que para el caso de control N° 5.La velocidad del ventilador se regula mediante
variador electrónico.
(Fig. 7) - El equipo de doble ventilador posibilita operar separadamente los motores, mediante un doble juego de controles,
con los mismos principios de operacción que para el caso de control N° 4.
Conversión aspirante/filtrante: dicha conversión se produce en la parte interior del aparato a la cual se accede
abriendo la reja.A este proposito desplazar los botones de fijación de la reja hacia el interior bajandola hacia abajo (Fig.9).
En el interior del aparato mediante la correspondiente palanca de conversión se podrá facilmente regular la posición
aspirante o filtrante deseada (Fig. 10). Se recomienda obrar sobre la palanca delicatamente. En la versión de doble motor
ambas palancas de conversión han de ser reguladas según el tipo de funcionamiento escogito.
Deberá darse especial cuidado al filtro anti-grasa, que deberá ser limpiado periódicamente, de acuerdo con la
frecuencia de uso (limpiarlo al menos cada dos meses) - (Fig. 11).Un cuidado particular va reservado a los filtros antigrasa,
que tienen que ser limpiados periódicamente en la relación con el uso (por lo menos cada dos meses). Desconectar los
filtros antigrasa y lavarlos con detergente neutro a mano o en el lavavajillas automático.
Si se utiliza la versión "filtrante" del aparato, es necesario sustituir los filtros al carbón, en relación al uso del aparato
naturalmente, cada seis meses más o menos. Los filtros se desprenden girando en un sentido y la colocación de los nuevos
se logra haciéndolos girar en sentido contrario.
Segun la version del aparato, para accader a la/s lampara/s de illuminación abrir la reja, como arriba descrito, y
desconectar la plafonera quitando el tornillo y haciendo presión en el interior (Fig. 13), obien quitando el tornillo de fijación
(Fig. 12). Substituir con lamparas del mismo tipo.
NEDERLANDS
INSTALLATIE
Het toestel kan worden gebruikt in de versie buitenafvoer of in de versie recyclering. In de versie recyclering worden de
door het toestel geleide lucht en dampen gezuiverd door de koolfilter en vervolgens weer in circulatie gebracht in het
vertrek. In de versie buitenafvoer worden de dampen en geuren van de keuken rechtstreeks naar buiten geleid via een
afvoerbuis. In deze versie moet geen koolfilter worden gebruikt.
Bij de installatie van een toestel in de versie aanzuiging, sluit u een van de twee luchtuitlaten aan op de afvoerbuis.
De andere luchtuitlaat stopt u dicht met de meegeleverde veerdop (Fig. 3).
Bevestiging aan de muur: bevestig de pennen en de beide schroeven in de muur met behulp van de boormal. Haak
het toestel aan de schroeven via de bajonetgaten (Fig. 1A). Om het toestel zo stevig en veilig mogelijk tegen de muur te
bevestigen, steekt u de twee extra schroeven in de speciaal hiertoe voorziene gaten (Fig. 1B). Om het toestel niet te
beschadigen, raden wij aan enkel de gaten te gebruiken die al werden voorzien door de constructeur.
Bevestiging aan een ophangmeubel: doorboor het meubel met behulp van de boormal. Hang de afzuigkap op aan
de vier meegeleverde schroeven (Fig. 2).
WERKING
Afhankelijk van het model, is het toestel uitgerust met de volgende bedieningen:
(Fig. 4A) - Het licht en de motor werken onafhankelijk van elkaar. De motorschakelaar selecteert de verschillende
werksnelheden van 0 tot 3.
(Fig. 4B en Fig. 8) - Het licht en de motor werken onafhankelijk van elkaar. De motorknop selecteert de verschillende
werksnelheden van 0 tot 3.
(Fig. 5) - De eerste schakelaar zet de motor in werking. De drie werksnelheden worden geselecteerd via een tweede
schakelaar die onafhankelijk werkt. Wanneer de motor geactiveerd is, werkt hij automatisch op de snelheid die met deze
schakelaar werd ingesteld. De werking van de verlichting wordt geregeld met een derde, onafhankelijke schakelaar.
(Fig. 6) - Werking zoals beschreven voor Fig. 5. De werksnelheden van de motor worden geselecteerd door een
elektronische variator.
(Fig. 7) - In de toestellen met twee motoren kunnen de motoren afzonderlijk worden geactiveerd. De toestellen van deze
versie worden geleverd met een dubbele bediening die werkt volgens Fig. 4.
Omschakeling afvoer/recyclering: deze omschakeling gebeurt in het binnengedeelte van het toestel, dat u bereikt
door het rooster te openen. Schuif de sluitknoppen van het rooster naar binnen terwijl u het rooster ondersteunt (Fig. 9).
In het toestel kunt u via de schakelhendel makkelijk de gewenste positie instellen: afvoer of recyclering (Fig. 10). Het
verdient aanbeveling om de hendel voorzichtig te hanteren. Bij de versie met twee motoren, moeten de beide
schakelhendels worden geregeld volgens het gekozen werkingstype.
De anti-vetfilter kan makkelijk van het rooster worden verwijderd. Daarvoor opent u het rooster zoals aangegeven,
terwijl u de twee stuitelementen in metaaldraad optilt (Fig. 11). Een speciale zorg dient besteed te worden aan de antivetfilters, deze moeten regelmatig schoongemaakt worden in verhouding tot het gebruik (minstens elke twee maanden).
Neem de anti-vetfilters uit het apparaat en was ze met een neutraal wasmiddel met de hand of in de vaat-wasmachine.
Als u het toestel gebruikt in de versie recyclering, moet u de koolfilters vervangen. Hoe vaak u dit doet hangt af van
het gebruik, maar toch ongeveer om de zes maanden. Verwijder de filters met een draaibeweging. Om ze terug te plaatsen
draait u ze in de andere richting.
Afhankelijk van de versie van het toestel, bereikt u de lampen/verlichting door het rooster te openen zoals hiervoor
is aangegeven. Verwijder de armatuur door van binnenuit te drukken (Fig. 13) of door de bevestigingsschroeven te
verwijderen (Fig. 12). Gebruik altijd lampen van hetzelfde type.
1
2
8
4A
3
B
5
9
6
7
10
11
12
13
04306523 - K186 sen.nor.