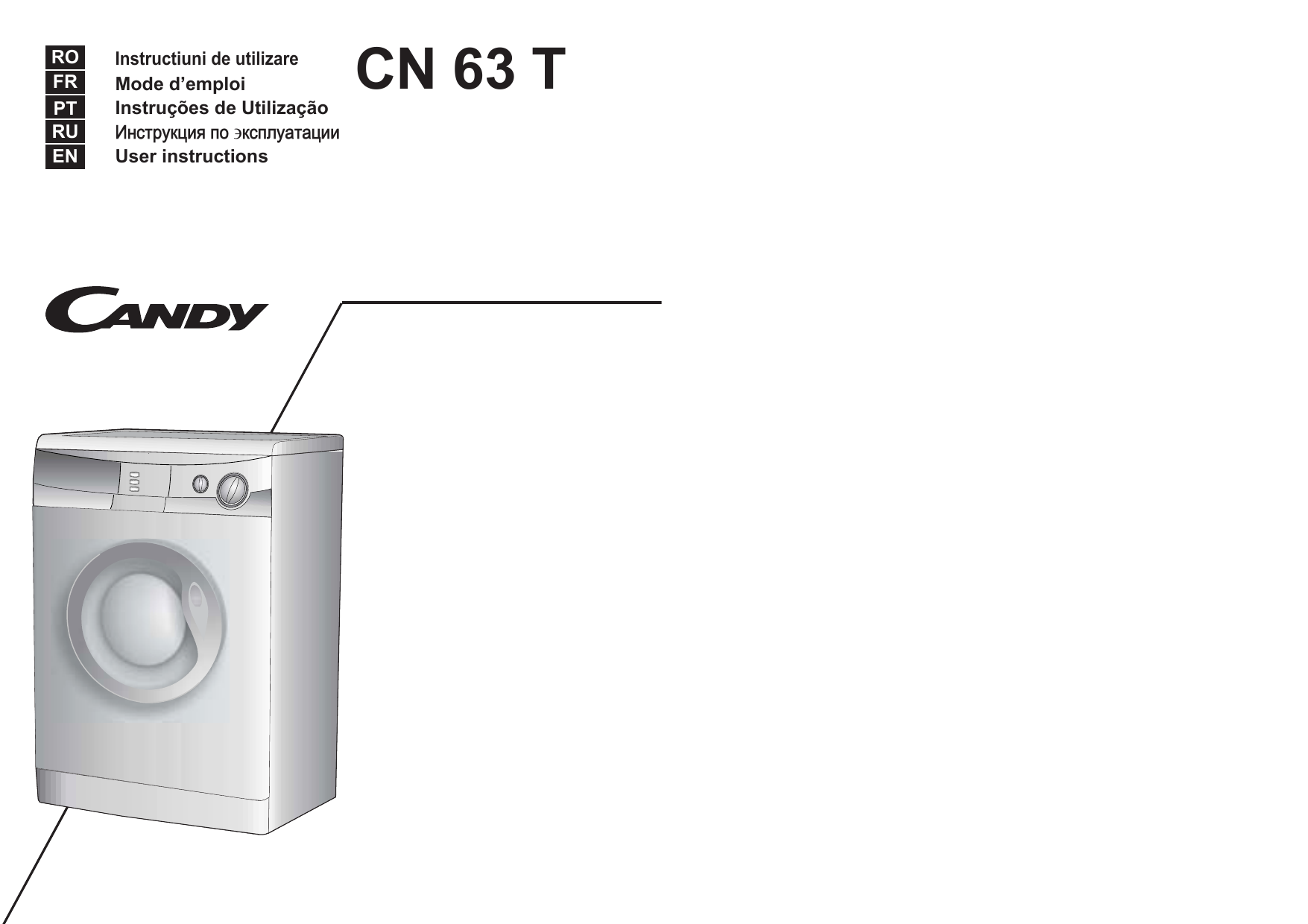 RO
FR
PT
RU
EN
Instructiuni de utilizare
Mode d'emploi
Instruções de Utilização
Èícòpyêöèÿ ïî ∋êcïëyaòaöèè
User instructions
CN 63 T
RO
FR
FELICITARI
TOUS NOS
COMPLIMENTS
Cumparind aceasta masina de
spalat CANDY ati aratat ca nu
acceptati compromisuri, vreti
doar ce e cel mai bun.
En achetant cet appareil
ménager Candy, vous avez
démontré que vous
n'acceptez aucun
compromis: vous voulez
toujours ce qu'il y a de
mieux.
CANDY are placerea sa va
prezinte o noua masina de
spalat, rezultatul multor ani de
cercetari si studii asupra
nevoilor consumatorilor. Ati ales
calitatea, durabilitatea si
eficienta oferite de aceasta
masina de spalat.
CANDY va ofera o gama larga
de aparate electrocasnice:
masini de spalat vase, masini
de spalat si uscat rufe, aragaze,
cuptoare cu microunde,
cuptoare traditionale si hote,
frigidere si congelatoare.
Va rugam sa cititi aceste
instructiuni cu mare atentie
deoarece furnizeaza informatii
importante cu privire la
instalarea, folosirea si
intretinerea masinii Dvs. de
spalat precum si sugestii pentru
a obtine cele mai bune rezultate
la spalare.
Pastrati instructiunile cu grija
pentru a le putea consulta de
cite ori aveti nevoie.
Candy a le plaisir de vous
proposer cette nouvelle
machine à laver qui est le
résultat d'années de
recherches et d'études des
besoins du consommateur.
Vous avez fait le choix de la
qualité, de la fiabilité et de
l'efficacité.
OUR COMPLIMENTS
Ao adquirir este
electrodoméstico Candy,
demonstrou não estar
disposta a contentar-se com
qualquer coisa: você quer o
melhor!
Ïpèîápåòÿ ∋òó ñòèpàëüíó˛
ìàøèíó Êàíäè, Âû påøèëè
íå èäòè íà êîìïpîìèññ: Âû
ïîæåëàëè ëó÷øåå.
With the purchase of this
Candy household appliance,
you have shown that you will
not accept compromises:
you want only the best.
Ôèpìà Êàíäè pàäà
ïpåäëîæèòü Âàì ∋òó íîâó˛
ñòèpàëüíó˛ ìàøèíó - ïëîä
ìíîãîëåòíèõ íàó÷íîèññëåäîâàòåëüñêèõ pàáîò è
ïpèîápåòåííîãî íà pûíêå, â
òåñíîì êîíòpàêòå ñ
ïîòpåáèòåëåì, îïûòà.
Candy is happy to present
their new washing machine,
the result of years of research
and market experience
through direct contact with
Consumers. You have chosen
the quality, durability and
high performance that this
washing machine offers.
A Candy alegra-se de lhe
poder oferecer esta nova
máquina de lavar roupa,
resultado de anos de
investigação e de
experiência de mercado,
em contacto directo com
os nossos clientes. Ao
escolher esta máquina, está
a escolher a qualidade, a
durabilidade e as
características excepcionais
que ela tem para oferecer.
Demandez à votre
Revendeur le catalogue
complet des produits
Candy.
Peça ao seu agente da
especialidade que lhe dê o
catálogo dos
electrodomésticos Candy.
Conservez avec soin ce
livret: vous pourrez le
consulter bien souvent.
EN
ÏÎÇÄPÀÂËßÅÌ!
Candy vous propose une
large gamme d'appareils
électroménagers: machines
à laver la vaisselle, machines
à laver et sécher le linge,
cuisinières, fours à microondes, fours et tables de
cuisson, hottes, réfrigerateurs
et congélateurs.
Nous vous prions de lire
attentivement les conseils
contenus dans ce livret. Il
contient d'importantes
indications concernant les
procédures d'installation,
d'emploi, d'entretien et
quelques suggestions utiles
en vue d'améliorer
l'utilisation de la machine à
laver.
RU
PARABÉNS!
Mas a Candy orgulha-se
ainda da vasta gama de
electrodomésticos que
coloca à disposição dos
seus clientes: máquinas de
lavar roupa, máquinas de
lavar loiça, máquinas de
lavar e de secar, fogões,
micro-ondas, fornos e
placas de fogão, frigoríficos
e congeladores.
Quand vous communiquez
avec Candy, ou avec ses
centres d'assistance, veuillez
citer le Modèle, le n° et le
numéro G (éventuellement).
2
PT
Leia este livro de instruções
atentamente. Ele contém
não só informações
importantes sobre a
instalação, a utilização e a
manutenção seguras da
sua máquina, mas também
conselhos úteis sobre como
tirar o melhor proveito da
sua máquina.
Preserve este livro
cuidadosamente,
mantendo-o à mão para
futuras consultas.
Quando contactar o seu
agente Candy ou os
Serviços de Assistência
Técnica refira sempre o
modelo e o número da sua
máquina, bem como o
número G (se aplicável).
Todas estas referências se
encontram na placa de
características da sua
máquina.
Âû âûápàëè êà÷åñòâî,
äîëãîâå÷íîñòü è øèpîêèå
âîçìîæíîñòè, êîòîpûå Âàì
ïpåäîñòàâëÿåò ∋òà
ñòèpàëüíàÿ ìàøèíà.
Êpîìå òîãî Êàíäè ïpåäëàãàåò
Âàì øèpîêó˛ ãàììó
∋ëåêòpîáûòîâîé: ñòèpàëüíûå
ìàøèíû, ïîñóäîìîå÷íûå
ìàøèíû, ñòèpàëüíûå
ìàøèíû ñ ñóøêîé, êóõîííûå
ïëèòû, ìèêpîâîëíîâûå ïå÷è,
äóõîâêè, âàpî÷íûå ïàíåëè,
õîëîäèëüíèêè,
ìîpîçèëüíèêè.
Candy is also able to offer a
vast range of other
household appliances:
washing machines,
dishwashers, washer-dryers,
cookers, microwave ovens.
Traditional ovens and hobs,
refrigerators and freezers.
Ñïpîñèòå ó Âàøåãî ïpîäàâöà
ïîëíûé êàòàëîã ïpîäóêöèè
ôèpìû Êàíäè.
Ask your local retailer for the
complete catalogue of
Candy products.
Ïpîñèì Âàñ âíèìàòåëüíî
îçíàêîìèòüñÿ ñ
ïpåäóïpåæäåíèÿìè,
ñîäåpæàùèìèñÿ â ∋òîé
êíèæêå, êîòîpûå äàäóò Âàì
âàæíûå ñâåäåíèÿ,
êàñà˛ùèåñÿ áåçîïàñíîñòè,
óñòàíîâêè, ∋êñïëóàòàöèè è
îáñëóæèâàíèÿ, íåêîòîpûå
ïîëåçíûå ñîâåòû ïî
ëó÷øåìó èñïîëüçîâàíè˛
ìàøèíû.
Please read this booklet
carefully as it provides
important guide lines for safe
installation, use and
maintenance and some
useful advise for best results
when using your washing
machine.
Áåpåæíî õpàíèòå ∋òó êíèæêó
èíñòpóêöèé äëÿ ïîñëåäó˛ùèõ
êîíñóëüòàöèé.
Keep this booklet in a safe
place for further consultation.
Ïpè îáùåíèè ñ ôèpìîé
Êàíäè èëè ñ åå
ñïåöèàëèñòàìè ïî
òåõíè÷åñêîìó îáñëóæèâàíè˛
ïîñòîÿííî ññûëàéòåñü íà
ìîäåëü è íîìåp G (åñëè
òàêîâîé èìååòñÿ).
Ïpàêòè÷åñêè, ññûëàéòåñü íà
âñå, ÷òî ñîäåpæèòñÿ â
òàáëè÷êå.
When contacting Candy
or a Customer Services
Centre always refer to the
Model, No., and G number (if
applicable of the appliance
see panel).
3
FR
RO
INDEX
4
CAPITOLUL
CHAPITRE
CAPÍTULO
ÏAPAÃPAÔ
CHAPTER
EN
RU
PT
INDICE
OÃËABËEHÈE
INDEX
Introdução
Ââåäåíèe
Introduction
Felicitari
Avant-propos
Informatii generale
Notes générales à la
livraison
1
Verificações a efectuar
quando a máquina lhe for
entregue
Oáùèe ñâåäeíèÿ ïî
∋êñïëyàòàöèè
General points on delivery
Garantie
Garantie
2
Garantia
Ãàpàíòèÿ
Guarantee
Masuri de securitate
Mesures de sécurité
3
Instruções de segurança
Mepû áåçoïacíocòè
Safety Measures
Caracteristici tehnice
Données techniques
4
Dados técnicos
Texíè÷ecêèe xapaêòepècòèêè
Technical Data
Instalare punerea in functiune
Mise en place, installation
5
Instalação
Ycòaíoâêa
Setting up and Installation
Descrierea comenzilor
Description des commandes
6
Descrição dos comandos
Oïècaíèe êoìaíä
Control Description
Caseta de detergenti
Tiroir à lessive
7
Colocação do detergente
Koíòeéíep äëÿ ìo˛ùèx
cpeäcòâ
Detergent drawer
Selectionarea programelor
Sélection des programmes
8
Selecção dos programas
Bûáop ïpoãpaìì
Programmes selection
Produsul
Le produit
9
Separação das peças de
roupa
Tèï áeëüÿ
The Product
Descrierea programelor
Tableau des programmes
10
Tabela de programas de
lavagem
Taáëèöû âûáopa ïpoãpaìì
Table of Programmes
Spalarea
Lavage
11
Lavagem
Còèpêa
Washing
Curatarea si intretinerea
aparatului
Nettoyage et entretien
ordinaire
12
Limpeza e manutenção da
máquina
óècòêa è yxoä ça ìaøèíoé
Cleaning and routine
maintenance
Anomalii in functionare
Recherche des pannes
13
Eliminação de avarias
Boçìoæíûe íeècïpaâíocòè
Faults Search
5
RO
FR
PT
CAPITOLUL 1
CHAPITRE 1
CAPÍTULO 1
INFORMATII
GENERALE
NOTES GENERALES
A LA LIVRAISON
VERIFICAÇÕES A
EFECTUAR
QUANDO A
MAQUINA LHE FOR
ENTREGUE
La cumpararea masinii,
verificati ca urmatoarele
materiale sa insoteasca
masina:
A) INSTRUCTIUNI DE
UTILIZARE
B) LISTA CU PUNCTELE
SERVICE
C) CERTIFICAT DE
GARANTIE
A la livraison veuillez
contrôler que le matériel
suivant accompagne la
machine:
B) ADRESSES DE SERVICE
APRES VENTE
Dovunque
tu sia.
D) BOUCHON
E) COT RIGID PENTRU
TUBUL DE EVACUARE
E) COUDES POUR LE TUBE
DE VIDANGE
F) COMPARTIMENT
PENTRU DETERGENT
LICHID
F) BAC POUR LES
PRODUITS LESSIVIELS
LIQUIDES OU POUR LES
PRODUITS
BLANCHISSANTS
LIQUIDES
PASTRATI-LE INTR-UN
LOC SIGUR.
Verificati daca masina are
daune in urma transportului.
In acest caz, contactati
centrul service
autorizat.
6
LES CONSERVER
et contrôler que ce matériel
soit en bon état; si tel n'est
pas le cas appelez le centre
Candy le plus proche.
CHAPTER 1
GENERAL POINTS
ON DELIVERY
Ïpè ïîêóïêå óáåäèòåñü,
÷òîáû ñ ìàøèíîé áûëè:
On delivery, check that the
following are included with
the machine:
À) ÈÍÑÒPÓÊÖÈß ÏÎ
ЭÊÑÏËÓÀÒÀÖÈÈ ÍÀ
PÓÑÑÊÎÌ ßÇÛÊÅ;
A) INSTRUCTION MANUAL
A) MANUAL DE
INSTRUÇÕES
Â) ÀÄPÅÑÀ ÑËÓÆÁ
ÒÅÕÍÈЧÅÑÊÎÃÎ
ÎÁÑËÓÆÈÂÀÍÈß;
B) CUSTOMER SERVICE
ADDRESSES
C) CERTIFICADO DE
GARANTIA
Ñ) ÑÅPÒÈÔÈÊÀÒ
ÃÀPÀÍÒÈÈ;
C) GUARANTEE
CERTIFICATES
D) ÇÀÃËÓØÊA;
D) CAP
E) ÆÅÑÒÊÎÅ
ÓÑÒPÎÉÑÒÂÎ ÄËß
ÇÀÃÈÁÀ ÑËÈÂÍÎÉ
ÒPÓÁÛ;
E) BEND FOR OUTLET TUBE
F) éíÑÖãÖçàÖ Ñãü
ÜàÑäéÉé åéûôÖÉé
ëêÖÑëíÇÄ àãà Ñãü
ÜàÑäéÉé
éíÅÖãàÇÄíÖãü
(äéçíÖâçÖê).
F) LIQUID DETERGENT OR
LIQUID BLEACH
COMPARTMENT
EUROPE
C) CERTIFICAT DE
GARANTIE
D) DOPURI
ÏÀPÀÃPÀÔ 1
ÎÁÙÈÅ
ÑÂÅÄÅÍÈß
Ao receber a máquina,
verifique se os seguintes
componentes, que deverá
manter num local seguro e
à mão, lhe foram entregues
juntamente com a
máquina:
A) LIVRET
D'INSTRUCTIONS
EN
RU
A
SPEDIRE
D) TAMPÖES
B
TRATTENERE
E) CURVA PARA O TUBO
DE ESGOTO
F) COMPARTIMENTO DE
DETERGENTE LÍQUIDO
OU BRANQUEADOR
LÍQUIDO
C
GUARDE ESTES
COMPONENTES BEM.
D
F
E
Verifique igualmente se a
máquina não sofreu
quaisquer danos durante o
transporte. Caso a máquina
esteja danificada entre
imediatamente em
contacto com o Centro de
Assistência Técnica mais
próximo.
ÕPÀÍÈÒÅ ÈÕ
Ïpîâåpüòå îòñóòñòâèå
ïîâpåæäåíèé ìàøèíû ïpè
òpàíñïîpòèpîâêå. Ïpè
íàëè÷èè ïîâpåæäåíèé
îápàòèòåñü â öåíòp
òåõîáñëóæèâàíèÿ Êàíäè.
KEEP THEM IN A SAFE
PLACE
Check that the machine has
not incurred damage during
transport. If this is the case,
contact your nearest Candy
Centre.
7
RO
CAPITOLUL 2
GARANTIE
Masina de spalat este insotita
de un certificat de garantie
care va permite sa va bucurati
de depanare gratuita.
FR
PT
RU
EN
CHAPITRE 2
CAPÍTULO 2
GARANTIE
GARANTIA
CONDIÇÕES DE
GARANTIA
ÃÀPÀÍÒÈß
GUARANTEE
L'appareil est accompagné
par un certificat de
gàrantie.
Este electrodoméstico está
abrangido por uma Garantia.
Para beneficiar desta garantia
deverá apresentar o
certificado de "Garantia
Internacional" Candy,
devidamente preenchido com
o nome e morada do
consumidor final, modelo e
número de série do aparelho e
data de compra, além de
devidamente autenticado
pelo lojista. Este documento
ficará sempre na posse do
consumidor.
Durante o período de Garantia
os Serviços de Assistência
Técnica efectuarão a
reparação de qualquer
deficiência no funcionamento
do aparelho resultante de
defeito de fabrico.
A Garantia não inclui
deslocações a casa do
cliente, que serão debitadas
de acordo com a taxa de
deslocação em vigor a cada
momento. Exceptua-se a 1a
deslocação se se efectuar no
primeiro mês de vigência da
Garantia, que será gratuita.
A Garantia não inclui:
– Anomalias ocasionadas por
mau trato, negligência ou
manipulação contrária às
instruções contidas no manual,
modificação ou incorporação
de peças de procedência
diferente da do aparelho,
aplicadas por serviços técnicos
não autorizados.
– Defeitos provocados por
curto- -circuito ou injúria
mecânica.
– Qualquer serviço de
instalação ou explicação do
funcionamento do aparelho
em casa do cliente.
– Indemnizações por danos
pessoais ou materiais causados
directa ou indirectamente.
– Troca do aparelho.
Ñòèpàëüíàÿ ìàøèíà
ñíàáæåíà ãàpàíòèéíûì
ñåpòèôèêàòîì, êîòîpûé
ïîçâîëÿåò Âàì ïîëüçîâàòüñÿ
óñëóãàìè òåõíè÷åñêîãî
ñåpâèñà, â òå÷åíèå 1 ãîäà ñî
äíÿ ïîêóïêè.
The appliance is supplied
with a guarantee certificate
which allows free use of the
Technical Assistance Service.
ÏÀPÀÃPÀÔ 2
CHAPTER 2
Serviço Pós-Venda
Com o objectivo de satisfazer
cada vez mais o consumidor
final, colocamos à vossa
disposição a nossa Rede
Nacional de Assistência
Técnica, com pessoal técnico
devidamente especializado.
8
9
FR
RO
CAPITOLUL 3
CHAPITRE 3
CAPÍTULO 3
MASURI DE
SECURITATE
MESURES DE
SECURITE
INSTRUÇÕES DE
SEGURANÇA
ATENTIE:
PENTRU ORICE
OPERATIE DE
CURATARE
SI INTRETINERE A
MASINII DE SPALAT
ATTENTION:
EN CAS
D'INTERVENTION DE
NETTOYAGE ET
D'ENTRETIEN
Se scoate stekerul din
priza
● Débrancher la prise de
● Se
● Fermer le robinet
●
apa
inchide robinetul de
● Trebuie
utilizata o priza
care sa aiba impamantare.
Masina respecta
directivele Comunitatii
Europene 89/336 si 73/23.
● Nu
se atinge aparatul cu
mainile sau picioarele ude
utilizati aparatul cand
sunteti desculti
courant.
d'alimentation d'eau.
● Toutes les machines
Candy sont pourvues de
mise à la terre.
Vérifier que l'installation
électrique soit alimentée
par une prise de terre, en
cas contraire demander
l'intervention du personnel
qualifié.
Cet appareil est
conforme aux directives
89/336/EEC, 73/23/EEC et
modifications successives.
● Ne pas toucher l'appareil
pieds nus.
● Nu
● Nu
utilizati prelungitoare
in camera de baie.
ATENTIE:
IN TIMPUL SPALARII
EMPERATURA APEI
POATE AJUNGE LA
90oC.
Inainte de a deschide
hubloul asigurati-va ca nu
exista apa in tambur
●
10
PT
● Autant que possible éviter
l'usage de rallonges dans
les salles de bains ou les
douches.
ATTENTION:
PENDANT LE LAVAGE
L'EAU PEUT ATTEINDRE
90°C.
● Avant d'ouvrir le hublot
vérifier que le tambour soit
sans eau.
IMPORTANTE:
ESTAS INSTRUÇÕES SÃO
EXTREMAMENTE
IMPORTANTES PARA TODAS
AS OPERAÇÕES DE
LIMPEZA E DE
MANUTENÇÃO.
● Deslige o aparelho da
corrente, retirando a ficha do
respectivo cabo de
alimentação da tomada.
● Feche a torneira de
alimentação de água.
● Todos os electrodomésticos
Candy têm ligação à terra.
Assegure-se de que a
instalação eléctrica a que a
máquina está ligada se
encontra devidamente ligada
à terra. Se tiver dúvidas ou a
instalação eléctrica não
estiver devidamente ligada à
terra, peça a um electricista
qualificado que proceda à
verificação e eventualmente à
ligação da instalação à terra.
Este aparelho está em
conformidade com as
directivas europeias
89/336/CEE, 73/23/CEE e
respectivas alterações
posteriores.
● Nunca toque no
equipamento com as mãos ou
os pés molhados ou húmidos.
● Não utilize os seus
electrodomésticos quando
estiver descalça.
● Evite usar cabos de
extensão em compartimentos
com banheira ou chuveiro; se,
eventualmente, tiver de optar
por essa solução, faça-o com
o maior cuidado.
ATENÇÃO:
DURANTE O CICLO
DE LAVAGEM A ÁGUA
PODE ATINGIR UMA
TEMPERATURA DE 90°C.
● Antes de abrir a porta da
máquina de lavar roupa
certifique-se de que o tambor
já não tem água.
RU
ÏÀPÀÃPÀÔ 3
ÌÅPÛ
ÁÅÇÎÏÀÑÍÎÑÒÈ
ÂÍÈÌÀÍÈÅ!
ÏPÈ ËûÁÛÕ
ÎÏÅPÀÖÈßÕ óÈÑÒÊÈ
È ÒÅÕÍÈóÅÑÊÎÃÎ
ÎÁÑËÓÆÈÂÀÍÈß
ÑÒÈPÀËÜÍÎÉ
ÌÀØÈÍÛ:
EN
CHAPTER 3
SAFETY MEASURES
IMPORTANT:
FOR ALL CLEANING
AND MAINTENANCE
WORK
● îòêë˛÷èòå ñòèpàëüíó˛
● Remove the plug
ìàøèíó îò ñåòè è âûäåpíèòå
øòåïñåëü èç pîçåòêè;
● Turn off the water inlet tap.
● ïåpåêpîéòå êpàí ïîäà÷è
âîäû;
● All Candy appliances are
● Êàíäè îñíàùàåò âñå ñâîè
ìàøèíû êàáåëåì ñ
çàçåìëåíèåì. Óáåäèòåñü â
òîì, ÷òî çëåêòpîñåòü èìååò
çàçåìëåííûé ïpîâîä. Â
ñëó÷àå åãî îòñóòñòâèÿ,
íåîáõîäèìî îápàùàòüñÿ ê
êâàëèôèöèpîâàííîìó
ïåpñîíàëó.
Àïïàpàòópà ôèpìû
Êàíäè ñîîòâåòñòâóåò íîpìàì
ÅùÑ N 89/336, 73/23 íà
çëåêòpîîáîpóäîâàíèå;
● íå êàñàéòåñü ñòèpàëüíîé
ìàøèíû âëàæíûìè póêàìè è
íîãàìè;
● íå pàáîòàéòå ñî
ñòèpàëüíîé ìàøèíîé
áîñèêîì;
● íå ïpèìåíÿéòå óäëèíèòåëè
âî âëàæíûõ è ñûpûõ
ïîìåùåíèÿõ (âàííàÿ,
äóøåâàÿ êîìíàòà).
ÂÍÈÌÀÍÈÅ!
ÒÅÌÏÅPÀÒÓPÀ ÂÎÄÛ
ÂÎ ÂPÅÌß ÑÒÈPÊÈ
ÌÎÆÅÒ ÄÎÑÒÈÃÀÒÜ 90°Ñ.
● ïpåæäå ÷åì îòêpûòü
êpûøêó çàãpóçî÷íîãî ë˛êà,
óáåäèòåñü â îòñóòñòâèè âîäû
â áàpàáàíå.
earthed. Ensure that the main
electricity circuit is earthed.
Contact a qualified
electrician if this is not the
case.
This appliance
complies with Directives
89/336/EEC, 73/23/EEC and
following changes.
● Do not touch the appliance
with wet or damp hands or
feet.
● Do not use the appliance
when bare-footed.
● Extreme care should be
taken if extension leads are
used in bathrooms or shower
rooms. Avoid this where
possible.
WARNING: DURING THE
WASHING CYCLE, THE
WATER CAN REACH A
TEMPERATURE OF 90°C.
● Before opening the washing
machine door, ensure that
there is no water in the drum.
11
RO
FR
PT
RU
EN
● Nu utilizati adaptoare sau
triplustekere
● Ne pas utiliser
● Não utilize adaptadores ou
d'adaptateurs ou de prises
multiples.
● íå ïîëüçóéòåñü òpîéíèêàìè
fichas múltiplas.
è ïåpåõîäíèêàìè;
multiple plugs.
● Nu lasati copiii sa
intrebuinteze aparatul fara
supraveghere.
● Cet appareil ne doit pas
adultos incapazes de operarem
com electrodomésticos)
usem os equipamentos sem
supervisão.
● íå ïîçâîëÿéòå äåòÿì,
● Do not allow the appliance
èíâàëèäàì ïîëüçîâàòüñÿ
ìàøèíîé áåç Âàøåãî
íàáë˛äåíèÿ;
to be used by children or the
incompetent without due
supervision.
● Pour débrancher la prise,
● Nunca puxe pelo cabo ou
pelo próprio
electrodoméstico para retirar
a ficha do electrodoméstico
da tomada.
● íå òÿíèòå çà êàáåëü
● Do not pull the mains lead
ne pas tirer sur le câble.
● Nu trageti de cablu pentru a
scoate aparatul din priza
● Nu expuneti aparatul la agenti
atmosferici (razele soarelui,
ploaie etc.)
● In cazul in care ii mutati locul,
nu-l ridicati niciodata de
butoane sau de caseta de
detergent.
● In timpul transportului nu
sprijiniti hubloul de carucior
IMPORTANT!
In cazul in care aparatul se
instaleaza pe o pardoseala
acoperita cu covor sau
mocheta, trebuie avut grija ca
orificiile de ventilatie de la baza
aparatului sa nu fie acoperite.
● Pentru a ridica masina sunt
necesare 2 persoane precum in
imagine
être utilisé sans surveillance.
● Ne pas laisser la machine
cablului de alimentare, aceasta
se va face cu un cablu
disponibil la punctul service.
12
or the appliance itself to
remove the plug from the
socket.
● íå îñòàâëÿéòå ìàøèíó â
● Do not leave the
● Proteja o seu
electrodoméstico dos
elementos (chuva, sol, etc.).
óñëîâèÿõ àòìîñôåpíûõ
âîçäåéñòâèé (äîæäü, ñîëíöå è
ò.ï.);
appliance exposed to
atmospheric agents (rain, sun
etc.)
● En cas de déménagement
● Se tiver de deslocar a sua
● ïpè òpàíñïîpòèpîâêå íå
● In the case of removal,
máquina ou de a mudar de
lugar, nunca pegue nela
pelos botões ou pela gaveta
para detergente.
îïèpàéòå ìàøèíó åå ë˛êîì íà
òåëåæêó;
ne jamais soulever la
machine par les boutons ou
par le tiroir des produits
lessiviels.
● Pendant le transport ne
pas appuyer le hublot sur le
chariot.
Important!
Les ouvertures à la base de
l'appareil ne doivent en
aucun cas être obstruées par
des tapis, moquette ou
autres objets.
● 2 personnes pour soulever
● In cazul unei defectiuni si/sau
● Daca e necesara inlocuirea
ìàøèíû è ñàìó ìàøèíó äëÿ
îòêë˛÷åíèÿ åå îò
∋ëåêòpîñåòè;
exposée aux agents
atmosphériques (pluie, soleil,
etc...).
la machine (voir dessin).
functionari anormale, aparatul
se opreste, se inchide robinetul
de apa si nu se atinge masina.
Pentru o eventuala reparatie
trebuie sa va adresati unui
centru de asistenta tehnica
Candy solicitind piese originale
pentru orice inlocuiri.
Nerespectarea indicatiilor sus
mentionate pot compromite
securitatea masinii.
● Não deixe que crianças (ou
● Do not use adaptors or
● En cas de panne et/ou de
mauvais fonctionnement
éteindre la machine, fermer
le robinet d'alimentation
d'eau et ne pas toucher à la
machine. Pour toute
réparation adressez-vous
exclusivement à un centre
d'assistance technique
Candy en demandant des
pièces de rechange
certifiées constructeur. Le fait
de ne pas respecter les
indications susmentionnées
peut compromettre la
sécurité de l'appareil.
● Si le remplacement du
câble d'alimentation s'avère
nécessaire, il devra être
remplacé par un câble
special fourni par le service
après-vente.
● During transportation
● Durante o transporte nunca
do not lean the door against
the trolley.
deite a máquina sobre o lado
da porta.
Atenção: Se o electrodoméstico
for instalado num local
alcatifado,deverá assegurarse
de que as aberturas de
ventilação inferiores não fiquem
tapadas ou obstruídas.
● Tal como a figura ilustra, a
máquina deverá ser sempre
erguida por duas (2) pessoas.
Âàæíî!
 ñëó÷àå óñòàíîâêè ìàøèíû
íà ïîëó, ïîêpûòîì êîâpîì èëè
âîpñèñòûì ïîêpûòèåì,
íåîáõîäèìî îápàòèòü
âíèìàíèå íà òî, ÷òîáû
âåíòèëÿöèîííûå îòâåpñòèÿ
pàñïîëîæåííûå ñíèçó
ìàøèíû, íå áûëè çàêpûòû
âîpñîì.
● Se a sua máquina se avariar
● ïîäíèìàéòå ìàøèíó
ou deixar de trabalhar
correctamente, desligue-a,
feche a alimentação de
água e não tente repará-la.
Qualquer trabalho de
reparação deverá ser sempre
feito por um técnico
autorizado Candy, devendo
sempre ser instaladas peças
sobressalentes originais. O
incumprimento desta norma
poderá acarretar sérias
consequências para a
segurança dos
equipamentos.
● Se o cabo de alimentação
de energia, a ser ligado à
rede, estiver danificado,
deverá ser substituido por um
cabo específico, que poderá
adquirir directamente aos
serviços de Assistência
Técnica Candy.
never lift the appliance by
the knobs or detersive
drawer.
Important!
When the appliance
location is on carpet floors,
attention must be paid so as
to ensure that there is no
obstruction to the bottom
vents.
● Lift the appliance in pairs
as illustrated in the diagram.
âäâîåì, êàê ïîêàçàíî íà
pèñóíêå;
● In the case of failure
● â ñëó÷àå íåèñïpàâíîñòè èëè
ïëîõîé pàáîòû ìàøèíû,
îòêë˛÷èòå åå, çàêpîéòå êpàí
ïîäà÷è âîäû è íå ïîëüçóéòåñü
å˛. Äëÿ âîçìîæíîãî påìîíòà
îápàùàéòåñü òîëüêî â öåíòp
òåõîáñëóæèâàíèÿ Êàíäè è
òpåáóéòå èñïîëüçîâàíèÿ
îpèãèíàëüíûõ çàï÷àñòåé.
and/or incorrect operation,
turn the washing machine
off, close the water inlet tap
and do not tamper with the
appliance. Contact a Candy
Technical Assistance Centre
for any repairs and ask for
original Candy spare parts.
Avoidance of these norms
may compromise the safety
of the appliance.
Íåñîáë˛äåíèå çòèõ íîpì
ìîæåò ïpèâåñòè ê íàpóøåíè˛
áåçîïàñíîñòè ìàøèíû.;
● Åñëè êàáåëü ïèòàíèÿ
ïîâpåæàåí, íåîáõîàèìî
çàìåíèòü åãî ñïåöèÿëüíûì
êàáåëåì, êîòîpèé ìîæíî
íàèòé â ñëóæáå òåõíè÷åñêîãî
îáåñïå÷åíèÿ.
● Should the supply cord
(mains cable) be demaged,
this is to be replaced by a
specific cable available from
the after sales service centre.
13
FR
RO
PT
CHAPITRE 4
CAPITOLUL 4
CAPÍTULO 4
RU
ÏÀPÀÃPÀÔ 4
EN
CHAPTER 4
85
cm
52 cm
60 cm
CAPACITATE RUFE USCATE
CAPACITE DE LINGE
SEC
kg
5
CARGA MÁXIMA
(ROPA SECA)
Çàãpóçêà (ñóõîão áåëüÿ)
MAXIMUM WASH
LOAD DRY
APA NIVEL NORMAL
EAU NIVEAU NORMAL
l
19
NÍVEL DE ÁGUA NORMAL
Íopìàëüíûé ypoâåíü
âoäû
NORMAL WATER LEVEL
APA NIVEL ECONOMIC
NIVEAU ECONOMIQUE
DE L'AU
l
15
NÍVEL DE ÁGUA
ECONOMICO
∋êoíoìè÷íûé
ypîâåíü âoäû
ECONOMIC WATER LEVEL
PUTERE
ABSORBITA
PUISSANCE
ABSORBEE
W
2300
POTÊNCIA ABSORVIDA
Ïîòpåáëÿeìaÿ
ìoùíocòü
POWER INPUT
CONSUM DE ENERGIE
(PROG. 1)
CONSOMMATION ENERGIE
(PROG. 1)
kWh
2,0
CONSUMO DE ENERGIA
(PROG. 1)
Ïîòpåáëåíèå ∋íåpãèè
(ïpîãpàììà 1)
ENERGY CONSUMPTION
(PROG. 1)
AMPERAJUL
FUZIBILULUI
AMPERAGE
A
10
FUSÍVEL
∋ë. ïpeäoxpaíèòåëü
ROTATII CENTRIFUGA
(rot./min.)
ESSORAGE
(Tours/min.)
giri/min.
600
VELOCIDADE
DE ROTAÇÃO (r.p.m.)
Cêopocòü âpaùeíèÿ
öeíòpèôyãè (îá./ìèí)
SPIN
r.p.m.
PRESIUNEA IN INSTALATIA
HIDRAULICA
PRESSION DANS
L'INSTALLATION HYDRAULIQUE
MPa
min. 0,05
max. 0,8
PRESSÃO DO SISTEMA
HIDRÃULICO
Äàâëeíèe â
ãèäpaâëè÷ecêoé cècòeìe
WATER PRESSURE
TENSIUNE
TENSION
V
230
TENSÃO
Íàïpÿæåíèå â
ñåòè
SUPPLY
VOLTAGE
14
POWER CURRENT FUSE
AMP
15
RO
PT
CAPITOLUL 5
CHAPITRE 5
CAPÍTULO 5
INSTALARE
PUNEREA IN
FUNCTIUNE
MISE EN PLACE
INSTALLATION
INSTALAÇÃO
Puneti masina langa locul in
care va fi utilizata, fara partea
de jos a ambalajului.
Taiati benzile cu care este
legat tubul.
Desurubati surubul central (A),
cele 4 suruburi laterale (B) si
inlaturati panoul posterior (C).
Inclinati masina inainte si
scoateti pungile de plastic cu
cele doua bucati de polistiren
din lateral, tragindu-le in jos.
Montati dopul (gasit in punga
cu instructiunile) in orificiu.
ATENTIE: NU LASATI
AMBALAJUL LA
INDEMANA COPIILOR,
ACESTA FIIND O
POTENTIALA SURSA DE
PERICOL.
16
FR
Placer la machine sur le lieu
d'utilisation sans le socle
d'emballage.
Couper les colliers
serre-tubes
Dévisser la vis centrale (A);
dévisser les 4 vis latérales (B)
et enlever l'axe (C).
Incliner la machine en avant
et enlever les sachets en
plastique qui contennent les
2 arrêts en polystyrène qui
se trouvent sur les 2 côtés en
tirant vers le bas.
Refermer le trou en utilisant
le bouchon qui se trouvè
dans le sachet "instructions".
ATTENTION:
NE PAS LAISSER À LA
PORTÉE DES ENFANTS
DES ELEMENTS
D'EMBALLAGE QUI
PEUVENT CAUSER DES
RISQUES.
Coloque a máquina, sem a
base da embalagem, perto
do local onde vai ficar
permanentemente
instalada.
Corte a tira que prende os
tubos e o cabo eléctrico.
Desaperte o parafuso
central (A); desaperte os
quatro parafusos laterais (B)
e retire a barra (C).
Com a ajuda de outra
pessoa incline o aparelho
para a frente e solte os
sacos de plástico contendo
os dois blocos de esferovite
de ambos os lados,
puxando-os para baixo.
Tape a abertura com o
bujão (fornecido
juntamente com a
máquina, no envelope que
contém o manual de
instruçóes).
ATENÇÃO:
NÃO DEIXE A
EMBALAGEM DA
MÁQUINA OU OS SEUS
COMPONENTES AO
ALCANCE DE
CRIANÇAS: ELA É UMA
POTENCIAL FONTE DE
PERIGO.
RU
ÏÀPÀÃPÀÔ 5
EN
CHAPTER 5
ÓÑÒÀÍÎÂÊÀ
SETTING UP
INSTALLATION
Ïîìåñòèòå ìàøèíó âáëèçè
ìåñòà åå èñïîëüçîâàíèÿ áåç
ïîäñòàâêè è óïàêîâêè.
Move the machine near its
permanent position without
the packaging base.
Îòpåæüòå ëåíòû, êpåïÿùèå
øëàíã.
Cut tube-holding straps.
Îòêpóòèòå öåíòpàëüíûé áîëò
(A), 4 áîêîâûõ áîëòà (B) è
îòñîåäèíèòå òpàâåpñó (C).
Unscrew the central screw
(A); unscrew the 4 lateral
screws (B) and remove the
cross piece (C).
Hàêëîíèòå ìàøèíó âïåpåä è
âûòàùèòå äâà ïëàñòèêîâûõ
ïàêåòà, ñîäåpæàùèõ äâà
çàùèòíûõ ∋ëåìåíòà èç
ïîëèñòèpîëà, ïîòÿíóâ âíèç.
Lean the machine forward
and remove the plastic
bags containing the two
polystyrene blocks at the
sides, pulling downwards.
Çàêpîéòå îòâåpñòèå ïpîáêîé,
êîòîpàÿ íàõîäèòñÿ â ïàêåòå ñ
èíñòpóêöèåé.
Press the plug (to be found
in the envelope with the
instructions) into the hole.
ÂÍÈÌÀÍÈÅ!
ÍÅ ÎÑÒÀÂËßÉÒÅ
∋ËÅÌÅÍÒÛ
ÓÏÀÊÎÂÊÈ ÄÅÒßÌ
ÄËß ÈÃP.
WARNING:
DO NOT LEAVE THE
PACKAGING IN THE
REACH OF CHILDREN AS
IT IS A POTENTIAL
SOURCE OF DANGER.
17
RO
FR
PT
RU
EN
Aplicati folia suplimentara pe
baza masinii ca in figura.
Appliquer la feuille
supplémentaire sur le fond
comme dans la figure.
Fixe a placa de material
ondulado no fundo da
mãquina, da forma
indicada na figura.
Çaêpeïèòå ∧ècò
ãoôpèpoâaííoão ìaòåpèa∧a
ía äíe, êaê ïoêaçaío ía
pècyíêe.
Fix the sheet of corrugated
material on the bottom as
shown in picture.
Conectati tubul de apa la
robinet.
Raccorder le tube de l'eau
aux robinets.
Ïpèñîåäèíèòå òpóáó ê
âîäîïpîâîäíîìó êpàíó è ê
ìàøèíå.
Connect the fill hose
to the tap.
Aparatul trebuie conectat la
reteaua de alimentare cu apa,
folosind exclusiv furtunele din
dotare.
L'appareil doit être relié à
l'arrivée d'eau exlusivement
avec les tuyaux fournis .
Ne pas réutiliser les anciens
tuyaux .
Ligue a mangueira de
admissão de água à
torneira de alimentação.
Os acessórios devem estar
ligados à torneira da água,
usando mangueiras novas.
As mangueiras não devem
ser reutilizadas.
èË·Ó ‰ÓÎÊÂÌ ·˚Ú¸ ÔÓ‰ÒÓ‰ËÌÂÌ
Í 'Ó‰ÓÔÓ'Ó‰Û ÔË ÔÓÏÓ˘Ë ÌÓ'˚ı
ÒÓ‰ËÌËÚÂθÌ˚ı ¯Î‡Ì"Ó'. çÂ
ËÒÔÓθÁÛÈÚ ÒÚ‡˚ ¯Î‡Ì"Ë Ë
ÒÓ‰ËÌÂÌËfl.
The appliance must be
connected to the water
mains using new hose-sets.
The old hose-sets should not
be reused.
ATENTIE:
NU DESCHIDETI IN
ACEST MOMENT
ROBINETUL.
Asezati masina langa perete si
puneti tubul de evacuare la
marginea cazii, avand grija ca
acesta sa nu fie strangulat sau
indoit.
Este mai bine sa conectati
tubul la o teava de evacuare
fixa care trebuie sa aiba un
diametru mai mare decat cel al
tubului si o inaltime minima de
50 cm. Daca este necesar
utilizati cotul rigid din dotare.
ATENÇÃO:
NÃO ABRA A TORNEIRA!
ATTENTION:
NE PAS OUVRIR LE
ROBINET
Encoste a máquina à
parede.
Approcher la machine
contre le mur en faisant
attention à ce que le tuyau
n'ait ni coudes ni
étranglements.
Prenda o fim da mangueira
de esgoto por cima da
borda da bacia ou do tubo
de descarga, assegurando-se de que não esteja
torcida ou dobrada.
Sempre que possível, utilize
um tubo de esgoto fixo com
um diâmetro superior ao da
mangueira de esgoto da
máquina de lavar, a fim de
permitir a saída do ar.
O topo da mangueira de
esgoto deverá estar a uma
altura mínima de 50 cm.
Raccorder le tuyau de
vidange au rebord de la
baignoire ou, mieux encore,
à un dispositif fixe
d'évacuation, hauteur mini.
50 cm et de diamètre
supérieur au tuyau de la
machine à laver.
En cas de besoin, utiliser le
coude rigide livré avec la
machine.
Se necessário use a curva
rígida fornecida juntamente
com a máquina.
Âíèìàíèå!
Íå îòêpûâàéòå
âîäîïpîâîäíûé êpàí.
Ïpèäâèíüòå ìàøèíó ê ñòåíå,
îápàùàÿ âíèìàíèå íà òî,
÷òîáû îòñóòñòâîâàëè
ïåpåãèáû, çàæèìû òpóá,
çàêpåïèòå ñëèâíó˛ òpóáó íà
áîpòó pàêîâèíû èëè ëó÷øå ê
êàíàëèçàöèîííîé òpóáå ñ
ìèíèìàëüíîé âûñîòîé íàä
ópîâíåì ïîëà 50 ñì è
äèàìåòpîì áîëüøå
äèàìåòpà ñëèâíîé òpóáêè.
 ñëó÷àå íåîáõîäèìîñòè
èñïîëüçóéòå æåñòêîå
óñòpîéñòâî äëÿ ñãèáà
ñëèâíîé òpóáû.
+2,6 mt max
min 50 cm
max 85 cm
max 100 cm
max 100 cm
Position the washing
machine next to the wall.
Hook the outlet tube to the
edge of the bath tub,
paying attention that there
are no bends or
contractions along the tube.
It is better to connect the
discharge hose to a fixed
outlet of a diameter greater
than that of the outlet tube
and at a height of min. 50
cm. If is necessary to use the
plastic sleeve supplied.
min 4 cm
min 4 cm
18
IMPORTANT:
DO NOT TURN THE TAP
ON AT THIS TIME.
+2,6 mt max
min 50 cm
max 85 cm
19
RO
FR
PT
RU
EN
Echilibrati masina cu ajutorul
picioruselor din fata.
Mettre la machine avec les
pieds avant.
Nivele a máquina regulando
a altura dois pés dianteiros.
Óñòàíîâèòå ìàøèíó ïî
ópîâíю ñ ïîìîùüю ïåpåäíèõ
íîæåê.
Use front feet to level the
machine with the floor.
a) Rotiti piulita in sens orar
pentru a debloca surubul
piciorusului.
a) Tourner dans le sens des
aiguilles d'une montre
l'écrou de façon à
dévérouiller la vis du pied.
a) Rode a porca no sentido
dos ponteiros do relógio
para soltar a rosca de
fixação do pé.
a) ïîâåpíèòå ïî ÷àñîâîé
ñòpåëêå ãàéêó, ÷òîáû
pàçáëîêèpîâàòü âèíò íîæêè.
a) Turn the nut clockwise to
release the screw adjuster of
the foot.
b) Rode a pé para o erguer
ou baixar até estar
firmemente assente no chão.
b) âpàùàÿ íîæêó, ïîäíèìèòå
èëè îïóñòèòå ìàøèíó äî
õîpîøåé åå îïîpû íà ïîë.
b) Rotate foot to raise or
lower it until it stands firmly on
the ground.
c) Fixe o pé nessa posição
rodando a porca no sentido
contrário co dos ponteiros
do relógio até embater no
fundo da máquina.
c) çàáëîêèpóéòå âèíò íîæêè,
çàòÿíóâ ãàéêó ïpîòèâ
÷àñîâîé ñòpåëêè äî óïîpà.
c) Lock the foot in position
by turning the nut anticlockwise until it comes up
against the bottom of the
machine.
A
b) Rotiti piciorusul si coborati-l
sau inaltati-l pentru a obtine o
aderenta perfecta la sol.
b) Tourner le pied et le faire
monter ou descendre
jusqu'à obtenir une parfaite
adhérence au sol.
c) Blocati piciorusul rotind
piulita in sens invers acelor de
ceasornic pana la capat.
c) Enfin bloquer le pied en
revissant l'écrou dans le sens
inverse des aiguilles d'une
montre et le faire adhérer au
fond de la machine.
Asigurati-va ca butonul
Pornit/Oprit (C) nu este apasat.
Vérifier que le bouton
Marche/Arrêt (C) ne soit pas
enfoncé.
Assegure-se de que a tecla
de ligar/desligar (C) não
esteja premida.
Óáåäèòåñü â òîì, ÷òîáû
êëàâèøà âêë/âûêë C íå áûëà
íàæàòà.
Ensure that the Off/On
button (C) is not pressed.
Asigurati-va ca toate butoanele
sunt in pozitia "0" si hubloul
este inchis.
Vérifier que toutes les
manettes soient sur la
position "0" et que le hublot
soit fermé.
Assegure-se de que todos os
botões da máquina estejam
colocados na posição "0" e
de que a porta da máquina
esteja fechada.
Óáåäèòåñü â òîì, ÷òîáû âñå
pó÷êè íàõîäèëèñü â
ïîëîæåíèè Î, à ëюê çàêpûò.
Ensure that all the knobs are
on the "0" position and that
the door is closed.
Introduceti stekerul in priza.
Brancher la prise.
Ligue a máquina à corrente,
inserindo a ficha do
respectivo cabo de
alimentação na tomada.
Âêëю÷èòå âèëêó â pîçåòêó.
Insert the plug.
Aparatul trebuie pozitionat
astfel incit stecherul sa poata fi
introdus in priza cu usurinta.
Une fois l'appareil installé, la
prise électrique doit rester
accessible.
Depois da instalação, os
acessórios devem estar
posicionados, pelo que a
tomada deve estar num
local acessível.
èÓÒΠÔÓ‰ÒÓ‰ËÌÂÌËfl ÔË·Ó
‰ÓÎÊÂÌ ·˚Ú¸ ‡ÒÔÓÎÓÊÂÌ Ú‡ÍËÏ
Ó·‡ÁÓÏ, ˜ÚÓ·˚ ÓÁÂÚ͇ ·˚·
‰ÓÒÚÛÔÌÓÈ.
After installation, the
appliance must be
positioned so that the plug is
accessible.
20
B
C
21
RO
CAPITOLUL 6
FR
PT
CHAPITRE 6
CAPÍTULO 6
I
A
C DE
RU
ÏÀPÀÃPÀÔ 6
EN
CHAPTER 6
L
N
B
DESCRIÇÃO
DOS COMANDOS
Îïèñàíèå êîìàíä
CONTROLS
Gaveta para detergente
Êîíòåéíåp äëÿ ìî˛ùèõ
ñpåäñòâ
Detergent drawer
B
Manipulo para abrir a porta
êìäéüíäÄ ãûäÄ
Door handle
Touche marche/arrêt
C
Tecla de ligar/desligar
Êëàâèøà âêë/âûêë
Off/On button
Buton incarcare
Touche niveau economiseur
D
Tecla de carga reduzida
Êíoïêa ∋êoíoìè÷íoão ópoâíÿ
âoäû ïpè ïoëoâèííoé
çaãpóçêe
Reduced water level
Buton excludere
centrifugare
Touche exclusion essorage
E
Tecla de eliminação da
centrifugação
Êëàâèøà îòêë˛÷åíèÿ
öåíòpèôóãè
No spin button
Buton reglare temperatura
de spalare
Manette de réglage de
température de lavage
I
Botão de selecção da
temperatura de lavagem
Pó÷êà påãóëèpîâêè
òåìïåpàòópû ñòèpêè
Wash control temperature
knob
Buton programe de spalare
Manette des programmes
de lavage
L
Botão de selecção do
programa de lavagem
Pó÷êà ïpîãpàìì ñòèpêè
Timer knob for wash
programmes
Indicatorul luminos pentru
hublou inchis
Voyant hublot sécurise
N
Indicador luminoso de fecho
de porta
Ë̉Ë͇ÚÓ ·ÎÓÍËÓ'ÍË ‰'Âˆ˚
β͇
Door locked indicator light
COMENZI
COMMANDES
Caseta detergent
Bacs à produits
A
Deschiderea hubloului
Poignée d'ouverture du
hublot
Buton pornit/oprit
22
23
RO
DESCRIERE
COMENZI
DESCRIPTION DES
COMMANDES
DESCHIDEREA
HUBLOULUI
POIGNEE D'OUVERTURE DU
HUBLOT
Pentru deschiderea
hubloului, apasati butonul
aflat in interiorul sau.
Pour ouvrir le hublot
actionner le bouton dans
la poignée.
ATENTIE: UN
DISPOZITIV SPECIAL
DE SIGURANTA
IMPIEDICA
DESCHIDEREA
IMEDIATA A HUBLOULUI
LA SFARSITUL
SPALARII.
DUPA TERMINAREA
CENTRIFUGARII
ASTEPTATI DOUA
MINUTE INAINTE DE A
DESCHIDE HUBLOUL.
PT
FR
ATTENTION:
UN DISPOSITIF SPECIAL
DE SECURITE EMPECHE
L'OUVERTURE
IMMEDIATE DU HUBLOT
A LA FIN DU LAVAGE.
APRES LA PHASE
D'ESSORAGE, ATTENDRE
2 MINUTES AVANT
D'OUVRIR LE HUBLOT.
B
EN
DESCRIÇÃO DOS
COMANDOS
ÍÀÇÍÀóÅÍÈÅ
ÊÍÎÏÎÊ
DESCRIPTION OF
CONTROL
MANIPULO PARA ABRIR A
PORTA
êìäéüíäÄ ãûäÄ
DOOR HANDLE
Pressione o botão no
manípulo para abrir a porta
2 min.
RU
ATENÇÃO:
UM DISPOSITIVO
DE SEGURANÇA
ESPECIAL IMPEDE
A ABERTURA DA PORTA
NO FIM DO CICLO DE
LAVAGEM.
UMA VEZ CONCLUÍDO O
CICLO DE
CENTRIFUGAÇÃO
DEVERÁ ESPERAR 2
MINUTOS PARA PODER
ABRIR A PORTA.
óÚÓ·˚ ÓÚÍ˚Ú¸ βÍ, ̇ÊÏËÚ ̇
Í·'Ë¯Û ' ÛÍÓflÚÍÂ.
Âíèìàíèå!
Ñïåöèàëüíîå
óñòpîéñòâî
áåçîïàñíîñòè íå
ïîçâîëÿåò
íåìåäëåííî îòêpûòü
ëюê â êîíöå ñòèpêè. Â
êîíöå ôàçû îòæèìà
öåíòpèôóãîé ñëåäóåò
ïîäoæäàòü 2 ìèíóòû,
ïpåæäå ÷åì îòêpûòü
ëюê.
Press the finger-bar inside
the door handle to open the
door
IMPORTANT:
A SPECIAL SAFETY
DEVICE PREVENTS THE
DOOR FROM OPENING
AT THE END OF THE
WASH/SPIN CYCLE. AT
THE END OF THE SPIN
PHASE WAIT UP TO 2
MINUTES BEFORE
OPENING THE DOOR.
BUTON PORNIT/OPRIT
TOUCHE MARCHE/ARRET
C
TECLA DE LIGAR/DESLIGAR
Êíîïêà Âêë/Âûêë
OFF/ON BUTTON
BUTON INCARCARE
TOUCHE NIVEAU
ECONOMISEUR 1/2
D
TECLA DE CARGA REDUZIDA
äçéèäÄ áäéçéåàóçéÉé
ìêéÇçü ÇéÑõ èêà
èéãéÇàççéâ áÄÉêìáäÖ
REDUCED WATER LEVEL
Pentru cantitati reduse de rufe
se poate reduce nivelul de apa
utilizata apasand butonul fi
economisindu-se in acest fel
apa, detergent si energie
electrica. Cantitatea de
detergent trebui redusa
proportional cu incarcatura.
ATENTIE: pentru rufele
delicate sau "lana pura" nu
apasati niciodata acest buton.
Pentru rezultate bune ale
spalarii acest tip de rufe
necesita n nivel ridicat de apa
24
La machine peut avoir deux
niveaux d'eau différents.
Quand le poids du linge,
dans les programmes pour
tissus résistants n'atteint pas
la charge complète on peut
utiliser le niveau réduit qui
permet une économie
d'eau, de lessive et
d'énergie électrique.
Appuyer sur la touche
correspondante au symbole
indiqué.
ATTENTION! Pour tissus
délicats et trés délicats,
la touche "Niveau
Economiseur" ne doit
pas être enclenchée.
Quando lavar quantidades
de roupa pequenas, pode
reduzir o nível de água
desde a impregnação até
ao enxaguamento,
bastando, para tal, pressionar
a tecla 1/2. Desta forma,
além de poupar água,
estará também a poupar
electricidade e detergente.
ATENÇÃO: NUNCA pressione
a tecla 1/2 quando estiver a
lavar peças de PURA LÃ
VIRGEM, pois a lã absorve
água e necessita, portanto,
de toda a água que a
máquina for capaz de
conter. NÃO UTILIZE ESTA
OPÇÃO para tecidos
delicados, pois eles
necessitam da quantidade
extra de água para
flutuarem nela e, assim, serem
protegidos.
ÑÎfl ÒÚËÍË Ì·Óθ¯Ó"Ó ÍÓ΢ÂÒÚ'‡
·Âθfl ÔË ÔÓÏÓ˘Ë ÍÌÓÔÍË 1/2
ÏÓÊÌÓ ÛÏÂ̸¯ËÚ¸ ÍÓ΢ÂÒÚ'Ó
ËÒÔÓθÁÛÂÏÓÈ 'Ó‰˚,
ÒÁÍÓÌÓÏË', Ú‡ÍËÏ Ó·‡ÁÓÏ, ÌÂ
ÚÓθÍÓ 'Ó‰Û, ÌÓ Ë ÁÎÂÍÚÓ˝ÌÂ"˲ Ë
ÒÚË‡Î¸Ì˚È ÔÓÓ¯ÓÍ.
äÓ΢ÂÒÚ'Ó ÔÓӯ͇ ‰ÓÎÊÌÓ ·˚Ú¸
ÛÏÂ̸¯ÂÌÓ ' ÒÓÓÚ'ÂÚÒÚ'ËË Ò
ÍÓ΢ÂÒÚ'ÓÏ 'Ó‰˚.
ÇçàåÄçàÖ: ç ËÒÔÓθÁÓ'‡Ú¸
‰‡ÌÌÛ˛ ÍÌÓÔÍÛ ‰Îfl ÒÚËÍË
˜ËÒÚÓ¯ÂÒÚflÌ˚ı ËÁ‰ÂÎËÈ Ë
ËÁ‰ÂÎËÈ ËÁ ‰ÂÎË͇ÚÌ˚ı Ú͇ÌÂÈ.
‰Îfl ‰ÓÒÚËÊÂÌËfl ̇ËÎÛ˜¯Ëı
ÂÁÛθڇÚÓ' ÒÚËÍË ÔÓ‰Ó·Ì˚ı
Ú͇ÌÂÈ ÌÂÓ·ıÓ‰ËÏÓ Ï‡ÍÒËχθÌÓÂ
ÍÓ΢ÂÒÚ'Ó 'Ó‰˚.
The water level for a small
wash may be reduced right
through the wash from
soaking to rinsing by pressing
the 1/2 pushbutton, this way
you will save electricity,
detergent, and water too.
WARNING: NEVER press the
1/2 pushbutton when you
are washing PURE NEW
WOOL, since wool absorbs
water and therefore needs
all the water the machine
will hold. DO NOT use it for
delicate fabrics either, since
they need the extra water to
float them and protect
them.
25
RO
BUTON EXCLUDERE
CENTRIFUGARE
TOUCHE EXCLUSION
ESSORAGE
Apasand acest buton se obtine
excluderea tuturor
centrifugarilor. Aceasta
operatiune este utila atat in
cazul programelor la 90° cat si
la 60°, in cazul spalarii
tesaturilor ce prezinta
tratamente de finisare
particulare sau pentru articole
delicate din fibre mixte.
L'operation d'exclusion
essorage est
particulièrement utile dans
les programmes à 90°C et à
60°C, en cas de lavage de
tissus qui ont eu des
traitements particuliers
(genre cottonova,
permanent press), ou bien
pour des tissus délicats en
fibres mixtes.
BUTON DE REGLARE A
TEMPERATURII DE
SPALARE
MANETTE DE REGLAGE DE LA
TEMPERATURE DE LAVAGE
SE POATE ROTI IN
AMBELE SENSURI.
Aparatul este dotat cu acest
dispozitiv pentru a stabili
temperatura de spalare dorita.
Tabelul cu programe de
spalare indica temperatura
maxima recomandata pentru
tipul de spalare.
ATENTIE: ACEASTA
TEMPERATURA NU
TREBUIE NICIODATA
DEPASITA
26
PT
FR
ELLE PEUT TOURNER
DANS LES DEUX SENS
Cette machine à laver est
pourvue de ce dispositif
pour déterminer la
température de lavage
désirée.
Le tableau des programmes
de lavage indique la
température maxi.
conseillée pour ce type de
lavage.
ATTENTION! NE JAMAIS
LA DEPASSER
E
I
RU
EN
TECLA DE ELIMINAÇÃO DA
CENTRIFUGAÇÃO
Êëàâèøà oòêë˛÷åíèÿ
öåíòpèôyãè
NO SPIN BUTTON
Sempre que pressionar esta
tecla, surge no mostrador de
controlo um símbolo (que
significa "centrifugação")
com uma cruz. Isto significa
que a operação de
centrifugação foi eliminada
de todos os programas,
passando a decorrer então
sem centrifugação.
Aconselha-se a utilização
desta tecla nos programas de
lavagem a 90°C e 60°C, por
exemplo, no caso dos tecidos
com tratamentos especiais
(Cottonova e plissados) e dos
tecidos mistos e delicados.
Íàæàâ íà çòó êëàâèøó, Âû
îòêë˛÷èòå âñå ïpîãpàììû
îòæèìà áåëüÿ. ùòà îïåpàöèÿ
ïîëåçíà íà ïpîãpàììàõ
ñòèpêè ñ òåìïåpàòópîé 90°Ñ
è 60°Ñ áåëüÿ, ïpîøåäøåãî
îñîáó˛ îòäåëêó (ïëèññå,
ãîôpå è ïp.) èëè èçäåëèé èç
ñìåñîâûõ ñèíòåòè÷åñêèõ
âîëîêîí.
By pressing this button it is
possible to eliminate the spindrying on all programmes.
This operation is suitable for
programmes at 90°C and at
60°C in case of special
treated fabrics (cottonova or
permanent press) or for
mixed delicate fabrics.
BOTÃO DE SELECÇÃO DA
TEMPERATURA DE LAVAGEM
Pó÷êà påãóëèpîâêè
òåìïåpàòópû ñòèpêè
WASH TEMPERATURE
CONTROL KNOB
ESTE BOTÃO RODA EM
AMBAS AS DIRECÇõES
Este botão permite
seleccionar a temperatura
desejada para a lavagem
pretendida.
A tabela dos programas de
lavagem indica sempre a
temperatura máxima
recomendada para cada
tipo de lavagem.
ATENÇÃO:
ESTA TEMPERATURA
NUNCA DEVERÁ SER
EXCEDIDA.
Äîïóñêàåòñÿ
âpàùåíèå â îáîèõ
íàïpàâëåíèÿõ.
ùòè ìàøèíû èìå˛ò påãóëÿòîp
òåìïåpàòópû âîäû,
âûápàííîé Âàìè äëÿ ñòèpêè.
Òàáëèöà ïpîãpàìì ñòèpêè
óêàçûâàåò ìàêñèìàëüíó˛
òåìïåpàòópó, påêîìåíäóåìó˛
äëÿ äàííîãî âèäà ñòèpêè.
Âíèìàíèå!
Òåìïåpàòópà,
âûáèpàåìàÿ Âàìè, íå
äîëæíà ïpåâûøàòü
ìàêñèìàëüíó˛
òåìïåpàòópó,
påêîìåíäóåìó˛
ïpîãpàììîé ñòèpêè.
ROTATES IN BOTH
DIRECTIONS
With this device it is possible
to reduce, but no increase
washing cycle temperature.
The table of programmes
indicate the maximum
temperature advised for
each type of wash.
WARNING: THIS
TEMPERATURE MUST
NEVER BE EXCEEDED
27
RO
BUTON PROGRAME DE
SPALARE
ATENTIE: NU ROTITI
NICIODATA BUTONUL IN
SENS ANTIORAR CI
NUMAI IN SENS ORAR
SI NU APASATI
BUTONUL (C) INAINTE
DE SELECTAREA
PROGRAMULUI.
MANETTE DES PROGRAMMES
DE LAVAGE
Les tableaux indiquent quel
est le programme de lavage
selon le numéro ou le
symbole choisi.
INDICATORUL LUMINOS
PENTRU HUBLOU INCHIS
VOYANT HUBLOT SÉCURISE
28
BOTÃO DE SELECÇÃO DO
PROGRAMA DE LAVAGEM
L
ATTENTION:
NE JAMAIS FAIRE
TOURNER LA POIGNEE
DANS LE SENS
CONTRAIRE A CELUI
DES AIGUILLES D'UNE
MONTRE: TOURNER LA
MANETTE DANS LE SENS
HORAIRE ET NE JAMAIS
APPUYER SUR LA
TOUCHE DE MARCHE
(C) AVANT D'AVOIR
EFFECTUÉ LA
SELECTION DU
PROGRAMME.
Tabelul indica programul de
spalare in baza numarului sau
simbolului ales.
Indicatorul luminos pentru
hublou inchis este aprins in
momentul in care hubloul este
complet inchis (numai dupa ce
butonul On/Off este apasat).
La sfarsitul ciclului de spalare
cand indicatorul se stinge se
poate opri masina de spalat si
se poate deschide hubloul.
PT
FR
Cet voyant est allumé de
que l'hublot est
correctement fermé et la
touche marche/pause
sélectionné.
Vous pouvez éteignez votre
lave linge et ouvrir l' hublot
des que le voyant est éteint.
ATENÇÃO:
RODE SEMPRE O
BOTÃO NO SENTIDO
DOS PONTEIROS DO
RELO´GIO E NUNCA
NO SENTIDO
CONTRÁRIO. NUNCA
PRESSIONE A TECLA DE
LIGAR/DESLIGAR (C)
PARA LIGAR A
MÁQUINA ANTES
DE SELECCIONAR
O PROGRAMA
DE LAVAGEM QUE
PRETENDE.
OK
N
RU
Pó÷êà ïpîãpàìì ñòèpêè
EN
TIMER KNOB FOR WASH
PROGRAMMES
Âíèìàíèå!
Íå âpàùàéòå pó÷êó
ïpîòèâ ÷àñîâîé
ñòpåëêè, à òîëüêî ïî
÷àñîâîé ñòpåëêå è íå
íàæèìàéòå êëàâèøó
âêë/âûêë (C) äî
âûáîpà è óñòàíîâêè
ïpîãpàììû.
IMPORTANT:
ALWAYS ROTATE THE
KNOB IN A CLOCKWISE
DIRECTION, NEVER IN
AN ANTI-CLOCKWISE
DIRECTION. DO NOT
PRESS THE "ON" BUTTON
(C) BEFORE SELECTING
THE PROGRAMME
As tabelas de programas
descrevem os programas de
lavagem com base no
número do programa ou no
símbolo seleccionado.
Òàáëèöû îïèñûâà˛ò
ïpîãpàììó ñòèpêè íà îñíîâå
âûápàííûõ öèôpû èëè
ñèìâîëà.
The tables describe the
washing programme on the
basis of the number or
symbol chosen.
INDICADOR LUMINOSO DE
FECHO DE PORTA
àçÑàäÄíéê ÅãéäàêéÇäà
ÑÇÖêñõ ãûäÄ
à̉Ë͇ÚÓ ·ÎÓÍËÓ'ÍË ‰'ÂË
Ò'ÂÚËÚÒfl ÍÓ"‰‡ ‰'Âˆ‡ β͇
ÔÓÎÌÓÒÚ¸˛ Á‡Í˚Ú‡ (ÚÓθÍÓ ÔÓÒÎÂ
̇ʇÚËfl ÍÌÓÔÍË On/Off).
èÓ ÓÍÓ̘‡ÌËË ˆËÍ·, ÍÓ"‰‡
Ë̉Ë͇ÚÓ ÔÓ"‡ÒÌÂÚ, ÏÓÊÌÓ
'˚Íβ˜ËÚ¸ χ¯ËÌÛ Ë ÓÚÍ˚Ú¸
‰'ÂˆÛ β͇.
DOOR LOCKED INDICATOR LIGHT
O indicador luminoso de
fecho de porta acende
quando a porta está
totalmente fechada (só
depois é que o botão
LIGAR/DESLIGAR é
pressionado).
No fim do ciclo, quando a luz
se apagar será possível
desligar o aparelho
e abrir a porta.
Door locked indicator light is
illuminated when the door is fully
closed (only after that On/Off
button is pressed).
At the end of the cycle when
the light will go out is possible
switch off the appliance and
open the door.
29
RO
FR
CAPITOLUL 7
CHAPITRE 7
CASETA DE
DETERGENTI
TIROIR A LESSIVE
Caseta de detergenti este
împartita în 3
compartimente:
– Compartimentul I detergent pentru ciclul
de prespalare
✿
– Compartimentul
este pentru aditivi
speciali, balsamuri,
parfumuri, inalbitori, etc.
– Compartimentul II detergent pentru ciclul
principal de spalare.
Daca e folosit detergent
lichid va rugam folositi
containerul specialce se
introduce in
compartimentul II al
casetei. Acesta asigura ca
detergentul lichid sa
patrunda in tambur la
momentul potrivit al ciclului
de spalare.
IMPORTANT:
ANUMITI DETERGENTI
SUNT GREU DE
INDEPARTAT. DE ACEEA
RECOMANDAM
FOLOSIREA UNUI
DISPENSER SPECIAL CE
VA FI PLASAT IN
TAMBUR.
ATENTIE: FOLOSITI
PRODUSE LICHIDE
NUMAI IN
COMPARTIMENTUL ✿.
MASINA E
PROGRAMATA SA
FOLOSEASCA
AUTOMAT ADITIVIIN
TIMPUL ULTIMEI FAZE A
CLATIRII PENTRU TOATE
CICLURILE DE SPALARE.
30
Le tiroir à lessive est divisé en
3 petits bacs:
– le bac marquée du
symbole "I" sert pour la
lessive destinée au
prélavage;
– le bac marquée du
✿
symbole " " sert pour
des additifs spéciaux:
adoucisseurs, parfums,
amidon, produits pour
l'azurage, etc;
– le bac marquée du
symbole "II" sert pour la
lessive destinée au
lavage.
Si vous souhaitez utiliser une
lessive liquide, un récipient
spécial peut être inséré
dans la section "II" du tiroir à
lessive. Grâce à ce système,
la lessive s'écoulera dans le
tambour seulement au bon
moment.
ATTENTION :
NOUS RAPPELONS QUE
CERTAINS PRODUITS
ONT DES DIFFICULTÉS A
ÊTRE ÉVACUÉS; DANS
CE CAS NOUS VOUS
CONSEILLONS D'UTILISER
LE DOSEUR QUI VA
DIRECTEMENT DANS LE
TAMBOUR.
ATTENTION :
DANS LE BAC
MARQUÉE DU SYMBOLE
"✿" N'INTRODUIRE
QUE DES PRODUITS
LIQUIDES. LA MACHINE
EST PROGRAMMÉE DE
MANIÈRE À
AUTOMATIQUEMENT
ABSORBER LES
PRODUITS
COMPLÉMENTAIRES
PENDANT LE DERNIER
RINÇAGE DE TOUS LES
CYCLES DE LAVAGE.
PT
RU
EN
CAPÍTULO 7
ÏÀPÀÃPÀÔ 7
CHAPTER 7
COLOCAÇÃO DO
DETERGENTE
GAVETA PARA
DETERGENTE
ÊÎÍÒÅÉÍÅP
ÄËß ÌÎюÙÈÕ
ÑPÅÄÑÒÂ
DETERGENT
DRAWER
A gaveta para detergente está
dividida em 3 compartimentos:
- O compartimiento,
indicado com "I", destinase ao detergente da prélavagem.
- O compartimento
destina-se a aditivoss
especiais, amaciadores,
perfumes, gomas,
branqueadores, etc.
- O compartimiento
indicado com "II", é para o
detergente da lavagem
principal.
✿
No caso dos detergentes
líquidos, utilize o recipiente
próprio, semelhante ao
representado na figura, e que
deverá ser introduzido no
tambor, sobre a roupa.
ATENÇÃO:
LEMBRE-SE DE QUE
ALGUNS DETERGENTES
SÃO DIFÍCEIS DE
REMOVER.
RECOMENDAMOS QUE,
NESSE CASO, UTILIZE O
RECIPIENTE ESPECIAL PARA
O DETERGENTE,
QUE DEVERÁ SER
DIRECTAMENTE
COLOCADO NO TAMBOR.
✿
NO COMPARTIMENTO " "
USAR APENAS PRODUTOS
LÍQUIDOS. A MÁQUINA
ESTÁ DIRECCIONADA À
PRÉ LAVAGEM
AUTOMÁTICA DOS
ADITIVOS DURANTE O
ÚLTIMO
REENXAGUAMENTO TODOS
OS CICLOS DE LAVAGEM.
éÚ‰ÂÎÂÌË ‰Îfl ÏÓ˛˘Ëı Ò‰ÒÚ'
‡Á‰ÂÎÂÌÓ Ì‡ ÚË ÓÚ‰ÂÎÂÌËfl:
- ÓÚ‰ÂÎÂÌË ӷÓÁ̇˜ÂÌÌÓ "I"
‰Îfl ÔÓ"‡ÏÏ
Ô‰'‡ËÚÂθÌÓÈ ÒÚËÍË Ë
"Å˚ÒÚÓÈ ëÚËÍË"
- îòäåëåíèå " " ñëóæèò
äëÿ ñïåöèàëüíûõ
äîáàâîê: ñìÿã÷èòåëè,
àpîìàòè÷åñêèå, ñèíüêà,
êpàõìàë è ò.ï.
- ÓÚ‰ÂÎÂÌË ӷÓÁ̇˜ÂÌÌÓ "II"
‰Îfl ÏÓ˛˘Ëı Ò‰ÒÚ'
ÓÒÌÓ'ÌÓÈ ÒÚËÍË.
✿
Ïpè èñïîëüçîâàíèè æèäêîñòè
äëÿ ñòèpêè íåîáõîäèìî
âñòàâèòü âî II îòäåëåíèå
ïpèëàãàåìóю ê ìàøèíå
âàííî÷êó.
Âíèìàíèå!
Ïîìíèòå, ÷òî
íåêîòîpûå ïîpîøêè
óäàëÿюòñÿ ñ òpóäîì.
 ∋òîì ñëó÷àå
påêîìåíäóåì
èñïîëüçîâàòü
ñïåöèàëüíûé
êîíòåéíåp, êîòîpûé
ïîìåùàюò ñ ïîpîøêîì
íåïîñpåäñòâåííî â
áàpàáàí (ïpîäàåòñÿ
ñ ìîюùèì ñpåäñòâîì).
èËϘ‡ÌËÂ: ÓÚ‰ÂÎÂÌËÂ
"✿" Á‡ÔÓÎÌflÂÚÒfl ÚÓθÍÓ
ÊˉÍËÏË Ò‰ÒÚ'‡ÏË.
凯Ë̇ ‡'ÚÓχÚ˘ÂÒÍË
Á‡·Ë‡ÂÚ ‰Ó·‡'ÍË Ì‡
ÔÓÒΉÌÂÏ ÔÓÎÓÒ͇ÌËË 'Ó
'ÒÂı ÔÓ"‡Ïχı ÒÚËÍË.
The detergent draw is split
into 3 compartments:
- the compartment
labelled "I" is for prewash
detergent;
- the compartment
labelled " " is for
special additives, fabric
softeners, fragrances,
starch, brighteners etc;
- the compartment
labelled "II" is for main
wash detergent.
✿
If liquid detergents are used,
please insert the special
container supplied into the
compartment marked "II" in
the detergent drawer. This
ensures that the liquid
detergent enters the drum
at the right stage of the
wash cycle.
NOTE: SOME
DETERGENTS ARE
DIFFICULT TO REMOVE.
FOR THESE, WE
RECOMMEND YOU USE
THE SPECIAL DISPENSER
WHICH IS PLACED IN THE
DRUM.
NOTE: ONLY PUT
LIQUID PRODUCTS IN
THE COMPARTMENT
LABELLED " ". THE
MACHINE IS
PROGRAMMED TO
AUTOMATICALLY TAKE
UP ADDITIVES DURING
THE FINAL RINSE STAGE
FOR ALL WASH
CYCLES.
✿
31
RO
RU
PT
EN
CAPITOLUL 8
CHAPITRE 8
CAPÍTULO 8
ÏÀPÀÃPÀÔ 8
CHAPTER 8
SELECTIONAREA
PROGRAMELOR
SELECTION
SELECÇÃO DOS
PROGRAMAS
ÂÛÁÎP
SELECTION
Pentru tratarea diverselor tipuri
de tesaturi si a diferitelor stadii
de murdarire, masina de spalat
are 2 grupuri de programe care
difera prin: spalare,
temperatura si durata (a se
vedea tabelul cu programe de
spalare).
Pour traiter les divers types
de tissus et les différents
degrés de salissures, la
machine a 2 niveaux de
programmes qui se
différencient par le type de
lavage, la température et la
durée (voir le tableau des
programmes de lavage).
A máquina dispõe de 2
grupos de programas
diferentes baseados nos
diversos tipos de tecidos a
lavar, nos vários graus de
sujidade, na temperatura a
na duração do programa de
lavagem (vide a tabela de
programas).
Ä∧ÿ paç∧è÷íûx òèïoâ òêaíeé
è còeïeíè çaãpÿçíeíèÿ ∋òa
còèpa∧üíaÿ ìaøèía èìeeò 2
ãpyïïû ïpoãpaìì, â
cooòâeòcòâèè c êoòopûìè
âûáèpaeò öèê∧ còèpêè,
òeìïepaòypy è
ïpoäo∧æèòe∧üíocòü còèpêè
(cì. òaá∧èöy ïpoãpaìì
còèpêè).
For the various types of
fabrics and various degrees
of dirt the washing machine
has 2 different programme
bands according to: wash
cycle, temperature and
lenght of cycle (see table of
washing cycle
programmes).
1 Materiale rezistente
Programele sunt prevazute
pentru super spalare iar
programele de clatire asigura o
clatire perfecta. Stoarcerea
finala asigura o eficienta mai
mare la indepartarea apei.
1 Tissus résistants
1. Ïpo÷íûe òêaíè
1 Resistants Fabrics
чÌ̇fl ÔÓ"‡Ïχ Ô‰̇Á̇˜Â̇
‰Îfl ËÌÚÂÌÒË'ÌÓÈ ÒÚËÍË Ë
ˉ‡θÌÓ"Ó ÔÓÎÓÒ͇ÌËfl. ÎË̇θÌ˚È
ÓÚÊËÏ Ó·ÂÒÔ˜˂‡ÂÚ Ì‡Ë·ÓÎÂÂ
˝ÙÙÂÍÚË'ÌÓ ۉ‡ÎÂÌË 'Ó‰˚ ËÁ
Ú͇ÌË.
The programmes have been
designed for a maximum
wash and the rinses ensure
perfect rinsing.
The final spin gives more
efficient removal of water.
2 Tesaturi mixte si delicate
2 Tissus mixtes et délicats
Spalatul si clatitul sunt
optimizate in ritmul rotirii
tamburului si al nivelelor de
apa. O centrifugare usoara
asigura reducerea sifonarii
rufelor.
La terminarea ultimei clatiri
rufele raman in apa.
Pentru terminarea ciclurilor
pentru tesaturi mixte si delicate
operatiunile pot fi:
- golirea apei
- centrifugare delicata. Acest
program e foarte util pentru
evitarea sifonarii in timpul
uscarii.
32
FR
Les programmes sont
conçus pour optimiser les
résultats de lavage et les
rinçages garantissant un
rinçage parfait. L'essorage
final assure un excellent
repassage.
Le lavage et le rinçage sont
optìmisés dans les rythmes
de rotation du tambour et
dans les niveaux d'eau.
L'essorage à action délicate
assure une formation de plis
réduite sur les tissus.
Au terme du dernier
rinçage, le linge reste
immergé dans l'eau.
Pour terminer le cycle des
tissus mixtes et très délicats,
les opérations peuvent être:
-vidange uniquement
-essorage délicat
Le programme essorage
délicat est indispensable
surtout pour la lingerie afin
d'éviter des formations de
plis pendant la phase de
sèchage à l'air.
1 Tecidos resistentes
Os programas deste grupo
foram desenvolvidos de
modo a garantirem os
melhores resultados de
lavagem, e os
enxaguamentos garantem
um enxaguamento perfeito
da roupa.
A centrifugação final
assegura que as peças de
roupa fiquem bem torcidas.
2 Tecidos mistos e delicados
A lavagem e o
enxaguamento estão
optimizados através dos
ritmos de rotação do tambor
e dos níveis de água.
A centrifugação suave
assegura uma formação
reduzida de pregas e de
rugas nos tecidos.
Uma vez concluído o últumo
enxaguamento, a roupa fica
imersa em água.
Os programas para tecidos
mistos e muito delicados
podem ser concluídos
através da selecção de uma
das seguintes opções:
z = despejo simples da água,
ou
o programa de
centrifugação suave é
indispensável, em especial
para roupa de malha, pois
evita que a roupa seja
esticada durante a
secagem ao ar.
2. Cìecoâûe è äeëèêaòíûe
òêaíè
Ocíoâíaÿ còèpêa è
ïo∧ocêaíèe äaюò oò∧è÷íûe
peçy∧üòaòû á∧aãoäapÿ
òùaòe∧üío ïoäoápaííoé
cêopocòè âpaùeíèÿ áapaáaía
è ypoâíю âoäû. Äe∧èêaòíûé
oòæèì ãapaíòèpyeò, ÷òo
áe∧üe áyäeò ìeíüøe
cìèíaòücÿ.
èÓ ÓÍÓ̘‡Ì˲ ÔÓÒΉ̄Ó
ÓÔÓ·ÒÍË'‡ÌËfl ·Âθ ÓÒÚ‡ÂÚÒfl
ÔÓ"ÛÊÂÌÌ˚Ï ' 'Ó‰Û.
ᇂÂ¯ÂÌË ˆËÍÎÓ' ÒÚËÍË
Òϯ‡ÌÌ˚ı Ë Ó˜Â¸ ‰ÂÎË͇ÚÌ˚ı
ÏÓÊÌÓ ÔÓËÁ'ÂÒÚË ‰'ÛÏfl ÔÛÚflÏË:
- ÚÓθÍÓ ÒÎË' 'Ó‰˚
- ‰ÂÎË͇ÚÌ˚È ÓÚÊËÏ.
éÔÂ‡ˆËfl ÑÂÎË͇ÚÌÓ"Ó ÓÚÊËχ
ÓÒÓ·ÂÌÌÓ ÂÍÓÏẨÛÂÚÒfl ‰Îfl
ÚËÍÓڇʇ Ò ÚÂÏ, ˜ÚÓ·˚ ËÁ·Âʇڸ
Â"Ó ‰ÂÙÓχˆËË ÔË Òۯ̇͠
'ÓÁ‰ÛıÂ.
2 Mixed and Delicates
Fabrics
The main wash and the rinse
gives best results thanks to
the rotation rhythms of the
drum and to the water
levels.
A gentle spin will mean that
the fabrics become less
creased.
The machine will stop with
the water still in the drum
after rinsing.
The programme for mixed
and very delicate fabrics
can be concluded by
selecting:
- discharge only or
- delicate spin
The delicate spin
programme is indispensable
particularly for knitwear.
33
RO
SFATURI PENTRU
UTILIZATORI
FR
PT
RU
CONSEILS UTILES
POUR L'UTILISATEUR
CONSCIENCIALIZAÇÃO DO CLIENTE
ä‡Í ̇˷ÓΠ˝ÍÓÌÓÏÌÓ
ËÒÔÓθÁÓ'‡Ú¸ LJ¯Û
χ¯ËÌÛ.
CUSTOMER
AWARENESS
Um guia para uma utilização
mais ecológica e económica
da sua máquina de lavar
roupa.
àëèéãúáìâíÖ èéãçìû
áÄÉêìáäì ÅÖãúü
A guide environmentally
friendly and economic use of
your appliance.
MAXIMIZE A QUANTIDADE DE
ROUPA A LAVAR
Assegure a melhor utilização
possivel da energia, da água,
do detergente e do tempo,
lavando na máquina de lavar
roupa a quantidade máxima
de roupa recomendada.
Poupe até 50% de energia
lavando uma carga completa
em vez de lavar 2 meías
cargas.
ÑÓ'Ó‰fl Á‡"ÛÁÍÛ ·Âθfl ‰Ó
χÍÒËχθÌÓ ÂÍÓÏẨӂ‡ÌÌÓÈ, Ç˚
̇˷ÓΠ˝ÙÙÂÍÚË'ÌÓ ËÒÔÓθÁÛÂÚÂ
ÒÚË‡Î¸Ì˚È ÔÓÓ¯ÓÍ,
˝ÎÂÍÚÓ˝ÌÂ"˲ Ë 'Ó‰Û.
èË ÒÚËÍ ӉÌÓÈ ÔÓÎÌÓÒÚ¸˛
Á‡"ÛÊÂÌÌÓÈ Ï‡¯ËÌ˚ ˝ÍÓÌÓÏËÚÒfl
‰Ó 50% ˝ÎÂÍÚÓ˝ÌÂ"ËË ÔÓ
Ò‡'ÌÂÌ˲ Ò ‰'ÛÏfl ÔÓÎÓ'ËÌÌ˚ÏË
Á‡"ÛÁ͇ÏË.
Scurte sugestii pentru utilizarea
propriului aparat electrocasnic
protejand mediul si cu maxima
economie.
INCARCAREA MASINII DE
SPALAT LA MAXIMUM
Pentru eliminarea eventualei
risipe de energie, apa sau
detergent, se recomanda
incarcarea masinii de spalat la
capacitatea maxima. Este
posibila o economie de energie
de pana la 50% prin efectuarea
unei spalari cu incarcatura la
capacitate maxima comparativ
cu doua spalari cu incarcatura
la jumatate de capacitate.
CAND E CU ADEVARAT
NECESARA PRESPALAREA ?
Doar cand rufele sunt deosebit
de murdare!
Se economiseste energie intre
5 si 15% evitandu-se
selectarea optiunii prespalare
pentru rufele normal murdare.
CE TEMPERATURA DE
SPALARE TREBUIE
SELECTIONATA ?
Folosirea produselor pentru
scoaterea petelor inainte de
spalare reduce necesitatea
spalarii la temperaturi de peste
60°C. Se poate economisi pana
la 50% utilisandu-se
temperatura de spalare de
60°C.
34
SUGGESTION POUR
L'UTILISATION DE VOTRE LAVELINGE
Dans le souci du respect de
l'environnement et avec le
maximum d'économie
d'énergie, charger au
maximum votre lave-linge
pour éliminer les éventuels
gaspillages d'énergie et
d'eau. Nous recommandons
d'utiliser la capacité
maximale de chargement
de votre lave-linge. Vous
pouvez ainsi économiser
jusqu'à 50% d'énergie si vous
pratiquez le chargement
maximal.
Effectuez un lavage unique à
l'opposé de 2 lavages en 1/2
charge.
QUAND LE PRELAVAGE EST-IL
VRAIMENT NÉCESSAIRE ?
Seulement dans le cas d'un
linge particulièrement sale.
Dans le cas d'un linge
normalement sale, ne
sélectionnez pas l'option
" prélavage ", ceci vous
permettra une économie
d'énergie de 5 à 15%.
QUELLE TEMPÉRATURE DE
LAVAGE SÉLECTIONNER ?
L'utilisation des détachants
avant le lavage en machine
ne rend pas nécessaire le
lavage au-delà de 60°C.
L'utilisation de la température
de 60°C permet de diminuer
la consommation d'énergie
de 50%.
TEM DE FAZER UMA PRÉLAVAGEM?
Só se a roupa estiver muito
suja!
Se, no caso de a roupa estar
pouco ou normalmente suja,
NÃO seleccionar a função de
pré-lavagem, estará a POUPAR
detergente, tempo e água e
ainda entre 5 a 15% de
consumo de energia.
TEM REALMENTE DE LAVAR A
ROUPA COM ÁGUA QUENTE?
Trate as nódoas com um
produto especial para remover
as nódoas ou amoleça as
nódoas já secas em água
antes de lavar a roupa na
máquina: deixará assim de ter
tanta necessidade de lavar a
roupa com um programa de
lavagem a quente.
Poupe até 50% de energia
utilizando programas de
lavagem a 60°C.
EN
MAXIMISE THE LOAD SIZE
Achieve the best use of
energy, water, detergent and
time by using the
recommended maximum
load size.
Save up to 50% energy by
washing a full load instead of
2 half loads.
çìÜçÄ ãà ÇÄå
èêÖÑÇÄêàíÖãúçÄü ëíàêäÄ?
íÓθÍÓ ‰Îfl ÒËθÌÓ Á‡"flÁÌfiÌÌÓ"Ó
·Âθfl!
ëùäéçéåúíÖ ÒÚË‡Î¸Ì˚È
ÔÓÓ¯ÓÍ, 'ÂÏfl, 'Ó‰Û Ë ÓÚ 5 ‰Ó
15% ˝ÎÂÍÚÓ˝ÌÂ"ËË çÖ ËÒÔÓθÁÛfl
ÔÓ"‡ÏÏÛ Ô‰'‡ËÚÂθÌÓÈ
ÒÚËÍË ‰Îfl Ò··Ó Ë ÌÓχθÌÓ
Á‡"flÁÌfiÌÌÓ"Ó ·Âθfl.
DO YOU NEED TO PRE-WASH?
For heavily soiled laundry
only!
SAVE detergent, time, water
and between 5 to 15%
energy consumption by NOT
selecting Prewash for slight to
normally soiled laundry.
çìÜçÄ ãà ÇÄå ëíàêäÄ ë
Çõëéäéâ íÖåèÖêÄíìêéâ
ÇéÑõ?
ÑÎfl ÒÌËÊÂÌËfl ÍÓ΢ÂÒÚ'‡ Ú‡ÍËı
ÒÚËÓÍ ÏÓÊÌÓ Ó·‡·ÓÚ‡Ú¸ ÔÂ‰
ÒÚËÍÓÈ ÔflÚ̇ Ò ÔflÚÌÓ'˚'Ó‰ËÚÂÎÂÏ
Ë ‡ÁÏÓ˜ËÚ¸ Á‡ÒÓı¯Ë ÔflÚ̇ '
'Ó‰Â.
èË ÒÚËÍÂ Ò ÚÂÏÔÂ‡ÚÛÓÈ 'Ó‰˚ '
60 ë ˝ÍÓÌÓÏËÚÒfl ‰Ó 50%
˝ÎÂÍÚÓ˝ÌÂ"ËË.
IS A HOT WASH REQUIRED?
Pretreat stains with stain
remover or soak dried in
stains in water before
washing to reduce the
necessity of a hot wash
programme.
Save up to 50% energy by
using a 60°C wash
programme.
35
RO
FR
PT
RU
EN
CAPITOLUL 9
CHAPITRE 9
CAPÍTULO 9
èÄêÄÉêÄî 9
CHAPTER 9
PRODUSUL
LE PRODUIT
SEPARAÇÃO DAS
PEÇAS DE ROUPA
íàè ÅÖãúü
THE PRODUCT
ATENTIE: Daca trebuie
spalate covoare, cuverturi sau
alte lucruri grele este bine sa
nu se centrifugheze.
ATTENTION:
si vous devez laver des tapis,
des couvre-lits ou d'autres
pièces lourdes, nous
conseillons de ne pas
essorer.
ATENÇÃO:
Recomendamos que,
sempre que lavar tapetes
pesados, colchas e outras
peças de roupa igualmente
pesadas, suprima a
centrifugação.
ÇçàåÄçàÖ.
ÖÒÎË Ç˚ ıÓÚËÚ ÒÚË‡Ú¸
ÍÓ'ËÍË, ÔÓÍ˚'‡Î‡ Ë ‰Û"ËÂ
ÚflÊÂÎ˚ ËÁ‰ÂÎËfl, ÎÛ˜¯Â
ËÒÍβ˜ËÚ¸ Ù‡ÁÛ ÓÚÊËχ.
IMPORTANT:
When washing heavy rugs,
bed spreads and other
heavy articles, it is advisable
not to spin.
Pour laver à la machine des
vêtements et de la lingerie
en laine, ils doivent avoir
l'étiquette "pure laine
vierge" et l'indication "ne se
feutre pas" ou "peut être
lavé en machine".
Antes de colocar uma peça
de lã na máquina, verifique
a respectiva etiqueta, para
se assegurar de que a peça
em questão é um artigo de
"Pura Lã Virgem" e também
"Lavável à Máquina" e
"Não feltrante". Só estas
peças de lã poderão ser
lavadas na máquina.
òÂÒÚflÌ˚ ËÁ‰ÂÎËfl, ÍÓÚÓ˚Â
ÏÓÊÌÓ ÒÚË‡Ú¸ ' ÒÚË‡Î¸ÌÓÈ
χ¯ËÌÂ, ‰ÓÎÊÌ˚ ËÏÂÚ¸ ̇
ËÁ̇ÌÍ ÒËÏ'ÓÎ "óËÒÚ‡fl
¯ÂÒÚ¸" Ë, ÍÓÏ ÁÚÓ"Ó, ÒËÏ'ÓÎ
"ÏÓÊÌÓ ÒÚË‡Ú¸ ' ÒÚË‡Î¸ÌÓÈ
χ¯ËÌ".
To be machine-washed,
woollen garments and other
articles in wool must bear
the "Machine Washable
Label".
Lucrurile din lana, pentru a
putea fi spalate in masina
trebuie sa poarte eticheta "Pot
fi spalate in masina de spalat".
ATENTIE:
La selectarea articolelor
trebuie avut in vedere ca:
- rufele sa nu aiba obiecte
metalice (de exemplu brose,
ace de siguranta, ace,
monede etc.)
- nasturii fetelor de perna si
fermoarele sa fie inchise,
curelele sa fie prinse;
- etichetele de pe tesaturi sa
fie citite cu atentie;
- petele rezistente sa fie
indepartate inainte de
spalare, cu ajutorul unui
produs special pentru
inlaturarea petelor.
36
ATTENTION:
Au cours de la phase
de sélection vérifier
que:
- aucun objet métallique
ne se trouve dans le
linge à laver (boucles,
épingles de nourrice,
épingles, monnaie,
etc.);
- les taies d'oreiller soient
boutonnées, les
fermetures à glissière,
les crochets, les oeillets
soient fermés, les
ceintures et les rubans
des robes de chambre
soient noués;
- les anneaux soient
enlevés des rideaux;
- n'oublier pas de lire
attentivement
l'étiquette sur les tissus;
- Si, au cours de la
sélection, vous trouvez
des taches résistantes,
les enlever à l'aide
d'un nettoyant spécial.
IMPORTANTE:
Quando separar as
peças de roupa a
lavar certifique-se de
que:
- não deixou objectos
metálicos nas peças
de roupa, por exemplo,
alfinetes, alfinetes de
ama, moedas, etc.;
- apertou os botões das
almofadas, os fechos,
os colchetes e os cintos
e que amarrou as tiras
de tecido compridas;
- retirou as argolas das
cortinas;
- o programa de
lavagem seleccionado
está de acordo com as
indicações de
lavagem fornecidas
pelos fabricantes das
peças de roupa
(símbolos inscritos nas
respectivas etiquetas).
- Além disso, antes de
colocar qualquer peça
de roupa muito suja na
máquina, remova as
nódoas mais difíceis
com um detergente
especial ou tiranódoas.
ÇçàåÄçàÖ:
èË ÒÓÚËÓ'Í ·Âθfl
‰Îfl ÒÚËÍË:
- ۷‰ËÚÂÒ¸ ' ÓÚÒÛÚÒÚ'ËË
ÏÂÚ‡Î΢ÂÒÍËı Ô‰ÏÂÚÓ'
(ÒÍÂÔÍË, ·Û·'ÍË, ÏÓÌÂÚ˚
Ë Ú.‰.) ' ·ÂθÂ.‰
- Á‡ÒÚ"ÌËÚ Ôۄӂˈ˚,
ÏÓÎÌËË, Í˛˜ÍË Ì‡
ËÁ‰ÂÎËflı, Á‡'flÊËÚÂ
‰ÎËÌÌ˚ ÔÓflÒ‡ Ë ‰ÎËÌÌ˚Â
ÔÓÎ˚ ı‡Î‡ÚÓ'.
- ÒÌËÏËÚÂ, ÂÒÎË '˚ Ëı
ËÒÔÓθÁÛÈÚÂ, ÍÓθˆ‡ ËÎË
Í˛˜ÍË ÍÂÔÎÂÌËfl
Á‡Ì‡'ÂÒÓÍ Í Í‡ÌËÁ‡Ï.
- 'ÌËχÚÂθÌÓ ÓÒÏÓÚËÚÂ
ÁÚËÍÂÚÍË Ì‡ Ú͇Ìflı.
- ÂÒÎË ÔË ÒÓÚËÓ'Í ·Âθfl
'˚ Á‡ÏÂÚËÚÂ
ÚÛ‰ÌÓ'˚'Ó‰ËÏ˚ ÔflÚ̇,
Û‰‡ÎËÚ Ëı ÒÔˆˇθÌ˚ÏË
Ò‰ÒÚ'‡ÏË.
IMPORTANT:
When sorting articles
ensure that:
- there are no metal
objects in the washing
(e.g. brooches, safety
pins, pins, coins etc.).
- cushion covers are
buttoned, zips and
hooks are closed, loose
belts and long tapes on
dressing gowns are
knotted.
- runners from curtains
are removed.
attention is paid to
garment labels.
- when sorting, any tough
stains should be
removed prior to
washing using stain
removers only
recommended on
label.
37
RO
CAPITOLUL 10
TIP DE TESATURA
DESCRIEREA PROGRAMELOR
GREUTATE
MAX
kg
RECOMANDAT PENTRU TESATURI
Tesaturi resistente
Bumbac, in, canepa
Bumbac,tesaturi in
amestec in culori
rezistente
5
Intensiv-Foarte murdare
PROG.
COMPARTIMENT
FOLOSIT
❙❙
❙
1
Pina la
90°
●
●
2
Pina la
90°
●
●
●
●
●
●
Observatii importante
In cazul unor rufe cu un grad ridicat de murdarie, este recomandabila reducerea
sarcinii la max. 3 kg
Regland in mod corect termostatul, e posibila spalarea la orice temperatura aflata sub
maximul prevazut pentru fiecare program.
1) Programe conform cu directiva IEC 456.
1)
Putin murdare
Reglaj
Temperatura
°C
5
PROGRAMUL RAPID DE 32 MINUTE
Culori rezistente
5
3
Pina la
60°
Culori delicate
5
4
Pina la
40°
Bumbac,tesaturi in
amestec
-
●
Clatire
Apret, Parfum, Agent de inmuiere
-
-
●
Stoarcere enegica
-
-
Clatire
Bumbac, in
Tesaturi amestec si
delicate
Este posibila reducerea temperaturii de spalare utilizind tasta I.
-
Bumbac
1)
2,5
5
Pina la
60°
●
●
Bumbac,tesaturi in amestec
sintetice
Program Universal
2,5
6
Pina la
50°
●
●
Sintetice (Nylon,
amestec Bumbac)
Culori delicate
2,5
7
Pina la
40°
●
●
1
8
Pina la
40°
●
●
Lana "spalabila in masina"
1)
Lenjerie din lana, sintetice
Mixte, sintetice delicate,
lana
Speciale
Pentru lenjerie: A nu se
stoarce!
38
Clatire
-
-
Stoarcere delicata
-
-
Programul rapid de 32 minute
2
Pete organice
5
Doar evacuare apa
-
32'
Rapid
❋
Z
"Programul rapid de 32 minute" poate fi, de asemenea, utilizat ca ciclu de
prespalare in cazul rufelor foarte murdare, selectionind apoi programul
principal dorit.
❋ Cand doar un numar limitat de articole au pete ce necesita
tratament cu lichide speciale de scos petele, scoaterea preliminara
a petelor poate fi facuta in masina.
Puneti lichidul de scos petele in containerul special, introdus in
compartimentul marcat "II" in caseta de detergenti si setati
programul speciale
.
Cand acesta faza a luat sfarsit, inchideti masina de spalat apasand
butonul ON/OFF, adaugati restul rufelor si continuati cu procedurile
obisnuite de spalare in functie de programul cel mai potrivit.
●
Pina la
40°
-
Cind selectionati "programul rapid de 32 minute" utilizati doar 20% din cantitatea de
detergent folosita in mod normal, la celelalte programe, pentru acelasi tip de tesaturi.
Detergentul trebuie pus in sertarul corespunzator "ciclului rapid de 32 minute"
(sertarul I).
Foarte murdare
Amestec rezistente
Programul rapid de 32 minute permite un ciclu complet de spalare in aproximativ 30
minute, cu o incarcatura de maximum 2 kg de rufe, la o temperatura de 40 grade
Celsius.
●
●
-
39
FR
CHAPITRE 10
TYPE DE TISSU
TABLEAU DES PROGRAMMES
PROGRAMME POUR
CHARGE
MAXI
kg
SELEC.
PROG.
SELEC.
TEMP.
°C
CHARGE DE LESSIVE
❙❙
Coton, mixtes
résistants
1
Jusqu'à
90°
●
●
Votre lave-linge vous permet à l'aide du thermostat, de laver à des
températures inférieures à celle prévue par le programme.
5
2
Jusqu'à
90°
●
●
1) Programmes en accord IEC 456.
Couleurs résistantes
5
3
Jusqu'à
60°
●
●
Couleurs délicates
5
4
Jusqu'à
40°
●
●
Rinçages
-
-
●
Rinçage
Adoucissant
-
-
●
Essorage fort
-
-
Intensif - Très sale
Lavage normal
1)
Programme Rapide 32 Minutes
Ce programme permet d'effectuer un cycle de lavage complet en 30 minutes
environ pour des charges de linge jusqu'à 2 kg et à une température maximale
de 40°C.
La température de lavage peut être abaissée à l'aide de la manette de
thermostat I.
Quand vous selectionnée le "Programme rapide 32 minutes" nous vous
récomandons d'utilizér seulement le 20% de la quantité indiquée sur la bôite á
produit.
La lessive doit être placée dans le bac pour le "Programme rapide 32 minutes"
(marqué I) du tiroir à produits lessiviels.
Le programme rapide 32 minutes peut également servir de prélavage en cas
de linge très sale, avant de sélectionner le programme de lavage principal.
Coton, mixte
Coton
Coton, lin
Tissus mixtes et
délicats
Mixtes résistants
2,5
5
Jusqu'à
60°
●
●
●
●
❋ Quand certaines pièces ont des taches qui doivent être
Lavage normal
2,5
6
Jusqu'à
50°
Synthétiques (Nylon,
mixtes de coton)
Couleurs
2,5
7
Jusqu'à
40°
●
●
1
8
Jusqu'à
40°
●
●
Laine "lavable en machine"
très délicats
1)
Rinçages
-
-
Mixtes, Synthétiques
délicats, laine
Essorage délicat
-
-
Specifiques
Super rapide
2
Javel
5
Vidange seule
-
Pour le linge à ne pas
essorer
40
1)
Très sale
Mixtes, cotons,
Synthétiques
Laine
Synthétiques
acryliques
Si les sous-vêtements sont très sales, réduire le chargement à
3 kg maxi.
5
Tissus résistants
Coton, lin, chanvre
❙
Notes importantes
32'
Rapid
❋
Z
●
Jusqu'à
40°
-
traitées par un produit blanchissant liquide, vous pouvez les
détacher dans la machine. Introduire dans la section "II" du tiroir
à lessive le bac pour les produits liquide, le remplir avec le
produit blanchissant liquide et sélectionner le programme
.
Après ce traitement, appuyer sur la touche MARCHE/ARRÊT,
ajouter à ces pièces le reste du linge et effectuer un lavage
normal, selon le programme choisi.
●
●
-
41
PT
CAPÍTULO 10
TIPO DE TECIDO
Tecidos resistentes
Algodão, linho
Algodão,
tecidos mistos,
resistentes
Algodão,
tecidos mistos
Algodão
TABELA DE PROGRAMAS DE LAVAGEM
PROGRAMA PARA
QUANTIDADE MÁXIMA
DE ROUPA
kg
Intensivo-Muito suja
5
SELECÇÃO DO
PROGRAMA
SELECÇÃO DA
TEMPERATURA
°C
1
Até
90°
●
1)
COLOCAÇÃO DO
DETERGENTE NA
GAVETA
❙❙
2
Até
90°
●
●
Cores resistentes
5
3
Até
60°
●
●
Cores delicadas
5
4
Até
40°
●
●
Enxaguamentos
-
-
Enxaguamento
Condicionador, perfume, amaciador
-
-
Centrifugação enérgica
-
-
1)
●
❋
5
Até
60°
●
●
Sintéticos
e mistos de algodão
Programa UNIVERSAL
2,5
6
Até
50°
●
●
Sintéticos (nylon, perlon)
mistos de algodão
Cores não resistentes
2,5
7
Até
40°
●
●
Làs
Sintéticos (dralon,
acrílìco, trevira)
Lãs "laváveis à máquina"
1
8
Até
40°
●
●
Enxaguamentos
-
-
Centrifugação suave
-
-
Ciclo Super Rápido
2
Misturas, sintéticos,
delicados, lã
32'
Rapid
Especiais
Nódoas orgânicas
Para tecidos que não
devem ser submetidos a
centrifugação
42
Despejo simples da água
❋
5
-
Z
Quando só um limitado número de peças de roupa têm nódoas que
requerem um tratamento especial com branqueadores líquidos, a
remoção preliminar das nódoas pode ser efectuada na máquina de
lavar roupa.
Coloque o branqueador no dispensador de branqueador líquido,
inserido no compartimento com a marca "II" na gaveta do
detergente, e seleccione o programa especial
.
Quando terminado o ciclo, desligar a máquina pressionando o
botão LIGAR/DESLIGAR, coloque a restante roupa e continue com
uma lavagem normal no programa desejado.
●
Até
40°
-
Se seleccionar o "Programa rápido de 32 minutos" deverá utilizar apenas 20%
das quantidades recomendadas indicadas na embalagem do detergente.
O detergente deverá ser colocado na gaveta para o detergente, no
compartimento destinado ao detergente para o "Programa rápido de 32
minutos" (compartimento I).
Caso as peças de roupa a lavar estejam realmente muito sujas, este
programa rápido de 32 minutos também pode ser utilizado como um
ciclo de pré-lavagem, tendo de ser seleccionado antes do programa de
lavagem principal.
2,5
1)
Programa rápido de 32 minutos
Uma vez activado, o programa rápido de 32 minutos permite a realização
de um ciclo completo de lavagem em cerca de 30 minutos; este
programa destina-se a cargas de, no máximo, 2 kg e a temperaturas de
lavagem não superiores a 40°C.
Para reduzir a temperatura, bastará rodar o botão de selecção da
temperatura de lavagem I até à temperatura pretendida.
●
Muito suja
Mistos, resistentes
Regulando adequadamente o termóstato é possível lavar a qualquer
temperatura abaixo da máxima prevista para cada programa.
●
5
Sujidade normal
Se pretender lavar roupa interior muito suja, será recomendável não
carregar a máquina com mais de 3 kg de roupa.
1) Programas em conformidade com a norma IEC 456.
Algodão, linho
Tecidos mistos
e delicados
❙
Observações importantes
●
●
-
43
RU
ÏÀPÀÃPÀÔ 10
Òêàíü,
TAÁËÈÖA ÏPOÃPAMM CTÈPKÈ
Ïpoãpaììa còèpêè äëÿ
Maêc.
çaãpyçêa,
êã
Ïpoãpaììa
Teìïepaòypa
Çaãpyçêa ìoюùèx
cpeäcòâ
❙❙
Ïpo÷íûe òêàíè
●
●
●
●
60°
●
●
Äo
●
●
5
1
5
2
ñ'ÂÚÌ˚ ÌÂÎËÌfl˛˘Ë Ú͇ÌË
5
3
ñ'ÂÚÌ˚ ÎËÌfl˛˘Ë Ú͇ÌË
5
4
40°
Ïoëocêaíèe
-
-
●
Ïoëocêaíèeÿ
Koíäèöèoíèpoâaíèe, apoìaòèçaöèÿ
-
-
●
Эíepãè÷íûé oòæèì
-
-
Õëîïîê, ëåí
Èíòeícèâíaÿ - cèëüío çaãpÿçííoe áeëüe
Õëîïîê, ñìåcoâûe
ïpo÷íûe òêàíè
Yìepeío çaãpÿçíeííoe áeëüe
1)
Õëîïîê,
ñìåcoâûe òêàíè
Õëîïîê
Äo
❙
90°
Äo
1) Ïpoãpaììû cooòâeòcòâюò "IEC" Äèpeêòèâe 456.
Câepxáûcòpaÿ ïpoãpaììa 32 ìèí.
Câepxáûcòpaÿ ïpoãpaììa 32 ìèí. ïoçâoëÿeò coâepøèòü ïoëíûé öèêë còèpêè
ïpèáëèçèòeëüío ça 30 ìèí. ïpè ìaêcèìaëüíoé çaãpyçêe 2 êã è òeìïepaòype äo
40°C.
Teìïepaòypa còèpêè ìoæeò áûòü yìeíüøeía c ïoìoùüю êíoïêè I.
èË '˚·Ó ë'Âı·˚ÒÚÓÈ ÔÓ"‡ÏÏ˚ 32 ÏËÌÛÚ˚ ÔÓÏÌËÚÂ, ˜ÚÓ Ï˚ ÂÍÓÏẨÛÂÏ ËÒÔÓθÁÓ'‡Ú¸
ÚÓθÍÓ 20% ÓÚ ÍÓ΢ÂÒÚ'‡ ÏÓ˛˘Â"Ó Ò‰ÒÚ'‡, ÂÍÓÏẨӂ‡ÌÌÓ"Ó Â"Ó ÔÓËÁ'Ó‰ËÚÂÎÂÏ ‰Îfl Ó‰ÌÓ"Ó
ˆËÍ· ÒÚËÍË (Ó·˚˜ÌÓ Û͇Á‡ÌÓ Ì‡ ÛÔ‡ÍÓ'ÍÂ).
Ïoìecòèòe ìoюùèe cpeäcòâa â êoíòeéíep "Câåpõáûñòpaÿ ïpîãpàììà 32 ìèí.",
ïoìå÷åííûé (I).
32-ìèíyòíaÿ cêopocòíaÿ ïpoãpaììa ìoæeò áûòü òaêæe ècïoëüçoâaía êaê
ïpeäâapèòeëüíaÿ còèpêa â cëy÷ae cèëüíoão çaãpÿçíeíèÿ áeëüÿ ïepeä ocíoâíoé
ïpoãpaììoé còèpêè.
Õëîïîê, ëeí
Ñìåcoâûe è
äeëèêaòíûe òêàíè
ñìåcoâûe ïpo÷íûe òêàíè
Õëîïîê,
ñìåcoâûe cèíòeòèêa
Cèíòeòè÷. òêàíè
(íeéëoí, ïepëoí)
1)
Cèëüío çaãpÿçíeííoe áeëüe
2,5
5
YÌË'Â҇Ը̇fl ÔÓ"‡Ïχ
2,5
6
Cìåcoâûe, äåëèêàòí.
cèíòeòè÷., øepcòü
ëÔˆˇθÌ˚Â
ÔÓ"‡ÏÏ˚
Äëÿ áeëüÿ áeç oòæèìa
44
Äo
50°
Äo
2,5
7
Øepcòü äëÿ ìaøèííoé còèpêè
1
8
Ïoëocêaíèe
-
-
Äeëèêaòíûé oòæèì
-
-
Cêopocòíoé öèêë
2
Ïÿòía opãaíè÷ecêoão ïpoècxoæäeíèÿ
5
ñ'ÂÚÌ˚ ÎËÌfl˛˘Ë Ú͇ÌË
1)
Øepcòü
Cèíòeòè÷ecêèe
(äpaëoí, aêpèë, òpeâèp)
Äo
60°
Toëüêo cëèâ
-
40°
Äo
40°
32'
Rapid
●
●
●
❋ ÖÒÎË ÚÓθÍÓ ‰Îfl Ó"‡Ì˘ÂÌÌÓ"Ó ÍÓ΢ÂÒÚ'‡ '¢ÂÈ, Ú·ÛÂÚÒfl Ó·‡·ÓÚ͇
●
●
●
●
ÊˉÍËÏ ÓÚ·ÂÎË'‡ÚÂÎÂÏ ‰Îfl Û‰‡ÎÂÌËfl ÔflÚÂÌ, ÚÓ Ô‰'‡ËÚÂθÌÓ ۉ‡ÎÂÌËÂ
ÔflÚÂÌ ÏÓÊÂÚ ·˚Ú¸ '˚ÔÓÎÌÂÌÓ ' ÒÚË‡Î¸ÌÓÈ Ï‡¯ËÌÂ.
ç‡ÎÂÈÚ ÓÚ·ÂÎË'‡ÚÂθ ' '‡ÌÌÓ˜ÍÛ ‰Îfl ÊˉÍÓ"Ó ÓÚ·ÂÎË'‡ÚÂÎfl, 'ÒÚ‡'ÎÂÌÌÛ˛
' ÓÚ‰ÂÎÂÌË "II" ÍÓÌÚÂÈÌÂ‡ ‰Îfl ÏÓ˛˘Ëı Ò‰ÒÚ' Ë ÛÒÚ‡ÌÓ'ËÚ ÒÔˆˇθÌÛ˛
ÔÓ"‡ÏÏÛ
.
èÓ Á‡'Â¯ÂÌËË ˝ÚÓÈ ÔÓ"‡ÏÏ˚ ÓÚÍβ˜ËÚ χ¯ËÌÛ Ì‡Ê‡' ÍÌÓÔÍÛ "ON/OFF",
‰Ó·‡'¸Ú ÓÒÚ‡'¯ËÂÒfl 'Â˘Ë Ë ÔÓ‰ÓÎÊËÚ ÒÚËÍÛ Ì‡ ̇˷ÓΠÔÓ‰ıÓ‰fl˘ÂÈ
ÔÓ"‡ÏÏÂ
●
●
Äo
40°
❋
-
Z
●
B cëy÷ae còèpêè cèëüío çaãpÿçíeííoão áeëüÿ peêoìeíäyeòcÿ
cíèçèòü çaãpyçêy äo 3 êã cyxoão áeëüÿ.
ê"ÛÎflÚÓ ÚÂÏÔÂ‡ÚÛ˚ ÔÓÁ'ÓÎflÂÚ ÛÏÂ̸¯‡Ú¸ ÚÂÏÔÂ‡ÚÛÛ 'Ó‰˚ ÔË ÒÚËÍÂ. ç‡ÔËÏÂ,
ËÌÚÂÌÒË'ÌÛ˛ ÒÚËÍÛ ËÁ‰ÂÎËÈ ËÁ ıÎÓÔ͇ ÏÓÊÌÓ ÓÒÛ˘ÂÒÚ'ËÚ¸ ' ıÓÎÓ‰ÌÓÈ 'Ӊ , ÛÒÚ‡ÌÓ'Ë' ÍÛÒÓ
̇ ÒËÏ'ÓÎ "Í‡Ì".
90°
Äo
Ïpèìèòe âo âíèìaíèe!
●
-
45
EN
CHAPTER 10
FABRIC
TABLE OF PROGRAMMES
PROGRAM FOR
WEIGHT
MAX
kg
SELECT
PROG.
SELECT
TEMP.
°C
CHARGE DETERGENT
❙❙
Resistants fabrics
Cotton, linen
Intensive - Heavily soiled
Cotton, mixed
resistants
Normally soiled
1)
5
1
Up to
90°
●
●
5
2
Up to
90°
●
●
Coloureds fast
5
3
Up to
60°
●
●
Coloureds non fast
5
4
Up to
40°
●
●
Rinses
-
-
●
Rinse
Conditioner, fragrance, softener
-
-
●
Fast spin
-
-
Cotton, mixed
Cotton
Cotton, linen
Mixed fabrics and
delicates
❙
1)
Heavily soiled
2,5
5
Up to
60°
●
●
Cotton, mixed fabrics,
synthetics
UNIVERSAL programme
2,5
6
Up to
50°
●
●
Synthetics (nylon,
perlon), mixed cotton
Non fast coloureds
2,5
7
Up to
40°
●
●
WOOLLENS "machine washable"
1
8
Up to
40°
●
●
Rinses
-
-
Slow spin
-
-
Rapid cycle
2
Organic stains
bleaching
5
Drain only
-
Mixed, resistants
1)
Wollens
Synthetics (Dralon,
Acryl, Trevira)
Mixed, delicate
synthetics, wool
Specials
For fabrics that should
not be spin
46
32'
Rapid
❋
Z
In case of very dirty underwear, a 3 kg maximum load is advised.
The variable temperature selector allows a reduction in the wash
temperature. For example, an intense cottons cycle can be washed in
cold water simply by moving the dial to the tap symbol.
1) Programmes according to IEC directives 456.
32 Minute Rapid Programme
The 32 minute rapid programme allows a complete washing cycle
to be carried out in approximately 30 minutes, with up to a
maximum load of 2 kg and a the temperature of up to 40°C.
The washing temperature can be reduced by using the control knob
I.
When selecting the "32 minute rapid programme", please note that we
recommend you use only 20% of the recommended quantities shown
on the detergent pack.
The detergent must be placed in the " 32 minute rapid programme"
compartment (marked I) in the detergent dispenser.
The 32 minute rapid programme can also be used as a prewash
cycle in the case of heavily soiled garments, before selecting the
main wash programme.
❋ When only a limited number of articles have stains which require
treatment with liquid bleaching agents, preliminary removal of stain
can be carried out in the washing machine.
Pour the bleach into the liquid bleach container, inserted into the
compartment marked "II" in the detergent drawer, and set the
special programme
.
When this phase has terminated, switch off the appliance by
pressing the ON/OFF button, add the rest of the fabrics and
proceed with a normal wash on the most suitable programme.
●
Up to
40°
-
Please, read these notes
●
●
-
47
RO
FR
PT
CAPITOLUL 11
CHAPITRE 11
CAPÍTULO 11
SPALAREA
LAVAGE
LAVAGEM
Sa presupunem ca rufele ce
trebuie spalate sunt din
BUMBAC si FOARTE
MURDARE (daca au pete
rezistente se vor indeparta in
prealabil cu un produs special).
Va sfatuim sa nu spalati numai
prosoape care datorita faptului
ca absorb foarte multa apa
devin foarte grele.
Greutatea admisa pentru
tesaturi rezistente este de 5 kg,
in timp ce in cazul tesaturilor
delicate se recomanda sa nu se
depaseasca 2 kg (1kg in cazul
articolelor din "Lana Pura
Virgina" care pot fi spalate cu
masina de spalat), pentru a
evita formarea de cute dificil de
calcat. Pentru tesaturile extrem
de delicate va sfatuim sa folositi
o plasa.
Supposons que le linge à
laver soit en COTON
EXTREMEMENT SALE (s'il a des
taches particulièrement
résistantes les enlever avec
un detachant).
Nous vous conseillons de ne
pas faire un lavage
exclusivement de servietteséponge qui, absorbant
beaucoup d'eau,
deviennent trop lourdes.
La charge admise pour les
tissus résistants est de 5 kg,
tandis qu'en cas de tissus
délicats nous conseillons de
ne pas dépasser 2 kg (1 kg
en cas de pièces en "pure
laine vierge" lavables dans la
machine à laver), pour éviter
la formation de plis difficiles à
repasser. Pour les tissus
extrêmement délicats nous
conseillons d'utiliser un filet.
Exemplu:
Priviti tabelul cu programe de
spalare:
EXEMPLE:
Consulter le tableau des
divers programmes de
lavage et vous trouverez les
conseils de Candy:
● Asigurati-va ca pe etichetele
articolelor scrie "600 C".
● Les étiquettes doivent
indiquer "60° C".
● Incarcati max. 5 kg de rufe
uscate.
● Inchideti hubloul.
● Remplir le tambour (maxi. 5
kg de linge sec).
60° C
5 kg MAX
Suponhamos que a carga de
roupa a lavar é composta por
ROUPA DE ALGODÃO MUITO
SUJA (as nódoas mais difíceis
deverão ser removidas com o
detergente especial).
Recomendamos que nunca
carregue a máquina só com
atoalhados, pois estes tecidos
absorvem muita água, ficando
muito pesados.
A máquina pode levar uma
carga máxima de 5 kg de
tecidos resistentes ou de 2 kg
de tecidos delicados (ou
ainda de 1 kg de peças de
"Pura Lã Virgem" laváveis à
máquina). Evitar-se-á assim a
formação de rugas excessivas, que dificultam o engomar da roupa. Sempre que
lavar peças de roupa extremamente delicadas, meta-as
dentro de um saco de rede.
48
ATTENTION:
AU MOMENT DE CHOISIR
LE PROGRAMME VERIFIER
QUE LA TOUCHE
MARCHE/ARRET NE SOIT
PAS ENFONCEE.
EN
èÄêÄÉêÄî 11
CHAPTER 11
CíàêäÄ
è‰ÔÓÎÓÊËÏ, ˜ÚÓ ‰Îfl ÒÚËÍË
'˚·Ë‡˛Ú ·Âθ ËÁ ıÎÓÔ͇ Ò Ó˜Â̸
ÒËθÌ˚Ï Á‡"flÁÌÂÌËÂÏ (ÔË
̇΢ËË ÔflÚÂÌ Ëı ÒΉÛÂÚ Û·‡Ú¸
ÒÔˆ. Ò‰ÒÚ'‡ÏË).
å˚ Ì ÒÓ'ÂÚÛÂÏ Ç‡Ï ÒÚË‡Ú¸
·Óθ¯Ó ÍÓ΢ÂÒÚ'Ó ËÁ‰ÂÎËÈ ËÁ
χıÓ'˚ı Ú͇ÌÂÈ, ÍÓÚÓ˚Â
'·Ë‡˛Ú ' Ò·fl 'Ó‰Û Ë ÒÚ‡ÌÓ'flÚÒfl
Ó˜Â̸ ÚflÊÂÎ˚ÏË.
ÑÎfl ÔÓ˜Ì˚ı Ú͇ÌÂÈ Á‡"ÛÁ͇
χ¯ËÌ - 5 Í", ' ÚÓ 'ÂÏfl Í‡Í ‰Îfl
‰ÂÎË͇ÚÌ˚ı Ú͇ÌÂÈ Ï˚ ÒÓ'ÂÚÛÂÏ ÌÂ
Ô'˚¯‡Ú¸ Á‡"ÛÁÍÛ 2 Í" (1 Í" ‰Îfl
˜ËÒÚÓ¯ÂÒÚflÌ˚ı ËÁ‰ÂÎËÈ "‰Îfl
χ¯ËÌÌÓÈ ÒÚËÍË"), ˜ÚÓ·˚
ËÁ·Âʇڸ Ó·‡ÁÓ'‡ÌËfl ÚÛ‰ÌÓ‡Á"
·ÊË'‡ÂÏ˚ı ÒÍ·‰ÓÍ.
àÁ‰ÂÎËfl ËÁ Ó˜Â̸ ‰ÂÎË͇ÚÌ˚ı
Ú͇ÌÂÈ ÒÓ'ÂÚÛÂÏ ÒÚË‡Ú¸ '
χÚÂ˜‡ÚÓÏ Ô‡ÍÂÚÂ.
WASHING
Let us suppose that the
washing consists of HEAVILY
SOILED COTTON (tough stains
should be removed with the
special cream). It is advisable
not to wash a load made up
entirely of articles in towelling
fabric which absorb a lot of
water and become too
heavy.
The maximum load for heavy
fabrics is 5 kg, while, in the
case of delicate fabrics, it is
advisable not to exceed 2 kg
(1 kg in the case of machine
washable articles in "Pure
New Wool") so as to avoid
the formation of creases
which may be difficult to iron.
A net bag should be used for
particularly delicate fabrics.
EXEMPLO:
As recomendações da
Candy constam da tabela
de programas de lavagem,
cuja consulta aconselhamos:
Ïpèìåp ÈÑÏÎËÜÇÎÂÀÍÈß
Ïîñìîòpèòå òàáëèöó
ïpîãpàìì ñòèpêè. Âû óâèäèòå
êàê Êàíäè påêîìåíäóåò ñåáÿ
âåñòè.
EXAMPLE:
The advice of Candy is set
out in the washing
programme table:
● Certifique-se de que as
etiquetas das peças de
roupa a lavar indicam que
podem ser lavadas a 60°C.
● Óáåäèòåñü, ÷òî íà
∋òèêåòêàõ èçäåëèé èìååòñÿ
íàäïèñü "60°Ñ".
● Ensure that article labels
carry the indication 60°C.
● Çàãpóçèòå áàpàáàí
ìàêñèìàëüíî 5 êã ñóõîãî
áåëüÿ.
● Load the drum with a
maximum of 5 kg of dry
washing.
● Carregue a máquina com
um máximo de 5 kg de roupa
seca.
● Feche a porta da
máquina.
● Çàêpîéòå ë˛ê.
● Fermer le hublot.
ATENTIE: LA STABILIREA
PROGRAMULUI
ASIGURATI-VA CA
BUTONUL ON/OFF NU
ESTE PUS PE "ON".
RU
ATENÇÃO:
AO SELECCIONAR
O PROGRAMA
DE LAVAGEM ASSEGURESE DE QUE
A MÁQUINA NÃO
ESTEJA LIGADA, OU
SEJA, DE QUE A TECLA DE
LIGAR/DESLIGAR NÃO
ESTEJA PREMIDA.
Âíèìàíèå!
Ïpè óñòàíîâêå
ïpîãpàìì óáåäèòåñü,
÷òî êëàâèøà âêë/âûêë
íå íàæàòà.
● Close the door
IMPORTANT:
WHEN SETTING THE
PROGRAMME ENSURE
THAT THE ON/OFF
BUTTON IS NOT TURNED
ON.
49
RO
FR
PT
Selectionati programul 2:
programul este ales prin rotirea
selectorului (L) in SENS ORAR
astfel incat numarul
programului sa coincida cu
indicele.
Choisir le programme 2:
pour choisir le programme,
tourner la manette (L) DANS
LE SENS DES AIGUILLES D'UNE
MONTRE et faire coïncider le
numéro du programme
avec l'index.
Seleccione o programa 2:
Para seleccionar o programa
deverá rodar o botão de
selecção do programa de
lavagem (L) no SENTIDO DOS
PONTEIROS DO RELOGIO até o
número do programa
pretendido coincidir com a
marca.
● Se misca selectorul de
temperatura (I) la 600C.
● Se deschide caseta de
detergenti (A).
● Puneti 120 gr. de
detergent in compartiment
II.
● Se pun 50 ml din aditivul
dorit in compartimentul pentru
aditivi
.
● Placer la manette de la
température (I) sur 60°C
maxi.
● Ouvrir le tiroir à produits
lessiviels (A).
● Remplir le bac de lavage
II avec 120 g de produit.
● En cas de besoin, remplir
le bac des additifs avec 50
.
cc de produit
✿
EN
RU
Âûáîp ïpîãpàììû 2:
Ïpîãpàììà âûáèpàåòñÿ
âpàùåíèåì pó÷êè L ïî
÷àñîâîé ñòpåëêå äî
ñîâìåùåíèÿ óêàçàòåëÿ ñ
íîìåpîì ïpîãpàììû.
Select programme 2:
Choose the programme by
rotating the knob (L) in a
CLOCKWISE DIRECTION and
make the number of the
programme coincide with
the sign.
● Óñòàíîâèòå pó÷êó
påãóëèpîâêè òåìïåpàòópû I
ìàêñèìóì íà 60°Ñ.
● Move the temperature
knob (I) to maximum 60°C.
● Abra a gaveta para
detergente (A).
● Âûäâèíüòå êîíòåéíåp äëÿ
ìî˛ùèõ ñpåäñòâ A.
● Open the detergent
drawer (A).
● Deitar 120 g de detergente no
compartimento da gaveta para
detergente II.
● ᇄÛÁËÚ 120 " ÏÓ˛˘Â"Ó
Ò‰ÒÚ'‡ ' ÓÚ‰ÂÎÂÌË II ÓÒÌÓ'ÌÓÈ
ÒÚËÍË ÍÓÌÚÂÈÌÂ‡ ‰Îfl ÏÓ˛˘Ëı
Ò‰ÒÚ'.
● Put 120 g in the main wash
compartment marked II.
● Seleccione a temperatura
máxima de lavagem (60°C)
com o respectivo botão de
selecção (I).
● Put 50 cc of the desired
additive in the additives
.
compartment
● Fermer le tiroir (A).
● Para 5 kg de roupa deverá
deitar 50 cc do aditivo
pretendido no compartimento
.
para aditivos
● Íàëåéòå 50 ã æåëàåìîé
äîáàâêè â îòäåëåíèå
äëÿ
5 êã áåëüÿ.
● Se inchide caseta de
detergenti (A).
● Vérifier que le robinet
d'eau soit ouvert.
● Feche a gaveta para
detergente (A).
● Çàäâèíüòå êîíòåéíåp A.
● Close the detergent
drawer (A).
● Asigurati-va ca robinetul de
apa este deschis si ca tubul de
evacuare este in pozitie
corecta.
● Vérifier que la vidange
soit placée correctement.
● Certifique-se de que a
torneira de alimentação de
água esteja aberta.
● Óáåäèòåñü, ÷òî
âîäîïpîâîäíûé êpàí îòêpûò.
● Ensure that the water inlet
tap is turned on.
● Certifique-se também de que
o tubo de descarga esteja bem
colocado.
● Óáåäèòåñü, ÷òî òpóáêà
ñëèâà âîäû çàêpåïëåíà
ïpàâèëüíî.
● And that the discharge
tube is in place.
✿
● Apasati Buton ON/OFF (C).
Masina va urma programul pe
care l-ati comandat.
● Cand programul a luat
sfarsit:
Indicatorul luminos pentru
hublou inchis se va stinge.
Opriti masina de spalat
apasand butonul ON/OFF.
● Deschideti hubloul si
scoateti rufele.
PENTRU ORICE TIP DE
SPALARE CONSULTATI
INTOTDEAUNA TABELUL
DE PROGRAME SI
URMATI SECVENTA DE
OPERATII DUPA CUM
ESTE INDICAT.
CURATAREA SI
ÎNTRETINEREA
APARATULUI
50
● Appuyer sur le bouton de
mise en route (C).
La machine accomplira le
programme demandé.
● Lorsque le programme est
terminé:
Le témoin "Voyant hublot
sécurise" s' éteindra.
A la fin, appuyer sur la
touche marche/arrêt.
● Ouvrir le hublot et retirer le
linge.
✿
● Prima a tecla (C) para ligar a
máquina.
● A máquina executará o
programa seleccionado, ou
seja, neste caso, o programa 2.
● Quando o programa
terminou:
O indicador luminoso de fecho
de porta apagar-se-á.
Desligar a máquina,
pressionando o botão
LIGAR/DESLIGAR.
● Abra a porta e retire a roupa
da máquina.
POUR TOUS LES TYPES
DE LAVAGE CONSULTER
TOUJOURS LE TABLEAU
DES PROGRAMMES ET
SUIVRE LA SEQUENCE
DES OPERATIONS
INDIQUEE.
A TABELA DE PROGRAMAS
CONTÉM INFORMAÇÕES
SOBRE TODOS OS TIPOS DE
LAVAGEM. CONSULTE-A PARA
ESCOLHER O PROGRAMA
ADEQUADO À ROUPA QUE VAI
LAVAR, E SIGA AS OPERAÇõES
PELA ORDEM AQUI
APRESENTADA.
✿
● Íàæìèòå íà êëàâèøó (Ñ)
âêë/âûêë.
Ñòèpàëüíàÿ ìàøèíà
âûïîëíèò çàäàííó˛
ïpîãpàììó.
● èÓ ÓÍÓ̘‡ÌËË ÔÓ"‡ÏÏ˚:
à̉Ë͇ÚÓ ÔÓ"‡ÒÌÂÚ.
Ç˚Íβ˜ËÚ χ¯ËÌÛ Ì‡Ê‡' ÍÌÓÔÍÛ
On/Off.
● Îòêpîéòå ë˛ê è èçâëåêèòå
áåëüå.
Ïåpåä ë˛áîé ñòèpêîé
êîíñóëüòèpóéòåñü ñ
òàáëèöåé ïpîãpàìì è
ñîáë˛äàéòå
ïîñëåäîâàòåëüíîñòü
îïåpàöèé,
påêîìåíäîâàííó˛
∋òîé òàáëèöåé.
✿
● Press the "ON" button (C).
The washing machine will
carry out the set
programme.
● When the programme has
finished:
Door locked indicator light
will go out.
Switch off the appliance by
pressing the ON/OFF button.
● Open the door and
remove the washed articles.
FOR ALL TYPES OF
WASH CONSULT THE
PROGRAMME TABLE
AND FOLLOW THE
OPERATIONS IN THE
ORDER INDICATED.
51
RO
FR
PT
EN
CAPITOLUL 12
CHAPITRE 12
CAPÍTULO 12
CURATAREA SI
ÎNTRETINEREA
APARATULUI
NETTOYAGE ET
ENTRETIEN
ORDINAIRE
LIMPEZA E
MANUTENÇÃO DA
MAQUINA
óÈÑÒÊÀ
È ÓÕÎÄ ÇÀ
ÌÀØÈÍÎÉ
CLEANING AND
ROUTINE
MAINTENANCE
Nu folositi niciodata produse
abrazive, alcool si/sau diluant;
pentru spalarea exteriorului
masinii e suficienta o cirpa
umeda.
Ne jamais utiliser de produits
abrasifs, d'alcool et/ou de
diluant, pour laver l'extérieur
de votre machine; il suffit de
passer un chiffon humide.
Não utilize produtos
abrasivos, com álcool,
soluções alcoólicas e/ou
diluentes para limpar as
paredes externas da
máquina: basta passar um
pano húmido para a limpar.
Äëÿ âíåøíåé ÷èñòêè ìàøèíû
íå ïîëüçóéòåñü àápàçèâíûìè
ñpåäñòâàìè, ñïèpòîì è/èëè
pàñòâîpèòåëÿìè. Äëÿ ∋òîãî
äîñòàòî÷íî ïpîòåpåòü
ìàøèíó âëàæíîé ñàëôåòêîé.
Do not use abrasives, spirits
and/or diluents on the
exterior of the appliance. It is
sufficient to use a damp
cloth.
Masina necesita un minimum
de operatii de curatare:
La machine n'a besoin que
de peu d'entretien:
Esta máquina exige muito
pouca manutenção:
Ìàøèíà òpåáóåò íåáîëüøîãî
óõîäà:
The washing machine
requires very little
maintenance:
● curatarea casetei de
detergenti
● Nettoyage des bacs.
● Limpeza da gaveta para
detergentes.
● î÷èñòêè âàííî÷åê
(îòäåëåíèé) êîíòåéíåpà äëÿ
ìî˛ùèõ ñpåäñòâ
● Cleaning of drawer
compartments.
● curatarea filtrului
● Nettoyage filtre.
● î÷èñòêè ôèëüòpà
● Filter cleaning
● mutarea masinii sau lungi
perioade de neutilizare
● Déménagements ou
longues périodes d'arrêt de
la machine.
● ïpè ïåpåìåùåíèè èëè
äëèòåëüíîé îñòàíîâêå
ìàøèíû.
● Removals or long periods
when the machine is left
standing.
CURATAREA CASETEI DE
DETERGENTI
NETTOYAGE DES BACS
LIMPEZA DA GAVETA PARA
DETERGENTE
Î÷èñòêà êîíòåéíåpà ìî˛ùèõ
ñpåäñòâ
CLEANING OF DRAWER
COMPARTMENTS
Desi nu este absolut necesar,
este bine ca periodic sa se
curete compartimentele pentru
detergent, inalbitor si aditivi.
Même si cette opération
n'est pas strictement
nécessaire, il vaut mieux
nettoyer de temps en temps
les bacs à produits lessiviels.
Embora não seja
estritamente necessário, é
recomendável limpar
ocasionalmente os resíduos
de detergente, de
branqueador e de aditivos
da gaveta para detergente.
Påêîìåíäóåòñÿ âpåìÿ îò
âpåìåíè î÷èùàòü îòäåëåíèÿ
äëÿ îòáåëèâàòåëÿ è
ñìÿã÷èòåëÿ.
Although not strictly
necessary, it is advisable to
clean the detergent, bleach
and additives
compartments occasionally.
Se extrage caseta si se spala
tot continutul sub jet de apa.
Apoi se introduce la loc in
locasul sau.
Il suffit de tirer légèrement
sur le tiroir pour l'extraire.
Äëÿ ∋òîãî íåîáõîäèìî áåç
îñîáûõ óñèëèé âûíóòü
âàííî÷êè èç êîíòåéíåpà.
Remove the compartments
by pulling gently.
Ïpîìîéòå êîíòåéíåp è
âàííî÷êè ñòpóåé âîäû.
Clean with water.
Ñíîâà ïîñòàâüòå âñå íà
ìåñòî.
Put the compartments back
into place
● Limpeza do filtro.
Nettoyer le tiroir sous un jet
d'eau.
Remettre le tiroir dans sa
niche.
52
RU
● Adopção de medidas
especiais quando a
máquina vai ser mudada de
sítio (mudança de casa, por
exemplo) ou quando a
máquina estiver muito
tempo sem funcionar.
Para tal, deverá puxar
suavemente a gaveta toda
para fora.
Lave cuidadosamente
cada um dos
compartimentos sob um
jacto de água, e volte a
colocar a gaveta na
máquina.
ÏÀPÀÃPÀÔ 12
CHAPTER 12
53
RO
Curatarea filtrului
Masina de spalat este dotata cu
un filtru special care retine
reziduurile mai mari care ar
putea bloca tubul de evacuare
a apei (monede, nasturi, etc.)
care pot fi usor recuperate.
Acest filtru se curata astfel:
FR
NETTOYAGE FILTRE
La machine à laver est
équipée d'un filtre spécial
qui peut retenir les résidus les
plus gros qui pourraient
bloquer le tuyau
d'évacuation (pièces de
monnaie, boutons, etc.). Ce
dispositif permet de les
récupérer facilement. Pour
nettoyer le filtre, suivre les
indications ci-dessous:
● Descldeti capacul inferior ca
in fig.
● Enlever le socle comme
indique dans la figure.
● Utilizati acest capac pentru a
colecta apa ramasa in filtru.
● Utiliser la base pour
recueillir l'eau qui reste dans
le filtre.
● Rotiti filtrul în sens antiorar
pâna la oprirea în pozitie
verticala.
● Extrageti filtrul si curatati-l.
● Tourner le filtre dans le sens
anti-horaire des aiguilles
d'une montre jusqu'à l'arrêt,
en position verticale.
● Enlever et nettoyer.
PT
● Apres avoir nettoyé, utilisez
l'entaille et remontez le filtre
en faisant toutes les
opérations précédentes
dans le sens inverse.
Mutarea masinii sau lungi
perioade de neutilizare
DEMENAGEMENTS OU
LONGUES PERIODES D'ARRET
DE LA MACHINE
In cazul in care mutati masina
din loc sau aceasta ramane
neutilizata mult timp in locuri
neincalzite, este necesar sa se
goleasca in intregime de apa
toate tuburile.
Cu masina deconectata de la
retea, se lasa tubul de
evacuare in jos si se asteapta
sa iasa toata apa.
La final se repeta operatia in
sens invers.
En cas de déménagement,
ou de longues périodes
d'arrêt de la machine dans
des endroits non chauffés, il
faut vidanger
soigneusement tous ses
tuyaux.
Débrancher le courant et se
servir d'un seau.
Enlever la bague sur le tuyau
et le plier vers le bas, dans le
seau, jusqu'à ce qu'il ne
sorte plus d'eau.
Après cette opération, la
répéter en sens inverse.
EN
LIMPEZA DO FILTRO
Î÷èñòêà ôèëüòpà
FILTER CLEANING
A máquina dispõe de um filtro
especial, concebido para
recolher objectos grandes que
poderiam impedir a descarga de
água (moeds, botões, etc.),
possibilitando, desta forma, uma
fácil recuperação desses
objectos.
 ìàøèíå óñòàíîâëåí
ñïåöèàëüíûé ôèëüòp,
çàäåpæèâà˛ùèé êpóïíûå
÷àñòèöû, ïpåäìåòû, î÷åñû,
êîòîpûå ìîãóò çàñîpèòü ñëèâ
âîäû (ìîíåòû, ïóãîâèöû è
ò.ä.) è èõ ëåãêî èçâëå÷ü èç
ôèëüòpà.
The washing-machine is
equipped with a special filter
to retain large foreign matter
which could clog up the
drain, such as coins, buttons,
etc. These can, therefore,
easily be recovered. The
procedures for cleaning the
filter are as follows:
Este filtro, que se encontra atrás
do rodapé, deverá ser limpo a
intervalos regulares.
Para maior segurança, siga
atentamente estas instruções:
● Desligue a ficha do cabo de
alimentação de corrente da
tomada, e esvazie a máquina de
toda a água.
● Remova o rodapé da máquina
como representado na figura.
● Utilize o rodapé para recolher a
água existente no filtro.
● Rode a tampa do filtro no
sentido contrário ao dos
ponteiros do relógio até atingir o
batente (posição vertical).
● Retire o filtro e limpe-o.
● Apoi observati crestatura si
remontati filtrul, urmand în sens
invers toate operatiile descrise
anterior.
RU
● Depois de limpo, volte a
colocar o filtro, assegurando-se
de que a saliência esteja
perfeitamente alinhada com o
respectivo recorte, e rode o filtro
no sentido dos ponteiros do
relógio. Siga as instruções acima
referidas pela sua ordem inversa
para voltar a colocar a tampa do
filtro, o rodapé, etc.
O QUE FAZER SE MUDAR A
MÁQUINA DE SÍTIO OU SE A
MÁQUINA ESTIVER MUITO TEMPO
SEM FUNCIONAR
Caso tenha de transportar a
máquina, ou sempre que esta
estiver sem trabalhar por um
período de tempo prolongado
num local não aquecido, deverá
escoar totalmente a água de
todas as mangueiras.
Para tal, deverá desligar
previamente a máquina da
corrente, retirando a respectiva
ficha da tomada. Irá necessitar
de um recipiente para recolher a
água.
Solte o tubo de alimentação de
água do respectivo suporte,
puxe-o para baixo e esvazie toda
a água para un recipiente depois
da água ter sido esvaziada volte
a colocar o tubo no respectivo
suporte.
Äëÿ ∋òîãî íåîáõîäèìî:
● OÚÍÓÈÚ ÔÓ‰‰ÓÌ, Í‡Í ÔÓ͇Á‡ÌÓ Ì‡
ËÒÛÌÍÂ.
● Ease off the base as shown
in fig.
● âîñïîëüçóéòåñü öîêîëåì
äëÿ ñáîpà îñòàòêîâ âîäû â
ãíåçäå ôèëüòpà;
● Use the base as a tray to
collect leftover water in filter.
● ïîâåpíèòå ôèëüòp ïî
÷àñîâîé ñòpåëêå äî åãî
îñòàíîâêè â âåpòèêàëüíîì
ïîëîæåíèè;
● Turn the filter anticlockwise
till it stops in vertical position.
● èçâëåêèòå ôèëüòp è
î÷èñòèòå åãî;
● Remove and clean.
● ïîñëå î÷èñòêè ôèëüòpà
îñìîòpèòå åãî è ïîñòàâüòå íà
ìåñòî, ñëåäóÿ îápàòíîìó
ïîpÿäêó îïåpàöèé, îïèñàííûõ
âûøå.
● After cleaning, replace by
turning the notch on the end
of the filter clockwise. Then
follow all procedures
described above in reverse
order.
Ïåpåìåùåíèå èëè îñòàíîâêà
ìàøèíû íà äëèòåëüíûé
ïåpèîä
REMOVALS OR LONG PERIODS
WHEN THE MACHINE IS LEFT
STANDING
Ïpè âîçìîæíîì ïåpåìåùåíèè
ìàøèíû èëè îñòàíîâêå åå íà
äëèòåëüíûé ïåpèîä â
íåîòàïëèâàåìîì ïîìåùåíèè,
íåîáõîäèìî ïîëíîñòü˛ ñëèòü
âîäó èç ìàøèíû è òpóáêè
ñëèâà.
For eventual removals or
when the machine is left
standing for long periods in
unheated rooms, the drain
hose should be emptied of
all remaining water.
Äëÿ ∋òîãî íåîáõîäèìî
îòñîåäèíèòü âèëêó îò pîçåòêè,
ñëèâíó˛ òpóáêó îñâîáîäèòü èç
çàæèìîâ, îïóñòèòü åå äî ïîëà,
ñëèòü âîäó.
The appliance must be
switched off and unplugged.
A bowl is needed. Detach
the drainage hose from the
clamp and lower it over the
bowl until all the water is
removed.
Îñâîáîäèâ ìàøèíó îò âîäû,
çàêpåïèòå ñëèâíó˛ òpóáêó â
ôèêñàòîpå.
 çàâåpøåíèå âûïîëíèòå
îïåpàöè˛ â îápàòíîì
ïîpÿäêå.
Repeat the same operation
with the water inlet hose.
Repita esta operação para o
tubo de esgoto da água.
54
55
FR
RO
CHAPITRE 13
CAPITOLUL 13
PROBLEMA
CAUZA
REMEDIU
Stekerul nu este introdus in priza
Introduceti stekerul
Intrerupatorul generalnu este apasat
Apasati intrerupatorulgeneral
Nu exista energie electrica
ANOMALIE
1. Aucun
fonctionnement
sur n'importe quel
programme
REMEDE
CAUSE
La fiche n'est pas introduite dans la
prise de courant
Brancher la prise
L'interrupteur géneral n'est pas branché
Brancher l'interrupteur général
Verificati
L'alimentation électrique est coupée
Contróler
Verificati
Les valves de l'installation électrique
sont dèfectueuses
Contróler
Sigurante defecte
Hubloul deschis
Inchideti hubloul
Portillon ouvert
Fermer le portillon
Vezi cauzele 1
Voir cause 1
Contróler
Verificati
Deschideti robinetul de apa
Robinet de l'eau fermé
Ouvrir le robinet d'alimentation d'eau
Robinetul de apa inchis
Selectorul de programe nu este corect
pozitionat
Programmateur mal positionné
Pozitionati in mod corect selectorul de
programe
Positionner correctement le
programmateur
Tubul de evacuare indoit
Indreptati tubul de evacuare
Tuyau de vidange plié
Redresser le tuyau de vidange
Prezenta corpuri straine in filtru
Verificati filtrul
Présence de corps étrangers dans le
filtre
Inspecter le filtre
4. Prezenta apei pe
pardoseala in jurul
masinii
Pierderea garniturii puseintre robinet si
tubul de admisie a apei
Inlocuiti garniturasi strangeti bine
Fuite du joint se trouvant entre le robinet
et le tuyau de remplissage
Remplacer le joint et serrer à fond le
tube sur le robinet
5. Nu centrifugheaza
Masina de spalat nu a evacuat inca apa
Asteptati cateva minute, pana ce masina
evacueaza apa
4. Présence d'eau sur
le sol tout autour
de la machine
Butonul "Excludere centrifugare" actionat
(numai pentru unele modele)
Deconectati "excluderea centrifugarii"
5. La machine
n'essore pas
La machine n'a pas encore évacué
l'eau
Attendre quelques minutes et la
machine évacuera l'eau
Ajustati piciorusele reglabile
La fonction "Exclusion essorage" est
introduite (exclusivement sur certains
modèles)
Relever la touche "exclusion essorage"
Masina de spalat nu este perfect
echilibrata
Bridele de transport nu au fost inca
inlaturate
Inlaturati bridele de transport
La machine n'est pas à niveau
Régler les pieds
Distribuiti rufele in mod uniform
Les étriers de transport n'ont pas été
enlevés
Enlever les étriers de transport
Rufele nu sunt incarcate uniform
La charge de linge n'est pas répartie
de façon uniforme
Répartir le linge de façon uniforme
1. Nu functioneaza la
niciun program
2. Nu trage apa
3. Nu evacueaza apa
6. Vibratii puternice in
timpul centrifugarii
Daca defectiunea persista contactati cel mai apropiat punct de service autorizat de Candy.
1 Utilizarea produselor ecologice fara fosfati poate produce urmatoarele efecte:
- apa de clatire poate sa fie mai tulbure datorita zeolitilor aflati in suspensie. Acest lucru nu
afecteaza calitatea clatirii
- prezenta unei pudre albe (zeoliti) pe rufe la sfirsitul ciclului de spalare. Aceasta nu intra in
tesatura si nu altereaza culorile
- prezenta spumei in ultima apa de clatire nu indica in mod necesar o clatire neadecvata
- agentii non-ionici prezenti in compozitia detergentilor sunt adesea greu de inlaturat de pe rufe
si, chiar in cantitati mici, pot produce cantitati importante de spuma
- executarea mai multor cicluri de clatire in cazurile sus mentionate nu aduc nici un avantaj
2 Daca masina Dvs. nu functioneaza, inainte de a suna la punctele service Candy faceti verificarile
sus mentionate
56
2. Absence
d'alimentation
d'eau
3. L'eau n'est pas
évacuèe
6. De fortes vibrations
pendant la phase
d'essorage
Si le mauvais fonctionnement persiste, adressez-vous au Centre d'Assistance Technique Candy; communiquez
le nom du modèle indiqué sur la plaque-signaletique se trouvant sur la carrosserie à l'intérieur du hublot ou sur
le certificat de garantie.
En indiquant ces informations vous obtiendrez une intervention plus rapide et efficace.
1 L'utilisation des produits écologiques sans phosphates peut produire les effets suivants:
- L'eau de vidange du rinçage est trouble à cause de zéolites en suspension; l'efficacité du rinçage n'est
absolument pas compromis;
- Présence de poudre blanche (zéolites) sur le linge à la fin du lavage: cette poudre ne pénètre pas dans le
tissu et n'en altère pas la couleur;
- présence de mousse dans l'eau du dernier rinçage: elle ne signifie pas pour autant un mauvais rinçage;
- Les tensioactifs anioniques de la formule des produits pour machines à laver, s'enlèvent difficilement du
linge et, même en toute petite quantité, ils peuvent provoquer d'importants phénomènes de formation de
mousse;
- L'exécution d'autres cycles de rinçage, en de tels cas, n'apporte aucun avantage.
2 Avant d'appeler le Centre d'Assistance technique Candy, si votre machine ne fonctionne pas, effectuer les
contrôles susmentionnés.
57
RU
PT
ÏÀPÀÃPÀÔ 13
CAPÍTULO 13
ÍÅÈÑÏPÀÂÍÎÑÒÈ, ÏPÈóÈÍÛ È ÈÕ ÓÑÒPÀÍÅÍÈÅ
AVARIA
ACÇÃO NECESSÁRIA
CAUSA PROVÁVEL
ÍÅÈÑÏPÀÂÍÎÑÒÈ
1. O programa não
funciona
A máquina não está ligada à corrente
Ligue a máquina à corrente
A tecla de ligar/desligar não
foi premida
Pressione a tecla
Falha da alimentação de corrente
1. Ìàøèíà íå
pàáîòàåò íè íà
îäíîé ïpîãpàììå
ÓÑÒPÀÍÅÍÈÅ
ÏPÈóÈÍÛ
Âèëêà ïëîõî âêë˛÷åíà â pîçåòêó.
Âêë˛÷èòü âèëêó â pîçåòêó.
Íå íàæàòà êíîïêà âêë/âûêë.
Íàæàòü êíîïêó âêë/âûêë.
Verifique
Îòñóòñòâóåò ∋ëåêòpî∋íåpãèÿ.
Ïpîâåpèòü íàïpÿæåíèå.
Fusível disparado
Verifique e, se necessário, substitua
Ïåpåãîpåëè ïpåäîõpàíèòåëè (ïpîáêè)
∋ëåêòpîñåòè.
Ïpîâåpèòü
A porta não está bem fechada
Feche bem a porta
Îòêpûò çàãpóçî÷íûé ë˛ê.
Çàêpûòü ë˛ê.
Vide ponto (1)
Verifique
Ñì. 1 ïpè÷èíó.
Ïpîêîíòpîëèpîâàòü.
Torneira de água fechada
Abra a torneira
Çàêpûò êpàí ïîäà÷è âîäû.
Îòêpûòü êpàí.
Selecção incorrecta de programa
Volte a seleccionar o programa
Mangueira de esgoto dobrada
ou torcida
Endireite a mangueira
Íåïpàâèëüíî óñòàíîâëåíà pó÷êà L
âûáîpà ïpîãpàìì ñòèpêè.
Ïpîâåpèòü óñòàíîâêó pó÷êè L âûáîpà
ïpîãpàìì ñòèpêè.
Ïpî÷èñòèòü ôèëüòp.
Verifique o filtro
3. Ñòèpàëüíàÿ
ìàøèíà íå ñëèâàåò
âîäó
Çàñîpèëñÿ ôèëüòp.
Presença de um corpo estranho no filtro
Ïåpåãíóòà òpóáêà ñëèâà.
Âûïpÿìèòü òpóáêó ñëèâà.
4. Agua no chão ao
pé da máquina
Falta de vedação entre a torneira e a
mangueira
Substitua o vedante e aparafuse bem
a mangueira
4. Íàëè÷èå âîäû íà
ïîëó âîêpóã ìàøèíû
Âîäà ïpîíèêàåò ÷åpåç ïpîêëàäêó ìåæäó
êpàíîì è òpóáêîé ïîäà÷è âîäû.
Çàìåíèòü ïpîêëàäêó è çàòÿíóòü
ñîåäèíåíèå.
5. A máquina não faz
a centrifugação
A água ainda não foi despejada
Espere alguns minutos
Solte a tecla
5. Ñòèpàëüíàÿ
ìàøèíà íå
îòæèìàåò áåëüå
Åùå íå ñëèòà âîäà.
Tecla "eliminação da centrifugação"
premida (alguns modelos)
Ïîäîæäàòü íåñêîëüêî ìèíóò, ïîêà
ìàøèíà ñîëüåò âîäó.
Påæèì îòæèìà âûêë˛÷åí.
Âêë˛÷èòå påæèì îòæèìà.
Fixações de transporte não foram
removidas
Remova-as
Ìàøèíà íåpîâíî óñòàíîâëåíà íà ïîëó.
Âûpîâíèòü ïpè ïîìîùè påãóëèpóåìûõ
íîæåê.
A máquina está mal nivelada
Nivele a máquina com os pés
ajustáveis
Íå ñíÿòû òpàíñïîpòèpîâî÷íûå ñêîáû.
Ñíÿòü òpàíñïîpòèpîâî÷íûå ñêîáû.
Distribua a roupa de modo
mais uniforme
Áåëüå íåpàâíîìåpíî pàñïpåäåëèëîñü â
áàpàáàíå.
Pàâíîìåpíî pàñïpåäåëèòü áåëüå.
2. A máquina não
mete água
3. A máquina não
despeja a água
6. Excesso de
vibrações durante
a centrifugação
A roupa está mal distribuída
2. Ñòèpàëüíàÿ
ìàøèíà íå
çàïîëíÿåòñÿ âîäîé
6. Ñèëüíûå âèápàöèè
âî âpåìÿ îòæèìà
Se a máquina continuar a não funcionar entre em contacto com um Serviço de Assistência Técnica Candy.
Para que o serviço seja prestado com maior rapidez será recomendável indicar o modelo da máquina, tal
como consta da placa de características ou no certificado de garantia.
Atenção:
1 A utilização de um detergente ecológico "sem fosfatos" poderá provocar os seguintes efeitos secundários:
durante o ciclo de enxaguamento a água pode apresentar-se turva devido à presença de zeólitos em
suspensão, o que não altera a eficácia do enxaguamento;
presença de uma película de pó branco (zeólitos) na roupa no fim da lavagem. Esta película não fica
incorporada nos tecidos e não altera a sua cor;
presença de espuma durante o último enxaguamento, o que não é necessariamente um sinal de um
enxaguamento ineficaz;
os agentes tensio-activos não iónicos presentes na composição dos detergentes para máquinas de lavar são
frequentemente difíceis de remover da própria roupa e, mesmo que em pequenas quantidades, podem
produzir sinais visíveis da formação de espuma;
este fenómeno não é eliminado através de enxaguamentos posteriores sucessivos.
2 Se a sua máquina se avariar, antes de chamar um técnico para prestar assistência à sua máquina, proceda
às verificações anteriormente referidas.
Åñëè íå óäàåòñÿ óñòpàíèòü ïpè÷èíû ïëîõîé pàáîòû ìàøèíû, îápàòèòåñü â öåíòp òåõîáñëóæèâàíèÿ Êàíäè,
ñîîáùèâ ìîäåëü ìàøèíû, óêàçàííó˛ íà òàáëè÷êå èëè â ãàpàíòèéíîì òàëîíå. Ïpåäîñòàâèâ ∋òè ä àííûå, Âû
áûñòpî è ∋ôôåêòèâíî ïîëó÷èòå ñîîòâåòñòâó˛ùó˛ óñëóãó.
Âíèìàíèå!
Åñëè Âàøà ìàøèíà íå pàáîòàåò, òî, ïpåæäå ÷åì îápàùàòüñÿ â öåíòp òåõîáñëóæèâàíèÿ, ïîïûòàéòåñü óñòpàíèòü
íåèñïpàâíîñòü ñàìè, èñïîëüçóÿ âûøåóêàçàííó˛ òàáëèöó.
Salvaguardam-se erros e alterações!
58
59
EN
CHAPTER 13
FAULT
1. Does not function
on any
programme
REMEDY
CAUSE
Mains plug not plugged in
Insert plug
Mains switch not on
Turn on mains switch
No power
Check
Electric circuit fuses failure
Check
Load door open
Close load door
See cause 1
Check
Inlet tap turned off
Turn on water inlet tap
Timer not set correctly
Set timer on correct position
Discharge tube bent
Straighten discharge tube
Odd material blocking filter
Check filter
4. Water on floor
around washing
machine
Leak from the washer between the tap
and inlet tube
Replace washer and tighten the tube
on the tap
5. Does not spin
The washing machine has not
discharged water
Wait a few minutes until the machine
discharges water
"No spin" setting (some models only)
Turn the programme dial onto spin
setting
Washing machine not perfectly level
Adjust special feet
Transport bracket not removed
Remove transport bracket
Washing load not evenly distributed
Distribute the washing evenly
2. Does not load
water
3. Does not discharge
water
6. Strong vibrations
during spin
If the fault should persist, contact a Candy Technical Assistance Centre. For prompt servicing, give the model of
the washing machine, to be found on the label placed on the cabinet inside of the porthole or on the
guarantee certificate.
Important
1 The use of environment friendly detersives without phosphates may produce the following effects:
- The discharge rinse water may result cloudier due to the presence of zeolites in suspension. This does not
compromise the efficiency of the rinses.
- The presence of white powder (zeolites) on the washing at the end of the washing cycle. This does not
remain incorporated in the fabric and does not alter the colour.
- The presence of foam in the last rinse water which is not necessarily a sign of inadequate rinsing.
- The non-ionic surface-active agents present in the composition of washing machine detersives are often
difficult to remove from the washing itself and, even in small quantities, may produce visible signs of the
formation of foam.
- Carrying out further rinses, in cases such as this, is not useful.
2 If your washing machine fails to function, carry out the above-mentioned checks before calling the Candy
Technical Assistance Service.
60
Le constructeur décline toute responsabilité pour les éventuelles erreurs d'imprimerie
contenues dans le présent mode d'emploi. Il se réserve en outre le droit d'apporter
toutes modifications qui se révèleraient utiles à ses propes produits sans pour autant
en compromettre les caractéristiques essentielles.
O modelo e caracteristicas indicados nesta folha podem ser alterados sem qualquer
aviso.
Ôèpìa-èçãoòoâèòeëü íe íeceò íèêaêoé oòâeòcòâeííocòè ça oøèáêè ïe÷aòè,,
c o ä e p æ a ùè e c ÿ â ä a í í û x è í c ò p y ê ö è ÿ x , è o c ò a â ë ÿ e ò ç a c o á o é ï p a â o
yëy÷øeíèÿ êa÷ecòâa coácòâeííûx èçäeëèé, ocòaâëÿÿ íeèçìeííûìè ocíoâíûe
òexíè÷ecêèe xapaêòepècòèêè.
The manufacturer declines all responsibility in the event of any printing mistakes in
this booklet. The manufacturer also reserves the right to make appropriate
modifications to its products without changing the essential characteristics.
Acest aparat este marcat în conformitate cu Directiva Europeana 2002/96/CE
referitoare la Deseurile de Echipament Electric si Electronic ( WEEE).
Asigurându- va ca acest produs este eliminat în mod corect, contribuiti la
prevenirea potentialelor consecinte negative asupra mediului înconjurator si
sanatatii persoanelor, consecinte care ar putea fi provocate de aruncarea
necorespunzatoare la gunoi a acestui produs.
Simbolul de pe produs, sau de pe documentele care însotesc produsul,
indica faptul ca acesta nu poate fi aruncat împreuna cu deseurile menajere.
Trebuie predat la punctul de colectare corespunzator, pentru reciclarea
echipamentului electric si electronic.
Aruncarea la gunoi a aparatului trebuie facuta în conformitate cu normele
locale pentru eliminarea deseurilor.
Pentru informatii mai detaliate privind eliminarea, valorificarea si reciclarea
acestui produs, va rugam sa contactati administratia locala,
serviciul de eliminare a deseurilor menajere sau magazinul de unde ati
cumparat produsul.
Cet appareil est commercialisé en accord avec la directive européenne 2002/96/CE sur les déchets des équipements
électriques et électroniques (DEEE).
En vous assurant que ce produit est correctement recyclé, vous participez à la prévention des conséquences négatives
sur l'environnement et la santé publique qui pourrait être causé par une mise au rebut inappropriée de ce produit.
Le symbole sur ce produit indique qu'il ne doit pas être traité comme un déchet ménager. Il doit être rapporté jusqu'à un
point de recyclage des déchets électriques et électroniques.
La collecte de ce produit doit se faire en accord avec les réglementations environnementales concernant la mise au
rebut de ce type de déchets.
Pour plus d'information au sujet du traitement, de la collecte et du recyclage de ce produit, merci de contacter votre
mairie, votre centre de traitement des déchets ou le magasin où vous avez acheté ce produit.
чÌÌÓ ËÁ‰ÂÎË ËÏÂÂÚ Ï‡ÍËÓ'ÍÛ ' ÒÓÓÚ'ÂÚÒÚ'ËË Ò Â'ÓÔÂÈÒÍÓÈ ÑËÂÍÚË'ÓÈ 2002/96/Öë ͇҇ÚÂθÌÓ ÓÚıÓ‰Ó' ˝ÎÂÍÚ˘ÂÒÍÓ"Ó Ë ˝ÎÂÍÚÓÌÌÓ"Ó
Ó·ÓÛ‰Ó'‡ÌËfl (WEEE).
é·ÂÒÔ˜˂ Ô‡'ËθÌÛ˛ ÛÚËÎËÁ‡ˆË˛ ‰‡ÌÌÓ"Ó ËÁ‰ÂÎËfl, Ç˚ ÔÓÏÓÊÂÚ Ô‰ÓÚ'‡ÚËÚ¸ ÔÓÚÂ̈ˇθÌÓ Ì"‡ÚË'Ì˚ ÔÓÒΉÒÚ'Ëfl 'ÓÁ‰ÂÈÒÚ'Ëfl ̇
ÓÍÛʇ˛˘Û˛ ÒÂ‰Û Ë Á‰ÓÓ'¸Â β‰ÂÈ, ÍÓÚÓ˚ ÏÓ"ÛÚ 'ÓÁÌËÍÌÛÚ¸ 'ÒΉÒÚ'Ë ÌÂÔ‡'ËθÌÓÈ ÛÚËÎËÁ‡ˆËË ‰‡ÌÌÓ"Ó ËÁ‰ÂÎËfl.
å‡ÍËӂ͇ ̇ ËÁ‰ÂÎËË ÔÓ͇Á˚'‡ÂÚ, ˜ÚÓ Ò ‰‡ÌÌ˚Ï ËÁ‰ÂÎËÂÏ ÌÂθÁfl Ó·‡˘‡Ú¸Òfl Í‡Í Ò Ó·˚˜Ì˚ÏË ·˚ÚÓ'˚ÏË ÓÚıÓ‰‡ÏË. ç‡ÔÓÚË', Â"Ó ÌÛÊÌÓ Ò‰‡Ú¸ '
ÒÓÓÚ'ÂÚÒÚ'Û˛˘ËÈ ÔÛÌÍÚ Ò·Ó‡ ÓÚıÓ‰Ó' ˝ÎÂÍÚ˘ÂÒÍÓ"Ó Ë ˝ÎÂÍÚÓÌÌÓ"Ó Ó·ÓÛ‰Ó'‡ÌËfl.
ìÚËÎËÁ‡ˆËfl ‰ÓÎÊ̇ ·˚Ú¸ ÔÓËÁ'‰Â̇ ' ÒÓÓÚ'ÂÚÒÚ'ËË Ò ÏÂÒÚÌ˚Ï Á‡ÍÓÌÓ‰‡ÚÂθÒÚ'ÓÏ ÔÓ Á‡˘ËÚ ÓÍÛʇ˛˘ÂÈ Ò‰˚ ͇҇ÚÂθÌÓ ÛÚËÎËÁ‡ˆËË ÓÚıÓ‰Ó'.
ÑÎfl ·ÓΠ‰ÂڇθÌÓÈ ËÌÙÓχˆËË ÔÓ 'ÓÒÒÚ‡ÌÓ'ÎÂÌ˲, ÔÓ'ÚÓÌÓÏÛ ËÒÔÓθÁÓ'‡Ì˲ Ë Ó·‡˘ÂÌ˲ Ò ËÁ‰ÂÎËÂÏ Ò'flÊËÚÂÒ¸ Ò ÏÂÒÚÌÓÈ ‡‰ÏËÌËÒÚ‡ˆËÂÈ,
ÔÛÌÍÚÓÏ ÛÚËÎËÁ‡ˆËË ÓÚıÓ‰Ó' ËÎË Ò Ï‡"‡ÁËÌÓÏ, ' ÍÓÚÓÓÏ Ç˚ ÔËÓ·ÂÎË ‰‡ÌÌÓ ËÁ‰ÂÎËÂ.
This appliance is marked according to the European directive 2002/96/EC on Waste Electrical and Electronic Equipment (WEEE).
By ensuring this product is disposed of correctly, you will help prevent potential negative consequences for the environment and
human health, which could otherwise be caused by inappropriate waste handling of this product.
The symbol on the product indicates that this product may not be treated as household waste. Instead it shall be handed over to the
applicable collection point for the recycling of electrical and electronic equipment
Disposal must be carried out in accordance with local environmental regulations for waste disposal.
For more detailed information about treatment, recovery and recycling of this product, please contact your local city office, your
household waste disposal service or the shop where you purchased the product.
Óâaæaeìûe ãocïoäa, cooáùaeì Baì, ÷òo íaøa ïpoäyêöèÿ
cepòèôèöèpoâaía ía cooòâeòcòâèe òpeáoâaíèÿì áeçoïacíocòè
coãëacío "Çakoíy o çaùèòe ïpaâ ïoòpeáèòeëé PÔ" ìocêoâcêèì
opãaíoì ïo cepòèôèêaöèè "Pocòecò-Mocêâa" (peãècòpaöèoííûé íoìep
Aß 46).
Câeäeíèÿ o íoìepe cepòèôèêaòa è cpoêe ero äeécòâèÿ Bû ìoæeòe
ïoëy÷èòü â ìaãaçèíe, ãäe ïpèoápeëè èçäeëèe.
RO
FR
PT
RU
EN
05.10 - 41017745 - Printed in Italy - Imprimé en Italie
Este electrodoméstico está marcado de acordo com o disposto na directiva europeia 2002/96/CE relativa aos resíduos
de equipamentos eléctricos e electrónicos (REEE).
Ao assegurar que este produto seja correctamente eliminado, estará a prevenir eventuais consequências negativas
para o ambiente e para a saúde, que, de outra forma, poderiam resultar de um tratamento incorrecto deste produto,
quando eliminado.
O símbolo patente neste produto indica que ele não pode ser tratado como lixo doméstico. Em vez disso, deve ser
entregue no centro de recolha apropriado, para reciclagem do equipamento eléctrico e electrónico.
A eliminação deste produto deve ser levada a cabo de acordo com os regulamentos localmente aplicáveis à
eliminação e ao tratamento de lixo e resíduos.
Para obter informações mais detalhadas sobre o tratamento, a recuperação e a reciclagem deste produto,
agradecemos que entre em contacto com a entidade municipal competente, com o serviço de eliminação de lixos e
resíduos ou com o estabelecimento comercial onde adquiriu o produto.