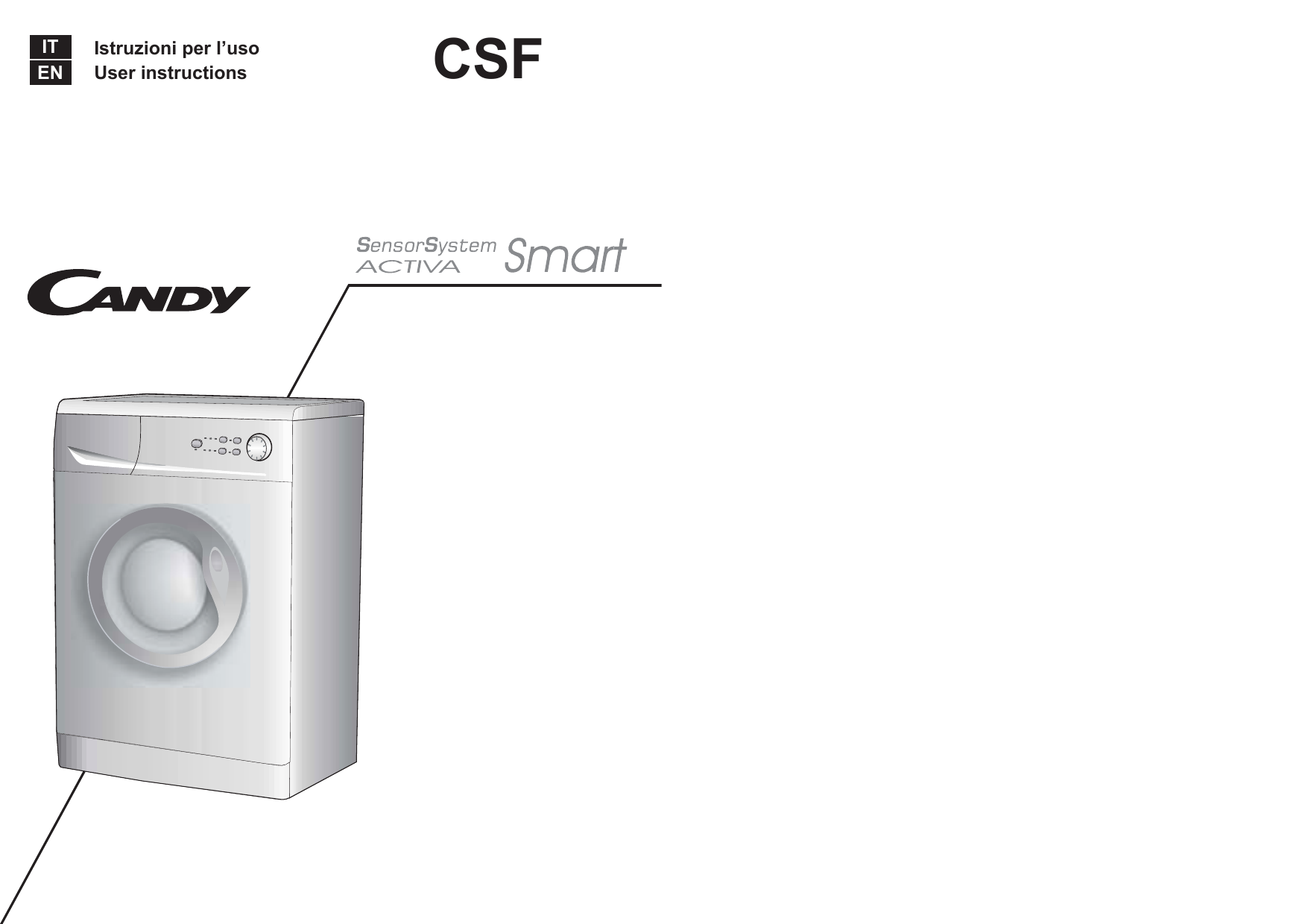 IT
EN
Istruzioni per l'uso
User instructions
CSF
IT
IT
EN
CAPITOLO
CHAPTER
COMPLIMENTI
OUR COMPLIMENTS
INDICE
INDEX
With the purchase of this
Candy household
appliance, you have shown
that you will not accept
compromises: you want only
the best.
Prefazione
Introduction
Con l'acquisto di questo
elettrodomestico Candy;
Lei ha dimostrato di non
accettare compromessi:
Lei vuole il meglio.
Note generali alla consegna
General points on delivery
1
Garanzia
Guarantee
2
Candy é lieta di proporLe
questa nuova lavatrice
frutto di anni di ricerche e di
esperienze maturate sul
mercato, a contatto diretto
con i Consumatori. Lei ha
scelto la qualità, la durata e
le elevate prestazioni che
questa lavatrice Le offre.
Candy is happy to present
their new washing machine,
the result of years of
research and market
experience through direct
contact with Consumers.
You have chosen the quality,
durability and high
performance that this
washing machine offers.
Prescrizioni di sicurezza
Safety Measures
3
Dati tecnici
Technical Data
4
Messa in opera, installazione
Setting up and Installation
5
Descrizione comandi
Control Description
6
Tabella programmi
Table of Programmes
7
Selezione
Selection
8
Cassetto detersivo
Detergent drawer
9
Il prodotto
The Product
10
Lavaggio
Washing
11
Pulizia e manutenzione
ordinaria
Cleaning and routine
maintenance
12
Ricerca guasti
Faults Search
13
Candy Le propone inoltre
una vasta gamma di
elettrodomestici: lavatrici,
lavastoviglie, lavasciuga,
cucine, forni a microonde,
forni e piani di cottura,
frigoriferi e congelatori.
Chieda al Suo Rivenditore
il catalogo completo dei
prodotti Candy
La preghiamo di leggere
attentamente le avvertenze
contenute nel presente
libretto in quanto forniscono
importanti indicazioni
riguardanti la sicurezza di
installazione, d'uso, di
manutenzione e alcuni utili
consigli per il migliore utilizzo
della lavatrice.
Conservi con cura questo
libretto per ogni ulteriore
consultazione.
Quando comunica con la
Candy o con i suoi centri di
assistenza citi sempre il
Modello, il n° e il numero G
(se c'è). Praticamente tutto
ciò che é citato nel
riquadro.
2
EN
Candy is also able to offer a
vast range of other
household appliances:
washing machines,
dishwashers, washer-dryers,
cookers, microwave ovens.
Traditional ovens and hobs,
refrigerators and freezers.
Ask your local retailer for the
complete catalogue of
Candy products.
Please read this booklet
carefully as it provides
important guide lines for
safe installation, use and
maintenance and some
useful advise for best results
when using your washing
machine.
Keep this booklet in a safe
place for further
consultation.
When contacting Candy
or a Customer Services
Centre always refer to the
Model, No., and G number
(if applicable of the
appliance see panel).
3
IT
EN
CAPITOLO 1
CHAPTER 1
NOTE GENERALI
ALLA CONSEGNA
GENERAL POINTS
ON DELIVERY
Alla consegna controlli che
con la macchina ci siano:
CAPITOLO 2
Servizio Assistenza Clienti
CERTIFICATO DI GARANZIA CONVENZIONALE: cosa fare?
Il Suo prodotto è garantito, alle condizioni e nei termini riportati sul certificato inserito nel
prodotto ed in base alle previsioni del decreto legislativo 24/02, nonché del decreto
legislativo 6 settembre 2005, n. 206, per un periodo di 24 mesi decorrenti dalla data di
consegna del bene.
Così come riportato nei testi dei Decreti Legislativi citati, il certificato di garanzia dovrà
essere da Lei conservato, debitamente compilato, per essere mostrato al Servizio
Assistenza Tecnica Autorizzato, in caso di necessità, unitamente ad un documento
fiscalmente valido rilasciato dal rivenditore al momento dell'acquisto (bolla di consegna,
fattura, scontrino fiscale, altro) sul quale siano indicati il nominativo del rivenditore, la
data di consegna, gli estremi identificativi del prodotto ed il prezzo di cessione.
Resta pure inteso che, salvo prova contraria, poiché si presume che i difetti di conformità
che si manifestano entro sei mesi dalla consegna del bene esistessero già a tale data, a
meno che tale ipotesi sia incompatibile con la natura del bene o con la natura del difetto
di conformità, il Servizio di Assistenza Tecnica Autorizzato Gias, verificato il diritto
all'intervento, lo effettuerà senza addebitare il diritto fisso di intervento a domicilio, la
manodopera ed i ricambi. Per contro, nel successivo periodo di diciotto mesi di vigenza
della garanzia, sarà invece onere del consumatore che intenda fruire dei rimedi
accordati dalla garanzia stessa provare l'esistenza del difetto di conformità del bene sin
dal momento della consegna; nel caso in cui il consumatore non fosse in grado di fornire
detta prova, non potranno essere applicate le condizioni di garanzia previste e pertanto il
Servizio di Assistenza Tecnica Autorizzato Gias effettuerà l'intervento addebitando al
consumatore tutti i costi relativi.
On delivery, check that the
following are included with
the machine:
A) MANUALE
D'ISTRUZIONE
A) INSTRUCTION MANUAL
B) INDIRIZZI DI ASSISTENZA
B) CUSTOMER SERVICE
ADDRESSES
C) CERTIFICATI DI
GARANZIA
C) GUARANTEE
CERTIFICATES
D) TAPPO
D) CAP
E) CURVA PER TUBO
SCARICO
IT
E) BEND FOR OUTLET TUBE
B
KEEP THEM IN A SAFE
PLACE
4
The appliance is supplied
with a guarantee certificate
which allows free use of the
Technical Assistance Service.
ANOMALIE E MALFUNZIONAMENTI: a chi rivolgersi ?
Per qualsiasi necessità il centro assistenza autorizzato è a Sua completa disposizione
per fornirLe i chiarimenti necessari; comunque qualora il Suo prodotto presenti anomalie
o mal funzionamenti, prima di rivolgersi al Servizio Assistenza Autorizzato, consigliamo
vivamente di effettuare i controlli indicati nel capitolo 13.
MATRICOLA DEL PRODOTTO. Dove si trova?
E' indispensabile che comunichi al Servizio Assistenza Tecnica Autorizzato la sigla del
prodotto ed il numero di matricola (16 caratteri che iniziano con la cifra 3) che troverà sul
certificato di garanzia oppure sulla targa matricola posta sul frontale della lavabiancheria
(zona oblò). In questo modo Lei potrà contribuire ad evitare trasferte inutili del tecnico,
risparmiando oltretutto i relativi costi.
D
Check that the machine has
not incurred damage during
transport. If this is the case,
contact your nearest Candy
Centre.
GUARANTEE
UN SOLO NUMERO TELEFONICO PER OTTENERE ASSISTENZA.
Qualora il problema dovesse persistere, componendo il "Numero Utile" sotto indicato,
sarà messo in contatto direttamente con il Servizio Assistenza Tecnica Autorizzato che
opera nella Sua zona di residenza.
Attenzione:
la chiamata è a pagamento; il costo verrà comunicato, tramite messaggio vocale, dal
Servizio clienti dell'operatore telefonico utilizzato. Dettagli sono presenti sul sito internet
www.candy.it.
C
e controlli che non abbia
subito danni durante il
trasporto, in caso contrario
chiami il centro Candy più
vicino.
CHAPTER 2
ESTENSIONE DELLA GARANZIA FINO A 5 ANNI: come?
Le ricordiamo inoltre che sullo stesso certificato di garanzia convenzionale Lei troverà le
informazioni ed i documenti necessari per prolungare la garanzia dell'apparecchio sino a
5 anni e così, in caso di guasto, non pagare il diritto fisso di intervento a domicilio, la
manodopera ed i ricambi.
Per qualsiasi informazione necessitasse, La preghiamo rivolgersi al numero telefonico
del Servizio Clienti 199 12 13 14.
A
CONSERVATELI
EN
E
5
IT
CAPITOLO 3
PRESCRIZIONI DI
SICUREZZA
ATTENZIONE:
PER QUALSIASI
INTERVENTO DI PULIZIA
E MANUTENZIONE
DELLA LAVATRICE
CHAPTER 3
SAFETY MEASURES
IMPORTANT:
FOR ALL CLEANING
AND MAINTENANCE
WORK
● Tolga la spina.
● Remove the plug
● Chiuda il rubinetto
dell'acqua.
● Turn off the water inlet tap.
● La Candy correda tutte le
sue macchine di messa a
terra.
Si assicuri che l'impianto
elettrico sia provvisto di
messa a terra in caso
contrario richieda
l'intervento di personale
qualificato.
● All Candy appliances are
earthed. Ensure that the
main electricity circuit is
earthed. Contact a qualified
electrician if this is not the
case.
● Non tocchi l'apparecchio
con mani, piedi bagnati o
umidi.
● Do not touch the
● Non usi, se non con
particolare cautela,
prolunghe in locali adibiti a
bagno o doccia.
ATTENZIONE:
DURANTE IL LAVAGGIO
L'ACQUA PUO' ANDARE
A 90°C.
● Prima di aprire l'oblò si
assicuri che non vi sia
acqua nel cestello.
● Non usi adattatori o spine
multiple
● Questo apparecchio non è
destinato ad essere usato da
bambini e persone incapaci o
inesperte all'uso del prodotto, a
meno che non vengano
sorvegliate o istruite riguardo
all'uso dell'apparecchio da
una persona responsabile
della loro sicurezza.
Sorvegliare i bambini in modo
tale da assicurarsi che non
giochino con l'apparecchio.
● Non tiri il cavo di
alimentazione, o
l'apparecchio stesso, per
staccare la spina dalla presa
di corrente.
● Non lasci esposto
l'apparecchio ad agenti
atmosferici (pioggia, sole,
ecc...).
● In caso di trasloco non la
sollevi mai dalle manopole o
dal cassetto del detersivo.
appoggi mai l'oblò al
carrello.
Appliance complies
with European Directives
73/23/EEC and 89/336/EEC,
replaced by 2006/95/EC and
2004/108/EC, and
subsequent amendments.
piedi nudi.
IT
● Durante il trasporto non
Apparecchio
conforme alle Direttive
Europee 73/23/CEE e
89/336/CEE, sostituite
rispettivamente da
2006/95/CE e 2004/108/CE,
e successive modifiche.
● Non usi l'apparecchio a
6
EN
appliance with wet or damp
hands or feet.
● Do not use the appliance
when bare-footed.
● Extreme care should be
taken if extension leads are
used in bathrooms or shower
rooms. Avoid this where
possible.
WARNING: DURING THE
WASHING CYCLE, THE
WATER CAN REACH A
TEMPERATURE OF 90°C.
● Before opening the
washing machine door,
ensure that there is no water
in the drum.
EN
● Do not use adaptors or
multiple plugs.
● This appliance is not
intended for use by persons
(including children) with
reduced physical, sensory or
mental capabilities, or lack of
experience and knowledge,
unless they have been given
supervision or instruction
concerning use of the
appliance by a person
responsible for their safety.
Children should be
supervised to ensure that
they do not play with the
appliance.
● Do not pull the mains lead
or the appliance itself to
remove the plug from the
socket.
● Do not leave the
appliance exposed to
atmospheric agents (rain, sun
etc.)
● In the case of removal,
never lift the appliance by
the knobs or detersive
drawer.
● During transportation
Importante!
Nel caso si installi
l'apparecchio su un
pavimento ricoperto da
tappeti o con moquette, si
deve fare attenzione che le
aperture di ventilazione alla
base dell'apparecchio non
vengano ostruite.
do not lean the door against
the trolley.
come illustrato in figura.
Important!
When the appliance
location is on carpet floors,
attention must be paid so as
to ensure that there is no
obstruction to the bottom
vents.
● In caso di guasto e/o di
● Lift the appliance in pairs
● Sollevarla in due persone
cattivo funzionamento
dell'apparecchio, lo spenga,
chiuda il rubinetto
dell'acqua e non
manometta
l'elettrodomestico. Per
l'eventuale riparazione si
rivolga solamente a un
centro di Assistenza Tecnica
Candy e richieda l'utilizzo di
ricambi originali.
Il mancato rispetto di quanto
sopra può compromettere la
sicurezza dell'apparecchio.
● Se il cavo di alimentazione
risultasse danneggiato, dovrà
essere sostituito da un cavo
speciale disponibile presso il
servizio di Assistenza Tecnica.
as illustrated in the diagram.
● In the case of failure
and/or incorrect operation,
turn the washing machine
off, close the water inlet tap
and do not tamper with the
appliance. Contact a Candy
Technical Assistance Centre
for any repairs and ask for
original Candy spare parts.
Avoidance of these norms
may compromise the safety
of the appliance.
● Should the supply cord
(mains cable) be demaged,
this is to be replaced by a
specific cable available from
the after sales service centre.
7
IT
EN
CAPITOLO 4
IT
CHAPTER 4
85
cm
CAPITOLO 5
CHAPTER 5
MESSA IN OPERA
INSTALLAZIONE
SETTING UP
INSTALLATION
Porti la macchina vicino al
luogo di utilizzo senza il
basamento dell'imballo.
Move the machine near its
permanent position without
the packaging base.
Tagli le fascette fermatubo
Cut tube-holding straps.
Svitare la vite centrale (A);
svitare le 4 viti laterali (B) e
rimuovere la traversa (C).
Unscrew the central screw
(A); unscrew the 4 lateral
screws (B) and remove the
cross piece (C).
40 cm
60 cm
8
EN
DATI TECNICI
TECHNICAL DATA
CAPACITA' DI BIANCHERIA
ASCIUTTA
MAXIMUM WASH
LOAD DRY
ACQUA LIVELLO NORMALE
NORMAL WATER LEVEL
l
6÷15
POTENZA
ASSORBITA
POWER INPUT
W
2150
CONSUMO DI ENERGIA
(PROG. 90°C)
ENERGY CONSUMPTION
(PROG. 90°C)
kWh
1,8
AMPERE DEL
FUSIBILE DELLA RETE
POWER CURRENT FUSE
AMP
A
10
GIRI DI
CENTRIFUGA (giri/min.)
SPIN
r.p.m.
PRESSIONE NELL'IMPIANTO
IDRAULICO
WATER PRESSURE
MPa
min. 0,05
max. 0,8
TENSIONE
SUPPLY VOLTAGE
V
230
kg
5
VEDERE TARGHETTA DATI
SEE RATING PLATE
Inclinare la macchina in
avanti e sfilare i sacchetti in
plastica che contengono i
due blocchetti in polistirolo
posti sui 2 lati tirando verso il
basso.
Richiudere il foro utilizzando
il tappo contenuto nella
busta istruzioni.
ATTENZIONE:
NON LASCI ALLA
PORTATA DI BAMBINI
GLI ELEMENTI
DELL'IMBALLAGGIO IN
QUANTO POTENZIALI
FONTI DI PERICOLO.
Lean the machine forward
and remove the plastic
bags containing the two
polystyrene blocks at the
sides, pulling downwards.
Press the plug (to be found
in the envelope with the
instructions) into the hole.
WARNING:
DO NOT LEAVE THE
PACKAGING IN THE
REACH OF CHILDREN
AS IT IS A POTENTIAL
SOURCE OF DANGER.
9
IT
Applichi il foglio di polionda
sul fondo come mostrato in
figura.
Allacci il tubo dell'acqua al
rubinetto.
L'apparecchio deve essere
connesso alla rete idrica
solo con i nuovi tubi di
carico forniti in dotazione. I
vecchi tubi di carico non
devono essere riutilizzati.
EN
IT
Fix the sheet of corrugated
material on the bottom as
shown in picture.
Connect the fill hose
to the tap.
The appliance must be
connected to the water
mains using new hose-sets.
The old hose-sets should not
be reused.
ATTENZIONE:
NON APRA IL RUBINETTO
Accosti la lavatrice al muro
facendo attenzione che
non vi siano curve o
strozzature, allacci il tubo di
scarico al bordo della
vasca.
o meglio a uno scarico fisso;
altezza minima 50 cm, di
diametro superiore al tubo
della lavatrice.
In caso di necessità utilizzare
la curva rigida in dotazione.
IMPORTANT:
DO NOT TURN THE TAP
ON AT THIS TIME.
EN
Livelli la macchina con i
piedini anteriori.
Use front feet to level the
machine with the floor.
a) Girare in senso orario il
dado per sbloccare la vite
del piedino.
a) Turn the nut clockwise to
release the screw adjuster of
the foot.
b) Ruotare il piedino e farlo
scendere o salire fino ad
ottenere la perfetta
aderenza al suolo.
b) Rotate foot to raise or
lower it until it stands firmly on
the ground.
c) Bloccare infine il piedino
riavvitando il dado in senso
antiorario, fino a farlo aderire
al fondo della lavatrice.
c) Lock the foot in position
by turning the nut anticlockwise until it comes up
against the bottom of the
machine.
Si assicuri che la manopola
sia in posizione "OFF" e l'oblò
sia chiuso.
Ensure that the knob is on the
"OFF" position and the load
door is closed
Inserisca la spina.
Insert the plug.
ATTENZIONE:
nel caso si renda necessario
sostituire il cavo di
alimentazione, assicurarsi di
rispettare il seguente
codice-colore durante il
collegamento dei singoli fili:
ATTENTION:
should it be necessary to
replace the supply cord,
connect the wire in
accordance with the
following colours/codes:
BLU
- NEUTRO (N)
BLUE
- NEUTRAL (N)
MARRONE
- FASE (L)
BROWN
- LIVE (L)
GIALLO-VERDE
- TERRA (
YELLOW-GREEN
- EARTH (
B
C
Position the washing
machine next to the wall.
Hook the outlet tube to the
edge of the bath tub,
paying attention that there
are no bends or
contractions along the tube.
It is better to connect the
discharge hose to a fixed
outlet of a diameter greater
than that of the outlet tube
and at a height of min. 50
cm. If is necessary to use the
plastic sleeve supplied.
max 100 cm
min 4 cm
+2,6 mt max
min 50 cm
max 85 cm
L'apparecchio deve essere
posto in modo che la spina
sia accessibile ad
installazione avvenuta.
10
A
)
)
After installation, the
appliance must be
positioned so that the plug is
accessible.
11
IT
EN
CAPITOLO 6
IT
CHAPTER 6
DESCRIZIONE
COMANDI
DESCRIPTION OF
CONTROL
MANIGLIA APERTURA OBLÒ
DOOR HANDLE
Per aprire l'oblò premere la
leva situata all'interno della
maniglia.
Press the finger-bar inside
the door handle to open the
door
M
C H G E
P
B I F D
M
N
EN
ATTENZIONE:
UNO SPECIALE
DISPOSITIVO DI SICUREZZA
IMPEDISCE L'IMMEDIATA
APERTURA DELL'OBLO"
ALLA FINE DEL LAVAGGIO.
AL TERMINE DELLA FASE DI
CENTRIFUGA ATTENDA 2
MINUTI PRIMA DI APRIRE
L'OBLÒ.
A
2 min.
IMPORTANT:
A SPECIAL SAFETY
DEVICE PREVENTS THE
DOOR FROM OPENING
AT THE END OF THE
WASH/SPIN CYCLE. AT
THE END OF THE SPIN
PHASE WAIT UP TO 2
MINUTES BEFORE
OPENING THE DOOR.
A
12
COMANDI
CONTROLS
Maniglia apertura oblò
Door handle
A
SPIA PORTA BLOCCATA
DOOR LOCKED INDICATOR
Spia porta bloccata
Door locked indicator light
B
Tasto Avvio/pausa
Start button
C
Tasto Aquaplus
Aquaplus button
D
La spia è illuminata quando
l'oblò è chiuso correttamente
e la macchina è accesa.
Dopo aver premuto il tasto
AVVIO/PAUSA inizialmente la
spia lampeggia per poi
diventare fissa sino alla fine
del lavaggio.
Tasto Lavaggio Freddo
Cold wash button
E
Tasto Partenza Differita
Start Delay button
F
Tasto Selezione Centrifuga
Spin Speed button
G
Spie giri centrifuga
Spin speed indicator light
H
Spie Fasi lavaggio
Wash stage indicator lights
I
Spie tasti
Buttons indicator light
M
The "Door Locked" indicator
light is illuminated when the
door is fully closed and the
machine is ON.
When START is pressed on
the machine with the door
closed the indicator will flash
momentarily and then
illuminate.
If the door is not closed the
indicator will continue to
flash.
A special safety device
prevents the door from
being opened immediately
after the end of the cycle.
Wait for 2 minutes after the
wash cycle has finished and
the Door Locked light has
gone out before opening
the door. At the end of cycle
turn the programme
selector to OFF .
Manopola programmi di
lavaggio con OFF
Timer knob for wash
programmes with OFF position
N
Cassetto detersivo
Detergent drawer
P
Nel caso in cui l'oblò non sia
chiuso correttamente la spia
continuerà a lampeggiare.
Uno speciale dispositivo di
sicurezza impedisce che l'oblò
possa venire aperto
immediatamente dopo la fine
di un ciclo di lavaggio,
attendere 2 minuti che la spia
si spenga e quindi spegnere la
macchina portando la
manopola programmi in
posizione di OFF.
B
13
IT
EN
TASTO AVVIO/PAUSA
START BUTTON
Dopo avere selezionato un
programma attendere che
una spia "Centrifuga" si
accenda prima di premere il
tasto START.
After selecting a
programme wait that a
"Spin" indicator light is
illuminate before pressing
the START button.
Premere per avviare il ciclo
impostato con la manopola
programmi (a seconda del
ciclo impostato si illuminerà
una delle spie delle fasi di
lavaggio).
Press to start the selected
cycle (according to the
selected cycle one wash
stage indicator lights will
illuminate).
NOTA: DOPO AVERE
AVVIATO LA
LAVABIANCHERIA CON IL
TASTO START SI DOVRÀ
ATTENDERE ALCUNI
SECONDI AFFINCHÉ LA
MACCHINA INIZI IL
PROGRAMMA.
MODIFICARE IMPOSTAZIONI
DOPO AVVIO DEL
PROGRAMMA (PAUSA)
Dopo l'avvio del programma
possono essere modificate solo
le regolazioni e le opzioni
tramite i tasti opzione. Tenere il
tasto START/PAUSA premuto
per circa 4 secondi, il
lampeggio delle spie dei tasti
funzione e di una spia delle fasi
di lavaggio indica che la
macchina è in pausa,
modifichi quanto desiderato e
prema nuovamente il tasto
START/PAUSA annullando l'
intermittenza.
Se si desidera aggiungere o
togliere capi durante il
lavaggio, attendere DUE minuti
affinché il dispositivo di
sicurezza liberi il blocco
dell'oblò e ne permetta
l'apertura.
Effettuata la manovra, dopo
aver richiuso l'oblò e premuto
il tasto AVVIO/PAUSA, la
macchina ripartirà dal punto
in cui era stata fermata.
CANCELLAZIONE PROGRAMMA
IMPOSTATO
Per annullare il programma,
portare il selettore in posizione
OFF. Selezionare un
programma diverso. Riportare il
selettore programmi in
posizione OFF.
14
NOTE: WHEN THE START
BUTTON HAS BEEN
PRESSED, THE APPLIANCE
CAN TAKE FEW SECONDS
BEFORE STARTS
WORKING.
CHANGING THE SETTINGS
AFTER THE PROGRAMMES
HAS STARTED (PAUSE)
The programme may be
paused at any time during
the wash cycle by holding
down the "START/PAUSE"
button for about 4 seconds.
When the machine is in the
paused mode, a "wash
stage" indicator light and
option buttons will flash.
To restart the programme
press the START button once
again.
If you wish to add or remove
items during washing, wait 2
minutes until the safety
device unlocks the door.
When you have carried out
the manoeuvre, close the
door, press START button and
the appliance will continue
working where it left off.
CANCELLING THE
PROGRAMME
To cancel the programme,
set the selector to the OFF
position.
Select a different
programme.
Re-set the programme
selector to the OFF position.
IT
C
EN
I tasti opzione devono
essere selezionati prima di
premere il tasto AVVIO.
The option buttons should
be selected before pressing
the START button
TASTO "AQUAPLUS"
"AQUAPLUS" BUTTON
Grazie al nuovo Sensor
System, agendo sul tasto è
possibile effettuare un nuovo
speciale ciclo di lavaggio
applicabile nei programmi
per tessuti resistenti e misti
che si prende cura delle fibre
e della pelle delicata di chi le
indossa.
L'aggiunta di molta più
acqua e la nuova azione
combinata di cicli di
rotazione del cesto con
carico e scarico d'acqua,
permette di ottenere capi
perfettamente puliti e
risciacquati. Viene aumentata
l'acqua in lavaggio per
ottenere la perfetta
dissoluzione del detersivo,
garantendo un'efficace
azione pulente. Viene
aumentata l'acqua anche al
momento dei risciacqui in
modo da eliminare ogni
traccia di detersivo dalle
fibre.
Questa funzione è stata
studiata appositamente per
le persone con pelle delicata
e sensibile, per le quali anche
un minimo residuo di detersivo
può causare irritazioni o
allergie.
Si consiglia di utilizzare questa
funzione anche per i capi dei
bambini e per i delicati in
generale, oppure nel
lavaggio di capi di spugna le
cui fibre tendono
maggiormente a trattenere il
detersivo.
Per assicurare le migliori
prestazioni di lavaggio questa
funzione è sempre attiva nei
programmi Delicati e
Lana/lavaggio a mano.
By pressing this button you
can activate a special new
wash cycle in the Colourfast
and Mixed Fabrics
programs, thanks to the new
Sensor System. This option
treats with care the fibres of
garments and the delicate
skin of those who wear
them.
The load is washed in a
much larger quantity of
water and this, together with
the new combined action
of the drum rotation cycles,
where water is filled and
emptied, will give you
garments which have been
cleaned and rinsed to
perfection. The amount of
water in the wash is
increased so that the
detergent dissolves
perfectly, ensuring an
efficient cleaning action. The
amount of water is also
increased during the rinse
procedure so as to remove
all traces of detergent from
the fibres.
This function has been
specifically designed for
people with delicate and
sensitive skin, for whom even
a very small amount of
detergent can cause
irritation or allergy.
You are advised to also use
this function for children's
clothing and for delicate
fabrics in general, or when
washing garments made of
towelling, where the fibres
tend to absorb a greater
quantity of detergent.
To ensure the best
performance for your wash,
this function is always
activated on the Delicates
and Woollens/Handwash
programs.
D
15
IT
LAVAGGIO A FREDDO
COLD WASH BUTTON
Inserendo questa funzione si
possono eseguire tutti i cicli di
lavaggio senza il
riscaldamento dell'acqua,
mentre rimangono invariate
tutte le altre caratteristiche
(livello d'acqua, tempi, ritmi di
lavaggio ecc.).
I programmi a freddo sono
indicati per il lavaggio di tutti i
capi di biancheria i cui colori
non sono resistenti e per il
lavaggio di tende, copriletti,
fibre sintetiche
particolarmente delicate,
piccoli tappeti o tessuti poco
sporchi.
By pressing this button it is
possible to transform every
programme into a cold
washing one, without
modifying other
characteristics (water level,
times, rythmes, etc...).
Curtains, small carpets, man
made delicate fabrics, non
coulor fast garments can be
safely washed thanks to this
new device.
TASTO PARTENZA DIFFERITA
START DELAY BUTTON
Questo tasto permette di
programmare l'avvio del ciclo di
lavaggio con un ritardo di 3, 6 o
9 ore.
Per impostare la partenza
ritardata procedere nel
seguente modo:
Impostare il programma scelto
(Attendere che una delle spie
"Centrifuga" si accenda).
Premere il pulsante PARTENZA
DIFFERITA (ad ogni pressione si
potrà impostare una partenza
ritardata rispettivamente di 3,6 o
9 ore e la spia corrispondente al
tempo scelto inizierà a
lampeggiare)
Premere il tasto AVVIO (La spia
corrispondente al tempo scelto
rimarrà accesa) per iniziare il
conteggio alla fine del quale il
programma inizierà
automaticamente.
Appliance start time can be
set with this button, delaying
the star by 3, 6 or 9 hours.
Proceed as follow to set a
delayed start:
Select a programme (Wait
that a "Spin" indicator light
will go on).
Press Start Delay button
(each time the button is
pressed the start will be
delayed by 3, 6 or 9 hours
respectively and the
corresponding light will
blink).
Press START to commence
the Start Delay operation
(the indicator light
associated with the
selected Start Delay time
stops blinking and remains
ON).
At the end of the required
time delay the programme
will start.
E' possibile annullare la partenza
ritardata agendo come segue:
premere ripetutamente il tasto
PARTENZA DIFFERITA per
spegnere le spie .
A questo punto è possibile
iniziare il programma scelto in
precedenza premendo il tasto
AVVIO o annullare l'operazione
portando il selettore in posizione
di OFF e successivamente
selezionare un altro programma.
16
IT
EN
To cancel the Start Delay
function :
press the Start Delay button
until the indicator lights will
be off. The programme can
be started manually using
the START button or switch
off the appliance by turning
the programme selector to
off position.
E
F
EN
TASTO SELEZIONE CENTRIFUGA
SPIN SPEED BUTTON
A seconda del programma
selezionato verrà
automaticamente indicato se
la sua centrifuga è massima
(MAX), intermedia (MED) o
zero (
); utilizzando questo
tasto sarà possibile ridurre o
escludere la velocità
indicata.
Per riattivare la centrifuga, è
sufficiente premere
nuovamente il tasto, fino al
raggiungimento della velocità
scelta.
Per la salvaguardia dei tessuti,
non è possibile aumentare la
velocità oltre quella
automaticamente indicata al
momento della selezione del
programma.
According to the selected
cycle automatically will
shows if the programme's
spin is maximum (MAX),
intermediate (MED) or zero
(
). By pressing this
button, it's possible to
reduce or cancel the spin
speed shown.
To reactivate the spin cycle
is enough to press the
button until you reach the
spin speed you would like to
set.
For not damage the fabrics,
it is not possible to increase
the speed over that
automatically suitable
during the selection of the
program.
E' possibile modificare la
velocità della centrifuga in
qualsiasi momento, anche
senza portare la macchina in
PAUSA.
It is possible to modify the
spin speed in any moment,
also without to pause the
machine.
SPIE GIRI CENTRIFUGA
SPIN SPEED INDICATOR LIGHT
Al momento della selezione di
un programma, la massima
velocità di centrifuga
possibile verrà
automaticamente indicata
tramite l'accensione della
relativa spia.
Scegliendo una minor
velocità tramite l'apposito
tasto, si illuminerà la spia
corrispondente.
When you set a program,
the maximum possible spin
speed will be automatically
shown by the relevant
indicator light.
Choosing a smaller spin
speed by the appropriate
button, the relevant
indicator light will go on.
SPIE AVANZAMENTO
PROGRAMMA
WASH STAGE
INDICATOR LIGHTS
G
H
I
= lavaggio
= main wash
= risciacquo
= rinse
= centrifuga
= spin
17
IT
SPIE TASTI
Si accendono quando i
rispettivi tasti vengono
premuti.
Nel caso in cui sia stata
selezionata un' opzione non
compatibile con il
programma scelto la luce sul
pulsante prima lampeggia e
dopo si spegne.
MANOPOLA PROGRAMMI
CON OFF
PUO RUOTARLA NEI DUE
SENSI.
QUANDO SI SELEZIONA
UN PROGRAMMA, DOPO
ALCUNI SECONDI , SI
ACCENDE UNA SPIA
DELLA CENTRIFUGA.
PER SPEGNERE LA
SEGNALAZIONE
LUMINOSA RUOTARE LA
MANOPOLA PROGRAMMI
SULLA POSIZIONE OFF.
Premere il tasto "Avvio/Pausa"
per iniziare il ciclo di lavaggio
Il ciclo di lavaggio avverrà
con la manopola programmi
ferma sul programma
selezionato sino alla fine del
lavaggio.
A fine ciclo spegnere la
lavabiancheria portando la
manopola programmi in
posizione "OFF".
NOTA:
LA MANOPOLA
PROGRAMMI DEVE
ESSERE SEMPRE PORTATA
IN POSIZIONE DI OFF
ALLA FINE DI UN
LAVAGGIO E PRIMA DI
SELEZIONARNE UNO
NUOVO.
18
EN
BUTTONS INDICATOR LIGHT
These light up when the
relevant buttons are
pressed.
If an option is selected that
is not compatible with the
selected programme then
the light on the button first
flashes and then goes off.
PROGRAMME SELECTOR WITH
OFF POSITION
ROTATES IN BOTH
DIRECTIONS.
WHEN THE
PROGRAMME
SELECTOR IS TURNED A
SPIN INDICATOR LIGHTS
WILL GO ON.
N.B. TO SWITCH OFF THE
MACHINE, TURN THE
PROGRAMME
SELECTOR TO THE OFF
POSITION.
Press the "Start/Pause"
button to start the selected
cycle.
The programme carries out
with the programme
selector stationary on the
selected programme till
cycle ends.
Switch off the washing
machine by turning the
selector to OFF.
NOTE:
THE PROGRAMME
SELECTOR MUST BE
RETURN TO THE OFF
POSITION AT THE END
OF EACH CYCLE OR
WHEN STARTING A
SUBSEQUENT WASH
CYCLE PRIOR TO THE
NEXT PROGRAMME
BEING SELECTED AND
STARTED.
M
N
IT
CAPITOLO 7
TABELLA PROGRAMMI
PROGRAMMA PER:
Tessuti resistenti
SELEZIONE
PUNTATORE
MANOPOLA
PROGRAMMI SU:
CARICO
MAX
kg
TEMP.
°C
CARICO DETERSIVO
II
I
Bianchi
5
90°
●
●
Colorati resistenti
con prelavaggio
5
60°
●
●
5
60°
●
●
Colorati resistenti
5
40°
●
●
Note da considerare
Colorati delicati
5
30°
●
●
In caso di biancheria con elevato grado di sporco é consigliata la riduzione del carico a
non più di 3 kg.
Tessuti misti e
sintetici
Colorati resistenti
2,5
50°
●
●
Sintetici (Nylon Perlon)
misti di cotone
Colorati delicati
2,5
40°
●
●
2,5
30°
●
●
Cotone, lino, canapa
Cotone, misti resistenti
Colorati resistenti
Cotone, misti
Misti, sintetici delicati
Tessuti delicati
Delicati
2
40°
●
●
Biancheria in lana
Sintetici (Dralon,
Acrylico, Trevira)
Lana "lavabile in
lavatrice"
1
30°
●
●
Lavaggio a mano
1
30°
●
●
Risciacqui
-
-
Centrifuga forte
-
-
Solo scarico
-
-
Programma di
lavaggio "Mix &
Wash"
5
40°
●
●
Tessuti
resistenti/misti
3
40°
●
●
Tessuti
resistenti/misti
2
30°
●
●
Speciali
20
camicie
**
●
** Programma di prova secondo CENELEC EN 60456.
●
21
EN
TABLE OF PROGRAMMES
CHAPTER 7
PROGRAMME
SELECTOR
ON:
PROGRAM FOR:
WEIGHT
MAX
kg
TEMP.
°C
CHARGE DETERGENT
II
Resistant fabrics
Cotton, linen
Cotton, mixed
resistant
Cotton, mixed
Mixed fabrics
and synthetics
Synthetics (nylon,
perlon), mixed cotton
Mixed, delicate
synthetics
Specials
Very delicate fabrics
22
I
Whites
5
90°
●
●
Whites with
Prewash
5
60°
●
●
5
60°
●
●
Fast coloureds
5
40°
●
●
Please read these notes
Non fast coloureds
5
30°
●
●
When washing heavily soiled laundry it is recommended the load is reduced to 3 kg
maximum.
Fast coloureds
2,5
50°
●
●
** Programmes according to CENELEC EN 60456.
Non fast coloureds
2,5
40°
●
●
2,5
30°
●
●
Delicates
2
40°
●
●
"MACHINE
WASHABLE"
woollens
1
30°
●
●
Hand wash
1
30°
●
●
Rinse
-
-
Fast spin
-
-
Drain only
-
-
Mix & Wash system
programme
5
40°
●
●
Resistant or Mixed
fabrics
3
40°
●
●
Resistant or Mixed
fabrics
2
30°
●
●
Fast coloureds
Shirts
**
●
.
●
23
IT
EN
CAPITOLO 8
CHAPTER 8
SELEZIONE
PROGRAMMI
SELECTION
Per trattare i vari tipi di tessuto e
le varie gradazioni di sporco, la
lavatrice ha 4 fasce di
programmi diversi per tipo di
tessuto, temperatura e durata
(vedere tabella programmi di
lavaggio).
For the various types of fabrics
and various degrees of dirt the
washing machine has 4
different programme bands
according to: wash cycle,
temperature and lenght of
cycle (see table of washing
cycle programmes).
1. TESSUTI RESISTENTI
I programmi sono realizzati per
sviluppare il massimo grado di
lavaggio e i risciacqui, intervallati
da fasi di centrifuga, assicurano
un perfetto risciacquo.
La centrifuga finale alla massima
velocità assicura un'ottima
strizzatura.
1 RESISTANTS FABRICS
The programmes have been
designed for a maximum wash
and the rinses, with spin
intervals, ensure perfect rinsing.
The final spin gives more
efficient removal of water.
2. TESSUTI MISTI E SINTETICI
Il lavaggio ed il risciacquo sono
ottimizzati nei ritmi di rotazione
del cesto e nei livelli di acqua.
La centrifuga ad azione
delicata, assicura una ridotta
formazione di pieghe sui tessuti.
3. TESSUTI DELICATISSIMI
E' un nuovo concetto di lavaggio
in quanto alterna momenti di
lavoro a momenti di pausa,
particolarmente indicato per il
lavaggio di tessuti molto delicati.
Il lavaggio e i risciacqui sono
eseguiti con alto livello di acqua
per assicurare le migliori
prestazioni.
2 MIXED AND SYNTHETIC
FABRICS
The main wash and the rinse
gives best results thanks to the
rotation rhythms of the drum
and to the water levels.
A gentle spin will mean that
the fabrics become less
creased.
EN
4. SPECIALI
4. SPECIALS
PROGRAMMA SPECIALE
"RISCIACQUI"
Questo programma effettua
3 risciacqui della biancheria
con centrifuga intermedia
(eventualmente annullabile
tramite l' apposito tasto).
E' utilizzabile per
risciacquare qualsiasi tipo di
tessuto, ad esempio dopo
un lavaggio effettuato a
mano.
SPECIAL "RINSE"
PROGRAMME
This programme carries out
three rinses with a
intermediate spin (which
can be excluded by using
the correct button). It can
be used for rinsing any type
of fabric, eg. use after handwashing.
PROGRAMMA SPECIALE
"CENTRIFUGA FORTE"
Questo programma effettua
una centrifuga alla massima
velocità (eventualmente
riducibile tramite l'apposito
tasto).
SPECIAL "FAST SPIN"
PROGRAMME
Programme "FAST SPIN"
carries out a maximum spin
(which can be reduced by
using the correct button).
SOLO SCARICO
Questo programma effettua
lo scarico dell'acqua.
DRAIN ONLY
This programme drains out
the water.
3 SPECIAL DELICATE FIBRES
This is a new wash cycle which
alternates washing and
soaking and is particularly
recommended for very
delicate fabrics.
The wash cycle and rinses are
carried out with high water
levels to ensure best results.
PROGRAMMA LANA
Grazie ad uno specifico ciclo,
certificato WOOLMARK, i capi
vengono puliti in profondità con il
massimo rispetto per la loro
integrità.Il programma è
raccomandato da BBB e TITAN
WOOL.
WOOLMARK PROGRAMME
The special cycle, certified by
WOOLMARK, enables to
thoroughly wash garments
without damaging them.
PROGRAMMA SPECIALE
"LAVAGGIO A MANO"
La macchina presenta anche un
ciclo di lavaggio delicato
chiamato Lavaggio a mano.
Il programma consente un ciclo
di lavaggio completo per i capi
da lavare esclusivamente a
mano. Il programma raggiunge
una temperatura massima di
30°C e termina con 3 risciacqui e
una centrifuga delicata.
SPECIAL "HAND WASH"
This washing machine also has
a gentle Hand Wash
programme cycle. This
programme allows a complete
washing cycle for garments
specified as "Hand Wash only"
on the fabric care label. The
programme has a temperature
of 30°C and concludes with 3
rinses and a slow spin.
24
IT
25
IT
PROGRAMMA "MIX & WASH"
Si tratta di un brevetto
esclusivo Candy e offre 2
grandi vantaggi:
26
EN
"MIX & WASH SYSTEM"
PROGRAMME
This is an exclusive Candy
system and involves 2 great
advantages for the
consumer:
• poter lavare insieme capi
di diversi tessuti (es. cotone
+ sintetico ecc…) NON
STINGENTI;
• to be able to wash
together different type of
fabrics (e.g. cotton +
synthetic etc…) FAST
COLOUREDS;
• effettuare il lavaggio con
un notevolissimo risparmio
di energia.
•to wash with a
considerable energy
saving.
Il programma di lavaggio
"Mix & Wash" ha una
temperatura di 40°C ed
alterna fasi dinamiche (il
cesto che gira) a fasi statiche
(capi in ammollo in fase di
riposo). Per questo motivo ha
una durata più elevata,
raggiungendo quasi le 2 ore.
Il consumo di energia
elettrica per l'intero ciclo a
pieno carico è di soli 850
W/h.
The "Mix & Wash"
programme has a
temperature of 40°C and
alternate dynamic phases
(the basket that turns) to
static phases (fabrics in soak
in phase of rest) with a
duration programme that
almost reaching the 2 hours.
The energy consumption for
the complete cycle is only
850 W/h.
Avvertenze:
• il primo lavaggio di capi
colorati nuovi deve essere
effettuato separatamente.
Important:
•the first washing of new
coloureds fabrics must be
done separately;
• in ogni caso, non mischiare
mai capi colorati stingenti.
• in every case, never mix
NON-FAST COLOUREDS
fabrics.
IT
LAVAGGIO GIORNALIERO 40°C
- CICLO RAPIDO 44'
Ciclo di lavaggio completo
(lavaggio, risciacquo e
centrifuga) in grado di lavare
in circa 44 minuti:
- carichi massimi fino a 3 kg;
- tessuti poco sporchi (cotone
e misti)
Con questo programma si
raccomanda di usare solo il
30% del detersivo
normalmente usato per
evitare sprechi inutili.
LAVAGGIO GIORNALIERO 30°C
- CICLO RAPIDO 32'
Ciclo di lavaggio completo
(lavaggio, risciacquo e
centrifuga) in grado di lavare
in circa 32 minuti:
- carichi massimi fino a 2 kg;
- tessuti poco sporchi (cotone
e misti)
Con questo programma si
raccomanda di usare solo il
20% del detersivo
normalmente usato per
evitare sprechi inutili.
EN
DAILY WASH 40°C – FAST 44'
A complete washing cycle
(wash, rinse and spin), able to
wash in approximately 44
minutes:
- a maximum load of 3 kg;
- lightly soiled fabrics (cotton
and mixed fabrics)
We recommend, with this
programme, a 30% detergent
loading dose (compared to
the normal one), in order to
avoid detergent waste.
DAILY WASH 30°C – FAST 32'
A complete washing cycle
(wash, rinse and spin), able to
wash in approximately 32
minutes:
- a maximum load of 2 kg;
- lightly soiled fabrics (cotton
and mixed fabrics)
We recommend, with this
programme, a 20% detergent
loading dose (compared to
the normal one), in order to
avoid detergent waste.
27
EN
IT
EN
CAPITOLO 9
CHAPTER 9
CAPITOLO 10
CHAPTER 10
CASSETTO DETERSIVO
DETERGENT
DRAWER
IL PRODOTTO
THE PRODUCT
ATTENZIONE:
se deve lavare tappetoni,
copriletti o altri indumenti
pesanti é bene non
centrifugare.
IMPORTANT:
When washing heavy rugs,
bed spreads and other
heavy articles, it is advisable
not to spin.
Indumenti e biancheria di
lana, per poter essere lavati
in lavatrice, devono essere
contrassegnati con il
simbolo "Pura Lana Vergine"
e avere inoltre l'indicazione
"Non infeltrisce" oppure
"Lavabile in lavatrice".
To be machine-washed,
woollen garments and other
articles in wool must bear
the "Machine Washable
Label".
Il cassetto detersivo è
suddiviso in 3 vaschette:
– la vaschetta
contrassegnata con "I"
serve per il
detersivo del prelavaggio;
– la vaschetta
contrassegnata con" ",
serve per additivi speciali,
ammorbidenti, profumi
inamidanti, azzurranti, ecc.
– la vaschetta
contrassegnata con "II"
serve per il detersivo di
lavaggio.
✿
28
IT
The detergent draw is split
into 3 compartments:
- the compartment labelled
"I" is for prewash
detergent;
- the compartment
✿
labelled " " is for special
additives, fabric softeners,
fragrances, starch,
brighteners etc;
- the compartment labelled
"II" is for main wash
detergent.
ATTENZIONE: SI RICORDI
CHE ALCUNI DETERSIVI
SONO DI DIFFICILE
ASPORTAZIONE. IN
QUESTO CASO LE
CONSIGLIAMO L'USO DI
UN APPOSITO
CONTENITORE DA PORRE
NEL CESTELLO.
NOTE: SOME
DETERGENTS ARE
DIFFICULT TO REMOVE.
FOR THESE, WE
RECOMMEND YOU USE
THE SPECIAL DISPENSER
WHICH IS PLACED IN
THE DRUM.
ATTENZIONE: NELLA
VASCHETTA
CONTRASSEGNATA
CON "✿" METTERE
SOLO PRODOTTI LIQUIDI.
LA MACCHINA È
PREDISPOSTA AL
PRELIEVO AUTOMATICO
DEGLI ADDITIVI
DURANTE I'ULTIMO
RISCIACQUO IN TUTTI I
CICLI DI LAVAGGIO.
NOTE: ONLY PUT
LIQUID PRODUCTS IN
THE COMPARTMENT
LABELLED "✿". THE
MACHINE IS
PROGRAMMED TO
AUTOMATICALLY TAKE
UP ADDITIVES DURING
THE FINAL RINSE
STAGE FOR ALL WASH
CYCLES.
ATTENZIONE:
Durante la selezione si
assicuri che:
IMPORTANT:
When sorting articles
ensure that:
- nella biancheria da
lavare non vi siano
oggetti metallici (ad
esempio fermagli, spille
di sicurezza, spilli,
monete, ecc.);
- abbottoni federe,
chiuda le cerniere
lampo, gancetti a
occhielli, annodi cinghie
sciolte e lunghi nastri di
vestaglie;
- asporti dalle tendine
anche i rulli di
scorrimento;
- osservi attentamente le
etichette sui tessuti;
- se durante la selezione
vede delle macchie
resistenti, le asporti con
del detersivo speciale o
con un'apposita pasta
di lavaggio.
- there are no metal
objects in the washing
(e.g. brooches, safety
pins, pins, coins etc.).
- cushion covers are
buttoned, zips and
hooks are closed, loose
belts and long tapes on
dressing gowns are
knotted.
- runners from curtains are
removed.
- attention is paid to
garment labels.
- when sorting, any tough
stains should be
removed prior to
washing using stain
removers only
recommended on
label.
29
IT
CAPITOLO 11
CONSIGLI UTILI
PER GLI UTENTI
Brevi suggerimenti per un
utilizzo del proprio
elettrodomestico nel rispetto
dell'ambiente e con il massimo
risparmio
CARICARE AL MASSIMO LA
PROPRIA LAVABIANCHERIA
Per eliminare eventuali sprechi
di energia, acqua o detersivo si
raccomanda di utilizzare la
massima capacità di carico
della propria lavabiancheria. E'
possibile infatti risparmiare fino
al 50% di energia con un
carico pieno effettuato con un
unico lavaggio rispetto a due
lavaggi a mezzo carico.
QUANDO SERVE VERAMENTE IL
PRELAVAGGIO?
Solamente per carichi
particolarmente sporchi!
Si risparmia dal 5 al 15% di
energia evitando di
selezionare l'opzione
prelavaggio per biancheria
normalmente sporca.
QUALE TEMPERATURA DI
LAVAGGIO SELEZIONARE?
L'utilizzo di smacchiatori prima
del lavaggio in lavabiancheria
riduce la necessità di lavare a
temperature superiori a 60°C.
E' possibile risparmiare fino al
50% utilizzando la temperatura
di lavaggio di 60°C.
EN
IT
CHAPTER 11
LAVAGGIO
WASHING
CAPACITÁ VARIABILE
VARIABLE CAPACITY
Questa lavatrice é in grado di
adattare automaticamente il
livello dell'acqua al tipo e alla
quantità di biancheria.
E' così possibile ottenere
un bucato "personalizzato"
anche dal punto di vista
energetico.
Questo sistema porta ad una
diminuzione dei consumi
d'energia e ad una riduzione
sensibile dei tempi di
lavaggio.
This washing machine
automatically adapts the level
of the water to the type and
quantity of washing. In this way
it is also possible to obtain a
"personalized" wash from an
energy saving point of view.
This system gives a decrease in
energy consumption and a
sensible reduction in washing
times.
ESEMPIO DI USO:
EXAMPLE:
Per tessuti molto delicati é
consigliabile l'utilizzo di un
sacchetto di rete.
Supponiamo che il bucato da
lavare sia di COTONE MOLTO
SPORCO (se ha delle
macchie particolarmente
resistenti le asporti con
l'apposita pasta).
A net bag should be used
for particularly delicate
fabrics.
CUSTOMER
AWARENESS
A guide environmentally
friendly and economic use of
your appliance.
MAXIMISE THE LOAD SIZE
Achieve the best use of
energy, water, detergent and
time by using the
recommended maximum
load size.
Save up to 50% energy by
washing a full load instead of
2 half loads.
DO YOU NEED TO PRE-WASH?
For heavily soiled laundry
only!
SAVE detergent, time, water
and between 5 to 15%
energy consumption by NOT
selecting Prewash for slight to
normally soiled laundry.
IS A HOT WASH REQUIRED?
Pretreat stains with stain
remover or soak dried in
stains in water before
washing to reduce the
necessity of a hot wash
programme.
Save up to 50% energy by
using a 60°C wash
programme.
Le consigliamo di non fare un
carico di soli capi in tessuto di
spugna che, assorbendo
molta acqua, diventano
troppo pesanti.
Let us suppose that the
washing consists of HEAVILY
SOILED COTTON (tough
stains should be removed
with suitable stain removal).
It is advisable not to wash a
load made up entirely of
articles in towelling fabric
which absorb a lot of water
and become too heavy.
● Apra il cassetto detersivo
(P).
● Open the detergent
drawer (P).
● Metta nella vaschetta di
lavaggio II 120 g di detersivo
● Put 120 g in the main wash
compartment marked II.
● Metta 50 ml dell'additivo
che desidera nella vaschetta
additivo
.
● Put 50 ml of the desired
additive in the additives
compartment
.
● Chiuda il cassetto detersivo
(P).
● Close the detergent
drawer (P).
✿
30
EN
✿
31
IT
● Si assicuri che il rubinetto
dell'acqua sia aperto.
● Ensure that the water inlet
tap is turned on.
● Che lo scarico sia in
posizione regolare.
● And that the discharge
tube is in place.
SELEZIONE PROGRAMMA
Fate riferimento alla tabella
dei programmi o alla
legenda dei programmi sulla
macchina, per scegliere il
programma più adatto.
Il programma viene scelto
ruotando la manopola
programmi e facendo
coincidere il numero del
programma con l'indice.
Attendere che una delle spie
"Centrifuga" si accenda.
Premete il tasto
AVVIO/PAUSA.
Il programma ha inizio.
Il ciclo di lavaggio avverrà
con la manopola programmi
ferma sul programma
selezionato sino alla fine del
lavaggio.
Attenzione: Se dovesse
mancare la corrente
durante il funzionamento
della lavabiancheria, una
speciale memoria
conserverà l'impostazione
effettuata e, al ritorno della
corrente, la macchina
ripartirà dal punto in cui si
era fermata.
● Alla fine del programma si
illuminano tutte le spie delle
fasi di lavaggio.
● Attendete lo spegnimento
della spia oblò bloccato (2
minuti dalla fine del
programma).
● Spegnere la
lavabiancheria portando la
manopola programma in
posizione OFF.
● Apra l'oblò e tolga i tessuti.
PER QUALSIASI TIPO DI
LAVAGGIO CONSULTI
SEMPRE LA TABELLA DEI
PROGRAMMI E SEGUA
LA SEQUENZA DELLE
OPERAZIONI COME
INDICATO.
32
EN
PROGRAMME SELECTION
Refer to the programme
guide to select the most
suitable programme.
Turning the selector knob
required programme is
activate.
Wait that a "Spin" indicator
light will go on.
Then press the START button.
When the START button is
pressed the machine sets
the working sequence in
motion.
The programme carries out
with the programme
selector stationary on the
selected programme till
cycle ends.
Warning: If there is any break
in the power supply while
the machine is operating, a
special memory stores the
selected programme
and,when the power is
restored, it continues where
it left off.
● At the end of the
programme all the wash
stage indicator lights will
illuminate .
● Wait for the door lock to
be released (about 2
minutes after the
programme has finished).
● Switch off the machine by
turning the programme
selector to the "OFF"
position.
● Open the door and
remove the laundry.
FOR ALL TYPES OF
WASH CONSULT THE
PROGRAMME TABLE
AND FOLLOW THE
OPERATIONS IN THE
ORDER INDICATED.
IT
EN
CAPITOLO 12
CHAPTER 12
PULIZIA E
MANUTENZIONE
ORDINARIA
CLEANING AND
ROUTINE
MAINTENANCE
Per la Sua lavatrice
all'esterno non usi abrasivi,
alcool e/o diluenti, basta
solo una passata con un
panno umido.
Do not use abrasives, spirits
and/or diluents on the
exterior of the appliance. It is
sufficient to use a damp
cloth.
La lavatrice ha bisogno di
pochissime manutenzioni:
The washing machine
requires very little
maintenance:
● Pulizia vaschette.
● Cleaning of drawer
compartments.
● Pulizia filtro.
● Filter cleaning
● Traslochi o lunghi periodi
di fermo macchina.
● Removals or long periods
when the machine is left
standing.
PULIZIA VASCHETTE
CLEANING OF DRAWER
COMPARTMENTS
Anche se non strettamente
necessario é bene pulire
saltuariamente le vaschette
del detersivo, del
candeggiante e additivi.
Although not strictly
necessary, it is advisable to
clean the detergent, bleach
and additives
compartments occasionally.
Per questa operazione
basta estrarre il cassetto con
una leggera forza.
Remove the compartments
by pulling gently.
Pulisca tutto il contenuto
sotto un getto d'acqua.
Reinserisca il tutto nella
propria sede.
Clean with water.
Put the compartments back
into place
33
IT
PULIZIA FILTRO
La lavatrice è dotata di uno
speciale filtro in grado di
trattenere i residui più grossi
che potrebbero bloccare lo
scarico (monete, bottoni,
ecc.) che possono così essere
facilmente recuperati.
Quando lo deve pulire si
comporti così:
FILTER CLEANING
The washing-machine is
equipped with a special filter
to retain large foreign matter
which could clog up the
drain, such as coins, buttons,
etc. These can, therefore,
easily be recovered. The
procedures for cleaning the
filter are as follows:
● Tolga lo zoccolo come
mostrato in figura.
● Ease off the base as shown
in fig.
● Utilizzi lo zoccolo per
raccogliere l'acqua residua
del filtro.
● Use the base as a tray to
collect leftover water in filter.
● Ruoti il filtro in senso
antiorario fino all'arresto, in
posizione verticale.
● Turn the filter anticlockwise
till it stops in vertical position.
● Lo estragga e lo pulisca.
● Remove and clean.
● Dopo averlo pulito osservi
la tacca e lo rimonti
seguendo in senso contrario
tutte le operazioni
precedentemente descritte.
● After cleaning, replace by
turning the notch on the end
of the filter clockwise. Then
follow all procedures
described above in reverse
order.
TRASLOCHI O LUNGHI PERIODI
DI FERMO MACCHINA
REMOVALS OR LONG PERIODS
WHEN THE MACHINE IS LEFT
STANDING
Per eventuali traslochi o
qualora la macchina restasse
ferma a lungo in luoghi non
riscaldati, é necessario
svuotare completamente da
ogni residuo di acqua tutti i
tubi.
For eventual removals or
when the machine is left
standing for long periods in
unheated rooms, the drain
hose should be emptied of
all remaining water.
A corrente disinserita, stacchi il
tubo dalla fascetta e lo porti,
verso il basso, in un catino, fino
alla completa fuoriuscita
dell'acqua.
The appliance must be
switched off and unplugged.
A bowl is needed. Detach
the drainage hose from the
clamp and lower it over the
bowl until all the water is
removed.
Al termine dell'operazione
fissare il tubo di scarico
all'apposita fascetta.
34
EN
Repeat the same operation
with the water inlet hose.
IT
CAPITOLO 13
ANOMALIA
RIMEDIO
CAUSA
Spina corrente elettrica
non inserita nella presa
Inserire la spina
Tasto interruttore generale
non inserito
Inserire tasto.
Interruttore generale
Manca energia elettrica
Controllare
Valvole impianto elettrico guaste
Controllare
Sportello aperto
Chiudere sportello
Vedi cause 1
Controllare
Rubinetto acqua chiuso
Aprire il rubinetto acqua
Timer non correttamente posizionato
Posizionare timer correttamente
Tubo di scarico piegato
Raddrizzare tubo di scarico
Presenza corpi estranei nel filtro
Ispezionare filtro
4. Presenza di acqua
sul pavimento
attorno alla
lavabiancheria
Perdita della guarnizione posta
tra rubinetto e tubo carico
Sostituire guarnizione e
stringere bene tubo e rubinetto
5. Non centrifuga
La lavabiancheria non ha ancora
scaricato l'acqua
Attendere alcuni minuti, la macchina
scaricherà
"Esclusione centrifuga" inserita
(solo per alcuni modelli)
Disinserire tasto
"esclusione centrifuga"
Lavabiancheria non perfettamente
in piano
Regolare gli appositi piedini regolabili.
Staffe di trasporto
non ancora asportate
Asportare staffe di trasporto
Carico biancheria
non uniformemente distribuito
Distribuire in modo uniforme
la biancheria
1. Non funziona con
qualsiasi
programma
2. Non carica acqua
3. Non scarica acqua
6. Forti vibrazioni
durante la
centrifuga
NOTA:
IL MODELLO È DOTATO DI UN PARTICOLARE DISPOSITIVO ELETTRONICO CHE IMPEDISCE LA
PARTENZA DELLA CENTRIFUGA CON CARICHI PARTICOLARMENTE SBILANCIATI. QUESTO SERVE
A MIGLIORARE LE VIBRAZIONI, LA SILENZIOSITÀ E LA DURATA DELLA LAVABIANCHERIA.
Se il malfunzionamento dovesse persistere si rivolga al Centro di Assistenza Tecnica Candy comunicando il
modello di lavabiancheria, riportato sulla targhetta posta sul mobile all'interno dell'oblò o sul foglio di garanzia.
Fornendo tali informazioni otterrete un intervento più tempestivo ed efficace.
Attenzione:
1 L'utilizzo di detersivi ecologici senza fosfati può produrre i seguenti effetti:
- l'acqua di scarico dei risciacqui risulta più torbida per la presenza di zeoliti in sospensione senza che
l'efficacia del risciacquo ne risulti pregiudicata
- presenza di polvere bianca (zeoliti) sulla biancheria al termine del lavaggio che non si ingloba nei tessuti e
non ne altera il colore.
- La presenza di schiuma nell'acqua dell'ultimo risciacquo non é necessariamente indice di una cattiva
sciacquatura.
- I tensioattivi anionici presenti nelle formulazioni dei detersivi per lavabiancheria, risultano spesso
difficilmente allontanabili dalla biancheria stessa e, anche in minima quantità, possono produrre vistosi
fenomeni di formazione di schiuma.
- L'esecuzione di ulteriori cicli di risciacquo, in casi come questi, non comporta alcun beneficio.
2 Se la Sua lavabiancheria non funzionasse, prima di chiamare il Centro di Assistenza Tecnica Candy
eseguire i controlli sopradescritti.
35
EN
CHAPTER 13
FAULT
1. Does not function
on any
programme
REMEDY
CAUSE
Mains plug not plugged in
Insert plug
Mains switch not on
Turn on mains switch
No power
Check
Electric circuit fuses failure
Check
Load door open
Close load door
See cause 1
Check
Inlet tap turned off
Turn on water inlet tap
Timer not set correctly
Set timer on correct position
Discharge tube bent
Straighten discharge tube
Odd material blocking filter
Check filter
4. Water on floor
around washing
machine
Leak from the washer between the tap
and inlet tube
Replace washer and tighten the tube
on the tap
5. Does not spin
The washing machine has not
discharged water
Wait a few minutes until the machine
discharges water
"No spin" setting (some models only)
Turn the programme dial onto spin
setting
Washing machine not perfectly level
Adjust special feet
Transport bracket not removed
Remove transport bracket
Washing load not evenly distributed
Distribute the washing evenly
2. Does not load
water
3. Does not discharge
water
6. Strong vibrations
during spin
NOTE:
THE MACHINE IS FITTED WITH A SPECIAL ELECTRONIC DEVICE, WHICH PREVENTS THE SPIN CYCLE
SHOULD THE LOAD BE UNBALANCED.
THIS REDUCES THE NOISE AND VIBRATION IN THE MACHINE AND SO PROLONGS THE LIFE OF YOUR
MACHINE.
If the fault should persist, contact a Candy Technical Assistance Centre. For prompt servicing, give the model of
the washing machine, to be found on the label placed on the cabinet inside of the porthole or on the
guarantee certificate.
Important
1 The use of environment friendly detersives without phosphates may produce the following effects:
- The discharge rinse water may result cloudier due to the presence of zeolites in suspension. This does not
compromise the efficiency of the rinses.
- The presence of white powder (zeolites) on the washing at the end of the washing cycle. This does not
remain incorporated in the fabric and does not alter the colour.
- The presence of foam in the last rinse water which is not necessarily a sign of inadequate rinsing.
- The non-ionic surface-active agents present in the composition of washing machine detersives are often
difficult to remove from the washing itself and, even in small quantities, may produce visible signs of the
formation of foam.
- Carrying out further rinses, in cases such as this, is not useful.
2 If your washing machine fails to function, carry out the above-mentioned checks before calling the Candy
Technical Assistance Service.
36
La Ditta costruttrice declina ogni responsabilità per eventuali errori di stampa contenuti
nel presente libretto. Si riserva inoltre il diritto di apportare le modifiche che si
renderanno utili ai propri prodotti senza compromettere le caratteristiche essenziali.
The manufacturer declines all responsibility in the event of any printing mistakes in
this booklet. The manufacturer also reserves the right to make appropriate
modifications to its products without changing the essential characteristics.
Questo elettrodomestico è marcato conformemente alla Direttiva Europea 2002/96/CE sui rifiuti da
apparecchiature elettriche ed elettroniche (WEEE).
Assicurandovi che questo prodotto sia smaltito correttamente, aiuterete ad evitare possibili
conseguenze negative all'ambiente e alla salute delle persone, che potrebbero verificarsi a causa d'un
errato trattamento di questo prodotto giunto a fine vita.
Il simbolo sul prodotto indica che questo apparecchio non può essere trattato come un normale rifiuto
domestico; dovrà invece essere consegnato al punto più vicino di raccolta per il riciclo delle
apparecchiature elettriche ed elettroniche.
Lo smaltimento deve essere effettuato in accordo con le regole ambientali vigenti per lo smaltimento
dei rifiuti.
Per informazioni più dettagliate sul trattamento, recupero e riciclo di questo prodotto, per favore
contattare l'ufficio pubblico di competenza (del dipartimento ecologia e ambiente), o il vostro servizio di
raccolta rifiuti a domicilio, o il negozio dove avete acquistato il prodotto.
IT
EN
09.05 - 41031599 - www.graficaestampa.it - Printed in Italy - Imprimé en Italie
This appliance is marked according to the European directive 2002/96/EC on Waste Electrical and
Electronic Equipment (WEEE).
By ensuring this product is disposed of correctly, you will help prevent potential negative
consequences for the environment and human health, which could otherwise be caused by
inappropriate waste handling of this product.
The symbol on the product indicates that this product may not be treated as household waste. Instead
it shall be handed over to the applicable collection point for the recycling of electrical and electronic
equipment
Disposal must be carried out in accordance with local environmental regulations for waste disposal.
For more detailed information about treatment, recovery and recycling of this product, please contact
your local city office, your household waste disposal service or the shop where you purchased the
product.