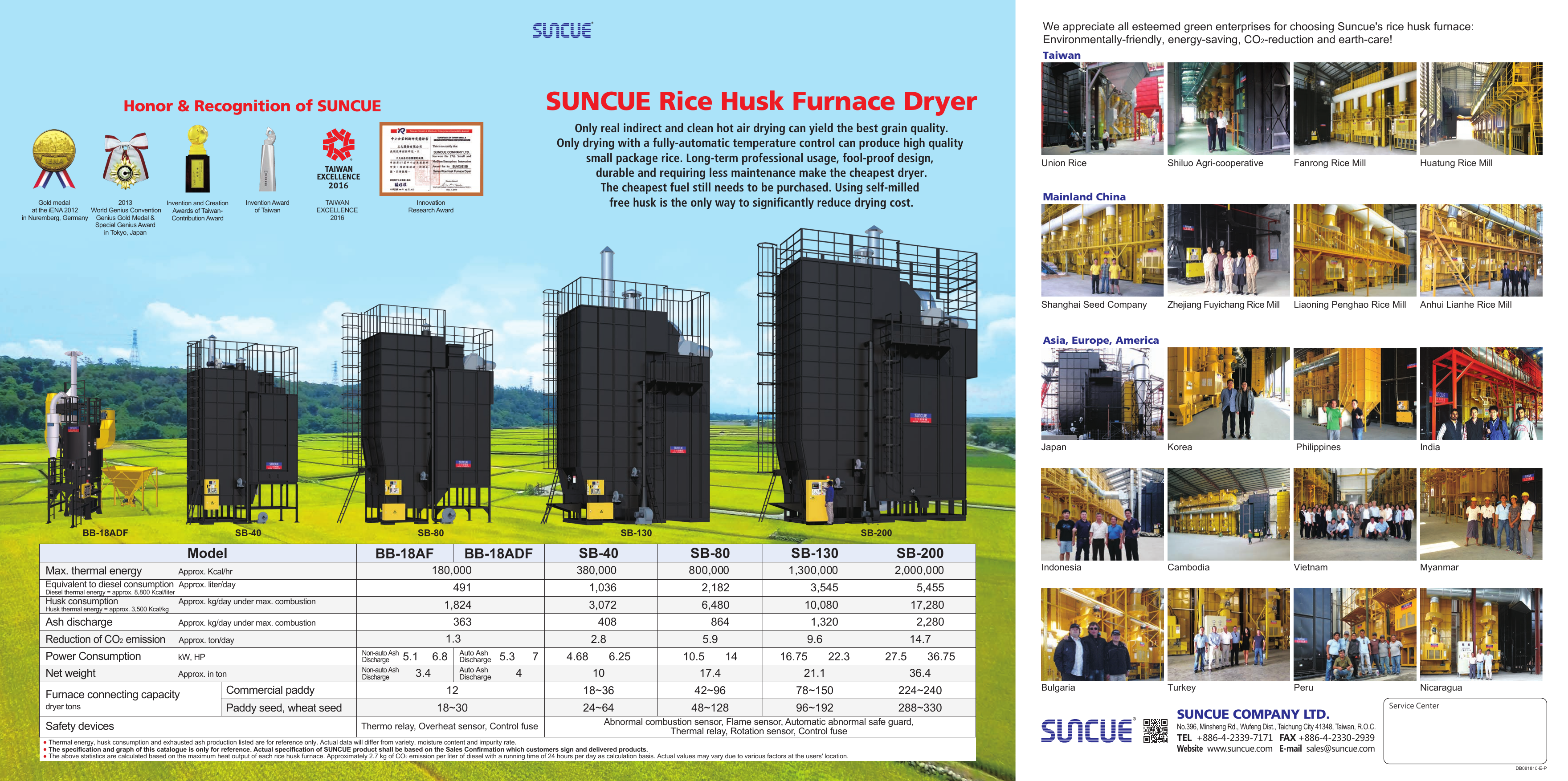 We appreciate all esteemed green enterprises for choosing Suncue's rice husk furnace:
Environmentally-friendly, energy-saving, CO2-reduction and earth-care!
Taiwan
SUNCUE Rice Husk Furnace Dryer
Honor & Recognition of SUNCUE
Invention Award
of Taiwan
2013
Gold medal
Invention and Creation
World Genius Convention
at the iENA 2012
Awards of Taiwanin Nuremberg, Germany Genius Gold Medal &
Contribution Award
Special Genius Award
in Tokyo, Japan
TAIWAN
EXCELLENCE
2016
Only real indirect and clean hot air drying can yield the best grain quality.
Only drying with a fully-automatic temperature control can produce high quality
small package rice. Long-term professional usage, fool-proof design,
durable and requiring less maintenance make the cheapest dryer.
The cheapest fuel still needs to be purchased. Using self-milled
free husk is the only way to significantly reduce drying cost.
Innovation
Research Award
Union Rice
Shiluo Agri-cooperative
Fanrong Rice Mill
Huatung Rice Mill
Zhejiang Fuyichang Rice Mill
Liaoning Penghao Rice Mill
Anhui Lianhe Rice Mill
Japan
Korea
Philippines
India
Indonesia
Cambodia
Vietnam
Myanmar
Bulgaria
Turkey
Peru
Nicaragua
Mainland China
Shanghai Seed Company
Asia, Europe, America
BB-18ADF
SB-40
Model
Max. thermal energy
SB-80
SB-130
SB-40
SB-80
SB-130
SB-200
180,000
380,000
800,000
1,300,000
2,000,000
BB-18AF
Approx. Kcal/hr
SB-200
BB-18ADF
Equivalent to diesel consumption Approx. liter/day
491
1,036
2,182
3,545
5,455
Approx. kg/day under max. combustion
1,824
3,072
6,480
10,080
17,280
Ash discharge
Approx. kg/day under max. combustion
363
408
864
1,320
2,280
Reduction of CO2 emission
Approx. ton/day
Diesel thermal energy = approx. 8,800 Kcal/liter
Husk consumption
Husk thermal energy = approx. 3,500 Kcal/kg
Power Consumption
kW, HP
Net weight
Approx. in ton
Furnace connecting capacity
dryer tons
Safety devices
Commercial paddy
Paddy seed, wheat seed
1.3
Non-auto Ash
Discharge
Non-auto Ash
Discharge
5.1
6.8
3.4
Auto Ash
Discharge
Auto Ash
Discharge
2.8
5.3
7
4
4.68
5.9
6.25
10.5
9.6
14
16.75
14.7
22.3
27.5
36.75
10
17.4
21.1
36.4
12
18~36
42~96
78~150
224~240
18~30
24~64
48~128
96~192
288~330
Thermo relay, Overheat sensor, Control fuse
Abnormal combustion sensor, Flame sensor, Automatic abnormal safe guard,
Thermal relay, Rotation sensor, Control fuse
Thermal energy, husk consumption and exhausted ash production listed are for reference only. Actual data will differ from variety, moisture content and impurity rate.
The specification and graph of this catalogue is only for reference. Actual specification of SUNCUE product shall be based on the Sales Confirmation which customers sign and delivered products.
The above statistics are calculated based on the maximum heat output of each rice husk furnace. Approximately 2.7 kg of CO2 emission per liter of diesel with a running time of 24 hours per day as calculation basis. Actual values may vary due to various factors at the users' location.
SUNCUE COMPANY LTD.
Service Center
No.396, Minsheng Rd., Wufeng Dist., Taichung City 41348, Taiwan, R.O.C.
TEL +886-4-2339-7171 FAX +886-4-2330-2939
Website www.suncue.com E-mail sales@suncue.com
DB081810-E-P
Energy Saving, Environmentally Friendly, Carbon Reduction
Energy Saving
For example, assuming one rice mill annual
production is 20,000 tons; approximate diesel
price: USD$ 0.72 per liter; total annual fuel
cost can reach approximate USD$ 229,477.
Fuel expense USD
Buying husk for drying, the drying cost will
only be the one-fifth of the diesel cost. If
self-milled free husk is used, the fuel cost
will be 0.
100
thousand/year
250
200
The only choice for producing best quality small-package rice with the lowest cost
Rice Husk Furnace Drying Complex
Low drying cost
The
lowest
drying
cost
150
14
11
11
Fuel cost=0
4
9
Environmentally Friendly & Carbon Reduction
High selling price
Indirect and clean hot-air at low temperature can produce the sanitary, reliable
of small package rice. Selling price will be high.
DIMENSION
15
17
16
Only drying at constant temperature can produce the best quality of rice (seed).
19
12
2
Best rice quality
11
18
Diesel
Husk-buying Self-milled
drying cost drying cost
free husk
Drying cost decrease about 68%! No longer at the mercy of rising oil prices.
Easy management Automatic computerized control, fool-proof design, easy operation.
8
50
0
Exclusively Patented in Taiwan, USA, Japan, Korea, China, Southeast Asia…etc.
Unit mm
SB-40
emission, which equal to the volume that a
Annually reduce 864 tons of
43 hectares of forest can absorb.
CO2
13
5
Listed diesel price as the reference, actual price please refer to the announcement of the local business unit.
10
Paddy
field
Ecology
recycling
5170
1
Husk Tank Feeder
Auxiliary Air Blower
Bucket Elevator
Micro Air Adjuster
2
Husk Tank
Auto Ash Discharger
Wet Grain Silo
Hot Air Damper
3
Husk Feeder
Cyclone
Precleaner
Unloading Chain Conveyor
4
SB-200 Husk furnace
Hot Air Duct
Loading Chain Conveyor
Dry Grain Silo
5
Main Control Box
Dumping Pit
Dryer PHS-320B husk type
Easy operation-One operator can manage thousands of tons
of grains per day
Husk
7167
6
5170
SB-80
8569
Paddy
7
3520
3
Recycling in the eco-system & Endless care for the Earth
2814
1
Constant hot air temperature
6515
Fluctuation of hot air temperature
Temp.
Rice
Consumers
Combustion
Paddy
3,000 tons
Husk
600 tons
Diesel free,
reduce drying cost,
multiple usages,
increase farm efficiency
and revenue.
Produce high-quality,
SUNCUE
high-value small package Grain
rice and seeds to increase
Dryer
profit.
Hot
air
Hot
air
Greenhouse
application
Can connect multiple dryers. Allows
different temperature settings on
each dryer. Capable of maintaining
constant temperature according to
settings on each dryers.
Simple interface, simultaneously
control multiple dryers at constant
temperature. Fool-proof design, the
management requires no professional
technician.
Husk
200 tons
Combustion
Fire
Organic
fertilizer
Full of silicon, potassium,
phosphorus, calcium, and
micro-element such as
magnesium, iron, manganese
for adjusting the soil PH
value and making sturdy
crop plants and yields.
6645
6645
SUNCUE's unique patented completed combustion technology
Fire
Hot air temperature is controlled precisely
within ±1oC.
9612
Time
4256
Husk
400 tons
SB-130
Consume the lowest quantity of paddy husk while
produce maximum thermal energy.
Paddy husk from 1 hectare of farm can dry approximately
3 hectares of wet paddy.
Paddy husk from 1 ton of wet paddy can dry approximately
3 tons of wet paddy.
Triple
efficiency
SB-200
11440
Water
SUNCUE
Drying
with Suncue
Husk Furnace
4565
Ashes
as Organic
fertilizer
6515
9004
9004
The specification and graph of this catalogue is only for reference. Actual specification of SUNCUE product shall be based on the Sales Confirmation which customers sign and delivered products.