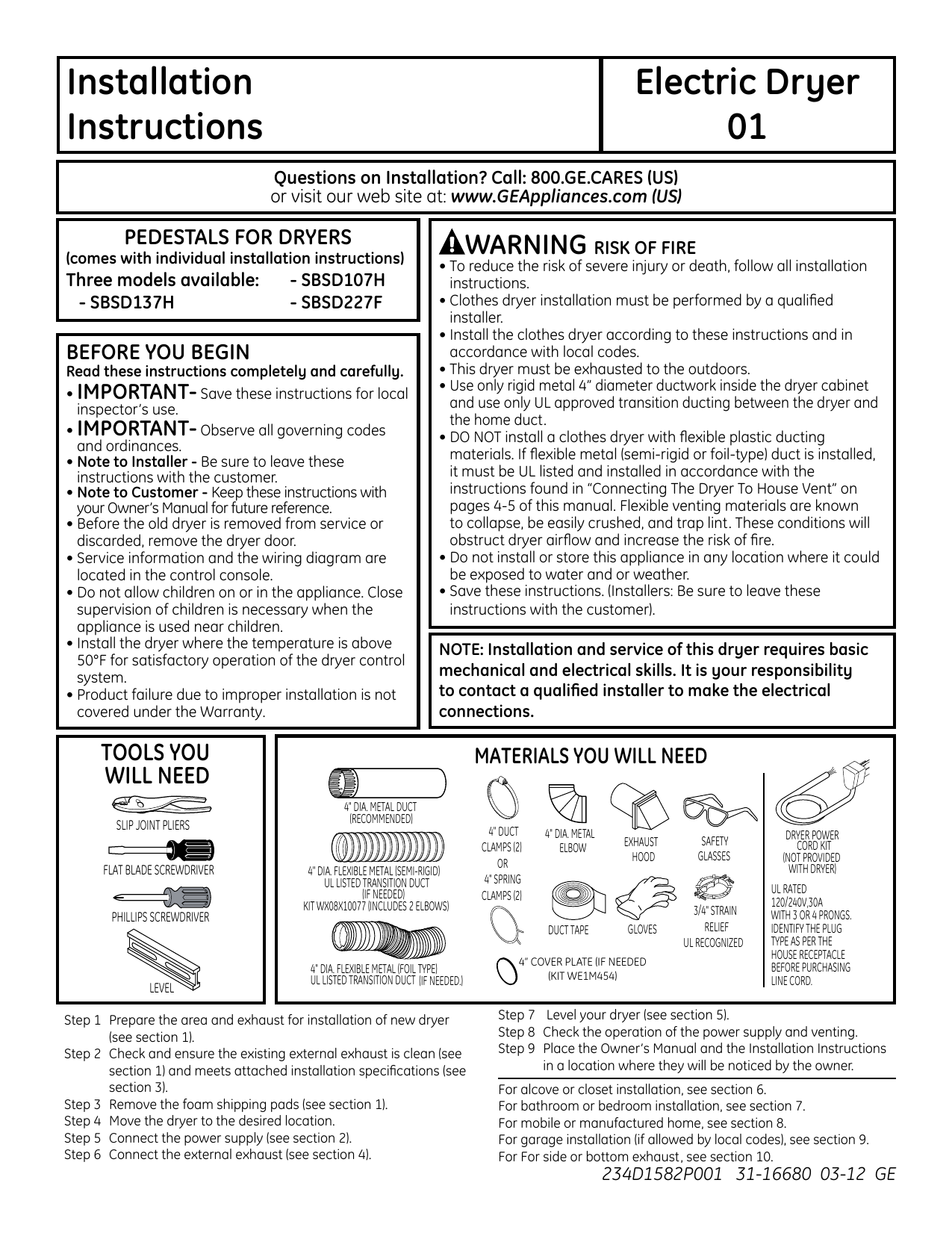 Installation
Instructions
Electric Dryer
01
Questions on Installation? Call: 800.GE.CARES (US)
RUYLVLWRXUZHEVLWHDWwww.GEAppliances.com (US)
PEDESTALS FOR DRYERS
(comes with individual installation instructions)
Three models available:
- SBSD137H
- SBSD107H
- SBSD227F
BEFORE YOU BEGIN
Read these instructions completely and carefully.
‡IMPORTANT-6DYHWKHVHLQVWUXFWLRQVIRUORFDO
LQVSHFWRU·VXVH
‡IMPORTANT-2EVHUYHDOOJRYHUQLQJFRGHV
DQGRUGLQDQFHV
‡Note to Installer -%HVXUHWROHDYHWKHVH
LQVWUXFWLRQVZLWKWKHFXVWRPHU
‡Note to Customer -.HHSWKHVHLQVWUXFWLRQVZLWK
\RXU2ZQHU·V0DQXDOIRUIXWXUHUHIHUHQFH
‡%HIRUHWKHROGGU\HULVUHPRYHGIURPVHUYLFHRU
GLVFDUGHGUHPRYHWKHGU\HUGRRU
‡6HUYLFHLQIRUPDWLRQDQGWKHZLULQJGLDJUDPDUH
ORFDWHGLQWKHFRQWUROFRQVROH
‡'RQRWDOORZFKLOGUHQRQRULQWKHDSSOLDQFH&ORVH
VXSHUYLVLRQRIFKLOGUHQLVQHFHVVDU\ZKHQWKH
DSSOLDQFHLVXVHGQHDUFKLOGUHQ
‡,QVWDOOWKHGU\HUZKHUHWKHWHPSHUDWXUHLVDERYH
ƒ)IRUVDWLVIDFWRU\RSHUDWLRQRIWKHGU\HUFRQWURO
V\VWHP
‡3URGXFWIDLOXUHGXHWRLPSURSHULQVWDOODWLRQLVQRW
FRYHUHGXQGHUWKH:DUUDQW\
WARNING RISK OF FIRE
‡7RUHGXFHWKHULVNRIVHYHUHLQMXU\RUGHDWKIROORZDOOLQVWDOODWLRQ
LQVWUXFWLRQV
‡&ORWKHVGU\HULQVWDOODWLRQPXVWEHSHUIRUPHGE\DTXDOL¿HG
LQVWDOOHU
‡,QVWDOOWKHFORWKHVGU\HUDFFRUGLQJWRWKHVHLQVWUXFWLRQVDQGLQ
DFFRUGDQFHZLWKORFDOFRGHV
‡7KLVGU\HUPXVWEHH[KDXVWHGWRWKHRXWGRRUV
‡8VHRQO\ULJLGPHWDOµGLDPHWHUGXFWZRUNLQVLGHWKHGU\HUFDELQHW
DQGXVHRQO\8/DSSURYHGWUDQVLWLRQGXFWLQJEHWZHHQWKHGU\HUDQG
WKHKRPHGXFW
‡'2127LQVWDOODFORWKHVGU\HUZLWKÀH[LEOHSODVWLFGXFWLQJ
PDWHULDOV,IÀH[LEOHPHWDO VHPLULJLGRUIRLOW\SH GXFWLVLQVWDOOHG
LWPXVWEH8/OLVWHGDQGLQVWDOOHGLQDFFRUGDQFHZLWKWKH
LQVWUXFWLRQVIRXQGLQ´&RQQHFWLQJ7KH'U\HU7R+RXVH9HQWµRQ
SDJHVRIWKLVPDQXDO)OH[LEOHYHQWLQJPDWHULDOVDUHNQRZQ
WRFROODSVHEHHDVLO\FUXVKHGDQGWUDSOLQW7KHVHFRQGLWLRQVZLOO
REVWUXFWGU\HUDLUÀRZDQGLQFUHDVHWKHULVNRI¿UH
‡'RQRWLQVWDOORUVWRUHWKLVDSSOLDQFHLQDQ\ORFDWLRQZKHUHLWFRXOG
EHH[SRVHGWRZDWHUDQGRUZHDWKHU
‡6DYHWKHVHLQVWUXFWLRQV ,QVWDOOHUV%HVXUHWROHDYHWKHVH
LQVWUXFWLRQVZLWKWKHFXVWRPHU NOTE: Installation and service of this dryer requires basic
mechanical and electrical skills. It is your responsibility
to contact a quali¿ed installer to make the electrical
connections.
TOOLS YOU
WILL NEED
SLIP JOINT PLIERS
FLAT BLADE SCREWDRIVER
PHILLIPS SCREWDRIVER
LEVEL
MATERIALS YOU WILL NEED
4" DIA. METAL DUCT
(RECOMMENDED)
4" DIA. FLEXIBLE METAL (SEMI-RIGID)
UL LISTED TRANSITION DUCT
(IF NEEDED)
KIT WX08X10077 (INCLUDES 2 ELBOWS)
4" DUCT
CLAMPS (2)
OR
4" SPRING
CLAMPS (2)
4" DIA. METAL
ELBOW
DUCT TAPE
4" DIA. FLEXIBLE METAL (FOIL TYPE)
UL LISTED TRANSITION DUCT (IF NEEDED.)
6WHS 3UHSDUHWKHDUHDDQGH[KDXVWIRULQVWDOODWLRQRIQHZGU\HU
VHHVHFWLRQ 6WHS &KHFNDQGHQVXUHWKHH[LVWLQJH[WHUQDOH[KDXVWLVFOHDQ VHH
VHFWLRQ DQGPHHWVDWWDFKHGLQVWDOODWLRQVSHFL¿FDWLRQV VHH
VHFWLRQ 6WHS 5HPRYHWKHIRDPVKLSSLQJSDGV VHHVHFWLRQ 6WHS 0RYHWKHGU\HUWRWKHGHVLUHGORFDWLRQ
6WHS &RQQHFWWKHSRZHUVXSSO\ VHHVHFWLRQ 6WHS &RQQHFWWKHH[WHUQDOH[KDXVW VHHVHFWLRQ EXHAUST
HOOD
GLOVES
4" COVER PLATE (IF NEEDED
(KIT WE1M454)
SAFETY
GLASSES
3/4" STRAIN
RELIEF
UL RECOGNIZED
DRYER POWER
CORD KIT
(NOT PROVIDED
WITH DRYER)
UL RATED
120/240V,30A
WITH 3 OR 4 PRONGS.
IDENTIFY THE PLUG
TYPE AS PER THE
HOUSE RECEPTACLE
BEFORE PURCHASING
LINE CORD.
6WHS /HYHO\RXUGU\HU VHHVHFWLRQ 6WHS &KHFNWKHRSHUDWLRQRIWKHSRZHUVXSSO\DQGYHQWLQJ
6WHS 3ODFHWKH2ZQHU·V0DQXDODQGWKH,QVWDOODWLRQ,QVWUXFWLRQV
LQDORFDWLRQZKHUHWKH\ZLOOEHQRWLFHGE\WKHRZQHU
)RUDOFRYHRUFORVHWLQVWDOODWLRQVHHVHFWLRQ
)RUEDWKURRPRUEHGURRPLQVWDOODWLRQVHHVHFWLRQ
)RUPRELOHRUPDQXIDFWXUHGKRPHVHHVHFWLRQ
)RUJDUDJHLQVWDOODWLRQ LIDOORZHGE\ORFDOFRGHV VHHVHFWLRQ
)RU)RUVLGHRUERWWRPH[KDXVWVHHVHFWLRQ
234D1582P001 31-16680 03-12 GE
Installation Instructions
Minimum Clearance Other Than Alcove or Closet Installation
0LQLPXPFOHDUDQFHWRFRPEXVWLEOHVXUIDFHVDQGIRUDLURSHQLQJDUHLQFOHDUDQFHERWKVLGHVDQGLQUHDU&RQVLGHUDWLRQ
mustEHJLYHQWRSURYLGHDGHTXDWHFOHDUDQFHIRULQVWDOODWLRQDQGVHUYLFH
CONNECTING DRYER USING 4-WIRE
CONNECTION (MUST BE USED FOR
MOBILE HOME INSTALLATION)
1 PREPARING FOR INSTALLATION
OF NEW DRYER
TIP: Install your dryer before installing your washer.
This will allow better access when installing dryer exhaust.
NOTE: Since January 1,1996, the National Electric code requires
that the new constructions utilize a 4-wire connection to an
electric dryer.
REMOVING LINT FROM WALL EXHAUST
OPENING
REMOVE GROUND STRAP
AND DISCARD. KEEP GREEN
GROUND SCREW
‡ Remove and discard existing plastic or metal foil
transition duct and replace with UL listed transition duct.
HOT
WIRE
L1
WALL
INTERNAL DUCT
OPENING
SCREWS
(3)
CHECK THAT EXHAUST
HOOD DAMPER OPENS
AND CLOSES FREELY.
N
RELOCATE GREEN
GROUND SCREW
HERE
GREEN OR
YELLOW WIRE
STRAIN
RELIEF
BRACKET
L2
NEUTRAL
(White)
HOT
WIRE
TILT THE DRYER SIDEWAYS
AND REMOVE THE FOAM
SHIPPING PADS BY
PULLING AT THE SIDES
AND BREAKING THEM
AWAY FROM THE DRYER
LEGS. BE SURE TO
REMOVE ALL OF THE
FOAM PIECES AROUND
THE LEGS.
COVER
3/4", UL
RECOGNIZED
STRAIN RELIEF
4 #10 AWG MINIMUM COPPER
CONDUCTORS OR 120/240V 30A POWER
SUPPLY CORD KIT MARKED FOR USE
WITH DRYERS & PROVIDED WITH
CLOSED LOOP OR SPADE TERMINALS
WITH UPTURNED ENDS (NOT SUPPLIED).
7XUQ RȺ WKH FLUFXLW EUHDNHU V DPS RU UHPRYH WKH GU\HU·VFLUFXLWIXVHDWWKHHOHFWULFDOER[
%H VXUH WKH GU\HU FRUG LV XQSOXJJHG IURP WKH ZDOO
UHFHSWDFOH
5HPRYH WKH SRZHU FRUG FRYHU ORFDWHG DW WKH ORZHU
EDFN
5HPRYH DQG GLVFDUG JURXQG VWUDS .HHS WKH JUHHQ
JURXQGVFUHZIRUVWHS
,QVWDOOLQ8/UHFRJQL]HGVWUDLQUHOLHIWRSRZHUFRUG
HQWU\KROH%ULQJSRZHUFRUGWKURXJKVWUDLQUHOLHI
&RQQHFWSRZHUFRUGDVIROORZV
$&RQQHFWWKHKRWOLQHVWRWKHRXWHUVFUHZVRI
WKHWHUPLQDOEORFN PDUNHG/DQG/ %&RQQHFWWKHQHXWUDO ZKLWH OLQHWRWKHFHQWHURI
WKHWHUPLQDOEORFN PDUNHG1 $WWDFK JURXQG ZLUH RI SRZHU FRUG ZLWK WKH JUHHQ
JURXQGVFUHZ KROHDERYHVWUDLQUHOLHIEUDFNHW 7LJKWHQ
DOOWHUPLQDOEORFNVFUHZV VHFXUHO\
3URSHUO\VHFXUHSRZHUFRUGWRVWUDLQUHOLHI
5HLQVWDOOWKHFRYHU
2 ELECTRICAL CONNECTION INFORMATION
WARNING - TO REDUCE THE RISK OF
FIRE, ELECTRICAL SHOCK AND PERSONAL INJURY:
‡ DO NOT USE AN EXTENSION CORD OR AN
ADAPTER PLUG WITH THIS APPLIANCE.
'U\HUPXVWEHHOHFWULFDOO\JURXQGHGLQDFFRUGDQFHZLWK
ORFDOFRGHVDQGRUGLQDQFHVRULQWKHDEVHQFHRIORFDO
FRGHVLQDFFRUGDQFHZLWKWKHNATIONAL ELECTRICAL
CODE, ANSI/NFPA NO. 70.
WARNING: NEVER LEAVE THE
ELECTRICAL REQUIREMENTS
7KLVGU\HUPXVWEHFRQQHFWHGWRDQLQGLYLGXDOEUDQFK
FLUFXLWSURWHFWHGE\WKHUHTXLUHGWLPHGHOD\IXVHVRU
FLUFXLWEUHDNHUV$IRXURUWKUHHZLUHVLQJOHSKDVH
9RU9+]DPSFLUFXLWLVUHTXLUHG
COVER OFF OF THE TERMINAL BLOCK.
GROUNDING INSTRUCTIONS
7KLVGU\HUPXVWEHFRQQHFWHGWRDJURXQGHGPHWDOSHUPD
QHQWZLULQJV\VWHPRUDQHTXLSPHQWJURXQGLQJFRQGXFWRU
PXVWEHUXQZLWKWKHFLUFXLWFRQGXFWRUVDQGFRQQHFWHGWR
WKHHTXLSPHQWJURXQGLQJWHUPLQDORQWKHDSSOLDQFH
Installation Instructions
CONNECTING DRYER USING 3-WIRE
CONNECTION
IF REQUIRED, BY LOCAL CODE,
INSTALL EXTERNAL GROUND
(NOT PROVIDED) TO GROUNDED
METAL, COLD WATER PIPE, OR
OTHER ESTABLISHED GROUND
DETERMINED BY A QUALIFIED
ELECTRICIAN.
GREEN
GROUND
SCREW
3 EXHAUST INFORMATION
WARNING - IN CANADA AND IN THE
UNITED STATES, THE REQUIRED EXHAUST
DUCT DIAMETER IS 4 in (102mm). DO NOT USE
DUCT LONGER THAN SPECIFIED IN THE EXHAUST LENGTH TABLE.
GROUND
STRAP
HOT
WIRE
STRAIN RELIEF
BRACKET
8VLQJH[KDXVWORQJHUWKDQVSHFL¿HGOHQJWKZLOO
‡,QFUHDVHWKHGU\LQJWLPHVDQGWKHHQHUJ\FRVW
‡5HGXFHWKHGU\HUOLIH
‡$FFXPXODWHOLQWFUHDWLQJDSRWHQWLDO¿UHKD]DUG
The correct exhaust installation is YOUR
RESPONSIBILITY. Problems due to incorrect installation
are not covered by the warranty.
5HPRYHDQGGLVFDUGH[LVWLQJSODVWLFRUPHWDOIRLO
WUDQVLWLRQGXFWDQGUHSODFHZLWK8/OLVWHGWUDQVLWLRQGXFW
7KHMAXIMUM ALLOWABLEGXFWOHQJWKDQGQXPEHURI
EHQGVRIWKHH[KDXVWV\VWHPGHSHQGVXSRQWKHW\SHRI
GXFWQXPEHURIWXUQVWKHW\SHRIH[KDXVWKRRG ZDOO
FDS DQGDOOFRQGLWLRQVQRWHGEHORZ7KHPD[LPXPGXFW
OHQJWKIRUULJLGPHWDOGXFWLVVKRZQLQWKHWDEOHEHORZ
L1
SCREWS
(3)
NEUTRAL
(White)
COVER
3/4", UL
RECOGNIZED
STRAIN RELIEF
L2
HOT
WIRE
3 #10 AWG MINIMUM COPPER
CONDUCTORS OR 120/240V 30A POWER
SUPPLY CORD KIT MARKED FOR USE
WITH DRYERS & PROVIDED WITH CLOSED
LOOP OR SPADE TERMINALS WITH
UPTURNED ENDS (NOT SUPPLIED).
EXHAUST LENGTH
3-wire Connection
1RWIRUXVHLQ&DQDGD
'2127XVHIRU0RELOH+RPH,QVWDOODWLRQV
127IRUXVHRQQHZFRQVWUXFWLRQ
127IRUXVHRQUHFUHDWLRQDOYHKLFOHV
127IRUXVHLQDUHDVZKHUHORFDOFRGHVSURKLELWJURXQGLQJ
WKURXJKWKHQHXWUDOFRQGXFWLRQ
RECOMMENDED MAXIMUM LENGTH
Exhaust Hood Types
Use only for short
Recommended
run installations
4" DIA.
4" DIA.
4" DIA.
4"
7XUQ RȺ WKH FLUFXLW EUHDNHU V DPS RU UHPRYH WKH
GU\HU·VFLUFXLWIXVHDWWKHHOHFWULFDOER[
%HVXUHWKHGU\HUFRUGLVXQSOXJJHGIURPWKHZDOO
5HPRYH WKH SRZHU FRUG FRYHU ORFDWHG DW WKH ORZHU
EDFN
,QVWDOOLQ8/UHFRJQL]HGVWUDLQUHOLHIWRSRZHUFRUG
HQWU\KROH%ULQJSRZHUFRUGWKURXJKVWUDLQUHOLHI
&RQQHFWSRZHUFRUGDVIROORZV
$&RQQHFWWKHKRWOLQHVWRWKHRXWHUVFUHZVRIWKH
WHUPLQDOEORFN PDUNHG/DQG/ %&RQQHFWWKHQHXWUDO ZKLWH OLQHWRWKHFHQWHURI
WKHWHUPLQDOEORFN PDUNHG1 %H VXUH JURXQG VWUDS LV FRQQHFWHG WR QHXWUDO FHQWHU WHUPLQDORIEORFNDQGWRJUHHQJURXQGVFUHZRQFDELQHW
UHDU7LJKWHQDOOWHUPLQDOEORFNVFUHZV VHFXUHO\
3URSHUO\VHFXUHSRZHUFRUGWRVWUDLQUHOLHI
5HLQVWDOOWKHFRYHU
No. of 90°
Elbows
0
1
2
3
4
Rigid
Metal
90 Feet
60 Feet
45 Feet
35 Feet
25 Feet
2-1/2"
Rigid
Metal
60 Feet
45 Feet
35 Feet
25 Feet
15 Feet
EXHAUST SYSTEM CHECK LIST
HOOD OR WALL CAP
‡ 7HUPLQDWHLQDPDQQHUWRSUHYHQWEDFNGUDIWVRUHQWU\RI
ELUGVRURWKHUZLOGOLIH
‡ 7HUPLQDWLRQVKRXOGSUHVHQWPLQLPDOUHVLVWDQFHWR
WKHH[KDXVWDLUÀRZDQGVKRXOGUHTXLUHOLWWOHRUQR
PDLQWHQDQFHWRSUHYHQWFORJJLQJ
‡ 1HYHULQVWDOODVFUHHQLQRURYHUWKHH[KDXVWGXFW7KLV
FRXOGFDXVHOLQWEXLOGXS
‡ :DOOFDSVPXVWEHLQVWDOOHGDWOHDVWLQDERYHJURXQGOHYHO
RUDQ\RWKHUREVWUXFWLRQZLWKWKHRSHQLQJSRLQWHGGRZQ
SEPARATION OF TURNS
)RUEHVWSHUIRUPDQFHVHSDUDWHDOOWXUQVE\DWOHDVWIW
RIVWUDLJKWGXFWLQFOXGLQJGLVWDQFHEHWZHHQODVWWXUQDQG
H[KDXVWKRRG
TURNS OTHER THAN 90º
‡ 2QHWXUQRIžRUOHVVPD\EHLJQRUHG
‡ 7ZRžWXUQVVKRXOGEHWUHDWHGDVRQHžWXUQ
‡ (DFKWXUQRYHUžVKRXOGEHWUHDWHGDVRQHžWXUQ
WARNING: NEVER LEAVE THE
COVER OFF OF THE TERMINAL BLOCK.
Installation Instructions
STANDARD REAR EXHAUST
(Vented at Àoor level)
SEALING OF JOINTS
‡ $OOMRLQWVVKRXOGEHWLJKWWRDYRLGOHDNV7KHPDOHHQGRI
HDFKVHFWLRQRIGXFWPXVWSRLQWDZD\IURPWKHGU\HU
‡ 7KHGXFWVKDOOQRWEHDVVHPEOHGZLWKVFUHZVRURWKHU
IDVWHQLQJPHDQVWKDWH[WHQGLQWRWKHGXFWDQGFDWFKOLQW
‡ 'XFWMRLQWVFDQEHPDGHDLUDQGPRLVWXUHWLJKWE\
ZUDSSLQJWKHRYHUODSSHGMRLQWVZLWKGXFWWDSH
‡ +RUL]RQWDOUXQVVKRXOGVORSHGRZQWRZDUGWKHRXWGRRUV
LQFKSHUIRRW
INSULATION
'XFWZRUNWKDWUXQVWKURXJKDQXQKHDWHGDUHDRULV
QHDUDLUFRQGLWLRQLQJVKRXOGEHLQVXODWHGWRUHGXFH
FRQGHQVDWLRQDQGOLQWEXLOGXS
For straight line installation, connect
the dryer exhaust to the external
exhaust hood using duct tape or
clamp.
EXTERNAL DUCT
OPENING
DUCT TAPE OR
DUCT CLAMP
4" METAL DUCT CUT
TO PROPER LENGTH
DUCT TAPE OR
DUCT CLAMP
4 EXHAUST CONNECTION
WARNING - TO REDUCE THE RISK
NOTE: WE STRONGLY RECOMMEND SOLID
METAL EXHAUST DUCTING. HOWEVER, IF
FLEXIBLE DUCTING IS USED IT MUST BE
UL-LISTED METAL, NOT PLASTIC.
OF FIRE OR PERSONAL INJURY:
‡7KLVFORWKHVGU\HUPXVWEHH[KDXVWHGWRWKHRXWGRRUV
‡8VHRQO\µULJLGPHWDOGXFWLQJIRUWKHKRPHH[KDXVW
GXFW
‡8VH RQO\ µ ULJLG PHWDO RU 8/OLVWHG ÀH[LEOH PHWDO
VHPLULJLGRUIRLOW\SH GXFWWRFRQQHFWWKHGU\HUWRWKH
KRPHH[KDXVWGXFW,WPXVWEHLQVWDOOHGLQDFFRUGDQFH
ZLWKWKHLQVWUXFWLRQVIRXQGLQ´&RQQHFWLQJWKH'U\HUWR
+RXVH9HQWµRQSDJHVRIWKLVPDQXDO
‡'R QRW WHUPLQDWH H[KDXVW LQ D FKLPQH\ D ZDOO D
FHLOLQJJDVYHQWFUDZOVSDFHDWWLFXQGHUDQHQFORVHG
ÀRRURULQDQ\RWKHUFRQFHDOHGVSDFHRIDEXLOGLQJ7KH
DFFXPXODWHGOLQWFRXOGFUHDWHDSRWHQWLDO¿UHKD]DUG
‡1HYHUWHUPLQDWHWKHH[KDXVWLQWRDFRPPRQGXFWZLWK
D NLWFKHQ H[KDXVW V\VWHP $ FRPELQDWLRQ RI JUHDVH
DQGOLQWFUHDWHVDSRWHQWLDO¿UHKD]DUG
‡'RQRWXVHGXFWORQJHUWKDQVSHFL¿HGLQWKHH[KDXVW
OHQJWK WDEOH /RQJHU GXFWV FDQ DFFXPXODWH OLQW
FUHDWLQJDSRWHQWLDO¿UHKD]DUG
‡1HYHULQVWDOODVFUHHQLQRURYHUWKHH[KDXVWGXFW7KLV
ZLOOFDXVHOLQWWRDFFXPXODWHFUHDWLQJDSRWHQWLDO¿UH
KD]DUG
‡'R QRW DVVHPEOH GXFWZRUN ZLWK DQ\ IDVWHQHUV WKDW
H[WHQGLQWRWKHGXFW7KHVHIDVWHQHUVFDQDFFXPXODWH
OLQWFUHDWLQJDSRWHQWLDO¿UHKD]DUG
‡'RQRWREVWUXFWLQFRPLQJRUH[KDXVWHGDLU
‡3URYLGHDQDFFHVVIRULQVSHFWLRQDQGFOHDQLQJRIWKH
H[KDXVWV\VWHPHVSHFLDOO\DWWXUQVDQGMRLQWV([KDXVW
V\VWHPVKDOOEHLQVSHFWHGDQGFOHDQHGDWOHDVWRQFHD
\HDU.
STANDARD REAR EXHAUST
(Vented above Àoor level)
ELBOW HIGHLY
RECOMMENDED
RECOMMENDED
CONFIGURATION
TO MINIMIZE
EXHAUST
BLOCKAGE.
ELBOW HIGHLY
RECOMMENDED
NOTE: ELBOWS WILL PREVENT DUCT
KINKING AND COLLAPSING.
CONNECTING THE DRYER TO HOUSE VENT
RIGID METAL TRANSITION DUCT
‡ )RU EHVW GU\LQJ SHUIRUPDQFH D ULJLG PHWDO WUDQVLWLRQ
GXFWLVUHFRPPHQGHG
‡5LJLGPHWDOWUDQVLWLRQGXFWVUHGXFHWKHULVNRIFUXVKLQJ
DQGNLQNLQJ
UL-LISTED FLEXIBLE METAL (SEMI-RIGID) TRANSITION DUCT
‡,IULJLGPHWDOGXFWFDQQRWEHXVHGWKHQ8/OLVWHGÀH[LEOH
PHWDO VHPLULJLG GXFWLQJFDQEHXVHG .LW:;; ‡1HYHULQVWDOOÀH[LEOHPHWDOGXFWLQZDOOVFHLOLQJVÀRRUVRU
RWKHUHQFORVHGVSDFHV
‡7RWDOOHQJWKRIÀH[LEOHPHWDOGXFWVKRXOGQRWH[FHHG
IHHW P THIS DRYER COMES READY FOR REAR EXHAUSTING. IF SPACE IS LIMITED, USE THE
INSTRUCTIONS IN STEP 9 TO EXHAUST
DIRECTLY FROM THE SIDE OR BOTTOM
OF THE CABINET.
Installation Instructions
5 LEVELING YOUR DRYER
‡)RUPDQ\DSSOLFDWLRQVLQVWDOOLQJHOERZVDWERWKWKHGU\HU
DQG WKH ZDOO LV KLJKO\ UHFRPPHQGHG VHH LOOXVWUDWLRQV
EHORZ (OERZV DOORZ WKH GU\HU WR VLW FORVH WR WKH ZDOO
ZLWKRXW NLQNLQJ DQG RU FUXVKLQJ WKH WUDQVLWLRQ GXFW
PD[LPL]LQJGU\LQJSHUIRUPDQFH
‡$YRLGUHVWLQJWKHGXFWRQVKDUSREMHFWV
6WDQGWKHGU\HUXSULJKWQHDUWKH¿QDOORFDWLRQDQGDGMXVW
WKHOHYHOLQJOHJVDWWKHFRUQHUVWRHQVXUHWKDWWKHGU\HU
LVOHYHOIURPVLGHWRVLGHDQGIURQWWRUHDU
LEVEL
FRONT-TO-BACK
UL-LISTED FLEXIBLE METAL (FOIL-TYPE) TRANSITION DUCT
‡ ,Q VSHFLDO LQVWDOODWLRQV LW PD\ EH QHFHVVDU\ WR FRQQHFW
WKH GU\HU WR WKH KRXVH YHQW XVLQJ D ÀH[LEOH PHWDO IRLO
W\SH GXFW $ 8/OLVWHG ÀH[LEOH PHWDO IRLOW\SH GXFW PD\
EHXVHG21/<LQLQVWDOODWLRQVZKHUHULJLGPHWDORUÀH[LEOH
PHWDO VHPLULJLG GXFWLQJFDQQRWEHXVHG$1'ZKHUHDµ
GLDPHWHUFDQEHPDLQWDLQHGWKURXJKRXWWKHHQWLUHOHQJWK
RIWKHWUDQVLWLRQGXFW
‡,Q&DQDGDDQGWKH8QLWHG6WDWHVRQO\WKHÀH[LEOHPHWDO
IRLOW\SH GXFWVWKDWFRPSO\ZLWKWKH´2XWOLQHIRU&ORWKHV
'U\HU7UDQVLWLRQ'XFW6XEMHFW$µVKDOOEHXVHG
‡1HYHULQVWDOOÀH[LEOHPHWDOGXFWLQZDOOVFHLOLQJVÀRRUVRU
RWKHUHQFORVHGVSDFHV
‡7RWDOOHQJWKRIÀH[LEOHPHWDOGXFWVKRXOGQRWH[FHHGIHHW
P ‡$YRLGUHVWLQJWKHGXFWRQVKDUSREMHFWV
For best drying performance
6OLGH RQH HQG RI WKH GXFW RYHU WKH FORWKHV GU\HU RXWOHW
SLSH
6HFXUHWKHGXFWZLWKDFODPS
:LWKWKHGU\HULQLWVSHUPDQHQWSRVLWLRQH[WHQGWKHGXFW
WRLWVIXOOOHQJWK$OORZµRIGXFWWRRYHUODSWKHH[KDXVW
SLSH&XWRȺDQGUHPRYHH[FHVVGXFW.HHSWKHGXFWDV
VWUDLJKWDVSRVVLEOHIRUPD[LPXPDLUÀRZ
6HFXUHWKHGXFWWRWKHH[KDXVWSLSHZLWKWKHRWKHUFODPS
LEVEL
SIDE-TO-SIDE
4 LEVELING
LEGS
6 ALCOVE OR CLOSET INSTALLATION
‡,I\RXUGU\HULVDSSURYHGIRULQVWDOODWLRQLQDQDOFRYHRU
FORVHWLWZLOOEHVWDWHGRQDODEHORQWKHGU\HUEDFN
‡7KH GU\HU MUST EH YHQWHG WR WKH RXWGRRUV 6HH WKH
EXHAUST INFORMATIONVHFWLRQV ‡0LQLPXPFOHDUDQFHEHWZHHQGU\HUFDELQHWDQGDGMDFHQW
ZDOOVRURWKHUVXUIDFHVLV
LQHLWKHUVLGH
LQIURQW
LQUHDU
‡0LQLPXPYHUWLFDOVSDFHIURPÀRRUWRRYHUKHDGFDELQHWV
FHLOLQJHWFLVLQ
‡&ORVHW GRRUV PXVW EH ORXYHUHG RU RWKHUZLVH YHQWLODWHG
DQGPXVWFRQWDLQDPLQLPXPRIVTLQRIRSHQDUHD
HTXDOO\GLVWULEXWHG,IWKHFORVHWFRQWDLQVERWKDZDVKHU
DQGDGU\HUGRRUVPXVWFRQWDLQDPLQLPXPRIVTLQ
RIRSHQDUHDHTXDOO\GLVWULEXWHG
NOTE: WHEN THE EXHAUST DUCT IS LOCATED AT THE REAR OF
THE DRYER, MINIMUM CLEARANCE FROM THE WALL IS 5.5 in.
7 BATHROOM OR BEDROOM INSTALLATION
‡7KHGU\HU0867EHYHQWHGWRWKHRXWGRRUV6HH(;+$867
,1)250$7,21VHFWLRQ ‡7KHLQVWDOODWLRQPXVWFRQIRUPZLWKORFDOFRGHVRULQWKH
DEVHQFH RI ORFDO FRGHV ZLWK WKH 1$7,21$/ (/(&75,&$/
&2'($16,1)3$12
Installation Instructions
8 MOBILE OR MANUFACTURED HOME
TAB LOCATION
INSTALLATION
‡,QVWDOODWLRQPXVWFRQIRUPWRWKH0$18)$&785('+20(
&216758&7,21 6$)(7< 67$1'$5' 7,7/( 3$57
RU ZKHQ VXFK VWDQGDUG LV QRW DSSOLFDEOH ZLWK
$0(5,&$1 1$7,21$/ 67$1'$5' )25 02%,/( +20(
$16,1)3$12%
‡7KH GU\HU 0867 EH YHQWHG WR WKH RXWGRRUV ZLWK WKH
WHUPLQDWLRQ VHFXUHO\ IDVWHQHG WR WKH PRELOH KRPH
VWUXFWXUH 6HH(;+$867,1)250$7,21VHFWLRQ ‡7KHYHQW0867127EHWHUPLQDWHGEHQHDWKDPRELOHRU
PDQXIDFWXUHGKRPH
‡7KHYHQWGXFWPDWHULDO0867%(0(7$/
‡'RQRWXVHVKHHWPHWDOVFUHZVRURWKHUIDVWHQLQJGHYLFHV
ZKLFKH[WHQGLQWRWKHLQWHULRURIWKHH[KDXVWYHQW
‡6HHVHFWLRQIRUHOHFWULFDOFRQQHFWLRQLQIRUPDWLRQ
BEND TAB
UP 45 o
Through the rear opening, locate the tab in the middle of
the appliance base. Lift the tab to about 45º using a flat
blade screwdriver.
ADDING NEW DUCT
FIXING
HOLE
9 GARAGE INSTALLATION (IF ALLOWED
BY LOCAL CODES)
PORTION "A"
‡'U\HUV LQVWDOOHG LQ JDUDJHV PXVW EH HOHYDWHG LQFKHV
FP DERYHWKHÀRRU
10 DRYER EXHAUST TO RIGHT, LEFT OR
BOTTOM CABINET
RIGHT OR
LEFT SIDE
EXHAUST
WARNING - BEFORE PERFORMING
THIS EXHAUST INSTALLATION, BE SURE
TO DISCONNECT THE DRYER FROM ITS
ELECTRICAL SUPPLY. PROTECT YOUR
HANDS AND ARMS FROM SHARP EDGES
WHEN WORKING INSIDE THE CABINET.
BE SURE TO WEAR GLOVES.
5HFRQQHFWWKHFXWSRUWLRQ $ RIWKHGXFWWRWKHEORZHU
KRXVLQJ0DNHVXUHWKDWWKH¿[LQJKROHLVDOLJQHGZLWKWKH
WDELQWKHEDVH8VHWKHVFUHZVDYHGSUHYLRXVO\WRVHFXUH
WKHGXFWLQSODFHWKURXJKWKHWDERQWKHDSSOLDQFHEDVH
ADDING ELBOW AND DUCT FOR
EXHAUST TO LEFT SIDE OF CABINET
‡3UHDVVHPEOHµHOERZZLWKµGXFW:UDSGXFWWDSH
DURXQGMRLQW
‡,QVHUWGXFWDVVHPEO\HOERZ¿UVWWKURXJKWKHVLGH
RSHQLQJDQGFRQQHFWWKHHOERZWRWKHGU\HULQWHUQDOGXFW
CAUTION: Be sure not to pull or damage the
REMOVE
SCREW
AND SAVE.
electrical wires inside the dryer when inserting the duct.
‡$SSO\GXFWWDSHDVVKRZQRQWKHMRLQWEHWZHHQWKHGU\HU
LQWHUQDOGXFWDQGWKHHOERZ
EXHAUST CAN
BE ADDED TO
LEFT OR RIGHT SIDE
REMOVE DESIRED
KNOCKOUT (ONE ONLY).
Detach and remove the bottom, right or left side knockout
as desired. Remove the screw inside the dryer exhaust duct
and save. Pull the duct out of the dryer.
FIXING HOLE
B
DUCT
TAPE
A
11 1/4"
Cut the duct as shown and keep portion A.
Installation Instructions
11 REVERSING THE DOOR SWING
‡$SSO\GXFWWDSHDVVKRZQRQWKHMRLQWEHWZHHQWKH
GU\HULQWHUQDOGXFWDQGWKHHOERZ
(OPTIONAL)
IMPORTANT NOTES
ADDING ELBOW FOR EXHAUST
THROUGH BOTTOM OF CABINET
DUCT
TAPE
‡5HDGWKHLQVWUXFWLRQVDOOWKHZD\WKURXJKEHIRUHVWDUWLQJ
‡+DQGOHSDUWVFDUHIXOO\WRDYRLGVFUDWFKLQJSDLQW
‡ 6HW VFUHZV GRZQ E\ WKHLU UHODWHG SDUWV WR DYRLG XVLQJ
WKHPLQWKHZURQJSODFHV
‡3URYLGHDQRQVFUDWFKLQJZRUNVXUIDFHIRUWKHGRRUV
‡1RUPDOFRPSOHWLRQWLPHWRUHYHUVHWKHGRRUVZLQJLV
PLQXWHV
CAUTION:
Internal duct joints must be
secured with tape, otherwise
they may separate and cause a
safety hazard.
IMPORTANT:2QFH\RXEHJLQGRQRWPRYHWKH
‡,QVHUWWKHHOERZWKURXJKWKHUHDURSHQLQJDQGFRQ
QHFWLWWRWKHGU\HULQWHUQDOGXFW
‡$SSO\GXFWWDSHRQWKHMRLQWEHWZHHQWKHGU\HULQWHU
QDOGXFWDQGHOERZDVVKRZQDERYH
FDELQHWXQWLOGRRUVZLQJUHYHUVDOLVFRPSOHWHG
7KHVH LQVWUXFWLRQV DUH IRU FKDQJLQJ WKH KLQJHV
IURP WKH ULJKW VLGH WR WKH OHIW VLGH LI \RX HYHU
ZDQW WR VZLWFK WKHP EDFN WR WKH ULJKW VLGH
IROORZ WKHVH VDPH LQVWUXFWLRQV DQG UHYHUVH DOO
UHIHUHQFHVWRWKHOHIWDQGULJKW
TOOLS YOU WILL NEED
CAUTION:
Internal duct joints must be secured with tape,
otherwise they may separate and cause a
safety hazard.
&UHVFHQW:UHQFK
$GMXVWDEOH
ADDING COVER PLATE TO REAR
OF CABINET (SIDES AND BOTTOM
EXHAUST
3KLOOLSV+HDG6FUHZGULYHU
3XWW\.QLIHRU7KLQ
%ODGH6FUHZGULYHU
DOOR PARTS
PL ATE
(KIT WE1M454)
+LQJH
$VVHPEO\
&RQQHFWVWDQGDUGPHWDOHOERZVDQGGXFWVWRFRPSOHWH
WKHH[KDXVWV\VWHP&RYHUEDFNRSHQLQJZLWKD
SODWH .LW:(0 DYDLODEOHIURP\RXUORFDOVHUYLFH
SURYLGHU3ODFHGU\HULQ¿QDOORFDWLRQ
+LQJH
&RYHU
1XW ²
3ODVWLF&RYHU
:DVKHU²
WARNING-NEVER LEAVE THE
BACK OPENING WITHOUT THE PLATE
(Kit WE1M454).
/DUJH7DSSLQJ
6FUHZ ²
7DSSLQJ6FUHZ
²
0DFKLQH
6FUHZ
²
Installation Instructions
BEFORE YOU START
/D\ WKH GRRU GRZQ RQ D VRIW SURWHFWHG ÀDW VXUIDFH VR
WKDW WKH LQQHU SDUW IDFHV XSZDUG GRRU UHVWLQJ RQ WKH
KDQGOHVLGH 5HPRYHWKHODUJHWDSSLQJVFUHZV ORFDWHGDURXQG
WKHSHULPHWHURIWKHGRRURXWOLQLQJWKHJDVNHWDQGWKH
PDFKLQHVFUHZV RQWKHKLQJHVLGH
8QSOXJWKHGU\HUIURPLWVHOHFWULFDORXWOHW
2 #8 Machine
Screws
6 #10 Large
Screws
REMOVE DOOR ASSEMBLY
2SHQWKHGRRUWRDSSUR[LPDWHO\GHJUHHV5HPRYHWKH
VFUHZVVWDUWLQJIURPWKHERWWRPWRWKHWRS0DNHVXUH
WKHGRRULVVXSSRUWHGZKLOHUHPRYLQJWKHVFUHZV
2 #8 Machine
Screws
Remove the
four screws.
:LWK WKH VFUHZV UHPRYHG WXUQ WKH GRRU RYHU DQG
VHSDUDWHWKHVLOYHUFRYHUSDUWRIWKHGRRUIURPWKHGRRU
IUDPHDQGVHWDVLGH
/RRVHQ WKH WRS VFUHZ DV VKRZQ 8QKRRN WKH GRRU E\
OLIWLQJDQGSXOOLQJDVVKRZQE\WKHDUURZV
8QORFN WKH WDEV RQ WKH SODVWLF FRYHU DQG VHSDUDWH
WKHSODVWLFFRYHUIURPWKHIUDPH
NOTE:'LVUHJDUGWKH´'21275(029(µODEHORQWKHSODVWLF
FRYHU
Installation Instructions
REMOVE HINGE
REINSTALL HINGE ASSEMBLY
IMPORTANT: 1RWH WKH ORFDWLRQ RI WKH KLQJH OHIW RU ULJKW EHIRUHUHPRYLQJ
3ODFHWKHKLQJHDVVHPEO\LQWKHRSSRVLWHVLGHRIWKH
GRRU
:LWK WKH GRRU IUDPH SDUW RI WKH GRRU ODLG GRZQ RQ D
SURWHFWHG VRIW VXUIDFH UHPRYH WKH KLQJH FRYHU E\
UHPRYLQJWKHWDSSLQJVFUHZV WKDWIDVWHQLWWRWKH
IUDPH7KHKLQJHFRYHULVORFDWHGDWWKHRSSRVLWHVLGHRI
WKHKLQJHDVVHPEO\
/RRVHO\IDVWHQWKHKLQJHDVVHPEO\WRWKHHGJHXVLQJ
PDFKLQHVFUHZV 5HPRYHWKHQXWVZDVKHUVDQGWKHPDFKLQHVFUHZV
+ROG WKH GRRU RQ LWV VLGH ZLWK RQH KDQG DQG IDVWHQ
WKHUHPDLQLQJVFUHZVDVVKRZQ7KHQWLJKWHQWKH
VFUHZV KROGLQJWKHKLQJHDVVHPEO\
5HPRYHWKHKLQJHDVVHPEO\E\UHPRYLQJWKHPDFKLQH
VFUHZV WKDW IDVWHQ LW WR WKH IUDPH 3XOO WKH KLQJH
DVVHPEO\RXWDQGVHWLWDVLGH
Installation Instructions
REINSTALL NUTS AND HINGE COVER
REASSEMBLE DOOR ASSEMBLY
3ODFH WKH GRRU RQ LWV HGJH $VVHPEOH WKH PDFKLQH
VFUHZV ZDVKHUVDQGQXWV7LJKWHQXVLQJDZUHQFK
DQGVFUHZGULYHU
IMPORTANT: 0DNHVXUHWKHUHLVQRGLUWRUDQ\RWKHUIRUHLJQ
PDWHULDOLQEHWZHHQWKHZLQGRZSDQHV
3ODFHWKHSODVWLFFRYHURQWRWKHLQQHUGRRUDQGORFNLQ
SODFHZLWKWKHWDEV
3ODFHWKHKLQJHFRYHULQSRVLWLRQ$OLJQWKHKLQJHFRYHU
KROHVZLWKWKHKROHVLQWKHGRRU
3ODFHWKHRXWHUGRRURQWRWKHLQQHUGRRU
6HFXUHWKHKLQJHFRYHUZLWKWKHWDSSLQJVFUHZV $IWHUUHYHUVLQJGRRUWKHUHZLOOEHDPLVPDWFKEHWZHHQ
WKHRXWHUGRRUDQGWKHLQQHUGRRU
0DNH VXUH WKDW WKH KDQGOH SDUW RI WKH RXWHU GRRU LV
RSSRVLWHWKHKLQJHDVVKRZQ
Installation Instructions
REINSTALL DOOR ASSEMBLY
7XUQ WKH GRRU RYHU DQG IDVWHQ WKH RXWHU GRRU WR WKH
LQQHUGRRUXVLQJWKHODUJHWDSSLQJVFUHZV 7KH GRRU LV QRZ UHDG\ WR EH LQVWDOOHG RQ WKH GU\HU
7RHDVHWKLVVWHSWKHKLQJHKDVNH\KROHVWKDWDOORZD
SDUWLDOO\IDVWHQHGVFUHZWREHXVHGDVDKRRN
3DUWLDOO\IDVWHQDVFUHZWRWKHXSSHUPRVWVFUHZKROH
+RRNWKHGRRURQWKHSDUWLDOO\IDVWHQHGVFUHZ
)DVWHQWKHKLQJHE\LQVWDOOLQJWKHRWKHUVFUHZVDQG
WLJKWHQLQJWKHSDUWLDOO\IDVWHQHGVFUHZDERYH
MOVE STRIKE BRACKET
8VLQJDSXWW\NQLIHRUDQ\RWKHUÀDWWRROUHPRYHWKH
SODVWLF VFUHZ FDSV ORFDWHG RQ WKH GU\HU ZKHUH WKH
GRRUZLOOEHLQVWDOOHGDQGLQVWDOOWKHPRQWKHRSSRVLWH
VLGH
12 SERVICING
WARNING-LABEL ALL WIRES
PRIOR TO DISCONNECTING WHEN
SERVICING CONTROLS. WIRING
ERRORS CAN CAUSE IMPROPER AND
DANGEROUS OPERATION AFTER
SERVICING/INSTALLATION.
6ZLWFKWKHVWULNHEUDFNHWDQGLWVFRYHUWRWKHRSSRVLWH
VLGHE\UHPRYLQJWKHVFUHZVWKHQUHLQVWDOOERWKRQWKH
RSSRVLWHVLGH
5(*,67(5<2851(:$33/,$1&(725(&(,9($1<
,03257$17352'8&7127,),&$7,216
3OHDVHJRWR www.GEAppliances.comRUPDLOLQ
\RXUSURGXFWUHJLVWUDWLRQFDUG
)RUTXHVWLRQVRQLQVWDOODWLRQFDOO 86 RU
&DQDGD Installation Instructions
ROUGH-IN DIMENSIONS
27"
31 1/8"
1 5/8"
41 1/2"
4 1/2"
27"
11 3/4"
30 5/8"
40 1/4"
39 1/8"
53 5/8"
13 3/8"
17"
11 3/4"