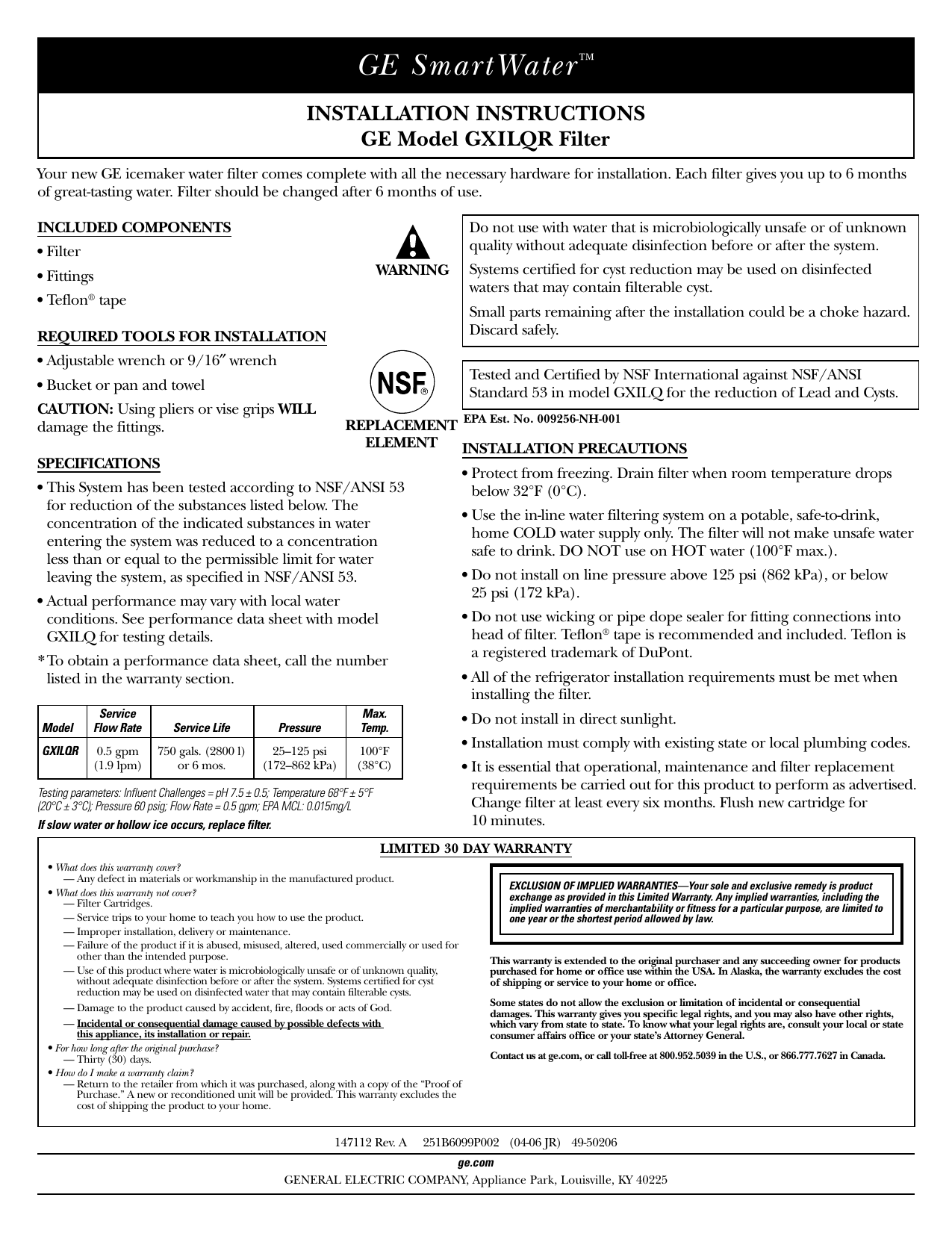 GE SmartWater ™
INSTALLATION INSTRUCTIONS
GE Model GXILQR Filter
Your new GE icemaker water filter comes complete with all the necessary hardware for installation. Each filter gives you up to 6 months
of great-tasting water. Filter should be changed after 6 months of use.
Do not use with water that is microbiologically unsafe or of unknown
quality without adequate disinfection before or after the system.
INCLUDED COMPONENTS
• Filter
WARNING
• Fittings
• Teflon® tape
Small parts remaining after the installation could be a choke hazard.
Discard safely.
REQUIRED TOOLS FOR INSTALLATION
• Adjustable wrench or 9/16″ wrench
Tested and Certified by NSF International against NSF/ANSI
Standard 53 in model GXILQ for the reduction of Lead and Cysts.
• Bucket or pan and towel
CAUTION: Using pliers or vise grips WILL
damage the fittings.
REPLACEMENT EPA Est. No. 009256-NH-001
ELEMENT
INSTALLATION PRECAUTIONS
SPECIFICATIONS
• Protect from freezing. Drain filter when room temperature drops
below 32°F (0°C).
• This System has been tested according to NSF/ANSI 53
for reduction of the substances listed below. The
concentration of the indicated substances in water
entering the system was reduced to a concentration
less than or equal to the permissible limit for water
leaving the system, as specified in NSF/ANSI 53.
• Use the in-line water filtering system on a potable, safe-to-drink,
home COLD water supply only. The filter will not make unsafe water
safe to drink. DO NOT use on HOT water (100°F max.).
• Do not install on line pressure above 125 psi (862 kPa), or below
25 psi (172 kPa).
• Actual performance may vary with local water
conditions. See performance data sheet with model
GXILQ for testing details.
• Do not use wicking or pipe dope sealer for fitting connections into
head of filter. Teflon® tape is recommended and included. Teflon is
a registered trademark of DuPont.
*To obtain a performance data sheet, call the number
listed in the warranty section.
Model
GXILQR
Systems certified for cyst reduction may be used on disinfected
waters that may contain filterable cyst.
Service
Flow Rate
Service Life
Pressure
Max.
Temp.
0.5 gpm
(1.9 lpm)
750 gals. (2800 l)
or 6 mos.
25–125 psi
(172–862 kPa)
100°F
(38°C)
• All of the refrigerator installation requirements must be met when
installing the filter.
• Do not install in direct sunlight.
• Installation must comply with existing state or local plumbing codes.
• It is essential that operational, maintenance and filter replacement
requirements be carried out for this product to perform as advertised.
Change filter at least every six months. Flush new cartridge for
10 minutes.
Testing parameters: Influent Challenges = pH 7.5 ± 0.5; Temperature 68°F ± 5°F
(20°C ± 3°C); Pressure 60 psig; Flow Rate = 0.5 gpm; EPA MCL: 0.015mg/L
If slow water or hollow ice occurs, replace filter.
LIMITED 30 DAY WARRANTY
• What does this warranty cover?
— Any defect in materials or workmanship in the manufactured product.
• What does this warranty not cover?
— Filter Cartridges.
— Service trips to your home to teach you how to use the product.
— Improper installation, delivery or maintenance.
— Failure of the product if it is abused, misused, altered, used commercially or used for
other than the intended purpose.
— Use of this product where water is microbiologically unsafe or of unknown quality,
without adequate disinfection before or after the system. Systems certified for cyst
reduction may be used on disinfected water that may contain filterable cysts.
— Damage to the product caused by accident, fire, floods or acts of God.
— Incidental or consequential damage caused by possible defects with
this appliance, its installation or repair.
• For how long after the original purchase?
— Thirty (30) days.
• How do I make a warranty claim?
— Return to the retailer from which it was purchased, along with a copy of the "Proof of
Purchase." A new or reconditioned unit will be provided. This warranty excludes the
cost of shipping the product to your home.
147112 Rev. A
EXCLUSION OF IMPLIED WARRANTIES—Your sole and exclusive remedy is product
exchange as provided in this Limited Warranty. Any implied warranties, including the
implied warranties of merchantability or fitness for a particular purpose, are limited to
one year or the shortest period allowed by law.
This warranty is extended to the original purchaser and any succeeding owner for products
purchased for home or office use within the USA. In Alaska, the warranty excludes the cost
of shipping or service to your home or office.
Some states do not allow the exclusion or limitation of incidental or consequential
damages. This warranty gives you specific legal rights, and you may also have other rights,
which vary from state to state. To know what your legal rights are, consult your local or state
consumer affairs office or your state's Attorney General.
Contact us at ge.com, or call toll-free at 800.952.5039 in the U.S., or 866.777.7627 in Canada.
251B6099P002 (04-06 JR) 49-50206
ge.com
GENERAL ELECTRIC COMPANY, Appliance Park, Louisville, KY 40225
GE SmartWater ™
INSTRUCTIONS D'INSTALLATION
Filtre GE Modèle GXILQR
Votre nouveau filtre à eau GE pour générateur de glaçons est fourni avec toutes les pièces nécessaires pour l'installation. Chaque filtre permet la
production d'une eau d'excellente qualité pendant près de 6 mois. On devrait changer le filtre après 6 mois d'utilisation.
PIÈCES FOURNIES
Ne pas utiliser ce produit sans une désinfection adéquate avant ou après le
système, avec de l'eau de qualité inconnue ou microbiologiquement polluée.
• Filtre
AVERTISSEMENT Les systèmes homologués pour une réduction microbienne peuvent être
• Raccords
• Ruban de Téflon
utilisés avec des eaux désinfectées qui peuvent renfermer des microbes
filtrables.
OUTILLAGE NÉCESSAIRE
POUR L'INSTALLATION
Les petites pièces non utilisées après l'installation peuvent susciter un risque
d'étouffement pour les jeunes enfants. Veiller à les éliminer.
®
• Clé anglaise ou clé de 9/16 po
Éprouvé et homologué par NSF International en fonction de la norme
NSF/ANSI 53 dans le modèle GXILQ pour la réduction du plomb et
des microbes.
• Sceau ou cuvette et serviette
MISE EN GARDE : Ne pas utiliser une pince ou
pince-étau sur les raccords – ils subiraient des
dommages.
ELEMENT DE
RECHANGE
CARACTÉRISTIQUES
• Protéger le produit contre le gel. Vider le filtre lorsque la température
de la pièce pourrait s'abaisser au-dessous de 32°F (0°C).
• Ce système a été testé conformément à la norme
NSF/ANSI 53 pour assurer la réduction des substances
énumérées ci-dessous. La concentration des substances
spécifiées dans l'eau arrivant au système a été réduite à
une valeur inférieure ou égale à la limite admise pour
l'eau sortant du système tel que défini dans la norme
NSF/ANSI 53.
• Utiliser le système de filtration en série uniquement sur une canalisation
d'eau potable FROIDE. Le filtre ne rendra pas potable pour la
consommation une eau de qualité déficiente. NE PAS installer le produit
sur une canalisation d'eau CHAUDE (100°F max.).
• Ne pas installer le produit sur une canalisation dont la pression est
supérieure à 125 lb/po2 (862 kPa), ou inférieure à 25 lb/po2 (172 kPa).
• Les performances réelles peuvent varier selon les
conditions de l'eau fournie localement. Pour les détails
sur le test, voir la feuille de données de performance
de modèle GXILQ.
• Ne pas utiliser de méchage ni d'enduit de joint de tuyau sur les raccords
dans la tête du filtre. Il est recommandé d'utiliser du ruban de Téflon®
fourni. Téflon est une marque déposée de DuPont.
• Lors de l'installation du filtre, on doit respecter toutes les exigences
concernant l'installation du réfrigérateur.
* Appelez le numéro imprimé dans la partie Garantie,
pour obtenir la feuille de données de performance.
Modèle
GXILQR
Débit en
service
Capacité/
longévité
Pression
0,5 gpm 2800 litres (750 gals.)
25–125 psi
(1,9 lpm)
ou 6 mois
(172–862 kPa)
EPA Est. No. 009256-NH-001
PRÉCAUTIONS À OBSERVER POUR L'INSTALLATION
Temp.
max.
100°F
(38°C)
Paramètres de test : Caractéristiques de l'eau à traiter = pH 7,5 ± 0,5;
température 68°F ± 5°F (20°C ± 3°C); pression 60lb/po2 relative; débit = 0.5gpm;
EPA MCL : 0,015mg/L
Remplacer le filtre si le débit est insuffisant ou si les glaçons sont creux.
• Ne pas installer le produit à un emplacement exposé au rayonnement
solaire direct.
• L'installation doit satisfaire les prescriptions des codes locaux de plomberie.
• Pour que la performance de ce produit soit conforme à ce qui est annoncé
dans les publicités, il est essentiel que les opérations d'entretien et de
remplacement de l'élément filtrant soient exécutées conformément aux
spécifications. Changer l'élément filtrant à intervalles de six mois. Rincer
la cartouche neuve pendant 10 minutes.
GARANTIE LIMITEE DE 30 JOURS
• Que couvre la garantie?
— Tout défaut de matériel ou de main d'oeuvre du produit.
• Q'est-ce qui n'est pas couvert par la garantie?
— Les cartouches de filtre.
— Les déplacements à votre domicile pour vous enseigner comment utiliser le produit.
— Une installation, remise ou entretien incorrecte.
— Une panne du produit causée par un abus d'utilisation, une mauvaise utilisation, toute
modification, exploitation commerciale ou une utilisation du produit dans un but non prévu.
— Utilisation de ce produit lorsque l'eau est microbiologiquement impure ou de qualité
inconnue sans qu'une désinfection adéquate n'ait eu lieu avant l'entrée et sortie dans
le circuit. Les systèmes homologués pour une réduction des microbes peuvent être
utilisés après désinfection de l'eau pouvant contenir des microbes filtrables.
— Tout dommage causé au produit par accident, incendie, inondation ou acte de Dieu.
— Tout dommage fortuit ou indirect causé par des défauts éventuels
de cet appareil, son installation ou les réparations effectuées.
• Quelle est la durée de la garantie après l'achat?
— 30 jours.
• Comment dois-je faire ma réclamation?
— Ramenez le produit au magasin où vous l'avez acheté avec une exemplaire de la "Preuve
d'achat". Une unité neuve ou remise à neuf sera fournie. Cette garantie exclut les coûts
d'expédition ou les déplacements de service à votre domicile.
EXCLUSION DE GARANTIES IMPLICITES—Votre seul et unique recours est l'échange du
produit selon les dispositions de cette Garantie limitée. Toutes les garanties implicites, incluant
les garanties de commercialité et d'adéquation à un usage spécifique, sont limitées à une année
ou à la période la plus courte autorisée par la législation.
Cette garantie couvre l'acheteur original et tout propriétaire subséquent des produits achetés à des
fins résidentielles ou de bureau à l'intérieur des États-Unis. En Alaska, cette garantie exclut le coût
d'expédition ou les appels de service à votre maison ou bureau.
Certains États ne permettent pas l'exclusion ou la restriction des dommages accessoires ou
consécutifs. Cette garantie vous donne des droits juridiques particuliers, mais vous pouvez également
avoir d'autres droits qui varient d'État à État. Pour connaître vos droits juridiques, consultez le bureau
de protection du consommateur de votre localité, de votre État ou le procureur général de votre État.
Contactez nous sur ge.com, ou appelez le numéro sans frais 800.952.5039 aux États-Unis.
Au Canada, contactez nous sur www.electromenagersge.ca, ou appelez le numéro sans frais
866.777.7627.
GE SmartWater ™
INSTRUCCIONES PARA LA INSTALACION
Filtro GE Modelo GXILQR
Su nuevo filtro de agua GE para fábrica de hielo se surte completo e incluye todos los accesorios necesarios para la instalación. Cada filtro le brindará
agua de excelente sabor hasta por 6 meses. El filtro deberá cambiarse después de 6 meses de uso.
COMPONENTES INCLUIDOS
No use con agua que sea microbiológicamente insegura o de calidad
desconocida sin la desinfección adecuada antes o después del sistema.
• Filtro
• Accesorios
ADVERTENCIA
• Cinta de Teflón®
Los sistemas certificados para la reducción de quiste se pueden usar en la
desinfección de agua que podría contener quiste filtrable.
Las pequeñas piezas que sobran después de la instalación pueden constituir
un riesgo de asfixia. Deséchelas adecuadamente.
HERRAMIENTAS NECESARIAS
PARA LA INSTALACIÓN
• Llave ajustable o llave 9/16″
Probado y certificado por NSF International contra los estándares 53
NSF/ANSI en el modelo GXILQ para la reducción de plomo y quiste.
• Cubeta o sartén y toalla
PRECAUCIÓN: El usar alicates o agarradores
de tornillos dañará los acopladores.
ELEMENTO DE
REEMPLAZO
EPA Est. No. 009256-NH-001
ESPECIFICACIONES
CUIDADOS DURANTE LA INSTALACIÓN
• Este sistema ha sido probado de acuerdo con
NSF/ANSI 53 para la reducción de las sustancias
mencionadas más adelante. La concentración de las
sustancias indicadas contenidas en el agua que entra
al sistema fue reducida a una concentración menor
o igual al límite permitido para el agua que sale del
sistema, según las normas establecidas por
NSF/ANSI 53.
• Evite la congelación. Cuando la temperatura de la habitación baja de los
32°F (0°C), desagüe el filtro.
• Solamente utilice el sistema de filtrado en línea cuando el agua residencial
suministrada es FRÍA, potable y puede consumirse con seguridad. El filtro
no purifica el agua ni la hará potable. NO se utilice con agua CALIENTE.
(100°F, 38°C max.).
• No lo instale en líneas de agua cuya presión sobrepase las 125 psi (862 kPa),
o esté por debajo de las 25 psi (172 kPa).
• El desarrollo real podría variar de acuerdo con las
condiciones locales del agua. Ver hoja de datos de
desarrollo con el modelo GXILQ para los detalles
de prueba.
• No use trenzados o sellantes de lubricantes para los accesorios de conexiones
en la cabeza del filtro. Se recomienda el uso de cinta Teflón® y la incluimos.
Feflón es una marca registrada de DuPont.
• Es necesario cumplir con todos los requisitos de instalación del refrigerador
al instalar el filtro.
* Para obtener una hoja de datos de desarrollo, llame
al número proporcionado en la sección de garantía.
• No lo instale en un sitio expuesto a la luz solar directa.
Modelo
GXILQR
Tasa
de flujo
Vida media
Presión
0,5 gpm 2800 litros (750 gals.)
25–125 psi
(1,9 lpm)
or 6 meses
(172–862 kPa)
Max.
Temp.
100°F
(38°C)
Parámetros de Prueba: Retos para la prueba de afluencia = pH 7,5 ± 0,5;
temperatura 68°F ± 5°F (20°C ± 3°C); presión 60 psig; flujo = 0.5 gpm;
EPA MCL: 0,015mg/L
Reemplace el filtro si el flujo de agua es lento o el hielo aparece hueco.
• La instalación debe cumplir con los códigos locales y estatales existentes.
• Para que este producto funcione como se anuncia, es indespensable
que lleven a cabo los requisitos de cambio de filtros, mantenimiento y
funcionamiento. Cambie el filtro cada seis meses. Haga pasar agua por
el cartucho nuevo por 10 minutos.
GARANTÍA LIMITADA POR 30 DÍAS
• ¿Qué cubre esta garantía?
— Cualquier defecto de fábrica en los materiales o la manufactura del producto.
• ¿Qué no cubre esta garantía?
— Cartuchos del filtro.
— Viajes a su casa para enseñarle cómo usar el producto.
— Instalación o entrega inapropiada, o mantenimiento impropio.
— Fallas del producto si hay abuso, mal uso, o uso para otros propósitos que los propuestos,
o uso para fines comerciales.
— Uso de este producto donde el agua está microbiológicamente insegura o de calidad
desconocida, sin la adecuada desinfección, antes y después de ser procesada por el sistema.
Los sistemas certificados para reducir el nivel de quistes pueden ser usados en agua
desinfectada que pueda contener quistes que se puedan filtrar.
— Daños causados al producto debido a accidentes, incendio, inundaciones o actos de la naturaleza.
— Daños secundarios o por consecuencia causados por posibles defectos en el producto,
su instalación o reparación.
• ¿Por cuánto tiempo después de la compra?
— 30 días.
• ¿Cómo hago la reclamación de la garantía?
— Devuélvala al minorista a quien le compró el producto con una copia de "Proof of
Purchase"(prueba de compra). Se le proporcionará una unidad nueva o reacondicionada.
Esta garantía excluye los costos de envío o llamadas de servicio a domicilio.
EXCLUSIÓN DE GARANTÍAS IMPLÍCITAS—Su único y exclusivo derecho es el cambio del
producto, tal y como se indica en esta Garantía limitada. Cualquier garantía implícita, incluyendo
las garantías implícitas de comerciabilidad o adecuación para un fin determinado, están limitadas
a un año o el período de tiempo más breve permitido por la ley.
Esta garantía se extiende al comprador original y cualquier comprador posterior de productos
comprados para uso residencial o en la oficina dentro de Estados Unidos. En Alaska, la garantía
excluye el costo de envío o las visitas de servicio a su casa u oficina.
Algunos estados no permiten la exclusión o las limitaciones de daños incidentales o consecuenciales.
Esta garantía da derechos legales específicos, y usted podría tener otros derechos que variarán de
estado a estado. Para saber cuáles son sus derechos legales, consulte a la oficina de asuntos del
consumidor local o la oficina del Attorney General en su localidad.
Póngase en contacto con nosotros en ge.com, o llame sin cargo al 800.952.5039, o 866.777.7627
en Canada.
SUPPLY SIDE
CÔTÉ DE L'ARRIVÉE D'EAU
LADO DEL SUMINISTRO
INLET
ARRIVÉE
ENTRADA
OUTLET
SORTIE
SALIDA
APPLIANCE SIDE
CÔTÉ DE L'APPAREIL MÉNAGER
LADO DEL ELECTRODOMÉSTICO
Teflon tape
Ruban de Téflon
Cinta de teflón
O-ring fitting
Valved fitting
(not provided with GXILQR) Raccord à joint torique
Accesorio del aro O
Raccord doté d'une valve
(non fourni avec le GXILQR)
Accesorio valvulado
(no proporcionado con GXILQR)
O-ring fitting
Raccord à joint torique
Accesorio del aro O
Non-Valved fitting
(not provided with GXILQR)
Raccord sans valve
(non fourni avec le GXILQR)
Acesorio no-valvulado
(no proporcionado con GXILQR)
Follow directions for proper assembly / Suivre les instructions pour bien assembler le filtre / Siga las direcciones para una ensambladura apropiada
PROCEDURE FOR
REPLACING THE FILTER
PROCESSUS POUR
REMPLACER LE FILTRE
PROCEDIMIENTO PARA EL
REEMPLAZO DEL FILTRO
Attach Fittings to Filter
Fixer les raccords au filtre
Una los accesorios al filtro
1. Remove yellow endcaps from filter.
1. Retirez du filtre les bouchons
d'extrémité jaunes.
1. Remueva las tapas extremas amarillas
del filtro.
2. Faites 1 ou 2 tours de ruban de Téflon
fourni sur les filets du raccord à joint
torique, comme illustré.
2. Aplique de 1 ó 2 vueltas de la cinta de
teflón incluido a las roscas de los
accesorios de aro O, como se muestra.
3. Vissez un raccord à joint torique à
chacune des deux extrémités du corps
du filtre et serrez-les bien avec une clé.
Laissez au moins un tour de filet
apparent.
3. Enrosque los accesorios de aro O en
ambos extremos del cuerpo del filtro y
apriételos ligeramente con una llave.
Deje por lo menos una rosca descubierta.
2. Apply 1–2 wraps of the included Teflon
tape to threads of o-ring fittings, as
shown.
3. Thread o-ring fittings into both ends
of the filter body and tighten snug with
a wrench. Leave at least one turn of
thread showing.
Replace the Filter
1. Get a bucket and a towel.
2. Disconnect the old filter at its inlet first
and then its outlet. Water source will
shut off automatically, but some water
may spill or drip back through the filter.
3. Flush loose particles of carbon from
the system by placing filter outlet over
bucket. Then, flush by connecting filter
inlet to valved fitting. Fine carbon
particles will be removed during the
flushing. Disconnect inlet to stop
flushing after 5 gallons of water are
flushed (approx. 10 minutes).
4. Connect the filter outlet first, then
reconnect the inlet.
5. Write the date on the filter and also
mark your calendar to replace with
another filter after 6 months.
Reemplazo del filtro
Remplacez le filtre
1. Busque una cubeta y una toalla.
1. Munissez-vous d'un seau et d'une
serviette.
2. Desconecte el filtro viejo en su entrada
primero y luego en su salida. La fuente
de agua se suspenderá automáticamente,
pero un poco de agua podría derramarse
o gotear de regreso a través del filtro.
2. Débranchez l'ancien filtre, d'abord à
son arrivée puis à sa sortie. La source
d'eau s'arrêtera automatiquement mais
un peu d'eau peut jaillir ou s'écouler à
travers le filtre.
3. Rincez les particules de carbone hors
du système en plaçant la sortie du filtre
au-dessus du seau. Puis, rincez en
raccordant l'arrivée du filtre au raccord
doté d'une valve. De fines particules
de carbone disparaîtront pendant le
rinçage. Débranchez l'arrivée pour
arrêter le rinçage après avoir vidé
19 litres (5 gallons) d'eau (environ
10 minutes).
4. Branchez la sortie du filtre en premier,
puis rebranchez l'arrivée.
5. Écrivez la date sur le filtre et marquez
également votre calendrier afin de le
remplacer par un filtre neuf dans 6 mois.
3. Purgue las partículas flojas de carbono
del sistema colocando la salida del
filtro sobre la cubeta. Luego, drénelas
conectando la entrada del filtro al
accesorio con la válvula. Las pequeñas
partículas de carbono serán removidas
durante el drenaje. Desconecte la
entrada para detener el drenaje después
de que 19 litros (5 galones) de agua
hayan pasado por el sistema (aprox.
10 minutos).
4. Conecte la salida del filtro primero,
luego conecte de nuevo la entrada.
5. Escriba la fecha sobre el filtro y
también marque en su calendario
para reemplazar con otro filtro
después de 6 meses.