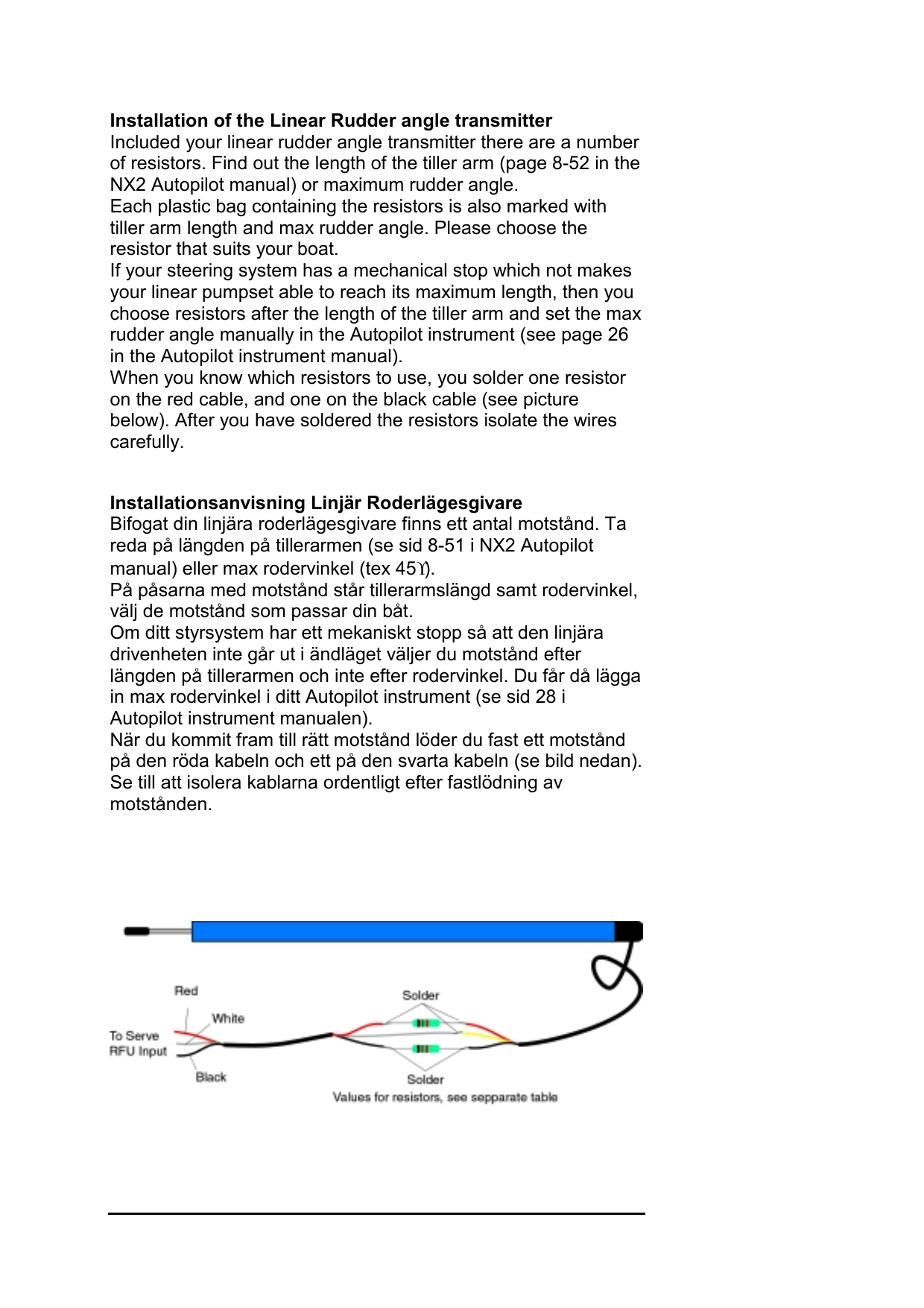 Installation of the Linear Rudder angle transmitter
Included your linear rudder angle transmitter there are a number
of resistors. Find out the length of the tiller arm (page 8-52 in the
NX2 Autopilot manual) or maximum rudder angle.
Each plastic bag containing the resistors is also marked with
tiller arm length and max rudder angle. Please choose the
resistor that suits your boat.
If your steering system has a mechanical stop which not makes
your linear pumpset able to reach its maximum length, then you
choose resistors after the length of the tiller arm and set the max
rudder angle manually in the Autopilot instrument (see page 26
in the Autopilot instrument manual).
When you know which resistors to use, you solder one resistor
on the red cable, and one on the black cable (see picture
below). After you have soldered the resistors isolate the wires
carefully.
Installationsanvisning Linjär Roderlägesgivare
Bifogat din linjära roderlägesgivare finns ett antal motstånd. Ta
reda på längden på tillerarmen (se sid 8-51 i NX2 Autopilot
manual) eller max rodervinkel (tex 45°).
På påsarna med motstånd står tillerarmslängd samt rodervinkel,
välj de motstånd som passar din båt.
Om ditt styrsystem har ett mekaniskt stopp så att den linjära
drivenheten inte går ut i ändläget väljer du motstånd efter
längden på tillerarmen och inte efter rodervinkel. Du får då lägga
in max rodervinkel i ditt Autopilot instrument (se sid 28 i
Autopilot instrument manualen).
När du kommit fram till rätt motstånd löder du fast ett motstånd
på den röda kabeln och ett på den svarta kabeln (se bild nedan).
Se till att isolera kablarna ordentligt efter fastlödning av
motstånden.

* Your assessment is very important for improving the work of artificial intelligence, which forms the content of this project