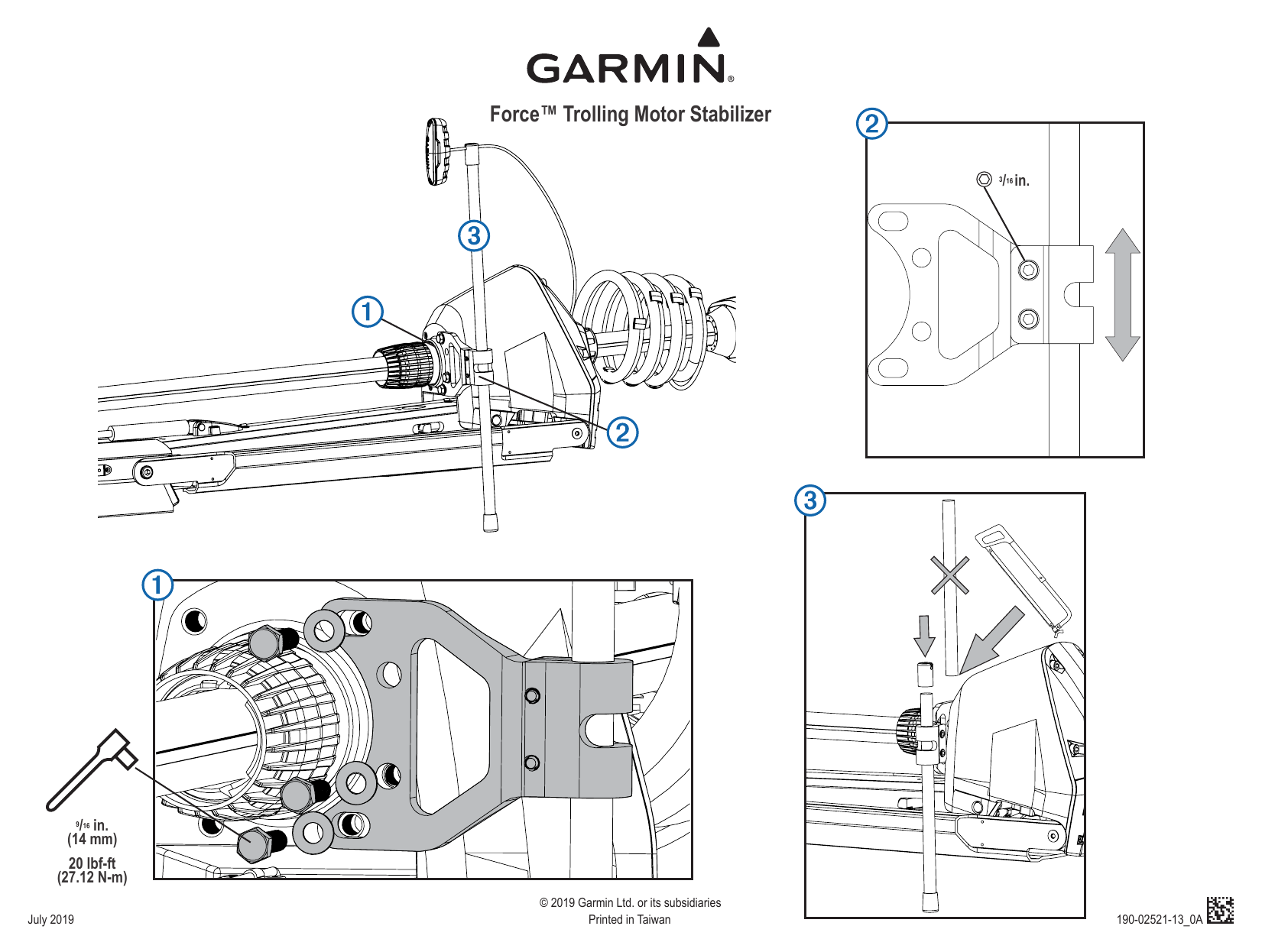 Force™ Trolling Motor Stabilizer
/ in.
3 16
9/16 in.
(14 mm)
20 lbf-ft
(27.12 N-m)
July 2019
© 2019 Garmin Ltd. or its subsidiaries
Printed in Taiwan
190-02521-13_0A
Securing the Stabilizer to the Motor
This is an optional accessory that can help stabilize and
provide additional support for the trolling motor when it is in
the stowed position.
1 Place the trolling motor into the stowed position.
2 Attach the bracket to either side of the motor steering
housing using the included bolts ➊, tightening them to
20 lbf-ft (27 N-m).
3 Insert the rod so that it contacts the boat deck when
applying light pressure.
NOTE: Setting the length of the rod too deep may apply
pressure on the motor latch system and make it difficult to
transition from the stowed to the deployed position.
4 Tighten the two screws that clamp the stabilizer rod in the
bracket ➋.
5 Move the motor between the stowed and deployed
position to test for interference, and make any needed
adjustments.
6 (Optional) Remove the excess length from the top of the
rod ➌, leaving enough room to install the cap.
Fixation du stabilisateur au moteur
Ceci est un accessoire facultatif qui permet de stabiliser et
de maintenir en place le moteur électrique lorsqu'il est en
position rangée.
1 Mettez le moteur électrique en position rangée.
2 Fixez le support sur l'un des côtés du boîtier de moteur
de direction à l'aide des boulons ➊ inclus, en les serrant
à 27 N-m (20 lbf-pi).
3 Insérez la tige de manière à ce qu'elle entre en contact
avec le pont du bateau quand vous appliquez une légère
pression.
Remarque : si la tige est trop longue, elle risque
d'appuyer sur le mécanisme de verrouillage du système
et de compliquer le passage du mode rangé au mode
déployé.
4 Serrez les deux vis qui maintiennent la tige du
stabilisateur dans l'étrier ➋.
5 Faites basculer le moteur entre le mode rangé et déployé
pour tester les éventuelles interférences et effectuer les
réglages nécessaires.
6 (Facultatif) Retirez le morceau de tige en trop afin qu'il y
ait de la place pour installer le capuchon ➌.
Fissaggio dello stabilizzatore al motore
Si tratta di un accessorio opzionale che può aiutare a
stabilizzare e fornire un supporto aggiuntivo per il trolling
motor quando è in posizione di stivaggio.
1 Posizionare il trolling motor in posizione di stivaggio.
2 Fissare la staffa su entrambi i lati dell'alloggiamento dello
sterzo del motore utilizzando i bulloni ➊ in dotazione e
serrarli sulla specifica di coppia 20 lbf-ft (27 N-m).
3 Inserire l'asta a contatto con il ponte dell'imbarcazione
applicando una leggera pressione.
4
5
6
Nota: l'uso di un'asta troppo lunga potrebbe premere
sul sistema dei fermi del motore e rendere difficile la
transizione dalla posizione di stivaggio a quella di utilizzo.
Serrare le due viti che fissano l'asta dello stabilizzatore
nell'alloggiamento della staffa ➋.
Spostare il motore tra la posizione di stivaggio e quella
di utilizzo per testare l'interferenza ed eseguire eventuali
regolazioni.
(Opzionale) Rimuovere la lunghezza in eccesso dalla
cima dell'asta, lasciando lo spazio sufficiente per
installare il cappuccio ➌.
Sichern des Stabilisators am Motor
Dies ist ein optionales Zubehör, das Stabilität und eine
zusätzliche Stütze für den Elektro-Bootsmotor in der
eingeholten Positionen bieten kann.
1 Positionieren Sie den Elektro-Bootsmotor in der
eingeholten Position.
2 Befestigen Sie die Halterung mit den mitgelieferten
Bolzen ➊ an den Seiten des Gehäuses des
Steuerungsmotors. Ziehen Sie sie mit einem Drehmoment
von 27 Nm (20 lbf-ft) an.
3 Setzen Sie die Stange ein, sodass sie das Deck des
Boots berührt, wenn leichter Druck auf die Stange
ausgeübt wird.
Hinweis: Wenn die Länge der Stange zu tief eingesetzt
wird, kann Druck auf das Verriegelungssystem des
Motors ausgeübt werden, sodass der Wechsel von der
eingeholten zur heruntergelassenen Position schwierig
wird.
4 Ziehen Sie die zwei Schrauben an, mit denen die
Stabilisatorstange in der Halterung ➋ fixiert wird.
5 Holen Sie den Motor ein, und lassen Sie ihn herunter, um
zu testen, ob es Beeinträchtigungen gibt. Nehmen Sie
evtl. erforderliche Anpassungen vor.
6 (Optional) Kürzen Sie die Stange am oberen Ende.
Lassen Sie dabei ausreichend Platz zum Installieren der
Kappe ➌.
Fijación del accesorio estabilizador al
motor
Se trata de un accesorio opcional que puede ayudar
a estabilizar el motor eléctrico de arrastre, así como a
proporcionar soporte adicional, cuando este está en posición
de recogida.
1 Coloca el motor eléctrico de arrastre en la posición de
recogida.
2 Acopla el soporte a cada lado de la carcasa del sistema
de dirección del motor con los pernos incluidos ➊ y, a
continuación, apriétalos a 27 N·m (20 lbf-ft).
3 Introduce la varilla de forma que entre en contacto con
la cubierta de la embarcación cuando se aplique una
presión leve.
Nota: Si se ajusta la varilla a una longitud con demasiada
profundidad, se puede ejercer presión sobre el sistema
4
5
6
de cierre del motor y dificultar la transición desde la
posición de recogida hasta la posición de despliegue.
Aprieta los dos tornillos que sujetan la varilla
estabilizadora al soporte ➋.
Cambia entre la posición de recogida y de despliegue
para comprobar si hay algún impedimento y realiza los
ajustes necesarios.
(Opcional) Elimina el exceso de longitud de la parte
superior de la varilla, asegurándote de dejar suficiente
para instalar la tapa ➌.
Prender o estabilizador ao motor
Este é um acessório opcional que pode ajudar a estabilizar
e fornecer suporte adicional para o motor de proa quando
estiver na posição de acondicionamento.
1 Colocar o motor de proa na posição de
acondicionamento.
2 Prenda o suporte em qualquer lado do compartimento
de direção do motor usando os parafusos incluídos ➊,
apertando-os com torque de 27 N-m (20 lbf-ft).
3 Insira a haste de modo que ela entre em contato com o
convés do barco ao aplicar uma leve pressão.
Observação: ajustar o comprimento da haste muito
fundo pode aplicar pressão no sistema de trava do motor
e dificultar a transição da posição de acondicionado para
a posição de implantado.
4 Aperte os dois parafusos que prendem a haste do
estabilizador no suporte ➋.
5 Mova o motor entre a posição de acondicionado e
implantado para testar a interferência e ajuste conforme
necessário.
6 (Opcional) Remova o excesso de comprimento da parte
superior da haste, deixando espaço suficiente para
instalar a tampa ➌.
Fastgørelse af stabilisatoren til motoren
Dette ekstraudstyr kan hjælpe med at stabilisere og yde
ekstra støtte til elmotoren, når den er i opbevaringsposition.
1 Placer elmotoren i opbevaringsposition.
2 Fastgør beslaget på begge sider af motorstyrehuset vha.
de medfølgende bolte ➊, og spænd dem til 20 lbf-ft
(27 N-m).
3 Indsæt stangen, så den kommer i kontakt med
båddækket, når der påføres et let tryk.
Bemærk: Hvis længden af stangen indstilles for dybt, kan
det påføre motorens låsesystem et tryk, der kan gøre det
vanskeligt at skifte fra opbevaret til udtrukket position.
4 Spænd de to skruer, der holder stabiliseringsstangen fast
i beslaget ➋.
5 Flyt motoren mellem opbevaringsposition og udtrukket
position for at teste for interferens, og foretag eventuelle
nødvendige justeringer.
6 (Valgfrit) Fjern den overskydende længde fra toppen af
stangen, så der er plads til at montere hætten ➌.
Feste stabilisatoren til motoren
Dette er et valgfritt tilbehør som kan bidra til å stabilisere og gi
ytterligere støtte til dorgemotoren når den er i stuet posisjon.
1 Plasser dorgemotoren i stuet posisjon.
2 Fest braketten til hver side av styremotorhuset ved hjelp
av de medfølgende boltene ➊, og trekk dem til med et
tiltrekningsmoment på 27 Nm (20 lbf-ft).
3 Sett inn stangen slik at den kommer i kontakt med
båtdekket, og bruk et lett trykk.
Merk: Hvis lengden på stangen er for dyp, kan det føre til
trykk på motorens sperresystem og gjøre det vanskelig å
bytte fra stuet til utfelt posisjon.
4 Stram de to skruene som fester stabilisatorstangen i
braketten ➋.
5 Bytt mellom å ha motoren i den stuede og utfelte
posisjonen for å teste om det finnes interferens, og foreta
nødvendige justeringer.
6 (Valgfritt) Fjern den overflødige lengden fra toppen av
stangen, slik at det blir nok plass til å montere dekselet
➌.
Fästa stabilisatorn på motorn
Det här är ett valbart tillbehör som kan hjälpa till att stabilisera
och ge extra stöd till trollingmotorn när den är i förvaringsläge.
1 Placera trollingmotorn i förvaringsläget.
2 Montera fästet på båda sidor av motorns styrhus med
hjälp av de medföljande bultarna ➊ och dra åt dem till
angivet till 27 N-m (20 lbf-ft).
3 För in stången så att den kommer i kontakt med
båtdäcket när du trycker lätt.
Obs! Om du ställer in längden på stången för djupt kan
det uppstå tryck på motorspärrsystemet och det blir svårt
att byta från förvaringsläget till det utfällda läget.
4 Dra åt de två skruvarna som håller fast
stabiliseringsstaget i fästet ➋.
5 Växla mellan förvarat och utfällt läge för att testa om
något tar emot och gör eventuella justeringar.
6 (Valfritt) Ta bort överflödig längd från överdelen av staget
men lämna kvar tillräckligt mycket så att du kan montera
kåpan ➌.

* Your assessment is very important for improving the work of artificial intelligence, which forms the content of this project