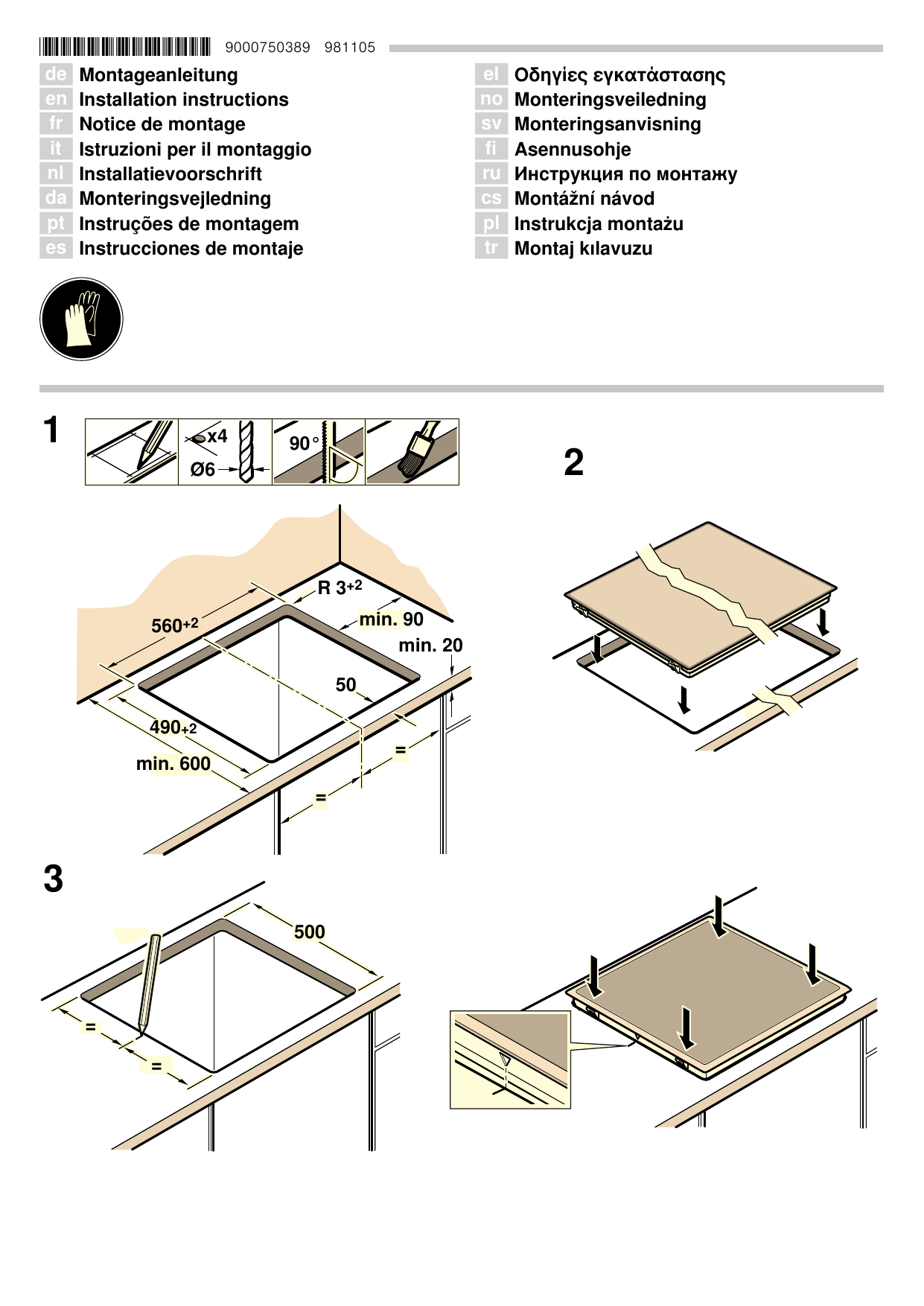 *9000750389*
Ø
Ú
Þ
â
é
×
ì
Û
9000750389 981105
Ù
ê
ó
Ý
î
Ö
ë
ô
Montageanleitung
Installation instructions
Notice de montage
Istruzioni per il montaggio
Installatievoorschrift
Monteringsvejledning
Instruções de montagem
Instrucciones de montaje
[
ƒ
'
5
PLQ
PLQ
PLQ
Οδηγίες εγκατάστασης
Monteringsveiledning
Monteringsanvisning
Asennusohje
Инструкция по монтажу
Montážní návod
Instrukcja montażu
Montaj kılavuzu
1
3(
1
3(
de
Ø Montageanleitung
Das müssen Sie beachten
Elektrischer Anschluss: nur durch konzessionierten Fachmann. Bei Falschanschluss erlischt die Garantie.
Einbau: nur fachgerecht, bei Schäden haftet der Monteur.
Kochfeld und Herd: nur von der gleichen Marke und mit gleichem Kombinationspunkt.
Berührungsschutz: muss durch den Einbau gewährleistet sein.
Montageanweisung: des Herdes beachten.
Arbeitsplatte: eben, waagrecht, stabil.
Möbel vorbereiten - Bild 1
Einbaumöbel: mindestens 90°C temperaturbeständig.
Ausschnitt: Nach Ausschnittarbeiten Späne entfernen.
Schnittflächen: hitzebeständig versiegeln.
3. Kochstellen-Stecker am Herd einstecken. Die Farbe der vor-
deren Leitung muss mit der Farbkennzeichnung des Aufklebers übereinstimmen. Die Nase N des Steckers muss nach
links zeigen.
Herd einschieben. Leitung beim Einbau nicht einklemmen.
Geflieste Arbeitsplatten: Fliesenfugen mit Silikonkautschuk
abdichten.
Kochfeld ausbauen
Das Gerät spannungslos machen.
Herd etwas herausziehen. Kochstellenstecker abstecken. Zuletzt
den Schutzleiter PE (grün/gelb) von der Erdungsschraube
lösen.
Kochfeld von unten herausdrücken.
en
Ú Installation instructions
You must note the following
Leitungen: bei Einbau nicht einklemmenn.
Kochfeld einsetzen bei vorhandenem
Arbeitsplattenausschnitt mit 500mm Tiefe - Bild 3
1. Mitte des Ausschnittes markieren
2. Kochfeld aufsetzen
3. Markierungen Kochfeldrahmen und Ausschnitt ausrichten
4. Kochfeld eindrücken.
Electrical connection: Must only be carried out by a licensed
expert. Incorrect connection will invalidate the warranty.
Installation: Must only be carried out by a professional. The
fitter is liable for any damage.
Hob and cooker: Must only be from the same brand and have
the same combination feature.
Protection against accidental contact: Must be ensured
through the manner of installation.
Installation instructions: Must be observed for the cooker.
Work surface: Level, horizontal, stable.
Kochfeld anschließen - Bild 4
Preparing the units - Figure 1
Kochfeld einsetzen - Bild 2
Der Herd muss am Netz angeschlossen, aber spannungslos
sein!
1. Herd soweit einsetzen, dass die Steckvorrrichtung zugänglich
ist.
2. Schutzleiter PE (grün/gelb) des Kochfeldes an
Erdungsstelle < des Herdes anschrauben.
Fitting unit: Heat resistant to at least 90°C.
Cut-out: Minimum distance to the side walls: 90 mm.
After the cutting out work is complete, remove the shavings.
Cut surfaces: Seal with heat-resistant material.
Fitting the hob - Fig. 2
Cables: Do not trap cables when fitting.
Insert the hob in the existing worktop cut-out with a depth of
500 mm - Figure 3
1. Mark the centre of the cut-out
2. Put the hob in place
3. Align the markings on the hob surround and cut-out
4. Press in the hob.
Connecting the hob - Fig. 4
The cooker must be connected to the mains, but switched off.
1. Pull out the cooker far enough to make the socket accessible.
2. Screw the hob's PE conductor (green/yellow) onto the cooker
earthing point <.
3. Plug the hotplate plug into the cooker. The colour of the cable
must correspond to the colour shown on the label. The lug N
on the plug must point to the left.
Slide the cooker in. Do not trap the cable when fitting.
Tiled work surfaces: Seal the tile joints with silicone rubber.
Removing the hob
Disconnect the appliance from the power supply.
Pull out the cooker a short distance. Unplug the cooking zone
plug. Finally, disconnect the PE conductor (green/yellow) from
the earthing screw.
Push out the hob from below.
fr
Þ Notice de montage
Consignes à respecter
Connexion électrique : uniquement par un spécialiste agréé.
Toute erreur de branchement annule la garantie.
Encastrement : uniquement selon les règles de l'art,
l'installateur est responsable en cas de dommages.
Table de cuisson et cuisinière : uniquement de la même
marque et ayant le même point de combinaison.
Protection contre le contact : doit être garantie par
l'encastrement.
Notice de montage : de la cuisinière doit être respectée.
Plan de travail : plan, horizontal, stable.
Préparation du meuble - fig. 1
Meuble d'encastrement : résistant à une température d'au
moins 90°C.
Découpe : distance minimale vers les parois latérales : 90 mm.
Enlever les copeaux après les travaux de découpe.
Chants de la découpe : les sceller de façon thermostable.
Mise en place de la table de cuisson - fig. 2
Câbles : ne pas les coincer lors de l'encastrement.
Insertion de la table de cuisson en cas de présence de la
découpe du plan de travail d'une profondeur de 500 mm fig. 3
1. Marquer le milieu de la découpe
2. Poser la table de cuisson
3. Aligner les marquages du cadre de la table de cuisson et de
la découpe
4. Faire rentrer la table de cuisson en appuyant.
Raccordement de la table de cuisson - fig. 4
La cuisinière doit être raccordée au secteur, mais être hors
tension !
1. Insérer la cuisinière de sorte que le dispositif de connexion
soit accessible.
2. Visser le conducteur de protection PE (vert/jaune) de la table
de cuisson au point de mise à la terre < de la cuisinière.
3. Connecter le connecteur des foyers à la cuisinière. La
couleur de la conduite avant doit correspondre au marquage
de couleur de l'autocollant. Le nez N du connecteur doit être
orienté vers la gauche.
Pousser la cuisinière vers l'intérieur. Ne pas pincer la conduite
électrique lors de l'encastrement.
Plans de travail carrelés : Etanchéifier les joints de carrelage
avec un joint en silicone.
Dépose de la table de cuisson
Mettre l'appareil hors tension.
Retirer légèrement la cuisinière. Débrancher le connecteur des
foyers. A la fin, détacher le conducteur de protection PE (vert/
jaune) de la vis de mise à la terre.
Sortir la table de cuisson en la poussant par le bas.
it
â Istruzioni per il montaggio
Procedere nel modo seguente
Allacciamento elettrico: da far eseguire esclusivamente da un
tecnico specializzato. In caso di allacciamento scorretto decade
la garanzia.
Montaggio: da eseguirsi esclusivamente in modo corretto; in
caso di danni la responsabilità verrà imputata a chi ha eseguito
il montaggio.
Piano di cottura e cucina: devono essere della stessa marca e
dotati di un contrassegno identico.
Protezione da contatto: deve essere garantita tramite il
montaggio.
Rispettare le istruzioni di montaggio della cucina.
Piano di lavoro: stabile, in piano e orizzontale.
Preparazione del mobile: figura 1
I mobili da incasso: termostabili almeno fino a 90 °C.
Foro di incasso: distanza minima dalle pareti laterali: 90 mm.
Rimuovere i trucioli dopo i lavori di taglio.
Superfici di taglio: sigillare in modo refrattario.
Montaggio del piano di cottura: figura 2
Non schiacciare icavi durante il montaggio.
Montare il piano di cottura con foro d'incasso del presente
piano di lavoro con profondità 500 mm - Figura 3
1. Marcare il centro del foro d'incasso
2. Posizionare il piano di cottura
3. Allineare la marcatura sul telaio del piano di cottura a quella
sul foro d'incasso
4. Spingere il piano di cottura in sede.
Allacciamento del piano di cottura: figura 4
La cucina deve essere collegata alla rete di alimentazione ma
senza tensione!
1. Inserire la cucinain modo che il dispositivo di protezione sia
accessibile.
2. Avvitare il conduttore di terra PE (verde/giallo) del piano di
cottura al punto di messa a terra < della cucina.
3. Inserire le prese delle zone di cottura nella cucina. Il colore del
cavo anteriore deve corrispondere all'indicazione sull'adesivo.
La sporgenza N del conduttore deve trovarsi a sinistra.
Inserire la cucina. Durante il montaggio non schiacciare il cavo.
Piani di lavoro piastrellati: chiudere a tenuta le fughe tra le
piastrelle utilizzando gomma siliconica.
Smontaggio del piano di cottura
Scollegare l'apparecchio dalla rete elettrica
Estrarre leggermente la cucina. Scollegare le prese delle zone
di cottura. Infine scollegare il conduttore di terra PE (verdegiallo) dal morsetto di terra.
Estrarre il piano di cottura spingendolo dal basso.
nl
é Installatievoorschrift
Hierop dient u te letten
Elektrische aansluiting: alleen door een erkend vakman. In
geval van een verkeerde aansluiting komt de garantie te
vervallen.
Inbouw: alleen op deskundige wijze, bij schade is de monteur
aansprakelijk.
Kookplaat en fornuis: alleen van hetzelfde merk en met
hetzelfde combinatiepunt.
Bescherming tegen aanraking: dient door de inbouw te zijn
gewaarborgd.
Installatievoorschrift van het fornuis in acht nemen.
Werkblad: vlak, waterpas en stabiel.
Meubel voorbereiden - Afbeelding 1
Inbouwmeubel: tenminste bestand tegen een temperatuur van
90°C.
Uitsnijding: minimale afstand tot de zijwanden: 90 mm.
Na uitsnijwerkzaamheden de spaanders verwijderen.
Snijvlakken: hittebestendig afdichten.
Kookplaat inbrengen - Afbeelding 2
Kabels: bij het inbouwen niet afklemmen.
Kookplaat inbrengen bij een werkplaatuitsnijding van 500mm
diepte - Afbeelding 3
1. Het midden van de uitsnijding markeren
2. Kookplaat plaatsen
3. Markeringen kookplaatomlijsting en uitsnijding uitlijnen
4. Kookplaat indrukken.
Kookplaat aansluiten - Afbeelding 4
Het fornuis dient op het net aangesloten maar spanningsloos te
zijn!
1. Fornuis zo plaatsen dat het stopcontact toegankelijk is.
2. Aardleiding PE (groen/geel) van de kookplaat op het
aardingspunt < van het fornuis vastschroeven.
3. Stekker van de kookzone in het fornuis steken. De kleur van
de kabel aan de voorkant moet overeenkomen met de
kleuraanduiding van de sticker. De voorkant N van de stekker
moet naar links wijzen.
Fornuis inschuiven. De kabel bij het inbouwen niet afklemmen.
Betegelde werkbladen: de tegelvoegen afdichten met
siliconenrubber.
Kookplaat demonteren
Het apparaat spanningsloos maken.
Het fornuis iets naar buiten trekken. De stekker van de
kookzone losmaken.Tenslotte de leiding met randaarde PE
(groe/geel) losmaken van de aardingsschroef.
Kookplaat van onderuit naar buiten drukken.
da
× Monteringsvejledning
Overhold følgende anvisninger:
Elektrisk tilslutning: Må kun foretages af en autoriseret
elektriker. Ved forkert tilslutning bortfalder garantiens gyldighed.
Montage: Skal udføres fagligt korrekt, ved evt. skader hæfter
montøren.
Kogesektion og komfur: Skal være af samme mærke og have
samme kombinationspunkt.
Berøringsbeskyttelse: Skal være sikret via montagen.
Komfurets monteringsvejledning: Skal overholdes.
Bordplade: Plan, vandret, stabil.
Forberedelse af køkkenelement - figur 1
Køkkenelementer til indbygning: Som minimum
temperaturbestandige til 90ºC.
Udskæring: Mindste afstand til sidevægge: 90mm.
Fjern alle spåner, når udskæringen er færdig.
Snitflader: Skal forsynes med varmebestandig forsegling.
Placering af kogesektion - figur 2
Ledninger: Pas på, at de ikke kommer i klemme ved
monteringen.
Isætning af kogesektion i en færdig udskæring i en bordplade
med en tykkelse på 500 mm - figur 3
1. Marker midten af udskæringen
2. Sæt kogesektion i udskæringen
3. Indjuster markeringerne på udskæringen og på
kogesektionens ramme
4. Tryk kogesektionen på plads.
Tilslutning af kogesektion - figur 4
Komfuret skal være forbundet med strømforsyningen, men skal
være uden spænding!
1. Sæt komfuret så vidt på plads, at stikanordningen er
tilgængelig.
2. Skru kogesektionens beskyttelsesledning PE (grøn/gul) fast
til jordforbindelsen < på komfuret.
3. Sæt stikket til kogezonerne ind i stikket på komfuret. Farven
på den forreste ledning skal svare til farvemarkeringen på
mærkaten. Stikkets næse N skal vende mod venstre.
Skyd komfuret ind på plads. Sørg for, at ledningen ikke kommer
i klemme ved monteringen.
Bordplader med fliser: Tæt fugerne med silikonegummi.
Demontere kogesektion
Apparatet skal gøres spændingsløst.
Træk komfuret lidt ud. Træk stikket til kogezonerne ud. Frigør
jordledningen PE (grøn/gul) fra jordtilslutningsskruen.
Tryk kogesektionen op nedefra.
pt
ì Instruções de montagem
Indicações a respeitar
Ligação eléctrica: deve ser efectuada apenas por um
especialista. Uma ligação errada anula a garantia.
Montagem: conforme especificado, em caso de danos, a
responsabilidade será do instalador.
Placa de cozinhar e fogão: apenas da mesma marca e com o
mesmo ponto de combinação.
Protecção contra contacto acidental: tem de ser garantida na
montagem.
Instruções de montagem do fogão: respeitar.
Bancada: plana, horizontal, robusta.
Preparar o móvel - figura 1
Móvel de montagem: resistência mínima a temperaturas até
90°C.
Abertura recortada: distância mínima às paredes laterais::
90 mm.
Depois de proceder aos trabalhos de recorte, remova as
aparas.
Superfícies cortadas: sele-as de modo a que resistam a
temperaturas elevadas.
Inserir a placa de cozinhar - figura 2
Cabos: não entale os cabos durante a montagem.
Colocar a placa de cozinhar num recorte existente da
bancada de trabalho com 500 mm de profundidade - Bild 3
1. Marcar o meio do recorte
2. Colocar a placa de cozinhar
3. Alinhar as marcações, a moldura da placa de cozinhar e o
recorte
4. Pressione a placa de cozinhar para dentro.
Ligar a placa de cozinhar - figura 4
O fogão deve estar ligado à rede, mas sem alimentação de
corrente!
1. Encastre o fogão de modo que o dispositivo de encaixe fique
acessível.
2. Aparafuse o condutor de protecção PE (verde/amarelo) da
placa de cozinhar à ligação à terra < do fogão.
3. Insira a ficha da placa de cozinhar no fogão. A cor do cabo
da frente deve corresponder à marcação de cor do
autocolante. O bico N da ficha tem de ficar virado para a
esquerda.
Encaixe o fogão. Não entale o cabo aquando da montagem.
Bancadas ladrilhadas: vede as juntas dos ladrilhos com
borracha de silicone.
Desmontar a placa de cozinhar
Desligue o aparelho da corrente
Puxe o fogão ligeiramente para fora. Retire a ficha da placa de
cozinhar. Por último, desligue o condutor de proteção PE
(verde/amarelo) do parafuso de terra.
Retire a placa de cozinhar, pressionando por baixo.
es
Û Instrucciones de montaje
Lo que se debe tener en cuenta
Conexión eléctrica: sólo a cargo de un técnico especialista
autorizado. Si se hace una conexión incorrecta, la garantía no
tendrá validez.
Montaje: conforme a las reglas profesionales; en caso de
daños, el responsable será el montador.
Placa de cocción y cocina: deben ser de la misma marca y
tener el mismo punto de combinación.
Protección contra contacto accidental: debe garantizarse
mediante el montaje.
Instrucciones de montaje: observar las de la cocina.
Encimera: plana, horizontal, estable.
Preparación de los muebles - Figura 1
Muebles empotrados: resistentes a una temperatura de 90°C
como mínimo.
Hueco: distancia mínima a las paredes laterales: 90 mm.
Retirar las virutas después de los trabajos de corte.
Superficies de corte: sellar con material resistente al calor.
Conexión de la placa de cocción - Figura 2
Cables: no aprisionarlos durante el montaje.
Colocar la placa de cocción en el hueco disponible de la
encimera con una profundidad de 500 mm - Figura 3
1. Marcar el centro del hueco
2. Colocar la placa de cocción
3. Alinear las marcas de los marcos de la placa de cocción con
el hueco
4. Insertar la placa de cocción
Conexión de la placa de cocción - Figura 4
La cocina debe conectarse a la red pero sin tensión.
1. Colocar la cocina con una separación que permita el acceso
al enchufe.
2. Atornillar la toma de tierra PE (color verde/amarillo) de la
placa de cocción al punto de puesta a tierra de la <cocina.
3. Conectar el enchufe de la zona de cocción a la cocina. El
color del cable delantero debe coincidir con la identificación
cromática de la pegatina. El saliente N del conector debe
apuntar hacia la izquierda.
Introducir la cocina. No aprisionar el cable al realizar el montaje.
Encimeras alicatadas: sellar las juntas entre los azulejos con
caucho de silicona.
Desmontar la placa de cocción
Desconectar el aparato de la corriente.
Sacar un poco la cocina. Desenchufar el conector de la zona de
cocción. Por último, soltar la toma a tierra PE (color verde/
amarillo) del tornillo de puesta a tierra.
Extraer la placa de cocción empujando desde abajo.
el
Ù Οδηγίες εγκατάστασης
Αυτό πρέπει να προσέξετε
Ηλεκτρική σύνδεση: Μόνο από έναν αδειούχο ηλεκτρολόγο. Σε
περίπτωση εσφαλμένης σύνδεσης παύει να ισχύει η εγγύηση.
Τοποθέτηση: Μόνο εξειδικευμένη εγκατάσταση, σε περίπτωση
ζημιών την ευθύνη φέρει ο εγκαταστάτης.
Βάση εστιών και κουζίνα: Μόνο της ίδιας μάρκας και με ίδιο σημείο
συνδυασμού.
Προστασία επαφής: Η προστασία επαφής πρέπει να εξασφαλίζεται
με την τοποθέτηση.
Οδηγίες εγκατάστασης: Προσέξτε τις οδηγίες εγκατάστασης της
κουζίνας.
Πάγκος εργασίας: Επίπεδος, οριζόντιος, σταθερός.
Προετοιμασία του ντουλαπιού - Εικ. 1
Εντοιχιζόμενα ντουλάπια: Ανθεκτικά στη θερμοκρασία το λιγότερο
μέχρι 90°C.
Άνοιγμα: Ελάχιστη απόσταση από τα πλαϊνά τοιχώματα: 90 mm.
Μετά τις εργασίες κοπής των ανοιγμάτων απομακρύνετε τα
απόβλητα (πριονίδια, γρέζια).
Επιφάνειες τομής: Σφραγίστε τις μ' ένα στεγανοποιητικό υλικό
ανθεκτικό στη θερμότητα.
Τοποθέτηση της βάσης εστιών - Εικ. 2
Καλώδια: Μη μαγκώσετε τα καλώδια κατά την τοποθέτηση.
Τοποθετήστε τη βάση εστιών σε ένα υφιστάμενο άνοιγμα
πάγκου εργασίας με 500 mm βάθος - Εικ. 3
1. Σημαδέψτε το κέντρο του ανοίγματος
2. Τοποθετήστε τη βάση εστιών
3. Ευθυγραμμίστε τα μαρκαρίσματα στο πλαίσιο της βάσης εστιών και
στο άνοιγμα
4. Πιέστε μέσα τη βάση εστιών.
Σύνδεση της βάσης εστιών - Εικ. 4
Η κουζίνα πρέπει να είναι συνδεδεμένη στο ηλεκτρικό δίκτυο, αλλά
να βρίσκεται εκτός τάσης!
1. Τοποθετήστε την κουζίνα έτσι, ώστε η διάταξη σύνδεσης να είναι
προσιτή.
2. Βιδώστε τον αγωγό προστασίας (γείωση) PE (πράσινο/κίτρινο) της
βάσης των εστιών στο σημείο γείωσης < της ηλεκτρικής κουζίνας.
3. Συνδέστε το ρευματολήπτη (φις) της εστίας μαγειρέματος στην
κουζίνα. Το χρώμα του μπροστινού καλωδίου πρέπει να ταυτίζεται
με το χαρακτηριστικό χρώμα του αυτοκόλλητου. Η μύτη N του φις
πρέπει να δείχνει προς τα αριστερά.
Σπρώξτε την κουζίνα στη θέση της. Μη μαγκώσετε το καλώδιο κατά
την τοποθέτηση.
Πάγκοι εργασίας επενδυμένοι με πλακίδια: Στεγανοποιήστε τους
αρμούς των πλακιδίων με καουτσούκ σιλικόνης.
Αφαίρεση της βάσης εστιών
Θέστε τη συσκευή εκτός τάσης.
Τραβήξτε λίγο την κουζίνα προς τα έξω. Αποσυνδέστε το
ρευματολήπτη (φις) των εστιών μαγειρέματος. Τελευταία λύστε τον
αγωγό προστασίας (γείωση) PE (πράσινο/κίτρινο) από τη βίδα
γείωσης.
Σπρώξτε από κάτω τη βάση εστιών προς τα έξω.
no
ê Monteringsveiledning
Dette må du være oppmerksom på
Elektrisk tilkobling: skal bare utføres av en autorisert
fagperson. Garantien bortfaller ved feil i tilkoblingen.
Innbygging: skal utføres fagmessig. Montøren holdes til ansvar
for eventuelle skader.
Kokesone og komfyr: må være av samme merke og ha samme
kombinasjonspunkt.
Berøringsbeskyttelse: monteringen må ikke gå ut over
berøringsbeskyttelsen.
Monteringsanvisningen: for komfyren må følges.
Arbeidsplate: jevn, vannrett, stabil.
Klargjøring av kjøkkenelementene – figur 1
Innbyggingselementer: må tåle temperaturer på minst 90 °C.
Utskjæring: minsteavstand til sideveggene: 90 mm.
Fjern spon etter utskjæringsarbeider.
Snittflater: må gjøres varmebestandige.
Innsetting av kokesonen – figur 2
Ledningene: må ikke komme i klem under monteringen.
Sette inn kokesone ved eksisterende arbeidsplateutskjæring
med 500 mm dybde – bilde 3
1. Merk av midten på utskjæringen
2. Sett på kokesonen
3. Juster merkene på kokesonerammen og utskjæringen til
hverandre
4. Trykk på plass kokesonen.
Tilkobling av kokesonen – figur 4
Komfyren må være koblet til strømnettet, men skal være
spenningsløs.
1. Komfyren må settes så langt inn at støpselet er tilgjengelig.
2. Skru først kokesonens jordledning PE (grønn/gul) til
jordingspunktet < på komfyren.
3. Koble støpselet til kokesonen til komfyren. Fargen på den
fremre ledningen må stemme overens med fargemerkingen på
etiketten. Tappen N på støpselet må peke mot venstre.
Skyv komfyren på plass. Ledningen må ikke komme i klem
under monteringen.
Flislagte arbeidsplater: Flisefugene må tettes med
silikonmasse.
Demontering av kokesonen
Apparatet må gjøres spenningsløst.
Trekk komfyren litt ut. Trekk ut støpselet til kokesonen. Løsne til
slutt jordledningen PE (grønn/gul) fra jordingsskruen.
Trykk ut kokesonen fra undersiden.
sv
ó Monteringsanvisning
Viktigt!
Elanslutning: kräver behörig elektriker. Garantin gäller inte vid
felanslutning.
Inbyggnad: ska vara rätt gjord, installatören ansvarar för
skador.
Häll och spis: använd samma märke och samma
inkopplingsställe.
Petskydd: inbyggnaden ska ge fullgott petskydd.
Monteringsanvisning: följ spisens monteringsanvisning.
Arbetsbänk: plan, vågrät, stabil.
Förberedelse av möbel - bild 1
Inbyggnadsmöbel: ska tåla minst 90°C.
Urtag: minimiavstånd till sidoväggar 90 mm.
Ta bort sågspånen när du gjort urtag.
Snittytor: värmebeständig försegling.
Sätta i hällen - bild 2
Sladdar: kläm dem inte vid installationen.
Inbyggnad av spishäll i befintligt, 500 mm djupt urtag - Bild 3
1. Markera mitten av urtaget
2. Sätta i hällen
3. Passa in hällinfattningen i urtaget
4. Snäpp fast hällen.
Ansluta hällen - bild 4
Spisen ska vara elansluten, men spänningslös!
1. Sätt in spisen så pass mycket att du kommer åt
anslutningarna.
2. Skruva fast hällens skyddsjord PE (grön/gul) i spisens
jordpunkt <.
3. Sätt i hällkontakten i spisen. Färgen på den främre ledaren
ska matcha färgmärkningen på dekalen. Kontaktklacken N ska
peka åt vänster.
Skjut in spisen. Se till så att du inte klämmer sladden vid
installationen.
Kaklade arbetsbänkar: isolera kakelfogarna med silikongummi.
Demontering av häll
Koppla ur strömmen till enheten.
Dra ut hällen något. Dra ur kokzonens kontakt. Lossa därefter
skyddsledaren PE (grön/gul) från jordningsskruven.
Tryck upp hällen underifrån.
fi
Ý Asennusohje
Ota seuraavat seikat huomioon
Sähköliitäntä: teetä vain valtuutetulla asentajalla. Jos liitäntä on
virheellinen, takuu raukeaa.
Asennus: vain ammattimainen, vaurioista vastaa asentaja.
Keittotaso ja liesi: vain samanmerkkinen ja samanlaisella
liitäntäpisteellä.
Kosketusjännitesuojaus: on taattava asennuksella.
Asennusohje: lieden asennusohjetta on noudatettava.
Työtaso: tasainen, vaakatasossa oleva, vakaa.
Kalusteen valmistelu - kuva 1
Kaluste: kestettävä vähintään 90 °C lämpötilaa.
Aukko: minimietäisyys sivuseiniin: 90 mm.
Poista lastut aukon tekemisen jälkeen.
Aukon reunat: käsittele kuumuutta kestäviksi.
Keittotason asentaminen - kuva 2.
Johdot: varmista, että johdot eivät joudu asennettaessa
puristuksiin.
Keittotason asettaminen paikalleen, kun valmis työtason
leikkaus 500 mm syvä - kuva 3
1. Merkitse leikkauksen keskikohta
2. Aseta keittotaso paikalleen
3. Kohdista keittotason kehyksen ja leikkauksen merkinnät
4. Paina keittotaso sisään.
Keittotason liittäminen - kuva 4
Lieden pitää olla liitetty sähköverkkoon, mutta sen pitää olla
jännitteetön!
1. Asenna liesi niin pitkälle paikalleen, että pistoke ja pistorasia
ovat käsillä.
2. Ruuvaa keittotason suojajohdin (PE) (vihreä/keltainen) kiinni
lieden maadoituspisteeseen <.
3. Kytke lieden keittoaluepistoke. Etummaisen johdon värin pitää
olla yhteneväinen tarran väritunnuksen kanssa. Pistokkeen
nokan N pitää näyttää vasemmalle.
Työnnä liesi paikalleen. Varmista, että johto ei joudu
asennettaessa puristuksiin.
Laattapintaiset työtasot: tiivistä laattasaumat silikonilla.
Keittotason irrottaminen
Poista laitteesta jännite.
Vedä liettä vähän ulos. Irrota keittotasopistoke. Irrota lopuksi
suojajohdin PE (vihreä/keltainen) maadoitusruuvista.
Paina keittotaso alhaalta päin pois paikaltaan.
ru
î Инструкция по монтажу
На что следует обратить внимание
Подключение к электросети должно осуществляться только
уполномоченным специалистом. В случае неправильного
подключения гарантия теряет свою силу.
Необходимо обеспечить квалифицированный монтаж,
ответственность за повреждения несёт сборщик.
Варочная панель и плита должны быть только одной марки и
только с точками соединения одного типа.
При установке следует обеспечить защиту от прикосновений.
Соблюдайте указания инструкции по монтажу плиты.
Столешница должна быть ровная и установлена устойчиво и
строго горизонтально.
Подготовка мебели — рис. 1
Мебель для встраивания: термоустойчивость должна быть
минимум 90 °C.
Вырез: минимальное расстояние до боковых стенок: 90 мм.
После выполнения вырезов следует удалить опилки.
Стыки: загерметизировать термостойким герметиком.
Установка варочной панели - рис. 2
Провода: при установке не допускать защемления.
Установка варочной панели при вырезе в столешнице с
глубиной 500 мм (рис. 3)
1. Отметьте центр выреза.
2. Установите варочную панель.
3. Совместите маркировки на раме варочной панели и вырез.
4. Прижмите варочную панель.
Подключение варочной панели - рис. 4
Подсоедините плиту к сети, но не включайте!
1. Установите плиту таким образом, чтобы оставался доступ к
блоку подключения.
2. Подсоедините заземляющий провод варочной панели (PE,
жёлто-зелёный) к заземлению < плиты.
3. Подсоедините провода конфорок к разъёмам плиты. Цвет
переднего провода должен совпадать с цветом наклейки.
Выступ N должен быть направлен влево.
Задвиньте плиту. При установке не допускайте защемления
проводов.
Столешницы с покрытием плиткой: загерметизируйте швы
плитки силиконовым герметиком.
Демонтаж варочной панели
выключите прибор.
Немного выдвиньте плиту. Отсоедините вилку варочной панели.
В конце отсоедините защитный провод PE (желто-зеленый) от
заземляющего винта.
Выдавите варочную панель снизу.
cs
Ö Montážní návod
Je nutné dodržet tyto pokyny
Elektrické připojení: Smí provádět pouze koncesovaný
odborník. V případě nesprávného připojení zaniká nárok na
záruku.
Vestavba: Pouze odborným způsobem, za případná poškození
odpovídá montážní firma.
Varná deska a sporák: pouze stejné značky a se stejným
kombinačním bodem.
Ochrana proti dotyku: Musí být zajištěna vestavbou.
Montážní návod: Dodržujte možní návod pro sporák.
Pracovní deska: rovná, vodorovná a stabilní.
Příprava nábytku - obrázek 1
Vestavný nábytek-: odolný minimálně vůči teplotě 90 °C.
Výřez: minimální vzdálenost od postranních stěn: 90 mm.
Po vyřezávání odstraňte piliny.
Řezné plochy: Opatřete žáruvzdornou vrstvou.
Zasazení varné desky - obrázek 2
Kabely: Nesmí se při montáži přiskřípnout.
Instalace varné desky do stávajícího výřezu v pracovní desce
o hloubce 500 mm - obrázek 3
1. Vyznačte střed výřezu.
2. Nasaďte varnou desku.
3. Vyrovnejte značky na rámu varné desky a u výřezu.
4. Varnou desku zatlačte.
Připojení varné desky - obrázek 4
Sporák musí být připojený k elektrické síti, ale musí být bez
napětí!
1. Sporák zasuňte tak, aby bylo přístupné místo propojení.
2. Ochranný vodič PE (zeleno-žlutý) varné desky přišroubujte
k uzemnění < sporáku.
3. Zástrčky varných zón připojte ke sporáku. Barva předního
kabelu musí souhlasit s barevným označením na nálepce. Nos
N zástrčky musí směřovat doleva.
Sporák zasuňte. Kabel se při montáži nesmí uskřípnout.
Pracovní desky obložené dlaždicemi: Spáry utěsněte
silikonovým tmelem.
Demontáž varné desky
Spotřebič odpojte od sítě.
Sporák mírně povytáhněte. Odpojte zástrčky vodičů varných
zón. Nakonec uvolněte ochranný vodič PE (zeleno-žlutý)
z uzemňovacího šroubu.
Varnou desku zespodu vytlačte.
pl
ë Instrukcja montażu
To należy uwzględnić
Podłączenie do sieci elektrycznej: wyłącznie przez specjalistę z
odpowiednimi uprawnieniami. Niewłaściwe podłączenie
powoduje wygaśnięcie gwarancji.
Montaż: prawidłowy i zgodny z zaleceniami, za powstałe szkody
odpowiada monter.
Płyta grzejna i kuchenka: wyłącznie tej samej marki i z
identycznym punktem kombinacji.
Ochrona przed niezamierzonym dotknięciem: musi być
zapewniona przez montaż.
Instrukcja montażu: przestrzegać instrukcji montażu kuchenki.
Blat roboczy: równy, poziomy, stabilny.
Przygotowanie mebli - rys. 1
Meble do zabudowy: odporne na działanie temperatury co
najmniej 90°C.
Wycięcie: minimalna odległość do ścianek bocznych: 90 mm.
Po dokonaniu wycięć usunąć wióry.
Krawędzie cięcia: zabezpieczyć środkiem żaroodpornym.
Montaż płyty grzejnej - rys. 2
Przewody: uważać, aby podczas montażu nie przyciąć
przewodów.
Montaż płyty grzejnej w wycięciu blatu roboczego o grubości
500 mm - rys. 3
1. Zaznaczyć środek wycięcia.
2. Nałożyć płytę grzejną.
3. Dopasować oznaczenia na ramie płyty grzejnej i na wycięciu.
4. Wcisnąć płytę grzejną.
Podłączanie płyty grzejnej - rys. 4
Kuchenka musi być podłączona do sieci, ale mieć wyłączone
napięcie!
1. Kuchenkę zamontować w taki sposób, aby wtyczka była
dostępna.
2. Przewód uziemiający PE (zielono-żółty) płyty grzejnej
przymocować śrubą do miejsca uziemienia < kuchenki.
3. Podłączyć do kuchenki wtyczkę pól grzejnych. Kolor
przedniego przewodu musi zgadzać się z oznaczeniem koloru
na naklejce. Nosek N wtyczki musi być zwrócony w lewą
stronę.
Wsunąć kuchenkę. Uważać, aby podczas montażu nie przyciąć
przewodu.
Blaty robocze wyłożone płytkami: uszczelnić fugi kauczukiem
silikonowym.
Demontaż płyty grzejnej
Wyłączyć zasilanie urządzenia.
Wysunąć nieco piekarnik. Wyciągnąć wtyczkę pól grzejnych.
Następnie odłączyć przewód uziemiający PE (zielono-żółty) od
śruby uziemienia.
Wypchnąć płytę grzejną od dołu.
tr
ô
Montaj kılavuzu
Dikkat edilecek hususlar
Elektrik bağlantısı: Sadece eğitimli uzman personel tarafından
yapılmalıdır. Yanlış bağlantı durumunda garanti kapsamı dışında
kalır.
Montaj: Sadece usulüne uygun şekilde yapılmalıdır, hasar
durumunda montajı yapan kişi sorumludur.
Ocak ve fırın: Sadece aynı marka ve aynı kombinasyon noktası.
Temas koruması: Montaj sırasında sağlanmış olmalıdır.
Montaj talimatları: Fırının montaj talimatlarına dikkat edilmelidir.
Çalışma tezgahı: Düz, yatay, sabit.
Mobilyaların hazırlanması - şekil 1
Montaj mobilyası: En az 90°C ısıya dayanıklı.
Kesit: Yan duvarlar ile arasındaki asgari mesafe: 90 mm.
Kesme işleminden sonra talaşları temizleyiniz.
Kesit yüzeyleri: Isıya dayanıklı şekilde yalıtımı yapılmalıdır.
Ocağın yerleştirilmesi - Resim 2
Kablolar: Montaj sırasında bükülmemelidir.
500 mm derinliğe sahip mevcut tezgah kesitine ocağı
yerleştiriniz - Bild3
1. Bölmenin ortasını işaretleyiniz
2. Ocağı yerleştiriniz
3. Ocak çerçevesi ile bölmeyi hizalayınız
4. Ocağı içe doğru bastırınız.
Ocağın bağlanması - Resim 4
Fırının fişi prize takılmış ama gerilimsiz olmalıdır!
1. Fırın prize ulaşılabilecek şekilde yerleştirilmelidir.
2. Ocağın PE topraklama kablosu (yeşil/sarı) fırının topraklama
noktasına < vidalanmalıdır.
3. Fırındaki ocak fişi takılmalıdır. Öndeki hattın rengi, etiketteki
renkli işaretle aynı olmalıdır. Fişin uç kısmı N solu göstermelidir.
Fırını yerine itiniz. Montaj sırasında kablolar bükülmemelidir.
Fayanslı çalışma tezgahları: Fayans aralarını silikonla
doldurunuz.
Ocağın sökülmesi:
Cihaz gerilimsiz duruma getirilmelidir.
Ocağı biraz dışarı çekiniz. Pişirme gözü fişini prizden çekiniz.
Son olarak PE Topraklama kablosunu (sarı/yeşil) Topraklama
cıvatasından çıkarınız.
Ocak, altından bastırarak dışarı çekilmelidir.