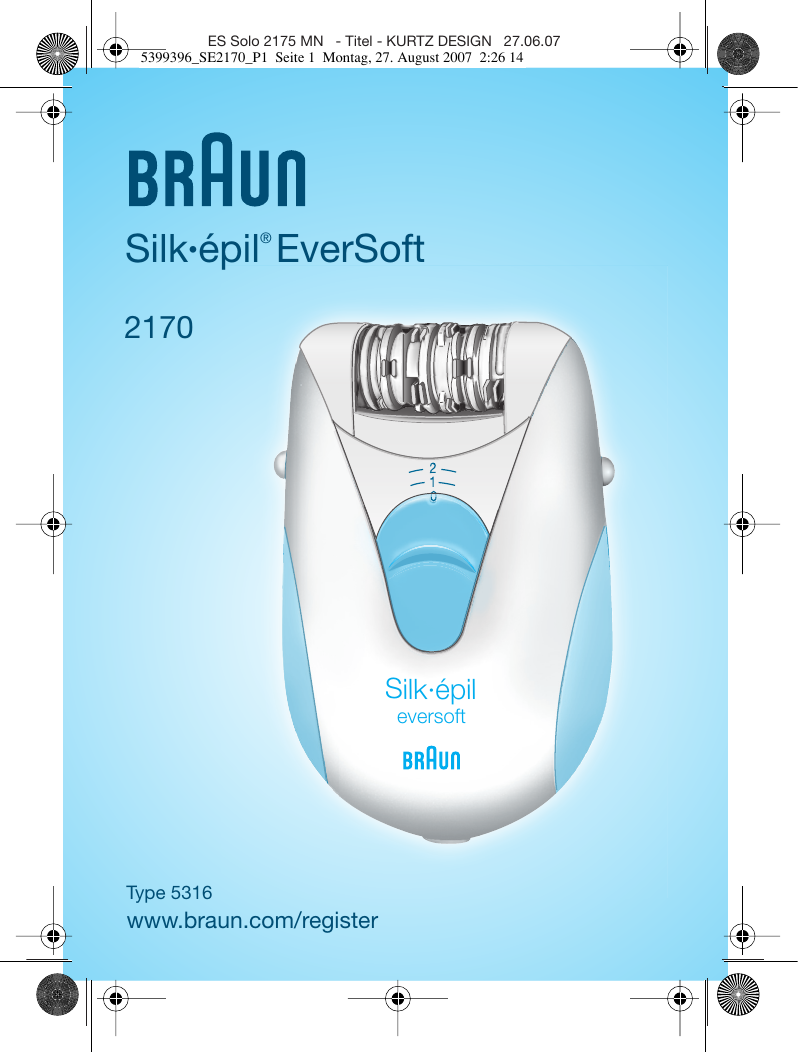 ES Solo 2175 MN - Titel - KURTZ DESIGN 27.06.07
5399396_SE2170_P1 Seite 1 Montag, 27. August 2007 2:26 14
®
Silk•épil EverSoft
2170
Silk·épil
eversoft
Type 5316
www.braun.com/register
5399396_SE2170_P2 Seite 2 Montag, 27. August 2007 2:29 14
English
6, 55
Français
9, 55
Braun Infolines
D
A
00 800 27 28 64 63
00 800 BRAUNINFOLINE
Polski
12, 55
âesk˘
15, 56
CH
08 44 - 88 40 10
Slovensk˘
18, 57
GB
0800 783 70 10
Magyar
21, 58
IRL
1 800 509 448
Hrvatski
24, 58
F
0 810 309 780
Slovenski
27, 58
B
0 800 14 592
Românå
30, 59
PL
Türkçe
33
0 801 127 286
0 801 1 BRAUN
êÛÒÒÍËÈ
36, 59
CZ
221 804 335
ìÍ‡ªÌҸ͇
39, 61
TR
0 212 473 75 85
Å˙΄‡ÒÍË
42, 62
RUS
+7 495 258 62 70
49, 45
UA
+38 044 428 65 05
54, 50
HK
852-25249377
(Audio Supplies Company Ltd.)
Internet:
www.braun.com
www.service.braun.com
Braun GmbH
Frankfurter Straße 145
61476 Kronberg/Germany
5-399-396/00/VIII-07/M
GB/F/PL/CZ/SK/H/HR/SLO/RO/TR/
RUS/UA/BG/Arab/Farsi
5399396_SE2170_P4 Seite 1 Montag, 27. August 2007 2:31 14
1
2
2
1
2
3
eversoft
4
5
6
4
5399396_SE2170_P5 Seite 1 Montag, 27. August 2007 2:32 14
2
1
90°
4
3
90°
5 6
7
0
5
5399396_SE2170_P6- Seite 6 Montag, 27. August 2007 3:44 15
English
Please read the use instructions
carefully and completely before using
the appliance.
danger of injury as well as to
prevent blockage or damage to
the appliance.
• Before use, check whether your
voltage corresponds to the voltage
printed on the transformer.
Always use the country-specific
12 V transformer plug supplied with
the product.
Braun Silk·épil EverSoft has been
designed to make the removal of unwanted hair as efficient, gentle and
easy as possible. Its proven epilation
system removes your hair at the root,
leaving your skin smooth for weeks.
General information on epilation
Silk·épil is designed to remove hair
on legs, but it can also be used on all
sensitive areas like forearms, the
underarm or the bikini line.
Our products are engineered to meet
the highest standards of quality,
functionality and design. We hope
you thoroughly enjoy your new
Silk·épil.
The high-precision epilation head
1 with its unique arrangement of
tweezers and the integrated feed-in
geometry ensures an efficient epilation and removes even hair as short
as 0.5 mm at the root. As the hair
that re-grows is fine and soft, there
will be no more stubble.
Warning
• For hygienic reasons, do not share
this appliance with other persons.
• Keep the appliance dry.
• This appliance is not intended
for use by children or persons
with reduced physical or mental
capabilities, unless they are
given supervision by a person
responsible for their safety. In
general, we recommend that you
keep the appliance out of reach of
children.
• When switched on, the appliance
must never come in contact with
the hair on your head, eyelashes,
ribbons, etc. to prevent any
6
All methods of hair removal at the
root can lead to in-growing hair and
irritation (e.g. itching, discomfort or
reddening of the skin), depending on
the condition of the skin and hair.
This is a normal reaction and should
quickly disappear, but may be
stronger when you are removing hair
at the root for the first few times or if
you have sensitive skin.
If, after 36 hours, the skin still shows
irritation, we recommend that you
contact your physician.
In general, the skin reaction and the
sensation of pain tend to diminish
considerably with the repeated use
of Silk·épil.
In some cases inflammation of the
skin could occur when bacteria
penetrate the skin (e.g. when sliding
the appliance over the skin).
Thorough cleaning of the epilation
head before each use will minimise
the risk of infection.
5399396_SE2170_P6- Seite 7 Montag, 27. August 2007 3:44 15
If you have any doubts about using
this appliance, please consult your
physician. In the following cases, this
appliance should only be used after
prior consultation with a physician:
– eczema, wounds, inflamed skin
reactions such as folliculitis
(purulent hair follicles) and
varicose veins
– around moles
– reduced immunity of the skin,
e.g. diabetes mellitus, during
pregnancy, Raynaud's disease
– haemophilia or immune
deficiency.
Some useful tips
Epilation is easier and more comfortable when the hair is at the optimal length of 2–5 mm (0.08–0.2 in.).
If hairs are longer, we recommend to
pre-cut to this length.
When epilating for the first time, it is
advisable to epilate in the evening,
so that any possible reddening can
disappear overnight. To relax the skin
we recommend applying a moisture
cream after epilation.
Fine hair which re-grows might not
grow up to the skin surface. The
regular use of massage sponges (e.g.
after showering) or exfoliation peelings helps to prevent in-growing
hair as the gentle scrubbing action
removes the upper skin layer and
fine hair can get through to the skin
surface.
Description (see page 4)
1 Epilation head with tweezer
element
2 Release buttons
3 Switch
4 Socket for cord connector
5 Cord connector
6 12 V transformer plug
How to epilate
• Your skin must be dry and free
from grease or cream.
• Before starting off, thoroughly
clean the epilation head 1 .
• Plug the cord connector 5 into
the socket 4 and plug the transformer plug 6 into an electrical
outlet.
1. To turn on the appliance, slide
switch 3 up to setting «2»
(«2» = normal speed,
«1» = reduced speed).
2. Rub your skin to lift short hairs.
For optimal performance, hold the
appliance at a right angle (90°)
against your skin and guide it
without pressure against the hair
growth, in the direction of the
switch.
3. Leg epilation
Epilate your legs from bottom
upwards. When epilating behind
the knee, keep the leg stretched
out straight.
4. Underarm and bikini line epilation
Use tests monitored by dermatologists have revealed that you can
also epilate the underarm and
7
5399396_SE2170_P6- Seite 8 Montag, 27. August 2007 3:44 15
the bikini line. Please be aware
that these areas are particularly
sensitive to pain. With repeated
usage the pain sensation will
diminish.
Before epilating, thoroughly clean
the respective area to remove
residue (like deodorant). Then
carefully dab dry with a towel.
When epilating the underarm,
keep your arm raised up and guide
the appliance in different directions.
Cleaning the epilation head
5. After epilating, unplug the appliance and clean the epilation
head.
6. Thoroughly clean the tweezer
element with the cleaning brush
and also with cleaning fluid
(e.g. alcohol). While cleaning,
you can turn the tweezer element
manually. To remove the epilation
head, press the release buttons 2
on the left and right and pull it off.
7. Give the top of the housing a
quick clean with the brush. Place
the epilation head back on the
housing.
Subject to change without notice.
This product conforms to the
European Directives EMC
2004/108/EC and Low Voltage
2006/95/EC.
8
Please do not dispose of the
product in the household
waste at the end of its useful
life. Disposal can take place at a
Braun Service Centre or at
appropriate collection points
provided in your country.
5399396_SE2170_P6- Seite 9 Montag, 27. August 2007 3:44 15
Français
Nos produits ont été conçus pour
répondre aux normes de qualité, de
fonctionnalité et de design les plus
strictes. C'est ainsi que vous pourrez
pleinement apprécier votre nouveau
Silk·épil.
Lisez donc attentivement ce mode
d'emploi avant d'utiliser cet appareil.
Silk·épil EverSoft de Braun a été crée
pour que le retrait des poils superflus
soit aussi efficace, indolore et facile
que possible. Il a été prouvé que
l'épilation, système retirant les poils à
la racine, laisse votre peau douce
pendant des semaines.
La tête d'épilation 1 à haute précision, grâce à son système unique de
pincettes et à sa géométrie variable
intégrée, assure une épilation efficace
et retire à la racine les poils de
0,5 mm. Comme les poils qui repoussent sont plus fins et plus souples,
fini les poils rebelles.
Précautions
• Pour des raisons d'hygiène, ne
prêtez pas votre appareil à
d'autres personnes.
• Ne jamais laisser l'appareil se
mouiller.
• Cet appareil n'est pas destiné à
des enfants ou à des personnes
aux capacités mentales et physiques réduites à moins qu'elles
ne soient sous la surveillance d'un
adulte responsable de leur
sécurité.
Mais de manière générale nous
recommandons de maintenir
cet appareil hors de portée des
enfants.
• Lorsque l'appareil est en marche,
il ne doit jamais entrer en contact
avec les cheveux ou les sourcils,
ceci afin d'éviter les risques d'accidents et pour ne pas endommager l'appareil.
• Avant utilisation, vérifier que le
voltage correspond bien au
voltage indiqué sur le transformateur. Utiliser le transformateur
12 V fourni avec l'appareil.
A propos de l'épilation
Silk·épil a été crée pour épiler les
jambes, mais peut aussi être utilisé
sur toutes les zones sensibles du
corps, comme les avant-bras, les
aisselles ou le maillot.
Les méthodes d'épilation à la racine
peuvent parfois entraîner la repousse
de certains poils sous la peau et des
irritations (comme des démangeaisons, de l'inconfort ou des rougeurs
corporelles), dépendant de l'état de
la peau et des poils. Ces réactions
sont normales et devraient rapidement disparaître, mais peuvent être
accentuées si vous vous épilez pour
les premières fois ou si vous avez la
peau sensible.
Si, après 36 heures, la peau est
toujours irritée, nous vous conseillons de contacter votre médecin. En
général, les réactions de la peau et
les sensations de douleur s'atténuent
considérablement au fur et à mesure
des épilations avec Silk·épil.
9
5399396_SE2170_P6- Seite 10 Montag, 27. August 2007 3:44 15
Certains cas d'inflammation de la
peau peuvent être dû à l'intrusion
de bactérie dans la peau (lors du
passage de l'appareil sur la peau,
par exemple). Le fait de nettoyer
minutieusement la tête d'épilation
avant chaque épilation réduit ce
risque d'infection.
Si vous avez le moindre doute
quant à l'utilisation de cet appareil,
n'hésitez pas à consulter votre
médecin traitant. Il est important de
consulter son médecin avant une
épilation dans les cas suivants :
– eczéma, blessures, inflammations
cutanées (follicules purulents) et
varices,
– grains de beauté,
– immunité affaiblie de la peau,
comme diabètes, grossesse,
maladie de Raynaud,
– hémophilie ou déficience
immunitaire.
Quelques petits trucs utiles
L'épilation est plus facile et plus
agréable quand les poils sont d'une
longueur comprise entre 2 et 5 mm
(0,08–0,2 in.). Si vos poils sont plus
longs, nous vous conseillons de les
couper à la longueur recommandée.
Au début, nous vous conseillons
de vous épiler le soir : les rougeurs
éventuelles disparaîtront au cours de
la nuit. Pour assouplir la peau, nous
vous recommandons d'appliquer
une crème hydratante après
l'épilation.
Des poils très fins peuvent parfois
repousser sous la peau.
10
Pour éviter ces poils incarnés, nous
vous conseillons d'utiliser régulièrement un gant de crin ou de procéder
à des exfoliations. En effet, grâce à
l'action exfoliante, les cellules mortes
sont retirées permettant ainsi aux
poils fins de ne pas rester bloqués
sous la peau.
Description (cf. page 4)
1 Tête épilation muni de pincettes
2 Bouton d'éjection
3 Interrupteur
4 Fiche d'alimentation
5 Cordon connecteur
6 Transformateur 12 V avec fiche
pour raccordement secteur
Comment s'épiler
• La peau doit être sèche et non
crémée ou huilée.
• Avant de commencer l'épilation,
nettoyez en profondeur la tête
d'épilation 1 .
• Branchez le cordon 5 dans la
fiche d'alimentation 4 et branchez
le transformateur 6 dans une
prise.
1. Pour allumer l'appareil, placez le
bouton 3 en position « 2 »
(«2» = épilation normale,
«1» = épilation douce ).
2. Frottez la peau pour relever les
petits poils. Frottez la peau pour
relever les petits poils. Placez
l'appareil perpendiculairement à
votre peau (90°), et déplacez le
dans le sens inverse de la repousse des poils, sans appuyer
trop fort.
5399396_SE2170_P6- Seite 11 Montag, 27. August 2007 3:44 15
3. Epilation des jambes
Epilez vos jambes de bas en haut.
Lors de l'épilation derrière le
genou, tendez bien votre jambe.
4. Epilation des aisselles et du maillot
Des test d'utilisations menés par
des dermatologues ont montré
que les aisselles et le maillot
pouvaient être épilés. Sachez
tout de même que ces zones sont
particulièrement sensibles à la
douleur. La sensation de douleur
diminuera au fur et à mesure de
l'utilisation.
Avant l'épilation, nettoyez avec
attention ces zones et enlevez
tous résidus (ex. de déodorants).
Puis, séchez avec une serviette,
en tamponnant doucement. Lors
de l'épilation des aisselles, gardez
votre bras en l'air et déplacez
l'appareil dans différentes
directions.
7. Nettoyez également le dessus de
l'appareil avec la brossette.
Replacez la tête d'épilation sur le
corps de l'appareil.
Sujet à modifications sans préavis.
Cet appareil est conforme aux
normes Européennes fixées
par les Directives 2004/108/
EC et la directive Basse Tension
2006/95/EC.
A la fin de vie de votre
appareil, veuillez ne pas le
jeter avec vos déchets
ménagers. Remettez-le à votre
Centre Service agréé Braun ou
déposez-le dans des sites de
récupération appropriés
conformément aux réglementations
locales ou nationales en vigueur.
Nettoyer la tête d'épilation
5. Après l'épilation, débranchez
l'appareil et nettoyez la tête
d'épilation.
6. Nettoyez à fond la tête d'épilation
avec la brossette mais aussi avec
un liquide nettoyant (comme de
l'alcool). Pour faciliter le nettoyage, vous pouvez tourner les
pincettes manuellement. Pour
retirer la tête d'épilation, appuyer
sur les boutons d'éjection 2 à
droite et à gauche et tirez.
11
5399396_SE2170_P6- Seite 12 Montag, 27. August 2007 3:44 15
Polski
Wyroby firmy Braun spe∏niajà
najwy˝sze wymagania dotyczàce
jakoÊci, wzornictwa oraz funkcjonalnoÊci. Gratulujemy zakupu i
˝yczymy zadowolenia z u˝ytkowania
nowego depilatora Silk·épil.
Przed rozpocz´ciem u˝ytkowania
depilatora prosimy dok∏adnie
przeczytaç instrukcj´ obs∏ugi.
Braun Silk·épil EverSoft zosta∏
zaprojektowany tak, aby usuwanie
niechcianych w∏osów by∏o tak
skuteczne, delikatne i ∏atwe jak
to tylko mo˝liwe. Wypróbowany
system depilacji usuwa w∏osy
z cebulkami, pozostawiajàc skór´
g∏adkà na wiele tygodni.
Wyjàtkowo precyzyjna g∏owica do
depilacji 1 z unikalnym uk∏adem
p´set i systemem naprowadzania
w∏osków zapewnia skutecznà
depilacj´ i usuwanie z cebulkami
w∏osów nawet tak krótkich jak
0,5 mm. W∏osy, które odrastajà sà
cienkie i mi´kkie, dlatego nigdy
wi´cej w depilowanych miejscach
nie pojawia si´ szorstkie ow∏osienie.
Ostrze˝enie
• Ze wzgl´dów higienicznych, nie
udost´pniaj urzàdzenia innym
osobom.
• Po u˝yciu nale˝y wysuszyç
golark´.
• Urzàdzenie to nie mo˝e byç
u˝ywane przez dzieci lub
osoby fizycznie lub umys∏owo
upoÊledzone, jeÊli nie znajdujà
si´ one pod nadzorem osoby
12
odpowiedzialnej za ich
bezpieczeƒstwo. Zalecamy
przechowywaç urzàdzenie w
miejscu niedost´pnym dla dzieci.
• W celu unikni´cia obra˝eƒ,
jak równie˝ zablokowania lub
uszkodzenia depilatora, w∏àczone
urzàdzenie trzymaç z dala od
w∏osów na g∏owie, rz´s, wstà˝ek.
• Przed w∏àczeniem urzàdzenia
sprawdziç, czy napi´cie sieciowe
zgadza si´ z napi´ciem podanym
na zasilaczu. Zawsze u˝ywaç
zasilacza 12 V.
Podstawowe informacje o
depilacji
Depilator Silk·épil zosta∏ zaprojektowany do usuwania w∏osów na
nogach, ale mo˝e byç równie˝
stosowany we wszystkich wra˝liwych miejscach, takich jak przedramiona, pachy czy strefa bikini.
Wszystkie metody usuwania w∏osów
z cebulkami mogà powodowaç
wrastanie w∏osów i podra˝nienia
(np. sw´dzenie, zaczerwienienie),
w zale˝noÊci od kondycji skóry i
w∏osów. Jest to normalna reakcja,
która powinna zniknàç w krótkim
czasie, ale mo˝e utrzymaç si´ d∏u˝ej
w przypadku gdy w∏osy sà usuwane
z cebulkami po raz pierwszy albo
przy wra˝liwej skórze.
JeÊli po up∏ywie 36 godzin na skórze
wcià˝ utrzymujà si´ podra˝nienia,
zaleca si´ wizyt´ u lekarza.
Zazwyczaj, reakcja skóry i uczucie
bólu ma tendencj´ do znacznego
zmniejszania si´ przy kolejnych
zastosowaniach depilatora Silk·épil.
5399396_SE2170_P6- Seite 13 Montag, 27. August 2007 3:44 15
W rzadko spotykanych przypadkach
przenikni´cia bakterii do skóry mo˝e
pojawiç si´ zapalenie skóry (np.
podczas przesuwania depilatora po
skórze). Dok∏adne czyszczenie
g∏owicy depilatora przed ka˝dym
u˝yciem zmniejsza ryzyko wystàpienia infekcji.
W przypadku jakichkolwiek wàtpliwoÊci dotyczàcych mo˝liwoÊci u˝ywania tego urzàdzenia nale˝y si´
skontaktowaç z lekarzem.
W nast´pujàcych przypadkach depilator mo˝e byç stosowany tylko po
wczeÊniejszej konsultacji lekarskiej:
– egzema, rany, zapalenie skóry,
zw´˝enie naczyƒ krwionoÊnych
– wokó∏ pieprzyków
– zmniejszona odpornoÊç skóry, np.
cukrzyca, cià˝a, choroba
Reynauda
– hemofilia lub brak odpornoÊci.
Wskazówki
Depilacja jest ∏atwiejsza i
wygodniejsza gdy w∏osy majà
optymalnà d∏ugoÊç 2–5 mm. JeÊli sà
one d∏u˝sze zaleca si´ wst´pne
obci´cie do tej d∏ugoÊci.
Pierwszà depilacj´ najlepiej
przeprowadziç wieczorem, aby
wszelkie mo˝liwe zaczerwienienia
mog∏y zniknàç podczas nocy.
Dla odpr´˝enia skóry zaleca si´
zastosowanie kremu nawil˝ajàcego
po depilacji.
Odrastajàce delikatne w∏oski
czasami nie mogà si´ przedostaç
na powierzchni´ skóry. Regularne
masowanie gàbkà (np. po wzi´ciu
prysznica) lub u˝ywanie z∏uszczajàcego peelingu pomaga zapobiegaç wrastaniu w∏osów, poniewa˝
∏agodny masa˝ usuwa wierzchnià
warstw´ skóry i delikatne w∏oski
mogà wyrosnàç na jej powierzchni´.
Opis (patrz strona 4)
1 G∏owica do depilacji z pincetami
2 Przyciski zwalniajàce blokad´
3 Wy∏àcznik
4 Gniazdko zasilania
5 Wtyczka zasilacza sieciowego
6 Zasilacz sieciowy 12 V
Wskazówki dotyczàce depilacji
• Skóra musi byç umyta i sucha.
Przed depilacjà nie stosowaç
kremów nat∏uszczajàcych lub
nawil˝ajàcych.
• Przed u˝yciem dok∏adnie oczyÊciç
g∏owic´ depilatora 1 .
• Wtyczk´ zasilacza sieciowego 5
pod∏àczyç do gniazdka w depilatorze 4 . Nast´pnie pod∏àczyç
zasilacz 6 do gniazdka sieciowego.
1. W∏àczyç 3 urzàdzenie, w tym
celu ustawiç prze∏àcznik
w pozycji «2»
(«2» = pr´dkoÊç normalna,
«1» = pr´dkoÊç zmniejszona).
2. Potrzeç skór´, tak aby podnios∏y
si´ krótkie w∏osy. Aby uzyskaç
najlepszy efekt, nale˝y trzymaç
urzàdzenie pod kàtem prostym
(90°) do powierzchni skóry i
prowadziç je bez naciskania pod
w∏os, w stron´ z wy∏àcznikiem.
13
5399396_SE2170_P6- Seite 14 Montag, 27. August 2007 3:44 15
3. Depilowanie nóg
Nogi depiluje si´ od do∏u do góry.
Podczas depilacji pod kolanem
ca∏kowicie wyprostowaç nog´.
7. Górnà cz´Êç obudowy oczyÊciç
szczotkà. Nast´pnie za∏o˝yç
z powrotem g∏owic´ depilujàcà.
4. Depilowanie pach oraz linii bikini
Testy u˝ytkowe monitorowane
przez dermatologów pokazujà, ˝e
w∏osy po pachami i w strefie bikini
mogà byç równie˝ depilowane.
Trzeba zaznaczyç, ˝e miejsca te
sà szczególnie wra˝liwe na ból.
W miar´ powtarzania zabiegów
uczucie bólu b´dzie si´
zmniejszaç.
Zastrzega si´ prawo do wprowadzenia zmian.
Przed depilacjà, dok∏adnie
umyç miejsce przeznaczone
do depilacji aby usunàç resztki
(np. dezodorantu). Nast´pnie
ostro˝nie osuszyç r´cznikiem.
Podczas depilowania pachy,
nale˝y trzymaç r´k´ podniesionà
do góry i kierowaç urzàdzenie
w ró˝ne strony.
Czyszczenie g∏owicy depilatora
5. Po zakoƒczeniu depilacji od∏àczyç
urzàdzenie od sieci i oczyÊciç
g∏owic´.
6. Pincety dok∏adnie oczyÊciç
szczoteczkà, a nast´pnie
zdezynfekowaç (np. alkoholem).
Podczas czyszczenia pincety
mo˝na obracaç r´cznie. W celu
zdj´cia g∏owicy depilatora,
nacisnàç przyciski zwalniajàce
blokad´ 2 , znajdujàce si´
z prawej oraz lewej strony obudowy, i wyjàç g∏owic´.
14
Produkt ten spe∏nia wymogi
dyrektywy EMC 2004/108/
EC oraz dyrektywy 2006/95/
EC dotyczàcej elektrycznych
urzàdzeƒ niskonapi´ciowych.
Prosimy nie wyrzucaç
urzàdzenia do Êmieci po
zakoƒczeniu jego
u˝ytkowania. W tym przypadku
urzàdzenie powinno zostaç
dostarczone do najbli˝szego
serwisu Braun lub do adekwatnego
punktu na terenie Paƒstwa kraju,
zajmujàcego si´ zbieraniem z rynku
tego typu urzàdzeƒ.
5399396_SE2170_P6- Seite 15 Montag, 27. August 2007 3:44 15
âesk˘
Na‰e v˘robky jsou zkonstruovány
tak, aby splÀovaly nejvy‰‰í nároky
na kvalitu, funkãnost a design.
Doufáme, Ïe budete se sv˘m nov˘m
Silk·épilem nanejv˘‰ spokojeni.
Pfieãtûte si prosím ve‰keré pokyny
k pouÏití peãlivû pfied tím, neÏ zaãnete pfiístroj pouÏívat.
Braun Silk·épil EverSoft odstraÀuje
neÏádoucí chloupky tak úãinnû,
‰etrnû a snadno, jak jen to je moÏné.
Tento ovûfien˘ epilaãní systém
odstraÀuje chloupky i s kofiínky,
takÏe pokoÏka zÛstane hladká celé
t˘dny.
Vysoce pfiesná epilaãní hlava 1
díky svému unikátnímu uspofiádání
pinzet a integrovanému navádûní
chloupkÛ zaji‰Èuje úãinnou epilaci
a odstraÀuje i velmi krátké chloupky
o délce 0,5 mm i s kofiínky. JelikoÏ
znovu dorÛstající chloupky jsou
jemné a mûkké, nevzniká «strni‰tû».
Upozornûní
• Z hygienick˘ch dÛvodÛ nepouÏívejte tento strojek spoleãnû s
jin˘mi osobami.
• Uchovávejte pfiístroj v suchu.
• Pfiístoj nesmí pouÏívat dûti ani
osoby se sníÏen˘mi fyzick˘mi
nebo psychick˘mi schopnostmi
bez dohledu osoby, která je
zodpovûdná za jejich bezpeãnost.
Obecnû je doporuãeno uchovávat
pfiístroj mimo dosah dûtí.
• Zapnut˘ strojek nesmí pfiijít do
styku s vlasy na hlavû, fiasami, ani
s ‰ÀÛrkami na obleãení apod.,
neboÈ by mohlo dojít k úrazu, nebo
k zablokování ãi po‰kození
pfiístroje.
• Pfied pouÏitím zkontrolujte, zdali
napûtí v síti odpovídá napûtí
uvedenému na síÈovém adaptéru.
VÏdy pouÏívejte síÈov˘ adaptér
12 V.
Obecné informace o epilaci
Silk·épil je urãen k odstraÀování
chloupkÛ na nohách, ale lze jej
pouÏít i na citliv˘ch místech, jako na
pfiedloktí, podpaÏí nebo na linii bikin.
Pfii v‰ech zpÛsobech epilace, pfii
kter˘ch jsou chloupky odstraÀovány
i s kofiínky, mÛÏe docházet k zarÛstání chloupkÛ a podráÏdûní
pokoÏky (napfi. svûdûní, pálení nebo
zãervenání), závisí to na stavu a
typu va‰í pokoÏky i chloupkÛ.
Je to normální reakce a brzy zmizí.
MÛÏe v‰ak b˘t silnûj‰í v pfiípadû, Ïe
si odstraÀujete chloupky i s kofiínky
poprvé, nebo pokud máte citlivou
pokoÏku.
Pokud va‰e pokoÏka zÛstává
podráÏdûná i po uplynutí 36 hodin,
doporuãujeme vám obrátit se na
lékafie. Obecnû platí, Ïe podráÏdûní
pokoÏky a bolest mizí pfii opakovaném pouÏívání Silk·épilu.
V nûkter˘ch pfiípadech mÛÏe dojít
k zánûtliv˘m projevÛm, vyvolan˘m
proniknutím bakterií do pokoÏky
(napfi. pfii pohybu pfiístroje po
pokoÏce). DÛkladn˘m ãi‰tûním a
dezinfekcí epilaãní hlavy pfied
kaÏd˘m pouÏitím se toto riziko
infekce minimalizuje.
15
5399396_SE2170_P6- Seite 16 Montag, 27. August 2007 3:44 15
Máte-li jakékoli pochybnosti, zda
mÛÏete tento pfiístroj pouÏívat,
poraìte se se sv˘m lékafiem. V níÏe
uveden˘ch pfiípadech byste mûli
tento strojek pouÏívat jen po poradû
s lékafiem:
– pfii ekzémech, poranûné kÛÏi, pfii
zánûtliv˘ch reakcích, jako je
follikulitida, zánût vlasového
váãku apod. a pfii kfieãov˘ch Ïilách
– v koÏních partiích s matefisk˘mi
znaménky
– pfii sníÏené imunitû pokoÏky pfii
cukrovce, v tûhotenství a pfii
Raynaudovû syndromu, pfii
hemofilii a sníÏené imunitû.
Nûkolik uÏiteãn˘ch tipÛ
Epilace je snaz‰í a mnohem
pfiíjemnûj‰í, kdyÏ chloupky mají
optimální délku, tj. 2–5 mm. Pokud
jsou del‰í, doporuãujeme je na tuto
délku oholit nebo ostfiíhat.
Provádíte-li epilaci poprvé,
doporuãujeme epilovat veãer, takÏe
pfiípadné zãervenání kÛÏe do rána
zmizí. Pro zklidnûní pokoÏky
doporuãujeme po epilaci aplikovat
hydrataãní krém.
MÛÏe se stát, Ïe jemné dorÛstající
chloupky zarÛstají do pokoÏky. Aby
se tomu pfiede‰lo, doporuãujeme
pravidelné pouÏívání masáÏní Ïínky
(napfi. po sprchování) nebo peelingu.
·etrnû se tak odstraní nejsvrchnûj‰í
vrstva pokoÏky a jemné chloupky se
tak dostanou na povrch.
16
Popis (viz strana 4)
1 Epilaãní hlava s pinzetami
2 UvolÀovací tlaãítka
3 Spínaã
4 Zdífika pro konektor napájení
5 Konektor napájení
6 12 V síÈov˘ adaptér
Jak provádût epilaci
• Va‰e pokoÏka musí b˘t suchá a
nesmí b˘t naolejovaná ani
nakrémovaná.
• NeÏ zaãnete, dÛkladnû oãistûte
epilaãní hlavu 1 .
• Pfiipojte konektor napájení 5 do
zdífiky 4 a zapojte vidlici síÈového
adaptéru 6 do elektrické
zásuvky.
1. Pro zapnutí pfiístroje posuÀte
spínaã 3 do polohy «2»
(«2» = normální rychlost,
«1» = sníÏená rychlost).
2. Pfiejeìte rukou po pokoÏce, aby
se nadzdvihly i krátké chloupky.
Pro optimální v˘sledek drÏte
strojek v pravém úhlu (90°)
k pokoÏce a veìte jej, aniÏ byste
na nûj tlaãili, proti smûru rÛstu
chloupkÛ, ve smûru spínaãe.
3. Epilace nohou
Epilujte nohy od spodu smûrem
nahoru. Pfii epilaci partie za
kolenem drÏte nohu rovnû
napnutou.
4. Epilace podpaÏí a linie bikin
Podle testÛ sledovan˘ch dermatology mÛÏete také epilovat
chloupky v podpaÏí a na linii bikin.
UpozorÀujeme, Ïe tyto partie jsou
5399396_SE2170_P6- Seite 17 Montag, 27. August 2007 3:44 15
obzvlá‰tû citlivé na bolest. Pfii
opakovaném pouÏívání se v‰ak
pocit bolesti minimalizuje.
Pfied epilací dÛkladnû omyjte
pfiíslu‰né partie tûla, aby se
odstranila jakákoli rezidua (jako
napfi. deodorant). Pak je peãlivû
a ‰etrnû osu‰te ruãníkem.
Pfii epilaci podpaÏí drÏte paÏi
zvednutou a veìte strojek rÛzn˘mi
smûry.
âi‰tûní epilaãních hlav
5. Po epilaci odpojte strojek od sítû a
oãistûte epilaãní hlavu.
Tento pfiístroj odpovídá
pfiedpisÛm o odru‰ení
(smûrnice ES 2004/108/EC)
a smûrnici o nízkém napûtí
(2006/95/EC).
Po skonãení Ïivotnosti
neodhazujte prosím tento
v˘robek do bûÏného
domovního odpadu. MÛÏete
jej odevzdat do servisního stfiediska
Braun nebo na pfiíslu‰ném sbûrném
místû zfiízeném dle místních
pfiedpisÛ.
6. DÛkladnû oãistûte sestavu pinzet
pomocí ãistícího kartáãku a také
ãistící tekutinou (napfi. lihem).
Pfii ãi‰tûní mÛÏete ruãnû otáãet
sestavou pinzet. Abyste sejmuli
epilaãní hlavu, stisknûte uvolÀovací tlaãítka 2 na levé a pravé
stranû a vytáhnûte ji.
7. Vr‰ek plá‰tû strojku oãistûte
kartáãkem. Pak epilaãní hlavu
opût nasaìte na strojek.
Deklarovaná hodnota emise hluku
tohoto spotfiebiãe je 76 dB(A), coÏ
pfiedstavuje hladinu A akustického
v˘konu vzhledem na referenãní
akustick˘ v˘kon 1 pW.
Zmûna bez pfiedchozího upozornûní
vyhrazena.
17
5399396_SE2170_P6- Seite 18 Montag, 27. August 2007 3:44 15
Slovensk˘
Na‰e v˘robky sú vyrábané tak, aby
zodpovedali najvy‰‰ím nárokom na
kvalitu, funkãnosÈ a dizajn. Îeláme
vám veºa pote‰enia pri pouÏívaní
nového Braun Silk·épil.
Preãítajte si prosím pozorne cel˘
návod pred t˘m, neÏ zaãnete prístroj
pouÏívaÈ.
Braun Silk·épil EverSoft odstraÀuje
neÏiaduce chípky tak úãinne, ‰etrne
a ºahko ako je to len moÏné. Tento
overen˘ epilaãn˘ systém odstraÀuje
chípky aj s korienkami, takÏe
pokoÏka zostane hladká celé t˘Ïdne.
Epilaãná hlava s vysokou presnosÈou 1 vìaka svojmu unikátnemu
usporiadaniu pinziet a integrovanému
navádzaniu chípkov zaisÈuje úãinnú
epiláciu a odstraÀuje aj veºmi krátke
chípky s díÏkou 0,5 mm vrátane
korienkov. Vzhºadom k tomu, Ïe
dorastajúce chípky sú jemné a mäkké, nevzniká «strnisko».
Upozornenie
• Z hygienick˘ch dôvodov nepouÏívajte tento strojãek spoloãne
s in˘mi osobami.
• Uchovávajte prístroj v suchu.
• Tento prístroj nie je urãen˘ pre
deti a osoby so zníÏen˘mi
fyzick˘mi a mentálnymi schopnosÈami, ak pri jeho pouÏívaní nie
sú pod dozorom osoby, ktorá je
zodpovedná za ich bezpeãnosÈ.
Vo v‰eobecnosti odporúãame,
aby ste prístroj uchovávali mimo
dosahu detí.
• Zapnut˘ strojãek sa nesmie dostaÈ
do styku s vlasmi na hlave,
18
s oãn˘mi riasami a pod. a tieÏ so
‰atami a ‰núrkami, pretoÏe by
mohlo dôjsÈ k úrazu alebo
k zablokovaniu ãi po‰kodeniu
prístroja.
• Pred pouÏitím skontrolujte, ãi
napätie siete zodpovedá napätiu
uvedenému na sieÈovom adaptéri.
VÏdy pouÏívajte sieÈov˘ adaptér s
v˘stupom 12 V urãen˘ na pouÏitie
vo va‰ej krajine, ktor˘ je priloÏen˘
k v˘robku.
Obecné informácie o epilácii
Silk·épil je urãen˘ na odstraÀovanie
chípkov na nohách, ale dá sa pouÏiÈ
aj na citlivé miesta ako je predlaktie,
podpazu‰ie alebo línia bikín.
Pri v‰etk˘ch spôsoboch epilácie,
pri ktor˘ch sú chípky odstraÀované
aj s korienkami, môÏe dochádzaÈ
k zarastaniu chípkov a k podráÏdeniu pokoÏky (napr. svrbenie, pálenie
alebo sãervenanie), závisí to od stavu
a typu va‰ej pokoÏky a chípkov.
Je to normálna reakcia a r˘chlo
vymizne. Av‰ak môÏe byÈ v˘raznej‰ia v prípade, Ïe si odstraÀujete
chípky aj s korienkami prv˘krát alebo
ak máte citlivú pokoÏku.
Ak va‰a pokoÏka zostáva podráÏdená aj po uplynutí 36 hodín, odporúãame vám obrátiÈ sa na lekára.
V‰eobecne platí, Ïe podráÏdenie
pokoÏky a bolesÈ sa stráca pri
opakovanom pouÏívaní Silk·épilu.
V niektor˘ch prípadoch môÏe dôjsÈ
k zápalov˘m prejavom, vyvolan˘ch
preniknutím baktérií do pokoÏky
5399396_SE2170_P6- Seite 19 Montag, 27. August 2007 3:44 15
(napr. pri pohybe prístroja po
pokoÏke). Dôkladn˘m ãistením a
dezinfekciou epilaãnej hlavy pred
kaÏd˘m pouÏitím sa toto riziko
infekcie minimalizuje.
Ak máte akékoºvek pochybnosti
o tom, ãi tento prístroj môÏete
pouÏívaÈ, poraìte sa s va‰im
lekárom.
V prípadoch, ktoré sú uvedené
niωie by ste mali tento strojãek
pouÏívaÈ len po porade s lekárom:
– pri ekzémoch, v prípade poranenej pokoÏky, pri zápalov˘ch
reakciách ako je follikulitída,
zápal vlasového váãku a pod. a
pri kàãov˘ch Ïilách
– v koÏn˘ch partiách s matersk˘mi
znamienkami
– pri zníÏenej imunite pokoÏky pri
cukrovke, v tehotenstve a pri
Raynaudovom syndróme, pri
hemofílii a zníÏenej imunite.
Niekoºko uÏitoãn˘ch tipov:
Epilácia je ºah‰ia a omnoho
príjemnej‰ia, keì majú chípky
optimálnu díÏku, t.j. 2 - 5 mm. Ak sú
dlh‰ie, odporúãame ich oholiÈ alebo
ostrihaÈ na túto díÏku.
Ak robíte epiláciu prv˘krát,
odporúãame epilovaÈ veãer, takÏe
prípadné sãervenanie koÏe do rána
zmizne. Na upokojenie pokoÏky po
epilácii odporúãame aplikovaÈ
hydrataãn˘ krém.
MôÏe sa staÈ, Ïe jemné dorastajúce
chípky zarastajú do pokoÏky. Aby
sa tomu predi‰lo, odporúãame
pravidelne pouÏívaÈ masáÏnu Ïinku
(napr. po sprchovaní) alebo po
peelingu. Takto sa ‰etrne odstráni
najvrchnej‰ia vrstva pokoÏky a
jemné chípky sa dostanú na povrch.
Popis (viì. strana 4)
1 Epilaãná hlava
2 UvoºÀovacie tlaãidlá
3 Spínaã
4 Zástrãka na konektor napájania
5 Konektor napájania
6 12 V sieÈov˘ adaptér so sieÈovou
vidlicou
Ako epilovaÈ
• PokoÏka musí byÈ suchá a nesmie
byÈ naolejovaná alebo natretá
krémom.
• Prv neÏ zaãnete vyãistite
dôkladne epilaãnú hlavu 1 .
• Napájací konektor 5 zasuÀte do
zástrãky 4 sieÈov˘ adaptér 6
zapojte do elektrickej zásuvky.
1. Prístroj zapnite posunutím
spínaãa 3 do polohy «2»
(«2» = normálna r˘chlosÈ,
«1» = zníÏená r˘chlosÈ).
2. Rukou prejdite po pokoÏke, aby
sa naddvihli aj krátke chípky.
Na dosiahnutie optimálnych
v˘sledkov drÏte strojãek v pravom
uhle (90°) k pokoÏke a veìte ho
proti smeru rastu chæpkov a
v smere spínaãa bez toho, aby
ste naÀho tlaãili.
3. Epilácia nôh
Va‰e nohy epilujte od dolnej
ãasti smerom nahor. Pri epilácii
v oblasti za kolenom drÏte nohu
rovno napnutú.
19
5399396_SE2170_P6- Seite 20 Montag, 27. August 2007 3:44 15
4. Epilácia podpazu‰ia a línie bikín
Podºa testov uskutoãnen˘ch
dermatológmi môÏete tieÏ
epilovaÈ chípky v podpazu‰í a
v línii bikín. UpozorÀujeme, Ïe
tieto partie sú obzvlá‰È citlivé na
bolesÈ. Pri opakovanom pouÏívaní
sa v‰ak pocit bolesti minimalizuje.
Pred epiláciou dôkladne umyte
príslu‰né partie tela, aby sa
odstránili akékoºvek zvy‰ky (ako
napr. dezodorant). Potom ich
dôkladne a ‰etrne vysu‰te uterákom. Pri epilácii podpazu‰ia drÏte
paÏu zdvihnutú a strojãek veìte
rôznymi smermi.
âistenie epilaãnej hlavy
5. Po epilácii odpojte strojãek zo
siete a vyãistite pouÏitú epilaãnú
hlavu.
6. Pomocou ãistiacej kefky a liehu
dôkladne vyãistite zostavu pinziet.
Pri ãistení môÏete ruãne otáãaÈ
kotúãikov˘mi pinzetami. Aby ste
vybrali epilaãnú hlavu, stlaãte
uvoºÀovacie tlaãidlá 2 na ºavej
a pravej strane prístroja a hlavu
vytiahnite.
7. Vrchnú ãasÈ pohonu epilátora
vyãistite kefkou. Potom epilaãnú
hlavu nasaìte na strojãek.
Deklarovaná hodnota emisie hluku
tohto spotfiebiãa je 76 dB(A), ão
predstavuje hladinu A akustického
v˘konu vzhºadom na referenãn˘
akustick˘ v˘kon 1 pW.
20
Zmeny sú vyhradené.
Toto zariadenie vyhovuje
predpisom o odru‰ení
(smernica ES 2004/108/EC)
a predpisom o nízkom napätí
(smernica 2006/95/EC).
Po skonãení Ïivotnosti
neodhadzujte zariadenie do
beÏného domového odpadu.
Zariadenie odovzdajte do
servisného strediska Braun alebo
na príslu‰nom zbernom mieste
zriadenom podºa miestnych
predpisov a noriem.
5399396_SE2170_P6- Seite 21 Montag, 27. August 2007 3:44 15
Magyar
Termékeinket a legmagasabb
minŒségi, mıködési és formatervezési kívánalmaknak megfelelŒen
gyártjuk.
Reméljük, örömmel használja az új
Silk·épil epilátor készülékét.
Az alábbiakban meg szeretnénk
Önnel ismertetni a készüléket, illetve
az epilálásról mondunk néhány
hasznos tudnivalót.
Kérjük, alaposan és teljes terjedelmükben olvassa el a felhasználásra
vonatkozó tanácsokat, mielŒtt
használatba venné a készüléket.
A nagypontosságú epilátorfejet 1
gyöngéd és tartós szŒreltávolításra
fejlesztettük ki. Amikor a szŒr újra
kinŒ, többnyire finomabb és puhább
lesz. Az Silk·épil epiláló rendszer
gyöngédebb és hatékonyabb
szŒreltávolítást tesz lehetŒvé.
Még a 0,5 milliméteres szŒrszálakat
is gyökerestül kihúzza.
Figyelem
• Higiéniai okokból ne ossza meg
készülékét mással.
• Uchovávajte prístroj v suchu.
• A készüléket mozgássérültek,
szellemi vagy értelmi fogyatékosságban szenvedŒ gyermekek
vagy személyek, – kizárólag a
biztonságukért felelŒs felügyelet
mellett használják! Javasoljuk,
hogy a terméket gyermekektŒl
elzárva tartsa!
• Használat elŒtt gyŒzŒdjön meg
arról, hogy a hálózati feszültség
megegyezik az adapterre
nyomtatott üzemi feszültséggel.
Mindig a 12 V típusú adaptert
használja.
Általános tudnivalók
A szŒr gyökeres eltávolítása apróbb
bŒrsérülésekhez, illetve befelé növŒ
szŒrszálakhoz vezethet. A szŒrszál
kihúzásából adódó mikroszkópikus
sérülések begyulladhatnak, mivel a
bŒrbe baktérium kerülhet (például
akkor, amikor a készüléket a bŒrön
csúsztatjuk).
A csipeszfej használat elŒtti
tisztítása a csökkenti a fertŒzés
veszélyét.
Amikor elŒször epilál, akkor a bŒr
állapotától függŒen irritáció léphet fel
(pl. kényelmetlen érzés, illetve a
bŒrpír). Ez normális reakció, mely
gyorsan elmúlik.
Ha még 36 óra elmúltával sem
szıntek meg az irritáció tünetei,
kerese fel háziorvosát.
A bŒr fenti reakciói és a fájdalomérzet
jelentŒsen csökken az Silk·épil
rendszeres használatával.
Ha a készülék használatával
szemben bármilyen fenntartása
lenne, keresse háziorvosát.
A készüléket az alábbi esetekben
csakis orvosi hozzájárulással
szabad használni:
– ekcéma, sérülések, gyulladásos
bŒrreakció, pl. folliculitis
(szŒrtüszŒ gyulladás)
– szemölcs környékén
– a bŒr csökkent immunválasza
esetén, pl. cukorbetegség egyes
fajtái (diabetes mellitus),
terhesség, Raynaud-kór
– vérzékenység, immunhiány.
21
5399396_SE2170_P6- Seite 22 Montag, 27. August 2007 3:44 15
Az Silk·épil fŒleg lábról való
szŒreltávolításra készült, de minden
érzékeny területen használható,
például alkaron, hónaljban, illetve a
bikini vonalon.
A készülék bekapcsolt állapotban
nem érintkezhet a hajjal, szempillával, szemöldökkel, stb.; hogy a
sérülés veszélyét elkerüljük,
illetve megóvjuk a készüléket a
károsodástól.
Hasznos tanácsok
Az elsŒ használat elŒtt, vagy ha
hosszú ideje nem epilált, javasoljuk,
hogy a hosszabb szŒrszálakat
elŒször borotválja le. Egy-két hét
elmúltával sokkal kényelmesebben
lehet az újonnan kinŒtt, rövid
szŒrzetet eltávolítani.
A hosszabb szŒrzetet akár 2–5
milliméteresre is vághatja epilálás
elŒtt.
A szŒrt könnyebb fürdŒ vagy
zuhanyzás után eltávolítani, ekkor
azonban mind a bŒrnek, mind a
szŒrnek teljesen száraznak kell
lennie. Epilálás után ajánljuk
hidratáló krém használatát, ezzel
megnyugtatja a bŒrt valamint az
enyhébb bŒrpirosodást.
Kezdetben esténként érdemes
epilálni, hogy az esetleg
bekövetkezŒ pirosodás reggelre
megszünjön. Megtörténhet, hogy
az újra kinövŒ lágy szŒr nem jut át
a bŒrfelületen. A szŒr befelé
növésének megelŒzése érdekében
ajánljuk a masszírozó szivacs
használatát (pl. zuhanyzás után),
illetve hámeltevolító kenŒcsöt
(píling). Enyhe dörzsöléssel a felsŒ
22
hámréteg lehántható, és a gyönge
szŒrszálak át tudnak jutni a
bŒrfelületen.
Termékleírás (lásd 4. oldal)
1 Epilátorfej
2 Kioldógombok
3 Kapcsoló
4 Adapterkábel csatlakozóaljzat
5 Adaptercsatlakozó
6 12 voltos adapter
Hogyan epiláljunk?
• A bŒrnek teljesen száraznak
kell lennie, illetve mentesnek
bármiféle zsírtól vagy krémtŒl.
• Használat elŒtt alaposan tisztítsa
meg az epilátorfejet 1 .
• Csatlakoztassa az adapterkábelt
5 az aljzatba 4 és dugja be az
adaptert 6 a konnektorba.
1. A készüléket a jelı kapcsolóval 3
kapcsolhatja be.
A «2»-es fokozat normál epilálást,
az «1»-es gyöngéd epilálást jelent.
2. Dörzsölje meg a bŒrt, ezáltal a
rövid szŒrszálak felemelkednek.
Az EverSoft feltétet akkor
használhatja a leghatékonyabban, hogyha a bŒrfelületre
merŒlegesen (90°) tartja, és a szŒr
növekedési irányával ellentétesen, illetve a készülék kapcsolója
felé mozgatja.
3. Lábepilálás
A lábat lentrŒl fölfelé szŒrtelenítsük.
Amikor a térd mögötti részt
epilálja, tartsa nyújtva a lábát.
5399396_SE2170_P6- Seite 23 Montag, 27. August 2007 3:44 15
4. Hónalj és bikinivonalnál történŒ
epilálás
BŒrgyógyászok által végzett
tesztek kimutatták, hogy a
készülék alkalmas a hónalj és
bikinivonal szŒrtelenítésére is.
Nem szabad elfeledni, hogy a
bŒrfelület említett részei
különösen érzékenyek.
A fájdalomérzet azonban
rendszeres használattal csökken.
A fenti használatra külön az alábbi
tanácsokat adjuk:
Epilálás elŒtt alaposan tisztítsa
meg a bŒrfelületet, távolíson el
minden idegen anyagot (pl. dezodor maradéka).
Szárítsa törülközŒvel, óvatosan
legyezgetve.
Hónalj epilálás közben tarsa karját
felemelve, és több irányba
mozgassa a készüléket.
A változatás jogát fenntartjuk.
A termék megfelel mind az
EMC követelményrendszerének, amint az az Európa
Tanács 2004/108/EC direktívájában
szerepel, mind pedig az
alacsonyfeszültségrŒl szóló
elŒírásoknak (2006/95/EC).
A környezetszennyezés
elkerülése érdekében arra
kérjük, hogy a készülék
hasznos élettartalma végén ne
dobja azt a háztartási szemétbe.
A mıködésképtelen készüléket
leadhatja a Braun szervizközpontban, vagy az országa
szabályainak megfelelŒ módon
dobja a hulladékgyıjtŒbe.
Az epilátorfej tisztítása
5. Epilálás után húzza ki az epilátort
és tisztítsa meg azt.
6. A csipeszrészt alaposan tisztítsa
meg kefével és folyadékkal (pl.
alkohol). A tisztítás során kézzel
lehet forgatni a csipeszrészt. Az
epilátorfej eltávolításához nyomja
meg a kioldógombokat 2 , majd
húzza le a fejet.
7. A készülék külsŒ felületét kefével
tisztítsa meg. Helyezze vissza az
epilátorfejet.
23
5399396_SE2170_P6- Seite 24 Montag, 27. August 2007 3:44 15
Hrvatski
Na‰i su proizvodi dizajnirani tako
da zadovoljavaju najvi‰e standarde
kvalitete, funkcionalnosti i dizajna.
Nadamo se da çete i Vi u potpunosti
uÏivati u uporabi Braun Silk·épil
epilatora.
• Prije uporabe provjerite odgovara
li napon onome koji je propisan
na transformatoru. Uvijek koristite
12 V transformator koji dolazi s
aparatom i prilago∂en je pojedinoj
zemlji.
Stoga Vas molimo da prije uporabe
pomno proãitate ova uputstva.
Opçenito o epilaciji
Silk·épil je oblikovan za uklanjanje
dlaãica na nogama, ali se moÏe
koristiti i za epilaciju pazuha i bikini
zone.
Braun Silk·épil EverSoft oblikovan
je tako da uklanja neÏeljene dlaãice
na ‰to uãinkovitiji, njeÏniji i jednostavniji naãin. Njegov dokazani sistem
epilacije uklanja dlaãice zajedno
s korijenom, pa Va‰a koÏa ostaje
glatka tjednima.
Izvanredno precizna glava epilatora 1 s jedinstvenim rasporedom
pinceta oblikovana je tako da uklanja
dlaãice zajedno s korijenom, ãak i
one duge samo 0,5 mm. Dlaãice koje
poslije ovakve epilacije rastu vi‰e
nisu o‰tre nego tanke i mekane.
Upozorenje
• Ne dijelite ovaj aparat s drugim
osobama iz higijenskih razloga.
• Nemojte izlagati ure∂aj vodi i
drÏite ga na suhom mjestu.
• Nije predvi∂eno da ovaj ure∂aj
koriste djeca ili osobe smanjenih
fiziãkih ili mentalnih sposobnosti,
osim ako ih ne nadgleda osoba
odgovorna za njihovu sigurnost.
Opçenito, preporuãamo da ovaj
ure∂aj drÏite van dosega djece.
• Kako biste sprijeãili neÏeljene
ozljede kao i o‰teçenja aparata,
pripazite da aparat, kada je ukljuãen, ne do∂e sluãajno u dodir s
kosom, obrvama, trepavicama i sl.
24
Sve metode uklanjanja dlaãica mogu
dovesti do ura‰tanja dlaãica i iritacije
(npr. peckanja, crvenila koÏe i sl.), a
moguçnost takve reakcije prvenstveno
ovisi o stanju koÏe i dlaãica.
To je normalna reakcija i trebala bi
brzo prestati, no ukoliko otklanjate
dlaãice epilatorom po prvi put ili
imate osjetljivu koÏu, reakcija zna
biti i malo jaãa od uobiãajene.
Ako iritacija potraje i nakon 36 sati,
preporuãujemo da posjetite svog
lijeãnika. Opçenito se iritacija koÏe,
kao i osjeçaj boli s vremenom uz
stalno kori‰tenje Silk·épil epilatora
znaãajno smanjuju.
U nekim sluãajevima zna doçi do
manje koÏne upale kao posljedice
kontakta s bakterijama (npr. dok
aparat klizi niz koÏu). Redovito
detaljno ãi‰çenje glave aparata prije
uporabe umnogome çe smanjiti rizik
infekcije.
Ako imate neke sumnje u pogledu
kori‰tenja ovog aparata, razgovarajte sa svojim lijeãnikom. Prije
5399396_SE2170_P6- Seite 25 Montag, 27. August 2007 3:44 15
kori‰tenja aparata obavezno je
konzultirati lijeãnika u sluãaju:
– ekcema, rana, upalnih koÏnih
procesa kao ‰to je foliculitis
(gnojna upala folikula) i pro‰irenih
vena
– ispupãenih madeÏa
– smanjenog imuniteta koÏe, npr.
diabetes mellitus, u vrijeme
trudnoçe, Raynaudove bolesti
– hemofilije ili nedostatka imuniteta
Nekoliko korisnih savjeta
Epilacija je jednostavnija i ugodnija
kada su dlaãice optimalne duÏine,
odnosno 2–5 mm. Ako su dlaãice
duÏe, preporuãujemo da ih prvo
obrijete, pa ih epilirate tjedan do dva
kasnije, kad malo izrastu.
Preporuãujemo da prvu epilaciju
napravite naveãer, tako da moguçe
crvenilo moÏe prestati preko noçi.
Primjena hidratantne kreme nakon
epilacije tako∂er çe ublaÏiti moguçu
iritaciju koÏe.
Nove tanke dlaãice ponekad çe
ostajati ispod povr‰ine koÏe.
Redovita uporaba spuÏvi za masaÏu
(npr. nakon tu‰iranja) ili peelinga za
uklanjanje mrtvih povr‰inskih stanica
umnogome çe pomoçi u spreãavanju
ura‰tanja dlaãica.
Opis (vidi str. 4)
1 Epilacijska glava
2 Mehanizam za otpu‰tanje
3 Prekidaã
4 Prikljuãak za kabel
5 Kabel
6 12V transformator-prikljuãak za
struju
Epilacija
• KoÏa treba biti suha, bez tragova
masnoçe ili kreme.
• Prije poãetka epilacije detaljno
oãistite epilacijsku glavu 1 .
• Spojite 5 aparat s kabelom 4 i
potom ga ukljuãite u struju 6 .
1. Za ukljuãivanje aparata postavite
prekidaã 3 na poziciju «2»
(«2» = normalna brzina epiliranja,
«1» = sporije epiliranje)
2. Protrljajte koÏu da podignete
kratke dlaãice.
Kako bi epiliranje bilo ‰to
kvalitetnije preporuãujemo da
drÏite aparat pod kutem od 90°
u odnosu na koÏu. Pomiãite ga
polako i u smjeru suprotnom od
rasta dlaãica, odnosno u smjeru
prekidaãa.
3. Epilacija nogu
Zapoãnite s potkoljenicom i to
u smjeru odozdo prema gore.
Kada epilirate zonu iza koljena,
zategnite i dobro ispruÏite nogu.
4. Epilacija pazuha i bikini zone
Prema istraÏivanjima dermatologa
ovaj aparat moÏete koristiti i za
epilaciju pazuha i bikini zone.
Napominjemo da epiliranje ovih
zona moÏe biti podosta bolno.
S vremenom, ako stalno koristite
epilator, osjeçaj boli znaãajno çe
se smanjiti. Za ugodniju epilaciju,
dlaãice bi trebale biti duge
2-5 mm.
Prije epilacije pobrinite se da te
zone budu potpuno ãiste (npr. da
25
5399396_SE2170_P6- Seite 26 Montag, 27. August 2007 3:44 15
ne bude ostataka dezodoransa
i sl.). Zatim ih paÏljivo osu‰ite
ruãnikom – nemojte trljati koÏu
veç je osu‰ite tapkanjem. Kada
epilirate pazuh podignite ruku tako
da je koÏa u potpunosti rastegnuta
i pomiãite aparat u razliãitim
smjerovima.
âi‰çenje epilacijske glave
5. Nakon epilacije, iskljuãite epilator
iz struje i oãistite epilacijsku glavu
koju ste koristili.
6. Za potpuno ãi‰çenje pinceta koristite ãetkicu koju ste prethodno
namoãili u alkohol. Lagano rukom
pomiãite valjak s pincetama i
prelazite ãetkicom preko pinceta
sa straÏnje strane. Pritisnite mehanizam za otpu‰tanje 2 s obje
strane i izvucite epilacijsku glavu.
7. Oãistite vrh kuçi‰ta ãetkicom.
Potom vratite nazad epilacijsku
glavu i ublaÏivaã boli.
PodloÏno promjenama bez
prethodne najave.
26
5399396_SE2170_P6- Seite 27 Montag, 27. August 2007 3:44 15
Slovenski
Na‰i izdelki so zasnovani tako,
da ustrezajo najvi‰jim standardom
kakovosti, funkcionalnosti in dizajna.
Îelimo si, da bi svoj novi epilator
Silk·épil z veseljem uporabljali.
Prosimo vas, da navodila za uporabo pozorno in v celoti preberete,
preden zaãnete uporabljati svoj novi
epilator.
Braunov sistem Silk·épil EverSoft je
bil zasnovan z namenom, da bi bilo
odstranjevanje nezaÏelenih dlaãic
kar najbolj uãinkovito, neÏno in
enostavno. Ta preizku‰eni sistem
epilacije odstranjuje dlaãice s korenino vred, kar zagotavlja, da je va‰a
koÏa veã tednov prijetno neÏna in
gladka.
Izredno natanãna epilacijska glava
1 s svojo edinstveno razporeditvijo
pincet in posebnimi geometrijskimi
elementi za dovajanje dlaãic omogoãa uãinkovito epilacijo in s korenino vred odstrani tudi dlaãice, ki
niso dalj‰e od 0,5 milimetra. Ker so
dlaãice, ki ponovno zrastejo, tanj‰e
in mehkej‰e, ni veã moteãih ostrih
dlak.
Opozorilo
• Iz higienskih razlogov ni
priporoãljivo, da epilator uporablja
veã oseb.
• Pazite, da naprava ne pride v stik
z vodo.
• Ta naprava ni namenjena, da bi
jo uporabljali otroci ali osebe
z zmanj‰ano fiziãno in umsko
sposobnostjo, razen pod nadzorom osebe odgovorne za njihovo
varnost. Na splo‰no priporoãamo,
da napravo hranite izven dosega
otrok.
• Ko je epilator vkljuãen, ne sme
priti v stik z lasmi, trepalnicami ali
raznimi trakovi in podobnim, ker
lahko pride do telesnih po‰kodb
ali do blokade ter po‰kodbe
naprave.
• Pred uporabo preverite, da
napetost va‰ega omreÏja ustreza
napetosti, ki je odtisnjena na
epilatorjevem transformatorju.
Za priklop na elektriãno omreÏje
vedno uporabljajte vtiã 12voltnega transformatorja, ki je
priloÏen epilatorju.
Nekaj splo‰nih informacij o
epilaciji
Epilator Silk·épil je namenjen
odstranjevanju dlaãic na nogah,
lahko pa ga uporabite tudi za bolj
obãutljive dele telesa, kot so podlaket,
pazduha ali bikini predel.
Pri vseh metodah odstranjevanja
dlaãic pri korenini se lahko zgodi, da
zaãnejo dlaãice rasti navznoter, ali
pa pride do nadraÏenosti koÏe (na
primer srbenje, neprijeten obãutek
ali pordela koÏa), kar pa je odvisno
od tipa koÏe in dlaãic. Tak‰ne reakcije so obiãajne in ponavadi kmalu
izginejo, pri prvi epilaciji oziroma pri
zelo obãutljivi koÏi pa so lahko bolj
intenzivne in trajajo dalj ãasa.
âe je 36 ur po epilaciji va‰a koÏa ‰e
vedno nadraÏena, se posvetujte z
zdravnikom. Sicer pa se pri veãkratni
uporabi Silk-épila reakcija koÏe in
obãutek boleãine obãutno zmanj‰ata.
27
5399396_SE2170_P6- Seite 28 Montag, 27. August 2007 3:44 15
Obãasno lahko zaradi bakterij, ki
prodrejo v koÏo med uporabo epilatorja, pride tudi do vnetja koÏe.
Temeljito ãi‰ãenje epilacijske glave
pred vsako uporabo obãutno
zmanj‰a tveganje okuÏbe.
âe imate pomisleke glede uporabe
epilatorja, se posvetujte s svojim
zdravnikom. V naslednjih primerih
epilatorja brez predhodnega posveta
z zdravnikom ne smete uporabljati:
– ãe imate na koÏi ekceme, ranice,
vnetne reakcije, kot je na primer
folikulitis (vnetje dlaãnih me‰iãkov),
in pri krãnih Ïilah;
– na predelu koÏnih znamenj in peg;
– pri zmanj‰ani odpornosti koÏe
zaradi diabetesa melitusa, med
noseãnostjo ali pri Raynaudovi
bolezni;
– pri hemofiliji in imunski pomanjkljivosti.
Nekaj koristnih nasvetov
Epilacija poteka laÏje in je prijetnej‰a,
ãe je dolÏina dlaãic med 2 in 5 milimetri. âe so dlaãice dalj‰e, vam
svetujemo, skraj‰ate na omenjeno
dolÏino.
Prvo epilacijo je najbolje opraviti
zveãer, da morebitna pordelost koÏe
ãez noã izgine. Da se koÏa po epilaciji
laÏje umiri, vam priporoãamo uporabo
vlaÏilne kreme.
NeÏne dlaãice, ki zrastejo po epilaciji,
vãasih ne morejo prodreti na povr‰je
koÏe. Z redno uporabo masaÏnih
gobic (na primer po prhanju) ali s
peelingom lahko prepreãite, da bi
dlaãice rasle navznoter, saj z neÏnim
28
drgnjenjem odstranite zgornjo plast
koÏe in tako omogoãite neÏnim
dlaãicam, da prodrejo na povr‰ino.
Opis (glejte stran 4)
1 Epilacijska glava s pincetami
2 Tipki za sprostitev epilacijske
glave
3 Stikalo za vklop
4 Vtiãnica za prikljuãno vrvico
5 Vtiã prikljuãne vrvice
6 12-voltni transformatorski vtiã
Postopek epilacije
• Va‰a koÏa naj bo suha in brez
sledov ma‰ãob ali krem.
• Pred zaãetkom epilacije temeljito
oãistite epilacijsko glavo 1 .
• Vstavite vtiã prikljuãne vrvice 5
v vtiãnico 4 ter priklopite transformatorski vtiã 6 na elektriãno
omreÏje.
1. Epilator vkljuãite tako, da stikalo
3 premaknete v poloÏaj «2».
(«2» = normalna hitrost,
«1» = zmanj‰ana hitrost).
2. Zdrgnite koÏo, da se kratke dlaãice
postavijo pokonci. Za optimalni
uãinek epilacije napravo drÏite
pravokotno (90°) na koÏo in jo
v smeri stikala brez pritiskanja
pomikajte v nasprotni smeri rasti
dlaãic.
3. Epilacija nog
Epilacija nog naj poteka od
spodaj navzgor. Pri odstranjevanju
dlaãic za kolenom naj bo noga
iztegnjena.
5399396_SE2170_P6- Seite 29 Montag, 27. August 2007 3:44 15
4. Epilacija podpazduh in bikini
predela
Dermatolo‰ki testi so dokazali, da
lahko z epilatorjem odstranjujete
tudi dlaãice pod pazduho in na
bikini predelu.
Pri epilaciji teh predelov ne
pozabite, da so zelo obãutljivi na
boleãino. Z veãkratno uporabo
epilatorja pa se bo obãutek
boleãine zmanj‰al.
Pred epilacijo predele temeljito
umijte, da odstranite sledi dezodoranta in podobnih sredstev.
Nato jih z brisaão previdno osu‰ite.
Pri epilaciji podpazduhe imejte
roko dvignjeno in drsite z epilatorjem v razliãnih smereh.
Ta izdelek je skladen z
evropskima smernicama o
elektromagnetni zdruÏljivosti
2004/108/EC in nizkonapetostnih
napravah 2006/95/EC.
OdsluÏene naprave ne
smete odvreãi skupaj z
gospodinjskimi odpadki.
Odnesite jo v Braunov servisni
center ali na ustrezno zbirno mesto
v skladu z veljavnimi predpisi.
âi‰ãenje epilacijske glave
5. Po epilaciji izvlecite vtiã prikljuãne
vrvice in oãistite epilacijsko glavo.
6. Za ãi‰ãenje pincet uporabite
‰ãetko, pomoãeno v alkohol.
Obrnite epilator in s ‰ãetko oãistite
pincete, medtem ko roãno
obraãate valjãek.
7. Zgornjo povr‰ino epilatorja s
‰ãetko na hitro oãistite. Nato spet
namestite epilacijsko glavo.
PridrÏujemo si pravico do
sprememb.
29
5399396_SE2170_P6- Seite 30 Montag, 27. August 2007 3:44 15
Românå
Produsele noastre sunt concepute
pentru a satisface cele mai înalte
standarde de calitate, funcøionalitate
µi design. Speråm så folosiøi cu
plåcere noul aparat Silk·épil.
Citiøi instrucøiunile cu atenøie înainte
de a folosi aparatul.
Braun Silk·épil EverSoft a fost
proiectat pentru ca îndepårtarea
firelor de pår nedorite så fie cât se
poate de eficientå, blândå µi simplå.
Sistemul såu de epilare, dovedit,
îndepårteazå pårul de la rådåcinå,
låsându-vå pielea netedå såptåmâni
întregi.
Capul pentru epilare 1 , este special
conceput pentru îndepårtarea delicatå, de mare precizie µi pentru o
perioadå lungå de timp a firelor de
pår. Sistemul de epilare Silk·épil
asigurå un proces de epilare mai
delicat µi mult mai eficient decât alte
sisteme. Chiar µi cele mai scurte fire
de pår (0,5 mm) pot fi smulse din
rådåcinå.
Important
• Din motive de igienå, nu este
indicatå folosirea acestui produs
de cåtre mai multe persoane.
• Acest aparat nu trebuie så fie
folosit niciodatå în apropierea apei
(exemplu: un bazin plin cu apå,
cada de baie sau duµ).
• Acest produs nu este destinat
uzului copiilor sau al persoanelor
cu handicap fizic sau mental,
cu excepøia cazului când sunt
supravegheaøi de o persoanå
30
responsabilå pentru siguranøa lor.
În general, vå recomandåm så
øineøi acest produs într-un loc în
care copiii nu au acces.
• Când deschideøi aparatul, acesta
nu trebuie så vinå niciodatå în
contact cu pårul capului, genelor,
µireturi, etc. pentru a preveni orice
pericol de rånire dar µi pentru a
evita blocarea sau stricarea aparatului.
• Înainte de utilizare, verificaøi dacå
voltajul corespunde tensiunii
indicate pe transformator.
Întotdeauna utilizaøi transformatorul cu prizå de 12V, specific fiecårei
øåri, livrat odatå cu produsul.
Informaøii generale despre epilare
Silk·épil este proiectat så epileze
pårul de pe picioare, dar testele de
utilizare monitorizate de specialiµtii
dermatologi au demonstrat cå se pot
epila totodatå µi zonele de sub-braø µi
cea inghinalå.
Toate metodele de îndepårtare a
pårului de la rådåcinå pot conduce la
creµterea pårului în/spre interior µi la
iritarea pielii (exemplu: mâncårime,
discomfort µi înroµirea pielii),
depinzând de condiøia pielii µi a
pårului. Aceasta este o reacøie
normalå µi trebuie så disparå rapid,
dar poate fi mai puternicå când se
îndepårteazå pårul de la rådåcinå
pentru prima datå sau dacå aveøi o
piele sensibilå.
Dacå, dupå 36 ore, pielea prezintå
încå iritaøii, vå recomandåm så
contactaøi doctorul dumneavoastrå.
În general, reacøia pielii µi senzaøia
de durere tind så se diminueze
5399396_SE2170_P6- Seite 31 Montag, 27. August 2007 3:44 15
considerabil odatå cu utilizarea
repetatå a epilatorului Silk·épil.
aplicarea unei crème hidratante dupå
epilare.
În unele cazuri, inflamarea pielii poate
apårea atunci când bacteriile vin în
contact cu pielea (exemplu: când
aparatul alunecå deasupra pielii).
Curåøirea profundå, minuøioaså a
capului de epilare înainte de fiecare
utilizare va reduce riscul de infectare.
Pårul fin care reapare poate så
creascå în interiorul suprafeøei pielii.
Utilizarea regulatå a masajului cu
buretele (exemplu: dupå ce facem
duµ) sau exfolierea pielii cu ajutorul
peelingului ajutå la prevenirea
creµterii interioare a pårului, precum
µi acøiunea de frecare uµoarå cu peria
care îndepårteazå stratul exterior µi
pårul fin poate påtrunde prin suprafaøa pielii.
Dacå aveøi dubii în ceea ce priveµte
utilizarea acestui aparat, vå rugåm
så consultaøi doctorul. În cazurile
descrise mai jos, se recomandå utilizarea acestui aparat numai dupå ce
aøi fåcut în prealabil o consultaøie la
doctorul dumneavoastrå:
– Eczeme, råni, reacøii inflamate ale
pielii, cum ar fi: folliculitis(foliculi
purulenøi ai firului de pår) µi vase de
sânge cu varice;
– Negi ai pielii;
– Imunitatea reduså a pielii
(exemplu: diabetul, perioada în
timpul sarcinii, maladia
Raynaud's);
– Hemofilia sau deficienøa imunitarå.
Câteva idei utile
Epilarea este mai uµoarå µi mai
comfortabilå când pårul se aflå la
lungimea optimå de 2–5 mm (0,08–
0,2 in.). Dacå pårul este mai lung, vå
recomandåm ca så îl radeøi mai întâi
µi så vå epilaøi pårul care a recrescut
µi este mai scurt, dupå 1–2 såptåmâni.
Când vå epilaøi pentru prima datå,
este recomandabil så vå epilaøi seara,
astfel încât orice eventualå înroµire a
pielii så disparå peste noapte. Pentru
a relaxa pielea, vå recomandåm
Descriere (vezi pag. 4)
1 Cap epilator cu pensete de epilat
2 Buton pentru demontarea capului
epilator
3 Buton pornit / oprit, selector
pentru viteze
4 Mufa mamå pentru conectarea
transformatorului
5 Conector (mufa tatå) pentru
cordonul de alimentare
6 Transformator cu µtecher pentru
prizå de 12 V
Epilarea
• Pielea trebuie så fie uscatå
neacoperitå cu cremå sau uleiuri.
• Înainte de a începe, curåøaøi în
profunzime capetele de epilare 1 .
• Introduceøi conectorul (mufa tatå)
pentru cordonul de alimentare 5
in mufå 4 si introduceøi transformatorul 6 în prizå.
1. Pentru a porni aparatul, fixaøi
butonul pornit / oprit selector
pentru viteze 3 pe treapta a
«2» a de vitezå:
(«2» = epilare normalå,
«1» = epilare delicatå)
31
5399396_SE2170_P6- Seite 32 Montag, 27. August 2007 3:44 15
2. Frecaøi uµor pielea pentru a
ridica firele scurte de pår. Utilizaøi
Silk·épil înclinat la 90° trågând în
sens invers creµterii firelor de pår,
in directia comutatorul.
så miµcaøi manual capul rotativ.
Pentru a scoate capul epilator
Apåsaøi pe butoanele pentru
demontarea capului epilator 2 din
dreapta µi stânga aparatului.
3. Epilarea picioarelor
Piciorul trebuie epilat de jos în sus.
Când vå epilaøi pe partea interioarå
din spatele genunchiului øineøi
piciorul drept µi întins.
7. Curåøaøi cu peria partea superioarå
a niµei. Montaøi capul de epilare
înapoi pe niµå.
4. Epilarea în zona inghinalå µi la sub
braø
Teste avizate de medici dermatologi au aratat cå puteøi så vå epilaøi
cu ajutorul aparatului Silk·épil la
sub braø µi în zona inghinalå.
Trebuie så fiøi atente deoarece
aceste pårti ale corpului sunt foarte
sensibile la durere. Senzaøia de
durere se va diminua prin folosirea
repetatå a aparatului.
Pentru epilarea zonei de sub braø,
am dori så vå dåm niµte sfaturi:
Înainte de epilare, curåøaøi zona
respectivå pentru a îndepårta
orice urmå de deodorant sau alt
emolient.
Apoi, uscaøi zona cu un prosop,
tamponând cu atenøie. În timpul
epilarii zonei de sub braø, øineøi
braøul întins µi orientaøi aparatul în
direcøii diferite.
Curåøarea µi întreøinerea aparatului:
5. Dupå fiecare utilizare, opriøi
aparatul µi scoateøi-l din prizå.
6. Curaøaøi bine capul cu pensetele
de epilat cu periuøa din dotare µi
dezimfectaøi-l cu câteva picåturi
de alcool. În timp ce curåøaøi, puteøi
32
Datele se pot schimba fårå notificare
prealabilå.
Conform Hotãrârii nr. 672 din 19 iulie
2001 privind stabilirea conditiilor de
introducere pe piatã a aparatelor
electrocasnice în functie de nivelul
zgomotului transmis prin aer,
valoarea de zgomot dB(A) pentru
acest aparat este de 76 dB(A).
5399396_SE2170_P6- Seite 33 Montag, 27. August 2007 3:44 15
Türkçe
Ürünlerimiz kalite, kullan∂m ve
tasar∂mda en yüksek standartlara
ulaµabilmek için üretilmiµtir.
Yeni Silk·épil'inizden memnun
kalacaπ∂n∂z∂ umar∂z.
Cihaz∂n∂z∂ kullanmadan önce lütfen
bu kullanma k∂lavuzunu dikkatlice ve
eksiksiz okuyunuz.
Yüksek kaliteli epilasyon baµl∂π∂ 1
özellikle, nazik bir µekilde ve uzun
süreli olarak tüylerden kurtulman∂z
için tasarlanm∂µt∂r. Genel olarak,
tekrar büyüyen tüyler daha ince ve
yumuµak ç∂kar. Silk·épil epilasyon
sistemi ile epilasyon daha nazik ve
daha etkilidir. 0,5 mm. boyundaki en
k∂sa tüyleri bile kökünden al∂r.
Önemli
• Hijyen kaynakl∂ sak∂ncalar
yüzünden cihaz∂n∂z∂ baµkalar∂yla
paylaµmay∂n∂z.
• Cihazınızın su ile temas etmesini
önleyiniz.
• Bu aygıt sorumlu bir kiµinin
gözetiminde olmaksızın çocukların
ve fiziksel yada ruhsal engelli
kiµilerin kullanmasına uygun
de©ildir. Aygıtınızı çocukların
ulaµabilece©i yerlerden uzak
tutmanızı öneririz.
• Cihaz çal∂µmaya baµlad∂π∂ andan
itibaren her nevi yaralanmay∂
ve cihaz∂n bloke olmas∂n∂ veya
bozulmas∂n∂ önlemek için cihaz∂
asla saçlar∂n∂z, kirpikleriniz, giyim
eµyalar∂, ip kurdela vb. ile temas
ettirmeyiniz.
• Kullanmadan önce adaptör
üzerinde yaz∂lm∂µ olan voltaj ile
µebeke cereyan gerilimini
karµ∂laµt∂r∂n∂z. Daima cihaz ile
beraber sunulan 12 V adaptör fiµini
kullan∂n∂z.
Epilasyon hakk∂nda genel bilgi
Silk·épil bacaklardaki tüylerin
al∂nmas∂ için tasarlanm∂µt∂r, fakat
kol yüzeyi, koltuk alt∂ ve bikini hatt∂
gibi bütün hassas bölgelerde de
kullan∂labilir.
Tüyleri kökünden alan tüm epilasyon
metodlar∂, hafif deri tahriµlerine ve k∂l
batmalar∂na neden olabilir. Tüylerin
al∂nmas∂yla oluµan mikro yaralar,
cihaz∂n deri üzerinde dolaµ∂m∂
s∂ras∂nda bakterilerin yay∂lmas∂na yol
açarak yanmaya sebep olabilirler.
Bu nedenle, her kullan∂mdan önce
epilasyon baµl∂π∂n∂ temizleyerek
enfeksiyon riskini en aza indirebilirsiniz.
Ürünü ilk kullanmaya baµlad∂π∂n∂zda,
derinizin ve tüylerinizin durumuna
göre, baz∂ tahriµler (mesela ac∂
hissetme, cildin k∂zarmas∂) oluµabilir.
Bunlar olaπan tepkilerdir ve çabucak
yok olacaklard∂r.
Eπer 36 saat sonra cildinizde
hala tahriµ varsa, doktorunuza
dan∂µman∂z∂ tavsiye ederiz. Genel
olarak, cilt reaksiyonlar∂ ve ac∂ hissi
Silk·épil'in düzenli kullan∂m∂ndan
sonra azalma gösterir.
Eπer bu ürünün kullan∂m∂yla ilgili
herhangi bir µüpheniz varsa, lütfen
doktorunuza dan∂µ∂n∂z. Aµaπ∂daki
durumlarda, cihaz sadece doktora
dan∂µ∂ld∂ktan sonra kullan∂lmal∂d∂r:
33
5399396_SE2170_P6- Seite 34 Montag, 27. August 2007 3:44 15
– egzama, yaralar, folliculitis
(kümecik) gibi iltihapl∂ cilt
reaksiyonlar∂ ve varisli damarlar
– ciltteki benlerin çevresi
– derinin dayan∂kl∂l∂π∂n∂ kaybetmesi
(örneπin µeker hastal∂π∂, hamilelik,
Raynaud hastal∂π∂)
– hemofili, vücut baπ∂µ∂kl∂k sisteminde sorun olmas∂.
Faydal∂ notlar
∑lk kez kullan∂mda veya uzun
zamandan beri epilasyon yap∂lmayan
durumlarda, uzun tüyleri ilk önce
t∂raµ etmenizi tavsiye ederiz.
1–2 hafta sonra tekrar uzayan k∂sa
tüyler epilasyon baµl∂π∂ ile çok daha
kolay ve rahat bir µekilde al∂nabilir.
Epilasyona baµlamadan önce uzun
tüylerinizi 2–5 mm.'ye kadar keserek
de k∂saltabilirsiniz.
Banyodan/duµtan sonra tüyler çok
daha kolay al∂nabilir ancak cildinizin
tamamen kuru olduπundan emin
olmal∂s∂n∂z. Epilasyondan sonra
cildinizi rahatlatmak ve hafif cilt
tahriµlerini önlemek için nemlendirici
bir krem kullanman∂z∂ tavsiye ederiz.
Baµlang∂çta akµamlar∂ epilasyon
yap∂lmas∂ tavsiye edilir. Böylece olas∂
k∂zar∂kl∂klar gece boyunca yok
olacakt∂r.
Tekrar uzayan ince tüyler cildin
yüzeyine ulaµamayabilir. K∂l dönmelerini önlemek için size düzenli
olarak masaj süngeri veya kese
gibi ölü deriyi giderici metodlar kullanman∂z∂ öneririz. Nazik ovalama
hareketleri ile derinin ölü olan üst
tabakas∂ soyulur ve böylece ince
tüyler cilt yüzeyine ulaµabilir.
34
Tan∂mlama (bak∂n∂z 4. sayfa)
1 C∂mb∂zl∂ epilasyon baµl∂π∂
2 Ç∂kartma düπmesi
3 Açma/kapama anahtar∂
4 Elektrik baπlant∂ kablosu için
baπlant∂ fiµi
5 Elektrik baπlant∂ kablosu
6 12 V adaptör fiµi
Silk·épil'inizi nas∂l kullanacaks∂n∂z
• Cildiniz kuru ve yaπdan/kremden
ar∂nm∂µ olmal∂d∂r.
• Epilasyona baµlamadan önce
epilasyon baµl∂π∂n∂ 1 iyice
temizleyiniz.
• Elektrik baπlant∂ kablosunu 5
baπlant∂ fiµine 4 takt∂ktan sonra
ucu fiµli adaptörü 6 elektrik prizine
tak∂n∂z.
1. Cihaz∂ çal∂µt∂rmak için açma/
kapama anahtar∂n∂ 3 , «2» ye
getirin
(«2» = normal epilasyon,
«1» = nazik epilasyon).
2. K∂sa tüyleri yukar∂ kald∂rmak için
cildinizi ovunuz. ∑yi performans için
cihaz∂ cildinize uygun olan (90°)
aç∂da tutunuz. Tüylerin ç∂kt∂π∂
yönün tersine ve açma/kapama
anahtar∂n∂n yönünde bast∂rmadan
yavaµ ve sürekli hareketlerle
yönlendiriniz.
3. Bacak epilasyonu
Bacaπ∂n∂zdaki tüyleri aµaπ∂dan
yukar∂ya doπru al∂n∂z. Diz
kapaklar∂n∂n arkas∂ndaki tüyleri
al∂rken bacaπ∂n∂z∂ düz ve gergin
olarak tutunuz.
5399396_SE2170_P6- Seite 35 Montag, 27. August 2007 3:44 15
4. Koltuk alt∂ ve bikini hatt∂ epilasyonu
Dermatologlar taraf∂ndan yap∂lan
kullan∂m testleri, koltuk alt∂ ve
bikini hatt∂ndaki tüylerin de
al∂nabileceπini göstermektedir.
Bu bölgeler özellikle ac∂ya karµ∂
duyarl∂d∂r, fakat bu ac∂ hissi
Silk·épil'in düzenli kullan∂m∂ndan
sonra azalma gösterir.
Bu özel uygulama için aµaπ∂daki
tavsiyeleri vermek isteriz:
Epilasyona baµlamadan önce
gerekli bölgeyi, deodorant gibi
maddelerden ar∂nd∂rmak için iyice
temizleyiniz.
Daha sonra cildinizi hafif
dokunuµlarla dikkatlice havlu ile
kurulay∂n∂z.
Koltuk alt∂n∂zdaki tüyleri al∂rken
kolunuzu yukar∂ kald∂r∂n ve cihaz∂
deπiµik yönlerde kullan∂n∂z.
Bildirim yap∂lmadan deπiµiklik
yap∂labilir.
Bakanl∂kça tespit ve ilan edilen
kullan∂m ömrü 7 y∂ld∂r.
Üretici firma ve CE iµareti
uygunluk de©erlendirme
kuruluµu:
Braun GmbH
Frankfurter Straße 145
61476 Kronberg / Germany
" (49) 6173 30 0
Fax (49) 6173 30 28 75
P&G Sat. ve Daπ. Ltd. Ωti.
Serin Sok. No: 9 34752 ∑çerenköy/
∑stanbul taraf∂ndan ithal edilmiµtir.
P&G Tüketici Hizmetleri
0 212 473 75 85,
trconsumers@custhelp.com
Epilasyon baµl∂klar∂n∂n
temizlenmesi
5. Epilasyondan sonra cihaz∂n∂z∂
fiµten çekiniz ve epilasyon
baµl∂π∂n∂ temizleyiniz.
6. C∂mb∂z bölümünü f∂rça ve
temizleme s∂v∂s∂ (örneπin alkol)
ile iyice temizleyiniz. Temizleme
s∂ras∂nda c∂mb∂z bölümünü elinizle
de çevirebilirsiniz. Epilasyon
baµl∂π∂n∂ ç∂kartmak için saπda ve
solda bulunan ç∂karma düπmelerine 2 bas∂n∂z.
7. F∂rça ile cihaz∂n gövdesinin üst
k∂sm∂n∂ temizleyiniz. Daha sonra
epilasyon baµl∂π∂n∂ yerine tak∂n∂z.
35
5399396_SE2170_P6- Seite 36 Montag, 27. August 2007 3:44 15
êÛÒÒÍËÈ
ç‡¯Ë ÚÓ'‡˚ ÒÓÁ‰‡Ì˚ ' ÒÓÓÚ'ÂÚÒÚ'ËË Ò '˚ÒÓ˜‡È¯ËÏË Òڇ̉‡Ú‡ÏË Í‡˜ÂÒÚ'‡, ÙÛÌ͈ËÓ̇θÌÓÒÚË Ë
‰ËÁ‡È̇. å˚ ̇‰ÂÂÏÒfl, ˜ÚÓ '‡Ï
ÔÓÌ‡'ËÚÒfl ËÒÔÓθÁÓ'‡Ú¸ ˝ÔËÎflÚÓ
Braun Silk·épil.
èÓʇÎÛÈÒÚ‡, 'ÌËχÚÂθÌÓ ÔÓ˜ËÚ‡ÈÚ ËÌÒÚÛÍˆË˛ ÔÓ ÔËÏÂÌÂÌ˲
ÔÂ‰ ËÒÔÓθÁÓ'‡ÌËÂÏ ÔË·Ó‡.
Braun Silk·épil EverSoft ÒÓÁ‰‡Ì ‰Îfl
·ÓΠ˝ÙÙÂÍÚË'ÌÓ"Ó, ΄ÍÓ"Ó Ë
ÌÂÊÌÓ"Ó Û‰‡ÎÂÌËfl ÌÂÊ·ÚÂθÌ˚ı
'ÓÎÓÒ. Ö"Ó ÔÓ‰ÛχÌ̇fl ÒËÒÚÂχ
˝ÔËÎflˆËË Û‰‡ÎflÂÚ 'ÓÎÓÒÍË Ò ÍÓÌÂÏ, ÓÒÚ‡'Îflfl '‡¯Û ÍÓÊÛ "·‰ÍÓÈ
' Ú˜ÂÌË ÌÂÒÍÓθÍËı ̉Âθ.
ÉÓÎӂ͇ ˝ÔËÎflÚÓ‡ 1, Óڂ˜‡˛˘‡fl Òڇ̉‡Ú‡Ï '˚ÒÓÍÓÈ ÚÓ˜ÌÓÒÚË, ÒÓ Ò'ÓËÏ ÛÌË͇θÌ˚Ï ‡ÒÔÓÎÓÊÂÌËÂÏ ÔË̈ÂÚÓ' Ó·ÂÒÔ˜˂‡ÂÚ
˝ÙÙÂÍÚË'ÌÛ˛ ˝ÔËÎflˆË˛ Ë Û‰‡ÎflÂÚ
‰‡Ê 'ÓÎÓÒÍË ‰ÎËÌÓÈ 0,5 ÏÏ.
LJÊÌÓ
• Ç ˆÂÎflı Òӷβ‰ÂÌËfl "Ë"ËÂÌ˚ ÌÂ
ÔÂ‰‡'‡ÈÚ ÔË·Ó ‰Û"ËÏ
β‰flÏ.
• ùÚÓÚ ÔË·Ó ÌËÍÓ"‰‡ Ì ‰ÓÎÊÂÌ
ËÒÔÓθÁÓ'‡Ú¸Òfl '·ÎËÁË 'Ó‰˚
(̇ÔËÏÂ, ̇ÔÓÎÌÂÌÌÓÈ '‡ÌÌ˚,
‡ÍÓ'ËÌ˚ ËÎË ‰Û¯‡).
• ùÚÓÚ ÔË·Ó Ì Ô‰̇Á̇˜ÂÌ
‰Îfl ËÒÔÓθÁÓ'‡ÌËfl ‰ÂÚ¸ÏË ËÎË
‰Û"ËÏË Îˈ‡ÏË ·ÂÁ ÔÓÏÓ˘Ë Ë
ÔËÒÏÓÚ‡, ÂÒÎË Ëı ÙËÁ˘ÂÒÍËÂ,
ÒÂÌÒÓÌ˚Â ËÎË ÛÏÒÚ'ÂÌÌ˚Â
ÒÔÓÒÓ·ÌÓÒÚË Ì ÔÓÁ'ÓÎfl˛Ú ËÏ
·ÂÁÓÔ‡ÒÌÓ Â"Ó ËÒÔÓθÁÓ'‡Ú¸.
• ÇÓ 'ÂÏfl ‡·ÓÚ˚, ÔË·Ó ÌËÍÓ"‰‡ Ì ‰ÓÎÊÂÌ ÍÓÌÚ‡ÍÚËÓ'‡Ú¸
36
Ò 'ÓÎÓÒ‡ÏË Ì‡ '‡¯ÂÈ "ÓÎÓ'Â,
·Ó'flÏË, ÎÂÌÚ‡ÏË Ë Ú.‰. 'Ó
ËÁ·ÂʇÌË ͇ÍÓÈ-ÎË·Ó Ú‡'Ï˚,
‡ Ú‡ÍÊ ‰Îfl Ô‰ÓÚ'‡˘ÂÌËfl
·ÎÓÍËÓ'ÍË ËÎË ÔÓ'ÂʉÂÌËfl
ÔË·Ó‡.
• èÂ‰ ÛÔÓÚ·ÎÂÌËÂÏ ÔÓ'Â¸ÚÂ, ÒÓÓÚ'ÂÚÒÚ'ÛÂÚ ÎË '‡¯Â
˝ÎÂÍÚ˘ÂÒÍÓ ̇ÔflÊÂÌËÂ
˝ÎÂÍÚ˘ÂÒÍÓÏÛ Ì‡ÔflÊÂÌ˲,
Û͇Á‡ÌÌÓÏÛ Ì‡ Ú‡ÌÒÙÓχÚÓÂ.
ÇÒ"‰‡ ËÒÔÓθÁÛÈÚ ÓÔ‰ÂÎÂÌÌÛ˛ ‰Îfl ‰‡ÌÌÓÈ ÒÚ‡Ì˚ ÓÁÂÚÍÛ
Ú‡ÌÒÙÓχÚÓ (12 B), ÔÓÒÚ‡'ÎflÂÏÛ˛ Ò ÚÓ'‡ÓÏ.
é·˘‡fl ËÌÙÓχˆËfl ÔÓ
˝ÔËÎflˆËË
Silk·épil Ô‰̇Á̇˜ÂÌ ‰Îfl Û‰‡ÎÂÌËfl 'ÓÎÓÒ Ì‡ ÌÓ"‡ı, ÌÓ ÏÓÊÂÚ ·˚Ú¸
ËÒÔÓθÁÓ'‡Ì ̇ 'ÒÂı ˜Û'ÒÚ'ËÚÂθÌ˚ı ӷ·ÒÚflı, ‰Îfl ÔÓ‰Ï˚¯ÂÍ ËÎË
ÎËÌËË ·ËÍËÌË.
ÇÒ ÏÂÚÓ‰˚ Û‰‡ÎÂÌËfl 'ÓÎÓÒ Ò
ÍÓÌÂÏ ÏÓ"ÛÚ ÔË'ÂÒÚË Í '‡ÒÚ‡Ì˲ 'ÓÎÓÒ‡ ÔÓ‰ ÍÓÊÛ Ë ‡Á‰‡ÊÂÌ˲ (̇ÔËÏÂ, ÁÛ‰, ‰ËÒÍÓÏÙÓÚ
ËÎË ÔÓÍ‡ÒÌÂÌË ÍÓÊË), ' Á‡'ËÒËÏÓÒÚË ÓÚ ÒÓÒÚÓflÌËfl ÍÓÊË Ë 'ÓÎÓÒ.
ùÚÓ ÌÓχθ̇fl ‡͈Ëfl, ÍÓÚÓ‡fl
‰ÓÎÊ̇ ·˚ÒÚÓ ÔÓÈÚË, ÌÓ Ó̇
ÏÓÊÂÚ ·˚Ú¸ Ë ·ÓΠÒËθÌÓÈ, ÂÒÎË
'˚ Û‰‡ÎflÂÚ 'ÓÎÓÒ˚ ÔÂ'˚ ÌÂÒÍÓθÍÓ ‡Á ËÎË ÂÒÎË Û '‡Ò ˜Û'ÒÚ'ËÚÂθ̇fl ÍÓʇ.
ÖÒÎË ÔÓÒΠ36 ˜‡ÒÓ' ÍÓʇ 'Ò ¢Â
ÔÓ‰'ÂÊÂ̇ ‡Á‰‡ÊÂÌ˲, Ï˚
ÂÍÓÏẨÛÂÏ '‡Ï Ó·‡ÚËÚ¸Òfl
Í '‡˜Û.
é·˚˜ÌÓ ÍÓÊ̇fl ‡͈Ëfl ÒÌËʇÂÚÒfl, Ë ·ÓÎÂÁÌÂÌÌ˚Â Ó˘Û˘ÂÌËfl
5399396_SE2170_P6- Seite 37 Montag, 27. August 2007 3:44 15
Á̇˜ËÚÂθÌÓ ÛÏÂ̸¯‡˛ÚÒfl ÔË
ÔÓ'ÚÓÌÓÏ ËÒÔÓθÁÓ'‡ÌËË Silk·épil.
Ç ÌÂÍÓÚÓ˚ı ÒÎÛ˜‡flı ÏÓÊÂÚ 'ÓÁÌËÍÌÛÚ¸ 'ÓÒÔ‡ÎÂÌË ' ÂÁÛθڇÚÂ
ÔÓÌËÍÌÓ'ÂÌËfl ·‡ÍÚÂËÈ ' ÍÓÊÛ,
̇ÔËÏÂ, ÔË ÒÍÓθÊÂÌËË ˝ÔËÎflÚÓ‡ ÔÓ ÍÓÊÂ. í˘‡ÚÂθÌÓÂ Ó˜Ë˘ÂÌË ˝ÔËÎflÚÓ‡ ÔÂ‰ ͇ʉ˚Ï
ËÒÔÓθÁÓ'‡ÌËÂÏ, ÛÏÂ̯ËÚ ËÒÍ
Á‡‡ÊÂÌËfl.
ÖÒÎË Û '‡Ò ÂÒÚ¸ ͇ÍËÂ-ÎË·Ó ÒÓÏÌÂÌËfl ÔÓ ÔÓ'Ó‰Û ËÒÔÓθÁÓ'‡ÌËfl
˝ÚÓ"Ó ÔË·Ó‡, ÔÓʇÎÛÈÒÚ‡,
ÔÓÍÓÌÒÛθÚËÛÈÚÂÒ¸ ÒÓ Ò'ÓËÏ
Θ‡˘ËÏ '‡˜ÓÏ.
Ç ÒÎÂ‰Û˛˘Ëı ÒÎÛ˜‡flı ˝ÚÓÚ ÔË·Ó
‰ÓÎÊÂÌ ËÒÔÓθÁÓ'‡Ú¸Òfl ÚÓθÍÓ
ÔÓÒΠÔ‰'‡ËÚÂθÌÓÈ ÍÓÌÒÛθڇˆËË Ò Î˜‡˘ËÏ '‡˜ÓÏ:
– ˝ÍÁÂχ, ‡Ì˚, ‡͈Ëfl 'ÓÒÔ‡ÎÂÌÌÓÈ ÍÓÊË Í‡Í ÙÓÎËÍÛÎËÚËÒ
("ÌÓÈÌ˚Â ÙÓÎÎËÍÛÎ˚ 'ÓÎÓÒ) Ë
'‡ËÍÓÁÌÓ ‡Ò¯ËÂÌË 'ÂÌ;
– ¯‡ÓÓ·‡ÁÌ˚ Ó‰ËÌÍË;
– ÔÓÌËÊÂÌÌ˚È ËÏÏÛÌËÚÂÚ ÍÓÊË,
̇ÔËÏÂ, Ò‡ı‡Ì˚È ‰Ë‡·ÂÚ, 'Ó
'ÂÏfl ·ÂÂÏÂÌÌÓÒÚË, ·ÓÎÂÁ̸
ê˝ÈÌÓ‰‡;
– "ÂÏÓÙËÎËfl ËÎË ËÏÏÛÌÓ‰ÂÙˈËÚ.
çÂÍÓÚÓ˚ ÔÓÎÂÁÌ˚ ÒÓ'ÂÚ˚
èÓ'Ó‰ËÚ¸ ˝ÔËÎflˆË˛ ΄˜Â Ë
Û‰Ó·ÌÂÂ, ÍÓ"‰‡ ‰ÎË̇ 'ÓÎÓÒ 2-5
ÏÏ. ÖÒÎË 'ÓÎÓÒ˚ ‰ÎËÌÌ Ï˚
ÂÍÓÏẨÛÂÏ Ô‰'‡ËÚÂθÌÓ
ÔÓ‰ÂÁ‡Ú¸ Ëı ‰Ó ˝ÚÓÈ ‰ÎËÌ˚.
èÓ'Ó‰fl ˝ÔËÎflˆË˛ ' ÔÂ'˚È ‡Á,
‰Â·ÈÚ ˝ÚÓ '˜ÂÓÏ Ú‡Í, ˜ÚÓ·˚
β·Ó 'ÓÁÏÓÊÌÓ ÔÓÍ‡ÒÌÂÌËÂ
ÏÓ"ÎÓ ËÒ˜ÂÁÌÛÚ¸ Á‡ ÌÓ˜¸. ÑÎfl
‡ÒÒ··ÎÂÌËfl ÍÓÊË Ï˚ ÂÍÓÏẨÛÂÏ Ì‡ÌÂÒÚË Û'·ÊÌfl˛˘ËÈ ÍÂÏ
ÔÓÒΠ˝ÔËÎflˆËË.
íÓÌÍË 'ÓÎÓÒ˚, ÍÓÚÓ˚ 'ÌÓ'¸
'˚‡ÒÚ‡˛Ú, ÏÓ"ÛÚ Ì ÔÓ‡ÒÚË Ì‡
ÔÓ'ÂıÌÓÒÚ¸ ÍÓÊË. ê"ÛÎflÌÓÂ
ËÒÔÓθÁÓ'‡ÌË χÒÒ‡ÊÌ˚ı "Û·ÓÍ
(̇ÔËÏÂ, ÔÓÒΠ‰Û¯‡) ËÎË
ÔËÎËÌ" ÔÓÏÓ"‡ÂÚ Ô‰ÓÚ'‡ÚËÚ¸
'‡ÒÚ‡ÌË 'ÓÎÓÒ, Ú‡Í Í‡Í ÌÂÊ̇fl
˜ËÒÚ͇ Û‰‡ÎflÂÚ 'ÂıÌËÈ ÒÎÓÈ ÍÓÊË
Ë ÚÓÌÍËÂ 'ÓÎÓÒ˚ ÏÓ"ÛÚ ÔÓfl'ËÚ¸Òfl
̇ ÔÓ'ÂıÌÓÒÚË ÍÓÊË.
éÔËÒ‡ÌË (ÒÏ. ÒÚ. 4)
ÉÓÎӂ͇ ˝ÔËÎflÚÓ‡
äÌÓÔÍË '˚Ò'Ó·ÓʉÂÌËfl
èÂÂÍβ˜‡ÚÂθ
ÉÌÂÁ‰Ó ‰Îfl ÔÓ‰ÒÓ‰ËÌÂÌËfl
¯ÌÛ‡
5 òÌÛ
6 òÚÂÔÒÂθ̇fl 'ËÎ͇-Ú‡ÌÒÙÓχÚÓ (12 ÇÓθÚ)
1
2
3
4
ä‡Í ÔÓËÁ'Ó‰ËÚ¸ ˝ÔËÎflˆË˛
• LJ¯‡ ÍÓʇ ‰ÓÎÊ̇ ·˚Ú¸ ÒÛıÓÈ.
ç ̇ÌÓÒËÚ ̇ ÍÓÊÛ ÍÂÏ ËÎË
χÒÎflÌËÒÚ˚ '¢ÂÒÚ'‡ ÔÂ‰
ËÒÔÓθÁÓ'‡ÌËÂÏ ÔË·Ó‡.
• èÂ‰ ËÒÔÓθÁÓ'‡ÌËÂÏ Ú˘‡ÚÂθÌÓ ÔÓÚËÚ "ÓÎÓ'ÍÛ ˝ÔËÎflÚÓ‡ 1.
• ÇÒÚ‡'¸Ú ÒÓ‰ËÌËÚÂθÌ˚È ¯ÌÛ
5 ' ÓÁÂÚÍÛ 4, ‡ 'ËÎÍÛ Ú‡ÌÒÙÓχÚÓ‡ 6 ' ˝ÎÂÍÚÓÓÁÂÚÍÛ.
1. ÇÍβ˜ËÚ ÔË·Ó, Ô˂‰ËÚÂ
ÔÂÂÍβ˜‡ÚÂθ 3 ' ÔÓÎÓÊÂÌËÂ
«2» («2» = Ó·˚˜Ì‡fl ÒÍÓÓÒÚ¸,
«1» = ÛÏÂ̸¯ÂÌ̇fl ÒÍÓÓÒÚ¸).
37
5399396_SE2170_P6- Seite 38 Montag, 27. August 2007 3:44 15
2. èÓÚËÚ '‡¯Û ÍÓÊÛ Ú‡Í, ˜ÚÓ·˚
ÔÓ‰ÌflÚ¸ ÍÓÓÚÍË 'ÓÎÓÒ˚. ÑÎfl
‰ÓÒÚËÊÂÌËfl ÓÔÚËχθÌÓ"Ó
˝ÙÙÂÍÚ‡, ‰ÂÊËÚ ÔË·Ó ÔÓ‰
Ô‡'ËθÌ˚Ï Û"ÎÓÏ (90°) ÔÓ
ÓÚÌÓ¯ÂÌ˲ Í '‡¯ÂÈ ÍÓÊ Ë
'‰ËÚ ˝ÔËÎflÚÓ ·ÂÁ ̇ÔflÊÂÌËfl ' ̇Ô‡'ÎÂÌËË ÔÓÚË'
ÓÒÚ‡ 'ÓÎÓÒ, ' ̇Ô‡'ÎÂÌËË
ÔÂÂÍβ˜‡ÚÂÎfl.
3. ùÔËÎflˆËfl ÌÓ"
èÓËÁ'Ó‰ËÚ ˝ÔËÎflˆË˛ '‡¯Ëı
ÌÓ" ÔÓ Ì‡Ô‡'ÎÂÌ˲ ÒÌËÁÛ
''Âı. ÑÎfl ˝ÔËÎflˆËË ÔÓ‰ ÍÓÎÂÌÓÏ, '˚ÔflÏËÚ ÌÓ"Û.
4. ùÔËÎflˆËfl ÔÓ‰Ï˚¯Í‡ÏË Ë ÔÓ
ÎËÌËË ·ËÍËÌË
èӂ‰ËÚ ÚÂÒÚ˚ ÔÓ‰ ÍÓÌÚÓÎÂÏ
‰ÂχÚÓÎÓ"‡, ˜ÚÓ·˚ Û‰ÓÒÚÓ'ÂËÚ¸Òfl, ˜ÚÓ '˚ Ú‡ÍÊ ÏÓÊÂÚÂ
ÔÓ'Ó‰ËÚ¸ ˝ÔËÎflˆË˛ ÔÓ‰Ï˚¯Í‡ÏË Ë ÎËÌËË ·ËÍËÌË.
èÓʇÎÛÈÒÚ‡, ËÏÂÈÚ ' 'ˉÛ,
˜ÚÓ ˝ÚË Ó·Î‡ÒÚË ÓÒÓ·ÂÌÌÓ
˜Û'ÒÚ'ËÚÂθÌ˚ Í ·ÓÎË. èË
ÔÓ'ÚÓÌÓÏ ËÒÔÓθÁÓ'‡ÌËË
˜Û'ÒÚ'Ó ·ÓÎË ÛÏÂ̸¯ËÚÒfl.
èÂ‰ ˝ÔËÎflˆËÂÈ, Ú˘‡ÚÂθÌÓ
'˚ÏÓÈÚ ‰‡ÌÌ˚ ӷ·ÒÚË, ˜ÚÓ·˚
Û‰‡ÎËÚ¸ ÓÒÚ‡'¯ËÂÒfl '¢ÂÒÚ'‡
(‰ÂÁÓ‰Ó‡ÌÚ). á‡ÚÂÏ ‡ÍÍÛ‡ÚÌÓ
ÔÓÏÓÍÌËÚ ÔÓÎÓÚÂ̈ÂÏ. ÇÓ
'ÂÏfl ˝ÔËÎflˆËË ÔÓ‰Ï˚¯Í‡ÏË
‰ÂÊËÚ '‡¯Û ÛÍÛ ÔÓ‰ÌflÚÓÈ
''Âı Ë '‰ËÚ ˝ÔËÎflÚÓ '
ÔÓÚË'ÓÔÓÎÓÊÌÓÏ Ì‡Ô‡'ÎÂÌËË.
38
é˜ËÒÚ͇ "ÓÎÓ'ÓÍ ˝ÔËÎflÚÓ‡
5. èÓÒΠ˝ÔËÎflˆËË '˚Íβ˜ËÚÂ
˝ÔËÎflÚÓ ËÁ ÓÁÂÚÍË Ë ÔÓ˜ËÒÚËÚ ËÒÔÓθÁÓ'‡ÌÌÛ˛ "ÓÎÓ'ÍÛ
˝ÔËÎflÚÓ‡:
6 í˘‡ÚÂθÌÓ Ó˜ËÒÚËÚ ÔË̈ÂÚÌ˚È
˝ÎÂÏÂÌÚ ÔË ÔÓÏÓ˘Ë Ó˜Ë˘‡˛˘ÂÈ ˘ÂÚÓ˜ÍË, ‡ Ú‡ÍÊ ËÒÔÓθÁÛfl ÒÔËÚ. ÇÓ 'ÂÏfl Ó˜ËÒÚÍË, '˚
ÏÓÊÂÚ ÔÓ'Ó‡˜Ë'‡Ú¸ ÔË̈ÂÚÌ˚È ˝ÎÂÏÂÌÚ 'Û˜ÌÛ˛. ÑÎfl ÚÓ"Ó
˜ÚÓ·˚ '˚Ú‡˘ËÚ¸ "ÓÎÓ'ÍÛ ˝ÔËÎflÚÓ‡, ̇ÊÏËÚ ÍÌÓÔÍË '˚Ò'Ó·ÓʉÂÌËfl 2 Ò΂‡ Ë ÒÔ‡'‡ Ë
ÒÌËÏËÚÂ ÂÂ.
7 é˜ËÒÚËÚ Í˚¯ÍÛ ÍÓÔÛÒ‡
ÍËÒÚÓ˜ÍÓÈ. ìÒÚ‡ÌÓ'ËÚ "ÓÎÓ'ÍÛ
˝ÔËÎflÚÓ‡ ̇Á‡‰ ̇ ÍÓÔÛÒ.
Ç ËÁ‰ÂÎË ÏÓ"ÛÚ ·˚Ú¸ 'ÌÂÒÂÌ˚
ËÁÏÂÌÂÌËfl ·ÂÁ Ó·˙fl'ÎÂÌËfl.
До дл
соо с у с
бу оск
оссск с д босос гг.
Сдло Г ,
БУ Г б, Braun GmbH,
Waldstr. 9, 74731 Walldürn,
Germany
5399396_SE2170_P6- Seite 39 Montag, 27. August 2007 3:44 15
ìÍ‡ªÌҸ͇
èÓ‰Û͈¥fl ̇¯Óª ÍÓÏԇ̥ª
'¥‰ÔÓ'¥‰‡π ̇È'ˢ¥Ï Òڇ̉‡Ú‡Ï
flÍÓÒÚ¥, ÙÛÌ͈¥Ó̇θÌÓÒÚ¥, χπ
˜Û‰Ó'ËÈ ‰ËÁ‡ÈÌ. ëÔÓ‰¥'‡πÏÓÒfl,
Ç‡Ï ÒÔÓ‰Ó·‡πÚ¸Òfl ÍÓËÒÚÛ'‡ÚËÒfl
ÂÔ¥ÎflÚÓÓÏ Braun Silk·épil.
ÇËÍÓËÒÚÓ'Û'‡ÚË Á‡ ÔËÁ̇˜ÂÌÌflÏ,
'¥‰ÔÓ'¥‰ÌÓ ‰Ó ¥ÌÒÚÛ͈¥ª Á ÂÍÒÔÎÛ‡Ú‡ˆ¥ª.
èËÒÚ¥È Braun Silk·épil EverSoft
ÒÚ'ÓÂÌËÈ ‰Îfl ·¥Î¸¯ ÂÙÂÍÚË'ÌÓ"Ó,
΄ÍÓ"Ó Ú‡ Ì¥ÊÌÓ"Ó 'ˉ‡ÎÂÌÌfl
Ì·‡Ê‡ÌÓ"Ó 'ÓÎÓÒÒfl. âÓ"Ó ÔÓ‰Ûχ̇ ÒËÒÚÂχ ÂÔ¥Îflˆ¥ª 'ˉ‡Îflπ
'ÓÎÓÒÒfl Á ÍÓÂÌÂÏ, Á‡Î˯‡˛˜Ë
¯Í¥Û "·‰Â̸ÍÓ˛ ̇ ͥθ͇
ÚËÊÌ¥'.
ÉÓÎӂ͇ ÂÔ¥ÎflÚÓ‡ 1, ˘Ó '¥‰ÔÓ'¥‰‡π
Òڇ̉‡Ú‡Ï 'ËÒÓÍÓª ÚÓ˜ÌÓÒÚ¥, Á¥
Ò'ÓªÏ Û̥͇θÌËÏ ÓÁÚ‡¯Û'‡ÌÌflÏ
ԥ̈ÂÚ¥', Á‡·ÂÁÔ˜Ûπ ÂÙÂÍÚË'ÌÛ
ÂÔ¥Îflˆ¥˛ Ú‡ 'ˉ‡Îflπ ̇'¥Ú¸
'ÓÎÓÒËÌÍË ‰Ó'ÊËÌÓ˛ 0,5 ÏÏ.
LJÊÎË'Ó:
• á Ï¥ÍÛ'‡Ì¸ "¥"¥πÌË Ì ÒÎ¥‰
‰‡'‡ÚË ˆÂÈ ÔËÒÚ¥È ¥Ì¯ËÏ
β‰flÏ.
• ñËÏ ÔË·‰ÓÏ Ì ÏÓÊ̇
ÍÓËÒÚÛ'‡ÚËÒfl ÔÓ·ÎËÁÛ 'Ó‰Ë
(̇ÔËÍ·‰, ̇ÔÓ'ÌÂÌÓª '‡ÌÌË,
‡ÍÓ'ËÌË ‡·Ó ‰Û¯Û).
• ñÂÈ ÔË·‰ Ì ÔËÁ̇˜ÂÌËÈ ‰Îfl
'ËÍÓËÒÚ‡ÌÌfl ‰¥Ú¸ÏË ˜Ë β‰¸ÏË
Á Ó·ÏÂÊÂÌËÏË Ù¥Á˘ÌËÏË ‡·Ó
ÓÁÛÏÓ'ËÏË Á‰¥·ÌÓÒÚflÏË ·ÂÁ
̇"Îfl‰Û β‰ËÌË, ˘Ó '¥‰ÔÓ'¥‰‡π
Á‡ ªı ·ÂÁÔÂÍÛ. ᇄ‡ÎÓÏ, ÂÍÓÏẨӂ‡ÌÓ Á·Â¥"‡ÚË ÔË·‰
ÔÓ‰‡Î¥ '¥‰ ‰¥ÚÂÈ.
• 襉 ˜‡Ò Ó·ÓÚË ÔËÒÚ¥È ÌÂ
ÔÓ'ËÌÂÌ ÍÓÌÚ‡ÍÚÛ'‡ÚË Á 'ÓÎÓÒ-
ÒflÏ Ì‡ LJ¯¥È "ÓÎÓ'¥, ·Ó'‡ÏË,
ÒÚ¥˜Í‡ÏË ¥ Ú.¥. ˜ÂÂÁ ÏÓÊÎË'¥ÒÚ¸
Ú‡'ÏË, ‡ Ú‡ÍÓÊ ‰Îfl Á‡ÔÓ·¥"‡ÌÌfl
·ÎÓÍÛ'‡ÌÌfl ‡·Ó Û¯ÍÓ‰ÊÂÌÌfl
ÔËÒÚÓ˛.
• èÂ‰ 'ËÍÓËÒÚ‡ÌÌflÏ
ÔÂ'¥ÚÂ, ˜Ë '¥‰ÔÓ'¥‰‡π
ÂÎÂÍÚ˘̇ ̇ÔÛ"‡ Û Ç‡¯¥È
ÏÂÂÊ¥ Á̇˜ÂÌÌ˛ ̇ÔÛ"Ë,
'͇Á‡ÌÓÏÛ Ì‡ Ú‡ÌÒÙÓχÚÓ¥.
á‡'Ê‰Ë 'ËÍÓËÒÚÓ'ÛÈÚ ÚÛ
ÓÁÂÚÍÛ-Ú‡ÌÒÙÓχÚÓ, fl͇
'ËÁ̇˜Â̇ ‰Îfl ˆ¥πª Í‡ªÌË (12Ç)
Ú‡ ÔÓÒÚ‡'ÎflπÚ¸Òfl ‡ÁÓÏ Á
'ËÓ·ÓÏ.
ᇄ‡Î¸Ì‡ ¥ÌÙÓχˆ¥fl ˘Ó‰Ó
ÂÔ¥Îflˆ¥ª
Silk·épil ÓÁÓ·ÎÂÌÓ ‰Îfl 'ˉ‡ÎÂÌÌfl
'ÓÎÓÒÒfl ̇ ÌÓ"‡ı, ‡Î ÈÓ"Ó ÏÓÊ̇
Ú‡ÍÓÊ 'ËÍÓËÒÚÓ'Û'‡ÚË ‰Îfl
'ˉ‡ÎÂÌÌfl 'ÓÎÓÒÒfl ̇ 'Ò¥ı
˜ÛÚÎË'Ëı ˜‡ÒÚË̇ı ڥ·, Ô¥‰
Ô‡ı'‡ÏË Ú‡ ' ӷ·ÒÚ¥ ·¥Í¥Ì¥.
ÇÒ¥ ÏÂÚÓ‰Ë 'ˉ‡ÎÂÌÌfl 'ÓÎÓÒÒfl
Á ÍÓÂÌÂÏ ÏÓÊÛÚ¸ ÔËÁ'ÂÒÚË ‰Ó
'ÓÒÚ‡ÌÌfl 'ÓÎÓÒ‡ Ô¥‰ ¯Í¥Û Ú‡
ÔÓ‰‡ÁÌÂÌÌfl (̇ÔËÍ·‰, Ò'Â·¥ÌÌfl
‰ËÒÍÓÏÙÓÚ ‡·Ó ÔÓ˜Â'ÓÌ¥ÌÌfl
¯Í¥Ë), Á‡ÎÂÊÌÓ '¥‰ ÒÚ‡ÌÛ ¯Í¥Ë Ú‡
'ÓÎÓÒÒfl. ñ ÌÓχθ̇ ‡͈¥fl,
fl͇ ÔÓ'ËÌ̇ ¯'ˉÍÓ ÏËÌÛÚË, ‡ÎÂ
'Ó̇ ÏÓÊ ·ÛÚË ¥ ·¥Î¸¯ ÒËθÌÓ˛,
fl͢Ó
ÇË 'ˉ‡ÎflπÚ 'ÓÎÓÒÒfl ÔÂ¯¥ ͥθ͇
‡Á¥', ‡·Ó flÍ˘Ó Û Ç‡Ò ˜ÛÚÎË'‡
¯Í¥‡.
üÍ˘Ó ˜ÂÂÁ 36 "Ó‰ËÌ ¯Í¥‡ 'Ò ˘Â
Á‡Î˯‡πÚ¸Òfl ÔÓ‰‡ÁÌÂÌÓ˛, ÏË
ÂÍÓÏẨÛπÏÓ Ç‡Ï Á'ÂÌÛÚËÒfl ‰Ó
Υ͇fl.
39
5399396_SE2170_P6- Seite 40 Montag, 27. August 2007 3:44 15
Ⴂ‡ÈÌÓ ¯Í¥̇ ‡͈¥fl
ÁÌËÊÛπÚ¸Òfl, ‡ ·Óθӂ¥ '¥‰˜ÛÚÚfl
Á̇˜ÌÓ ÁÏÂÌ¯Û˛Ú¸Òfl Ô¥‰ ˜‡Ò
ÔÓ'ÚÓÌÓ"Ó 'ËÍÓËÒÚ‡ÌÌfl Silk·épil.
ì ‰ÂflÍËı 'ËÔ‡‰Í‡ı ÏÓÊÂ
'ËÌËÍÌÛÚË Á‡Ô‡ÎÂÌÌfl ' ÂÁÛθڇڥ
ÔÓÌËÍÌÂÌÌfl ·‡ÍÚÂ¥È Û ¯Í¥Û,
̇ÔËÍ·‰, ÔË ÍÓ'Á‡ÌÌ¥ ÂÔ¥ÎflÚÓ‡
ÔÓ ¯Í¥¥. êÂÚÂθÌÂ Ó˜Ë˘ÂÌÌfl
ÂÔ¥ÎflÚÓ‡ ÔÂ‰ ÍÓÊÌËÏ
'ËÍÓËÒÚ‡ÌÌflÏ ÁÏÂ̯ËÚ¸ ËÁËÍ
Á‡‡ÊÂÌÌfl.
üÍ˘Ó Û Ç‡Ò π ·Û‰¸-flÍ¥ ÒÛÏÌ¥'Ë ˘Ó‰Ó
'ËÍÓËÒÚ‡ÌÌfl ˆ¸Ó"Ó ÔËÒÚÓ˛, ·Û‰¸
·Ò͇, ÔÓÍÓÌÒÛθÚÛÈÚÂÒfl ¥Á Ò'ÓªÏ
Υ͇ÂÏ. ñËÏ ÔËÒÚÓπÏ ÏÓÊ̇
ÍÓËÒÚÛ'‡ÚËÒfl Î˯ ԥÒÎfl
ÔÓÔÂ‰̸Ӫ ÍÓÌÒÛθڇˆ¥ª Á
Υ͇ÂÏ Û Ú‡ÍËı 'ËÔ‡‰Í‡ı:
– ÂÍÁÂχ, ‡ÌË, ‡͈¥fl
ÔÓ‰‡ÁÌÂÌÓª ¯Í¥Ë, Û 'Ë"Îfl‰¥
ÙÓÎ¥ÍÛÎ¥ÚÛ ("Ì¥ÈÌ¥ Á‡Ô‡ÎÂÌÌfl
ÙÓÎ¥ÍÛÎ 'ÓÎÓÒËÌ), Ú‡ '‡ËÍÓÁÌÂ
ÓÁ¯ËÂÌÌfl 'ÂÌ;
– ÍÛθӂˉ̥ Ó‰ËÏÍË;
– ÁÌËÊÂÌËÈ ¥ÏÛÌ¥ÚÂÚ ¯Í¥Ë, ̇ÔËÍ·‰, ÔË ˆÛÍÓ'ÓÏÛ ‰¥‡·ÂÚ¥, Ô¥‰
˜‡Ò '‡"¥ÚÌÓÒÚ¥, ı'ÓÓ·¥ êÂÈÌÓ‰‡;
– "ÂÏÓ٥Υfl, ‡·Ó ¥ÏÛÌÓ‰ÂÙ¥ˆËÚ.
ÑÂflÍ¥ ÍÓËÒÌ¥ ÔÓ‡‰Ë
êÓ·ËÚË ÂÔ¥Îflˆ¥˛ ΄¯Â Ú‡
Á̥ۘ¯Â, flÍ˘Ó 'ÓÎÓÒÍË Ï‡˛Ú¸
‰Ó'ÊËÌÛ – 2–5 ÏÏ. üÍ˘Ó ‰Ó'ÊË̇
'ÓÎÓÒÍ¥' ÔÂ'ˢÛπ '͇Á‡ÌÛ, ÏË
‡‰ËÏÓ ÒÔÓ˜‡ÚÍÛ Ô¥‰¥Á‡ÚË ªı ‰Ó
ˆ¥πª ‰Ó'ÊËÌË.
äÓÎË Ó·ËÚ ÂÔ¥Îflˆ¥˛ ÔÂ¯ËÈ ‡Á,
Ó·¥Ú¸ ˆÂ ۂ˜Â¥, Ú‡Í ˘Ó· ·Û‰¸flÍ ÏÓÊÎË' ÔÓ˜Â'ÓÌ¥ÌÌfl ÏÓ"ÎÓ
ÁÌËÍÌÛÚË Á‡ Ì¥˜. ÑÎfl ÓÁÒ··ÎÂÌÌfl
¯Í¥Ë ÏË ÂÍÓÏẨÛπÏÓ Ì‡ÌÂÒÚË
Á'ÓÎÓÊÛ˛˜ËÈ ÍÂÏ Ô¥ÒÎfl ÂÔ¥Îflˆ¥ª.
40
íÓÌÍ¥ 'ÓÎÓÒËÌÍË, flÍ¥ ÁÌÓ'Û
'¥‰ÓÒÚÛÚ¸, ÏÓÊÛÚ¸ Ì ÔÓÓÒÚË
̇ ÔÓ'ÂıÌ˛ ¯Í¥Ë. ê"ÛÎflÌÂ
'ËÍÓËÒÚ‡ÌÌfl χ҇ÊÌËı "Û·ÓÍ
(̇ÔËÍ·‰, Ô¥ÒÎfl ‰Û¯Û) ‡·Ó
ԥῩ ‰ÓÔÓχ"‡˛Ú¸ ÔÓÔÂ‰ËÚË
'ÓÒÚ‡ÌÌfl 'ÓÎÓÒÒfl, ÓÒͥθÍË Ì¥Ê̇
˜ËÒÚ͇ 'ˉ‡Îflπ 'ÂıÌ¥È ¯‡ ¯Í¥Ë
Ú‡ ÚÓÌÍ¥ 'ÓÎÓÒËÌÍË ÏÓÊÛÚ¸ 'ËÈÚË Ì‡
ÔÓ'ÂıÌ˛ ¯Í¥Ë.
éÔËÒ (‰Ë'. ÒÚÓ. 4)
1
2
3
4
5
6
ÉÓÎӂ͇ ÂÔ¥ÎflÚÓ‡
äÌÓÔÍË ÓÁÏË͇ÌÌfl
èÂÂÏË͇˜
ÉÌ¥Á‰Ó ‰Îfl Ô¥‰Íβ˜ÂÌÌfl ¯ÌÛ‡
òÌÛ
òÚÂÔÒÂθ̇ 'ËÎ͇Ú‡ÌÒÙÓχÚÓ (12 Ç)
üÍ Ó·ËÚË ÂÔ¥Îflˆ¥˛
• LJ¯‡ ¯Í¥‡ ÔÓ'ËÌ̇ ·ÛÚË ÒÛıÓ˛.
ç ̇ÌÓÒ¸Ú ̇ ¯Í¥Û ÍÂÏ ‡·Ó
χÒÎflÌËÒÚ¥ ˜ӂËÌË ÔÂ‰
'ËÍÓËÒÚ‡ÌÌflÏ ÔËÒÚÓ˛.
• èÂ‰ 'ËÍÓËÒÚ‡ÌÌflÏ ÂÚÂθÌÓ
ÔÓ˜ËÒÚ¥Ú¸ "ÓÎÓ'ÍÛ ÂÔ¥ÎflÚÓ‡ 1.
• ÇÒÚ‡'Ú Á'π‰ÌÛ'‡Î¸ÌËÈ ¯ÌÛ 5
Û ÓÁÂÚÍÛ 4, ‡ 'ËÎÍÛ Ú‡ÌÒÙÓχÚÓ‡ 6 ' ÂÎÂÍÚ˘ÌÛ ÓÁÂÚÍÛ.
1. ì'¥ÏÍÌ¥Ú¸ ÔËÒÚ¥È, ÔÂÂÒÛ̸ÚÂ
ÔÂÂÏË͇˜ 3 Û ÔÓÎÓÊÂÌÌfl «2»
(«2» – ÌÓχθ̇ ¯'ˉͥÒÚ¸,
«1» – ÁÏÂ̯Â̇ ¯'ˉͥÒÚ¸).
2. èÓÚ¥Ú¸ ¯Í¥Û, ˘Ó· Ô¥‰ÌflÚË
ÍÓÓÚÍ¥ 'ÓÎÓÒËÌÍË. ÑÎfl ‰ÓÒfl"ÌÂÌÌfl ÓÔÚËχθÌÓ"Ó ÂÁÛθڇÚÛ
ÚËχÈÚ ÔËÒÚ¥È Ô¥‰ ÔflÏËÏ
ÍÛÚÓÏ (90°) ‰Ó LJ¯Óª ¯Í¥Ë Ú‡
'‰¥Ú¸ ÂÔ¥ÎflÚÓ ·ÂÁ ̇ÔÛÊÂÌÌfl
Û Ì‡ÔflÏÍÛ ÔÓÚË ÓÒÚÛ 'ÓÎÓÒÒfl,
' ̇ÔflÏÍÛ ÔÂÂÏË͇˜‡.
5399396_SE2170_P6- Seite 41 Montag, 27. August 2007 3:44 15
3. ÖÔ¥Îflˆ¥fl Ì¥"
êÓ·¥Ú¸ ÂÔ¥Îflˆ¥˛ LJ¯Ëı Ì¥" Û
̇ÔflÏÍÛ ÁÌËÁÛ '"ÓÛ. ÑÎfl
ÂÔ¥Îflˆ¥ª Ô¥‰ ÍÓÎ¥ÌÓÏ, ÓÁÔflÏ¥Ú¸
ÌÓ"Û.
4. ÖÔ¥Îflˆ¥fl Ô¥‰ Ô‡ı'‡ÏË Ú‡ '
ӷ·ÒÚ¥ ·¥Í¥Ì¥
èӂ‰¥Ú¸ ÚÂÒÚË Ô¥‰ ÍÓÌÚÓÎÂÏ
‰ÂχÚÓÎÓ"‡, ˘Ó· ÔÂÂÍÓ̇ÚËÒfl, ˘Ó ÇË Ú‡ÍÓÊ ÏÓÊÂÚ Ó·ËÚË ÂÔ¥Îflˆ¥˛ Ô¥‰ Ô‡ı'‡ÏË Ú‡ '
ӷ·ÒÚ¥ ·¥Í¥Ì¥. ÅÛ‰¸ ·Ò͇, χÈÚÂ
̇ Û'‡Á¥, ˘Ó ˆ¥ ӷ·ÒÚ¥ ‰ÛÊÂ
˜ÛÚÎË'¥ ‰Ó ·Óβ. 襉 ˜‡Ò ÔÓ'ÚÓÌËı Ôӈ‰Û ·Óθӂ¥ '¥‰˜ÛÚÚfl
ÁÏÂ̯‡Ú¸Òfl.
èÂ‰ ÂÔ¥Îflˆ¥π˛, ÂÚÂθÌÓ
'ËÏËÈÚ ˆ¥ ˜‡ÒÚËÌË Ú¥Î‡, ˘Ó·
'ˉ‡ÎËÚË 'Ò¥ ˜ӂËÌË, ˘Ó
Á‡Î˯ËÎËÒfl (‰ÂÁÓ‰Ó‡ÌÚ).
èÓÚ¥Ï ‡ÍÛ‡ÚÌÓ ÔÓÏÓÍÌ¥Ú¸
¯Í¥Û Û¯ÌËÍÓÏ. 襉 ˜‡Ò ÂÔ¥Îflˆ¥ª
Ô¥‰ Ô‡ı'‡ÏË, ÚËχÈÚ ÛÍÛ
'ËÚfl"ÌÛÚÓ˛ '"ÓÛ Ú‡ '‰¥Ú¸
ÂÔ¥ÎflÚÓ Û ÔÓÚËÎÂÊÌÓÏÛ
̇ÔflÏÍÛ.
é˜ËÒÚ͇ "ÓÎÓ'ÍË ÂÔ¥ÎflÚÓ‡
ᇄ‡Î¸Ì¥ ÛÏÓ'Ë Á·Â¥"‡ÌÌfl
ÇËÓ·Ë Ù¥ÏË Braun ÂÍÓÏẨӂ‡ÌÓ Á·Â¥"‡ÚË Û ÊËÚÎÓ'ÓÏÛ ÔËÏ¥˘ÂÌÌ¥ Á‡ ÛÏÓ' Í¥Ï̇ÚÌÓª ÚÂÏÔÂ‡ÚÛË Ú‡ ÌÓχθÌÓª 'ÓÎÓ"ÓÒÚ¥.
ÇËÓ·ÌËÍ Á‡Î˯‡π Á‡ ÒÓ·Ó˛
Ô‡'Ó Ì‡ 'ÌÂÒÂÌÌfl ÁÏ¥Ì ·ÂÁ
ÔÓÔÂ‰̸Ó"Ó ÔÓ'¥‰ÓÏÎÂÌÌfl.
чÌËÈ 'Ë¥· '¥‰ÔÓ'¥‰‡π 'Ò¥Ï
ÌÂÓ·ı¥‰ÌËÏ π'ÓÔÂÈÒ¸ÍËÏ ¥
ÛÍ‡ªÌÒ¸ÍËÏ Òڇ̉‡Ú‡Ï ·ÂÁÔÂÍË
Ú‡ "¥"¥πÌË, Û ÚÓÏÛ ˜ËÒÎ¥ - 'ËÏÓ"‡Ï
Ñëíì 3135.2-2000 (Ééëí
30345.2-2000, ßÖë 335-2-8-92),
Ééëí 23511-79 .1. Ú‡ ̥҇ڇÌËÏ
ÌÓÏ‡Ï ë‡Ìè¥ç 001-96,
Ñëç 239-96
ÇË¥· Ì ϥÒÚËÚ¸ ¯Í¥‰ÎË'Ëı ‰Îfl
Á‰ÓÓ''fl ˜ӂËÌ
íÓ'‡ ëÂÚËÙ¥ÍÓ'‡ÌÓ
5. è¥ÒÎfl ÂÔ¥Îflˆ¥ª 'ËÏÍÌ¥Ú¸ ÔËÒÚ¥È
Á ÓÁÂÚÍË Ú‡ Ó˜ËÒÚ¥Ú¸ "ÓÎÓ'ÍÛ,
flÍÓ˛ ÇË ÍÓËÒÚÛ'‡ÎËÒfl:
6. êÂÚÂθÌÓ Ó˜ËÒÚ¥Ú¸ ԥ̈ÂÚË
Á‡ ‰ÓÔÓÏÓ"Ó˛ ˘¥ÚÓ˜ÍË ‰Îfl
˜Ë˘ÂÌÌfl Ú‡ ÒÔËÚÛ. 襉 ˜‡Ò
˜Ë˘ÂÌÌfl ÇË ÏÓÊÂÚ ÔÓ'ÂÚ‡ÚË
ԥ̈ÂÚË 'Û˜ÌÛ. ÑÎfl ÚÓ"Ó, ˘Ó·
‰¥ÒÚ‡ÚË "ÓÎÓ'ÍÛ ÂÔ¥ÎflÚÓ‡,
̇ÚËÒÌ¥Ú¸ ÍÌÓÔÍË ÓÁÏË͇ÌÌfl 2
ÁÎ¥'‡ Ú‡ ÒÔ‡'‡ Ú‡ Ḁ́ϥڸ ªª.
7. é˜ËÒÚ¥Ú¸ Í˯ÍÛ ÍÓÔÛÒ‡
ÔÂÌÁÎËÍÓÏ. ÇÒÚ‡ÌÓ'¥Ú¸ "ÓÎÓ'ÍÛ
ÂÔ¥ÎflÚÓ‡ ̇Á‡‰ ̇ ÍÓÔÛÒ.
чڇ 'ËÓ·Ìˈڂ‡ ÔÓ‰Û͈¥ª Braun
'͇Á‡Ì‡ ·ÂÁÔÓÒÂÂ‰Ì¸Ó Ì‡ 'ËÓ·¥
(' Ï¥Òˆ¥ χÍÛ'‡ÌÌfl) ¥ ÒÍ·‰‡πÚ¸Òfl
Á Ú¸Óı ˆËÙ: ÔÂ¯‡ ˆËÙ‡ π
ÓÒÚ‡ÌÌ¸Ó˛ ˆËÙÓ˛ ÓÍÛ 'ËÓ·Ìˈڂ‡, ¥Ì¯¥ ‰'¥ ˆËÙË π ÔÓfl‰ÍÓ'ËÏ ÌÓÏÂÓÏ ÚËÊÌfl Û Óˆ¥ ä‡ªÌ‡
'ËÓ·Ìˈڂ‡:
BRAUN GmbH, Waldstrasse
D-74731 Walldurn, Germany
«Å‡ÛÌ ÉÏ·É» LJθ‰¯Ú‡ÒÒÂ,
Ñ-74731, LJÎθ‰ÛÌ, ç¥Ï˜˜Ë̇
41
5399396_SE2170_P6- Seite 42 Montag, 27. August 2007 3:44 15
Å˙΄‡ÒÍË
燯ËÚ ÔÓ‰ÛÍÚË Ò‡ Ò˙Á‰‡‰ÂÌË
' Ò˙ÓÚ'ÂÚÒÚ'ËÂ Ò Ì‡È-'ËÒÓÍËÚÂ
Òڇ̉‡ÚË Á‡ ͇˜ÂÒÚ'Ó, ÙÛÌ͈ËÓ̇ÎÌÓÒÚ Ë ‰ËÁ‡ÈÌ. 燉fl'‡Ï ÒÂ, ˜Â
ÌÓ'ËflÚ ÌË Braun Silk·épil EverSoft
˘Â ÓÚ"Ó'ÓË Ì‡ 'Ò˘ÍËÚ 'Ë
ËÁËÒÍ'‡ÌËfl.
Ç Ú‡ÁË ËÌÒÚÛ͈Ëfl ËÒ͇Ï ‰‡ 'Ë
Á‡ÔÓÁ̇ÂÏ Ò Û‰‡ Ë ‰‡ 'Ë ‰‡‰ÂÏ
ÔÓÎÂÁ̇ ËÌÙÓχˆËfl Á‡ ÂÔË·ˆËflÚ‡. åÓÎfl, ÔÓ˜ÂÚÂÚ 'ÌËχÚÂÎÌÓ 'Ò˘ÍË ËÌÒÚÛ͈ËË ÔÂ‰Ë ‰‡
ËÁÔÓÎÁ'‡Ú Û‰‡.
Braun Silk·épil EverSoft Â
Ô‰̇Á̇˜ÂÌ Á‡ ÓÚÒÚ‡Ìfl'‡ÌÂ
̇ ÌÂÊ·ÌË ÍÓÒÏË, ÍÓÎÍÓÚÓ Â
'˙ÁÏÓÊÌÓ ÔÓ-ÂÙË͇ÒÌÓ, ÌÂÊÌÓ Ë
ÎÂÒÌÓ. ç"ӂ‡Ú‡ ‰Ó͇Á‡Ì‡ ÒËÒÚÂχ
Á‡ ÂÔË·ˆËfl ÓÚÒÚ‡Ìfl'‡ ÍÓÒÏËÚ Ò
ÍÓÂ̇, ͇ÚÓ ÍÓʇڇ ÓÒÚ‡'‡ "·‰Í‡
' ÔÓ‰˙ÎÊÂÌË ̇ Ò‰ÏˈË. í˙È
͇ÚÓ ÍÓÒÏËÚÂ, ÍÓËÚÓ ËÁ‡ÒÚ'‡Ú
ÓÚÌÓ'Ó Ò‡ ÙËÌË Ë ÌÂÊÌË, Ìflχ ‰‡
'Ë ËÁ‡ÒÚ'‡Ú Ôӂ˜ "Û·Ë ÍÓÒÏË.
É·'‡Ú‡ Á‡ ÂÔË·ˆËfl 1 'Íβ˜'‡
40 ÛÌË͇ÎÌÓ ÔÓ‰‰ÂÌË ÔËÌÒÂÚË,
͇ÚÓ ËÁÔÓÎÁ'‡ÌËflÚ ÔË ÔÓ‰Âʉ‡ÌÂÚÓ ËÏ "ÂÓÏÂÚ˘ÂÌ ÏÂÚÓ‰
ÓÒË"Ûfl'‡ ÂÙË͇Ò̇ ÂÔË·ˆËfl Ë
ÓÚÒÚ‡Ìfl'‡ ÓÚ ÍÓÂÌ ‰ÓË Ë Í˙ÒËÚÂ
ÍÓÒÏË (0.5 ÏÏ).
ÇÌËχÌËÂ
• èÓ‡‰Ë ıË"ËÂÌÌË Ò˙Ó·‡ÊÂÌËfl,
Ì ÔÓÁ'ÓÎfl'‡ÈÚ ‰Û"Ë Îˈ‡ ‰‡
ÔÓÎÁ'‡Ú Û‰‡.
• ç ÏÓÍÂÚ Û‰‡.
• íÓÁË Û‰ Ì  Ô‰̇Á̇˜ÂÌ Á‡
ÔÓÎÁ'‡Ì ÓÚ ‰Âˆ‡ ËÎË Îˈ‡ Ò
̇χÎÂÌË ÙËÁ˘ÂÒÍË ËÎË ÛÏÒÚ42
'ÂÌË ÒÔÓÒÓ·ÌÓÒÚË, ÓÒ'ÂÌ ‡ÍÓ
Ì ҇ ÔÓ‰ ̇·Î˛‰ÂÌË ̇ ÎˈÂ,
ÓÚ"Ó'‡fl˘Ó Á‡ Úflı̇ڇ ·ÂÁÓÔ‡ÒÌÓÒÚ. ч Ò ԇÁË ÓÚ ‰ÓÒÚ˙Ô Ì‡
‰Âˆ‡.
• äÓ"‡ÚÓ Â 'Íβ˜ÂÌ, Û‰˙Ú ÌÂ
Úfl·'‡ ‰‡ 'ÎËÁ‡ ' Ò˙ÔËÍÓÒÌÓ'ÂÌËÂ Ò ÍÓÒ‡Ú‡, ÏË"ÎËÚÂ, ԇ̉ÂÎÍË Ë. Ú. Ì., Á‡ ‰‡ Ò ËÁ·Â"ÌÂ
ÓÔ‡ÒÌÓÒÚÚ‡ ÓÚ Ì‡‡Ìfl'‡ÌÂ,
͇ÍÚÓ Ë Á‡ ‰‡ Ò Ô‰ÓÚ'‡ÚË
·ÎÓÍË‡ÌÂÚÓ ËÎË ÔÓ'Âʉ‡ÌÂÚÓ
̇ Û‰‡.
• èÂ‰Ë ÛÔÓÚ·‡, ÔÓ'ÂÂÚÂ
‰‡ÎË Ì‡ÔÂÊÂÌËÂÚÓ, ÍÓÂÚÓ ˘Â
ËÁÔÓÎÁ'‡Ú ÓÚ"Ó'‡fl ̇ ̇ÔÂÊÂÌËÂÚÓ, ÓÚ·ÂÎflÁ‡ÌÓ Ì‡
Ú‡ÌÒÙÓχÚÓ‡. ÇË̇"Ë
ËÁÔÓÎÁ'‡ÈÚ 12-'ÓÎÚÓ'ËflÚ
Ú‡ÌÒÙÓχÚÓ, ‰ÓÒÚ‡'ÂÌ
Á‡Â‰ÌÓ Ò ÔÓ‰ÛÍÚ‡.
é·˘‡ ËÌÙÓχˆËfl Á‡
ÂÔË·ˆËflÚ‡
ÇÒ˘ÍË ÏÂÚÓ‰Ë Á‡ ÓÚÒÚ‡Ìfl'‡ÌÂ
̇ ÍÓÒÏËÚÂ Ò ÍÓÂ̇ ÏÓ"‡Ú ‰‡
‰Ó'‰‡Ú ‰Ó ÔÓfl'‡Ú‡ ̇ ÍÓÒÏË,
ÍÓËÚÓ ‡ÒÚ‡Ú Ì‡'˙ÚÂ Ë ‰‡ÁÌÂÌÂ
(̇ÔËÏÂ Ò˙·ÂÊ, ‰ËÒÍÓÏÙÓÚ Ë
Á‡˜Â'fl'‡Ì ̇ ÍÓʇڇ) ' Á‡'ËÒËÏÓÒÚ ÓÚ Ò˙ÒÚÓflÌËÂÚÓ Ì‡ ÍÓʇڇ Ë
ÍÓÒÏËÚÂ.
íÓ'‡  ÌÓχÎ̇ ‡͈Ëfl Ë ·Ë
ÒΉ'‡ÎÓ ·˙ÁÓ ‰‡ ËÁ˜ÂÁÌÂ, ÌÓ
ÏÓÊ ‰‡ Ò ÔÓfl'Ë ÔÓ-ËÁ‡ÁÂÌÓ,
‡ÍÓ ÓÚÒÚ‡Ìfl'‡Ú ÍÓÒÏË Ò ÍÓÂÌËÚ Ô˙'ËÚ ÌflÍÓÎÍÓ Ô˙ÚË ËÎË
‡ÍÓ ËχÚ ˜Û'ÒÚ'ËÚÂÎ̇ ÍÓʇ.
ÄÍÓ ÒΉ 36 ˜‡Ò‡ ÍÓʇڇ 'Ë 'ÒÂ
Ӣ  '˙ÁÔ‡ÎÂ̇, ÔÂÔÓ˙˜'‡ÏÂ
'Ë ‰‡ Ò ӷ˙ÌÂÚ Í˙Ï ÎÂ͇.
5399396_SE2170_P6- Seite 43 Montag, 27. August 2007 3:44 15
é·ËÍÌÓ'ÂÌÓ, ‡͈ËflÚ‡ ̇ ÍÓʇڇ
Ë ˜Û'ÒÚ'ÓÚÓ Á‡ ·ÓÎ͇ ̇χÎfl'‡Ú
Á̇˜ËÚÂÎÌÓ Ò ÔÓ‰˙ÎÊËÚÂÎÌÓÚÓ
ËÁÔÓÎÁ'‡Ì ̇ Silk·épil.
Ç ÌflÍÓË ÒÎÛ˜‡Ë ÏÓÊ ‰‡ Ò ÔÓfl'Ë
'˙ÁÔ‡ÎÂÌË ̇ ÍÓʇڇ, ÍÓ"‡ÚÓ '
ÌÂfl ÔÓÌËÍÌ‡Ú ·‡ÍÚÂËË (̇ÔËÏÂ
ÔË ÔÎ˙Á"‡ÌÂÚÓ Ì‡ Û‰‡ ÔÓ
ÍÓʇڇ). óÂÁ ÔÓ˜ËÒÚ'‡Ì ̇
ÂÔËÎË‡˘‡Ú‡ "·'‡ ÔÂ‰Ë 'ÒflÍÓ
ËÁÔÓÎÁ'‡Ì ÏÓÊÂÚ ‰‡ ̇χÎËÚÂ
‰Ó ÏËÌËÏÛÏ ËÒ͇ ÓÚ ËÌÙÂ͈Ëfl.
ÄÍÓ ËχÚ Ò˙ÏÌÂÌËfl ‰‡ÎË ‰‡
ËÁÔÓÎÁ'‡Ú Û‰‡, ÏÓÎfl, Ó·˙ÌÂÚÂ
Ò Í˙Ï '‡¯Ëfl ÎÂ͇.
Ç ÒÎÛ˜‡ËÚÂ, ÔÓÒÓ˜ÂÌË ÔÓ-‰ÓÎÛ,
Û‰˙Ú Úfl·'‡ ‰‡ Ò ËÁÔÓÎÁ'‡
Ò‡ÏÓ ÒΉ ÍÓÌÒÛÎÚ‡ˆËfl Ò ÎÂ͇.
– ÖÍÁÂχ, ‡ÌË, ‡͈ËË Ì‡
'˙ÁÔ‡ÎÂÌËfl ̇ ÍÓʇڇ, ͇ÚÓ
ÙÓÎËÍÛÎËÚ ("ÌÓÈÌË ÙÓÎËÍÛÎË Ì‡
ÍÓÒÏËÚÂ) Ë ‡Á¯ËÂÌË 'ÂÌË.
– éÍÓÎÓ ·ÂÌÍË
– ç‡Ï‡ÎÂÌ ËÏÛÌËÚÂÚ Ì‡ ÍÓʇڇ,
̇Ô. Á‡ı‡ÂÌ ‰Ë‡·ÂÚ, ·ÂÏÂÌÌÓÒÚ, ·ÓÎÂÒÚ Ì‡ êÂÈÌÓ
– ïÂÏÓÙËÎËfl ËÎË ËÏÛÌÂÌ
‰ÂÙˈËÚ
çflÍÓË ÔÓÎÂÁÌË Ò˙'ÂÚË
ÖÔË·ˆËflÚ‡  ÔÓ-ÎÂÒ̇ Ë ÔÓÔËflÚ̇ ÔË ÓÔÚËχÎ̇ ‰˙ÎÊË̇
̇ ÍÓÒÏËÚ 2-5 ÏÏ. (0.08 -0.2 Ë̘‡).
ÄÍÓ ÍÓÒÏËÚ 'Ë Ò‡ ÔÓ-‰˙΄Ë, ÔÂÔÓ˙˜'‡Ï Ô˙'Ó ‰‡ "Ë ËÁ·˙ÒÌÂÚÂ Ë ÒΉ ÚÓ'‡ ‰‡ ÂÔËÎË‡Ú ÔÓÍ˙ÒËÚÂ, ÔÓ‡Ò̇ÎË ÓÚÌÓ'Ó ÍÓÒÏË
ÒΉ 1 ËÎË 2 Ò‰ÏˈË.
äÓ"‡ÚÓ Ò ÂÔËÎË‡Ú Á‡ Ô˙'Ë Ô˙Ú
 ÔÂÔÓ˙˜ËÚÂÎÌÓ ÂÔË·ˆËflÚ‡ ‰‡
ÒÚ‡'‡ '˜Â, ڇ͇ ˜Â 'ÂÌÚÛ‡ÎÌÓÚÓ
Á‡˜Â'fl'‡Ì ‰‡ ËÁ˜ÂÁÌ ÔÂÁ
ÌÓ˘Ú‡. èÂÔÓ˙˜'‡Ï 'Ë ÒΉ
ÂÔË·ˆËfl ‰‡ ̇ÌÂÒÂÚ ӂ·ÊÌfl'‡˘ ÍÂÏ Á‡ ÛÒÔÓÍÓfl'‡Ì ̇
ÍÓʇڇ.
îËÌËÚ ÍÓÒÏË, ÍÓËÚÓ ËÁ‡ÒÚ'‡Ú
ÓÚÌÓ'Ó, Ì 'Ë̇"Ë ÏÓ"‡Ú ‰‡ ÒÂ
ÔÓÍ‡Ê‡Ú Ì‡ ÔÓ'˙ıÌÓÒÚÚ‡ ̇
ÍÓʇڇ. ê‰ӂÌÓÚÓ ËÁÔÓÎÁ'‡ÌÂ
̇ χ҇ÊÌË "˙·Ë (̇Ô. ÒΉ
'ÁÂχÌ ̇ ‰Û¯) ËÎË ÂÍÒÙÓÎË‡˘
ÔËÎËÌ" Ô‰ÓÚ'‡Úfl'‡Ú ‡ÒÚfl˘ËÚÂ
̇'˙Ú ÍÓÒÏË Í‡ÚÓ ÌÂÊÌÓÚÓ
ÚËÂÌ ÓÚÒÚ‡Ìfl'‡ "ÓÌËfl ÒÎÓÈ Ì‡
ÍÓʇڇ Ë ÍÓÒÏËÚ ÏÓ"‡Ú ‰‡ ËÁ‡ÒÚ‡Ú Ì‡ ÔÓ'˙ıÌÓÒÚÚ‡ È.
éÔËÒ‡ÌË ('Ê. ÒÚ. 4)
1 ÖÔËÎË‡˘‡ "·'‡
2 ÅÛÚÓÌË Á‡ ÒÏfl̇
3 è'Íβ˜'‡ÚÂÎ
4 ë˙‰ËÌËÚÂÎ Á‡ Ò'˙Á'‡˘Ëfl
͇·ÂÎ
5 ë'˙Á'‡˘ ͇·ÂÎ
6 12-'ÓÎÚÓ' Ú‡ÌÒÙÓχÚÓ
ä‡Í ‰‡ ÂÔËÎË‡ÏÂ
• äÓʇڇ ÇË Úfl·'‡ ‰‡ ·˙‰Â ÒÛı‡
·ÂÁ ̇ÌÂÒÂÌË ÍÂÏÓ'Â ËÎË
χÒ·.
• èÂ‰Ë ‰‡ Á‡ÔÓ˜ÌÂÚÂ, 'ÌËχÚÂÎÌÓ ÔÓ˜ËÒÚÂÚ ÂÔËÎË‡˘‡Ú‡
"·'‡ 1 .
• ÇÍβ˜ÂÚ ҂˙Á'‡˘Ëfl ͇·ÂÎ 5
Í˙Ï ˘ÂÔÒ· 4 Ë 'Íβ˜ÂÚÂ
Ú‡ÌÒÙÓχÚÓ‡ 6 ' ÍÓÌÚ‡ÍÚ‡.
1. ᇠ‰‡ 'Íβ˜ËÚ Û‰‡,
ÔÎ˙ÁÌÂÚ ·ÛÚÓÌ 3 ̇ ÔÓÁˈËfl
«2».
(«2» ÌÓχÎ̇ ÒÍÓÓÒÚ,
«1» ·‡'̇ ÒÍÓÓÒÚ).
43
5399396_SE2170_P6- Seite 44 Montag, 27. August 2007 3:44 15
2. èÓÚ˙͇ÈÚ ÍÓʇڇ, Á‡ ‰‡
ÔÓ'‰Ë"ÌÂÚ Í˙ÒËÚ ÍÓÒÏË.
ë ˆÂÎ ÔÓÒÚË"‡Ì ̇ ÓÔÚËχÎÂÌ
ÂÁÛÎÚ‡Ú ‰˙ÊÚ Û‰‡ ÔÓ‰
Ô‡' ˙"˙Î (90 "‡‰ÛÒ‡) ÒÔflÏÓ
ÍÓʇڇ. èÎ˙Á"‡ÈÚ "Ó ·‡'ÌÓ, Ò
ÌÂÔÂÍ˙Ò̇ÚË ‰'ËÊÂÌËfl, ·ÂÁ ‰‡
̇ÚËÒ͇Ú ÒÂ˘Û ‡ÒÚÂʇ ̇
ÍÓÒÏËÚÂ, ÔÓ ÔÓÒÓ͇ ̇ Ô'Íβ˜'‡ÚÂÎfl.
3. ÖÔË·ˆËfl ̇ Í‡Í‡Ú‡
ÖÔËÎË‡ÈÚ Í‡Í‡Ú‡ ÓÚ ‰ÓÎÛ
̇"ÓÂ. äÓ"‡ÚÓ ÂÔËÎË‡Ú Á‡‰
ÍÓÎÂ̇ڇ, ‰˙ÊÚ Í‡Í‡Ú‡
ËÁÔ˙̇ÚË.
4. ÖÔË·ˆËfl ̇ ÁÓ̇ڇ ÔÓ‰
Ï˯ÌˈËÚÂ Ë ·ËÍËÌË-ÁÓ̇ڇ
àχÈÚ Ô‰'ˉ, ˜Â ‡ÍÓ ÒÂ
ÂÔËÎË‡Ú Á‡ Ô˙'Ë Ô˙Ú ÚÂÁË
ÁÓÌË ˘Â Ò‡ ÓÒÓ·ÂÌÓ ˜Û'ÒÚ'ËÚÂÎÌË. óÛ'ÒÚ'ÓÚÓ Á‡ ·ÓÎ͇ ˘Â
̇χΠÔË ÔÓ‰˙ÎÊËÚÂÎ̇
ÛÔÓÚ·‡. ᇠÔÓ-"ÓÎflÏ ÍÓÏÙÓÚ,
ÍÓÒÏËÚ Úfl·'‡ ‰‡ Ò‡ Ò
ÓÔÚËχÎ̇ ‰˙ÎÊË̇ ÓÚ 2-5 ÏÏ.
èÂ‰Ë ÂÔË·ˆËfl, ÔÓ˜ËÒÚÂÚÂ
‰Ó· Ò˙ÓÚ'ÂÚÌËÚ ۘ‡ÒÚ˙ˆË,
Á‡ ‰‡ ÓÚÒÚ‡ÌËÚ ÓÒÚ‡Ú˙ˆË
(͇ÚÓ ‰ÂÁÓ‰Ó‡ÌÚ). ëΉ ÚÓ'‡
'ÌËχÚÂÎÌÓ ÔÓÔËÈÚ Ò˙Ò ÒÛı‡
Í˙Ô‡. äÓ"‡ÚÓ ÂÔËÎË‡Ú ÁÓ̇ڇ
ÔÓ‰ Ï˯ÌˈËÚÂ, ‰˙ÊÚ ˙͇ڇ
ËÁÔ‡'Â̇ ̇"ÓÂ Ë ‰'ËÊÂÚÂ
Û‰‡ ' ‡Á΢ÌË ÔÓÒÓÍË. í˙È
͇ÚÓ ÍÓʇڇ ÏÓÊ ‰‡  ÔÓ˜Û'ÒÚ'ËÚÂÎ̇ ÌÂÔÓÒ‰ÒÚ'ÂÌÓ
ÒΉ ÂÔË·ˆËfl, ËÁ·fl"'‡ÈÚÂ
ËÁÔÓÎÁ'‡ÌÂÚÓ Ì‡ ‰‡ÁÌ¢Ë
ÒÛ·Òڇ̈ËË, ̇ÔËÏÂ
‰ÂÁÓ‰Ó‡ÌÚË Ò˙Ò ÒÔËÚ.
44
èÓ˜ËÒÚ'‡Ì ̇ ÂÔËÎË‡˘‡Ú‡
"·'‡
5. ëΉ ÂÔË·ˆËflÚ‡, ËÁÍβ˜ÂÚÂ
Û‰‡ Ë ÔÓ˜ËÒÚÂÚ ÂÔËÎË‡˘‡Ú‡
"·'‡.
6. èÓ˜ËÒÚÂÚ ‰Ó· ÔËÌÒÂÚËÚ ̇
ÔËÒÚ‡'͇ڇ, ͇ÚÓ ËÁÔÓÎÁ'‡ÚÂ
ÔÓ˜ËÒÚ'‡˘‡ ˜ÂÚ͇, ÔÓÚÓÔÂ̇ '
ÒÔËÚ. èÓ˜ËÒÚÂÚ ÔËÌÒÂÚËÚ Ò
˜ÂÚ͇ڇ ÓÚ Á‡‰Ì‡Ú‡ ÒÚ‡Ì‡ ̇
ÂÔËÎË‡˘‡Ú‡ "·'‡ ͇ÚÓ
'˙ÚËÚ ˙˜ÌÓ ˆËÎË̉˙‡. á‡
‰‡ Ò'‡ÎËÚ ÔÓ˜ËÒÚ'‡˘‡Ú‡ "·'‡
̇ÚËÒÌÂÚ ·ÛÚÓÌËÚ Á‡
ÓÒ'Ó·Óʉ‡'‡Ì (2) Ë fl
ËÁ‰˙Ô‡ÈÚÂ.
7. àÁ˜ËÒÚÂÚÂ Ò ˜ÂÚ͇ڇ ÍÓÔÛÒ‡.
èÓÒÚ‡'ÂÚ ӷ‡ÚÌÓ
ÂÔËÎË‡˘‡Ú‡ Ó·‡ÚÌÓ '˙ıÛ
ÍÓÔÛÒ‡.
èÓ‰ÛÍÚ˙Ú Ë Ú‡ÁË ËÌÒÚÛ͈Ëfl
ÏÓ"‡Ú ‰‡ Ò ÔÓÏÂÌflÚ ·ÂÁ
Ô‰ËÁ'ÂÒÚËÂ.
5399396_SE2170_P6- Seite 45 Montag, 27. August 2007 3:44 15
‹
45
5399396_SE2170_P6- Seite 46 Montag, 27. August 2007 3:44 15
46
5399396_SE2170_P6- Seite 47 Montag, 27. August 2007 3:44 15
47
5399396_SE2170_P6- Seite 48 Montag, 27. August 2007 3:44 15
48
5399396_SE2170_P6- Seite 49 Montag, 27. August 2007 3:44 15
49
5399396_SE2170_P6- Seite 50 Montag, 27. August 2007 3:44 15
50
5399396_SE2170_P6- Seite 51 Montag, 27. August 2007 3:44 15
51
5399396_SE2170_P6- Seite 52 Montag, 27. August 2007 3:44 15
52
5399396_SE2170_P6- Seite 53 Montag, 27. August 2007 3:44 15
‹
53
5399396_SE2170_P6- Seite 54 Montag, 27. August 2007 3:44 15
54
5399396_SE2170_P6- Seite 55 Montag, 27. August 2007 3:44 15
English
Guarantee
We grant 2 years guarantee on the
product commencing on the date of
purchase. Within the guarantee period
we will eliminate, free of charge, any
defects in the appliance resulting from
faults in materials or workmanship,
either by repairing or replacing the
complete appliance as we may choose.
This guarantee extends to every country
where this appliance is supplied by
Braun or its appointed distributor.
This guarantee does not cover: damage
due to improper use, normal wear or
use as well as defects that have a
negligible effect on the value or
operation of the appliance. The
guarantee becomes void if repairs are
undertaken by unauthorised persons
and if original Braun parts are not used.
To obtain service within the guarantee
period, hand in or send the complete
appliance with your sales receipt to an
authorised Braun Customer Service
Centre.
For UK only:
This guarantee in no way affects your
rights under statutory law.
Français
Garantie
Nous accordons une garantie de 2 ans
sur ce produit, à partir de la date
d'achat.
Pendant la durée de la garantie, Braun
prendra gratuitement à sa charge la
réparation des vices de fabrication ou
de matière en se réservant le droit de
décider si certaines pièces doivent être
réparées ou si l'appareil lui-même doit
être échangé.
Cette garantie s'étend à tous les pays
où cet appareil est commercialisé par
Braun ou son distributeur exclusif.
Cette garantie ne couvre pas : les
dommages occasionnés par une
utilisation inadéquate et l'usure
normale. Cette garantie devient
caduque si des réparations ont été
effectuées par des personnes non
agréées par Braun et si des pièces de
rechange ne provenant pas de Braun
ont été utilisées.
Pour toute réclamation intervenant
pendant la période de garantie,
retournez ou rapportez l'appareil ainsi
que l'attestation de garantie à votre
revendeur ou à un Centre Service Agréé
Braun.
Appelez au 08.10.30.97.80 (ou se
référez à http://www.braun.com/global/
contact/servicepartners/
europe.country.html) pour connaitre le
Centre Service Agrée Braun le plus
proche de chez vous.
Clause spéciale pour la France
Outre la garantie contractuelle exposée
ci-dessus, nos clients bénéficient de la
garantie légale des vices cachés prévue
aux articles 1641 et suivants du Code
civil.
Polski
Warunki gwarancji
1. Procter and Gamble DS Polska sp.
z.o.o. gwarantuje sprawne
dzia∏anie sprz´tu w okresie 24
miesi´cy od daty jego wydania
Kupujàcemu. Ujawnione w tym
okresie wady b´dà usuwane
bezp∏atnie, przez wymieniony przez
firm´ Procter and Gamble DS
Polska sp. z.o.o. autoryzowany
punkt serwisowy, w terminie 14 dni
od daty dostarczenia sprz´tu do
55
5399396_SE2170_P6- Seite 56 Montag, 27. August 2007 3:44 15
2.
3.
4.
5.
6.
7.
8.
56
autoryzowanego punktu
serwisowego.
Kupujàcy mo˝e wys∏aç sprz´t do
naprawy do najbli˝ej znajdujàcego
si´ autoryzowanego punktu
serwisowego wymienionego przez
firm´ Procter and Gamble DS
Polska sp. z.o.o. lub skorzystaç z
poÊrednictwa sklepu, w którym
dokona∏ zakupu sprz´tu. W takim
wypadku termin naprawy ulegnie
wyd∏u˝eniu o czas niezb´dny do
dostarczenia i odbioru sprz´tu.
Kupujàcy powinien dostarczyç
sprz´t w oryginalnym opakowaniu
fabrycznym dodatkowo
zabezpieczonym przed
uszkodzeniem. Uszkodzenia
spowodowane niedostatecznym
zabezpieczeniem sprz´tu nie
podlegajà naprawom
gwarancyjnym.
Niniejsza gwarancja jest wa˝na z
dokumentem zakupu i obowiàzuje
na terytorium Rzeczypospolitej
Polskiej.
Okres gwarancji przed∏u˝a si´ o
czas od zg∏oszenia wady lub
uszkodzenia do naprawy sprz´tu.
Naprawa gwarancyjna nie obejmuje
czynnoÊci przewidzianych w
instrukcji, do wykonania których
Kupujàcy zobowiàzany jest we
w∏asnym zakresie i na w∏asny koszt.
Ewentualne oczyszczenie sprz´tu
dokonywane jest na koszt
Kupujàcego wed∏ug cennika
danego autoryzowanego punktu
serwisowego i nie b´dzie
traktowane jako naprawa
gwarancyjna.
Gwarancjà nie sà obj´te:
a) mechaniczne uszkodzenia
sprz´tu spowodowane w czasie
jego u˝ytkowania lub w czasie
dostarczania sprz´tu do
naprawy;
b) uszkodzenia i wady wynik∏e na
skutek:
– u˝ywania sprz´tu do celów
innych ni˝ osobisty u˝ytek;
– niew∏aÊciwego lub
niezgodnego z instrukcjà
u˝ytkowania, konserwacji,
przechowywania lub instalacji;
– u˝ywania niew∏aÊciwych
materia∏ów eksploatacyjnych;
– napraw dokonywanych przez
nieuprawnione osoby;
stwierdzenie faktu takiej
naprawy lub samowolnego
otwarcia sprz´tu powoduje
utrat´ gwarancji;
– przeróbek, zmian
konstrukcyjnych lub u˝ywania
do napraw nieoryginalnych
cz´Êci zamiennych firmy
Braun;
c) cz´Êci szklane, ˝arówki
oÊwietlenia;
d) ostrza i folie do golarek oraz
materia∏y eksploatacyjne.
9. Bez nazwy i modelu sprz´tu, daty
jego zakupu potwierdzonej
pieczàtkà i podpisem sprzedawcy
karta gwarancyjna jest niewa˝na.
10. Niniejsza gwarancja na sprzedany
towar konsumpcyjny nie wy∏àcza,
nie ogranicza ani nie zawiesza
uprawnieƒ Kupujàcego
wynikajàcych z niezgodnoÊci
towaru z umowà.
âesk˘
Záruka
Na tento v˘robek poskytujeme záruku
po dobu 2 let od data prodeje
spotfiebiteli. Bûhem této záruãní doby
bezplatnû odstraníme závady na
v˘robku, zpÛsobené vadami materiálu
nebo chybou v˘roby. Oprava bude
provedena podle na‰eho rozhodnutí
5399396_SE2170_P6- Seite 57 Montag, 27. August 2007 3:44 15
buì opravou nebo v˘mûnou
celého v˘robku. Tato záruka platí pro
v‰echny zemû, kam je tento v˘robek
dodáván firmou Braun nebo jejím
autorizovan˘m distributorem.
v˘robek podle záznamu z opravny v
záruãní opravû.
Tato záruka se nevztahuje: na
po‰kození, vzniklá nesprávn˘m
pouÏíváním a údrÏbou, na bûÏné
opotfiebení, jakoÏ i na defekty, mající
zanedbateln˘ vliv na hodnotu a
pouÏitelnost pfiístroje. Záruka pozb˘vá
platnosti, pokud byl v˘robek
mechanicky po‰kozen nebo pokud jsou
opravy provedeny neautorizovan˘mi
osobami nebo pokud nejsou pouÏity
originální díly Braun. Pfiístroj je urãen
v˘hradnû pro domácí pouÏití. Pfii
pouÏití jin˘m zpÛsobem nelze uplatnit
záruku.
Záruka
Na tento v˘robok poskytujeme záruku
po dobu 2 rokov odo dÀa predaja
spotrebiteºovi. Poãas tejto záruãnej
doby bezplatne odstránime závady na
v˘robku, spôsobené vadami materiálu
alebo chybou v˘roby a to podºa ná‰ho
rozhodnutia buì opravou alebo
v˘menou celého v˘robku. Táto záruka
platí pre v‰etky krajiny, kde tento
v˘robok dodáva firma Braun alebo jej
autorizovan˘ distribútor.
Poskytnutím záruky nejsou dotãena
práva spotfiebitele, která se ke koupi
vûci váÏí podle zvlá‰tních právních
pfiedpisÛ.
Záruka platí jen tehdy, je-li záruãní list
fiádnû vyplnûn (datum prodeje, razítko
prodejny a podpis prodavaãe) a je-li
souãasnû s ním pfiedloÏen prodejní
doklad (dále jen doklady o koupi).
Chcete-li vyuÏít servisních sluÏeb v
záruãní dobû, pfiedejte nebo po‰lete
kompletní pfiístroj spolu s doklady o
koupi do autorizovaného servisního
stfiediska Braun. Aktualizovan˘ seznam
servisních stfiedisek je k dispozici v
prodejnách v˘robkÛ Braun.
Volejte zákaznickou infolinku 221 804
335 pro informace o v˘robcích a
nejbliωím servisním stfiedisku Braun.
O pfiípadné v˘mûnû pfiístroje nebo
zru‰ení kupní smlouvy platí pfiíslu‰ná
zákonná ustanovení. Záruãní doba se
prodluÏuje o dobu, po kterou byl
Slovensk˘
Táto záruka sa nevzÈahuje: na
po‰kodenia, ktoré vzniknú nesprávnym
pouÏívaním a údrÏbou, na beÏné
opotrebenie ako aj na defekty, ktoré
majú zanedbateºn˘ vplyv na hodnotu
a pouÏitie prístroja. Záruka stráca
platnosÈ v prípade, Ïe v˘robok bol
mechanicky po‰koden˘, alebo sa
uskutoãnili opravy neautorizovan˘mi
osobami, alebo sa nepouÏili originálne
diely Braun. Prístroj je v˘hradne urãen˘
na domáce pouÏitie. Pri pouÏití in˘m
spôsobom nie je moÏné záruku
uplatniÈ.
Poskytnutím záruky nie sú ovlyvnené
spotrebiteºské práva, ktoré sa ku kúpe
predmetu viaÏu podºa zvlá‰tnych
predpisov.
Záruka platí iba vtedy, ak je záruãn˘ list
riadne vyplnen˘ (dátum predaja,
peãiatka predajne a podpis predavaãa)
a zároveÀ s ním predloÏen˘ doklad o
predaji (ìalej iba doklady o zakúpení).
Ak chcete vyuÏiÈ servisné sluÏby v
záruãnej dobe, kompletn˘ prístroj spolu
s dokladmi o zakúpení odovzdajte
57
5399396_SE2170_P6- Seite 58 Montag, 27. August 2007 3:44 15
alebo za‰lite do autorizovaného
servisného strediska Braun.
Aktualizovan˘ zoznam servisn˘ch
stredísk je k dispozícii v predajniach
v˘robkov Braun.
Vzhºadom na prípadnú v˘menu
prístroja alebo na zru‰enie kúpnej
zmluvy platia príslu‰né zákonné
ustanovenia. Záruãná doba sa
predlÏuje o dobu, poãas ktorej bol
v˘robok podºa záznamu z opravovne
v záruãnej oprave.
Magyar
Garancia
A Braun – ismerve termékei
megbízhatóságát, készülékeire két év
garanciát vállal, azzal a megkötéssel,
hogy a jótállási igényt a készülék
csomagolásában található Jótállási
Nyilatkozatban feltüntetett Braun
márkaszervizekben lehet
érvényesíteni.
A garancia hatálya alól kivételt
képeznek azok a meghibásodások,
amelyek a készülék szakszerıtlen,
vagy nem rendeltetésszerı
használatára vezethetŒk vissza,
valamint azok az apróbb hibák,
amelyek a készülék értékét, vagy
használhatóságát nem befolyásolják.
A garancia nem vonatkozik a gyorsan
kopó, rendszeresen cserélendŒ
tartozékokra (pl. Borotvaszita, kés,
stb.)
A jótállási igény érvényesítésére
vonatkozó részletes tájékoztató a
készülék csomagolásában található.
58
Hrvatski
Jamstveni list
Jamstvo ne vrijedi za o‰teçenja nastala
neispravnom uporabom, normalnu
istro‰enost (npr. mreÏice ili bloka noÏa)
i nedostatke koji samo neznatno utjeãu
na vrijednost ili valjanost uporabe aparata.
Ovo jamstvo vrijedi u svakoj zemlji gdje
su proizvodi distribuirani od strane
Brauna ili sluÏbenog distributera.
Jamstvo ne vrijedi za o‰teçenja nastala
neispravnom uporabom, noramlnu
istro‰enost i nedostatke koji samo
neznatno utjeãu na vrijednost ili
valjanost uporabe aparata. Jamstvo
prestaje kod popravka od strane
neovla‰tene osobe ili uporabe
neoriginalnih dijelova umjesto Braun
rezervnih dijelova.
Jamstvo vrijedi samo uz predoãenje
raãuna i pravilno ispunjenog
jamstvenog lista.
Braunov servis moÏete kontaktirati na
broj telefona 00 385 1 66 01 777.
Slovenski
Garancija
Za izdelek valja dvoletna garancija,
ki zaãne veljati z datumom nakupa.
V ãasu trajanja garancije bomo
brezplaãno odpravili vse napake,
ki so posledica slabega materiala ali
izdelave, bodisi s popravilom bodisi
z zamenjavo celega izdelka.
Ta garancija velja v vsaki drÏavi, kjer je
izdelek dobavljen od BRAUN ali
njegovega poobla‰ãenega
distributerja.
5399396_SE2170_P6- Seite 59 Montag, 27. August 2007 3:44 15
Garancija ne pokriva po‰kodb, ki
so posledica nepravilne uporabe,
normalne obrabe ali uporabe in tudi ne
napak, ki v zanemarljivi meri vplivajo na
vrednost ali delovanje aparata.
Garancija preneha veljati, ãe popravilo
izvr‰i nepoobla‰ãena oseba oziroma,
ãe pri popravilu niso uporabljeni
originalni Braunovi nadomestni deli.
Za popravilo v garancijskem roku
izroãite ali po‰ljite kompleten izdelek z
raãunom poobla‰ãenemu Braunovemu
servisu.
Za informacije pokliãite poobla‰ãeni
servis ISKRA PRINS tel. + 386 1 476 98
00.
Românå
Garanøie
Acordåm produsului o garanøie de doi
ani începând cu data cumpårårii.
În perioada de garanøie eliminåm,
gratuit, orice defect al produsului
rezultat dintr-un viciu al materialelor
sau datoritå execuøiei, putem alege
fie pentru repararea fie pentru
înlocuirea completå a aparatului.
Aceastå garanøie se extinde în fiecare
øarå unde aparatul este furnizat de
compania Braun sau de distribuitorii
såi.
Aceastå garanøie nu acoperå situaøiile
urmåtoare: defectårile datorate
utilizårii necorespunzåtoare, uzura
normalå sau defectele care au un
efect neglijabil asupra valorii sau
utilizårii aparatului µi permit utilizarea
acestuia aµa cum este. Garanøia
devine nulå dacå reparaøia este
realizatå de persoane neautorizate µi
dacå nu sunt utilizate piese originale
Braun pentru reparaøie.
Pentru reparaøii în perioada de
garanøie, predaøi sau trimiteøi unui
centru de reparaøii autorizat Braun,
aparatul complet µi chitanøa de
vânzare.
êÛÒÒÍËÈ
ɇ‡ÌÚËÈÌ˚ ӷflÁ‡ÚÂθÒÚ'‡
ÙËÏ˚ BRAUN
ÑÎfl 'ÒÂı ËÁ‰ÂÎËÈ Ï˚ ‰‡ÂÏ "‡‡ÌÚ˲
̇ ‰'‡ "Ó‰‡, ̇˜Ë̇fl Ò ÏÓÏÂÌÚ‡
ÔËÓ·ÂÚÂÌËfl ËÁ‰ÂÎËfl.
Ç Ú˜ÂÌË "‡‡ÌÚËÈÌÓ"Ó ÔÂËÓ‰‡ Ï˚
·ÂÒÔ·ÚÌÓ ÛÒÚ‡ÌËÏ ÔÛÚÂÏ ÂÏÓÌÚ‡,
Á‡ÏÂÌ˚ ‰ÂÚ‡ÎÂÈ ËÎË Á‡ÏÂÌ˚ 'Ò"Ó
ËÁ‰ÂÎËfl β·˚ Á‡'Ó‰ÒÍË ‰ÂÙÂÍÚ˚,
'˚Á'‡ÌÌ˚ Ì‰ÓÒÚ‡ÚÓ˜Ì˚Ï
͇˜ÂÒÚ'ÓÏ Ï‡ÚÂˇÎÓ' ËÎË Ò·ÓÍË.
Ç ÒÎÛ˜‡Â Ì'ÓÁÏÓÊÌÓÒÚË ÂÏÓÌÚ‡ '
"‡‡ÌÚËÈÌ˚È ÔÂËÓ‰ ËÁ‰ÂÎË ÏÓÊÂÚ
·˚Ú¸ Á‡ÏÂÌÂÌÓ Ì‡ ÌÓ'Ó ËÎË
‡Ì‡Îӄ˘ÌÓ ' ÒÓÓÚ'ÂÚÒÚ'ËË Ò
á‡ÍÓÌÓÏ Ó Á‡˘ËÚ Ô‡'
ÔÓÚ·ËÚÂÎÂÈ.
ɇ‡ÌÚËfl Ó·ÂÚ‡ÂÚ ÒËÎÛ ÚÓθÍÓ ÂÒÎË
‰‡Ú‡ ÔÓÍÛÔÍË ÔÓ‰Ú'Âʉ‡ÂÚÒfl
Ô˜‡Ú¸˛ Ë ÔÓ‰ÔËÒ¸˛ ‰ËÎÂ‡
(χ"‡ÁË̇) ̇ ÔÓÒΉÌÂÈ ÒÚ‡ÌˈÂ
ÓË"Ë̇θÌÓÈ ËÌÒÚÛ͈ËË ÔÓ
˝ÍÒÔÎÛ‡Ú‡ˆËË BRAUN, ÍÓÚÓ‡fl
fl'ÎflÂÚÒfl "‡‡ÌÚËÈÌ˚Ï Ú‡ÎÓÌÓÏ.
ùÚ‡ "‡‡ÌÚËfl ‰ÂÈÒÚ'ËÚÂθ̇ ' β·ÓÈ
ÒÚ‡Ì ' ÍÓÚÓÛ˛ ˝ÚÓ ËÁ‰ÂÎËÂ
ÔÓÒÚ‡'ÎflÂÚÒfl ÙËÏÓÈ BRAUN ËÎË
̇Á̇˜ÂÌÌ˚Ï ‰ËÒÚË·¸˛ÚÓÓÏ Ë "‰Â
ÌË͇ÍË ӄ‡Ì˘ÂÌËfl ÔÓ ËÏÔÓÚÛ ËÎË
‰Û"Ë Ô‡'Ó'˚ ÔÓÎÓÊÂÌËfl ÌÂ
ÔÂÔflÚÒÚ'Û˛Ú Ô‰ÓÒÚ‡'ÎÂÌ˲
"‡‡ÌÚËÈÌÓ"Ó Ó·ÒÎÛÊË'‡ÌËfl.
éÒÛ˘ÂÒÚ'ÎÂÌË "‡‡ÌÚËÈÌÓ"Ó
Ó·ÒÎÛÊË'‡ÌËfl Ì 'ÎËflÂÚ Ì‡ ‰‡ÚÛ
ËÒÚ˜ÂÌËfl ÒÓ͇ "‡‡ÌÚËË. ɇ‡ÌÚËfl
̇ Á‡ÏÂÌÂÌÌ˚ ˜‡ÒÚË ËÒÚÂ͇ÂÚ '
ÏÓÏÂÌÚ ËÒÚ˜ÂÌËfl "‡‡ÌÚËË Ì‡
‰‡ÌÌÓ ËÁ‰ÂÎËÂ.
59
5399396_SE2170_P6- Seite 60 Montag, 27. August 2007 3:44 15
ɇ‡ÌÚËfl Ì ÔÓÍ˚'‡ÂÚ
ÔÓ'ÂʉÂÌËfl, '˚Á'‡ÌÌ˚Â
ÌÂÔ‡'ËθÌ˚Ï ËÒÔÓθÁÓ'‡ÌËÂÏ (ÒÏ.
Ú‡ÍÊ ÒÔËÒÓÍ ÌËÊÂ) ÌÓχθÌ˚È
ËÁÌÓÒ ·ËÚ'ÂÌÌ˚ı ÒÂÚÓÍ Ë ÌÓÊÂÈ,
‰ÂÙÂÍÚ˚, Ó͇Á˚'‡˛˘ËÂ
ÌÂÁ̇˜ËÚÂθÌ˚È ˝ÙÙÂÍÚ Ì‡ ͇˜ÂÒÚ'Ó
‡·ÓÚ˚ ÔË·Ó‡.
ùÚ‡ "‡‡ÌÚËfl ÚÂflÂÚ ÒËÎÛ ÂÒÎË
ÂÏÓÌÚ ÔÓËÁ'Ó‰ËÎÒfl ÌÂ
ÛÔÓÎÌÓÏÓ˜ÂÌÌ˚Ï Ì‡ ÚÓ ÎˈÓÏ Ë ÂÒÎË
ËÒÔÓθÁÓ'‡Ì˚ Ì ÓË"Ë̇θÌ˚Â
‰ÂÚ‡ÎË ÙËÏ˚ BRAUN.
Ç ÒÎÛ˜‡Â Ô‰˙fl'ÎÂÌËfl ÂÍ·χˆËË
ÔÓ ÛÒÎÓ'ËflÏ ‰‡ÌÌÓÈ "‡‡ÌÚËË,
ÔÂ‰‡ÈÚ ËÁ‰ÂÎË ˆÂÎËÍÓÏ 'ÏÂÒÚÂ
Ò "‡‡ÌÚËÈÌ˚Ï Ú‡ÎÓÌÓÏ ' β·ÓÈ ËÁ
ˆÂÌÚÓ' ÒÂ'ËÒÌÓ"Ó Ó·ÒÎÛÊË'‡ÌËfl
ÙËÏ˚ BRAUN.
ÇÒ ‰Û"Ë Ú·ӂ‡ÌËfl, 'Íβ˜‡fl
Ú·ӂ‡ÌËfl 'ÓÁÏ¢ÂÌËfl Û·˚ÚÍÓ',
ËÒÍβ˜‡˛ÚÒfl, ÂÒÎË Ì‡¯‡
ÓÚ'ÂÚÒÚ'ÂÌÌÓÒÚ¸ Ì ÛÒÚ‡ÌÓ'ÎÂ̇ '
Á‡ÍÓÌÌÓÏ ÔÓfl‰ÍÂ.
êÂÍ·χˆËË, Ò'flÁ‡ÌÌ˚ Ò
ÍÓÏÏÂ˜ÂÒÍËÏ ÍÓÌÚ‡ÍÚÓÏ Ò
ÔÓ‰‡'ˆÓÏ Ì ÔÓÔ‡‰‡˛Ú ÔÓ‰ ˝ÚÛ
"‡‡ÌÚ˲.
Ç ÒÓÓÚ'ÂÚÒÚ'ËË Ò Á‡ÍÓÌÓÏ êî ‹
2300-1 ÓÚ 7.02.1992 ". «é ᇢËÚÂ
Ô‡' ÔÓÚ·ËÚÂÎÂÈ» Ë ÔËÌflÚ˚Ï
‰ÓÔÓÎÌÂÌËÂÏ Í Á‡ÍÓÌÛ êî ÓÚ
9.01.1996 ". «é 'ÌÂÒÂÌËË ËÁÏÂÌÂÌËÈ»
Ë ‰ÓÔÓÎÌÂÌËÈ ' Á‡ÍÓÌ «é ᇢËÚÂ
Ô‡' ÔÓÚ·ËÚÂÎÂÈ» Ë «äÓ‰ÂÍÒ
êëîëê Ó· ‡‰ÏËÌËÒÚ‡ÚË'Ì˚ı
Ô‡'Ó̇Û¯ÂÌËflı», ÙËχ BRAUN
ÛÒڇ̇'ÎË'‡ÂÚ ÒÓÍ ÒÎÛÊ·˚ ̇ Ò'ÓË
ËÁ‰ÂÎËfl ‡'Ì˚Ï ‰'ÛÏ "Ó‰‡Ï Ò
ÏÓÏÂÌÚ‡ ÔËÓ·ÂÚÂÌËfl ËÎË Ò
ÏÓÏÂÌÚ‡ ÔÓËÁ'Ó‰ÒÚ'‡, ÂÒÎË ‰‡ÚÛ
ÔÓ‰‡ÊË ÛÒÚ‡ÌÓ'ËÚ¸ Ì'ÓÁÏÓÊÌÓ.
àÁ‰ÂÎËfl ÙËÏ˚ BRAUN ËÁ"ÓÚÓ'ÎÂÌ˚
' ÒÓÓÚ'ÂÚÒÚ'ËË Ò '˚ÒÓÍËÏË
Ú·ӂ‡ÌËflÏË Â'ÓÔÂÈÒÍÓ"Ó
60
͇˜ÂÒÚ'‡. èË ·ÂÂÊÌÓÏ
ËÒÔÓθÁÓ'‡ÌËË Ë ÔË Òӷβ‰ÂÌËË
Ô‡'ËÎ ÔÓ ˝ÍÒÔÎÛ‡Ú‡ˆËË,
ÔËÓ·ÂÚÂÌÌÓ LJÏË ËÁ‰ÂÎË ÙËÏ˚
BRAUN, ÏÓÊÂÚ ËÏÂÚ¸ Á̇˜ËÚÂθÌÓ
·Óθ¯ËÈ ÒÓÍ ÒÎÛÊ·˚, ˜ÂÏ ÒÓÍ
ÛÒÚ‡ÌÓ'ÎÂÌÌ˚È ' ÒÓÓÚ'ÂÚÒÚ'ËË Ò
êÓÒÒËÈÒÍËÏ Á‡ÍÓÌÓÏ.
ëÎÛ˜‡Ë, ̇ ÍÓÚÓ˚ "‡‡ÌÚËfl ÌÂ
‡ÒÔÓÒÚ‡ÌflÂÚÒfl:
– ‰ÂÙÂÍÚ˚, '˚Á'‡ÌÌ˚ ÙÓÒχÊÓÌ˚ÏË Ó·ÒÚÓflÚÂθÒÚ'‡ÏË;
– ËÒÔÓθÁÓ'‡ÌË '
ÔÓÙÂÒÒËÓ̇θÌ˚ı ˆÂÎflı;
– ̇Û¯ÂÌË Ú·ӂ‡ÌËÈ ËÌÒÚÛ͈ËË
ÔÓ ˝ÍÒÔÎÛ‡Ú‡ˆËË;
– ÌÂÔ‡'Ëθ̇fl ÛÒÚ‡Ìӂ͇
̇ÔflÊÂÌËfl ÔËÚ‡˛˘ÂÈ ÒÂÚË (ÂÒÎË
˝ÚÓ Ú·ÛÂÚÒfl);
– 'ÌÂÒÂÌË ÚÂıÌ˘ÂÒÍËı ËÁÏÂÌÂÌËÈ;
– ÏÂı‡Ì˘ÂÒÍË ÔÓ'ÂʉÂÌËfl;
– ÔÓ'ÂʉÂÌËfl ÔÓ 'ËÌ ÊË'ÓÚÌ˚ı,
"˚ÁÛÌÓ' Ë Ì‡ÒÂÍÓÏ˚ı (' ÚÓÏ ˜ËÒÎÂ
ÒÎÛ˜‡Ë ̇ıÓʉÂÌËfl "˚ÁÛÌÓ' Ë
̇ÒÂÍÓÏ˚ı 'ÌÛÚË ÔË·ÓÓ');
– ‰Îfl ÔË·ÓÓ', ‡·ÓÚ‡˛˘Ëı ÓÚ
·‡Ú‡ÂÂÍ, – ‡·ÓÚ‡ Ò
ÌÂÔÓ‰ıÓ‰fl˘ËÏË ËÎË ËÒÚÓ˘ÂÌÌ˚ÏË
·‡Ú‡ÂÈ͇ÏË, β·˚Â
ÔÓ'ÂʉÂÌËfl, '˚Á'‡ÌÌ˚Â
ËÒÚÓ˘ÂÌÌ˚ÏË ËÎË ÚÂÍÛ˘ËÏË
·‡Ú‡ÂÈ͇ÏË (ÒÓ'ÂÚÛÂÏ
ÔÓθÁÓ'‡Ú¸Òfl ÚÓθÍÓ
Ô‰Óı‡ÌÂÌÌ˚ÏË ÓÚ '˚ÚÂ͇ÌËfl
·‡Ú‡ÂÈ͇ÏË);
– ‰Îfl ·ËÚ' – ÒÏflÚ‡fl ËÎË ÔÓ'‡Ì̇fl
ÒÂÚ͇.
ÇÌËχÌËÂ! éË"Ë̇θÌ˚È
ɇ‡ÌÚËÈÌ˚È í‡ÎÓÌ ÔÓ‰ÎÂÊËÚ
ËÁ˙flÚ˲ ÔË Ó·‡˘ÂÌËË ' ÒÂ'ËÒÌ˚È
ˆÂÌÚ ‰Îfl "‡‡ÌÚËÈÌÓ"Ó ÂÏÓÌÚ‡.
èÓÒΠÔӂ‰ÂÌËfl ÂÏÓÌÚ‡
5399396_SE2170_P6- Seite 61 Montag, 27. August 2007 3:44 15
ɇ‡ÌÚËÈÌ˚Ï í‡ÎÓÌÓÏ ·Û‰ÂÚ
fl'ÎflÚ¸Òfl Á‡ÔÓÎÌÂÌÌ˚È ÓË"Ë̇Î
ãËÒÚ‡ '˚ÔÓÎÌÂÌËfl ÂÏÓÌÚ‡ ÒÓ
¯Ú‡ÏÔÓÏ ÒÂ'ËÒÌÓ"Ó ˆÂÌÚ‡ Ë
ÔÓ‰ÔËÒ‡ÌÌ˚È ÔÓÚ·ËÚÂÎÂÏ ÔÓ
ÔÓÎÛ˜ÂÌËË ËÁ‰ÂÎËfl ËÁ ÂÏÓÌÚ‡.
í·ÛÈÚ ÔÓÒÚ‡'ÎÂÌËfl ‰‡Ú˚
'ÓÁ'‡Ú‡ ËÁ ÂÏÓÌÚ‡, ÒÓÍ "‡‡ÌÚËË
ÔӉ΂‡ÂÚÒfl ̇ 'ÂÏfl ̇ıÓʉÂÌËfl
ËÁ‰ÂÎËfl ' ÒÂ'ËÒÌÓÏ ˆÂÌÚÂ.
Ç ÒÎÛ˜‡Â 'ÓÁÌËÍÌÓ'ÂÌËfl ÒÎÓÊÌÓÒÚÂÈ
Ò '˚ÔÓÎÌÂÌËÂÏ "‡‡ÌÚËÈÌÓ"Ó ËÎË
ÔÓÒ΄‡‡ÌÚËÈÌÓ"Ó Ó·ÒÎÛÊË'‡ÌËfl
ÔÓÒ¸·‡ ÒÓÓ·˘‡Ú¸ Ó· ˝ÚÓÏ '
àÌÙÓχˆËÓÌÌÛ˛ ëÎÛÊ·Û ëÂ'ËÒ‡
ÙËÏ˚ BRAUN ÔÓ ÚÂÎÂÙÓÌÛ +7 495
258 62 70.
ìÍ‡ªÌҸ͇
ɇ‡ÌÚ¥ÈÌ¥ ÁÓ·Ó''flÁ‡ÌÌfl Ù¥ÏË
Çraun
ÑÎfl 'Ò¥ı 'ËÓ·i' ÏË ‰‡πÏÓ "‡‡ÌÚ¥˛
̇ ‰'‡ ÓÍË, ÔÓ˜Ë̇˛˜Ë Á ÏÓÏÂÌÚÛ
Ôˉ·‡ÌÌfl 'ËÓ·Û.
èÓÚfl"ÓÏ "‡‡ÌÚ¥ÈÌÓ"Ó ÔÂ¥Ó‰Û ÏË
·ÂÁÔ·ÚÌÓ ÛÒÛ'‡πÏÓ ¯ÎflıÓÏ
ÂÏÓÌÚÛ, Á‡ÏiÌË ‰ÂÚ‡ÎÂÈ ‡·Ó Á‡Ï¥ÌË
'Ò¸Ó"Ó 'ËÓ·Û ·Û‰¸-flÍ¥ Á‡'ӉҸͥ
‰ÂÙÂÍÚË, 'ËÍÎË͇̥ ̉ÓÒÚ‡ÚÌ¸Ó˛
flÍ¥ÒÚ˛ χÚÂ¥‡Î¥' ‡·Ó ÒÍ·‰‡ÌÌfl.
ì 'ËÔ‡‰ÍÛ ÌÂÏÓÊÎË'ÓÒÚ¥ ÂÏÓÌÚÛ '
"‡‡ÌÚ¥ÈÌËÈ ÔÂ¥Ó‰ 'Ë¥· ÏÓÊ ·ÛÚË
Á‡Ï¥ÌÂÌËÈ Ì‡ ÌÓ'ËÈ ‡·Ó ‡Ì‡ÎÓ"¥˜ÌËÈ
'¥‰ÔÓ'¥‰ÌÓ ‰Ó á‡ÍÓÌÛ ÔÓ Á‡ıËÒÚ Ô‡'
ÒÔÓÊË'‡˜¥'.
ɇ‡ÌÚ¥fl ̇·Û'‡π ÒËÎË Î˯Â, fl͢Ó
‰‡Ú‡ ÍÛÔ¥'Î¥ Ô¥‰Ú'Â‰ÊÛπÚ¸Òfl
Ô˜‡ÚÍÓ˛ Ú‡ Ôi‰ÔËÒÓÏ ‰¥ÎÂ‡
(χ"‡ÁËÌÛ) ̇ ÓË"¥Ì‡Î¸ÌÓÏÛ
"‡‡ÌÚ¥ÈÌÓÏÛ Ú‡ÎÓÌ¥ Ç"aun ‡·Ó ̇
ÓÒÚ‡ÌÌ¥È ÒÚÓ¥Ìˆ¥ ÓË"¥Ì‡Î¸ÌÓª
¥ÌÒÚÛ͈¥ª Á ÂÍÒÔÎÛ‡Ú‡ˆ¥ª Çr‡un, fl͇
Ú‡ÍÓÊ ÏÓÊ ·ÛÚË "‡‡ÌÚiÈÌËÏ
Ú‡ÎÓÌÓÏ.
ñfl "‡‡ÌÚ¥fl ‰¥ÈÒ̇ Û ·Û‰¸-flÍ¥È Í‡ªÌ¥,
' flÍÛ ˆÂÈ 'Ë¥· ÔÓÒÚ‡'ÎflπÚ¸Òfl
Ù¥ÏÓ˛ Çr‡un ‡·Ó ÔËÁ̇˜ÂÌËÏ
‰ËÒÚË·'˛ÚÂÓÏ, Ú‡ ‰Â ÊӉ̥
Ó·ÏÂÊÂÌÌfl Á ¥ÏÔÓÚÛ ‡·Ó ¥Ì¯¥ Ô‡'Ó'¥
ÔÓÎÓÊÂÌÌfl Ì ÔÂ¯ÍӉʇ˛Ú¸
̇‰‡ÌÌ˛ "‡‡ÌÚ¥ÈÌÓ"Ó
Ó·ÒÎÛ"Ó'Û'‡ÌÌfl.
ብÈÒÌÂÌÌfl "‡‡ÌÚ¥ÈÌÓ"Ó
Ó·ÒÎÛ"Ó'Û'‡ÌÌfl Ì 'ÔÎË'‡π ̇ ‰‡ÚÛ
Á‡Í¥Ì˜ÂÌÌfl ÚÂÏ¥ÌÛ "‡‡ÌÚ¥ª. ɇ‡ÌÚ¥fl
̇ Á‡Ï¥ÌÂÌ¥ ˜‡ÒÚËÌË Á‡Í¥Ì˜ÛπÚ¸Òfl '
ÏÓÏÂÌÚ Á‡Íi̘ÂÌÌfl "‡‡ÌÚ¥ª ̇ ‰‡ÌËÈ
'Ëi·.
ɇ‡ÌÚ¥fl Ì ÔÓÍË'‡π ÔÓ¯ÍÓ‰ÊÂÌÌfl,
'ËÍÎË͇̥ Ì'iÌËÏ 'ËÍÓËÒÚ‡ÌÌflÏ
(‰Ë'. Ú‡ÍÓÊ ÔÂÂÎiÍ ÌËʘÂ)
ÌÓχθÌËÈ ÁÌÓÒ Ò¥ÚÓÍ Ú‡ ÌÓÊ¥' ‰Îfl
"ÓÎiÌÌfl, ‰ÂÙÂÍÚË, ˘Ó ÌÂÁ̇˜ÌËÏ
˜ËÌÓÏ 'ÔÎË'‡˛Ú¸ ̇ flÍ¥ÒÚ¸ Ó·ÓÚË
ÔË·‰Û. ñfl "‡‡ÌÚ¥fl 'Ú‡˜‡π ÒËÎÛ,
flÍ˘Ó ÂÏÓÌÚ Á‰iÈÒÌ˛πÚ¸Òfl ÌÂ
'ÔÓ'ÌÓ'‡ÊÂÌÓ˛ ‰Îfl ˆ¸Ó"Ó ÓÒÓ·Ó˛
Ú‡, flÍ˘Ó 'ËÍÓËÒÚÓ'Û˛Ú¸Òfl ÌÂ
ÓË"¥Ì‡Î¸Ìi ‰ÂڇΥ ÙiÏË Çr‡un.
ì 'ËÔ‡‰ÍÛ Ô‰'fl'ÎÂÌÌfl ÂÍ·χˆÈ¥ª
Á‡ ÛÏÓ'‡ÏË ‰‡ÌÓª "‡‡ÌÚ¥ª, ÔÂ‰‡ÈÚÂ
'Ëi· Û ÍÓÏÔÎÂÍÚ¥ ‡ÁÓÏ Á
"‡‡ÌÚ¥ÈÌËÏ Ú‡ÎÓÌÓÏ Û ·Û‰¸-flÍËÈ ¥Á
ˆÂÌÚ¥' ÒÂ'¥ÒÌÓ"Ó Ó·ÒÎÛ"Ó'Û'‡ÌÌfl
ÙiÏË Çr‡un.
ÇÒ¥ ¥Ì¯¥ 'ËÏÓ"Ë, ‡ÁÓÏ Á 'ËÏÓ"‡ÏË
'¥‰¯ÍÓ‰Û'‡ÌÌfl Á·ËÚÍ¥', Ì ‰¥ÈÒÌ¥,
flÍ˘Ó Ì‡¯‡ '¥‰ÔÓ'i‰‡Î¸Ì¥ÒÚ¸ ÌÂ
'ÒÚ‡ÌÓ'ÎÂ̇ Á‡ÍÓÌÌËÏ ˜ËÌÓÏ.
61
5399396_SE2170_P6- Seite 62 Montag, 27. August 2007 3:44 15
ÇËÔ‡‰ÍË, ̇ flÍ¥ Ì ÓÁÔÓ'Ò˛‰ÊÛπÚ¸Òfl
"‡‡ÌÚ¥fl:
– ‰ÂÙÂÍÚË, 'ËÍÎË͇̥ ÙÓÒχÊÓÌËÏË Ó·ÒÚ‡'Ë̇ÏË;
– 'ËÍÓËÒÚ‡ÌÌfl Á ÔÓÙÂÒ¥ÈÌÓ˛
ÏÂÚÓ˛;
– ÔÓÛ¯ÂÌÌfl 'ËÏÓ" ¥ÌÒÚÛ͈¥ª Á
ÂÍÒÔÎÛ‡Ú‡ˆ¥ª;
– Ì'iÌ 'ÒÚ‡ÌÓ'ÎÂÌÌfl ̇ÔÛ"Ë
ÏÂÂÊi ÊË'ÎÂÌÌfl (flÍ˘Ó ˆÂ
'Ëχ"‡πÚ¸Òfl);
– Á‰iÈÒÌÂÌÌfl ÚÂıÌ¥˜ÌËı ÁÏ¥Ì;
– ÏÂı‡Ì¥˜Ìi ÔÓ¯ÍÓ‰ÊÂÌÌfl;
– ‰Îfl ÔË·‰¥', ˘Ó Ô‡ˆ˛˛Ú¸ ̇
·‡Ú‡ÂÈ͇ı – Ó·ÓÚ‡ Á
Ì'i‰ÔÓ'¥‰ÌËÏË ‡·Ó
ÒÔ‡ˆ¸Ó'‡ÌËÏË ·‡Ú‡ÂÈ͇ÏË,
·Û‰¸flÍ¥ ÔÓ¯ÍÓ‰ÊÂÌÌfl, 'ËÍÎË͇̥
ÒÔ‡ˆ¸Ó'‡ÌËÏË ‡·Ó Ô¥‰Ú¥Í‡˛˜ËÏË
·‡Ú‡ÂÈ͇ÏË;
– ‰Îfl ·ËÚ' – Á¥Ï'flÚ‡ ‡·Ó ÔÓ'‡Ì‡
Ò¥Ú͇.
ì 'ËÔ‡‰ÍÛ 'ËÌËÍÌÂÌÌfl ÒÍ·‰ÌÓ˘¥' Á
'ËÍÓ̇ÌÌflÏ "‡‡ÌÚ¥ÈÌÓ"Ó ‡·Ó
Ô¥ÒÎfl"‡‡ÌÚ¥ÈÌÓ"Ó Ó·ÒÎÛ"Ó'Û'‡ÌÌfl
ÔÓı‡ÌÌfl Á'ÂÚ‡ÚËÒ¸ ‰Ó ÒÂ'¥ÒÌÓ"Ó
ˆÂÌÚÛ Ù¥ÏË Çr‡un ' ìÍ‡ªÌ¥.
Å˙΄‡ÒÍË
ɇ‡ÌˆËfl
燯ËÚ ÔÓ‰ÛÍÚË Ò‡ Ò "‡‡ÌˆËfl
2 "Ó‰ËÌË, Ò˜ËÚ‡ÌÓ ÓÚ ‰‡Ú‡Ú‡
̇ ÔÓÍÛÔ͇ڇ. Ç ‡ÏÍËÚ ̇
"‡‡ÌˆËÓÌÌËfl ÒÓÍ ·ÂÁÔ·ÚÌÓ
Ò ÓÚÒÚ‡Ìfl'‡Ú ‰ÂÙÂÍÚËÚ '
χÚÂˇÎËÚÂ Ë ÔÓËÁ'Ó‰ÒÚ'ÓÚÓ ˜ÂÁ
ÔÓÔ‡'͇, ÒÏfl̇ ̇ ˜‡ÒÚË ËÎË ˆÂÎËfl
Û‰, ÔÓ ÔˆÂÌ͇ ̇ ÒÂ'ËÁÌËfl
ˆÂÌÚ˙. í‡ÁË "‡‡ÌˆËfl Ò ÔËÁ̇'‡
'˙' 'Ò˘ÍË ÒÚ‡ÌË, Í˙‰ÂÚÓ Braun Ë
Ì"ӂËflÚ ËÁÍβ˜ËÚÂÎÂÌ ‰ËÒÚË·ÛÚÓ
ÔÓ‰‡'‡Ú ÚÓÁË Û‰ Ë Ìflχ
62
Ó"‡Ì˘ÂÌË Á‡ 'ÌÓÒ ËÎË ÓÙˈˇÎ̇
‡ÁÔÓ‰·‡ Ì Á‡·‡Ìfl'‡ ‰‡ ÒÂ
ËÁ'˙¯Ë Ô‰'ˉÂÌÓÚÓ "‡‡ÌˆËÓÌÌÓ
Ó·ÒÎÛÊ'‡ÌÂ.
ɇ‡ÌˆËflÚ‡ Ì ÔÓÍË'‡: ÔÓ'‰Ë
ÓÚ ÌÂÔ‡'ËÎ̇ ÛÔÓÚ·‡ (‡·ÓÚ‡
ÔË ÌÂÔÓ‰ıÓ‰fl˘Ó ̇ÔÂÊÂÌËÂ,
'Íβ˜'‡Ì ' ÌÂÔÓ‰ıÓ‰fl˘ ËÁÚÓ˜ÌËÍ
̇ ÂÎÂÍÚ˘ÂÒÍË ÚÓÍ, Ò˜ÛÔ'‡ÌÂ);
ËÁÌÓÒ'‡ÌÂ Ë ÌÂÁ̇˜ËÚÂÎÌË ‰ÂÙÂÍÚË,
ÍÓËÚÓ Ì Ô˜‡Ú ̇ ÌÓχÎ̇ڇ
‡·ÓÚ‡ ̇ Û‰‡. ɇ‡ÌˆËflÚ‡ Ì ÒÂ
ÔËÁ̇'‡ ÔË ÔÓÔ‡'͇ ̇ Û‰‡ ÓÚ
ÌÂÓÚÓËÁË‡ÌË Îˈ‡ ËÎË ‡ÍÓ Ì ҇
ËÁÔÓÎÁ'‡ÌË ÓË"Ë̇ÎÌË ÂÁÂ'ÌË
˜‡ÒÚË Ì‡ Braun.
ɇ‡ÌˆËflÚ‡  '‡Îˉ̇ ÔË Ô‡'ËÎÌÓ
ÔÓÔ˙ÎÌÂÌË: ‰‡Ú‡ ̇ ÔÓÍÛÔ͇ڇ, Ô˜‡Ú
Ë ÔÓ‰ÔËÒ ' "‡‡ÌˆËÓÌ̇ڇ ͇Ú‡.
ᇠ'Ò˘ÍË ÂÍ·χˆËË, '˙ÁÌËÍ̇ÎË '
"‡‡ÌˆËÓÌÌËfl ÒÓÍ, ËÁÔ‡ÚÂÚ Û‰‡
͇ÍÚÓ Ë "‡‡ÌˆËÓÌ̇ڇ ÏÛ Í‡Ú‡ '
̇È-·ÎËÁÍËfl ÒÂ'ËÁ ̇ Braun. á‡
ÒÔ‡'ÍË 0800 11 003 – ̇ˆËÓ̇ÎÂÌ
ÚÂÎÂÙÓÌ Ì‡ ÅÉ ÒÂ'ËÁ ·ÂÁ
Û'Â΢ÂÌË ̇ ÚÂÎÂÙÓÌ̇ڇ ÛÒÎÛ"‡
ËÎË www.bgs.bg.