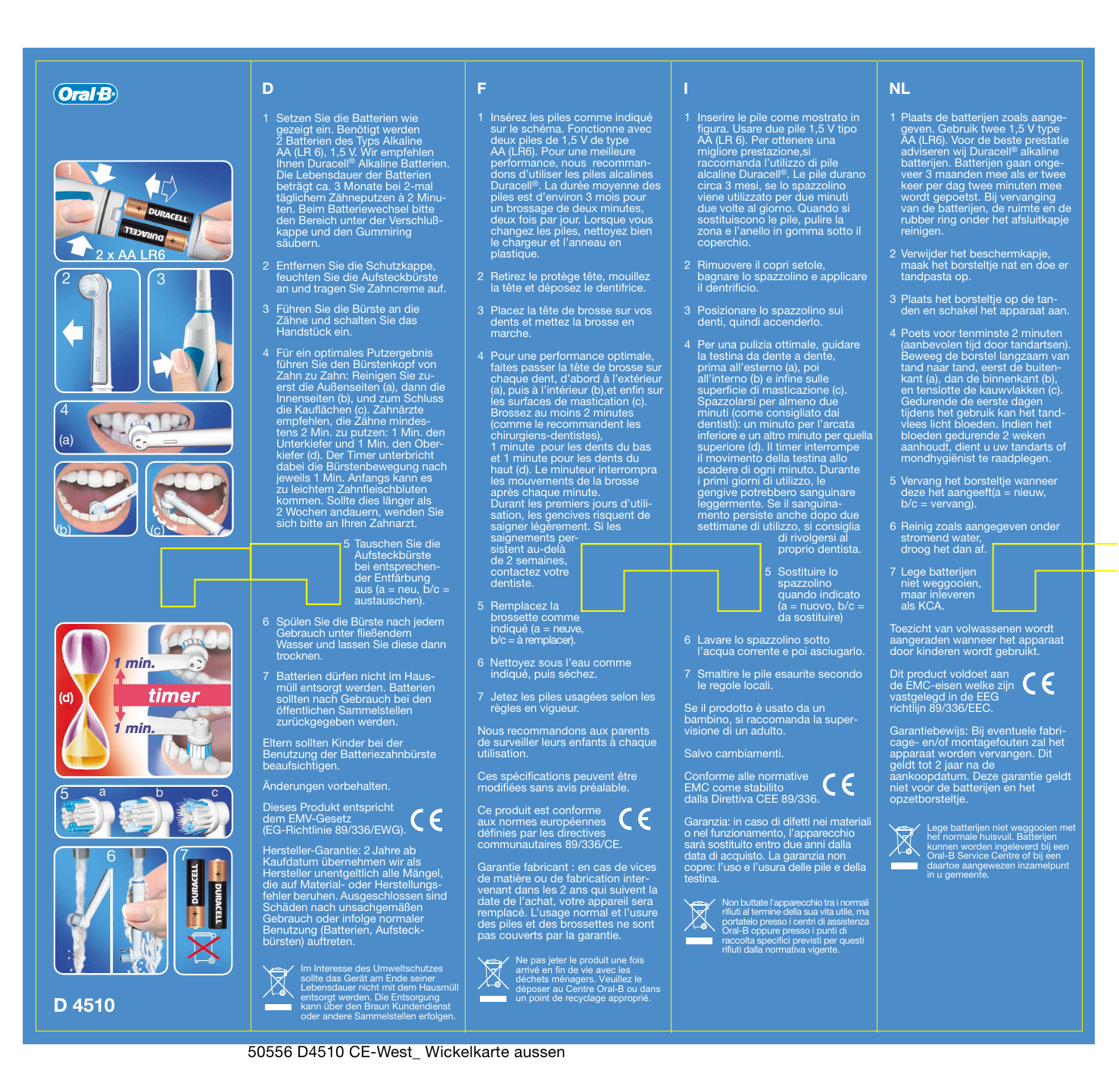 D
F
I
NL
1 Setzen Sie die Batterien wie
gezeigt ein. Benötigt werden
2 Batterien des Typs Alkaline
AA (LR 6), 1,5 V. Wir empfehlen
Ihnen Duracell® Alkaline Batterien.
Die Lebensdauer der Batterien
beträgt ca. 3 Monate bei 2-mal
täglichem Zähneputzen à 2 Minuten. Beim Batteriewechsel bitte
den Bereich unter der Verschlußkappe und den Gummiring
säubern.
1 Insérez les piles comme indiqué
sur le schéma. Fonctionne avec
deux piles de 1,5 V de type
AA (LR6). Pour une meilleure
performance, nous recommandons d'utiliser les piles alcalines
Duracell®. La durée moyenne des
piles est d'environ 3 mois pour
un brossage de deux minutes,
deux fois par jour. Lorsque vous
changez les piles, nettoyez bien
le chargeur et l'anneau en
plastique.
1 Inserire le pile come mostrato in
figura. Usare due pile 1,5 V tipo
AA (LR 6). Per ottenere una
migliore prestazione,si
raccomanda l'utilizzo di pile
alcaline Duracell®. Le pile durano
circa 3 mesi, se lo spazzolino
viene utilizzato per due minuti
due volte al giorno. Quando si
sostituiscono le pile, pulire la
zona e l'anello in gomma sotto il
coperchio.
1 Plaats de batterijen zoals aangegeven. Gebruik twee 1,5 V type
AA (LR6). Voor de beste prestatie
adviseren wij Duracell® alkaline
batterijen. Batterijen gaan ongeveer 3 maanden mee als er twee
keer per dag twee minuten mee
wordt gepoetst. Bij vervanging
van de batterijen, de ruimte en de
rubber ring onder het afsluitkapje
reinigen.
2 Entfernen Sie die Schutzkappe,
feuchten Sie die Aufsteckbürste
an und tragen Sie Zahncreme auf.
2 Retirez le protège tête, mouillez
la tête et déposez le dentifrice.
2 Rimuovere il copri setole,
bagnare lo spazzolino e applicare
il dentrificio.
3 Führen Sie die Bürste an die
Zähne und schalten Sie das
Handstück ein.
3 Placez la tête de brosse sur vos
dents et mettez la brosse en
marche.
3 Posizionare lo spazzolino sui
denti, quindi accenderlo.
4 Für ein optimales Putzergebnis
führen Sie den Bürstenkopf von
Zahn zu Zahn: Reinigen Sie zuerst die Außenseiten (a), dann die
Innenseiten (b), und zum Schluss
die Kauflächen (c). Zahnärzte
empfehlen, die Zähne mindestens 2 Min. zu putzen: 1 Min. den
Unterkiefer und 1 Min. den Oberkiefer (d). Der Timer unterbricht
dabei die Bürstenbewegung nach
jeweils 1 Min. Anfangs kann es
zu leichtem Zahnfleischbluten
kommen. Sollte dies länger als
2 Wochen andauern, wenden Sie
sich bitte an Ihren Zahnarzt.
5 Tauschen Sie die
Aufsteckbürste
bei entsprechender Entfärbung
aus (a = neu, b/c =
austauschen).
6 Spülen Sie die Bürste nach jedem
Gebrauch unter fließendem
Wasser und lassen Sie diese dann
trocknen.
7 Batterien dürfen nicht im Hausmüll entsorgt werden. Batterien
sollten nach Gebrauch bei den
öffentlichen Sammelstellen
zurückgegeben werden.
Eltern sollten Kinder bei der
Benutzung der Batteriezahnbürste
beaufsichtigen.
Änderungen vorbehalten.
Dieses Produkt entspricht
dem EMV-Gesetz
(EG-Richtlinie 89/336/EWG).
Hersteller-Garantie: 2 Jahre ab
Kaufdatum übernehmen wir als
Hersteller unentgeltlich alle Mängel,
die auf Material- oder Herstellungsfehler beruhen. Ausgeschlossen sind
Schäden nach unsachgemäßen
Gebrauch oder infolge normaler
Benutzung (Batterien, Aufsteckbürsten) auftreten.
D 4510
Im Interesse des Umweltschutzes
sollte das Gerät am Ende seiner
Lebensdauer nicht mit dem Hausmüll
entsorgt werden. Die Entsorgung
kann über den Braun Kundendienst
oder andere Sammelstellen erfolgen.
4 Pour une performance optimale,
faites passer la tête de brosse sur
chaque dent, d'abord à l'extérieur
(a), puis à l'intérieur (b),et enfin sur
les surfaces de mastication (c).
Brossez au moins 2 minutes
(comme le recommandent les
chirurgiens-dentistes),
1 minute pour les dents du bas
et 1 minute pour les dents du
haut (d). Le minuteur interrompra
les mouvements de la brosse
après chaque minute.
Durant les premiers jours d'utilisation, les gencives risquent de
saigner légèrement. Si les
saignements persistent au-delà
de 2 semaines,
contactez votre
dentiste.
5 Remplacez la
brossette comme
indiqué (a = neuve,
b/c = à remplacer).
6 Nettoyez sous l'eau comme
indiqué, puis séchez.
7 Jetez les piles usagées selon les
règles en vigueur.
Nous recommandons aux parents
de surveiller leurs enfants à chaque
utilisation.
Ces spécifications peuvent être
modifiées sans avis préalable.
Ce produit est conforme
aux normes européennes
définies par les directives
communautaires 89/336/CE.
Garantie fabricant : en cas de vices
de matière ou de fabrication intervenant dans les 2 ans qui suivent la
date de l'achat, votre appareil sera
remplacé. L'usage normal et l'usure
des piles et des brossettes ne sont
pas couverts par la garantie.
Ne pas jeter le produit une fois
arrivé en fin de vie avec les
déchets ménagers. Veuillez le
déposer au Centre Oral-B ou dans
un point de recyclage approprié.
50556 D4510 CE-West_ Wickelkarte aussen
4 Per una pulizia ottimale, guidare
la testina da dente a dente,
prima all'esterno (a), poi
all'interno (b) e infine sulle
superficie di masticazione (c).
Spazzolarsi per almeno due
minuti (come consigliato dai
dentisti): un minuto per l'arcata
inferiore e un altro minuto per quella
superiore (d). Il timer interrompe
il movimento della testina allo
scadere di ogni minuto. Durante
i primi giorni di utilizzo, le
gengive potrebbero sanguinare
leggermente. Se il sanguinamento persiste anche dopo due
settimane di utilizzo, si consiglia
di rivolgersi al
proprio dentista.
5 Sostituire lo
spazzolino
quando indicato
(a = nuovo, b/c =
da sostituire)
6 Lavare lo spazzolino sotto
l'acqua corrente e poi asciugarlo.
7 Smaltire le pile esaurite secondo
le regole locali.
Se il prodotto è usato da un
bambino, si raccomanda la supervisione di un adulto.
Salvo cambiamenti.
Conforme alle normative
EMC come stabilito
dalla Direttiva CEE 89/336.
Garanzia: in caso di difetti nei materiali
o nel funzionamento, l'apparecchio
sarà sostituito entro due anni dalla
data di acquisto. La garanzia non
copre: l'uso e l'usura delle pile e della
testina.
Non buttate l'apparecchio tra i normali
rifiuti al termine della sua vita utile, ma
portatelo presso i centri di assistenza
Oral-B oppure presso i punti di
raccolta specifici previsti per questi
rifiuti dalla normativa vigente.
2 Verwijder het beschermkapje,
maak het borsteltje nat en doe er
tandpasta op.
3 Plaats het borsteltje op de tanden en schakel het apparaat aan.
4 Poets voor tenminste 2 minuten
(aanbevolen tijd door tandartsen).
Beweeg de borstel langzaam van
tand naar tand, eerst de buitenkant (a), dan de binnenkant (b),
en tenslotte de kauwvlakken (c).
Gedurende de eerste dagen
tijdens het gebruik kan het tandvlees licht bloeden. Indien het
bloeden gedurende 2 weken
aanhoudt, dient u uw tandarts of
mondhygiënist te raadplegen.
5 Vervang het borsteltje wanneer
deze het aangeeft(a = nieuw,
b/c = vervang).
6 Reinig zoals aangegeven onder
stromend water,
droog het dan af.
7 Lege batterijen
niet weggooien,
maar inleveren
als KCA.
Toezicht van volwassenen wordt
aangeraden wanneer het apparaat
door kinderen wordt gebruikt.
Dit product voldoet aan
de EMC-eisen welke zijn
vastgelegd in de EEG
richtlijn 89/336/EEC.
Garantiebewijs: Bij eventuele fabricage- en/of montagefouten zal het
apparaat worden vervangen. Dit
geldt tot 2 jaar na de
aankoopdatum. Deze garantie geldt
niet voor de batterijen en het
opzetborsteltje.
Lege batterijen niet weggooien met
het normale huisvuil. Batterijen
kunnen worden ingeleverd bij een
Oral-B Service Centre of bij een
daartoe aangewezen inzamelpunt
in u gemeente.