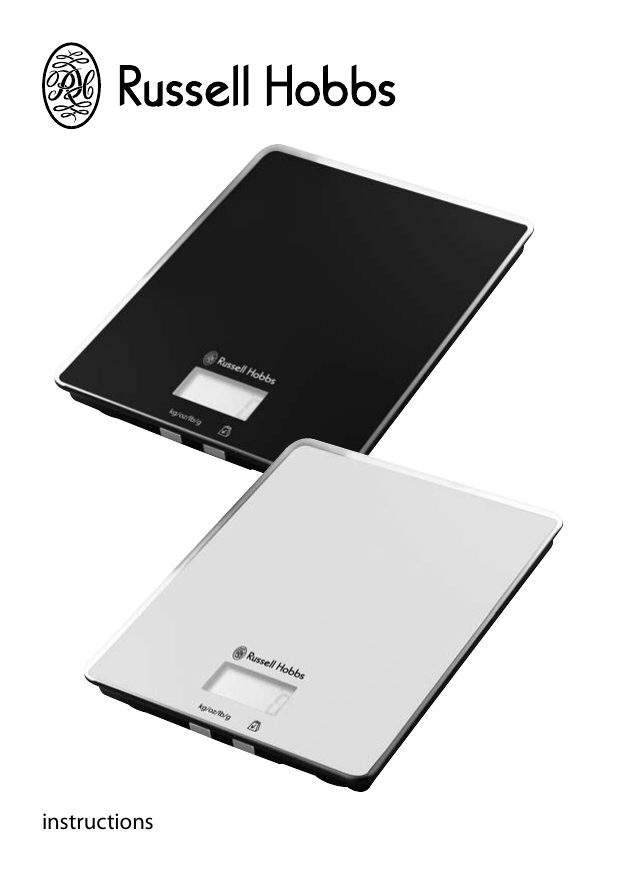 instructions
2
Read the instructions and keep them safe. If you pass the scale on,
pass on the instructions too. Remove all packaging, but keep it till
you know the scale works.
important safeguards
Follow basic safety precautions, including:
1 This scale must only be used by or under the supervision of a
responsible adult.
2 The scale isn't a toy. Don't let children play with it.
3 Don't put the scale in water or any other liquid, and
don't use it anywhere damp or wet.
4 Store the scale away from direct sunlight, and, if possible, from
fluorescent light.
5 Don't use the scale for any purpose other than those described in
these instructions.
6 Don't use the scale if it's damaged or malfunctions.
household use only
fitting batteries
1
2
3
4
5
Turn the scale upside down.
Press the latch, to release the battery compartment cover.
Fit 2 CR2032 batteries in the battery compartment.
The positive (+) sides of the batteries should be uppermost.
Press the batteries down, against the catches, till the tops of the
catches hold them in place.
6 Replace the battery compartment cover.
7 Turn the scale right way up.
positioning
8 Sit the scale on a stable, level surface.
9 Vibration and air movement will affect its accuracy.
switch on
10
11
12
13
Press the T button to switch the display on.
The display will go through a self test routine, then settle at zero.
Use the kg/oz/lb/g button to set the units you want to use.
The scale will remember this setting till you change it, or till you
remove/replace the batteries.
3
weighing
14 Put the item to be weighed in the centre of the scale.
15 The display will change, then stabilise to show the correct weight.
tare
16 Press T to zero the display, so you can weigh the next ingredient.
17 Use this function to deduct the weight of the container, or the
weight of existing ingredients:
a) Put the bowl on the scale.
b) Wait till its weight is displayed.
c) Press T – wait till the display stabilises at zero.
d) Add the first ingredient, and wait till its weight is displayed.
e) Press T – wait till the display stabilises at zero.
f) Add the next ingredient, and wait till its weight is displayed.
g) Press T – wait till the display stabilises at zero.
h) Repeat till you've weighed all the ingredients.
19 The scale is limited to 5kg. If you exceed this weight, the display
will show "0-Ld".
switching off
21 After a few seconds of inactivity, the display will darken.
22 It'll wake up when you put something on it.
23 After about 2 minutes of inactivity, it'll switch itself off.
24 To switch it on again, press T.
care and maintenance
25 Clean the outside surfaces of the scale with a damp cloth.
26 Don't use harsh or abrasive cleaning agents, solvents, scourers,
wire wool, or soap pads.
27 Don't put the scale in water or any other liquid.
battery care
28 Don't leave dead batteries in the scale, they may leak caustic
gunge over the product and surroundings.
29 Unless you're using the scale regularly, it's best to remove the
batteries altogether.
30 When you need new batteries, change them all. Don't use new
and used batteries together.
4
31 Don't put old batteries in a fire or incinerator.
32 Don't try to recharge batteries unless they're specifically
designed to be recharged.
33 Don't put old batteries out with your normal household rubbish.
They must be disposed of in an environmentally friendly way. Get
in touch with your local authority, who will have arrangements
for their disposal.
error messages
34 These are shown on page 2.
35 If you see one of the low battery messages, replace the batteries.
36 if the overload message shows, reduce the load or you'll risk
damaging the scale.
37 The negative weight sign will often show briefly after you've
removed something from the scale. It'll disappear as soon as the
scale stabilises.
38 If the negative weight sign shows while you're weighing, it
usually means there's something under the edge of the scale,
interfering with it's free movement.
39 We've got a couple of spare pages, so, rather than leave them
blank, here are a few simple recipes.
classic Victoria sponge cake
100g butter/margarine
100g caster sugar
2 large eggs
100g self raising flour
1 drop vanilla essence
Grease two 180mm (7 inch) straight sided sandwich tins and line the
bases with buttered greaseproof paper.
Beat the butter at medium to high speed till light and fluffy.
Reduce speed, and gradually add the eggs, then the vanilla.
Gradually add the flour, and turn the mixer up to medium speed
once the ingredients start to incorporate.
Divide the mixture equally between the tins and level the surfaces.
Bake the cakes in the centre of a pre-heated oven at 180°C for about
25 minutes, then cool on a wire rack.
5
basic biscuits
100g plain flour
100g self raising flour
100g butter
150g caster sugar
1 medium egg
1 tsp vanilla essence
Cream the butter, sugar and vanilla essence till light, pale and fluffy.
Add the egg, then beat till everything has combined.
Sift the flours together then work them into the mixture.
Form into balls, put them on a greased baking tray, flatten them
slightly, then bake in a pre-heated oven at 180°C for 12-15 minutes.
Cool on the tray for a few minutes, then move to a wire rack.
pizza dough (makes 2 large pizzas)
525g strong white flour
250ml water
1½ tbsp olive oil
1½ tsp dried yeast
1½ tsp sugar
1½ tsp salt
Sift the flour into a bowl and add the yeast, sugar and salt. Add the
water and oil and mix till the dough is fully incorporated and
smooth in texture.
Cover the bowl with a damp tea towel or cling film and let it rest in a
warm place for about half an hour.
Remove the dough and knead for a few minutes, till it's smooth and
elastic.
Cut the dough in half, roll out into circles on a floured surface and
put them on a non-stick baking sheet or a pizza baking tray.
Spread the pizza bases with a tomato based sauce and top with
your favourite toppings (ham, cheese, sweetcorn, peppers,
mushrooms, onions, pepperoni etc.)
Bake in a pre-heated oven at 200°C for 18-20 minutes, till the edges
of the crust are golden brown.
6
coriander pesto
2 handfuls fresh leaf coriander
2 cloves fresh garlic
60g pine nuts
60g freshly grated Parmesan
100-125ml olive oil
freshly ground black pepper
Mix the coriander, garlic, pine nuts and oil in a blender, a food
processor, or a large mortar and pestle. Transfer to a bowl, and stir in
the Parmesan.
Season with freshly ground black pepper, and serve as a dip, as a
topping for soup, or tossed through warm pasta.
horseradish and apple sauce
1 sharp flavoured apple, peeled and grated
125ml double cream
3 tbsp horseradish relish
1 tsp paprika
freshly ground black pepper
Beat/whisk the cream till soft peaks form, then fold in the apple,
horseradish, and paprika.
Season with the pepper, and serve with beef or sausages.
black olive and anchovy tapenade/sauce
125g pitted black olives, drained
30g anchovy fillets, drained
1½ tbsp capers, drained
50-75ml olive oil
1 tbsp brandy (optional)
freshly ground black pepper
Mix the olives, capers, and anchovies in a blender, a food processor,
or a large mortar and pestle. Transfer to a bowl, and stir in enough
oil to form a paste. This is a tapenade.
For a sauce or dip, stir in more oil to get the consistency you want.
Spread on toast, or toss through warm pasta. Try it with sun-dried
tomatoes instead of capers.
7
wheelie bin symbol
To avoid environmental and health problems due to
hazardous substances in electrical and electronic goods,
appliances marked with this symbol mustn't be disposed
of with unsorted municipal waste, but recovered, reused,
or recycled.
service
If you ring Customer Service, please have the Model No. to hand, as
we won't be able to help you without it. It's on the rating plate
(usually underneath the product).
The product isn't user-serviceable. If it's not working, read the
instructions, check the batteries and replace them if necessary. If it's
still not working, consult your retailer.
If that doesn't solve the problem – ring Customer Service – they may
be able to offer technical advice.
If they advise you to return the product to us, pack it carefully,
include a note with your name, address, day phone number, and
what's wrong. If under guarantee, say where and when purchased,
and include proof of purchase (till receipt). Send it to:
Customer Service
Salton Europe Ltd
Failsworth
Manchester
M35 0HS
email: service@saltoneurope.com
telephone: 0845 658 9700 (local rate number)
guarantee
online
www.russellhobbs.co.uk for more products
8
550-242
Defects affecting product functionality appearing within one year of
purchase will be corrected by replacement or repair provided the
product is used and maintained in accordance with the instructions.
Your statutory rights are not affected. Documentation, packaging,
and product specifications may change without notice.