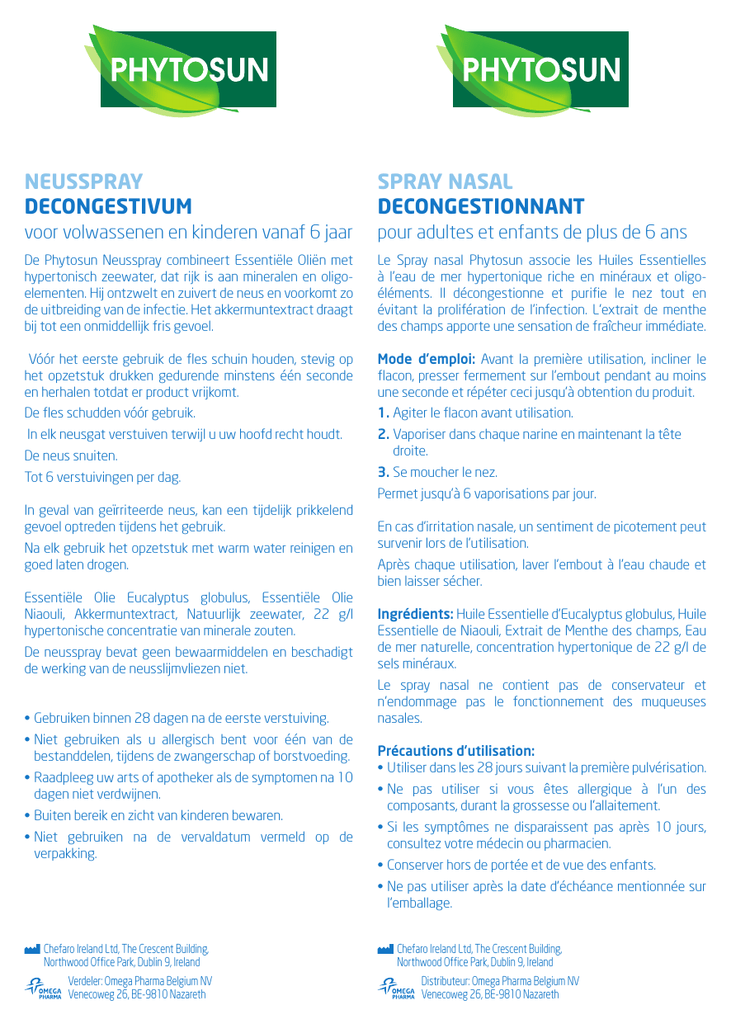 Neusspray
Decongestivum
spray NASAl
Decongestionnant
voor volwassenen en kinderen vanaf 6 jaar
pour adultes et enfants de plus de 6 ans
De Phytosun Neusspray combineert Essentiële Oliën met
hypertonisch zeewater, dat rijk is aan mineralen en oligoelementen. Hij ontzwelt en zuivert de neus en voorkomt zo
de uitbreiding van de infectie. Het akkermuntextract draagt
bij tot een onmiddellijk fris gevoel.
Le Spray nasal Phytosun associe les Huiles Essentielles
à l'eau de mer hypertonique riche en minéraux et oligoéléments. Il décongestionne et purifie le nez tout en
évitant la prolifération de l'infection. L'extrait de menthe
des champs apporte une sensation de fraîcheur immédiate.
Vóór het eerste gebruik de fles schuin houden, stevig op
het opzetstuk drukken gedurende minstens één seconde
en herhalen totdat er product vrijkomt.
Mode d'emploi: Avant la première utilisation, incliner le
flacon, presser fermement sur l'embout pendant au moins
une seconde et répéter ceci jusqu'à obtention du produit.
De fles schudden vóór gebruik.
1.Agiter le flacon avant utilisation.
In elk neusgat verstuiven terwijl u uw hoofd recht houdt.
2.Vaporiser dans chaque narine en maintenant la tête
droite.
De neus snuiten.
Tot 6 verstuivingen per dag.
3.Se moucher le nez.
Permet jusqu'à 6 vaporisations par jour.
In geval van geïrriteerde neus, kan een tijdelijk prikkelend
gevoel optreden tijdens het gebruik.
Na elk gebruik het opzetstuk met warm water reinigen en
goed laten drogen.
Essentiële Olie Eucalyptus globulus, Essentiële Olie
Niaouli, Akkermuntextract, Natuurlijk zeewater, 22 g/l
hypertonische concentratie van minerale zouten.
En cas d'irritation nasale, un sentiment de picotement peut
survenir lors de l'utilisation.
Après chaque utilisation, laver l'embout à l'eau chaude et
bien laisser sécher.
De neusspray bevat geen bewaarmiddelen en beschadigt
de werking van de neusslijmvliezen niet.
Ingrédients: Huile Essentielle d'Eucalyptus globulus, Huile
Essentielle de Niaouli, Extrait de Menthe des champs, Eau
de mer naturelle, concentration hypertonique de 22 g/l de
sels minéraux.
• Gebruiken binnen 28 dagen na de eerste verstuiving.
Le spray nasal ne contient pas de conservateur et
n'endommage pas le fonctionnement des muqueuses
nasales.
• Niet gebruiken als u allergisch bent voor één van de
bestanddelen, tijdens de zwangerschap of borstvoeding.
• Raadpleeg uw arts of apotheker als de symptomen na 10
dagen niet verdwijnen.
• Buiten bereik en zicht van kinderen bewaren.
• Niet gebruiken na de vervaldatum vermeld op de
verpakking.
Précautions d'utilisation:
•Utiliser dans les 28 jours suivant la première pulvérisation.
•Ne pas utiliser si vous êtes allergique à l'un des
composants, durant la grossesse ou l'allaitement.
•Si les symptômes ne disparaissent pas après 10 jours,
consultez votre médecin ou pharmacien.
•Conserver hors de portée et de vue des enfants.
•Ne pas utiliser après la date d'échéance mentionnée sur
l'emballage.
Chefaro Ireland Ltd, The Crescent Building,
Northwood Office Park, Dublin 9, Ireland
Verdeler: Omega Pharma Belgium NV
Venecoweg 26, BE-9810 Nazareth
Chefaro Ireland Ltd, The Crescent Building,
Northwood Office Park, Dublin 9, Ireland
Distributeur: Omega Pharma Belgium NV
Venecoweg 26, BE-9810 Nazareth
Nasenspray
Dekongestivum
für Erwachsene und Kinder ab 6 Jahre
Hilft gegen Nasenverstopfung bei Erkältung oder Schnupfen.
Reinigt die Nasenhöhlen.
Verhindert die Ausweitung der Infektion.
Gebrauchsanweisung: Sprayflasche vor dem ersten
Gebrauch schräg halten, mindestens 1 Sekunde lang fest
auf den Aufsatz drücken und wiederholen, bis das Produkt
austritt.
1. Sprayflasche vor Gebrauch schütteln.
2. In jedes Nasenloch sprühen und dabei den Kopf gerade
halten.
3. Nase putzen.
Bis zu 6 Sprühanwendungen pro Tag.
Ist die Nase gereizt, so kann während der Anwendung kurz
ein pickendes Gefühl auftreten.
Den Aufsatz nach jedem Gebrauch mit warmem Wasser
abwaschen und gut trocknen lassen.
Inhaltsstoffe:
ätherisches
Eucalyptus-globulus-Öl,
ätherisches Niaouli-Öl, Ackerminzextrakt, natürliches
Meerwasser, hypertonische Mineralsalzlösung 22 g/l.
Das Nasenspray enthält keine Konservierungsstoffe und
beeinträchtigt nicht die Funktion der Nasenschleimhäute.
Vorsichtsmaßnahmen:
•Bis 28 Tage nach der ersten Sprühanwendung haltbar.
•Nicht anwenden, wenn Sie allergisch auf einen der
Inhaltsstoffe reagieren, schwanger sind oder stillen.
•Unter Verschluss und für Kinder unzugänglich aufbewahren.
•Nach dem auf der Verpackung
Verfallsdatum nicht mehr gebrauchen.
Chefaro Ireland Ltd, The Crescent Building,
Northwood Office Park, Dublin 9, Ireland
Händler: Omega Pharma Belgium NV
Venecoweg 26, BE-9810 Nazareth
angegebenen
20
ML
PSA.BEN.20.1.N
Revision date: April 2012
•Fragen Sie Ihren Arzt oder Apotheker, wenn die Symptome
nach 10 Tagen nicht abklingen.