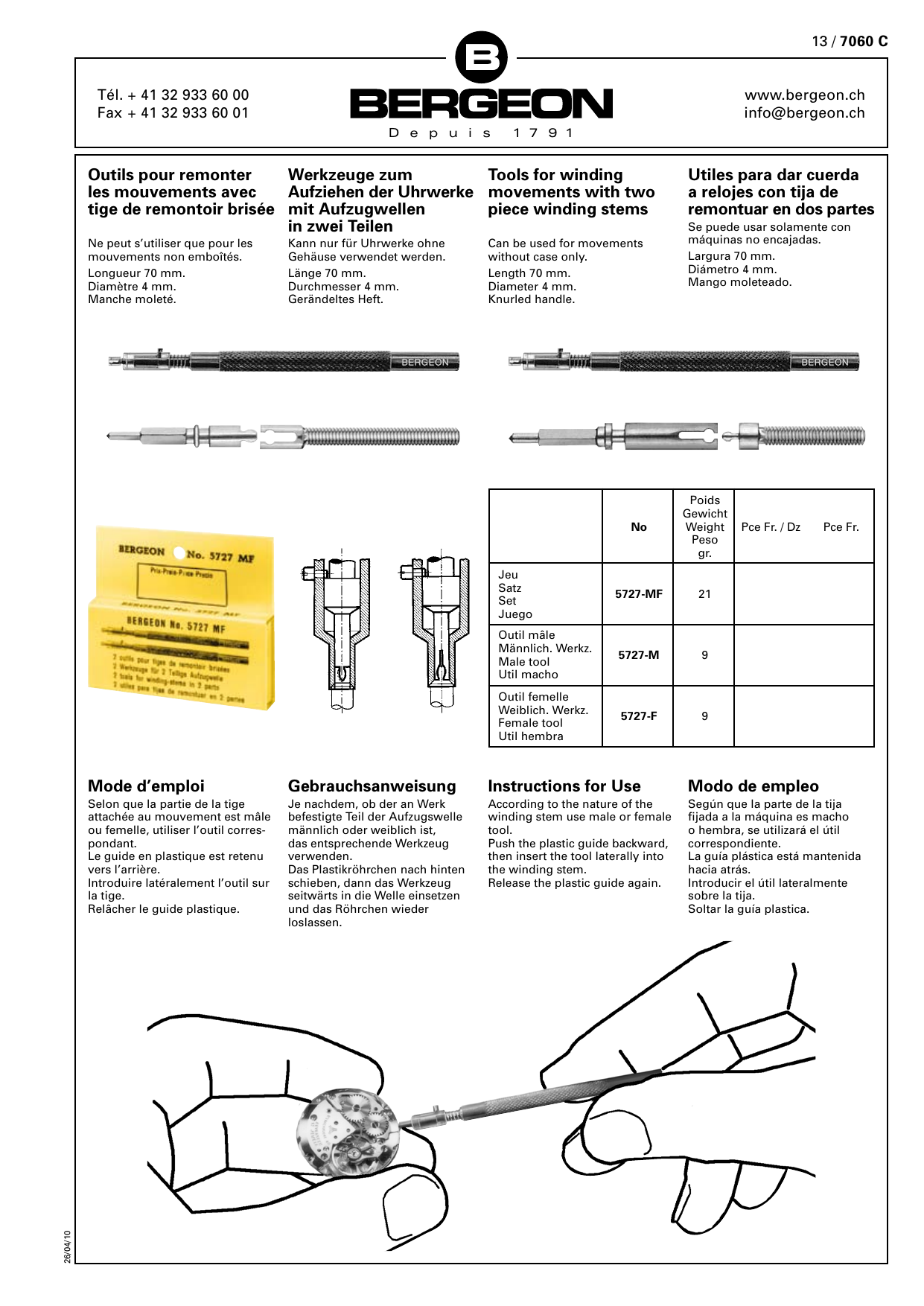 13 / 7060 C
Tél. + 41 32 933 60 00 Fax + 41 32 933 60 01
www.bergeon.ch
info@bergeon.ch
D e p u i s
1 7 9 1
Outils pour remonter
Werkzeuge zum
Tools for winding
les mouvements avec
­Aufziehen der Uhrwerke movements with two
tige de remontoir ­brisée mit Aufzug­wellen
piece winding stems
in zwei Teilen
Ne peut s'utiliser que pour les
mouvements non emboîtés.
Longueur 70 mm.
Diamètre 4 mm.
Manche moleté.
Kann nur für Uhrwerke ohne
Gehäuse verwendet werden.
Länge 70 mm.
Durchmesser 4 mm.
Gerändeltes Heft.
Can be used for movements
­without case only.
Length 70 mm.
Diameter 4 mm.
Knurled handle.
26/04/10
No
Utiles para dar cuerda
a relojes con tija de
remontuar en dos partes
Se puede usar solamente con
máquinas no encajadas.
Largura 70 mm.
Diámetro 4 mm.
Mango moleteado.
Poids
Gewicht
Weight
Peso
gr.
Jeu
Satz
Set
Juego
5727-MF
21
Outil mâle
Männlich. Werkz.
Male tool
Util macho
5727-M
9
Outil femelle
Weiblich. Werkz.
Female tool
Util hembra
5727-F
9
Pce Fr. / Dz
Pce Fr.
Mode d'emploi
Gebrauchsanweisung
Instructions for Use
Modo de empleo
Selon que la partie de la tige
­attachée au mouvement est mâle
ou femelle, utiliser l'outil correspondant.
Le guide en plastique est retenu
vers l'arrière.
Introduire latéralement l'outil sur
la tige.
Relâcher le guide plastique.
Je nachdem, ob der an Werk
befestigte Teil der Aufzugswelle
männlich oder weiblich ist,
das entsprechende Werkzeug
­verwenden.
Das Plastikröhrchen nach hinten
schieben, dann das Werkzeug
seitwärts in die Welle einsetzen
und das Röhrchen wieder
­loslassen.
According to the nature of the
winding stem use male or female
tool.
Push the plastic guide backward,
then insert the tool laterally into
the winding stem.
Release the plastic guide again.
Según que la parte de la tija
fijada a la máquina es macho
o hembra, se utilizará el útil
correspondiente.
La guía plástica está mantenida
hacia atrás.
Introducir el útil lateralmente
sobre la tija.
Soltar la guía plastica.

* Your assessment is very important for improving the work of artificial intelligence, which forms the content of this project