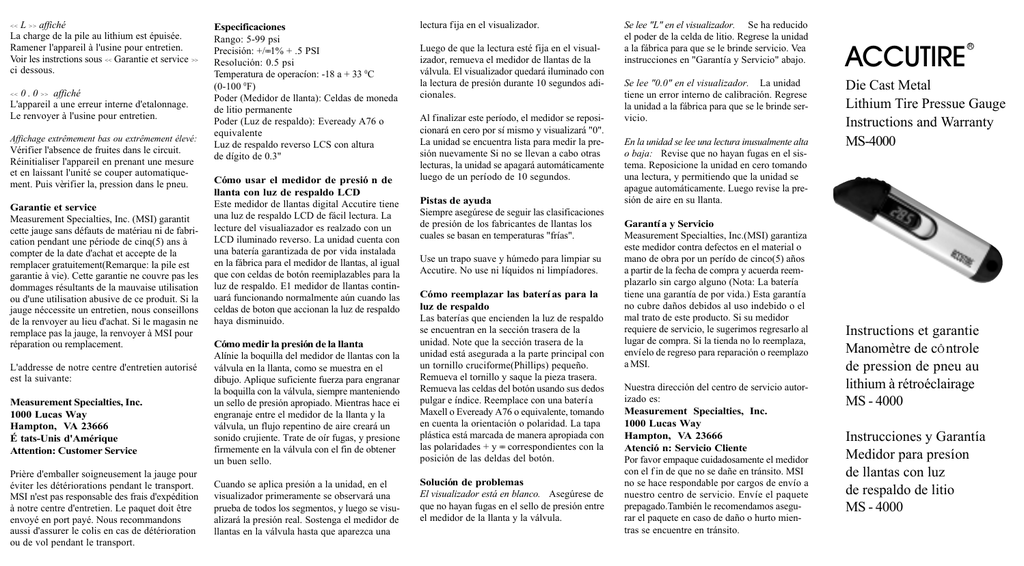 L >> affiché
La charge de la pile au lithium est épuisée.
Ramener l'appareil à l'usine pour entretien.
Voir les instrctions sous << Garantie et service >>
ci dessous.
<<
0 . 0 >> affiché
L'appareil a une erreur interne d'etalonnage.
Le renvoyer à l'usine pour entretien.
<<
Affichage extrêmement bas ou extrêmement élevé:
Vérif ier l'absence de fruites dans le circuit.
Réinitialiser l'appareil en prenant une mesure
et en laissant l'unité se couper automatiquement. Puis vèrif ier la, pression dans le pneu.
Garantie et service
Measurement Specialties, Inc. (MSI) garantit
cette jauge sans défauts de matériau ni de fabrication pendant une période de cinq(5) ans à
compter de la date d'achat et accepte de la
remplacer gratuitement(Remarque: la pile est
garantie à vie). Cette garantie ne couvre pas les
dommages résultants de la mauvaise utilisation
ou d'une utilisation abusive de ce produit. Si la
jauge néccessite un entretien, nous conseillons
de la renvoyer au lieu d'achat. Si le magasin ne
remplace pas la jauge, la renvoyer à MSI pour
réparation ou remplacement.
L'addresse de notre centre d'entretien autorisé
est la suivante:
Measurement Specialties, Inc.
1000 Lucas Way
Hampton, VA 23666
É tats-Unis d'Amérique
Attention: Customer Service
Prière d'emballer soigneusement la jauge pour
éviter les détériorations pendant le transport.
MSI n'est pas responsable des frais d'expédition
à notre centre d'entretien. Le paquet doit être
envoyé en port payé. Nous recommandons
aussi d'assurer le colis en cas de détérioration
ou de vol pendant le transport.
Especificaciones
Rango: 5-99 psi
Precisión: +/--1% + .5 PSI
Resolución: 0.5 psi
Temperatura de operacíon: -18 a + 33 0C
(0-100 0F)
Poder (Medidor de llanta): Celdas de moneda
de litio permanente
Poder (Luz de respaldo): Eveready A76 o
equivalente
Luz de respaldo reverso LCS con altura
de dígito de 0.3"
Cómo usar el medidor de presió n de
llanta con luz de respaldo LCD
Este medidor de llantas digital Accutire tiene
una luz de respaldo LCD de fácil lectura. La
lecture del visualiazador es realzado con un
LCD iluminado reverso. La unidad cuenta con
una batería garantizada de por vida instalada
en la fábrica para el medidor de llantas, al igual
que con celdas de botón reemiplazables para la
luz de respaldo. E1 medidor de llantas continuará funcionando normalmente aún cuando las
celdas de boton que accionan la luz de respaldo
haya disminuido.
Cómo medir la presión de la llanta
Alínie la boquilla del medidor de llantas con la
válvula en la llanta, como se muestra en el
dibujo. Aplique suficiente fuerza para engranar
la boquilla con la válvula, siempre manteniendo
un sello de presión apropiado. Mientras hace ei
engranaje entre el medidor de la llanta y la
válvula, un flujo repentino de aire creará un
sonido crujiente. Trate de oír fugas, y presione
firmemente en la válvula con el fin de obtener
un buen sello.
Cuando se aplica presión a la unidad, en el
visualizador primeramente se observará una
prueba de todos los segmentos, y luego se visualizará la presión real. Sostenga el medidor de
llantas en la válvula hasta que aparezca una
lectura f ija en el visualizador.
Luego de que la lectura esté fija en el visualizador, remueva el medidor de llantas de la
válvula. El visualizador quedará iluminado con
la lectura de presión durante 10 segundos adicionales.
Al f inalizar este período, el medidor se reposicionará en cero por sí mismo y visualizará "0".
La unidad se encuentra lista para medir la presión nuevamente Si no se llevan a cabo otras
lecturas, la unidad se apagará automáticamente
luego de un perí odo de 10 segundos.
Pistas de ayuda
Siempre asegúrese de seguir las clasificaciones
de presión de los fabricantes de llantas los
cuales se basan en temperaturas "frías".
Use un trapo suave y húmedo para limpiar su
Accutire. No use ni líquidos ni limpí adores.
Cómo reemplazar las baterí as para la
luz de respaldo
Las baterí as que encienden la luz de respaldo
se encuentran en la sección trasera de la
unidad. Note que la sección trasera de la
unidad está asegurada a la parte principal con
un tornillo cruciforme(Phillips) pequeño.
Remueva el tornillo y saque la pieza trasera.
Remueva las celdas del botón usando sus dedos
pulgar e índice. Reemplace con una baterí a
Maxell o Eveready A76 o equivalente, tomando
en cuenta la orientación o polaridad. La tapa
plástica está marcada de manera apropiada con
las polaridades + y -- correspondientes con la
posición de las deldas del botón.
Solución de problemas
El visualizador está en blanco. Asegúrese de
que no hayan fugas en el sello de presión entre
el medidor de la llanta y la válvula.
Se lee "L" en el visualizador. Se ha reducido
el poder de la celda de litio. Regrese la unidad
a la fábrica para que se le brinde servicio. Vea
instrucciones en "Garantí a y Servicio" abajo.
Se lee "0.0" en el visualizador. La unidad
tiene un error interno de calibración. Regrese
la unidad a la fábrica para que se le brinde servicio.
En la unidad se lee una lectura inusualmente alta
o baja: Revise que no hayan fugas en el sistema. Reposicione la unidad en cero tomando
una lectura, y permitiendo que la unidad se
apague automáticamente. Luego revise la presión de aire en su llanta.
Garantí a y Servicio
Measurement Specialties, Inc.(MSI) garantiza
este medidor contra defectos en el material o
mano de obra por un perí do de cinco(5) años
a partir de la fecha de compra y acuerda reemplazarlo sin cargo alguno (Nota: La batería
tiene una garantía de por vida.) Esta garantí a
no cubre daños debidos al uso indebido o el
mal trato de este producto. Si su medidor
requiere de servicio, le sugerimos regresarlo al
lugar de compra. Si la tienda no lo reemplaza,
enví elo de regreso para reparación o reemplazo
a MSI.
Nuestra dirección del centro de servicio autorizado es:
Measurement Specialties, Inc.
1000 Lucas Way
Hampton, VA 23666
Atenció n: Servicio Cliente
Por favor empaque cuidadosamente el medidor
con el f in de que no se dañe en tránsito. MSI
no se hace respondable por cargos de enví o a
nuestro centro de servicio. Enví e el paquete
prepagado.También le recomendamos asegurar el paquete en caso de daño o hurto mientras se encuentre en tránsito.
)++7614-
R
Die Cast Metal
Lithium Tire Pressue Gauge
Instructions and Warranty
MS-4000
Instructions et garantie
Manomètre de cÔ ntrole
de pression de pneu au
lithium à rétroéclairage
MS - 4000
Instrucciones y Garantía
Medidor para presí on
de llantas con luz
de respaldo de litio
MS - 4000
Specifications
Range: 5-99 PSI
Accuracy: +/-- 1% + .5 PSI
Operating Temperature: 0 to 100 0F
(-18 to + 33 0C)
Power(Tire Gauge): Permanent
Lithium Coil Cells
Power(Back Light): Eveready A76
or equivalent
Reverse Back Light LCD w/0.3" digit height
How to Use Your Pressure Gauge with
Backlit LCD
This Accutire digital tire gauge features an
easy to read, backlit LCD. Display viewing is
enhanced by a reverse illuminated LCD. The
unit has a factory installed lifetime lithium
battery for the tire gauge, as well as replaceable button cells for the back light feature.
The tire gauge will continue to function normally even when the button cells that power
the back light have been depleted.
Measuring Tire Pressure
Align the nozzle of the tire gauge with the
valve stem on your tire, as shown in photo.
Apply sufficient force to engage the nozzle
with the stem, while maintaining a proper
pressure seal. As you engage the tire gauge to
the valve stem, a sudden surge of air will
create a crisp sound. Carefully listen for any
leaks, and press firmly on the valve stem to
obtain a good seal.
When pressure is applied to the unit, the display will first flash an all segments test, then
display the actual pressure. Hold the tire gauge
on the valve stem until a reading appears on
the display and locks.
After the reading has locked on the display,
remove the tire gauge from the valve stem.
The display will remain illuminated with the
pressure reading for 10 seconds.
The unit has an internal calibration error.
Return to factory for service.
At the end of this time period, the gauge will
automatically re-zero itself and display "0".
The unit is now ready to measure pressure
again. If no additional readings are made, the
unit will automatically turn off after another
10 second time out period.
The unit displays an unusually high or low
reading
Check to make sure there are no leaks in the
system. Re-zero the unit by taking a reading,
and allowing the unit to automatically shut off.
Then check the air pressure in your tire.
Helpful Hints
Always be sure to follow the tire manufacturer's pressure ratings which are based on "cool"
tire temperatures.
Warranty and Service
Measurement Specialties, Inc. (MSI) warrants
this gauge against defects in material or workmanship for a period of five (5) years from the
date of purchase and agrees to replace it free
of charge (Note: The battery carries a lifetime
warranty.) This warranty does not cover damage resulting from misuse or abuse of this
product. Should your gauge require service, we
suggest you first return it to your place of purchase. If the store does not replace the gauge,
you may send it back to MSI for repair or
replacement.
Use a soft, damp cloth to clean your Accutire.
Do not use any liquids or cleansers.
Replacing the Batteries for the
Back Light
The batteries that power the back light are
housed in the tail section of the unit. The tail
section of the unit is secured to the body by a
small Phillips screw. Remove the screw and pull
out the tail piece. Remove the button cells
using your thumb and forefinger. Replace with
new Maxell or Eveready A76 or equivalent,
noting the proper orientation or polarity. The
plastic housing is marked with the appropriate
+ and - polarity that corresponds to the position of the button cells.
Troubleshooting
The display is blank
Make sure that the pressure seal between the
tire gauge and the valve stem is free from leaks.
The display reads "L"
The power in the lithium cell has been
depleted. Return the unit to factory for
service. See instructions under "Warranty and
Service" below.
The display reads "0.0"
Our authorized service center address is:
Measurement Specialties, Inc.
1000 Lucas Way
Hampton, VA 23666
Attn: Customer Service
Please take care in plckaging the gauge so it
will not be damaged in transit. MSI is not
responsible for freight costs to our service center. You should send the package freight
prepaid. We also recommend the package
be insurred in case of damage or theft while
in transit.
Caracteristiques
Domaine: 5-99 PSI
Précision: +/--1% + .5 PSI
Résolution: 0,5 PSI
Température de fonctionnement: -18 à + 33 0C
Alimentation (manomètre de pneu): Piles boutons permanentes au lithium
Alimentation(rétroéclairage): Eveready A76 ou
un équivalent
Aff ichage à cristaux liquides à rétroéclairage
inversé avec une hauteur de chiffres de 7,6 mm
Mode d'emploi du manomètre de contrô le de pression de pneu à affichage à
cristaux liquides à rétroéclairage
Ce manomètre numérique de pneu Accutire
présente un aff ichage à cristaux liquides à
rétroéclairage facile à lire. L'aff ichage est
amélioré par un écran à cristaux liquides
rétroéclairé. L'appareil est muni d'une pile à
vie installée en usine pour le manomètre de
pneu, ainsi que de piles boutons remplaçables
pour la fonction de rétroéclairage, Le
manomètre de pneu continue de fonctionner
normalement même si les piles qui alimentent
le rétroéclairage sont équisées.
Mesure de la pression du pneu
Aligner l'embout du manomètre avec la tige de
valve du pneu, conformément au schéma.
Appliquer assez de force pour engager l'embout sur la tige, tout en maintenant un joint de
pression approprié. Lors de l'engagement du
manomètre de pneu sur la tige de valve, une
montée soudaine d'air crée un bruit net.
Écouter attentivement pour rechercher les
fuites et appuyer fermement sur la tige de valve
pour assurer une bonne étanchéité.
Lorsque la pression est appliquée sur l'appareil,
l'aff ichage commence par clignoter pour
effectuer un test de tous les segments, puis
affiche la pression réelle. Tenir le manomètre
de pneu sur la tige de valve jusqu' à ce que la
mesure apparaisse sur l'affchage et se stabilise.
Lorsque l'affichage s'est stabilisé, retirer le
manomètre de pneu de la tige de valve.
L'aff ichage reste allumé avec la valeur de pression pendant 10 secondes de plus.
À la f in de cette période, le manomètre se
réinitialise automatiquement et affiche << 0 >>.
L'appareil est alors prêt à mesurer de nouveau
la pression. Si aucune autre mesure n'est effectuée, l'appareil se coupe automatiquement au
bout de 10 seconds supplémentaires.
Conseils utiles
Toujours s'assurer de respecter les pressions
nominales des fabricants de pneu qui sont
basées sur des températures de pneu << froid >>.
Utiliser un chiffon doux et humide pour nettoyer Accutire. Ne pas utiliser de liquides ni de
produits de nettoyage.
Changement des piles du
rétroéclairage
Les piles qui alimentent le rétroéclairage sont
abritées dans la section arrière de l'appareil.
Noter que l'arrière de l'appareil est bloqué au
boî tier par une petite vis cruciforme. Déposer
la vis et sortir la pièce arrière. Retirer les piles
boutons à l'aide pouce et de l'index.
Remplacer par des piles neuves Maxell ou
Eveready A76 ou un équivalent, en notant la
bonne orientation ou la bonne polarité. Le
boîtier en plastique est marqué avec la polarité
+ et - appropriée correspondant à la position
des piles boutons.
Dépannage
L'affichage est vierge
S'assurer que le joint de pression entre le
manomètre de contrôle de pression des pneus
et la tige de la vanne ne fuit pas.