Hama 00046604 Owner's manual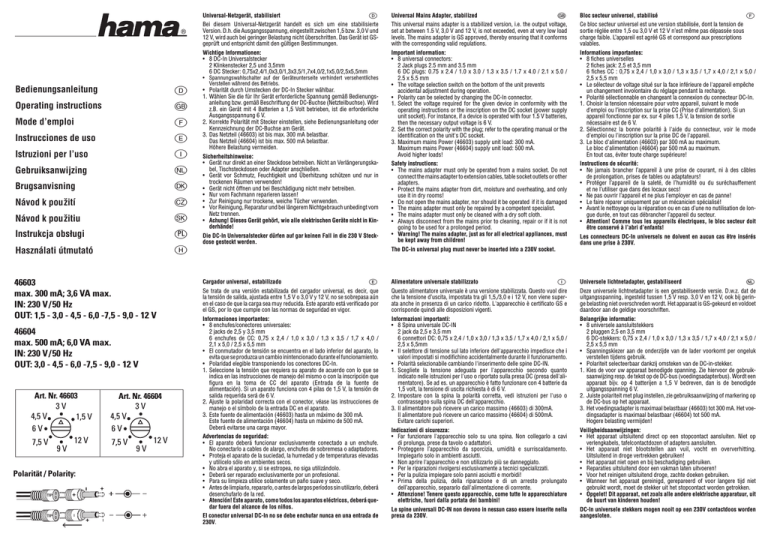 Universal-Netzgerät, stabilisiert
Bedienungsanleitung
l
Operating instructions
L
Mode d'emploi
¬
Instrucciones de uso
fl
Istruzioni per l'uso
.
Gebruiksanwijzing
:
Brugsanvisning
÷
Návod k pou žití
j
Návod k pou žitiu
J
Instrukcja obs∏ugi
PL
ø
Használati útmutató
k
46603
max. 300 mA; 3,6 VA max.
IN: 230 V/50 Hz
OUT: 1,5 - 3,0 - 4,5 - 6,0 -7,5 - 9,0 - 12 V
46604
max. 500 mA; 6,0 VA max.
IN: 230 V/50 Hz
OUT: 3,0 - 4,5 - 6,0 -7,5 - 9,0 - 12 V
Art. Nr. 46603
3V
4,5 V
1,5 V
6V
12 V
7,5 V
9V
Art. Nr. 46604
3V
4,5 V
6V
7,5 V
Polarität / Polarity:
+
+
TIP
+
TIP
9V
12 V
l
Universal Mains Adapter, stabilized
L
Bloc secteur universel, stabilisé
¬
Bei diesem Universal-Netzgerät handelt es sich um eine stabilisierte
Version. D.h. die Ausgangsspannung, eingestellt zwischen 1,5 bzw. 3,0 V und
12 V, wird auch bei geringer Belastung nicht überschritten. Das Gerät ist GSgeprüft und entspricht damit den gültigen Bestimmungen.
This universal mains adapter is a stabilized version, i.e. the output voltage,
set at between 1.5 V, 3,0 V and 12 V, is not exceeded, even at very low load
levels. The mains adapter is GS approved, thereby ensuring that it conforms
with the corresponding valid regulations.
Ce bloc secteur universel est une version stabilisée, dont la tension de
sortie réglée entre 1,5 ou 3,0 V et 12 V n'est même pas dépassée sous
charge faible. L'appareil est agréé GS et correspond aux prescriptions
valables.
Wichtige Informationen:
• 8 DC-In Universalstecker
2 Klinkenstecker 2,5 und 3,5mm
6 DC Stecker: 0,75x2,4/1,0x3,0/1,3x3,5/1,7x4,0/2,1x5,0/2,5x5,5mm
Important information:
• 8 universal connectors:
2 Jack plugs 2.5 mm and 3.5 mm
6 DC plugs: 0.75 x 2.4 / 1.0 x 3.0 / 1.3 x 3.5 / 1.7 x 4.0 / 2.1 x 5.0 /
2.5 x 5.5 mm
• The voltage selection switch on the bottom of the unit prevents
accidental adjustment during operation.
• Polarity can be selected by changing the DC-In connector.
1. Select the voltage required for the given device in conformity with the
operating instructions or the inscription on the DC socket (power supply
unit socket). For instance, if a device is operated with four 1.5 V batteries,
then the necessary output voltage is 6 V.
2. Set the correct polarity with the plug; refer to the operating manual or the
identification on the unit's DC socket.
3. Maximum mains Power (46603) supply unit load: 300 mA.
Maximum mains Power (46604) supply unit load: 500 mA.
Avoid higher loads!
Informations importantes:
• 8 fiches universelles
2 fiches jack: 2,5 et 3,5 mm
6 fiches CC : 0,75 x 2,4 / 1,0 x 3,0 / 1,3 x 3,5 / 1,7 x 4,0 / 2,1 x 5,0 /
2,5 x 5,5 mm
• Le sélecteur de voltage situé sur la face inférieure de l'appareil empêche
un changement involontaire du réglage pendant la recharge.
• Polarité sélectionnable en changeant la connexion du connecteur DC-In.
1. Choisir la tension nécessaire pour votre appareil, suivant le mode
d'emploi ou l'inscription sur la prise CC (Prise d'alimentation). Si un
appareil fonctionne par ex. sur 4 piles 1,5 V, la tension de sortie
nécessaire est de 6 V.
2. Sélectionnez la bonne polarité à l'aide du connecteur, voir le mode
d'emploi ou l'inscription sur la prise DC de l'appareil.
3. Le bloc d'alimentation (46603) par 300 mA au maximum.
Le bloc d'alimentation (46604) par 500 mA au maximum.
En tout cas, éviter toute charge supérieure!
Instructions de sécurité:
• Ne jamais brancher l'appareil à une prise de courant, ni à des câbles
de prolongation, prises de tables ou adaptateurs!
• Protéger l'appareil de la saleté, de l'humidité ou du suréchauffement
et ne l'utiliser que dans des locaux secs!
• Ne pas ouvrir l'appareil et ne plus l'employer en cas de panne!
• Le faire réparer uniquement par un mécanicien spécialisé!
• Avant le nettoyage ou la réparation ou en cas d'une no nutilisation de longue durée, en tout cas débrancher l'appareil du secteur.
• Attention! Comme tous les appareils électriques, le bloc secteur doit
être conservé à l'abri d'enfants!
Die DC-In Universalstecker dürfen auf gar keinen Fall in die 230 V Steckdose gesteckt werden.
Safety instructions:
• The mains adapter must only be operated from a mains socket. Do not
connect the mains adapter to extension cables, table socket outlets or other
adapters.
• Protect the mains adapter from dirt, moisture and overheating, and only
use it in dry rooms!
• Do not open the mains adapter, nor should it be operated if it is damaged
• The mains adapter must only be repaired by a competent specialist.
• The mains adapter must only be cleaned with a dry soft cloth.
• Always disconnect from the mains prior to cleaning, repair or if it is not
going to be used for a prolonged period.
• Warning! The mains adapter, just as for all electrical appliances, must
be kept away from children!
Cargador universal, estabilizado
Alimentatore universale stabilizzato
• Spannungswahlschalter auf der Geräteunterseite verhindert versehentliches
Verstellen während des Betriebs.
• Polarität durch Umstecken der DC-In Stecker wählbar.
1. Wählen Sie die für Ihr Gerät erforderliche Spannung gemäß Bedienungsanleitung bzw. gemäß Beschriftung der DC-Buchse (Netzteilbuchse). Wird
z.B. ein Gerät mit 4 Batterien a 1,5 Volt betrieben, ist die erforderliche
Ausgangsspannung 6 V.
2. Korrekte Polarität mit Stecker einstellen, siehe Bedienungsanleitung oder
Kennzeichnung der DC-Buchse am Gerät.
3. Das Netzteil (46603) ist bis max. 300 mA belastbar.
Das Netzteil (46604) ist bis max. 500 mA belastbar.
Höhere Belastung vermeiden.
Sicherheitshinweise:
• Gerät nur direkt an einer Steckdose betreiben. Nicht an Verlängerungskabel, Tischsteckdosen oder Adapter anschließen.
• Gerät vor Schmutz, Feuchtigkeit und Überhitzung schützen und nur in
trockenen Räumen verwenden!
• Gerät nicht öffnen und bei Beschädigung nicht mehr betreiben.
• Nur vom Fachmann reparieren lassen!
• Zur Reinigung nur trockene, weiche Tücher verwenden.
• Vor Reinigung, Reparatur und bei längerem Nichtgebrauch unbedingt vom
Netz trennen.
• Achung! Dieses Gerät gehört, wie alle elektrischen Geräte nicht in Kinderhände!
fl
The DC-in universal plug must never be inserted into a 230V socket.
.
Les connecteurs DC-In universels ne doivent en aucun cas être insérés
dans une prise à 230V.
Universele lichtnetadapter, gestabiliseerd
:
Se trata de una versión estabilizada del cargador universal, es decir, que
la tensión de salida, ajustada entre 1,5 V o 3,0 V y 12 V, no se sobrepasa aún
en el caso de que la carga sea muy reducida. Este aparato está verificado por
el GS, por lo que cumple con las normas de seguridad en vigor.
Questo alimentatore universale è una versione stabilizzata. Questo vuol dire
che la tensione d'uscita, impostata tra gli 1,5,/3,0 e i 12 V, non viene superata anche in presenza di un carico ridotto. L'apparecchio è certificato GS e
corrisponde quindi alle disposizioni vigenti.
Deze universele lichtnetadapter is een gestabiliseerde versie. D.w.z. dat de
uitgangsspanning, ingesteld tussen 1,5 V resp. 3,0 V en 12 V, ook bij geringe belasting niet overschreden wordt. Het apparaat is GS-gekeurd en voldoet
daardoor aan de geldige voorschriften.
Informaciones importantes:
• 8 enchufes/conectores universales:
2 jacks de 2,5 y 3,5 mm
6 enchufes de CC: 0,75 x 2,4 / 1,0 x 3,0 / 1,3 x 3,5 / 1,7 x 4,0 /
2,1 x 5,0 / 2,5 x 5,5 mm
• El conmutador de tensión se encuentra en el lado inferior del aparato, lo
evita que se produzca un cambio inintencionado durante el funcionamiento.
• Polaridad elegible transponiendo los conectores DC-In.
1. Seleccione la tensión que requiera su aparato de acuerdo con lo que se
indica en las instrucciones de manejo del mismo o con la inscripción que
figura en la toma de CC del aparato (Entrada de la fuente de
alimentación). Si un aparato funciona con 4 pilas de 1,5 V, la tensión de
salida requerida será de 6 V.
2. Ajuste la polaridad correcta con el conector, véase las instrucciones de
manejo o el símbolo de la entrada DC en el aparato.
3. Este fuente de alimentación (46603) hasta un máximo de 300 mA.
Este fuente de alimentación (46604) hasta un máximo de 500 mA.
Deberá evitarse una carga mayor.
Informazioni importanti:
• 8 Spina universale DC-IN
2 jack da 2,5 e 3,5 mm
6 connettori DC: 0,75 x 2,4 / 1,0 x 3,0 / 1,3 x 3,5 / 1,7 x 4,0 / 2,1 x 5,0 /
2,5 x 5,5mm
• Il selettore di tensione sul lato inferiore dell'apparecchio impedisce che i
valori impostati si modifichino accidentalmente durante il funzionamento.
• Polarità selezionabile cambiando l'inserimento delle spine DC-IN.
1. Scegliete la tensione adeguata per l'apparecchio secondo quanto
indicato nelle istruzioni per l'uso o riportato sulla presa DC (presa dell'alimentatore). Se ad es. un apparecchio è fatto funzionare con 4 batterie da
1,5 volt, la tensione di uscita richiesta è di 6 V.
2. Impostare con la spina la polarità corretta, vedi istruzioni per l'uso o
contrassegno sulla spina DC dell'apparecchio.
3. Il alimentatore può ricevere un carico massimo (46603) di 300mA.
Il alimentatore può ricevere un carico massimo (46604) di 500mA.
Evitare carichi superiori.
Belangrijke informatie:
• 8 universele aansluitstekkers
2 pluggen 2,5 en 3,5 mm
6 DC-stekkers: 0,75 x 2,4 / 1,0 x 3,0 / 1,3 x 3,5 / 1,7 x 4,0 / 2,1 x 5,0 /
2,5 x 5,5 mm
• Spanningskiezer aan de onderzijde van de lader voorkomt per ongeluk
verstellen tijdens gebruik.
• Polariteit selecteerbaar dankzij omsteken van de DC-in-stekker.
1. Kies de voor uw apparaat benodigde spanning. Zie hiervoor de gebruiksaanwijzing resp. de tekst op de DC-bus (voedingsadapterbus). Wordt een
apparaat bijv. op 4 batterijen a 1,5 V bedreven, dan is de benodigde
uitgangsspanning 6 V.
2. Juiste polariteit met plug instellen, zie gebruiksaanwijzing of markering op
de DC-bus op het apparaat.
3. Het voedingsadapter is maximaal belastbaar (46603) tot 300 mA. Het voedingsadapter is maximaal belastbaar (46604) tot 500 mA.
Hogere belasting vermijden!
Indicazioni di sicurezza:
• Far funzionare l'apparecchio solo su una spina. Non collegarlo a cavi
di prolunga, prese da tavolo o adattatori.
• Proteggere l'apparecchio da sporcizia, umidità e surriscaldamento.
Impiegarlo solo in ambienti asciutti.
• Non aprire l'apparecchio e non utilizzarlo più se danneggiato.
• Per le riparazioni rivolgersi esclusivamente a tecnici specializzati.
• Per la pulizia impiegare solo panni asciutti e morbidi!
• Prima della pulizia, della riparazione e di un arresto prolungato
dell'apparecchio, separarlo dall'alimentazione di corrente.
• Attenzione! Tenere questo apparecchio, come tutte le apparecchiature
elettriche, fuori dalla portata dei bambini!
Veiligheidsaanwijzingen:
• Het apparaat uitsluitend direct op een stopcontact aansluiten. Niet op
verlengkabels, tafelcontactdozen of adapters aansluiten.
• Het apparaat niet blootstellen aan vuil, vocht en oververhitting.
Uitsluitend in droge vertrekken gebruiken!
• Het apparaat niet open en bij beschadiging gebruiken.
• Reparaties uitsluitend door een vakman laten uitvoeren!
• Voor het reinigen uitsluitend droge, zachte doeken gebruiken.
• Wanneer het apparaat gereinigd, gerepareerd of voor langere tijd niet
gebruikt wordt, moet de stekker uit het stopcontact worden getrokken.
• Opgelet! Dit apparaat, net zoals alle andere elektrische apparatuur, uit
de buurt van kinderen houden!
Le spine universali DC-IN non devono in nessun caso essere inserite nella
presa da 230V.
DC-In universele stekkers mogen nooit op een 230V contactdoos worden
aangesloten.
Advertencias de seguridad:
• El aparato deberá funcionar exclusivamente conectado a un enchufe.
No conectarlo a cables de alargo, enchufes de sobremesa o adaptadores.
• Proteja el aparato de la suciedad, la humedad y de temperaturas elevadas
y utilicelo sólo en ambientes secos.
• No abra el aparato y, si se estropea, no siga utilizándolo.
• Deberá ser reparado exclusivamente por un profesional.
• Para su limpieza utilice solamente un paño suave y seco.
• Antes de limpiarlo, repararlo, o antes de largos períodos sin utilizarlo, deberá
desenchufarlo de la red.
• Atención! Este aparato, como todos los aparatos eléctricos, deberá quedar fuera del alcance de los niños.
El conector universal DC-In no se debe enchufar nunca en una entrada de
230V.
Universal-netadapter, stabiliseret
÷
Denne universal-netadapter er en stabiliseret udgave. Dvs. u gangsspænding indstillet mellem 1,5 V/3,0 V og 12 V overskrides ikke selv ved lav belastning. Apparatet er GS-godkendt og opfylder dermed gældende bestemmelser.
Vigtige oplysninger:
• 8 DC-IN universalstik
2 jackstik 2,5 og 3,5 mm
6 DC-stik:
0,75 x 2, 4/ 1,0 x 3,0 / 1,3 x 3,5 / 1,7 x 4,0 / 2,1 x 5,0 / 2,5 x 5,5 mm
• Spændingsomskifterens placering på apparatets underside forhindrer
utilsigtet omstilling under brug
• Valgfri polaritet ved drejning af DC-IN-stikket.
1. Vælg den til dit apparat krævede spænding i henhold til betjeningsvejledningen eller påskriften på DC-bøsningen (netdelsbøsningen). Hvis et
apparat fx drives med 4 batterier på 1,5 V, er den nødvendige udgangsspænding 6 V.
2. Korrekt polaritet indstilles med stikket, se betjeningsvejledningen eller
påskriften på apparatets DC-bøsning.
3. Netdelen kan max. belastes med 650 mA. Højere belastning skal undgås.
Sikkerhedsanvisninger:
• Apparatet bør kun benyttes fra en stikkontakt. Tilslut det ikke via
forlængerkabel, bordstikdåser eller adaptere.
• Beskyt apparatet mod smuds, fugtighed og overophedning. Og benyt
kun apparatet i tørre lokaler!
• Apparatet må ikke åbnes og ikke anvendes hvis det er beskadiget!
• Lad kun apparatet reparere af en fagmand.
• Anvend kun tørre, bløde klude til rengøring.
• Ved rengøring, reparation og længere perioder uden brug skal netstikket
tages ud.
• Bemærk! Dette apparat bør i lighed med andre elektriske apparater
holdes uden for børns rækkevidde!
DC-IN universalstikket må under ingen omstændigheder sættes i en 230
V stikkontakt.
Univerzális hálózati készülék, stabilizált
k
Ennél a hálózati készüléknél egy stabilizált változatról van szó. Ez azt
jelenti, hogy a kimeneti feszültség 1,5 V ill. 3,0 V és 12 V között van beálítva és alacsony terhelésnél sem lépi át a megengedett éréket. A készülék
GS által bevizsgált, tehát az érvényben lévı rendelkezéseknek megfelel.
Fontos tudnivalók:
• 8 univerzális csatlakozó dugó
2 jack dugó 2,5 és 3,5 mm
6 DC dugó: 0,75 x 2,4 / 1,0 x 3,0 / 1,3 x 3,5 / 1,7 x 4,0 / 2,1 x 5,0 /
2,5 x 5,5 mm
• A feszültségválasztó kapcsoló a készülék hátoldalán található. Ezzel állítható be az üzemeltetéshez szükséges feszültség.
• A polaritás átdugaszolással váltható, a DC-dugasz megfordításával.
1. Válassza ki az Ön készüléke számára alkalmas feszültséget (Hálózati
egység-csatlakozó). Ha pl. a készülék 4 x 1,5 V-os elemmel m˚ködik, akkor a megfelelı feszültség: 6 V.
2. A megfelelŒ polaritás a dugasszal állítható be. A beállításhoz nézze át a
használati útmutatót vagy keresse meg a polaritás-jelzést a készülék DCbemenete mellett.
3. A készülék max. csak 650 mA-ig terhelhetı. Kerülje el a magasabb megterhelést.
Biztonsági elıírások:
• A készüléket csak egy hálózati dugóba dugva használja.
Ne csatlakoztassa hosszabbító kábelra, vagy adapterre.
• Óvja készülékét nedvességtıl, portól, túlzott hıségtıl, csak száraz
helyiségben használja.
• Atisztításhoz száraz rongyot használjon. Tisztítás, szerelés elıtt húzza ki
a konnektorból. Ha hosszabb ideig nem használja készülékét, húzza ki a
konnektorból.
• Gyerektıl tartsa távol!
Az egyenáramú (DC) univerzális csatlakozódugaszt véletlenül sem
csatlakoztassa 230 V-os hálózati konnektorba!
SíÈov˘ adaptér stabilizovan˘
j
Tento síÈov˘ adaptér je stabilizovan˘, tzn., Ïe nastavené v˘stupy napûtí
není závislé na odebíraném proudu. Pfiístroj má GS-schválení a odpovídá
v‰em mezinárodním normám.
DÛleÏité informace:
• 8 napájecích konektorÛ:
2 jack konektory 1,5mm a 3,5mm,
6 DC konektorÛ: 0,75 x 2,4 / 1,0 x 3,0 / 1,3 x 3,5 / 1,7 x 4,0 / 2,1 x 5,0 /
2,5 x 5,5mm
• Pfiepínatelná polarita.
• Pfiepínaã napûtí na spodní stranû pfiístroje nepfiepínejte za provozu.
1. Nastavte v˘stupní napûtí, které je potfiebné pro napájen˘ pfiístroj –
informaci naleznete v návodu nebo na pfiístroji u zdífiky napájení
2. Nastavte správnou polaritu.
3. Maximální v˘stupní proud je 650mA. NezatûÏujte vy‰‰ím proudem!
Bezpeãnostní pokyny:
• Nepfiipojujte na prodluÏovací ‰ÀÛry, stolní zásuvky nebo zásuvkové
adaptéry.
• PoÏívejte jen v suchém prostfiedí, chraÀte pfied prachem, ‰pínou a
vysokou teplotou.
• Pfiístroj neotevírejte a pfii po‰kození nepouÏívejte!.
• Opravu pfienechte odbornému servisu.
• Pro ãi‰tûní pouÏívejte such˘ , jemn˘ hadfiík.
• Pfied ãi‰tûním a del‰ím nepouÏíváním odpojte ze sítû.
• Pozor! Pfiístroj nepatfií do rukou dûtem!
Napájecí konektor se nesmí v Ïádném pfiípadû zasunout do zásuvky
elektrické sítû 230V!
Univerzálny stabilizovan˘ sieÈov˘ adaptér
J
Pri tomto sieÈovom adaptéry sa jedná o stabilizované prevedenie, to
znamená, Ïe v˘stupné napätie nastavené medzi 1,5V/3,0V a 12 V nebude
aj pri najmen‰om zaÈaÏení prekroãené.Zariadenie je GS-testované a zodpovedá platn˘m nariadeniam.
DôleÏité informácie:
• 8 DC-In univerzálna zástrãka
2 jack-konektory: 2,5 a 3,5 mm
6 DC konektorov: 0,75 x 2,4 / 1,0 x 3,0 / 1,3 x 3,5 / 1,7 x 4,0 / 2,1 x 5,0 /
2,5 x 5,5mm
• Prepínaã napätia na spodnej ãasti zariadenia zabraÀuje omylnému
prestaveniu poãas prevádzky.
• Voliteºná polarita podºa zapojenia DC-In konektoru.
1. Zvoºte pre va‰e zariadenie potrebné napätie podºa návodu na pouÏitie,
alebo podºa popisku DC-zástrãky (sieÈovej zástrãky). Napr. pri
prevádzkovaní zariadenia so ‰tyrmi 1,5V batériami, bude poÏadované
v˘stupné napätie 6V.
2. Nastavte konektormi správnu polaritu – podºa návodu na pouÏitie alebo
oznaãenia DC-zástrãky zariadenia.
3. SieÈov˘ zdroj moÏno zaÈaÏiÈ max. do 650 mA. Zamedzte vy‰‰iemu
zaÈaÏeniu.
Bezpeãnostné upozornenia:
• Zariadenie prevádzkujte iba v jednej elektrickej zásuvke. Nezapájajte
na predlÏovací kábel alebo adaptér.
• Zariadenie chráÀte pred ‰pinou, vlkom a prehriatím. Prevádzkujte len
v such˘ch miestnostiach.
• Zariadenie neotvárajte a po‰kodené nepouÏívajte!
• Opravu zverte do rúk ‰pecializovaného odborníka.
• Na ãistenie pouÏívajte suchú, mäkkú handriãku.
• Pred ãistením, opravou a pri nepouÏívaní odpojte z elektrickej sieÈe.
• POZOR! Toto zariadenie nepatrí do detsk˘ch rúk!
DC-In univerzálna zástrãka sa v Ïiadnom prípade nesmie zapájaÈ do
230 V zásuvky.
Uniwersalny zasilacz stabilizowany
ø
PL
Zasilacz stabilizowany, tzn. napi´cie na wyjÊciu, ustawione na wartoÊç
z zakresu 1,5V/3,0V do 12V, nie jest przekraczane tak˝e przy ma∏ym obcià˝eniu. Urzàdzenie posiada atest bezpieczeƒstwa i odpowiada obowiàzujàcym
normom.
Wa˝ne informacje:
• 8 uniwersalnych wtyków DC-IN:
2 wtyki jack 2,5 i 3,5mm,
6 wtyków DC: 0,75 x 2,4 / 1,0 x 3,0 / 1,3 x 3,5 / 1,7 x 4,0 / 2,1 x 5,0 /
2,5 x 5,5mm
• Prze∏àcznik napi´cia znajduje si´ na spodzie urzàdzenia, co zapobiega
przypadkowemu prze∏àczeniu podczas pracy urzàdzenia.
• Zmiana biegunowoÊci za pomocà prze∏àczenia wtyczki DC-In.
1. Urzàdzenie pod∏àczyç do gniazda o napi´ciu zgodnym z wymaganiami
zawartymi w instrukcji wzgl. opisem na gniazdku zasilacza. Je˝eli np.
urzàdzenie zasilane jest 4 bateriami, ka˝da po 1,5V, to wymagane napi´cie wyjÊciowe wynosi 6V.
2. Ustawiç prawid∏owo biegunowoÊç za pomocà wtyków, patrz instrukcja
obs∏ugi lub oznakowanie gniazdka DC na urzàdzeniu.
3. Maksymalna moc zasilacza wynosi 650mA. Unikaç przecià˝ania
urzàdzenia.
Wskazówki dotyczàce bezpiecznego u˝ytkowania urzàdzenia:
• Urzàdzenie nale˝y pod∏àczaç do pràdu tylko za pomocà jego
oryginalnego wtyku, nie ∏àczyç za poÊrednictwem przed∏u˝aczy,
gniazdek biurkowych lub adapterów.
• Chroniç przed kurzem, wilgocià i przegrzaniem. U˝ytkowaç tylko
w suchych pomieszczeniach!
• Nie otwieraç i w razie awarii nie u˝ywaç!
• Naprawy zlecaç w specjalistycznych punktach serwisowych
• CzyÊciç suchà i mi´kkà szmatkà.
• Przed rozpocz´ciem czyszczenia, naprawà lub d∏u˝szà przerwà
w eksPloatacji wy∏àczyç urzàdzenie z pràdu.
• UWAGA! Chroniç przed dzieçmi.
Nie wk∏adaç uniwersalnych wtyków DC-IN do gniazda o napi´ciu
230V.

* Your assessment is very important for improving the work of artificial intelligence, which forms the content of this project