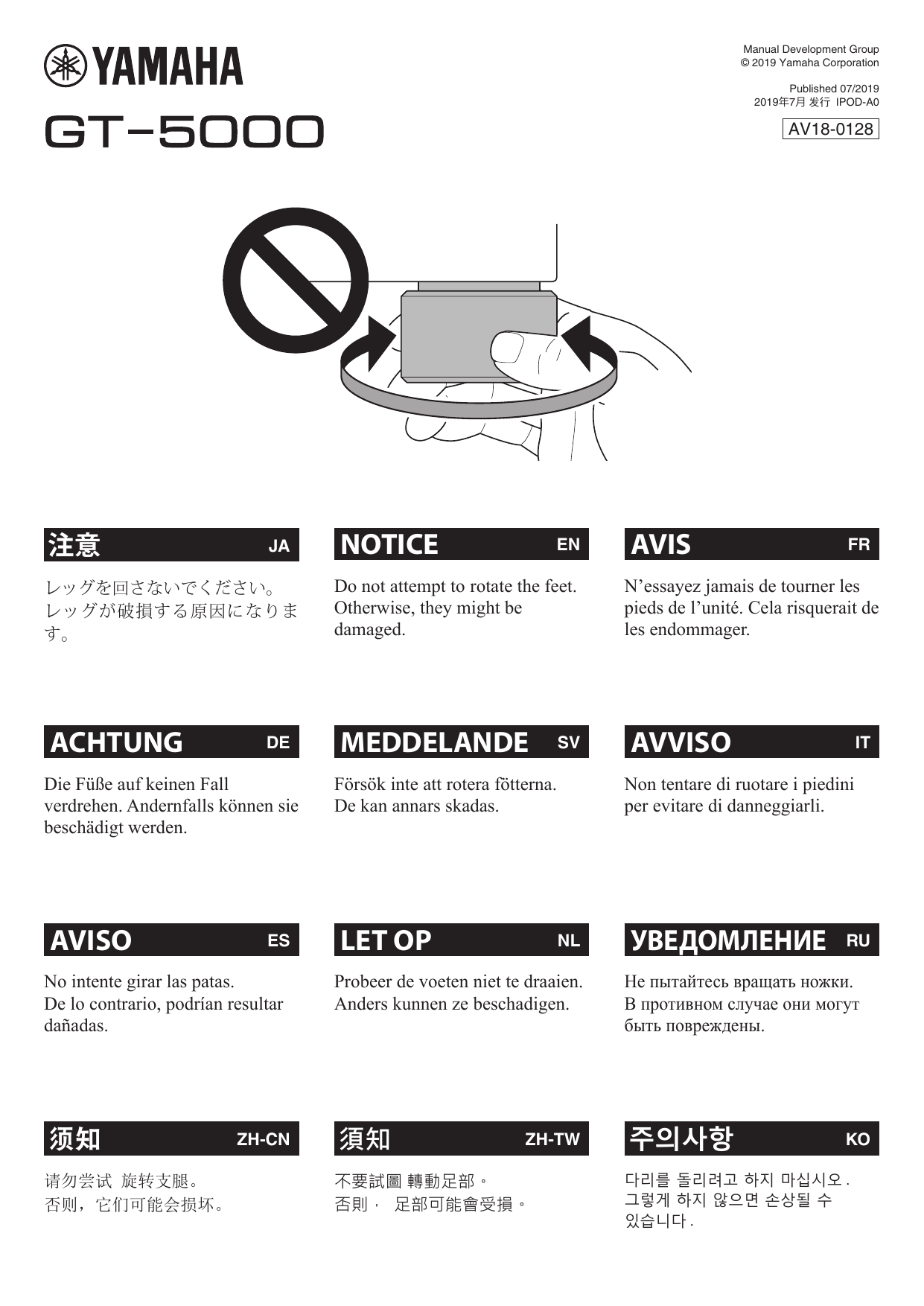 Manual Development Group
© 2019 Yamaha Corporation
Published 07/2019
2019年7月 发行 IPOD-A0
AV18-0128
注意
JA
レッグを回さないでください。
レッグが破損する原因になりま
す。
ACHTUNG
DE
Die Füße auf keinen Fall
verdrehen. Andernfalls können sie
beschädigt werden.
AVISO
ES
NOTICE
EN
Do not attempt to rotate the feet.
Otherwise, they might be
damaged.
MEDDELANDE
SV
Försök inte att rotera fötterna.
De kan annars skadas.
LET OP
AVIS
FR
N'essayez jamais de tourner les
pieds de l'unité. Cela risquerait de
les endommager.
AVVISO
IT
Non tentare di ruotare i piedini
per evitare di danneggiarli.
NL
УВЕДОМЛЕНИЕ
RU
No intente girar las patas.
De lo contrario, podrían resultar
dañadas.
Probeer de voeten niet te draaien.
Anders kunnen ze beschadigen.
Не пытайтесь вращать ножки.
В противном случае они могут
быть повреждены.
须知
須知
주의사항
请勿尝试 旋转支腿。
否则,它们可能会损坏。
ZH-CN
ZH-TW
不要試圖 轉動足部。
否則, 足部可能會受損。
KO
다리를 돌리려고 하지 마십시오 .
그렇게 하지 않으면 손상될 수
있습니다 .

* Your assessment is very important for improving the work of artificial intelligence, which forms the content of this project