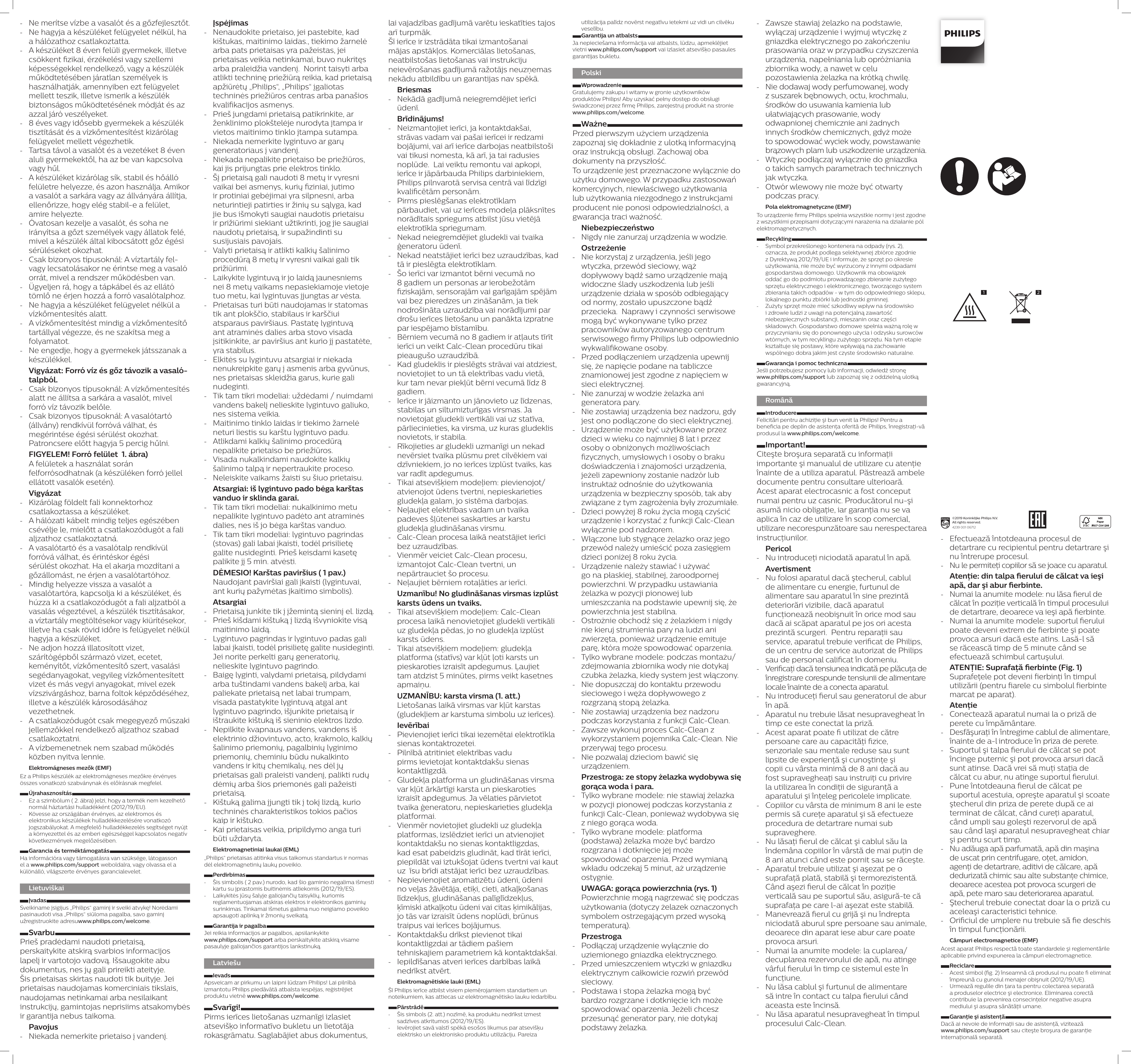 -- Ne merítse vízbe a vasalót és a gőzfejlesztőt.
-- Ne hagyja a készüléket felügyelet nélkül, ha
a hálózathoz csatlakoztatta.
-- A készüléket 8 éven felüli gyermekek, illetve
csökkent fizikai, érzékelési vagy szellemi
képességekkel rendelkező, vagy a készülék
működtetésében járatlan személyek is
használhatják, amennyiben ezt felügyelet
mellett teszik, illetve ismerik a készülék
biztonságos működtetésének módját és az
azzal járó veszélyeket.
-- 8 éves vagy idősebb gyermekek a készülék
tisztítását és a vízkőmentesítést kizárólag
felügyelet mellett végezhetik.
-- Tartsa távol a vasalót és a vezetéket 8 éven
aluli gyermekektől, ha az be van kapcsolva
vagy hűl.
-- A készüléket kizárólag sík, stabil és hőálló
felületre helyezze, és azon használja. Amikor
a vasalót a sarkára vagy az állványára állítja,
ellenőrizze, hogy elég stabil-e a felület,
amire helyezte.
-- Óvatosan kezelje a vasalót, és soha ne
irányítsa a gőzt személyek vagy állatok felé,
mivel a készülék által kibocsátott gőz égési
sérüléseket okozhat.
-- Csak bizonyos típusoknál: A víztartály felvagy lecsatolásakor ne érintse meg a vasaló
orrát, mivel a rendszer működésben van.
-- Ügyeljen rá, hogy a tápkábel és az ellátó
tömlő ne érjen hozzá a forró vasalótalphoz.
-- Ne hagyja a készüléket felügyelet nélkül a
vízkőmentesítés alatt.
-- A vízkőmentesítést mindig a vízkőmentesítő
tartállyal végezze, és ne szakítsa meg a
folyamatot.
-- Ne engedje, hogy a gyermekek játsszanak a
készülékkel.
Vigyázat: Forró víz és gőz távozik a vasalótalpból.
-- Csak bizonyos típusoknál: A vízkőmentesítés
alatt ne állítsa a sarkára a vasalót, mivel
forró víz távozik belőle.
-- Csak bizonyos típusoknál: A vasalótartó
(állvány) rendkívül forróvá válhat, és
megérintése égési sérülést okozhat.
Patroncsere előtt hagyja 5 percig hűlni.
FIGYELEM! Forró felület 1. ábra)
A felületek a használat során
felforrósodhatnak (a készüléken forró jellel
ellátott vasalók esetén).
Vigyázat
-- Kizárólag földelt fali konnektorhoz
csatlakoztassa a készüléket.
-- A hálózati kábelt mindig teljes egészében
csévélje le, mielőtt a csatlakozódugót a fali
aljzathoz csatlakoztatná.
-- A vasalótartó és a vasalótalp rendkívül
forróvá válhat, és érintéskor égési
sérülést okozhat. Ha el akarja mozdítani a
gőzállomást, ne érjen a vasalótartóhoz.
-- Mindig helyezze vissza a vasalót a
vasalótartóra, kapcsolja ki a készüléket, és
húzza ki a csatlakozódugót a fali aljzatból a
vasalás végeztével, a készülék tisztításakor,
a víztartály megtöltésekor vagy kiürítésekor,
illetve ha csak rövid időre is felügyelet nélkül
hagyja a készüléket.
-- Ne adjon hozzá illatosított vizet,
szárítógépből származó vizet, ecetet,
keményítőt, vízkőmentesítő szert, vasalási
segédanyagokat, vegyileg vízkőmentesített
vizet és más vegyi anyagokat, mivel ezek
vízszivárgáshoz, barna foltok képződéséhez,
illetve a készülék károsodásához
vezethetnek.
-- A csatlakozódugót csak megegyező műszaki
jellemzőkkel rendelkező aljzathoz szabad
csatlakoztatni.
-- A vízbemenetnek nem szabad működés
közben nyitva lennie.
--
-----
----
--
--------
----
--
--
Elektromágneses mezők (EMF)
Ez a Philips készülék az elektromágneses mezőkre érvényes
összes vonatkozó szabványnak és előírásnak megfelel.
---
Újrahasznosítás
Ez a szimbólum ( 2. ábra) jelzi, hogy a termék nem kezelhető
normál háztartási hulladékként (2012/19/EU).
Kövesse az országában érvényes, az elektromos és
elektronikus készülékek hulladékkezelésére vonatkozó
jogszabályokat. A megfelelő hulladékkezelés segítséget nyújt
a környezettel és az emberi egészséggel kapcsolatos negatív
következmények megelőzésében.
Garancia és terméktámogatás
Ha információra vagy támogatásra van szüksége, látogasson
el a www.philips.com/support weboldalra, vagy olvassa el a
különálló, világszerte érvényes garancialevelet.
Lietuviškai
Įvadas
Sveikiname įsigijus "Philips" gaminį ir sveiki atvykę! Norėdami
pasinaudoti visa "Philips" siūloma pagalba, savo gaminį
užregistruokite adresuwww.philips.com/welcome.
Svarbu
Prieš pradėdami naudoti prietaisą,
perskaitykite atskirą svarbios informacijos
lapelį ir vartotojo vadovą. Išsaugokite abu
dokumentus, nes jų gali prireikti ateityje.
Šis prietaisas skirtas naudoti tik buityje. Jei
prietaisas naudojamas komerciniais tikslais,
naudojamas netinkamai arba nesilaikant
instrukcijų, gamintojas neprisiims atsakomybės
ir garantija nebus taikoma.
Pavojus
-- Niekada nemerkite prietaiso į vandenį.
---
Įspėjimas
Nenaudokite prietaiso, jei pastebite, kad
kištukas, maitinimo laidas., tiekimo žarnelė
arba pats prietaisas yra pažeistas, jei
prietaisas veikia netinkamai, buvo nukritęs
arba praleidžia vandenį. Norint taisyti arba
atlikti techninę priežiūrą reikia, kad prietaisą
apžiūrėtų "Philips", "Philips" įgaliotas
techninės priežiūros centras arba panašios
kvalifikacijos asmenys.
Prieš jungdami prietaisą patikrinkite, ar
ženklinimo plokštelėje nurodyta įtampa ir
vietos maitinimo tinklo įtampa sutampa.
Niekada nemerkite lygintuvo ar garų
generatoriaus į vandenį.
Niekada nepalikite prietaiso be priežiūros,
kai jis prijungtas prie elektros tinklo.
Šį prietaisą gali naudoti 8 metų ir vyresni
vaikai bei asmenys, kurių fiziniai, jutimo
ir protiniai gebėjimai yra silpnesni, arba
neturintieji patirties ir žinių su sąlyga, kad
jie bus išmokyti saugiai naudotis prietaisu
ir prižiūrimi siekiant užtikrinti, jog jie saugiai
naudotų prietaisą, ir supažindinti su
susijusiais pavojais.
Valyti prietaisą ir atlikti kalkių šalinimo
procedūrą 8 metų ir vyresni vaikai gali tik
prižiūrimi.
Laikykite lygintuvą ir jo laidą jaunesniems
nei 8 metų vaikams nepasiekiamoje vietoje
tuo metu, kai lygintuvas įjungtas ar vėsta.
Prietaisas turi būti naudojamas ir statomas
tik ant plokščio, stabilaus ir karščiui
atsparaus paviršiaus. Pastatę lygintuvą
ant atraminės dalies arba stovo visada
įsitikinkite, ar paviršius ant kurio jį pastatėte,
yra stabilus.
Elkitės su lygintuvu atsargiai ir niekada
nenukreipkite garų į asmenis arba gyvūnus,
nes prietaisas skleidžia garus, kurie gali
nudeginti.
Tik tam tikri modeliai: uždėdami / nuimdami
vandens bakelį nelieskite lygintuvo galiuko,
nes sistema veikia.
Maitinimo tinklo laidas ir tiekimo žarnelė
neturi liestis su karštu lygintuvo padu.
Atlikdami kalkių šalinimo procedūrą
nepalikite prietaiso be priežiūros.
Visada nukalkindami naudokite kalkių
šalinimo talpą ir nepertraukite proceso.
Neleiskite vaikams žaisti su šiuo prietaisu.
Atsargiai: iš lygintuvo pado bėga karštas
vanduo ir sklinda garai.
Tik tam tikri modeliai: nukalkinimo metu
nepalikite lygintuvo padėto ant atraminės
dalies, nes iš jo bėga karštas vanduo.
Tik tam tikri modeliai: lygintuvo pagrindas
(stovas) gali labai įkaisti, todėl prisilietę
galite nusideginti. Prieš keisdami kasetę
palikite jį 5 min. atvėsti.
DĖMESIO! Karštas paviršius ( 1 pav.)
Naudojant paviršiai gali įkaisti (lygintuvai,
ant kurių pažymėtas įkaitimo simbolis).
Atsargiai
Prietaisą junkite tik į įžemintą sieninį el. lizdą.
Prieš kišdami kištuką į lizdą išvyniokite visą
maitinimo laidą.
Lygintuvo pagrindas ir lygintuvo padas gali
labai įkaisti, todėl prisilietę galite nusideginti.
Jei norite perkelti garų generatorių,
nelieskite lygintuvo pagrindo.
Baigę lyginti, valydami prietaisą, pildydami
arba tuštindami vandens bakelį arba, kai
paliekate prietaisą net labai trumpam,
visada pastatykite lygintuvą atgal ant
lygintuvo pagrindo, išjunkite prietaisą ir
ištraukite kištuką iš sieninio elektros lizdo.
Nepilkite kvapnaus vandens, vandens iš
elektrinio džiovintuvo, acto, krakmolo, kalkių
šalinimo priemonių, pagalbinių lyginimo
priemonių, cheminiu būdu nukalkinto
vandens ir kitų chemikalų, nes dėl jų
prietaisas gali praleisti vandenį, palikti rudų
dėmių arba šios priemonės gali pažeisti
prietaisą.
Kištuką galima įjungti tik į tokį lizdą, kurio
techninės charakteristikos tokios pačios
kaip ir kištuko.
Kai prietaisas veikia, pripildymo anga turi
būti uždaryta.
Elektromagnetiniai laukai (EML)
"Philips" prietaisas atitinka visus taikomus standartus ir normas
dėl elektromagnetinių laukų poveikio.
---
Perdirbimas
Šis simbolis ( 2 pav.) nurodo, kad šio gaminio negalima išmesti
kartu su įprastomis buitinėmis atliekomis (2012/19/ES).
Laikykitės jūsų šalyje galiojančių taisyklių, kuriomis
reglamentuojamas atskiras elektros ir elektronikos gaminių
surinkimas. Tinkamai išmetus galima nuo neigiamo poveikio
apsaugoti aplinką ir žmonių sveikatą.
Garantija ir pagalba
Jei reikia informacijos ar pagalbos, apsilankykite
www.philips.com/support arba perskaitykite atskirą visame
pasaulyje galiojančios garantijos lankstinuką.
Latviešu
Ievads
Apsveicam ar pirkumu un laipni lūdzam Philips! Lai pilnībā
izmantotu Philips piedāvātā atbalsta iespējas, reģistrējiet
produktu vietnē www.philips.com/welcome.
Svarīgi!
Pirms ierīces lietošanas uzmanīgi izlasiet
atsevišķo informatīvo bukletu un lietotāja
rokasgrāmatu. Saglabājiet abus dokumentus,
lai vajadzības gadījumā varētu ieskatīties tajos
arī turpmāk.
Šī ierīce ir izstrādāta tikai izmantošanai
mājas apstākļos. Komerciālas lietošanas,
neatbilstošas lietošanas vai instrukciju
neievērošanas gadījumā ražotājs neuzņemas
nekādu atbildību un garantijas nav spēkā.
Briesmas
-- Nekādā gadījumā neiegremdējiet ierīci
ūdenī.
Brīdinājums!
-- Neizmantojiet ierīci, ja kontaktdakšai,
strāvas vadam vai pašai ierīcei ir redzami
bojājumi, vai arī ierīce darbojas neatbilstoši
vai tikusi nomesta, kā arī, ja tai radusies
noplūde. Lai veiktu remontu vai apkopi,
ierīce ir jāpārbauda Philips darbiniekiem,
Philips pilnvarotā servisa centrā vai līdzīgi
kvalificētām personām.
-- Pirms pieslēgšanas elektrotīklam
pārbaudiet, vai uz ierīces modeļa plāksnītes
norādītais spriegums atbilst jūsu vietējā
elektrotīkla spriegumam.
-- Nekad neiegremdējiet gludekli vai tvaika
ģeneratoru ūdenī.
-- Nekad neatstājiet ierīci bez uzraudzības, kad
tā ir pieslēgta elektrotīklam.
-- Šo ierīci var izmantot bērni vecumā no
8 gadiem un personas ar ierobežotām
fiziskajām, sensorajām vai garīgajām spējām
vai bez pieredzes un zināšanām, ja tiek
nodrošināta uzraudzība vai norādījumi par
drošu ierīces lietošanu un panākta izpratne
par iespējamo bīstamību.
-- Bērniem vecumā no 8 gadiem ir atļauts tīrīt
ierīci un veikt Calc-Clean procedūru tikai
pieaugušo uzraudzībā.
-- Kad gludeklis ir pieslēgts strāvai vai atdziest,
novietojiet to un tā elektrības vadu vietā,
kur tam nevar piekļūt bērni vecumā līdz 8
gadiem.
-- Ierīce ir jāizmanto un jānovieto uz līdzenas,
stabilas un siltumizturīgas virsmas. Ja
novietojat gludekli vertikāli vai uz statīva,
pārliecinieties, ka virsma, uz kuras gludeklis
novietots, ir stabila.
-- Rīkojieties ar gludekli uzmanīgi un nekad
nevērsiet tvaika plūsmu pret cilvēkiem vai
dzīvniekiem, jo no ierīces izplūst tvaiks, kas
var radīt apdegumus.
-- Tikai atsevišķiem modeļiem: pievienojot/
atvienojot ūdens tvertni, nepieskarieties
gludekļa galam, jo sistēma darbojas.
-- Neļaujiet elektrības vadam un tvaika
padeves šļūtenei saskarties ar karstu
gludekļa gludināšanas virsmu.
-- Calc-Clean procesa laikā neatstājiet ierīci
bez uzraudzības.
-- Vienmēr veiciet Calc-Clean procesu,
izmantojot Calc-Clean tvertni, un
nepārtrauciet šo procesu.
-- Neļaujiet bērniem rotaļāties ar ierīci.
Uzmanību! No gludināšanas virsmas izplūst
karsts ūdens un tvaiks.
-- Tikai atsevišķiem modeļiem: Calc-Clean
procesa laikā nenovietojiet gludekli vertikāli
uz gludekļa pēdas, jo no gludekļa izplūst
karsts ūdens.
-- Tikai atsevišķiem modeļiem: gludekļa
platforma (statīvs) var kļūt ļoti karsts un
pieskaroties izraisīt apdegumus. Ļaujiet
tam atdzist 5 minūtes, pirms veikt kasetnes
apmaiņu.
UZMANĪBU: karsta virsma (1. att.)
Lietošanas laikā virsmas var kļūt karstas
(gludekļiem ar karstuma simbolu uz ierīces).
Ievērībai
-- Pievienojiet ierīci tikai iezemētai elektrotīkla
sienas kontaktrozetei.
-- Pilnībā atritiniet elektrības vadu
pirms ievietojat kontaktdakšu sienas
kontaktligzdā.
-- Gludekļa platforma un gludināšanas virsma
var kļūt ārkārtīgi karsta un pieskaroties
izraisīt apdegumus. Ja vēlaties pārvietot
tvaika ģeneratoru, nepieskarieties gludekļa
platformai.
-- Vienmēr novietojiet gludekli uz gludekļa
platformas, izslēdziet ierīci un atvienojiet
kontaktdakšu no sienas kontaktligzdas,
kad esat pabeidzis gludināt, kad tīrāt ierīci,
piepildāt vai iztukšojat ūdens tvertni vai kaut
uz īsu brīdi atstājat ierīci bez uzraudzības.
-- Nepievienojiet aromatizētu ūdeni, ūdeni
no veļas žāvētāja, etiķi, cieti, atkaļķošanas
līdzekļus, gludināšanas palīglīdzekļus,
ķīmiski atkaļķotu ūdeni vai citas ķimikālijas,
jo tās var izraisīt ūdens noplūdi, brūnus
traipus vai ierīces bojājumus.
-- Kontaktdakšu drīkst pievienot tikai
kontaktligzdai ar tādiem pašiem
tehniskajiem parametriem kā kontaktdakšai.
-- Iepildīšanas atveri ierīces darbības laikā
nedrīkst atvērt.
Elektromagnētiskie lauki (EML)
Šī Philips ierīce atbilst visiem piemērojamiem standartiem un
noteikumiem, kas attiecas uz elektromagnētisko lauku iedarbību.
---
Pārstrādē
Šis simbols (2. att.) nozīmē, ka produktu nedrīkst izmest
sadzīves atkritumos (2012/19/ES).
Ievērojiet savā valstī spēkā esošos likumus par atsevišķu
elektrisko un elektronisko produktu utilizāciju. Pareiza
utilizācija palīdz novērst negatīvu ietekmi uz vidi un cilvēku
veselību.
Garantija un atbalsts
Ja nepieciešama informācija vai atbalsts, lūdzu, apmeklējiet
vietni www.philips.com/support vai izlasiet atsevišķo pasaules
garantijas bukletu.
Polski
Wprowadzenie
Gratulujemy zakupu i witamy w gronie użytkowników
produktów Philips! Aby uzyskać pełny dostęp do obsługi
świadczonej przez firmę Philips, zarejestruj produkt na stronie
www.philips.com/welcome.
Ważne
Przed pierwszym użyciem urządzenia
zapoznaj się dokładnie z ulotką informacyjną
oraz instrukcją obsługi. Zachowaj oba
dokumenty na przyszłość.
To urządzenie jest przeznaczone wyłącznie do
użytku domowego. W przypadku zastosowań
komercyjnych, niewłaściwego użytkowania
lub użytkowania niezgodnego z instrukcjami
producent nie ponosi odpowiedzialności, a
gwarancja traci ważność.
Niebezpieczeństwo
-- Nigdy nie zanurzaj urządzenia w wodzie.
Ostrzeżenie
-- Nie korzystaj z urządzenia, jeśli jego
wtyczka, przewód sieciowy, wąż
dopływowy bądź samo urządzenie mają
widoczne ślady uszkodzenia lub jeśli
urządzenie działa w sposób odbiegający
od normy, zostało upuszczone bądź
przecieka. Naprawy i czynności serwisowe
mogą być wykonywane tylko przez
pracowników autoryzowanego centrum
serwisowego firmy Philips lub odpowiednio
wykwalifikowane osoby.
-- Przed podłączeniem urządzenia upewnij
się, że napięcie podane na tabliczce
znamionowej jest zgodne z napięciem w
sieci elektrycznej.
-- Nie zanurzaj w wodzie żelazka ani
generatora pary.
-- Nie zostawiaj urządzenia bez nadzoru, gdy
jest ono podłączone do sieci elektrycznej.
-- Urządzenie może być użytkowane przez
dzieci w wieku co najmniej 8 lat i przez
osoby o obniżonych moż­liwościach
fizycznych, umysłowych i osoby o braku
doświadczenia i znajomości urządzenia,
jeżeli zapewniony zostanie nadzór lub
instruktaż odnośnie do użytkowania
urządzenia w bezpieczny sposób, tak aby
związane z tym zagrożenia były zrozumiałe.
-- Dzieci powyżej 8 roku życia mogą czyścić
urządzenie i korzystać z funkcji Calc-Clean
wyłącznie pod nadzorem.
-- Włączone lub stygnące żelazko oraz jego
przewód należy umieścić poza zasięgiem
dzieci poniżej 8 roku życia.
-- Urządzenie należy stawiać i używać
go na płaskiej, stabilnej, żaroodpornej
powierzchni. W przypadku ustawiania
żelazka w pozycji pionowej lub
umieszczania na podstawie upewnij się, że
powierzchnia jest stabilna.
-- Ostrożnie obchodź się z żelazkiem i nigdy
nie kieruj strumienia pary na ludzi ani
zwierzęta, ponieważ urządzenie emituje
parę, która może spowodować oparzenia.
-- Tylko wybrane modele: podczas montażu/
zdejmowania zbiornika wody nie dotykaj
czubka żelazka, kiedy system jest włączony.
-- Nie dopuszczaj do kontaktu przewodu
sieciowego i węża dopływowego z
rozgrzaną stopą żelazka.
-- Nie zostawiaj urządzenia bez nadzoru
podczas korzystania z funkcji Calc-Clean.
-- Zawsze wykonuj proces Calc-Clean z
wykorzystaniem pojemnika Calc-Clean. Nie
przerywaj tego procesu.
-- Nie pozwalaj dzieciom bawić się
urządzeniem.
Przestroga: ze stopy żelazka wydobywa się
gorąca woda i para.
-- Tylko wybrane modele: nie stawiaj żelazka
w pozycji pionowej podczas korzystania z
funkcji Calc-Clean, ponieważ wydobywa się
z niego gorąca woda.
-- Tylko wybrane modele: platforma
(podstawa) żelazka może być bardzo
rozgrzana i dotknięcie jej może
spowodować oparzenia. Przed wymianą
wkładu odczekaj 5 minut, aż urządzenie
ostygnie.
UWAGA: gorąca powierzchnia (rys. 1)
Powierzchnie mogą nagrzewać się podczas
użytkowania (dotyczy żelazek oznaczonych
symbolem ostrzegającym przed wysoką
temperaturą).
Przestroga
-- Podłączaj urządzenie wyłącznie do
uziemionego gniazdka elektrycznego.
-- Przed umieszczeniem wtyczki w gniazdku
elektrycznym całkowicie rozwiń przewód
sieciowy.
-- Podstawa i stopa żelazka mogą być
bardzo rozgrzane i dotknięcie ich może
spowodować oparzenia. Jeżeli chcesz
przesunąć generator pary, nie dotykaj
podstawy żelazka.
-- Zawsze stawiaj żelazko na podstawie,
wyłączaj urządzenie i wyjmuj wtyczkę z
gniazdka elektrycznego po zakończeniu
prasowania oraz w przypadku czyszczenia
urządzenia, napełniania lub opróżniania
zbiornika wody, a nawet w celu
pozostawienia żelazka na krótką chwilę.
-- Nie dodawaj wody perfumowanej, wody
z suszarek bębnowych, octu, krochmalu,
środków do usuwania kamienia lub
ułatwiających prasowanie, wody
odwapnionej chemicznie ani żadnych
innych środków chemicznych, gdyż może
to spowodować wyciek wody, powstawanie
brązowych plam lub uszkodzenie urządzenia.
-- Wtyczkę podłączaj wyłącznie do gniazdka
o takich samych parametrach technicznych
jak wtyczka.
-- Otwór wlewowy nie może być otwarty
podczas pracy.
Pola elektromagnetyczne (EMF)
To urządzenie firmy Philips spełnia wszystkie normy i jest zgodne
z wszystkimi przepisami dotyczącymi narażenia na działanie pól
elektromagnetycznych.
--
--
Recykling
Symbol przekreślonego kontenera na odpady (rys. 2),
oznacza, że produkt podlega selektywnej zbiórce zgodnie
z Dyrektywą 2012/19/UE i informuje, że sprzęt po okresie
użytkowania, nie może być wyrzucony z innymi odpadami
gospodarstwa domowego. Użytkownik ma obowiązek
oddać go do podmiotu prowadzącego zbieranie zużytego
sprzętu elektrycznego i elektronicznego, tworzącego system
zbierania takich odpadów - w tym do odpowiedniego sklepu,
lokalnego punktu zbiórki lub jednostki gminnej.
Zużyty sprzęt może mieć szkodliwy wpływ na środowisko
i zdrowie ludzi z uwagi na potencjalną zawartość
niebezpiecznych substancji, mieszanin oraz części
składowych. Gospodarstwo domowe spełnia ważną rolę w
przyczynianiu się do ponownego użycia i odzysku surowców
wtórnych, w tym recyklingu zużytego sprzętu. Na tym etapie
kształtuje się postawy, które wpływają na zachowanie
wspólnego dobra jakim jest czyste środowisko naturalne.
1
2
Gwarancja i pomoc techniczna
Jeśli potrzebujesz pomocy lub informacji, odwiedź stronę
www.philips.com/support lub zapoznaj się z oddzielną ulotką
gwarancyjną.
Română
Introducere
Felicitări pentru achiziţie şi bun venit la Philips! Pentru a
beneficia pe deplin de asistenţa oferită de Philips, înregistraţi-vă
produsul la www.philips.com/welcome.
Important!
Citeşte broşura separată cu informaţii
importante şi manualul de utilizare cu atenţie
înainte de a utiliza aparatul. Păstrează ambele
documente pentru consultare ulterioară.
Acest aparat electrocasnic a fost conceput
numai pentru uz casnic. Producătorul nu-şi
asumă nicio obligaţie, iar garanţia nu se va
aplica în caz de utilizare în scop comercial,
utilizare necorespunzătoare sau nerespectarea
instrucţiunilor.
Pericol
-- Nu introduceţi niciodată aparatul în apă.
Avertisment
-- Nu folosi aparatul dacă ştecherul, cablul
de alimentare cu energie, furtunul de
alimentare sau aparatul în sine prezintă
deteriorări vizibile, dacă aparatul
funcţionează neobişnuit în orice mod sau
dacă ai scăpat aparatul pe jos ori acesta
prezintă scurgeri. Pentru reparaţii sau
service, aparatul trebuie verificat de Philips,
de un centru de service autorizat de Philips
sau de personal calificat în domeniu.
-- Verificaţi dacă tensiunea indicată pe plăcuţa de
înregistrare corespunde tensiunii de alimentare
locale înainte de a conecta aparatul.
-- Nu introduceţi fierul sau generatorul de abur
în apă.
-- Aparatul nu trebuie lăsat nesupravegheat în
timp ce este conectat la priză.
-- Acest aparat poate fi utilizat de către
persoane care au capacităţi fizice,
senzoriale sau mentale reduse sau sunt
lipsite de experienţă şi cunoştinţe şi
copii cu vârsta minimă de 8 ani dacă au
fost supravegheaţi sau instruiţi cu privire
la utilizarea în condiţii de siguranţă a
aparatului şi înţeleg pericolele implicate.
-- Copiilor cu vârsta de minimum 8 ani le este
permis să cureţe aparatul şi să efectueze
procedura de detartrare numai sub
supraveghere.
-- Nu lăsaţi fierul de călcat şi cablul său la
îndemâna copiilor în vârstă de mai puţin de
8 ani atunci când este pornit sau se răceşte.
-- Aparatul trebuie utilizat şi aşezat pe o
suprafaţă plată, stabilă şi termorezistentă.
Când aşezi fierul de călcat în poziţie
verticală sau pe suportul său, asigură-te că
suprafaţa pe care l-ai aşezat este stabilă.
-- Manevrează fierul cu grijă şi nu îndrepta
niciodată aburul spre persoane sau animale,
deoarece din aparat iese abur care poate
provoca arsuri.
-- Numai la anumite modele: la cuplarea/
decuplarea rezervorului de apă, nu atinge
vârful fierului în timp ce sistemul este în
funcţiune.
-- Nu lăsa cablul şi furtunul de alimentare
să intre în contact cu talpa fierului când
aceasta este încinsă.
-- Nu lăsa aparatul nesupravegheat în timpul
procesului Calc-Clean.
©2019 Koninklijke Philips N.V.
All rights reserved.
4239 001 06712
-- Efectuează întotdeauna procesul de
detartrare cu recipientul pentru detartrare şi
nu întrerupe procesul.
-- Nu le permiteţi copiilor să se joace cu aparatul.
Atenţie: din talpa fierului de călcat va ieşi
apă, dar şi abur fierbinte.
-- Numai la anumite modele: nu lăsa fierul de
călcat în poziţie verticală în timpul procesului
de detartrare, deoarece va ieşi apă fierbinte.
-- Numai la anumite modele: suportul fierului
poate deveni extrem de fierbinte şi poate
provoca arsuri dacă este atins. Lasă-l să
se răcească timp de 5 minute când se
efectuează schimbul cartuşului.
ATENŢIE: Suprafaţă fierbinte (Fig. 1)
Suprafeţele pot deveni fierbinţi în timpul
utilizării (pentru fiarele cu simbolul fierbinte
marcat pe aparat).
Atenţie
-- Conectează aparatul numai la o priză de
perete cu împământare.
-- Desfăşuraţi în întregime cablul de alimentare,
înainte de a-l introduce în priza de perete.
-- Suportul şi talpa fierului de călcat se pot
încinge puternic şi pot provoca arsuri dacă
sunt atinse. Dacă vrei să muţi staţia de
călcat cu abur, nu atinge suportul fierului.
-- Pune întotdeauna fierul de călcat pe
suportul acestuia, opreşte aparatul şi scoate
ştecherul din priza de perete după ce ai
terminat de călcat, când cureţi aparatul,
când umpli sau goleşti rezervorul de apă
sau când laşi aparatul nesupravegheat chiar
şi pentru scurt timp.
-- Nu adăuga apă parfumată, apă din maşina
de uscat prin centrifugare, oţet, amidon,
agenţi de detartrare, aditivi de călcare, apă
dedurizată chimic sau alte substanţe chimice,
deoarece acestea pot provoca scurgeri de
apă, pete maro sau deteriorarea aparatul.
-- Ştecherul trebuie conectat doar la o priză cu
aceleaşi caracteristici tehnice.
-- Orificiul de umplere nu trebuie să fie deschis
în timpul funcţionării.
Câmpuri electromagnetice (EMF)
Acest aparat Philips respectă toate standardele şi reglementările
aplicabile privind expunerea la câmpuri electromagnetice.
---
Reciclare
Acest simbol (fig. 2) înseamnă că produsul nu poate fi eliminat
împreună cu gunoiul menajer obişnuit (2012/19/UE).
Urmează regulile din ţara ta pentru colectarea separată
a produselor electrice şi electronice. Eliminarea corectă
contribuie la prevenirea consecinţelor negative asupra
mediului şi asupra sănătăţii umane.
Garanţie şi asistenţă
Dacă ai nevoie de informaţii sau de asistenţă, vizitează
www.philips.com/support sau citeşte broşura de garanţie
internaţională separată.
English
Introduction
Congratulations on your purchase and welcome to Philips! To
fully benefit from the support that Philips offers, register your
product at www.philips.com/welcome.
Important
Read the separate important information
leaflet and the user manual carefully before
you use the appliance. Save both documents
for future reference.
This appliance has been designed for
domestic use only. Any commercial use,
inappropriate use or failure to comply with
the instructions, the manufacturer accepts no
responsibility and the guarantee will not apply.
Danger
-- Never immerse the appliance in water.
Warning
-- Do not use the appliance if the plug,
the mains cord, the supply hose or the
appliance itself shows visible damage or if
the appliance functions abnormally in any
way, or if the appliance has been dropped
or leaks. For repair or service, you must
have the appliance inspected by Philips,
a service centre authorised by Philips or
similarly qualified persons.
-- Check if the voltage indicated on the type
plate corresponds to the local mains voltage
before you connect the appliance.
-- Do not immerse the iron or the steam
generator in water.
-- Do not leave the appliance unattended
when it is connected to the mains.
-- This appliance can be used by children
aged from 8 years and above and persons
with reduced physical, sensory or mental
capabilities or lack of experience and
knowledge if they have been given
supervision or instruction concerning use of
the appliance in a safe way and understand
the hazards involved.
-- Children aged 8 or over are only allowed to
clean the appliance and perform the CalcClean procedure under supervision.
-- Keep the iron and its cord out of reach of
children less than 8 years of age when it is
switched on or cooling down.
-- The appliance must be used and placed on
a flat, stable, heat-resistant surface. When
you place the iron on its heel or its stand,
make sure that the surface on which you
place it is stable.
-- Handle your iron carefully and never direct
the steam towards persons or animals as
your appliance gives off steam which can
cause burns.
-- Specific types only: When engaging/disengaging the water tank, do not touch the
tip of the iron as the system is in operation.
-- Do not let the mains cord and supply hose
come into contact with the hot soleplate of
the iron.
-- Do not leave the appliance unattended
during the Calc-Clean process.
-- Always perform the Calc-Clean process
with the Calc-Clean container and do not
interrupt the process.
-- Do not allow children to play with the
appliance.
Caution: Hot water and steam comes out
from the soleplate.
-- Specific types only: Do not let the iron rest
on its heel during the Calc-Clean process as
hot water comes out.
-- Specific types only: The iron platform
(stand) can become extremely hot, and may
cause burns if touched. Let it cool down
for 5 minutes when performing cartridge
replacement.
CAUTION: Hot surface (Fig. 1)
Surfaces are liable to get hot during use
(for irons with hot symbol marked on the
appliance).
Caution
-- Only connect the appliance to an earthed
wall socket.
-- Fully unwind the mains cord before you put
the plug in the wall socket.
-- The iron platform and the soleplate of the
iron can become extremely hot and may
cause burns if touched. If you want to move
the steam generator, do not touch the iron
platform.
-- Always put the iron back on the iron
platform, switch off the appliance and
remove the plug from the wall socket after
you have finished ironing, when you clean
the appliance, fill or empty the water tank, or
even when you leave the appliance even for
a short while.
-- Do not add perfumed water, water from
the tumble dryer, vinegar, starch, descaling
agents, ironing aids, chemically descaled
water or other chemicals, as they may cause
water leakage, brown staining or damage to
your appliance.
-- The plug must only be connected
to a socket with the same technical
characteristics as plug.
-- The filling hole must not be open during
operation.
Electromagnetic fields (EMF)
This Philips appliance complies with all applicable standards and
regulations regarding exposure to electromagnetic fields.
---
Recycling
This symbol (Fig. 2) means that this product shall not be
disposed of with normal household waste (2012/19/EU).
Follow your country's rules for the separate collection of
electrical and electronic products. Correct disposal helps
prevent negative consequences for the environment and
human health.
Guarantee and support
If you need information or support, please visit
www.philips.com/support or read the separate worldwide
guarantee leaflet.
----
Български
Въведение
Поздравления за вашата покупка и добре дошли във
Philips! За да се възползвате изцяло от предлаганата
от Philips поддръжка, регистрирайте продукта си на
www.philips.com/welcome.
Важно
Прочетете внимателно отделната
брошура с важна информация и
ръководството за потребителя, преди
да започнете да използвате уреда.
Запазете и двата документа за бъдеща
справка.
Този уред е проектиран само за употреба
в домашни условия. При промишлена
употреба, неподходяща употреба
или неспазване на инструкциите
производителят не поема отговорност
и гаранцията става невалидна.
Опасност
-- Никога не потапяйте уреда във вода.
Предупреждение
-- Не използвайте уреда, ако щепселът,
захранващият кабел или самият уред
показват видими дефекти или ако
уредът не функционира нормално по
какъвто и да е начин, бил е изпускан
или тече. За ремонт или обслужване
трябва да оставите уреда да бъде
прегледан от Philips, упълномощен
от Philips сервизен център или
квалифицирани по подобен начин лица.
-- Преди да включите уреда в контакта,
проверете дали напрежението,
отбелязано на табелката на уреда,
отговаря на това на местната
електрическа мрежа.
-- Не потапяйте ютията или парния
генератор във вода.
-- Не оставяйте уреда без наблюдение,
когато е включен.
-- Този уред може да се използва от деца
на възраст над 8 години и от хора с
намалени физически възприятия или
умствени недостатъци или без опит
и познания, ако са инструктирани за
безопасна употреба на уреда или са
под наблюдение с цел гарантиране
на безопасна употреба и ако са им
разяснени евентуалните опасности.
-- Само на децата на възраст над 8
години е разрешено да почистват
уреда и да изпълняват под наблюдение
процедурата за антикалциране.
-- Пазете ютията и кабела й далече от
достъп на деца под 8 години, когато е
включена в контакта или е оставена да
изстива.
-- Уредът трябва да се използва
и поставя на равна, стабилна,
термоустойчива повърхност. Когато
поставяте ютията на петата
или поставката й, уверете се че
повърхността, на която я поставяте,
е стабилна.
-- Дръжте ютията си внимателно и
никога не насочвайте парата към хора
или животни, тъй като вашият уред
изпуска пара, която може да причини
изгаряния.
-- Само за определени модели: При
включване/изключване на водния
резервоар не докосвайте върха на
ютията, тъй като системата работи.
-- Не допускайте захранващият кабел
и маркучът за пара да се допират до
горещата гладеща повърхност на
ютията.
-- Не оставяйте уреда без наблюдение по
време на процеса Calc Clean.
-- Винаги извършвайте процеса за
премахване на накипа с контейнера
Calc-Clean и не прекъсвайте процеса.
-- Не позволявайте на деца да си играят с
уреда.
Внимание: гореща вода и пара излизат
от гладещата повърхност.
-- Само за определени модели: Не
оставяйте ютията върху петата й
по време на процеса на почистване на
накипа, тъй като излиза гореща вода.
-- Само за определени модели:
платформата на ютията (поставката)
може да се нагорещи силно и да причини
изгаряния при допир. Оставете я да
изстине за 5 минути при извършване на
смяна на касетата.
--
--
---
ВНИМАНИЕ: Гореща повърхност (Фиг. 1)
Повърхностите се нагорещяват
по време на работа (за ютии, върху
които е поставен символът за гореща
повърхност).
Внимание
Включвайте уреда само в заземен
електрически контакт.
Развийте докрай захранващия
кабел, преди да включите щепсела в
контакта.
Поставката и гладещата повърхност
на ютията могат да се нагорещят
силно и да причинят изгаряния при
допир. Ако искате да преместите
парния генератор, не докосвайте
платформата на ютията.
Винаги слагайте ютията обратно
върху платформата й, изключвайте
уреда и изваждайте щепсела от
контакта, след като приключите с
гладенето, когато почиствате уреда,
пълните или изпразвате резервоара за
вода, или дори когато оставяте уреда
дори за момент.
Не използвайте парфюмирана вода,
вода от сушилна машина, оцет,
нишесте, препарати за отстраняване
на накипа, помощни препарати за
гладене, химически декалцирана вода
или други химикали, тъй като те могат
да причинят изтичане на вода, кафяво
оцветяване или повреда на вашия уред.
Щепселът трябва да бъде свързан
към контакт със същите технически
характеристики като него.
Отворът за пълнене не трябва да
бъдат открит по време на работа.
Електромагнитни полета (EMF)
Този уред на Philips е в съответствие с нормативната
уредба и всички действащи стандарти, свързани с
излагането на електромагнитни излъчвания.
---
Рециклиране
Този символ (Фиг. 2) означава, че този продукт не
може да се изхвърля заедно с обикновените битови
отпадъци (2012/19/ЕС).
Следвайте правилата на държавата си относно
разделното събиране на електрическите и
електронните уреди. Правилното изхвърляне помага
за предотвратяването на потенциални негативни
последици за околната среда и човешкото здраве.
Гаранция и поддръжка
Ако се нуждаете от информация или поддръжка, моля,
посетете www.philips.com/support или прочетете
отделната листовка за международната гаранция.
Čeština
Úvod
Společnost Philips Vám gratuluje ke koupi a vítá Vás!
Chcete-li využívat všech výhod podpory nabízené
společností Philips, zaregistrujte svůj výrobek na stránkách
www.philips.com/welcome.
Důležité
Před použitím si pečlivě přečtěte uživatelskou
příručku a samostatný letáček s důležitými
informacemi. Oba dokumenty si uschovejte
pro budoucí použití.
Tento přístroj je určen pouze k domácímu
použití. Při jakémkoli komerčním či nevhodném
použití nebo při nedodržení pokynů nepřijímá
výrobce žádnou odpovědnost a záruka
nebude platná.
Nebezpečí
-- Nikdy neponořujte přístroj do vody.
Varování
-- Pokud by byly napájecí kabel, zástrčka,
přívodní hadice či samotný přístroj viditelně
poškozeny, pokud přístroj pracuje jinak
než obvykle nebo pokud byl přístroj
upuštěn na zem či protéká, nepoužívejte jej.
V případě nutnosti servisu nebo oprav musí
přístroj zkontrolovat společnost Philips,
autorizované servisní středisko společnosti
Philips nebo obdobně kvalifikovaní
pracovníci.
-- Dříve než přístroj připojíte do sítě,
zkontrolujte, zda napětí uvedené na
typovém štítku souhlasí s napětím v místní
elektrické síti.
-- Žehličku ani generátor páry nikdy
neponořujte do vody.
-- Přístroj připojený k síti nikdy nenechávejte
bez dozoru.
-- Děti od 8 let věku a osoby s omezenými
fyzickými, smyslovými nebo duševními
schopnostmi nebo nedostatkem zkušeností
a znalostí mohou tento přístroj používat
v případě, že jsou pod dohledem nebo byly
poučeny o bezpečném používání přístroje a
chápou rizika, která mohou hrozit.
-- Děti ve věku od 8 let mohou přístroj čistit
nebo provádět postup funkce Calc-Clean
výhradně pod dohledem.
-- Pokud je zařízení zapojené do sítě nebo
chladne, uchovávejte žehličku a napájecí
kabel mimo dosah dětí mladších 8 let.
-- Přístroj musí být používán nebo položen na
plochém, stabilním, žáruvzdorném povrchu.
Když žehličku stavíte na výšku nebo do
stojanu, ujistěte se, že je daný povrch
stabilní.
-- S žehličkou zacházejte opatrně a proud páry
nikdy nemiřte na osoby ani zvířata, protože
pára vycházející ze zařízení může způsobit
popáleniny.
-- Pouze pro určité typy: Když nasazujete/
vyndáváte nádržku na vodu, nedotýkejte se
špičky žehličky, protože systém je v provozu.
-- Napájecí kabel ani přívodní hadice se nesmí
dostat do kontaktu s horkou žehlicí plochou.
-- Během procesu Calc-Clean nenechávejte
zařízení bez dozoru.
-- Vždy proveďte proces Calc-Clean
s nádobkou Calc-Clean a nepřerušujte jej.
-- Nedovolte, aby si s přístrojem hráli děti.
Upozornění: Z žehlicí plochy uniká horká
voda a pára.
-- Pouze pro určité typy: Během procesu CalcClean nenechávejte žehličku na podstavci,
protože z ní bude vycházet horká voda.
-- Pouze pro určité typy: Stojánek žehličky
(stojánek) může být velmi horký a při dotyku
může způsobit popáleniny. Před výměnou
zásobníku jej nechte 5 minut vychladnout.
POZOR: Horký povrch (obr. 1)
Povrchy jsou při používání horké (platí
u žehliček se symbolem horka).
Upozornění
-- Přístroj připojujte výhradně do řádně
uzemněných zásuvek.
-- Napájecí kabel před zapojením do síťové
zásuvky zcela rozviňte.
-- Nedotýkejte se podstavce ani žehlicí plochy,
je velmi horká a mohli byste se spálit.
Pokud chcete parní generátor přemisťovat,
nedotýkejte se podstavce žehličky.
-- Po dokončení žehlení, při čištění, naplňování
nebo vyprazdňování nádržky na vodu a
i v případě, že od žehličky jen na chvíli
odcházíte, ji vždy vraťte na stojan, vypněte ji
a vytáhněte ze zásuvky.
-- Nepřidávejte parfémovanou vodu, vodu ze
sušičky, ocet, škrob, odvápňovací prostředky,
přípravky pro usnadnění žehlení, vodu
s chemicky odstraněným vodním kamenem
nebo jiné chemikálie, protože by mohlo dojít
k úniku vody, vzniku hnědých skvrn nebo
poškození zařízení.
-- Zástrčku zapojujte pouze do zásuvky se
stejnými technickými parametry.
-- Během provozu nikdy neotvírejte plnicí
otvor.
Elektromagnetická pole (EMP)
Tento přístroj Philips odpovídá všem platným normám a
předpisům týkajícím se elektromagnetických polí.
---
Recyklace
Symbol (obr. 2) znamená, že výrobek nelze likvidovat
s běžným komunálním odpadem (2012/19/EU).
Řiďte se pravidly vaší země pro sběr elektrických a
elektronických výrobků. Správnou likvidací pomůžete předejít
negativním dopadům na životní prostředí a lidské zdraví
Záruka a podpora
Více informací a podpory naleznete na adrese
www.philips.com/support nebo na samostatném záručním listu
s celosvětovou platností.
Eesti
Tutvustus
Õnnitleme ostu puhul ja tervitame Philipsi poolt! Philipsi
pakutava tootetoe eeliste täielikuks kasutamiseks registreerige
oma toode veebisaidil www.philips.com/welcome.
Tähtis!
Lugege enne seadme kasutamist läbi olulise
teabe brošüür ja kasutusjuhend. Hoidke
mõlemad edaspidiseks alles.
See seade on mõeldud ainult kodukasutuseks.
Tootja keeldub vastutusest ja tühistab garantii
igasuguse kommertskasutuse, väärkasutuse
või juhiste eiramise korral.
Oht
-- Ärge kunagi kastke seadet vette.
Hoiatus
-- Ärge kasutage seadet, kui pistikul,
toitejuhtmel, toitevoolikul või seadmel endal
on nähtavaid kahjustusi, kui seade töötab
mingil viisil ebanormaalselt või kui seade
on maha pillatud või lekib. Remondi- või
hooldustöödeks peab seadme läbi vaatama
Philips, Philipsi volitatud hoolduskeskus või
samaväärse kvalifikatsiooniga isik.
-- Enne seadme sisselülitamist kontrollige, et
triikraua nimiandmete sildil näidatud pinge
ühtib kohaliku voolupingega.
-- Ärge kunagi kastke triikrauda ega
aurugeneraatorit vette.
-- Ärge jätke kunagi elektrivõrku ühendatud
seadet järelevalveta.
-- Seda seadet võivad kasutada lapsed
alates 8. eluaastast ning füüsiliste puuete
ja vaimuhäiretega isikud või isikud, kellel
puuduvad kogemused ja teadmised, kui
neid valvatakse või neile on antud juhendid
seadme ohutu kasutamise kohta ja nad
mõistavad sellega seotud ohte.
-- Vähemalt 8-aastased lapsed tohivad seadet
puhastada ja Calc-Cleani toimingut teha
ainult järelevalve all.
-- Hoidke triikraud ja selle juhe väljaspool alla
8-aastaste laste käeulatust, kui seade on
elektrivõrku ühendatud või jahtub.
-- Seadet tuleb kasutada ja hoida ainult
tasasel, stabiilsel ja kuumuskindlal pinnal.
Kui paigutate triikraua kannale või alusele,
tuleb veenduda, et aluspind on stabiilne.
-- Käsitsege triikrauda ettevaatlikult ja ärge
kunagi suunake auru inimeste või loomade
suunas, kuna seadmest eralduv aur võib
põhjustada põletust.
-- Ainult teatud mudelid: veepaagi
ühendamise/lahtiühendamise korral ärge
puudutage triikraua otsa, kuna süsteem
töötab.
-- Ärge laske toitejuhtmel ega toitevoolikul
puutuda kokku triikraua alusplaadiga.
-- Ärge jätke seadet Calc-Cleani toimingu ajal
järelevalveta.
-- Kasutage Calc-Cleani toiminguks alati CalcCleani anumat ja ärge katkestage toimingut.
-- Ärge laske lastel seadmega mängida.
Ettevaatust! Tallast väljub kuuma vett ja
auru.
-- Ainult teatud mudelid: ärge asetage
triikrauda Calc-Cleani toimingu ajal kannale,
kuna seadmest voolab välja kuuma vett.
-- Ainult teatud mudelid: triikraua alus võib
minna väga kuumaks ja puudutamisel
põletusi tekitada. Kasseti vahetamise korral
laske seadmel 5 minutit jahtuda.
ETTEVAATUST! Kuum pind (joon. 1)
Pinnad muutuvad kasutamise ajal
arvatavasti kuumaks (kehtib triikraudade
puhul, millel on sümbol "kuum pind").
Ettevaatust
-- Ühendage seade vaid maandatud
seinakontakti.
-- Enne kui ühendate pistiku seinakontakti,
kerige toitejuhe täiesti lahti.
-- Triikraua alus ja tald võivad minna väga
kuumaks ja puudutamisel põletusi
tekitada. Ärge puudutage aurugeneraatori
liigutamisel triikraua alust.
-- Pange triikraud alati alusele, lülitage seade
välja ja eemaldage pistik seinakontaktist
pärast triikimise lõpetamist, seadme
puhastamist, veepaagi täitmist või
tühjendamist ja isegi siis, kui lahkute kasvõi
lühikeseks ajaks seadme juurest.
-- Ärge kasutage veepaagis parfüümi,
trummelkuivatist pärinevat vett, äädikat,
tärklist, katlakivieemaldusvahendit, triikimist
hõlbustavaid vahendeid, keemiliselt
katlakivist puhastatud vett ega muid
kemikaale, kuna need võivad tekitada
veepritsmeid, pruune plekke või seadet
kahjustada.
-- Pistik tuleb ühendada ainult pistikupessa,
mille tehnilised omadused on samad, mis
pistikul.
-- Täiteava ei tohi kasutamise ajal avatud olla.
Elektromagnetväljad (EMF)
See Philipsi seade vastab kõikidele kokkupuudet
elektromagnetiliste väljadega käsitlevatele kohaldatavatele
standarditele ja õigusnormidele.
---
Ringlussevõtt
See sümbol (joon. 2) tähendab, et seda toodet ei tohi visata
tavaliste kodumajapidamisjäätmete hulka (2012/19/EL).
Järgige elektriliste ja elektrooniliste toodete lahuskogumise
kohalikke eeskirju. Õigel viisil kasutusest kõrvaldamine aitab
ära hoida võimalikke kahjulikke tagajärgi keskkonnale ja
inimese tervisele.
Garantii ja tugi
Kui vajate teavet või abi, külastage veebilehte
www.philips.com/support või lugege läbi ülemaailmne
garantiileht.
Hrvatski
Uvod
Čestitamo na kupnji i dobro došli u Philips! Kako biste potpuno
iskoristili podršku koju nudi Philips, registrirajte svoj proizvod na
www.philips.com/welcome.
Važno!
Prije uporabe aparata pažljivo pročitajte
zasebni letak s važnim informacijama i
korisnički priručnik. Oba dokumenta spremite
za buduće potrebe.
Ovaj aparat dizajniran je isključivo za
uporabu u kućanstvu. Proizvođač ne prihvaća
odgovornost za bilo kakvu komercijalnu
uporabu, neodgovarajuću uporabu ili
nepoštovanje uputa, a u tim slučajevima
jamstvo neće vrijediti.
Opasnost
-- Aparat nikada nemojte uranjati u vodu.
Upozorenje
-- Aparat nemojte koristiti ako su na utikaču,
kabelu za napajanje, crijevu za dovod pare
ili samom aparatu vidljiva oštećenja, ako
aparat na bilo koji način ne radi kako bi
trebao, ako je pao na pod ili ako iz njega
curi voda. Popravak ili servis mora izvršavati
tvrtka Philips, servisni centar koji je ovlastila
tvrtka Philips ili osobe sličnih kvalifikacija.
-- Prije priključivanja aparata provjerite
odgovara li mrežni napon naveden na
naljepnici s podacima naponu lokalne
mreže.
-- Glačalo ili generator pare nemojte uranjati u
vodu.
-- Aparat nemojte ostavljati bez nadzora dok
je spojen na mrežno napajanje.
-- Ovaj aparat mogu koristiti djeca iznad
8 godina starosti i osobe sa smanjenim
fizičkim ili mentalnim sposobnostima te
osobe koje nemaju dovoljno iskustva i
znanja, pod uvjetom da su pod nadzorom
ili da su primili upute u vezi rukovanja
aparatom na siguran način te razumiju
moguće opasnosti.
-- Djeca starija od 8 godina smiju čistiti aparat
i izvršavati postupak Calc-Clean isključivo
pod nadzorom.
-- Glačalo i kabel za napajanje držite izvan
dohvata djece mlađe od 8 godina dok je
aparat uključen ili dok se hladi.
-- Aparat se mora koristiti i stavljati na ravnu i
stabilnu površinu otpornu na toplinu. Kada
glačalo stavite uspravno ili na postolje,
pazite da površina na koju ga stavljate bude
stabilna.
-- Pažljivo rukujte glačalom i mlaz pare nikada
nemojte usmjeravati prema osobama ili
životinjama je aparat ispušta paru koja
može uzrokovati opekotine.
-- Samo određeni modeli: prilikom
postavljanja/odvajanja spremnika za vodu
nemojte dodirivati vrh glačala jer sustav radi.
-- Pazite da kabel za napajanje i crijevo za
dovod pare ne dođu u dodir s vrućim
stopalom za glačanje.
-- Tijekom postupka Calc-Clean aparat
nemojte ostavljati bez nadzora.
-- Calc-Clean postupak uvijek izvršavajte
sa spremnikom Calc-Clean i nemojte ga
prekidati.
-- Nemojte dopuštati mlađoj djeci da se igraju
s aparatom.
Oprez: Iz stopala za glačanje izlaze vruća
voda i para.
-- Samo određeni modeli: tijekom postupka
Calc-Clean nemojte ostavljati glačalo u
uspravnom položaju jer iz njega izlazi vruća
voda.
-- Samo određeni modeli: platforma glačala
(postolje) može se jako zagrijati i uzrokovati
opekotine ako se dodirne. Ostavite da se
hladi 5 minuta prilikom zamjene spremnika.
OPREZ: vruća površina (sl. 1)
Površine se zagrijavaju tijekom uporabe
(kod glačala koja na kućištu imaju simbol
topline).
Pažnja
-- Aparat priključujte samo u uzemljenu zidnu
utičnicu.
-- Kabel za napajanje potpuno odmotajte prije
ukopčavanja utikača u zidnu utičnicu.
-- Platforma glačala i stopalo za glačanje
mogu se jako zagrijati i uzrokovati opekotine
ako se dodirnu. Ako želite premjestiti
generator pare, nemojte dodirivati postolje
glačala.
-- Kada završite s glačanjem, prilikom čišćenja
aparata, prilikom punjenja ili pražnjenja
spremnika za vodu ili čak kada aparat
nakratko ostavljate bez nadzora, obavezno
glačalo vratite na postolje, isključite aparat i
iskopčajte utikač iz zidne utičnice.
-- Nemojte dodavati vodu s parfemom, vodu
iz sušilice, ocat, izbjeljivač, sredstva protiv
kamenca, sredstva za olakšavanje glačanja,
vodu koja je kemijski očišćena od kamenca
ili druge kemikalije jer mogu uzrokovati
curenje vode, smeđe mrlje ili oštećenje
aparata.
-- Utikač mora biti ukopčan isključivo u
utičnicu jednakih tehničkih specifikacija.
-- Otvor za punjenje ne smije biti otvoren
tijekom rada.
Elektromagnetska polja (EMF)
Ovaj aparat tvrtke Philips sukladan je svim primjenjivim
standardima i propisima koji se tiču izloženosti
elektromagnetskim poljima.
---
Recikliranje
Ovaj simbol (sl. 2) naznačuje da se proizvod ne smije odlagati
s običnim otpadom iz kućanstva (2012/19/EU).
Poštujte propise svoje države o zasebnom prikupljanju
električnih i elektroničkih proizvoda. Ispravno odlaganje
pridonosi sprječavanju negativnih posljedica po okoliš i
ljudsko zdravlje.
Jamstvo i podrška
Ako trebate informacije ili podršku, posjetite
www.philips.com/support ili pročitajte zasebni međunarodni
jamstveni list.
Magyar
Bevezetés
Köszönjük, hogy Philips terméket vásárolt, és üdvözöljük
a Philips világában! A Philips által biztosított támogatás
teljes körű igénybevételéhez regisztrálja a terméket a
www.philips.com/welcome oldalon.
Fontos
Kérjük, körültekintően olvassa el a "Fontos
tudnivalók" c. ismertetőt és a felhasználói
kézikönyvet, mielőtt használni kezdené
a készüléket. Őrizze meg mindkét
dokumentumot későbbi használatra.
A készüléket kizárólag háztartási használatra
tervezték. A gyártó nem vállal felelősséget és
garanciát a kereskedelmi célú használatból,
a nem rendeltetésszerű használatból vagy az
instrukciók be nem tartásából eredő hibákra.
Veszély
-- Soha ne merítse a készüléket vízbe.
Figyelem
-- Ne használja a készüléket, ha a csatlakozón,
a tápkábelen, az ellátó tömlőn vagy a
készüléken látható sérülés van, illetve ha a
készülék a szokásostól eltérően működik,
vagy ha a készüléket leejtette, vagy ha
szivárog. A javításhoz vagy szereléshez a
készüléket ellenőriztetnie kell a Philipsszel,
vagy Philips szakszervizzel vagy hivatalos
szakszervizzel.
-- A készülék csatlakoztatása előtt ellenőrizze,
hogy a rajta feltüntetett feszültség egyezik-e
a helyi hálózati feszültséggel.