Roland VR-5 Owner's manual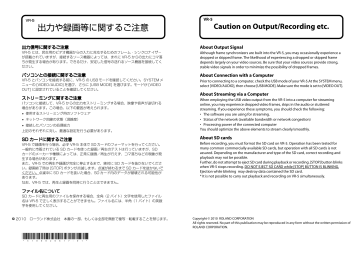 VR-5
VR-5
出力や録画等に関するご注意
Caution on Output/Recording etc.
出力信号に関するご注意
About Output Signal
VR-5 には、民生用のビデオ機器からの入力に対応するためのフレーム・シンクロナイザ−
が搭載されていますが、接続するソース機器によっては、まれに VR-5 からの出力にコマ落
ちが発生する場合があります。できるだけ、安定した信号の送れるソース機器を接続してく
ださい。
Although frame synchronizers are built into the VR-5, you may occasionally experience a
dropped or skipped frame. The likelihood of experiencing a dropped or skipped frame
depends largely on your video sources. Be sure that your video sources provide strong,
stable video signals in order to minimize the possibility of dropped frames.
パソコンとの接続に関するご注意
About Connection with a Computer
VR-5 とパソコンを接続する前に、VR-5 の USB モードを確認してください。 SYSTEM メ
ニューの [VIDEO/AUDIO] を選び、 さらに [USB MODE] を選びます。モードが [VIDEO
OUT] に設定されていることを確認してください。
Prior to connecting to a computer, check the USB mode of your VR-5.At the SYSTEM menu,
select [VIDEO/AUDIO], then choose [USB MODE]. Make sure the mode is set to [VIDEO OUT].
About Streaming via a Computer
ストリ−ミングに関するご注意
パソコンに接続して、VR-5 からの出力をストリ−ミングする場合、映像や音声が途切れる
場合があります。この場合、以下の要因が考えられます。
• 使用するストリ−ミング用のソフトウェア
• ネットワーク回線の状態(混雑度)
• 接続したパソコンの処理能力
上記のそれぞれに対し、最適な設定を行う必要があります。
When employing the USB video output from the VR-5 into a computer for streaming
online, you may experience dropped video frames, skips in the audio or stuttered
streaming. If you experience these symptoms, you should check the following:
• The software you are using for streaming.
• Status of the network (available bandwidth or network congestion)
• Processing power of the connected computer
You should optimize the above elements to stream clearly/smoothly.
About SD cards
SD カードに関するご注意
VR-5 で録画を行う場合、必ず VR-5 本体で SD カードのフォーマットを行ってください。
一般的に市販されている SD カードを使った録画/再生のテストは行っていますが、SD
カードのメーカーや種類によっては、正常に録画/再生が行えず、コマ落ちなどの現象が発
生する場合があります。
また、VR-5 での再生や録画が完全に停止するまで、絶対に SD カードを抜かないでくださ
い。録画終了時は [STOP] ボタンが点滅します。点滅が終わるまで SD カードを抜かないで
ください。点滅中に SD カードを抜いた場合、SD カード内のデータが破壊される可能性が
あります。
なお、VR-5 では、再生と録画を同時に行うことはできません。
Before recording, you must format the SD card on VR-5. Operation has been tested for
many common commercially available SD cards, but operation with all SD cards is not
assured. Depending on the manufacturer and type of the SD card, correct recording and
playback may not be possible.
Further, do not attempt to eject SD card during playback or recording. [STOP] button blinks
when VR-5 stops recording. DO NOT EJECT SD CARD while [STOP] BUTTON IS BLINKING.
Ejection while blinking may destroy data contained the SD card.
* It is not possible to carry out playback and recording on VR-5 simultaneously.
ファイル名について
SD カードに再生用のファイルを保存する場合、全角(2 バイト)文字を使用したファイル
名は VR-5 で正しく表示することができません。ファイル名には、半角(1 バイト)の英数
字を使用してください。
© 2010
*
ローランド株式会社
5
1
0
0
0
2
0
6
本書の一部、もしくは全部を無断で複写・転載することを禁じます。
1
7
-
0
1
*
Copyright © 2010 ROLAND CORPORATION
All rights reserved. No part of this publication may be reproduced in any form without the written permission of
ROLAND CORPORATION.

* Your assessment is very important for improving the work of artificial intelligence, which forms the content of this project