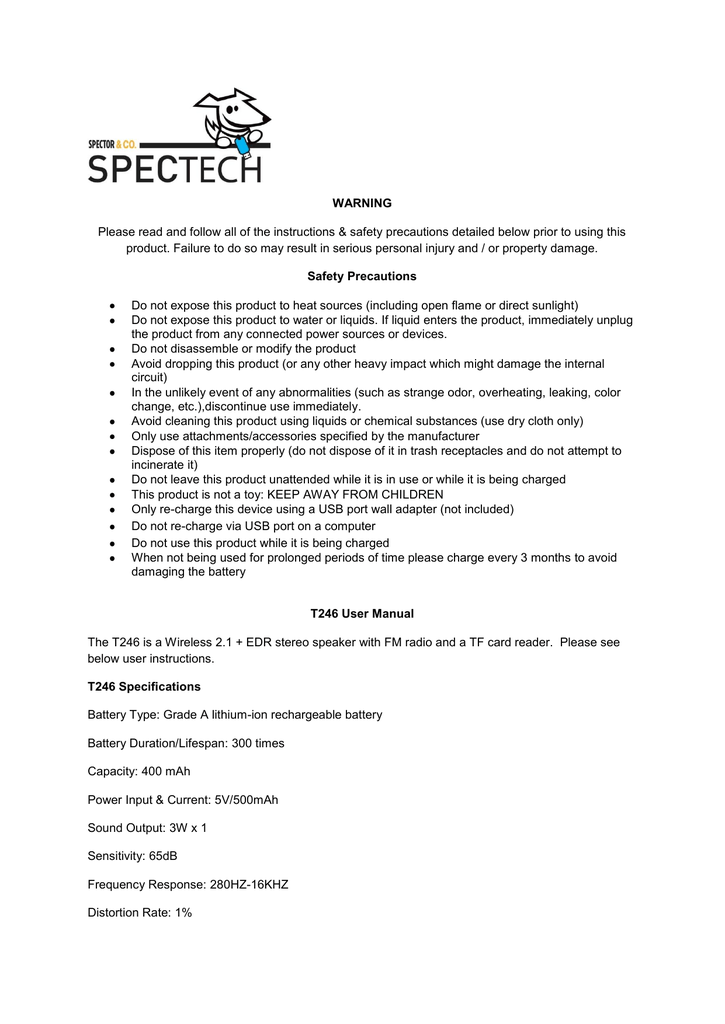 WARNING
Please read and follow all of the instructions & safety precautions detailed below prior to using this
product. Failure to do so may result in serious personal injury and / or property damage.
Safety Precautions
Do not expose this product to heat sources (including open flame or direct sunlight)
Do not expose this product to water or liquids. If liquid enters the product, immediately unplug
the product from any connected power sources or devices.
Do not disassemble or modify the product
Avoid dropping this product (or any other heavy impact which might damage the internal
circuit)
In the unlikely event of any abnormalities (such as strange odor, overheating, leaking, color
change, etc.),discontinue use immediately.
Avoid cleaning this product using liquids or chemical substances (use dry cloth only)
Only use attachments/accessories specified by the manufacturer
Dispose of this item properly (do not dispose of it in trash receptacles and do not attempt to
incinerate it)
Do not leave this product unattended while it is in use or while it is being charged
This product is not a toy: KEEP AWAY FROM CHILDREN
Only re-charge this device using a USB port wall adapter (not included)
Do not re-charge via USB port on a computer
Do not use this product while it is being charged
When not being used for prolonged periods of time please charge every 3 months to avoid
damaging the battery
T246 User Manual
The T246 is a Wireless 2.1 + EDR stereo speaker with FM radio and a TF card reader. Please see
below user instructions.
T246 Specifications
Battery Type: Grade A lithium-ion rechargeable battery
Battery Duration/Lifespan: 300 times
Capacity: 400 mAh
Power Input & Current: 5V/500mAh
Sound Output: 3W x 1
Sensitivity: 65dB
Frequency Response: 280HZ-16KHZ
Distortion Rate: 1%
Wireless Version: 2.1 + EDR
Range of Wireless Communication: 10M
Charge Time (0-100%): 2 hours
Playback Time: Up to 4 hours
Accessories: AUX audio cable & Micro USB charging cable
Product Size: 4 ¼" 2 1/8" x 1 3/8"
Net Weight: 177g
T246 Operation
1. On: switch ON/OFF switch to ON
2. Once T246 has been turned ON, it is automatically in WIRELESS mode NOTE: previously
paired devices will automatically connect to the T246 speaker
3. Press M button ONCE to switch from Wireless to FM radio mode, press TWICE to switch to
AUX mode
4. Off: press down on the speaker case until it locks back
Wireless Pairing
1.
2.
3.
OnceT246 has been turned on, it is automatically WIRELESS mode (Blue LED will flash
quickly to indicate the speaker is ready for Wireless pairing)
Enable Bluetooth function on your electronic device.
Search Bluetooth signal Spector T246 & pair your device (Blue LED on T246 will remain lit
to indicate the devices are paired)
Wireless Mode
1. Play/Pause/Answer & End incoming call: press play/pause button
2. Volume control: press & hold +/- buttons
3. Skip songs: press skip buttons quickly
FM Radio mode
1. To activate FM radio turn speaker ON & Press M button once
2. NOTE: Plug in the micro-USB/USB cable while in FM radio mode. The cable will act as an
antenna and will improve the radio signal.
3. Press play/pause button to initiate the scan of all accessible FM radio stations
4. Once initial scan is complete use "+"/"-": quick press to scan radio stations/ Hold down for
volume control
Aux Mode
1.
2.
3.
4.
5.
To activate AUX mode turn speaker ON & press M button twice
Plug in 3.5mm AUX audio cable into the T246 & into your audio device
Play/Pause can be adjusted on the speaker
Skipping songs & volume control must be controlled directly on your audio device
Press Play/Pause button to answer/end incoming call
TF Card Mode
1. TF Card: Insert your TF card & music will automatically begin playing
2. Play/Pause: press play/pause button
3. Volume control: press & hold +/- buttons
4. Skip songs: press skip buttons quickly
5. Press on card to eject
To Charge the T246
1. Insert micro USB into the T246 & connect the USB output to a wall adapter (not included)
2. Red LED indicates the device is charging (Red LED will turn OFFonce fully charged)
AVERTISSEMENT
S'il vous plaît lire et suivre toutes les instructions et consignes de sécurité indiquées ci-dessous avant
d'utiliser ce produit. De ne pas prendre ces précautions pourrait entraîner des blessures graves et /
ou des dommages matériels.
Précautions de sécurité
Ne pas exposer le produit à des sources de chaleur (incluant les flammes nues ou la lumière
directe de soleil).
Ne pas exposer le produit ni à de l'eau ni à des liquides. Si du liquide s'introduit dans le produit
débrancher celui-ci immédiatement de toute source d'énergie ou d'un dispositif quelconque.
Ne pas démonter ni modifier le produit.
Éviter de laisser tomber le produit (et tout impact qui pourrait endommager ses circuits internes).
Dans le cas improbable d'anomalies (telles que odeurs étranges, surchauffe, filtrations,
changements de couleur, etc.) arrêter d'utiliser le produit immédiatement.
Éviter de nettoyer le produit avec des liquides ou des substances chimiques (n'utiliser qu'un tissu
sec).
N'utiliser que les pièces et les accessoires spécifiés par le fabricant.
Se débarrasser du produit correctement (ne pas le jeter aux poubelles ni essayer de l'incinérer).
Ne pas laisser le produit sans surveillance lorsqu'il est en fonctionnement ou en cours de
chargement.
Ce produit n'est pas un jouet: LE GARDER HORS DE LA PORTÉE DES ENFANTS.
Seulement recharger ce dispositif en utilisant un port USB adapter à une prise murale (non inclus)
Ne pas recharger via le port USB d'un ordinateur
Ne pas utiliser le produit lorsqu'il est en cours de chargement.
Si le produit ne s'utilise pendant des périodes de temps prolongées il faut le charger tous les trois
mois pour éviter d'endommager la batterie.
Manuel de l'utilisateur du T246
Le T246 est un haut-parleur stéréo sans fil 2.1+ EDR avec radio FM radio et lecteur de carte TF.
Veuillez lire ci-dessous les spécifications du produit et le mode d'emploi.
Spécifications du T246
Type de batterie : Lithium polymère rechargeable grade A
Durée/vie utile de la batterie : 300 fois
Capacité : 400 mAh
Puissance d'entrée et courant : 5V/500mAh
Puissance de sortie du son : 3W x 1
Sensibilité : 65dB
Réponse en fréquence : 280HZ-16KHZ
Taux de distorsion : 1%
Version sans fil : 2.1 + EDR
Portée de la communication sans fil : 10mètres
Temps de chargement (0-100%) : 2 heures
Temps de reproduction : Jusqu'à 4 heures
Accessoires : câble audio AUX et câble de chargement micro USB
Dimensions du produit : 4 ¼po 2 1/8po x 1 3/8po
Poids net : 177g
Fonctionnement du T246
1. Allumer: Interrupteur ON/OFF position ON
2. Une fois que le T246 est allumé, il est automatiquement en mode SANS FIL NOTE: Les
dispositifs appairés préalablement s'apparieront automatiquement avec le haut parleur T246
3. Appuyer sur le bouton M UNE FOIS pour passer du mode Sans Fil en mode Radio FM,
appuyer DEUX FOIS pour passer en mode AUX
4. Éteindre : appuyer sur la surface supérieure de la boîte du haut parleur pour le verrouiller.
Appariement Sans Fil
1. Une fois que le T246 est allumé, il est automatiquement en mode Sans Fil (LED Bleue
clignotera rapidement pour signaler que le haut-parleur est prêt à l'appariement Sans Fil)
2. Activer la fonction Bluetooth dans le dispositif électronique.
3. Chercher le signal Bluetooth Spector T246 et apparier le dispositif (LED Bleue dans le T246
demeurera allumée pour signaler que les dispositifs sont appariés).
Mode Sans Fil
1. Reproduire/Pause/Répondre et terminer appel entrant : appuyer sur Reproduire/Pause
2. Contrôle de volume : Appuyer et garder enfoncé +/3. Sauter chansons : Appuyer sur sauter/skip chansons rapidement
Mode Radio FM
1. Pour activer la radio FM allumer le haut parleur et appuyer sur le bouton M une fois.
2. N.B.: Branchez le câble USB/micro-USB lorsqu'en mode radio FM. Le câble agira comme
une antenne et permettra d'améliorer le signal radio.
3. La première fois que vous activez la fonction radio FM, pressez sur le bouton
Reproduire/Pause pour initier la recherche des stations FM accessibles
4. Une fois que cette recherche initiale est complétée, "+"/"-": presser rapidement pour trouver
une station de radio/Maintenir enfoncé pour contrôler le volume.
Mode Aux
1.
2.
3.
4.
5.
Pour activer le mode AUX allumer le haut parleur et appuyer sur bouton M deux fois.
Brancher le câble 3.5mm AUX dans le T246 et dans le dispositif audio.
Reproduire/Pause peut s'ajuster du haut parleur.
Sauter chansons et contrôle de volume doivent se contrôler directement du dispositif audio.
Appuyer sur le bouton Reproduire/Pause pour Répondre/Terminer appel entrant.
En mode carte TF
1. Carte TF : Insérer la carte TF et la reproduction de musique commencera automatiquement.
2. Reproduire/Pause: Presser rapidement sur le bouton reproduire/pause
3. Contrôle de volume : Appuyer et garder enfoncé +/-
4. Sauter chansons : Appuyer sur sauter/skip chansons rapidement
5. Presser sur la carte pour la faire sortir.
Chargement du T246
3. Insérer micro USB dans le T246 et connecter la sortie USB à un adaptateur de prise murale
(non inclus).
4. LED rouge signale que le dispositif est en cours de chargement (LED rouge s'éteindra une
fois le chargement terminé).
ADVERTENCIA
Por favor, lea y siga todas las instrucciones y precauciones de seguridad que se detallan a
continuación antes de utilizar este producto. El no hacerlo puede traer como consecuencia lesiones
personales graves y / o daños materiales.
Precauciones de seguridad
No exponer el producto a fuentes de calor (incluyendo las llamas abiertas y la luz directa del sol).
No exponer el producto ni al agua ni a líquidos. Si un líquido se introduce en el producto
desconectarlo inmediatamente de toda fuente de energía y de cualquier dispositivo.
No desarmar ni modificar el producto.
No dejar caer el producto (evitar todo impacto que podría dañar sus circuitos internos).
En el caso improbable de alguna anormalidad (olores extraños, sobrecalentamiento, filtraciones,
cambios de color, etc.) dejar de usar el producto inmediatamente.
No limpiar el producto con líquidos ni substancias químicas (usar solamente un trapo seco).
Utilizar solamente los accesorios y piezas especificados por el fabricante.
Deshacerse del producto en forma correcta (no arrojarlo a la basura ni incinerarlo).
No dejar en producto sin vigilancia cuando está en funcionamiento o cargándose.
Este producto no es un juguete: MANTENERLO FUERA DEL ALCANCE DE LOS NIÑOS.
Solo recargar este dispositivo mediante un adaptor de pared USB (no incluido)
No recargar a través del puerto USB del ordernador
No utilizar el producto mientras se está cargando.
Si el producto no se utiliza por largos periodos de tiempo, hay que cargarlo cada 3 meses para
evitar dañar la batería.
Manual del usuario del T246
El T246 es un parlante estéreo inalámbrico 2.1+ EDR con radio FM radio y lector de tarjeta TF.
Sírvase leer a continuación las especificaciones e instrucciones del producto.
Especificaciones del T246
Tipo de batería: Polímero de litio recargable grado A
Duración/vida útil de la batería: 300 veces
Capacidad: 400 mAh
Potencia de entrada y corriente: 5V/500mAh
Potencia de salida del sonido: 3W x 1
Sensibilidad: 65dB
Respuesta de frecuencia: 280HZ-16KHZ
Tasa de distorsión: 1%
Versión inalámbrica: 2.1 + EDR
Rango de comunicación inalámbrica: 10metros
Tiempo de carga (0-100%): 2 horas
Tiempo de reproducción: Hasta 4 horas
Accesorios: cable audio AUX y cable de carga micro USB
Dimensiones del producto: 4 ¼" 2 1/8" x 1 3/8"
Peso neto: 177g
Funcionamiento del T246
1. Encendido: Interruptor ON/OFF posición ON
2. Una vez que el T246 está encendido, queda automáticamente en modo inalámbrico NOTA:
Dispositivos apareados previamente se aparearán automáticamente con el parlante T246
3. Oprimir el botón M UNA VEZ para pasar de modo inalámbrico a modo Radio FM, oprimir
DOS VECES para pasar a modo AUX
4. Apagado: apoyar sobre la superficie superior de la caja del parlante para cerrarlo.
Apareamiento inalámbrico
1. Una vez que el T246 está encendido, queda automáticamente en modo inalámbrico (LED
Azul parpadeará rápidamente para señalar que el parlante está listo para apareamiento
inalámbrico.
2. Activar la función Bluetooth en el dispositivo electrónico.
3. Buscar la señal Bluetooth Spector T246 y aparear el dispositivo (LED Azul en el T246
permanecerá encendida para señalar que los dispositivos están apareados).
Modo inalámbrico
1. Reproducir/Pausa/Responder y Terminar llamada entrante: oprimir Reproducir/Pausa
2. Control del volumen : Oprimir y mantener oprimido +/3. Saltar canciones: Oprimir brevemente Saltar/skip canciones
Modo Radio FM
1. Para activar la radio FM encender el parlante y oprimir botón M una vez.
2. NOTA: CONECTAR EL CABLE USB CUANDO EL DISPOSITIVO SE ENCUENTRE EN
MODO RADIO FM, EL CABLE ACTURA COMO ANTENA Y MEJORARA LA SEÑAL.
3. La primera vez que active la función radio FM, oprima el botón Reproducir/Pausa para iniciar
la búsqueda de las estaciones FM accesibles
4. Cuando esta búsqueda inicial se haya completado, "+"/"-": oprimir para encontrar una
estación de radio /Mantener oprimido para controlar el volumen.
Modo Aux
1.
2.
3.
4.
5.
Para activar el modo AUX encender el parlante y oprimir botón M dos veces.
Conectar el cable 3.5mm AUX en el T246 y en dispositivo audio.
Reproducir/Pausa puede ajustarse desde el parlante.
Saltar canciones y controlar volumen deben controlarse directamente del dispositivo audio.
Oprimir el botón Reproducir/Pausa para Responder/Terminar llamada entrante.
En modo tarjeta TF
1. Tarjeta TF: Insertar la tarjeta TF y la música comenzará a reproducirse
automáticamente.
2. Reproducir/Pausa: Oprimir rápidamente para Reproducir/Pausa
3. Control del volumen : Oprimir y mantener oprimido +/4. Saltar canciones: Oprimir brevemente Saltar/skip canciones
5. Presionar sobre la tarjeta para eyectarla.
Carga del T246
1. Insertar micro USB en el T246 y conectar la salida USB a una adoptador de toma de
corriente mural (no incluido).
2. LED roja señala que el dispositivo se está cargando (LED roja se apagará un vez terminada
la carga.

* Your assessment is very important for improving the work of artificial intelligence, which forms the content of this project